March 17 - 23, 2013: Issue 102
Shane Phillips Tribal Warrior Evening hosted by Aboriginal Support Group - Manly Warringah Pittwater
The Aboriginal Support Group of Manly-Warringah-Pittwater hosted a very special evening on Monday the 10th of March when speaker, Shane Phillips, CEO of the Tribal Warrior program and 2013 Australian Local Hero Award winner, visited Pittwater to deliver an inspiring address to a large crowd in Mona Vale Memorial Hall. A few quick words with Mr Phillip's before his presentation gave an insight into his work as well as an opportunity to hear about the Clean Slate Without Prejudice Program which was under jeopardy until great news was announced on Friday evening by the ABC that necessary funds have come forward from a generous soul. More funds are needed to keep this program going either through sponsorship or donations but it will keep going, like the stalwarts who developed and maintain it.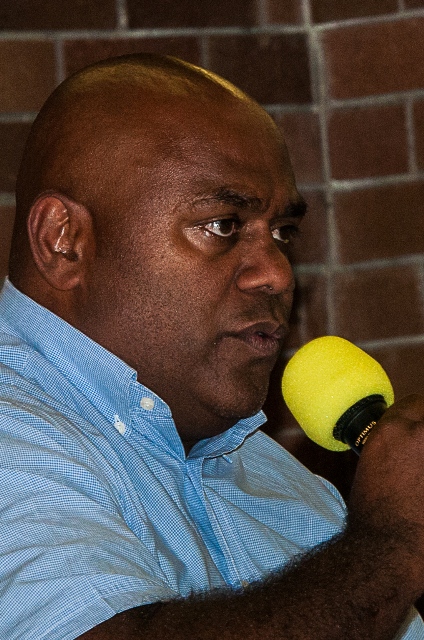 Shane Phillips: What we hope to share with the community out here this evening is some information about the work we're doing in Redfern and the inner city area. This is about kids owning and being responsible for their own lives and solutions coming from within the community, that's the key factor. Because we've acknowledged we're responsible for our own actions we can also then own the future. We'll build the future by our selves. By building partnerships within the community, and with everyone in the community, we can change lives, one at a time.
How long have you been doing this?
Our Clean Slate program has only been going for three years but the Tribal Warriors have been going for 14 years.
Is this your first time to the Northern Beaches?
No, I've been here a few times. We actually had a Tribal Warrior doing some training up here in Pittwater many times. So we're in this area regularly. It's really nice to be welcomed out here.
From the Tribal Warriors website:
The Tribal Warrior Association is an Indigenous charitable organisation which is involved in a number of successful activities designed to assist and support disadvantaged Aboriginal Youth. We hope to present a creative and ongoing vision for Aboriginal youth by generating self-empowerment, economic stability and cultural affirmation.
Another of the Tribal Warriors clear sighted visions is to get our Aboriginal young adults out in the good salt air as part of their Maritime Training Program. From their website:
Maritime Training - Training disadvantaged Aboriginal youth in maritime qualifications. The Tribal Warrior Association Incorporated is the only Indigenous Maritime Training Company operating within Australia. Our specialised training programs are all via correspondence courses facilitated by a qualified Maritime trainer (OTEN & Western Australia Maritime College).
The Tribal Warrior has successfully trained many skippers who have gained employment and are working boats around Sydney Harbour. One of our former students is now teaching naval personnel small boat sailing skills around the Harbour based at Garden Island. We have trained youth at risk from Inverell TAFE and have other students undergoing courses with us.
We contacted Neil Evers of the Aboriginal Support Group of Manly-Warringah-Pittwater during the week for a comment on Monday evening's presentation;
Shane is so down to earth, so positive it is understandable why the early intervention project 'Clean Slate Without Prejudice' has been so successful. Shane said it is due to the work of this program in engaging with people that the crime rate in the Redfern area has gone down and the health of the ones involved in the program is better. He spoke about his time on the old Tribal Warrior boat and of a trip up to Coffs Harbour that changed his life. Someone had taken the time to mentor and guide him. What a lesson we can all learn from this.
It's people like him we need to close the gap. As Shane said on Monday, the only way is forward and to stay positive. The Tribal Warrior is a working business but the money from that enterprise has been supporting this program at the expense of other projects.
To read more about what Tribal Warrior are doing or to help with a donation to a very deserving cause of empowering our Indigenous youths visit - http://tribalwarrior.org/get-involved.html
Neil Evers, ASGMWP.
Photo by Michael Mannington, 2013.