November 25 - December 1, 2012: Issue 86

Section of Surf the Season by Cindy Goode Milman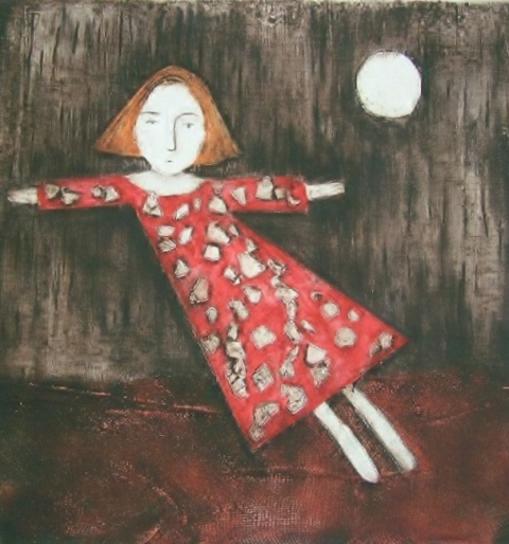 Flying Daughter - Print by Meredith Rasdall
Artspot 2013 - an exhibition of 17 artists on the Northern Beaches!
Pittwater Online News has linked up with three locally established artists to overview their planned 'summer art exhibition' coming to Avalon Recreation Centre January 5 – 13, 2013 called Artspot. Over the next six issues leading up to the opening night feature on January 4, 6-9pm, we will cover all the exciting elements of this upcoming exhibition.

Artspot came about as a result of the news that the very popular Council led emerging artist exhibition Artzpace would not be staged in 2013 and is under review as a bi-annual event at Avalon Recreation Centre. Knowing that so many Pittwater residents and tourists have come to love the 'summer' art exhibition each January, three local artists – Meredith Rasdall, Cindy Goode Milman and Liezel Botes – booked the full gym and small room space and put together an exhibition called Artspot, thus ensuring the continuation of a show between the gap year of Artzpace.

Artspot's goal is to provide a space which compliments the community and provides a key element in the Pittwater Cultural plan of "showcasing professional local artists". This exhibition directly provides a wonderful opportunity for professional and established artists to stage an art exhibition which not only compliments Artzpace's focus on emerging but provides a platform for Artzpace artists to also graduate to.

Meredith Rasdall, one of the three founders of Artspot, is a well-known Northern Beaches artist and art educator who has been exhibiting for the past 20 years and her work is included in both local and overseas collections. "Still life continues to be a recurring theme and expression of my immediate environment, the simple shapes of bowls and vessels are an inspiration and will feature in my paintings and prints at the show" says Meredith.

Cindy Goode Milman is the popular ocean swim and ocean pool painter who resides in Clareville. Cindy says that "the closure of Newport Art Gallery led to a limited amount of gallery space left on the northern beaches for professional and well-established artists to engage with the local community and that the Avalon Recreation Centre is a perfect hub to create a wonderful show alongside the annual return of the textile event, as well as the the return of Mark Rhodes to the upstairs space in the centre". Cindy will be showcasing a range of new paintings that include a surfer theme as well as displaying her popular miniature sculptures using found swimming goggles as objects for the sculpting with a surprise range of terrariums on show.

Liezel Botes, who is better known as Superstroke Pop artist Diezel grew up on a farm in Africa and now lives in Avalon on Sydney's Northern beaches. She paints large canvasses in acrylic with an industrial pop art feel and often uses animals as metaphors for humans and the complexities of modern life. Diezel comments on issues of morality, equality and life, with drip paint techniques and incorporates the criss-cross Superstroke that results in plus signs (+) in all of her work. Superstroke is an art initiative started in Africa and Artspot will proudly feature three of these artists during the show.
Artspot will feature 17 artists ranging from emerging and professionals to two international guests from South Africa. An array of artworks is on show including paintings, print works, ceramics, photography and sculpture. Artists include Meredith & Gemma Rasdall, Diezel, Cindy Goode Milman, Lorraine Beal, Stephanie Brown, Jackson Davies, Jessica Watts, Blue Stuart, Christine MacKinnon, Julia Sample, Michele Petrie, Caroline Munro, Angus Benham, May Wentworth and Conrad Bo. The show will be open daily from 10am – 5pm with opening night Friday January 4, 6 – 9pm.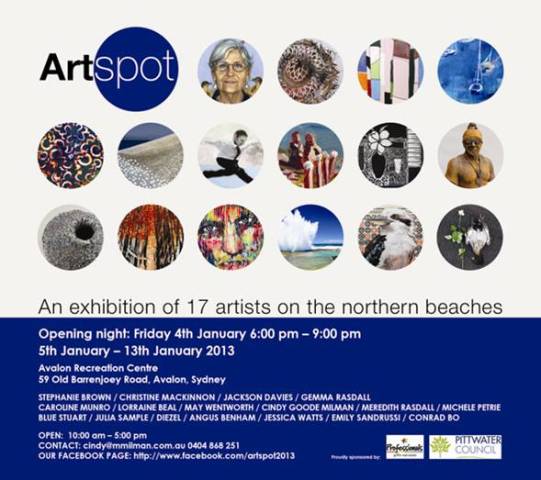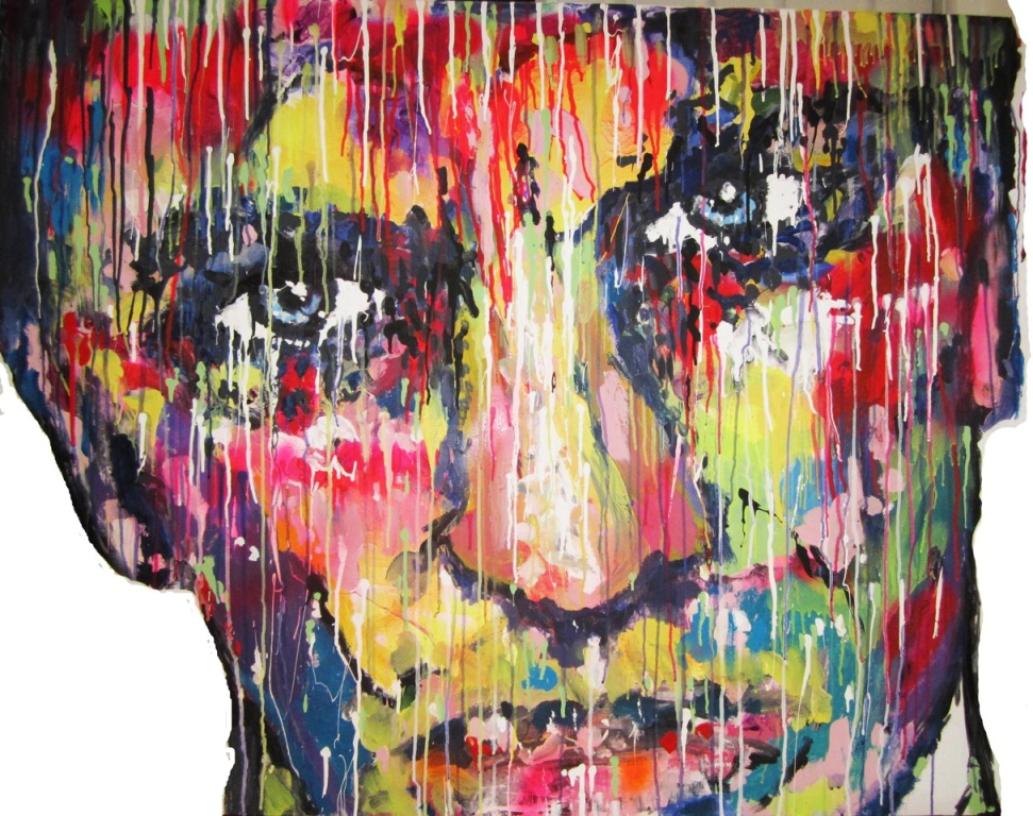 Being A Diezel by Liezel Botes (aka Diezel)