September 23 - 29, 2012: Issue 77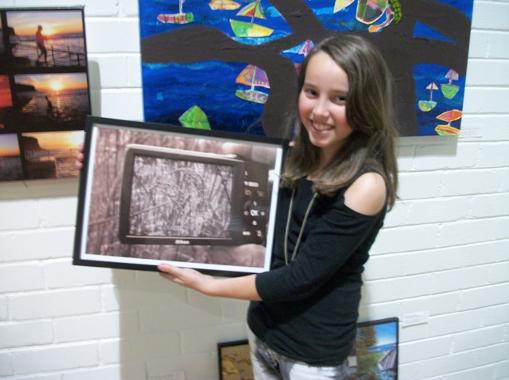 Grace Holland and her work 'Through the Lens'.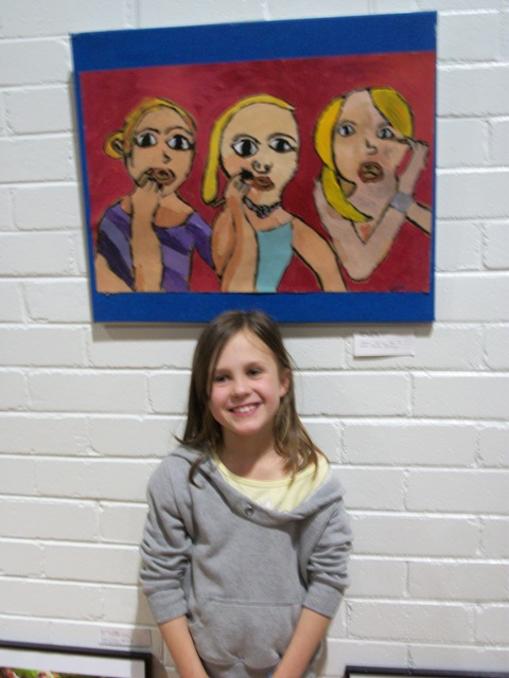 Ruby Evans and her 'Make-up Girls'.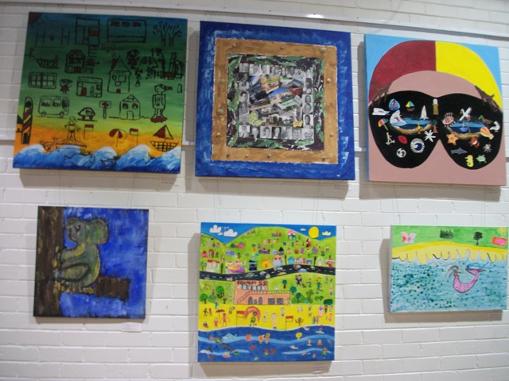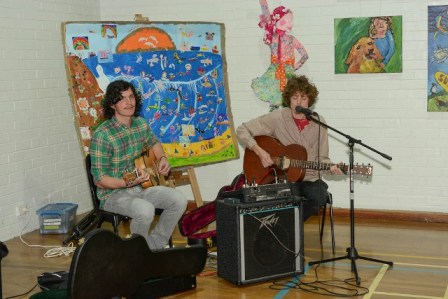 Andrew Churchill and James Hiller - sweet
Jac Yvonne
sounds for Opening Night.
PITTWATER ARTFEST WINNERS & HIGHLY COMMENDED
PRESCHOOLS
Prize packs are given to all preschoolers - total of 20
GROUP Section:
Highly Commended Prizes = $100 each
3C Bilgola Plateau School Group Title: 'Fish n Chips'
School: 3C Bilgola Plateau School Group NO. 139
2M Bilgola Plateau, Title: Our Bilgola
School: 2M Bilgola Plateau No. 67
4-6 Art Club Title: Bayview - How we can see it
School: Loquat Valley, 4-6 Art Club No. 348
Avalon Public 34 AH Title: Our Community Many Families
School: Avalon Public 34 AH No. 101
Avalon Public class 2ES Title: The Avalon Daily
School: Avalon Public class 2ES No. 6
INFANTS - 10 Highly Commended
Prize = 10 canvas's & face paints
Highly commended Ella Pittard,
School: Narrabeen North
Highly Commended Milena Gomes
School: Avalon Primary
Highly commended Whiley Toll
Title: My Street
School: Avalon Primary
Highly Commended Abel Young
Title: Butterfly swimmer
School: Mona Vale
Highly commended Ella Dolby
Title: Ella's Community
School: Elanora Heights
Highly commended Bridie Bennan
Title: Rubber Duckie
School: Avalon Public
Highly Commended Will Hoaghuis
Title: Community of water
School: Newport public
Highly Commended Sienna Brown
Title: People in the park
School: Sacred Heart
Highly Commended Joshua Lakeman
Title: The Island
School: Newport Public
Highly Commended Claudia Powell
Title: Scribbly Hester
School: Mixed Palette art school
PRIMARY SCHOOL - 1 winner, 4 highly commended
WINNER Charlie Lewis, Title: 'Cloud Watching'
School: Avalon Public
Highly Commended Sarah Hopkins, Title: Sarah with a Twist
School: Avalon Primary
Highly Commended Jasmine Young, Title: 'Cockatoo'
School: Mona Vale Primary
Highly Commended Heather Trett, Title: Narrabeen fun and splash
School: Elanora Heights Primary
Highly commended Ondine Hall, Title: Painting in the Park
School: Mona Vale Public
JUNIOR HIGH SCHOOL - 1 x winner, 3 x highly commended
WINNER - Junior High Tyla Botes, Title: 'All of Us'
School: Barrenjoey High
Highly Commended - Junior High Julia Cole, Title: 'Temptation
School: Barrenjoey High
Highly Commended - Junior High Christopher Cole, Title: To The Rescue
School: Barrenjoey High
Highly Commended - Junior High Bronnie Frost, Title: 'My Brother the Spirit of Avalon'
School: Bilgola
HIGH SCHOOL Category
WINNER - High School Thomas Hammond, Title: Ray of Hope for Crying Faces of Nature
School: Northern Beaches Christian School
Highly Commended - Senior High Ewan Coopey, Title: The Ocean is my Community
School: Pittwater High
Highly Commended - Senior High Lillie Rasdall, Title: Pittwater
School: Stella Maris
Highly Commended - Senior High Carly Zinger, Title: 'Where in the World'
School: Barrenjoey High
MEREDITH RASDALL ARTISTIC ACHIEVEMENT AWARD
(DONATED BY BERKELOUW BOOKS)
Winner Azia Carothers, Title: 'Time to Surf'
School: Barrenjoey High
Meredith Rasdall Scholarship Awarded to:
Evan Turner
Barrenjoey Junior High
Debbie Waters Mixed Palette Schlarship
Lillie Knowles
Bilgola Plateau school
Packers Prize
Oliver Festa
Avalon Public School
Mayor Harvey Rose award:
Montel Goodrick
Balgowlah Boys campas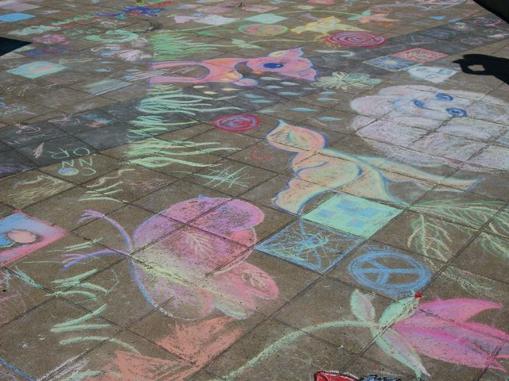 Pittwater ArtFest - 2012 Theme 'Our Community'
Pittwater Artfest, now in its 7th biannual year, had 360 entries for this year's exhibition in the main hall of Avalon Recreation Centre. ArtFest is a free community event celebrating our area and the artistic pursuits of the children who live here.
On Friday night, 21.9.2012, the opening, conducted by Mayor Harvey Rose, resonated with a well chosen stanza to resonate a key idea behind this celebration of engendering and appreciating art in all its forms from Samuel Taylor Coleridge'sKubla Kahn.
Cr. Rose stated that Arts are essential to our culture as "Arts give us a glimpse of something more substantial. A glimpse of the Divine that lifts us above the mundane, and raised up we see more."
The ArtFest festival encourages children to put down their digital devices, turn off televisions, get off the computer and pick up a paint brush, pencil, pen or musical instruments and create something based on the year's theme. With 'Our Community' as their inspiration subjects as wide ranging as land and seascapes to people filled every work displayed from all schools in Pittwater and as far afield as Terrey Hills. Each child we spoke to on Friday night was clearly delighted with what they had created and had enjoyed using their own personal choices for creating something that shared a little of their perspectives on the world. Their deftness with addressing and completing these works proves Art in Pittwater and its surrounds has a very bright future.
Pittwater Artfest encourages self esteem by exhibiting the work of every child that enters. It not only encourages children but engages families and local artists to participate together in the local community. Pittwater Artfest attracts thousands of people to the area during its duration. Entrants submitted 2-D Media including Painting, Drawing, Collage, Printing, Digital Arts, Photography and Mixed media.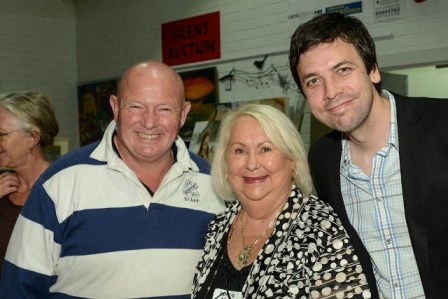 Cr. Ian White, PCC President Morrie Morgan and Ben Hedstrom
Special guest speaker for the evening, Ben Hedstrom, Art teacher and head of Faculty at the Northern Beaches Christian School, and a finalist in this year's Archibald Prize for his portrait of 2012 ARIA winners, indie-folk band Boy & Bear, gave the children four encouragements in his short address:
1. Keep making lots of artworks; all of you who have a painting here are already very talented people. The only way to get better is to keep making lots of artworks. So keep doing that.
2. Make sure you set up somewhere you can always work. It's good to have a space to create in, to not have to pack up and set up but be able to get straight to work.
3. Mainly for older and teen artists; Get yourself a Blog page, use your Media Literacy to create a platform for your work.
4. Keep entering Art Prizes as you continue your career.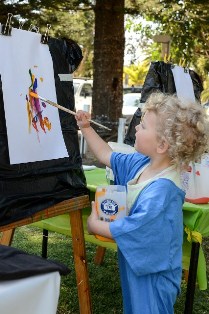 Art in the Park, on Saturday 22 September was more Arts and Music activities filling Dunbar Park, Old Barrenjoey Road, Avalon. Children created 'rock art', turned a plain walled tee pee into something beautiful, or like Tjakura Raffan, to right, made a painting mum and dad will treasure for years.
The Living Ocean team, with help from the Two Hands project in supplying just some of the plastic refuse they had gathered from our beaches, created a whale to emphasise whose home we are polluting styled on their own logo.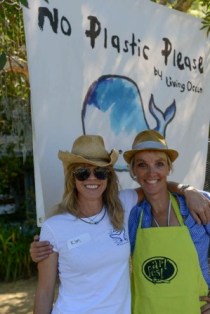 Assisted by talented recycle artist Angela Van Boxtel will be with us also to create a fabulous whale artwork with 'Climate Girl' Parry's Raines, children had great fun creating something from what we carelessly throw away while learning about Living Ocean's environment projects and their current 'no plastic please' focus.
Children attending Art in The Park worked alongside professional artists paintings picture, sculpting, weaving a basket, making a puppet, throwing clay, and chalking the pavement outside the community centre until colour filled every square.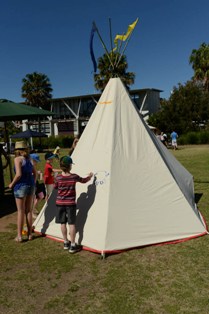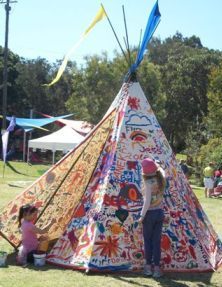 Since being initiated by local artist Meredith Rasdall in 1998, the Children's ArtFest has run every second year and is now managed by Pittwater Community Arts ably supported by Pittwater Council. This year ArtFest was overseen by Stephanie Brown who toiled hard and long to produce a wonderful display of the children's colourful, imaginative and highly talented artworks. Michelle Cruickshank, Karen Hick and Michelle Watts assisted Stephanie and received her heartfelt thanks on Friday evening.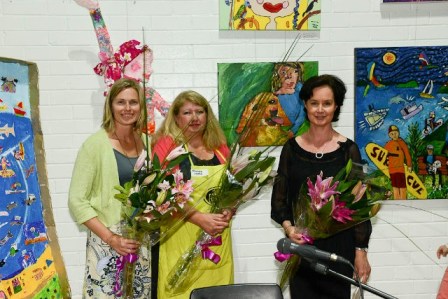 Attending the event were Hon. Bronwyn Bishop and Hon. Rob Stokes who praised the children's works and handed three prizes each to children aged from pre-school to high school. Stateswoman Bronwyn Bishop like 'Rainbow Horses' by Isobel England, 'Chickens In Avalon' buy Zoe van Bruten and 'To the Rescue' by Christopher Cole. Our Pittwater MP chose 'The Spotted Tree' by Terrey Hills pre-schooler Charlie-Rose for this fine understanding of trees having spots, 'My Family in Pittwater' by Emma Dunstan of MVPS and 'Jacaranda Cottage' by Grace Fisher of Newport PS. A list of winners and those commended is to the left.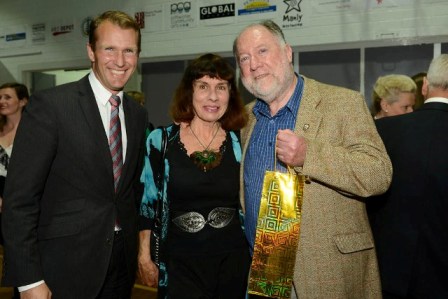 Hon. Rob Stokes, Mrs Wilga Rose, Mayor Harvey Rose.
In the meantime the Exhibition will remain open at Avalon Recreation Centre until the end of Wednesday this week. Go and let your eyes be dazzled by all our children see.
Last words to our Mayor, Cr. Harvey Rose, to illustrate what keeping in touch with the Arts brings to one's life;
A damsel with a dulcimer
In a vision once I saw:
It was an Abyssinian maid,
And on her dulcimer she played,
Singing of Mount Abora.
Could I revive within me
Her symphony and song,
To such a deep delight 'twould win me
That with music loud and long
I would build that dome in air,
That sunny dome! those caves of ice!
And all who heard should see them there,
And all should cry, Beware! Beware!
His flashing eyes, his floating hair!
Weave a circle round him thrice,
And close your eyes with holy dread,
For he on honey-dew hath fed
And drunk the milk of Paradise.
Last stanza of Kubla Khan (or A Vision In A Dream) by Samuel Taylor Coleridge completed in 1797 and published in 1816
Michael Mannington's Volunteer Photography Public Gallery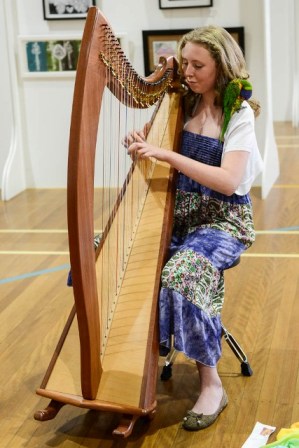 Khyana Shilston with Mardi Gras, Saturday.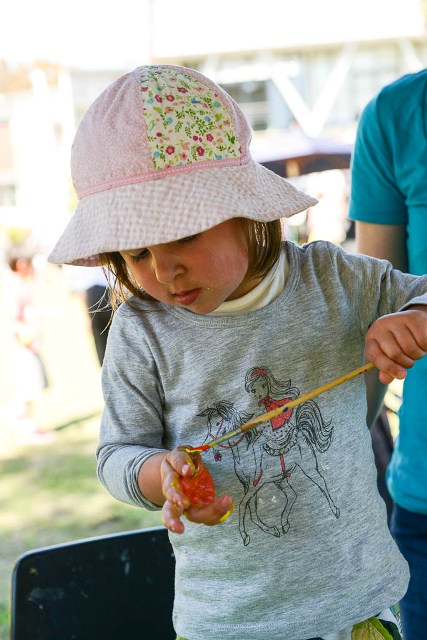 Luca Smithhard creating Rock Art.
ARTFEST 2012 - 'Our Community'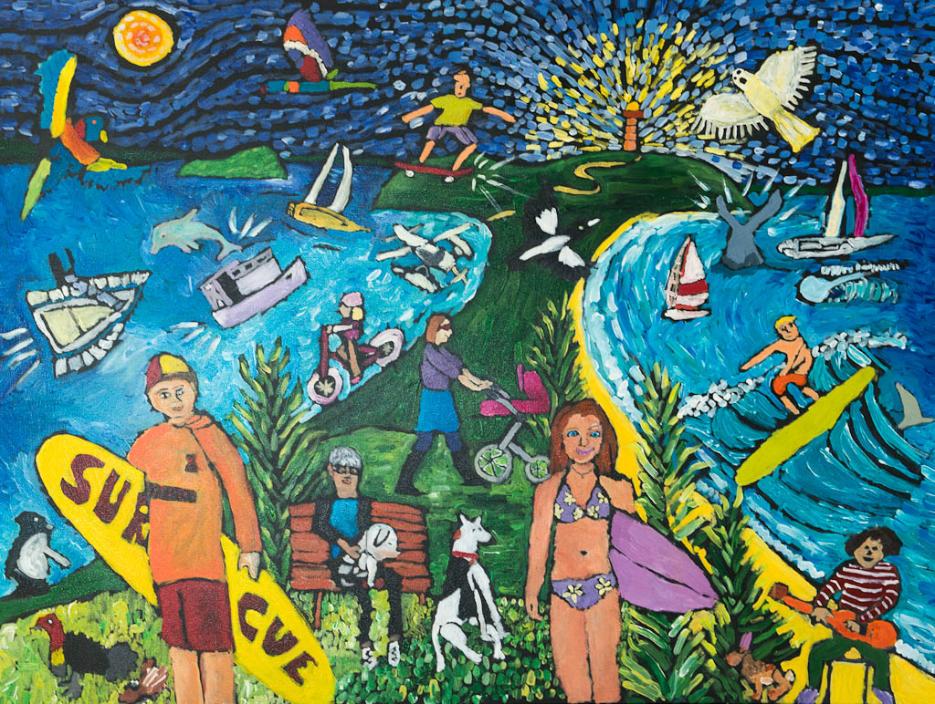 Visual Arts Group Meredith Rasdall 'Our Place' 5-12 years. Photo by Michael Mannington.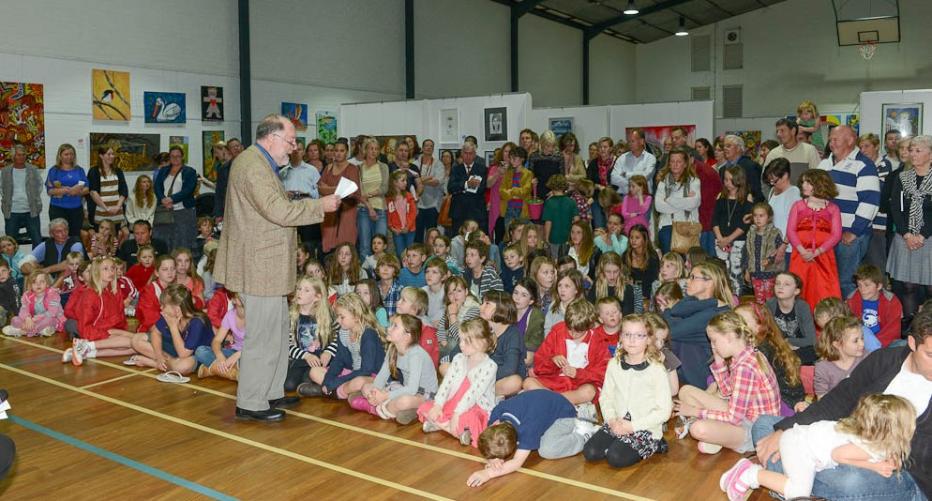 Mayor Harvey Rose addresses opening night for ArtFest 2012 audience. Photo by Michael Mannington.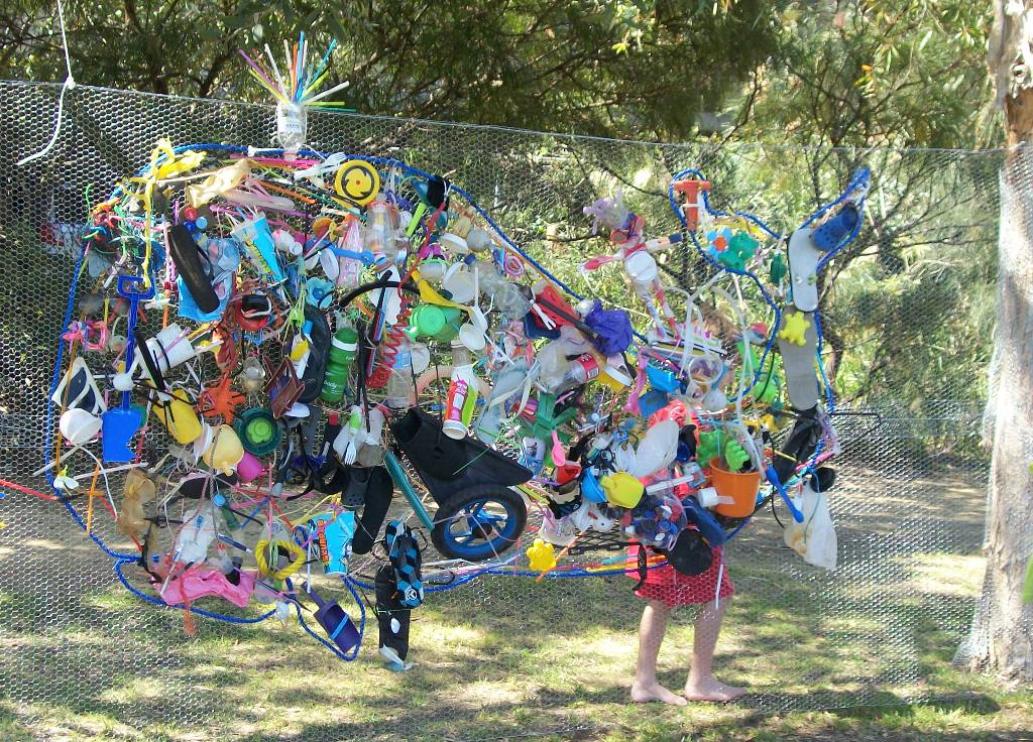 Living Ocean's ArtFest 2012 Whaley logo created from plastic refuse. PIc by A J Guesdon.