September 8 - 14, 2013: Issue 127
Art Depot - Chelsea Lane Gallery Opening
1st of September, 2013
Last Sunday the Chelsea Lane Gallery (behind The Sneaky Grind) officially opened. Jennifer Hill, who is also proprietor of the Art Depot in Avalon, has stated we desperately need more exhibition spaces in Pittwater for our artists. This is a step in the right direction.
The Mission Statement for this new venture:
"To support and promote both emerging and professional Artists. To offer the tools and knowledge to inspire artistic creation in all people of all ages in all walks of life. We believe art is a right not a privilege."
The works on offer at present are an eclectic mix in all mediums and as with being in any space where others creations are displayed, the atmosphere immerses you in how wonderful the human creative spirit can be and how deeply it enriches all who bother to pause and ponder.
Current Artists are: Stephen Skinner, Jonathon Bolitho, Lorry Bentham, Sophie Haythornthwaite, Cherie Curchod, Alan Drew, Jill Desmarchelier, Greg Webber, Vanessa Welbourn, Helen Hagdorn, Isobel Garner.
Sophie Haythornthwaite and daughter Ruby before some of her stunning paintings.
Monthly exhibitions showcasing four artists are planned and the Chelsea Lane Gallery will also be trailing a novel idea during September of what they call the '2Day Sale'. This will be 10% off two selected artists for two days during the weeks of September. If you are interested in exhibiting your works, please contact Jennifer to discuss.
There is also a 30% off supplies sale currently occurring at The Art Depot side of this venture so room can be created as studio space for local artists. If interested in either supplies or having some studio space in Avalon, please contact Jennifer via the numbers below.
Jennifer tells us "We are currently in the process of organizing art classes and workshops for both adults and children."
Final words must go to Jennifer and Pittwater artists Sophie Haythornthwaite, who have both worked really hard to get this gallery open:
A great big thank you to all those of you that attended our opening. It went spectacularly. Thank you for all the wonderful compliments. We really enjoyed your company.
We also wanted to give an enormous thank you to Pierre Luniere and Milton Brown. You're musical ruminations were a huge hit.
For all of you that couldn't make it we'd like to extend an invitation to our next exhibition opening at the beginning of October. Looking forward to seeing you then.

We also wanted to give the most massive thank you to Billy Bragg. Billy you are amazing, your food was yum, you worked so hard and we are honoured that you chose to help us on such an important day for us.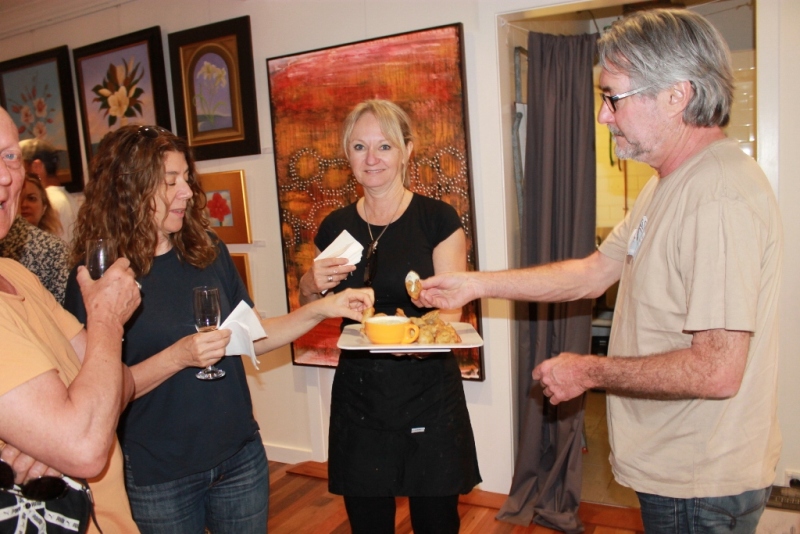 You can keep up to date with each new exhibition on the Art Depot Chelsea Lane Gallery Facebook Page and a new website will be launched at the end of this month
Chelsea Lane Gallery behind The Sneaky Grind.
3/48 Old Barrenjoey Road (On Chelsea Lane)
Avalon, New South Wales, Australia 2107
Art Depot
7/48 Old Barrenjoey Rd Avalon NSW 2107
Ph: 9918 2009
Mobile: 0411 623 204
We offer Custom Framing and an ordering service (at substantial discount) for the supply of fine art materials and some craft items. We also incorporate a design space and studio.
Facebook page: https://www.facebook.com/pages/Art-Depot-Chelsea-Lane-Gallery/138956372781526