March 16 - 22, 2014: Issue 154
Go-Fast Cigarette Boat Visits Royal Motor Yacht Club – Broken Bay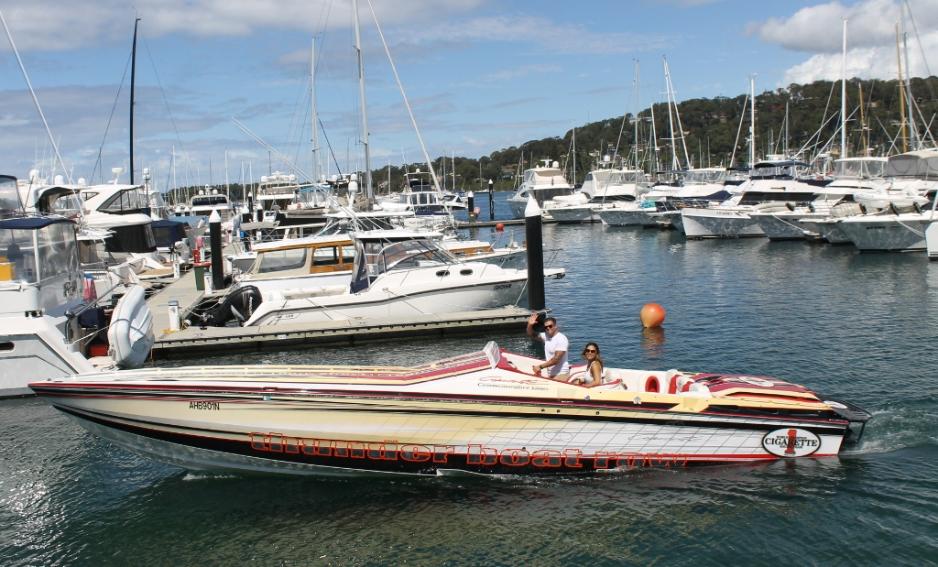 Go Fast Cigarette Boat Visits Royal Motor Yacht Club – Broken Bay, at Newport
Last Sunday one of the world' s most famous speedboats , a 'go-fast' or 'cigarette boat', pulled into the RMYC at Newport for some fuel. Darren, the owner, allowed us to take some pictures to share with you and told us a little bit about this very long sleek racer.
Darren stated he had wanted one for a long time, mostly because she can go fast - up to 95 miles per hours. The one he has was built in 2005 and was one of the last boats built at the old boatshed at 188th Street, the famous address of the otherwise called Thunderboat Row.
The fuel tanks, as there are two, will take 350 litres of fuel and the average ill up to full cost is $1200.00. Darren bought her in Michigan, soon after she won the World Championships in her class.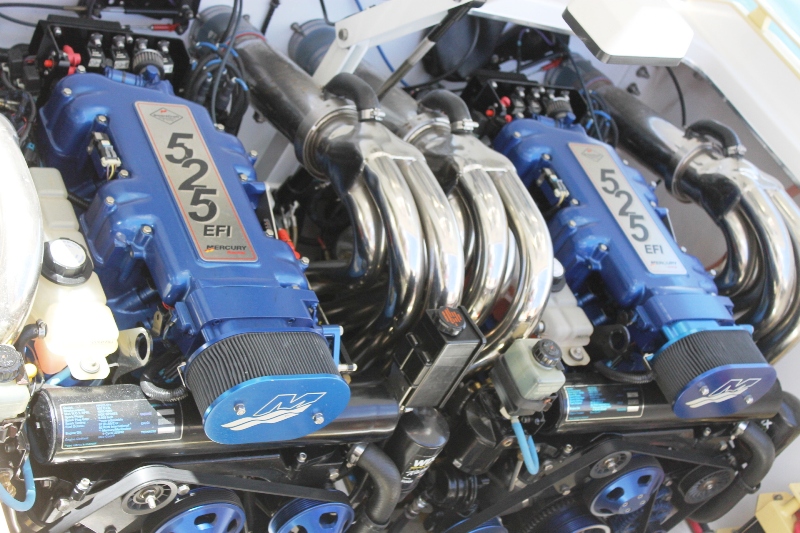 The 188th Street – Commemorative Edition is a later version of the original go-fast boat, a small, fast boat designed with a long narrow platform and a planing hull to enable it to reach high speeds. During the era of Prohibition in the United States, the 'go-fast' boats were called "rum-runners" because they were used to transfer rum from larger vessels waiting outside the territorial waters of the United States. The high speed of the rum-runners enabled them to avoid interception by the Coast Guard. More recently the term "cigarette boat" replaced the term "rum-runner" when similar boats were used to smuggle cigarettes between Canada and the United States.
The present era of cigarette boats, dating from the 1960s, owes much of their design to boats designed for offshore powerboat racing, particularly by designer and builder Donald Aronow. During this period, these boats were used by drug smugglers to transfer drugs across the Caribbean to the United States.
Mr Aronow also built boats for US Customs to try and help them combat this unwanted use of his vessels.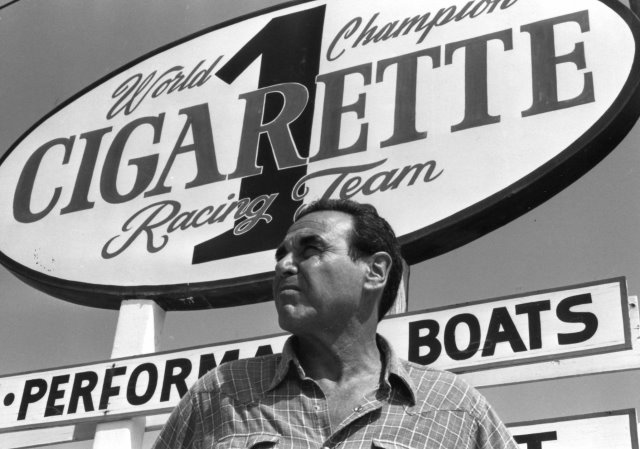 Don Aronow became involved in powerboat endurance racing in the early 1960s. He founded Formula Marine, Donzi Marine, Magnum Marine, Cigarette Racing Team, Squadron XII and USA Racing. Aronow formed the Cigarette Racing Team in 1969 with Nick Beauchamp. He had a World Championship win in an unusual 32' Cary race boat called "The Cigarette".
Unfortunately the great speed of Cigarette boats also made them a popular choice among cocaine runners. On February 3, 1987, Mr Aronow was murdered in his car at the end of 188th Street in Miami (Thunderboat Row).
Two men—Ben Kramer, a suspected drug runner who bought Aronow's USA Racing Team and was forced to sell it back to Aronow after the Customs Service refused to do business with him, and Bobby Young, eventually pleaded no contest to manslaughter related to Aronow's murder. Ben Kramer was already in prison at the time of his plea in 1996 and is now serving a life sentence with no possibility of parole. The story behind Aronow's development of go-fast boats is documented in Thunder Man: The Don Aronow Story (2009).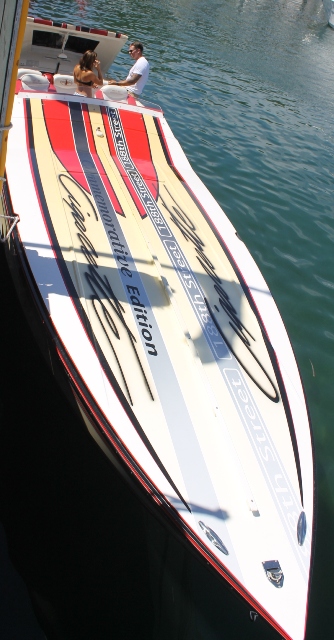 A typical go-fast is built of fiberglass, with a deep "V" offshore racing hull from usually 30 to 50 feet (10 to 15 m) long, narrow in beam, and equipped with two or more powerful engines, often with more than 1000 combined horsepower. The boats can typically travel at speeds over 80knots (150 km/h) in calm waters, over 50 knots (90 km/h) in choppy waters, and maintain 25 knots (47 km/h) in the average five to seven foot (1.5 to 2 m) Caribbean seas. They are heavy enough to cut through higher waves, although at a slower pace.
In accordance with their pure racing heritage, the accommodations on these boats are minimal, and they are built to hold 5 or fewer passengers. While most do have some cabin under the foredeck, it is low and much smaller than a typical motor yacht of similar size. Apart from the racing market, most buyers of these boats purchase them for the mystique; the combination of the racing and smuggling connections, plus the immense power, high top speeds, and sleek shape make these boats popular.
References and Extras:
Don Aronow: The King of Thunderboat Row. (1994), by Michael Aronow. Write Stuff Enterprises. ISBN 0945903227, ISBN 978-0945903222.
Historic Offshore Racing Association Pictorial of Don Aronow: HERE
Peter A. Janssen (22 Dec 2009). "News: Don Aronow Movie Preview: Award-winning Don Aronow movie to preview at Miami boat show". Motorboating. Retrieved May 12, 2012.
Go-fast boat. (2013, December 24). In Wikipedia, The Free Encyclopedia. Retrieved 22:03, March 10, 2014, from http://en.wikipedia.org/w/index.php?title=Go-fast_boat&oldid=587461228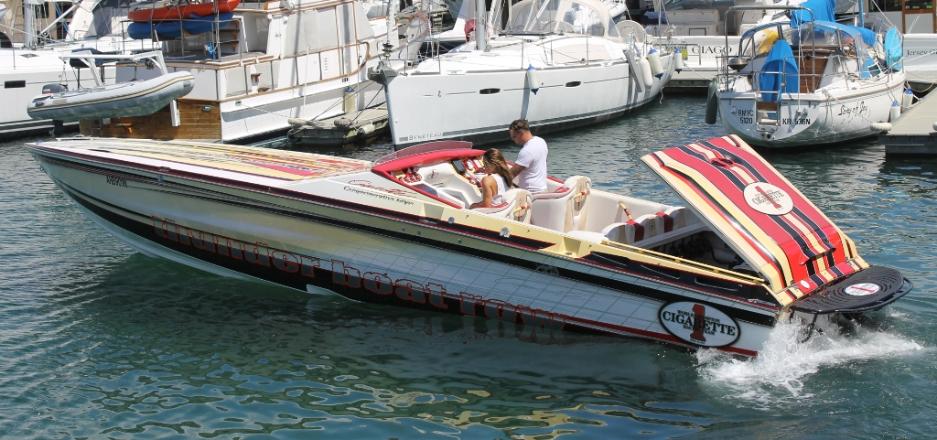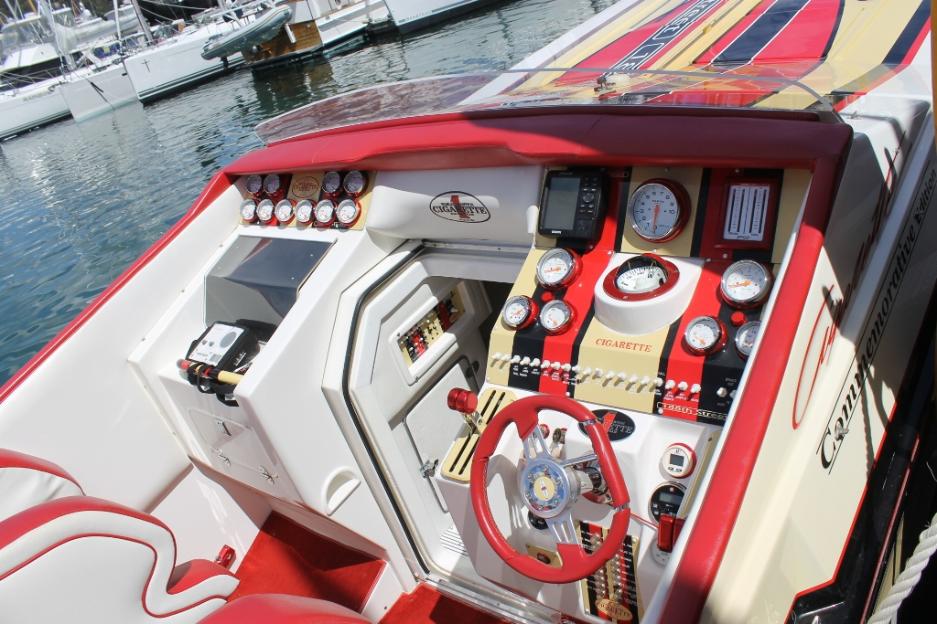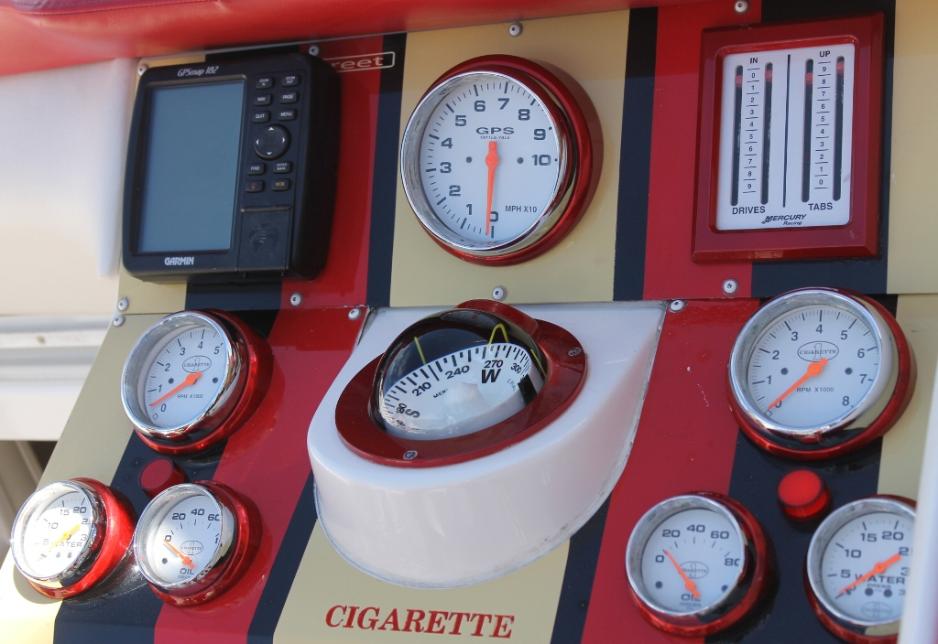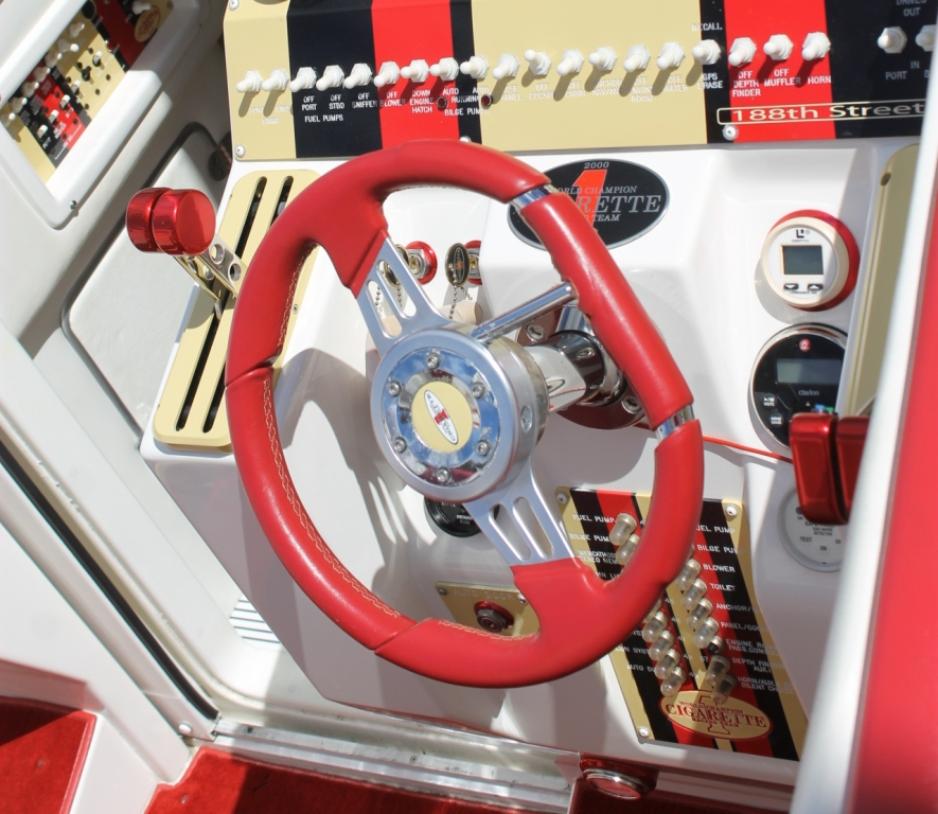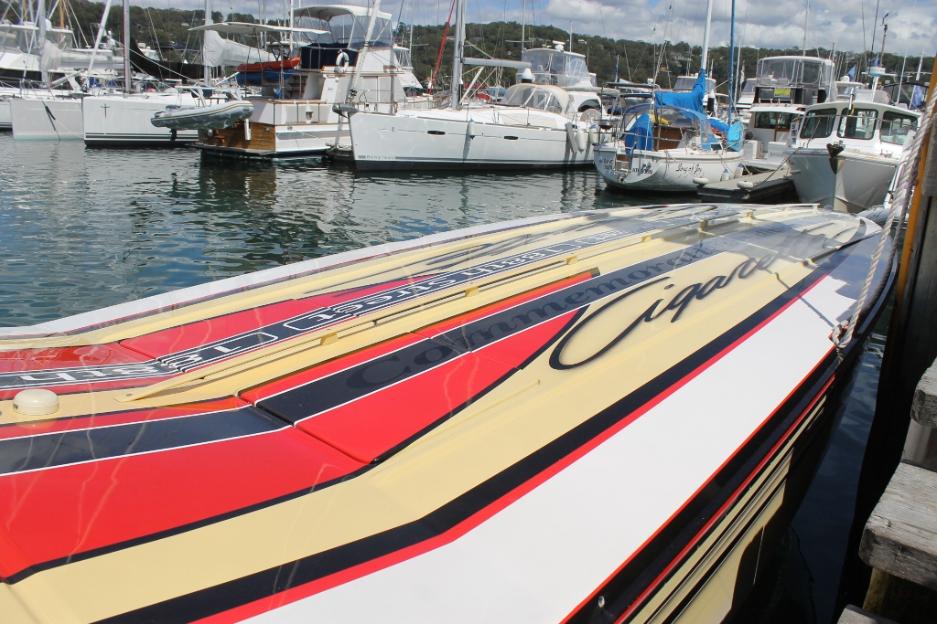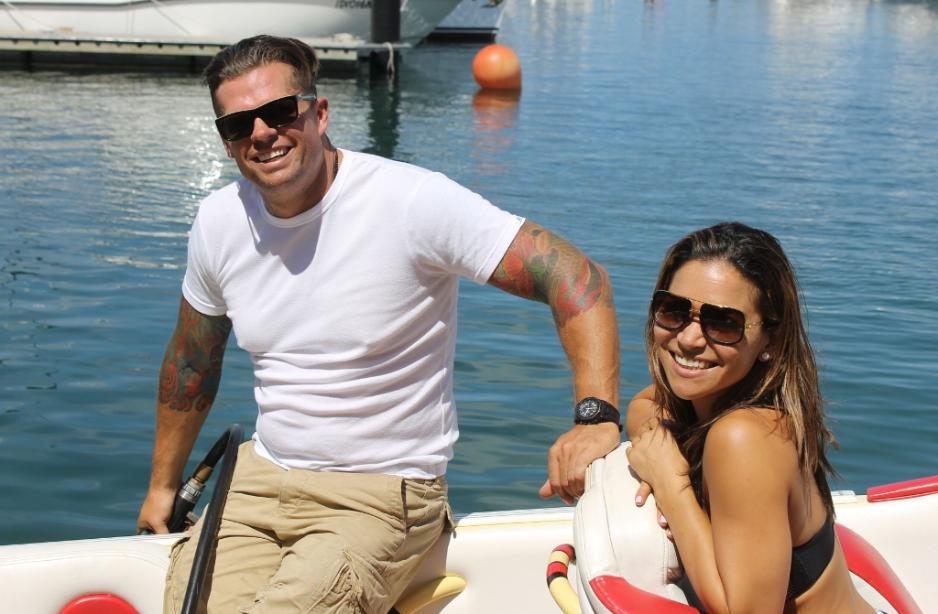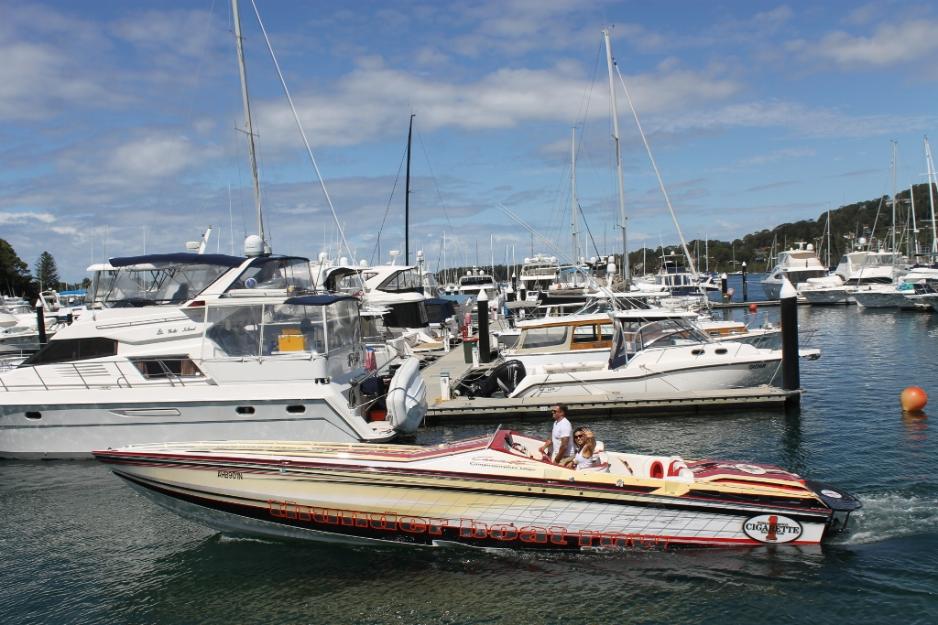 Report and Photos by A J Guesdon, 2014.