April 19 - 25, 2015: Issue 210
The GEE Family Are Proud of Our Service to Australia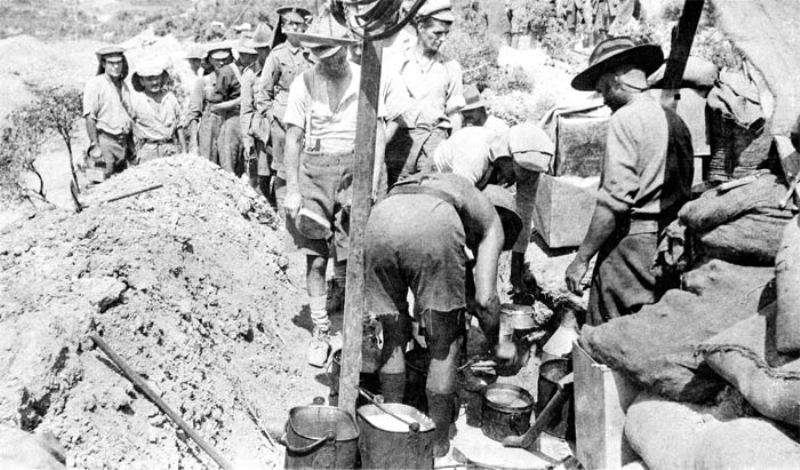 Cooks issuing light rations to sick men at No 1 Field Ambulance on Brighton Beach - Gallipoli.
The GEE Family Are Proud of Our Service to Australia
Raymond Clifford Gee lived in Manilla NSW, he enlisted in Singleton NSW on the 4th April 1915 as Private # 4007 and was assigned to the 1st Field Ambulance. He was 19 years and one month old.
He left Australia 30/6/1915 on the HMAT Clan McEwan A65 and arrived at Gallipoli on 26/8/1915 where he was sent as reinforcement to 3rd Field ambulance at Sarpi Camp Mudros.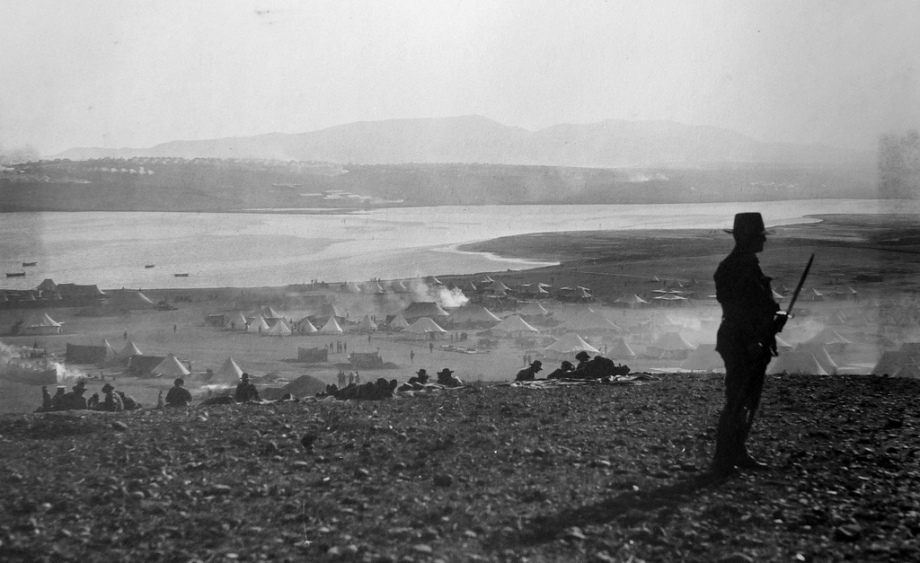 Photo (cropped, some digital retouching) of a black and white photographic print in an album titled Photographs of the Third Australian General Hospital at Lemnos, Egypt & Brighton (Eng.) / taken by A. W. Savage 1915-17 courtesy the State Library of NSW. In the foreground the tents are those of "Sarpi" the Australian Rest Camp. In the background can be seen No. 2 (?) A.G.H. at Turk's Head.
After being transferred back to 1st Fd. Amb. he remained on Gallipoli until 22/3/1916 embarking on the 'Grampian' at Alexandria and disembarking at Marseilles in France on 28/3/1916. He served in both France and Belgium until he was reported sick and was evacuated from Boulogne to England on 14/5/1917 suffering from 'Trench Fever' where he was admitted in Kitchener Hospital in Brighton.
After his recovery he remained in England with 1st Fd. Amb. based at Perham Downs Camp in Salisbury until his return to Australia aboard the 'Berrima' in January 1919. Raymond was awarded the 1914/15 Star, British War Medal, Victory Medal and a Gallipoli Medallion, all of which have since been donated to the Australian War Memorial in Canberra.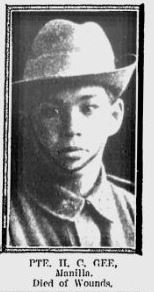 Also during WW1 Raymond's older brother joined the armed forces. He was Pte Harry Charles Gee, known as 'Pete' age 22 years and 8 months old and was assigned to the 33rd Battalion. On 10th April 1916 he embarked from Sydney on the 'HMAT Borda' 17/10/1916 arriving in Plymouth England 9/1/1917 leaving England from Folkston 13/3/1917 he arrived in France on 14/3/1917.
He fought in the region between Estaples and Lille and was wounded in the battle of Messines on 15/6/1917 from where he was transported to Boulogne and back to a military hospital in Eastbourne, England where he unfortunately died age 23 on 21st June 1917.
He now rests in Ocklynge Cemetery, Eastbourne where he was buried with full military honours. He received a Memorial Plaque and Memorial Scroll and King's letter for his services. Since researching our family history I was astonished to learn that our very own Harry Gee was fighting against on of the worlds most hated men, a young 17 year old named Adolf Hitler who was also wounded at Messines.
On his return Raymond settled in Collaroy, he married Vera Monk and together they had 6 children, Ray, *Harold (Acher), *Vera, *Enid, William (Bill), & *Marie, he remained in Collaroy until his death in 1979 aged 83 years.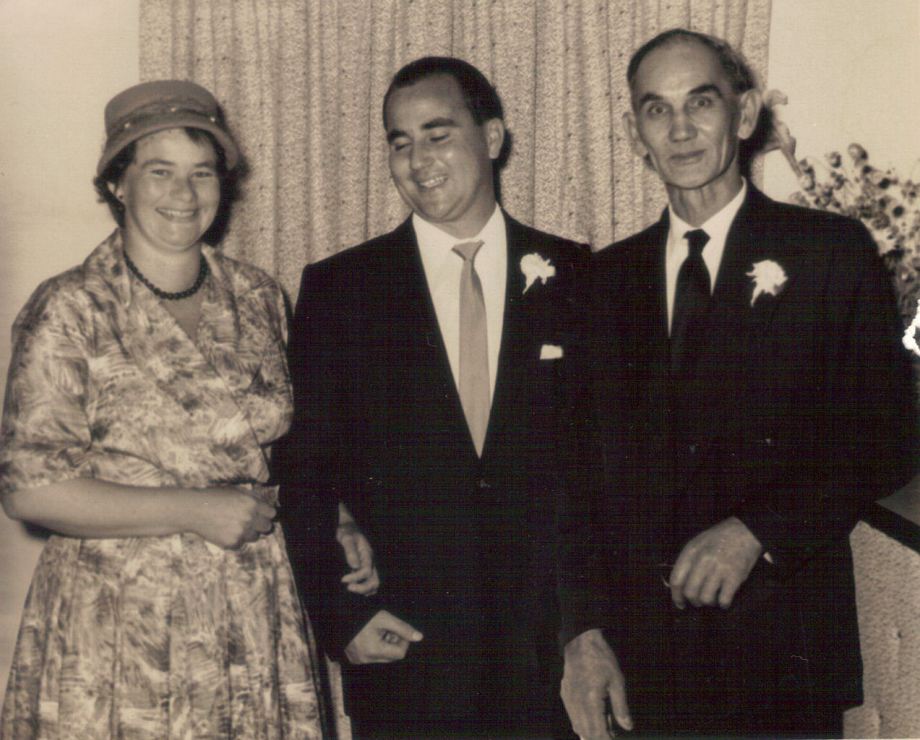 Vera, Bill, Clifford - Father
Bill was also to serve Australia, being called up for National Service in 1951 he was assigned to the RAAF in Fairbairn until 1953, this being during the Korean War. He married and had 4 children, Garry, Amber, Brent and Cameron, and has 7 grandchildren, Isabelle (Izzi), Tahlia, Lauren, Charlotte (Charlie), Alana, Hayden and Yasmin.
Although Bill and I, Viv, his partner of 25 years, now live in Glenthorne near Taree, we will be proud to be marching on Anzac Day this year in Avalon along with children and grandchildren two of whom, Charlie and Hayden attend Avalon Public School.Along with their father Brent, who is a member of Avalon RSL Club, three generations of 'Gee's' will be marching for a father, a grandfather, great grandfather and Uncle - two loved Anzacs.
* donates deceased.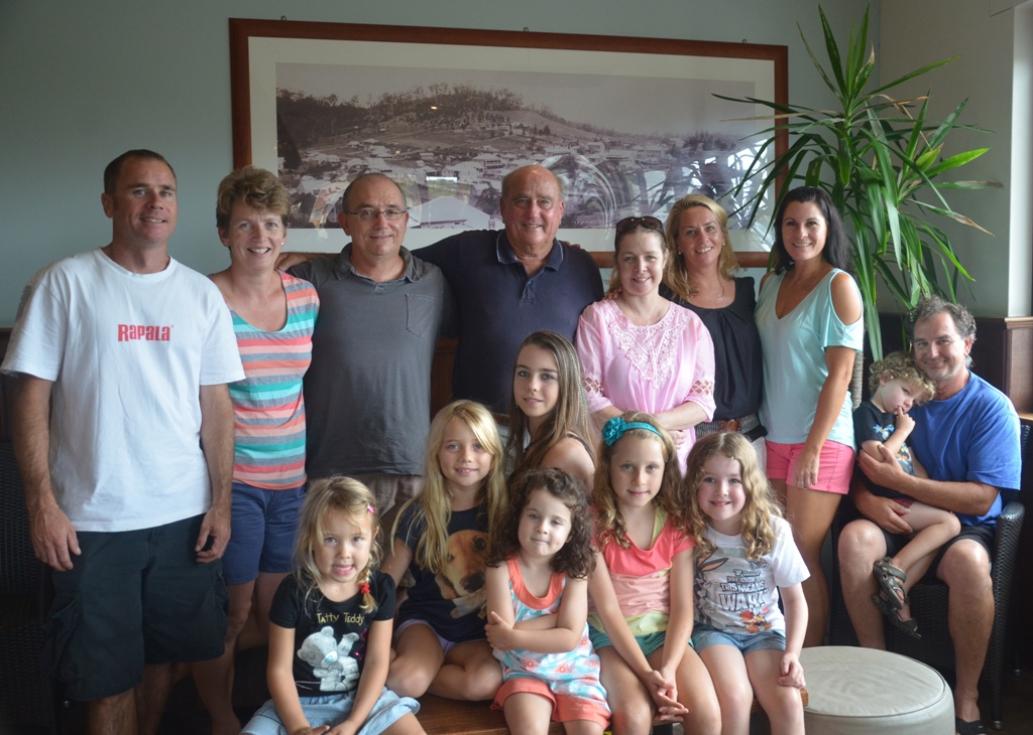 By Viv Gee - Copyright The Gee Family, 2015.