January 8 - 14, 2012: Issue 40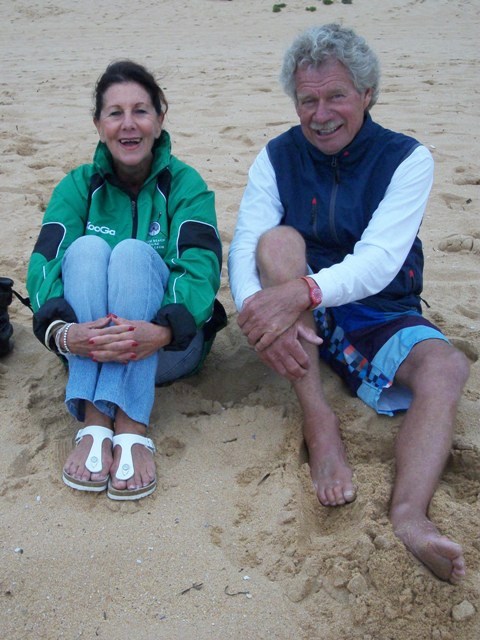 Above: Bev and Midge Farrelly came to watch the fun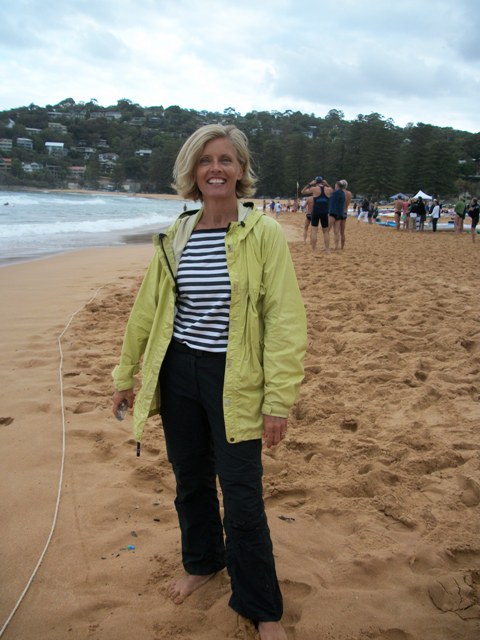 Above: Alex Wileman, one of the Marshals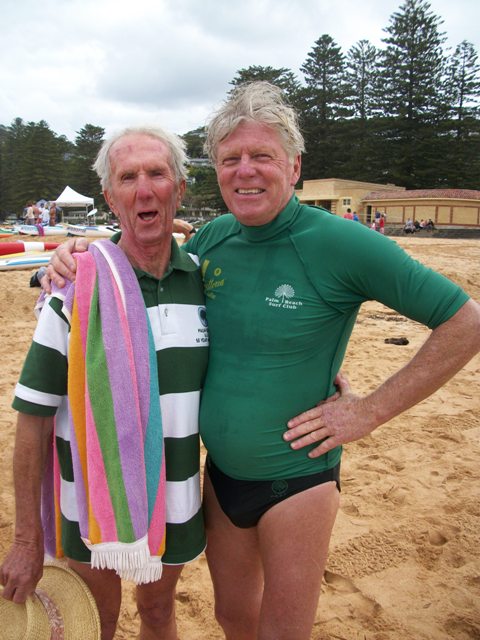 Above: Ian Curlewis and Peter Sledge (PBSLSC member since the 60's)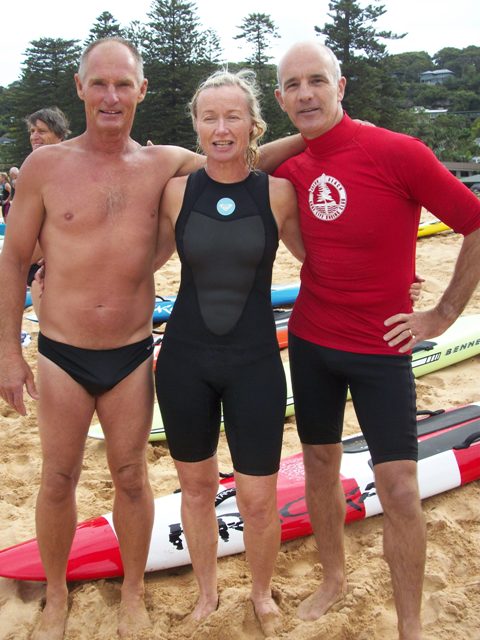 Above: L to R, Chris McGuckin, Chris Hopton (Pres. Avalon SLSC) and Grant Salmon
Copyright Pittwater Online News, 2012. All Rights Reserved.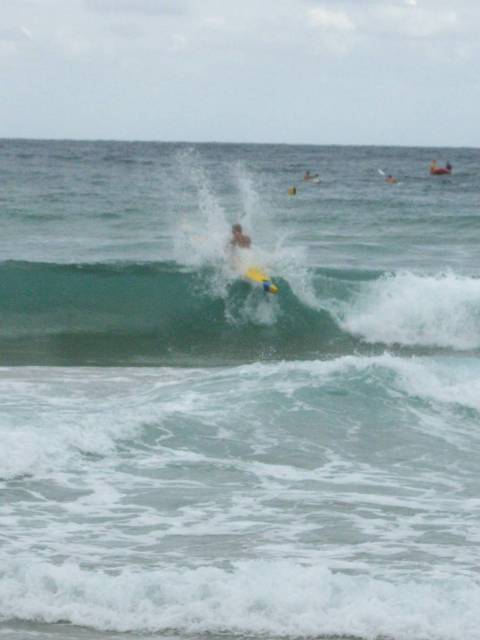 SIR ADRIAN CURLEWIS TWILIGHT MASTERS
Friday 6th of January, 2012
The third annual Twilight Masters held at Palm Beach on Friday, named in honour of Sir Adrian Curlewis, PBSLSC's first Club Captain and President of Surf Life Saving Australia from 1934 – 41 and 1945 - 75. , was fun and an amazing testament to how fit Surf Life Saving can keep you from beginning to end. Over 500 participants, their families and representatives from North Bondi, Freshwater, North Steyne, Manly, Dee Why, Queenscliffe, and our own Mona Vale and Avalon SLSC's and the hosts Palm Beach Surf Life Saving Club came to swim, sprint, ski and race each other on boards around a course of sand and sea.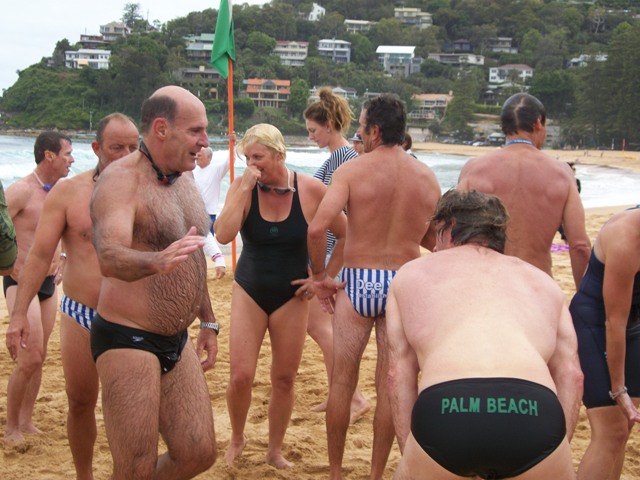 Above: Masters Captain, PB SLSC Gordon Lang (to left), after first swim
Masters Captain of PB SLSC, Gordon Lang, worked tirelessly in the lead up to ensure all would run smoothly and then entered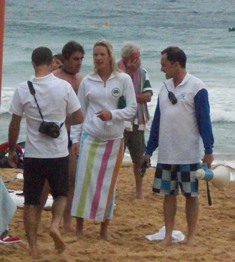 several events himself. Peter Middleton(right), race-starter and on loud-hailer through the two and a half hours it took to run all races, was smiling at the beginning of the afternoon and still smiling when the last sand sprint was run. He was ably assisted by lovely young ladies from PBSLSC throughout, some of whom went into the water to check starts, others who were at each end of the flags to record results.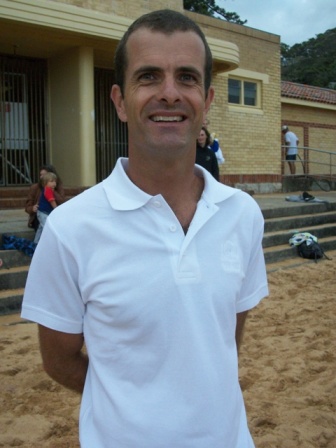 PBSLSC President Ant Yeates(left) was on hand to ensure all enjoyed themselves and expressed how honoured he was to be the current President. Ant, like a lot of the PBSLSC members, has been a long term volunteer on Palm Beach, more then half his life, and began as a cadet. All of PB SLSC's Life Savers commence their membership this way and meet like minded peers who often become lifelong friends.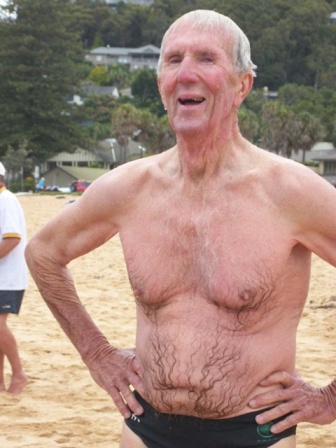 The afternoon commenced with the Memorial Swim with Ian Curlewis (right), Adrian Curlewis's son, a fit 82 years young, being accorded the right and honour to swim first. Ian made it back to the beach in lightening time and was barely puffing afterwards.
The teams consisted of 4 members, whose members must all be over 30 years of age, must be current surf life savers and proficient, with one member from each team being either female or over 50 years old (or a female over 50). Composite teams are allowed and the competition showed that the ladies weren't afraid to match the gents, especially in the sprints across the finish line.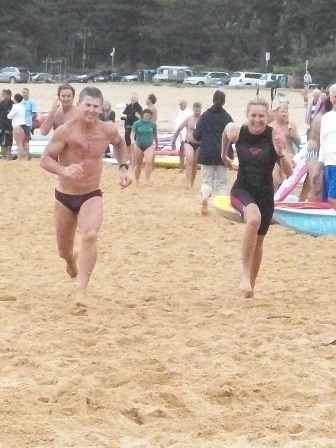 The board relay was next, followed by what is called a Taplin Relay, which is board and swim combined. Next came a beach sprint, a ski relay and a final beach-sprint relay with all teams joining in. After two and a half hours of swims, boarding and paddling there were still no sign of anyone slowing down and the speed of those running was amazing. Afterwards a BBQ was held at the club with those from other Surf Life Saving Clubs warmly welcomed.
The Sir Adrian Curlewis Twilight Masters opens Palm Beach SLSC's 'A Weekend Celebration of Surf Life Saving'. This annual event, in partnership with Pittwater Council, also includes the Palm Beach Open Carnival the following day (Saturday 7th of January) with over 2000 participants. The smiles on all faces and laughter, level of fitness of competitors and investment in community spirit and service are what PBSLSC and Surf Life Saving are still all about.
The two pools were won by Queenscliffe and North Bondi.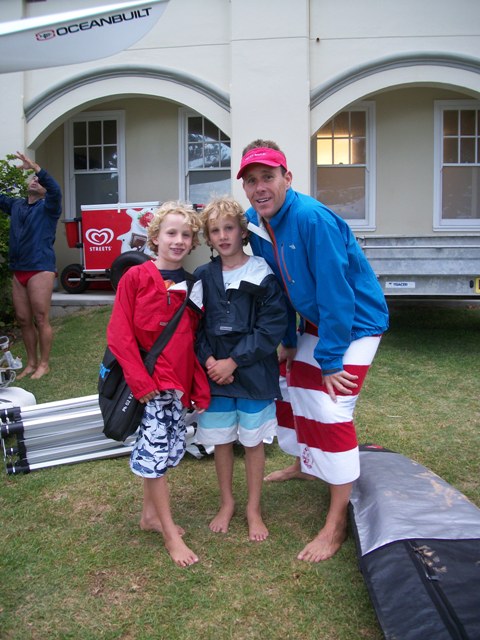 Above: L to R, North Bondi SLSC members Thomas, Hugh and dad John Clothier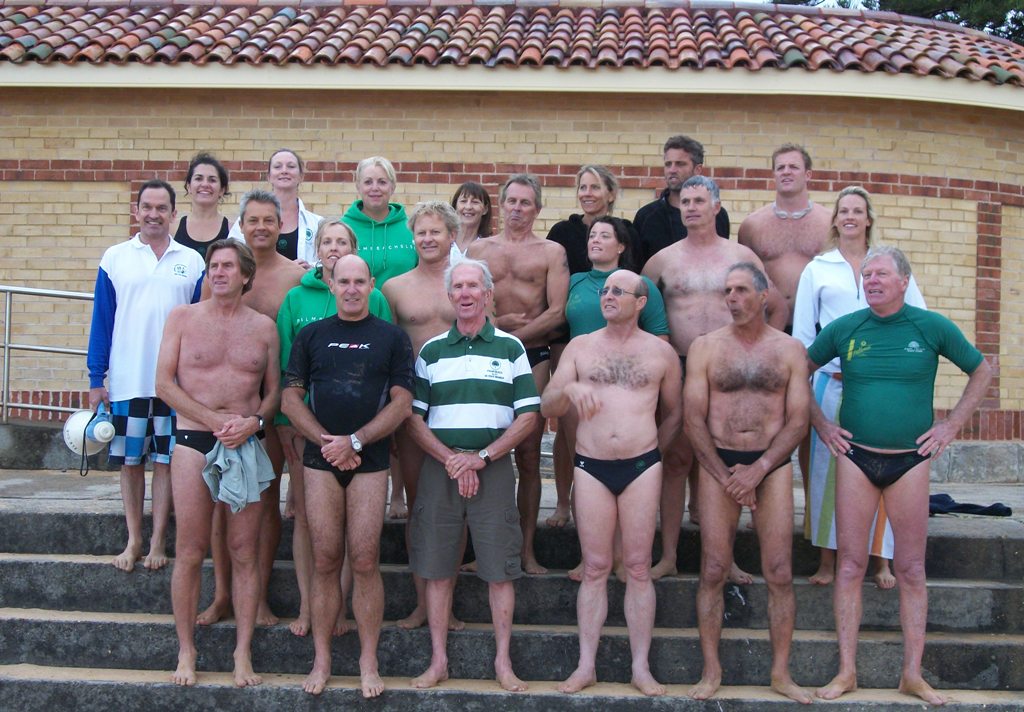 Palm Beach Surf Life Saving Club Competitors (most of them)