November 29 - December 5, 2020: Issue 476

Yaw Way Art Gallery In The Narrabeen RSL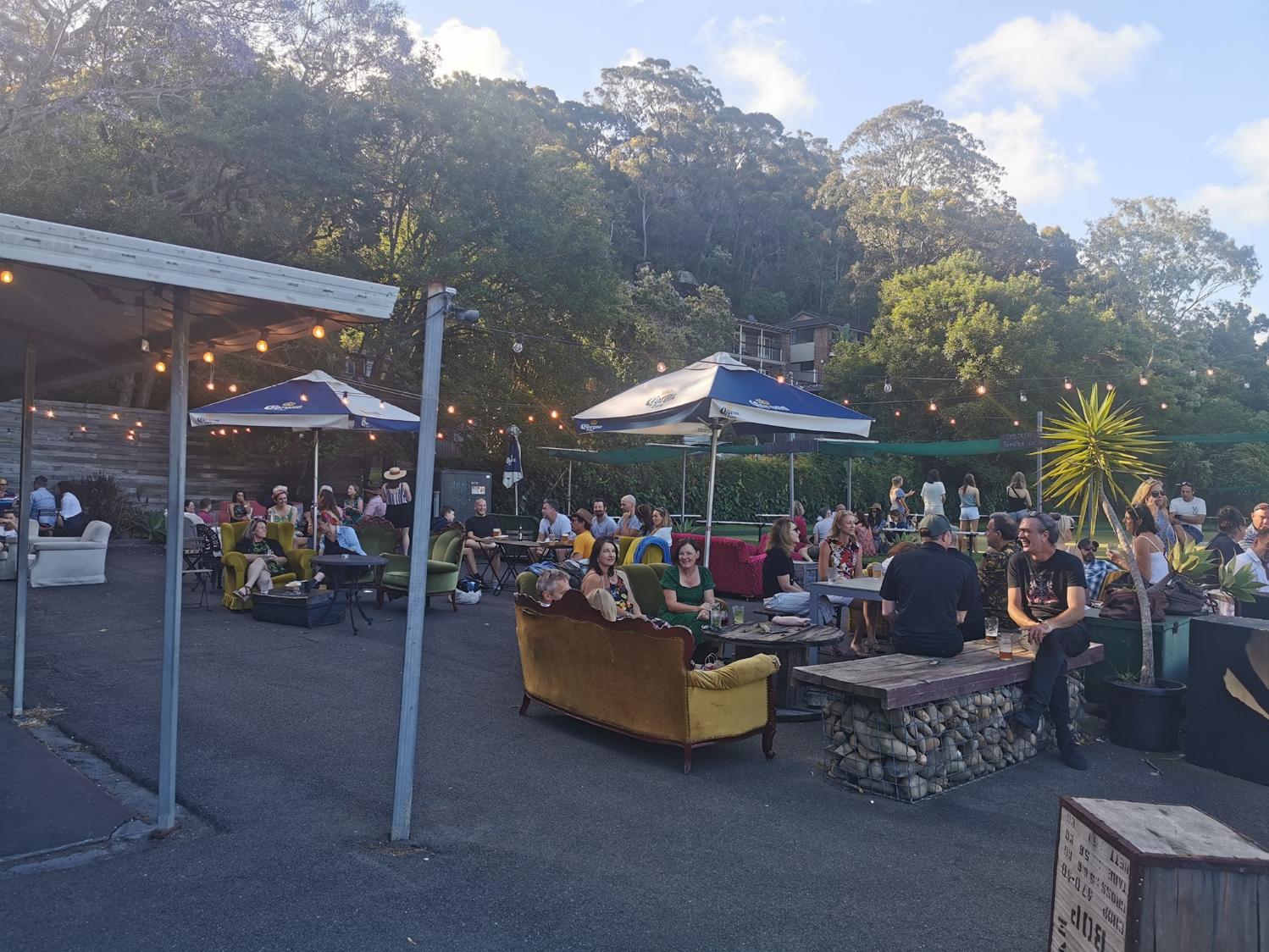 The outdoor area off the Sunk Bar, Narrabeen RSL
YawaY Gallery
Narrabeen RSL
116 Nareen Parade, North Narrabeen
Facebook page is Yaw waY platform
Website: www.yawway.art
On March 22nd 2019 a new Artists' platform launched in the Narrabeen RSL out the back of the Sunk bar. Exhibiting artists included; Max Marvel, Louis Leimbach, Foster De Waal, Katika Schultz, APESEVEN, Chrystal Rimmer, WordArt by lieslg.
The name 'Yaw Way' stems from 'Yaw'; meaning (of a moving ship or aircraft) twist or oscillate about a vertical axis; A yaw rotation is a movement around the yaw axis of a rigid body that changes the direction it is pointing, to the left or right of its direction of motion + 'Way' - meaning 'your way' and for everyone, and aligned to the nautical theme from which the gallery runs as an extension of, the Sunk Bar in the Narrabeen RSL.
This is a fresh dynamic approach to presenting our local Creatives.
Opening Night: ''With 80% of sales going directly to the artist and 10% going to charity, we are aiming to change things up ! Our aim is for Yaw waY to go Your Way ! We want to hold space for creatives to express, teach, learn and meet.''
Yaw waY platform is an artist run, not for profit initiative based in the depths of Narrabeen RSL, known as the friendliest little club on the peninsula, in the valley of North Narrabeen. The gallery has black walls and kooky pipes coming out of the ceiling, a contemporary industrial space.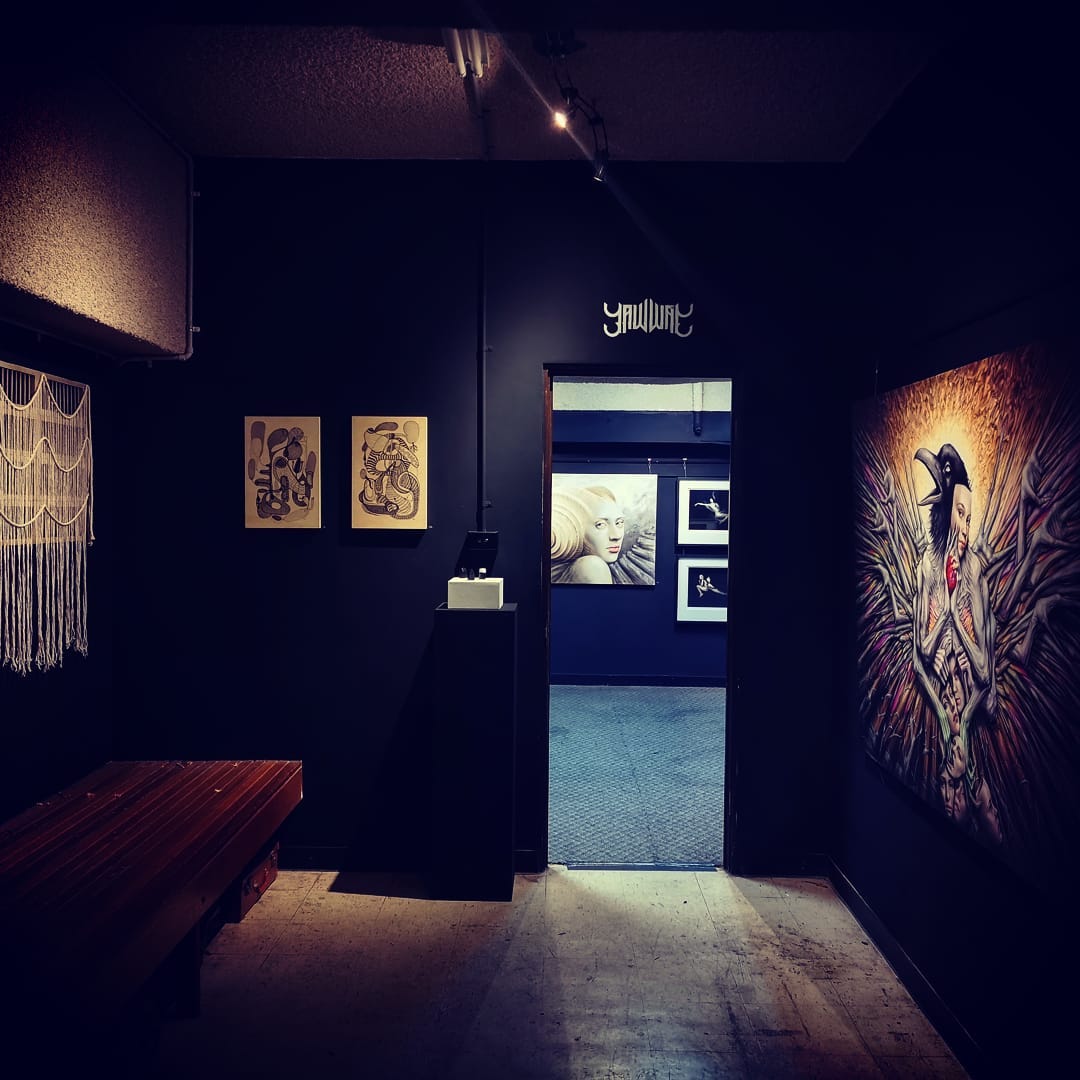 Yaw WaY Entrance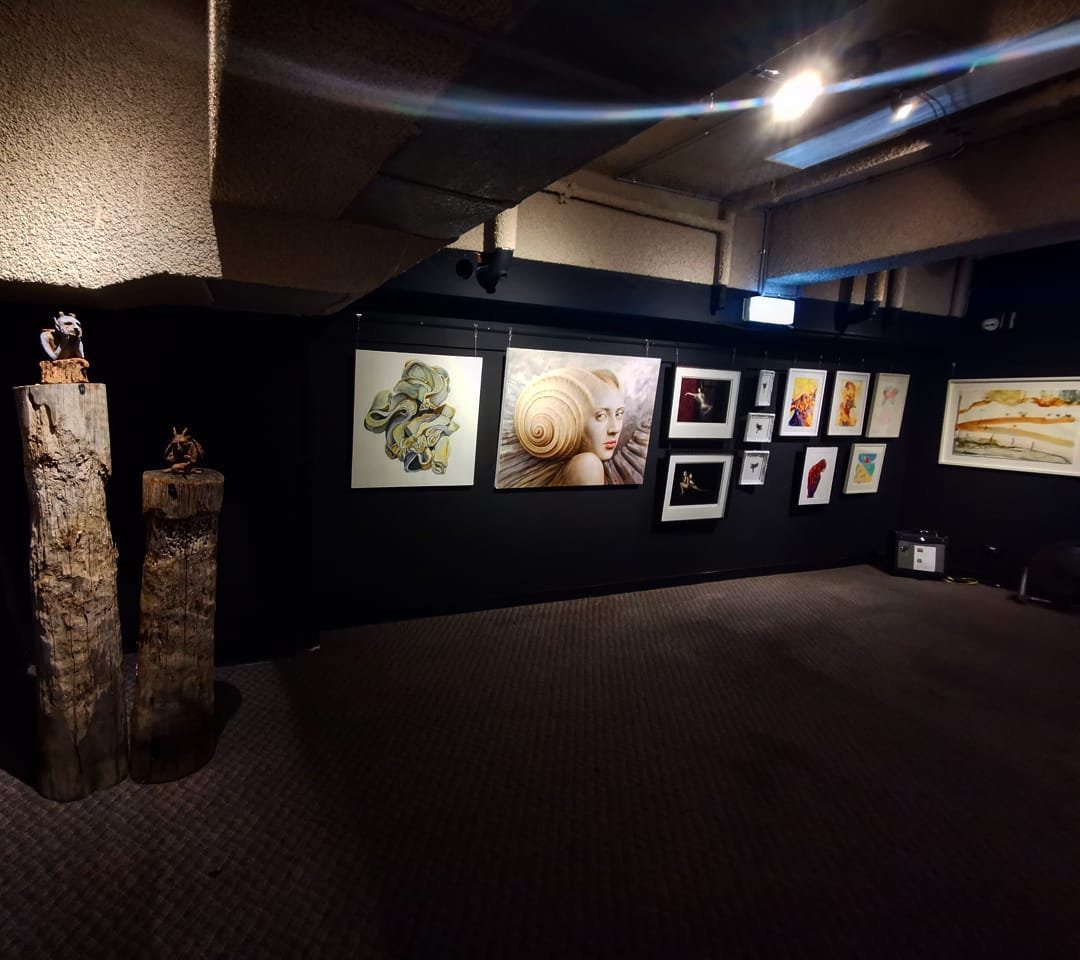 Yaw WaY Interior
Narrabeen RSL, in its current location, is a 65 year old live music venue with many pockets of rooms and spaces. The first Narrabeen RSL was alongside the Narrabeen SLSC and burnt in 1954 - more on that in 2021, but, from the pages of the past:
Fire Destroys R.S.L. Club
Fire early this morning gutted the clubhouse of the North Narrabeen branch of the Returned Servicemen's League. The clubhouse was a two storey weatherboard building in Ocean Street, North Narrabeen. The fire broke out shortly after midnight and flames quickly spread throughout the building. Firemen fought for nearly an hour to control the blaze and prevent it spreading to clubrooms of the North Narrabeen Surf Club which is nearby. Hundreds of people, many in night attire, watched the blaze. Fire engines from Manly, Narrabeen, and Deewhy fought the fire. Fire Destroys R.S.L. Club (1954, April 29). The Sydney Morning Herald (NSW : 1842 - 1954), p. 1. Retrieved from http://nla.gov.au/nla.news-article18423039
Kat Schultz, the founder of Yaw waY has worked in the onsite cocktail bar, Sunk bar, for 5 years and came up with the idea of having a gallery for local artists in a room out the back. The space had been used for speakeasy events, where local and regional bands played intimate shows.
With the help of Narrabeen RSL, Council and a bunch of amazing volunteers this team made things happen.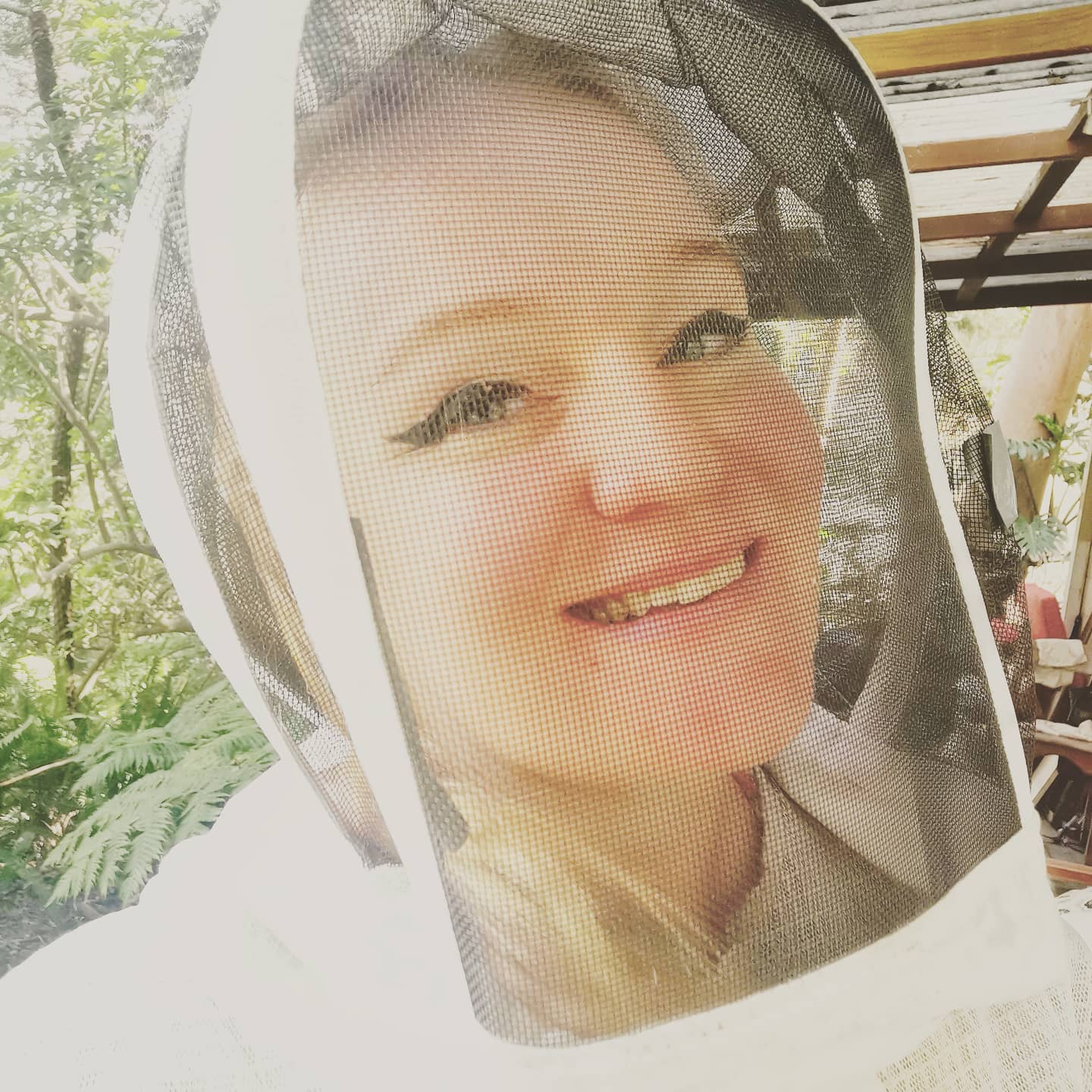 Kat Schultz

Kat's dream was to fill under utilised spaces with good quality art and to add a grungy twist on curating - little did she know that Yaw waY would receive so much support from the community and show how much the beaches needs more Art Partying.
"We have so many talented artists here on the beaches" Kat says "pulling them out from the hills and celebrating their existence is what we aim to do, the cheer from the local community and council is overwhelming and so dam exciting, if we had our way, every empty shop front and ally way would be displaying local skills."
"As Yaw waY grows we hope to take on more shop fronts and shows"

With support of local Artists and the RSL staff and board, Yaw waY came to be in early 2019 and has held six massive art shows so far, selling over $10, 000 of art for Northern Beaches Artists.
Founding Artists
Katika Schultz: Director and Founder, ​Printmaker and Painter
Jason Jones: Muralist and Visual artist, Co-curator of 'Hooded Habitat'
Holly Gibbs: Face & Body Painter
Jackelyn Bickell: Mixed Media Artist
Ruby Smith; Artist and Model
Kate Mack and Claire Morris and Luke Holland
The Core Members
Carina Capone: Sculptor and Ceramicist, Curator Sculpture Walk on the Green 2020
Thomas Sandberg: Sculptor
Matt Gald: Artist
Contributors
Sharon Billinge: Muralist and Painter, Mastermind of the Stairwell Mural Project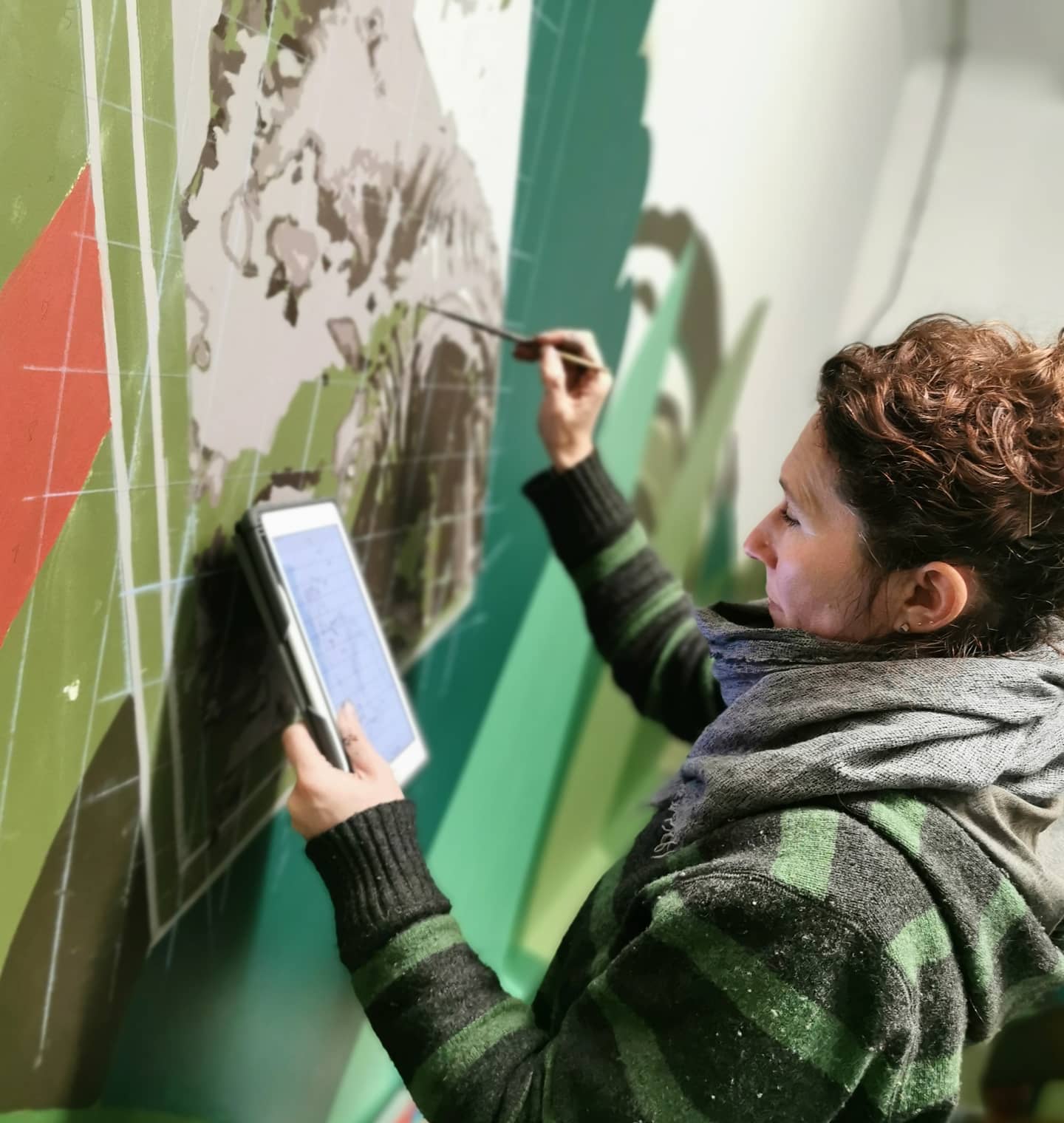 Sharon Billinge, working on the Stairwell Mural installation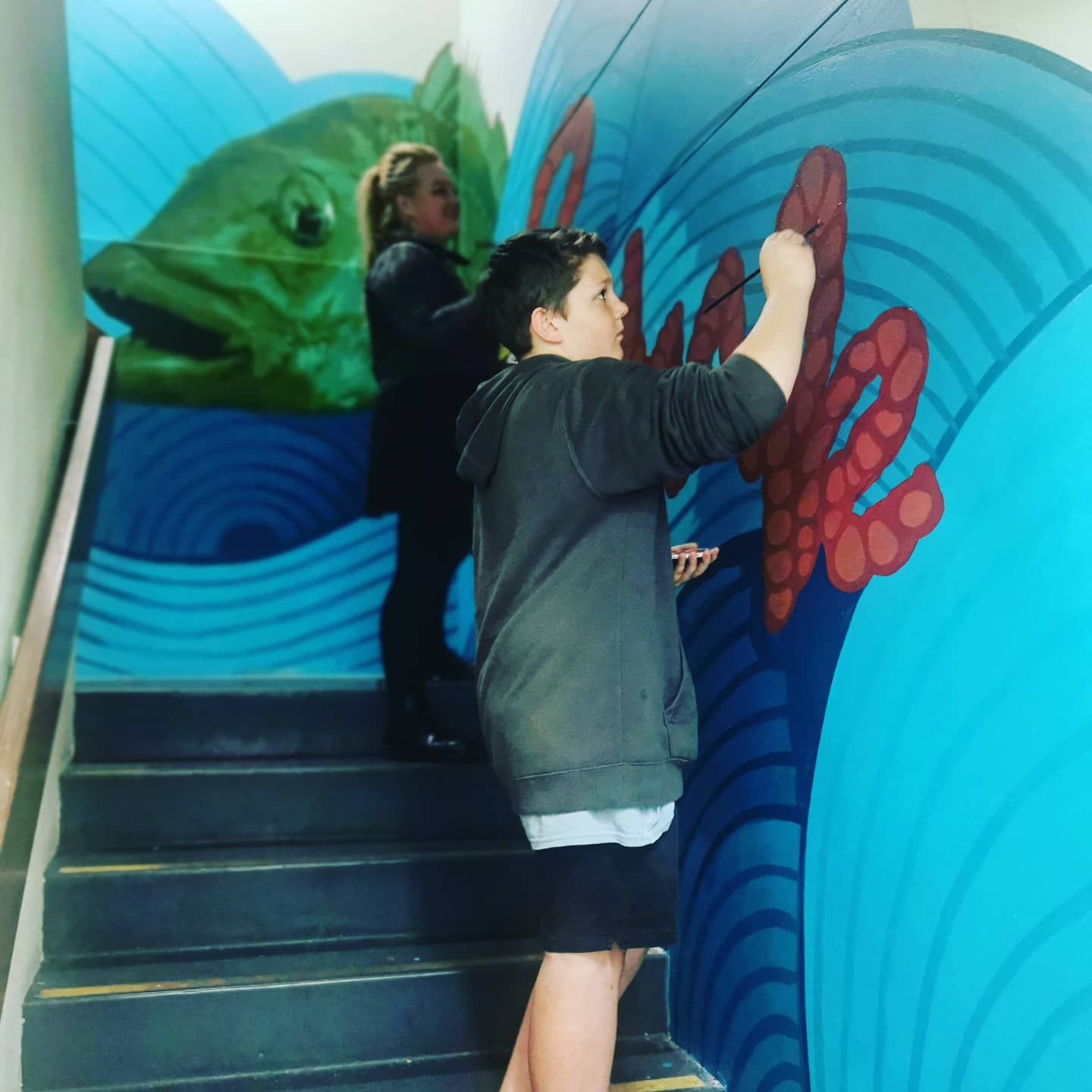 Rafael Morris and Katika Schultz - working on the Stairwell Mural installation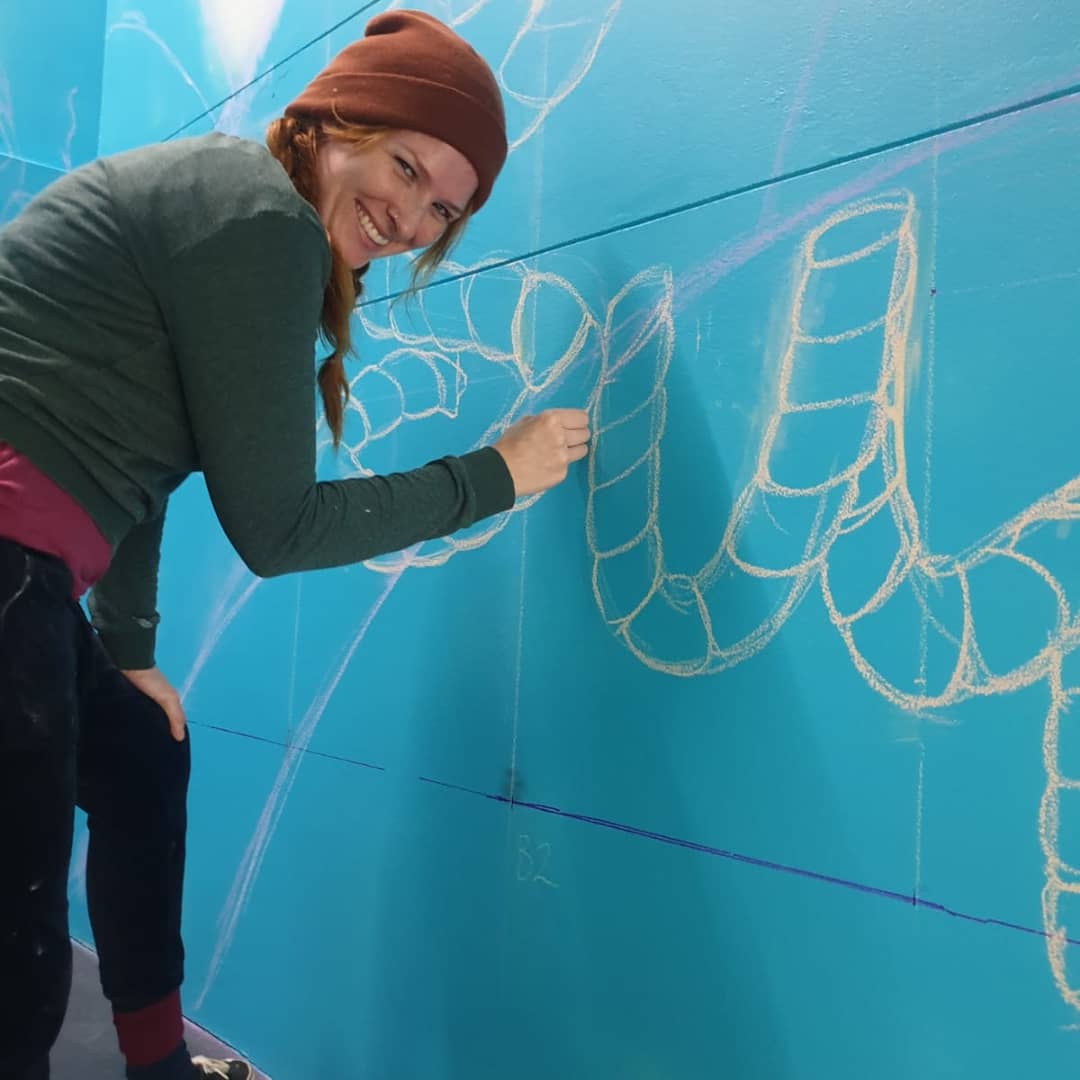 Holly Gibbs - working on the Stairwell Mural installation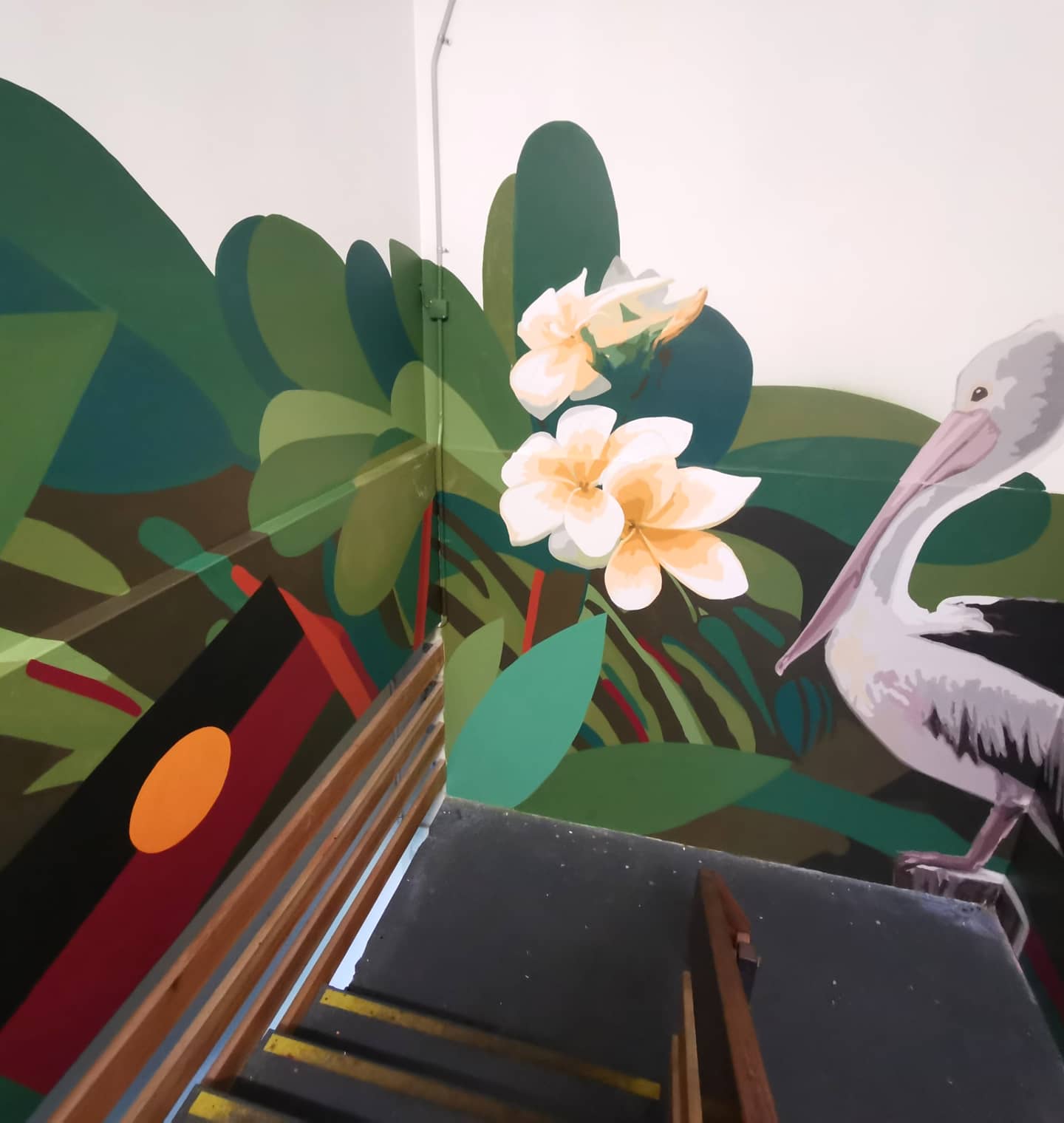 Stairwell Mural

In late 2019 Kat and mural artist Sharon Billinge won a Northern Beaches Council grant to create a three story stairwell mural involving all the groups that use the club such as the fishing club, bridge club, tango and jive dance clubs. This was an intergenerational and diverse project, empowering locals to learn about large scale painting and creating a sense of ownership and pride in their club.

The local response was amazing and we had so many volunteers helping out and enjoying the project.
Past Exhibitions
Hooded Habitat - opened Friday 24th May 2019: A street art exhibition.
Wild at Heart Nature Bound - opened Friday 19th July 2019: An exhibition showcasing artists that work from nature.
Broadway Takeover - July-August 2019: One month takeover at the entrance of Broadway shopping centre.
"Shot" - Friday 27th September 2019: An exhibition of local photographers and film makers.
The Concept of Home - Friday 22nd November 2019: ​Salon style show with live body art and music.
Stairwell Mural Project - May - September 2020: Collaborative mural project at Narrabeen RSL masterminded by Sharon Billinge.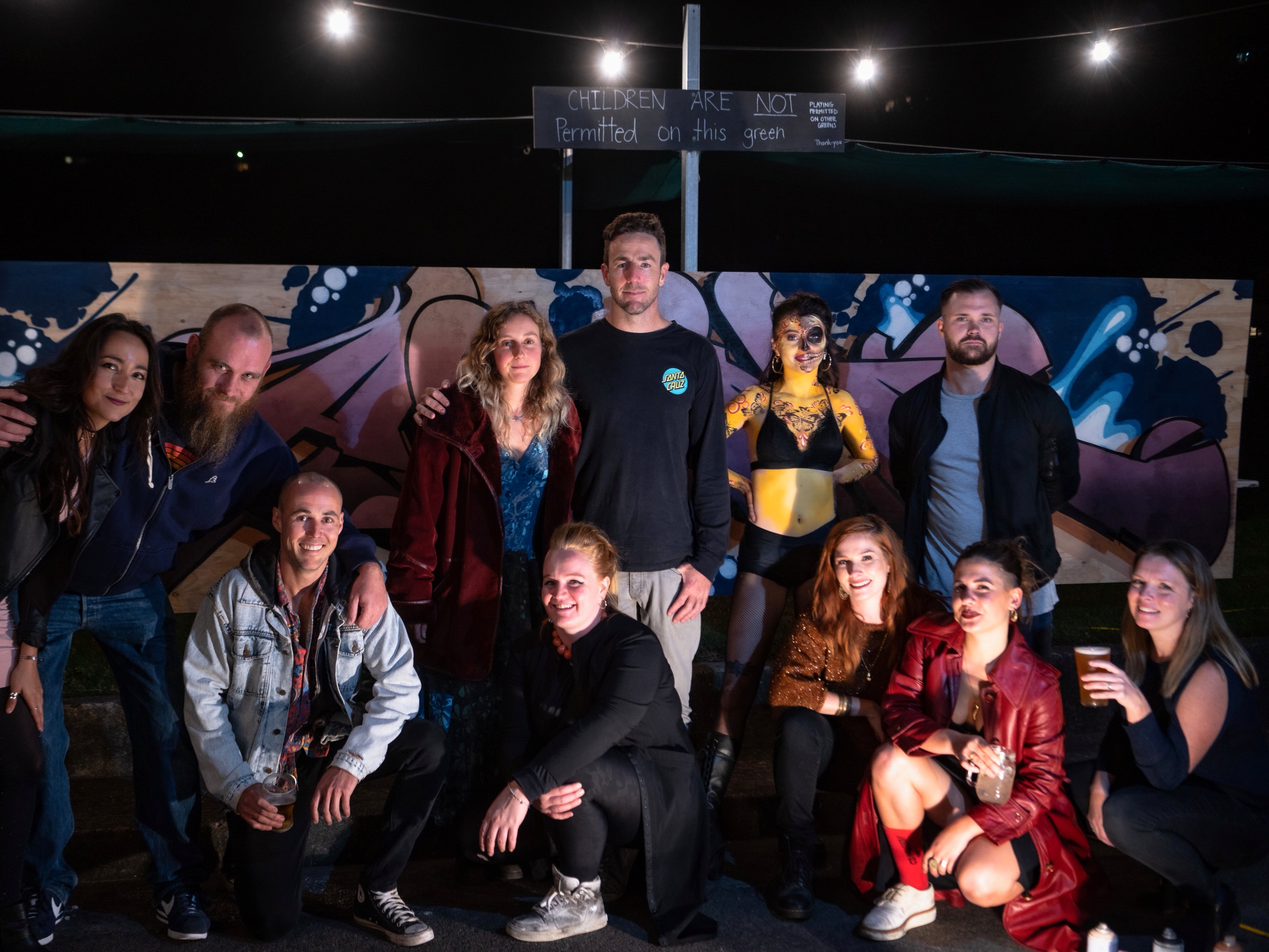 Street Artists
The Northern Beaches Council released another round of grants to help creatives during Covid. Kat won a small grant to engage 10 local mural artists to deign and paint 5 walls on site at the RSL.
In January the gallery will hold a festival of murals exhibition, where they will invite the public to come see the completed murals and an exhibition by the Artists involved. This exhibition will run for 1 month and the murals will stay up and be seen in different parts of the club.
''We are so grateful to the Narrabeen RSL and Northern Beaches Council for their encouragement and support.'' Kat said this week.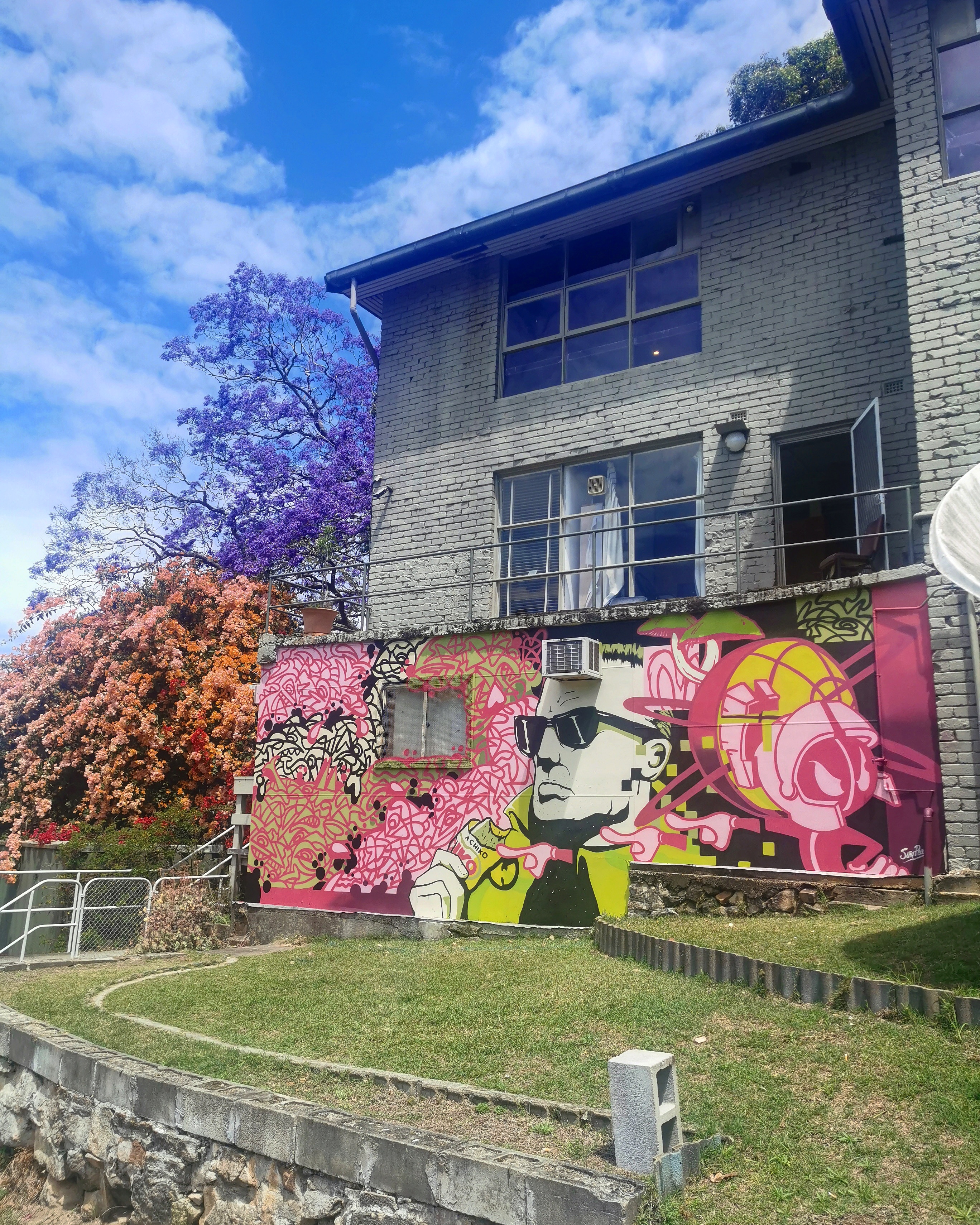 One of the core crew members, Carina Capone is curating a sculpture walk. This opens on December 3rd at 5:30pm and closes Sunday the 6th at 7pm. Utilising one of the 3 bowling greens at Narrabeen RSL and featuring the works of 14 local Artists, this will be a showcase of local genres you can explore in the laid-back atmosphere this club is known for.
''We hope to do this sculpture walk annually, for it to grow and be something to look forward to each year.'' Kat explains
The Yaw waY community is continually growing. The tapestry of talent is thick in the Northern Beaches and Yaw waY wants to support the under represented.
Our aim is to give voice to artists that haven't studied at art school, street art and mural artists and people who have a different stance. Generally the gallery system can be quite challenging and intimidating, we hope to bring clarity and fun to something usually serious. A bit grunge, a bit punk, a bit different = a lot of fun!
Locals and artists can get involved in what's coming up at Yaw Way by writing to yawwayplatform@gmail.com or following @yaw_way_platform on Instagram.
Our Facebook page is Yaw waY platform - to keep up to date with all upcoming Exhibitions
Our Website: www.yawway.art