January 21 - 27, 2018: Issue 344
'Wright of Passage' Opportunity for Youth
Teens, are you up for the challenge?
'Wright of Passage'
Teens over 16 are you brave & have a sense of adventure?
Do you feel like you are not quite fitting in? Tired of boring?
How do you feel about magic? How do you feel about alchemy?
How would you like to be part of a team that turns a scruffy tired old classic Herreshof ketch back to the sea going beauty that she once was? (Yes there is alchemy involved!)
Well have we got a deal for you and we will even throw in a sailing trip to Tassie as well!
When the wind, the waves, the wood and the sails come together they create a new way of thinking about things - a new career path, a new trajectory for your life.
At the end of this program, and once you sail to Hobart, we will guarantee you, that you will be thinking I can!
When we arrive in Tasmania we will be taking part in the Wooden Boat Festival in February 2019.
BTW we are seriously into fun !
So are you up for the challenge?
SWD are Excited to offer this Fully Funded Youth Opportunity!
Are you out of school, and disconnected from traditional learning?
Keen to work and learn in a hands on way?
Do you want the opportunity to start a TRADE, open doors to employment and at the same time experience a trip of a life time?
'Wright of Passage' is a unique opportunity to become involved in an inspirational, life changing project, that can allow lead into various trade apprenticeships, by learning about tools, and gaining joinery and woodworking skills.
This unique project has come about due to the donation of a timber 53ft Herreshoff ketch. While this boat is principally sound, it needs some work to be seaworthy. This work entails many trade and professional skills to bring it up to a satisfactory standard.
For the next two years the boat will be refurbished at the historic Woolwich Dock, in the heart of the harbour and boating industry with teams of youth undertaking the 'Wright of Passage' Program and with the mentoring support of the trades on site and Meadowbank TAFE delivering the formal accredited training.
The final project has a deadline of 15 November 2018 when sea trials will commence, and program participants will begin preparing their boat to sail to Hobart for entry into the Wooden Boat Festival 8-11 February 2019. The boat will be crewed by the participants of the 'Wright of Passage' Project, who have worked on the program since the beginning under the supervision of a management team.
This program is FULLY funded (ie, Free!).
But time is running out and we need Registrations in now!
Commitment to this program will commence on February 5th 2018.
Participants will undertake CERTIFICATE 2 in Boating Services which is an 18 week course (equivalent to Stage 1 Trade Certificate), involving Monday and Wednesday attendance at Meadowbank TAFE and Tuesday, Thursday and Friday's onsite at Woolwich Dock and Rushcutters Bay.
For more information call 0421 725 170 or email info@sailorswithdisabilities.com
APPLY TO JOIN THE PROGRAM HERE
But be Quick as it starts soon!
Or you can call us on 0421 725 170
Wright of Passage is a new and innovative program from Sailors with disABILITIES (SWD) and TAFE Meadowbank
for teenagers over the age of 16 who are disengaged with learning. Students will fully refurbish a 53ft Herreshoff ketch and complete the course with a Level II Certificate in Boating Services.
Meadowbank TAFE is in West Ryde.
Nathanael Greene Herreshoff (March 18, 1848 – June 2, 1938) was an American naval architect, mechanical engineer, and yacht design innovator. He produced a succession of undefeated America's Cup defenders between 1893-1920.
Two of Herreshoff's sons would also become yacht designers: Sidney Dewolf Herreshoff and Lewis Francis Herreshoff.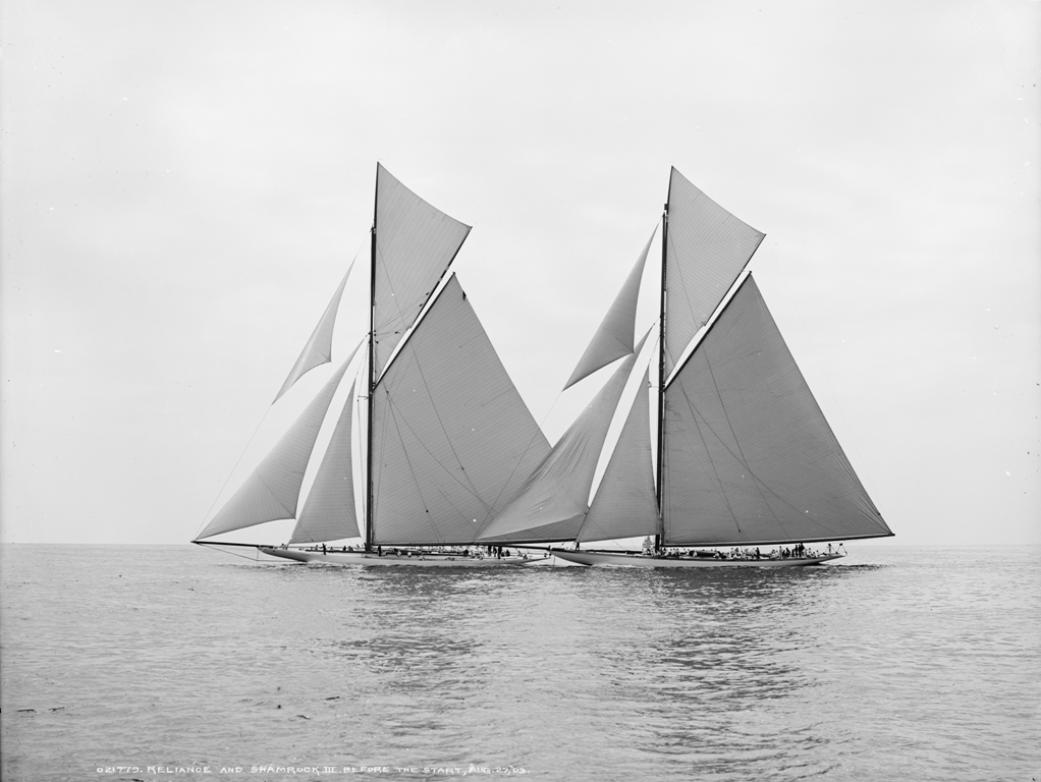 Herreshoff's
Reliance
ahead of
Shamrock III
, Sir Thomas Lipton's 1903 America's Cup contender designed by William Fife. Photo courtesy the United States Library of Congress's Prints and Photographs division under the digital ID det.4a15407.
CENTURY OF AUSTRALIAN YACHTING
Conducted By L. A. P. d'Alpuget



Craft Of Today And Yesterday NOW STREAMLINED SYLPHS .
TO INCULCATE AQUATIC PRINCIPLES INTO THE MINDS OF HIS SUBJECTS, PETER THE GREAT, CZAR OF ALL THE RUSSIANS, WOULD HAVE NO BRIDGES BUILT OVER THE NEVA.
Australians have never needed any such incentive. They have taken to the water like worthy sons of a nautical mother.
WHILE vague reports exist of sailing races on Sydney Harbor in 1818 and 1831, no definite record is available until 1834, when Captain Daniels, of the clipper 'Rubicon, sponsored a regatta. It was a big success. BY 1836 several small yacht clubs were in existence. James Milson, doyen of Australia's greatest aquatic family, and his associates, Burton Bradley, John Ritchie, and George Macpherson, pioneered the way. They held the inaugural anniversary regatta in 1837. The fleets grew. Yachting in Australia had arrived! The development of design of craft on Australian yacht club registers has been romantic. From coquettish bustlers they have become streamlined sylphs. Yachtsmen' have discarded straight keels, plumb stems, deep rectangular forefeet, and long - bowsprits. Instead, they have adopted long sleek lines, offering a minimum of surface friction. Remarkable was the sail-carrying capacity of the old-timers. As picturesque and as caparisoned as a granddame of the period, they literally battered their way through the water. One of the speediest of these early craft was the 12-ton gunther-rigged Sophia, owned and sailed by James Milson. She had her heyday in 1837, winning at the first anniversary regatta. Gaff mainsail and square headed topsails boomed in 1845. Spinnakers, of course, were unheard of. For running down the breeze square sails were used. For'ard hands were for'ard hands.

WHY WE CALL THEM SPINNAKERS
THE sail which we know to-day as a spinnaker was first carried on the English craft Sphinx. The name of the boat became synonymous with the sail. Sphinx became spinkes, spinker, spinniter, and finally spinnaker. No more revolutionary to the yachts-men of 1873 than is the 30 set. Metre freak of today was Australian, designed by. R. Harnett. Shaped more like an elongated canoe than what, designers of the day were pleased to call a yacht Australian, left them gasping — and standing. It was not until 25 years later that designers understood the manifold benefits of a craft of her type. Although yachting in New South Wales was well in advance of other States, particularly, of New Zealand, it was there, curiously enough, that the first New South Wales representative, in an intercolonial yacht race, was designed and built.
THE craft was Waitangi, owned by Alfred G. Milson. When Sir William Clarke voiced his enthusiasm in1887, with an open challenge, Milson willingly invited him to bring up the 30-tonner Janet for a licking. Sir William duly arrived and on January 15, 22, and 29, 1887, received the trouncing he had been promised. The Victorian was not content. In 1888 he challenged again, presenting a £100 anchor of gold. The Victorian Government added £400 in cash. Milson sailed to Port Phillip in Era, a 40-tonner, and repeated his performance of the previous year.

ADVENT OF THE IOLANTHE
IOLANTHE was then produced, 38ft 6in overall, with a beam of 6ft 2in.She was a constant delight. Yachtsmen saw their way clearly before them. In 1895 the formula, L. x S.A. over 6,000, was Introduced, and James Cox had Herreshoff built to the design of W. Pickering. Construction of this craft was an important step in Australian yacht designing. Herreshoff was a shallow-bodied craft, 33ft. 6in. L.W.L., with overhangs fore and aft. A bulb fin and a balanced rudder were other features of Herreshoff's departure from the orthodox lines. Herreshoff flattened the opposition, and in 1899 won the 100 guinea cup presented by the late Samuel Hordern, commodore of Royal Prince Alfred Yacht Club of New South Wales.
A new rating rule, J(L.+B. -f-75G.+.5 square root S.A.), was adopted in 1900. The sport boomed. Thirty-footers formed the nucleus of a new racing fleet. Racing, nevertheless, was not confined to this class.
Race for the Commodore's prize. "Assegai", "Mistral", "Iolanthe" - Sydney, NSW - March 1888, image no: bcp_02009, courtesy State Library of NSW.
J. E. Chinnery's Bona, acquired in 1904 by H. Binnie, competed against the Victorian, Sayonara, in an interstate challenge match. Sayonara's owner, Alfred Gollin, represented the trophy, known since as the Sayonara Cup. Victoria, in the next few years, had a mortgage on the trophy. In 1906, however, came Awanui, a10-metre by Fife. As Culwulla III, in 1910, with W. M. Marks in command, she brought back the trophy to New South Wales. One of the most colorful craft in the history of the sport was the 12metre boat, Sayonara. Paul Ross acquired her from Victoria, and raced her on Sydney Harbor. First to introduce the Bermudan rig, which today has almost completely displaced the gunther rig, was Awanui III, later Iolaire, a 6-metre, which returned from Victoria in 1920 with the Northcote Cup. She scored again in 1921, 1930, and in 1931. In 1921, yacht racing, which was suspended during the war years, was given a fillip.

Lord Forster, Governor-General of Australia, instituted the 21ft. restricted class. The imagination of yachtsmen in all States was fired. Interstate competitions were resumed. The late J. Alderton, father of the present Sydney 18-footer skipper, won the first series with Gumleaf. Interest in New South Wales gradually flagged. It has been claimed that handicapping sapped the interest in the class. Other States have preserved scratch races for the 21-footers, and they still flourish.
NORN, Bona and Rawhiti continued to feature as big class performers in New South Wales.
RAWHITI (II?) at the 1923 Pittwater Regatta from Sydney Mail, January 2nd, 1924 Issue.
In 1924 J. R. Palmer brought from Norway, the Anker-designed Brand V, the first eight-metre with a Bermudan rig. Brand V is still a prominent competitor in Sydney division 1 competitions — essentially a racing machine with a predilection for belts to windward.

LORD FORSTER, In 1929, sold Norn. another eight-metre, to A. F. Albert, of Sydney. Winner of the Sayonara Cup in 1928, Norn today is the best yacht racing in New South Wales. Another vessel of note is Vanessa, Fife designed for R. S. Arnott. She defended the Sayonara Cup for New South Wales, in 1929, 1930, and 1931.In 1932, under Melbourne ownership, Vanessa visited Sydney and defeated Norn for the trophy.
In the last few years the 6-metre type has gained a hold. This season two 30 square metre boats, the latest in oversea design, have been built for Sydney fleets. Class racing in New South Wales is not yet established as in other States, perhaps because of the individuality of her yachtsmen, perhaps because of their lack of co-ordination. Anyway, huge fleets compete in handicap contests every week-end. Thirty crafts of various types and rigs contest events in three divisions at Royal Sydney, Royal Prince Alfred and Royal Prince Edward meetings. More than a hundred yachts race each week in competitions of the Sydney Amateur Sailing Club. The call of the pioneers has not been ignored. Motor Boating-Yachting-Aquatics. (1937, December 9). Referee(Sydney, NSW : 1886 - 1939), p. 32. Retrieved fromhttp://nla.gov.au/nla.news-article127614763