June 19 - 25, 2016: Issue 268
World Youth Match Racing Championships 2016 Won By RPAYC Team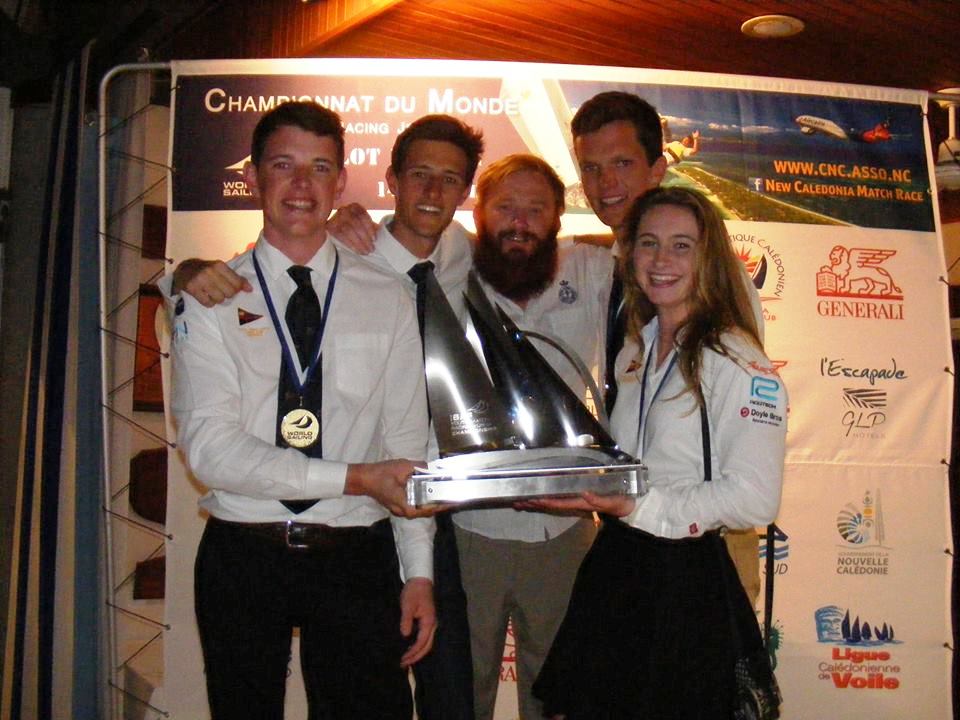 RPAYC have won the World Youth Match Racing Championship in New Caledonia!
A huge congrats to Will Dargaville James Farquharson Sarah Parker and Josh Dawson supported by Club Coach Tom Spithill defeating Harry Price from the CYCA 3 race to 1!
Photo courtesy Tom Spithill - at presentation, June 18, 2016, with trophy.
2016 Youth Match Racing World Championship
June 18, 2016 -
Noumea, New Caledonia
Will Dargaville and his crew from the Royal Prince Alfred Yacht Club emerged from an All-Australian final to take the 2016 Youth Match Racing Championship in Noumea, New Caledonia.
Will Dargaville, Sarah Parker, Josh Dawson and James Farquharson and coach Tom Spithill, brother of America's Cup skipper Jimmy, leapt into the lee of Ilôt Maître as champions after overcoming compatriots Harry Price, Angus Williams and Ben Robinson in three finals matches.
Talking of the win, Dargaville said, "It is a wonderful win against a crew that we know well and that we thought were better than us…until now."
France's Robin Follin and his crew of Marine Boudot, Germain Gaultier and Bruno Mourniac took third place overall. In the Petit Final, they beat the local New Caledonian crew of Cyril Fortin, Kim Goetz and Jeremy Picot 2-0.
The New Caledonians fourth place was an unexpected result at a world championship as they came in to the regatta as rank outsiders. A very good performance, but tainted with disappointment, nonetheless.
Two to one up and leading in the fourth match, the home crew finally succumb to eventual winner Will Dargaville who used his experience to win and progress for his chance at the title. A chance he took.
After five days of racing RPAYC defeated teams from USA, Japan, Denmark and France to qualify for the finals against the only other Australian team from the Cruising Yacht Club of Australia.
Dargaville, who was well aware of the CYCA Team's skill having competed against them in numerous occasions took the win beating them three races to one in the finals.
"It was great to go against a crew who we know really well, we know how strong they are and it was good to get the win." Said Dargaville.
To be selected for the event a skipper must be in the top 50 Open Men's Match Racing World Rankings. Dargaville, who won the 2015 Match Racing Championship in New Caledonia and the Hardy Cup match racing event held on Sydney Harbour in 2016 boosted his rankings and was selected to represent Australia.
Dargaville and the team have been working extremely hard with the RPAYC's elite Youth Development Program. Club Coach, Tom Spithill has praised their win from their dedication to their training.
"This team has worked incredibly hard over many years in preparation for this moment." said Spithill.
"It's great to see them achieve their dreams as they are awesome people, they have earned it." Spithill added.
The Youth Development Program, which has produced Olympians and America's Cup sailors, pushes participants in some of the toughest conditions to sail in. From pre-dawn winter morning sessions to gruelling fitness training in the gym. On top of that, majority of the participants, in this case all of Dargaville's team are studying full time at University.
"I'm really proud of the team, I push them in all types of conditions, these guys study full time and some travel long distances to train at the Club (RPAYC)" said Spithill.
The team have returned from New Caledonia and are back into the grind with a solid schedule of training ahead of them. The main focus now for the Youth Development participants is the RPAYC's annual HARKEN International Youth Match Racing Championships held on Pittwater in late November.
The Youth Match Racing World Championship was hosted this year by the Cercle Nautique Calédonien (
CNC
). Ten teams competed in Elliott 6m keelboats at the Îlot Maître resort in Nouméa, New Caledonia, a French Island in the South Pacific, from 14th–18th June.