February 2 - 8, 2020: Issue 436
World Wetlands Day 2020: A Wetland Walk, A Drilling On Our Coasts Talk, An Art Exhibition, An Upcoming WRL Open Day - How Will You Celebrate And Support Caring For Our Wetlands?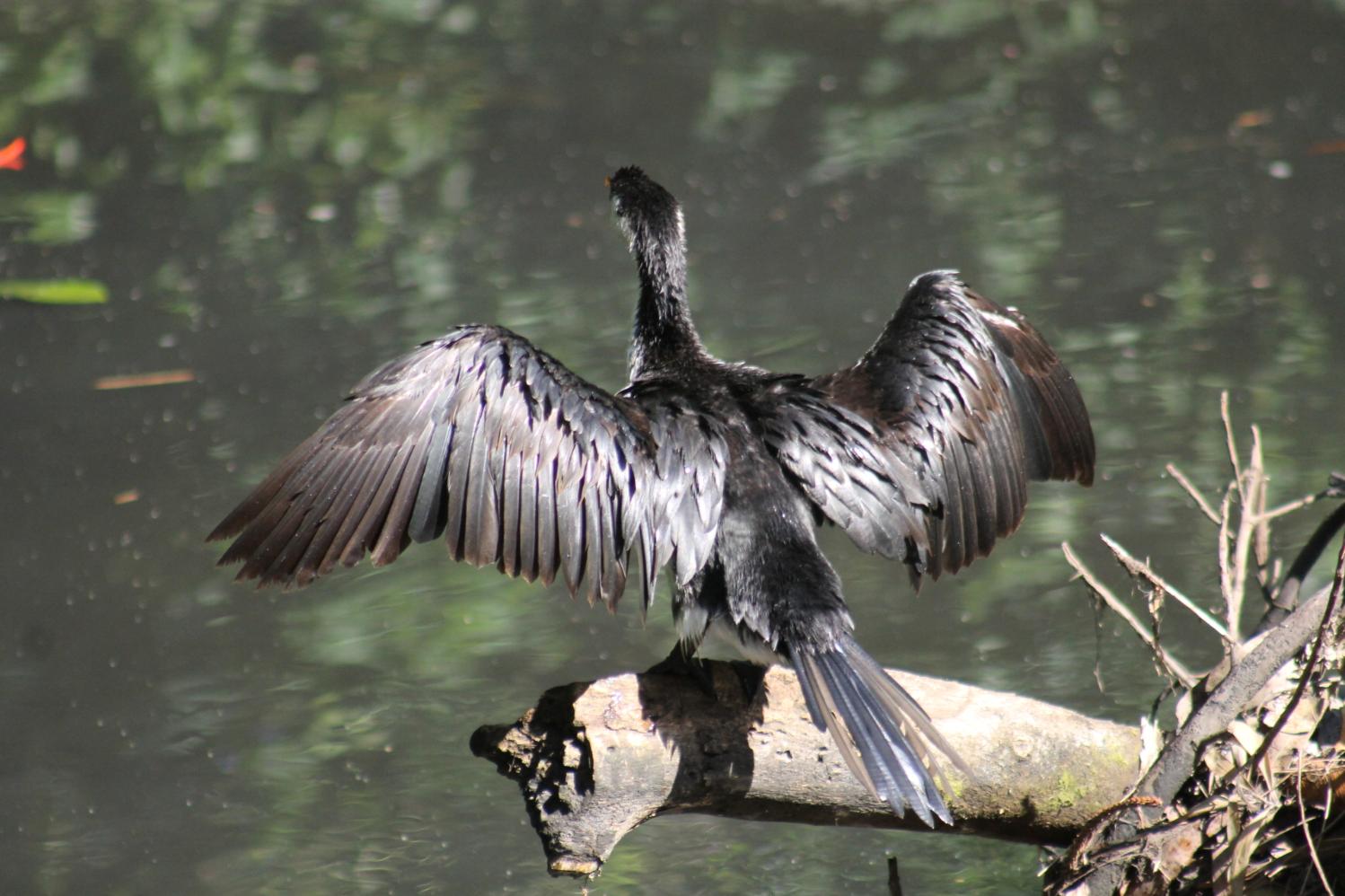 On Careel Creek - A J Guesdon photo
Today Sunday February 2nd, 2020 is World Wetlands day - Wetlands and Biodiversity is the theme for 2020.
Wetlands are rich with biodiversity and are a habitat for a dense variety of plant and animal species. Latest estimates show a global decline of biodiversity, while wetlands are disappearing three times faster than forests. This year's theme is a unique opportunity to highlight wetland biodiversity, its status, why it matters and promote actions to reverse its loss. What can you do this year to support and protect the animals and plants that live in our wetlands? Our coastal wetlands include Pittwater's saltwater marshes, estuary, lagoon and mangroves - and even extends to the creeks, beach reefs and rock pools for some - see the great community spirit at Avalon Beach's Baby Rock pool during the week (below).
February 2nd each year is World Wetlands Day to raise global awareness about the vital role of wetlands for people and our planet. This day also marks the date of the adoption of the Convention on Wetlands on February 2nd 1971, in the Iranian city of Ramsar on the shores of the Caspian Sea.
Wetlands are land areas that are saturated or flooded with water either permanently or seasonally. Inland wetlands include marshes, ponds, lakes, fens, rivers, floodplains, and swamps. Coastal wetlands include saltwater marshes, estuaries, mangroves, lagoons and even coral reefs. Fish ponds, rice paddies, and saltpans are human-made wetlands.

Wetlands are vital for humans, for other ecosystems and for our climate, providing essential ecosystem services such as water regulation, including flood control and water purification. Wetland biodiversity matters for our health, our food supply, for tourism and for jobs. Wetlands also absorb carbon dioxide so help slow global heating and reduce pollution, hence have often been referred to as the "Kidneys of the Earth".
Though they cover only around 6 per cent of the Earth's land surface, 40 per cent of all plant and animal species live or breed in wetlands.
"Wetlands are fantastically valuable multifunctional habitats—they nurture a great diversity of life, provide water and other resources, protect us from flooding and act as giant filters easing pollution," says Corli Pretorius, Deputy-Director, United Nations Environment Programme World Conservation Monitoring Centre. "The loss of wetlands due to development pressure has been enormous, but these ecosystems can be restored to generate benefits for people and nature."
Wetlands form an important part of nature. But nature is declining globally at rates unprecedented in human history—and the rate of species extinctions is accelerating, with grave impacts on people around the world now likely, according to a landmark report by the Intergovernmental Science-Policy Platform on Biodiversity and Ecosystem Services.
"The UN Decade on Ecosystems Restoration 2021–2030 will help drive the conservation and restoration of terrestrial and marine ecosystems, and wetlands will be very much part of the picture," says Musonda Mumba, a United Nations Environment Programme (UNEP) terrestrial ecosystems expert and chair of the Global Partnership for Forest and Landscape Restoration.
The Third United Nations Environment Assembly passed a groundbreaking and comprehensive Resolution on protecting and restoring water-related ecosystems. In it, Member States welcomed UNEP's Framework for Freshwater Ecosystem Management, which supports countries to sustainably manage freshwater ecosystems. In doing so, it supports national and international goals related to freshwater ecosystems, such as certain Aichi Biodiversity Targets and Sustainable Development Goal (SDG) 6, Target 6.6, which covers wetlands.
The theme for the next United Nations Environment Assembly (UNEA 5), the world's highest decision-making body on the environment, slated for February 2021, is Strengthening Actions for Nature to Achieve the SDGs.
Wetlands are also important as feeding and breeding grounds for migratory birds. The 13th meeting of the Conference of the Parties to the Convention on the Conservation of Migratory Species of Wild Animals (CMS COP13) will be held in Gandhinagar, India, on February 15-22 2020 with the theme: "Migratory species connect the planet and together we welcome them home."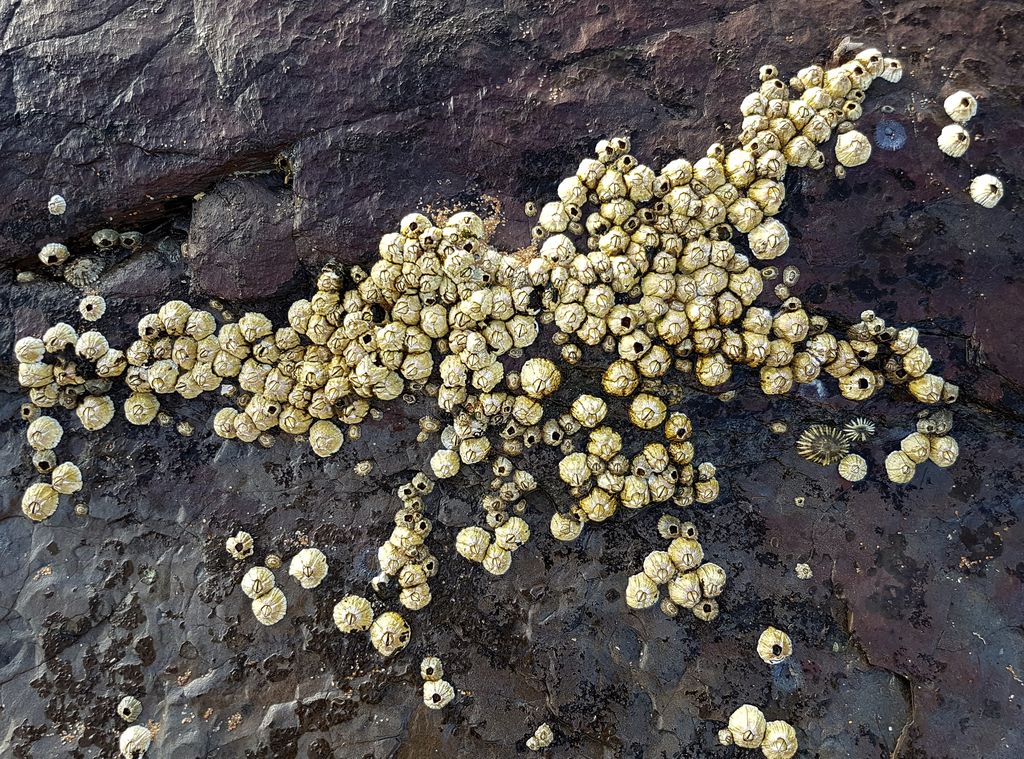 Narrabeen rock shelf shell-life - photo by Joe Mills, taken this week
Each year, to coincide with World Wetlands Day, the Australian Government published their National Wetlands Update. This edition years' edition brings together a collection of stories exploring the incredible biodiversity of Australia's wetlands. Wetland biodiversity contributes to ecosystem resilience, clean water, water supply, storm protection, carbon storage, health and well-being, tourism and recreation and jobs. This edition also highlights the work by communities to understand, protect and restore our wetland biodiversity.
Many wetland ecosystems have been damaged in the recent drought and bushfires, highlighting the importance of those wetland habitats that remain, and the need to help our local wetlands to recover. Wetlands can play an important role in mitigating the effects of drought and fires, by providing refuges for wildlife, acting as firebreaks and being sites from which plants and animals can re‑populate in the recovery phase.
Efforts are being made at all levels of government and within the community to assist the recovery of fire-affected habitats, including wetlands. This will involve weed and feral pest control, revegetation, water management and active interventions to support the feeding and breeding of particular species. We hope you enjoy this edition of Wetlands Australia (available via link above) and that it inspires you to value and conserve the biodiversity of Australia's amazing wetlands.
If you would like to contribute to future editions of Wetlands Australia, please contact wetlandsmail@environment.gov.au and if you would like to subscribe to Wetlands Australia to receive new editions please sign up at: Wetlands Australia
This World Wetlands Day a Warriewood Wetlands Twilight Walk is being hosted by Dragonfly Environmental (Feb 2: 6.30 to 8.30 pm).
Geraldene Dalby-Ball, one of Australia's leading experts in ecological restoration, will be guiding you through the underground and freshwater systems of the wetlands whilst sharing her knowledge from the Original Peoples of Australia.It will be an evening not to miss.
This is a free event and suitable for all ages. Pack a water bottle and feel free to bring your camera and binoculars. Meet at Katoa Close at 6.15pm to start the walk at 6.30pm.
Further south, at Manly, a meeting hosted by Save Our Coast / Stop Seismic Testing will have Zali Steggal MP & Abigail Boyd MP as guest speakers at a special Save The Northern Beaches From Blasting And Drilling For Gas Event.
The Surfrider Foundation Northern Beaches, reported this week that while Advent Energy have made an application to the title administrator, finally withdrawing plans for 3D seismic testing (see last week's Issue: Seismic Testing Off Our Coasts Cancelled: Announcement Accompanied With Intention To Drill Exploration Well Statement)
SFNB states;
as expected they have applied for approval for drilling instead, which if approved will then need an environmental plan (EP) to be released, (no date as yet) and when it is released, then go through the 30 days consultation and regulatory process, and further acceptance of the EP, prior to any activity occurring.

They have also asked for an extension of PEP 11 for a further 2 years, (the permit was due to expire in 2021 and the drilling was scheduled to be done by February).

'It is not just coastal communities who will be directly affected by development of PEP 11 by risks of oil spills from drilling, pollution, methane leaks and industrialisation of our favourite beaches. All Australians, who are already heartbroken by the catastrophic bushfires, loss of life wildlife and habitat, are deeply concerned about our climate and our living ocean that sustain life on earth.

In this climate emergency we are incredulous that our federal decision makers will even consider an extension to the permit to drill for fossil fuels within 4,500 square km from Newcastle to Manly, as close as 5.5km to shore, off our beautiful coast, along the most heavily populated area of Australia, within an area of rich biodiversity, in the whale migration path and threatening our thriving tourism and fishing industries.
That one is also on today, World Wetlands Day, Sunday 2nd February 2020-
3pm - 4.30pm ,
Manly Town Hall,
1 Belgrave St,
Manly -
RSVP on event link
MAG&M's Senior Curator, Katherine Roberts said bringing the artists and engineers together on site at the research laboratories at WRL, adjacent to the Manly Dam, created real energy and an opportunity to say something meaningful about place and water.
"The result is that the eight contemporary artists have created new works inspired by place, history, water management and engineering.
"The artists immersed themselves in the site, initiated their own research and enquiries, learned from the WRL engineers, educators and historians and created new series of works."
The WRL has a strong connection with the area. 2019 marked the 60th anniversary of the laboratory in the grounds of the Manly Warringah War Memorial Park, adjacent to the Manly Dam, nestled in the bushland below the dam wall.
Katherine Roberts said many of the artists focused on the Dam itself.
"Four of the artists (Blak Douglas, Shoufay Derz, Melissa Smith and David Middlebrook) took as their inspiration the Manly Dam environment itself, all of them deeply respectful and responsive to the Aboriginal cultural heritage of the area. They researched its biodiversity, social history and engineering story to create work that is poetic, powerful and provocative."
"We hope this project deepens our understanding of the Manly Dam area as a significant site for cultural understanding, environmental study and for raising the awareness of issues related to water management more broadly."
The joint curator for the project, Director of the WRL, Professor Ian Turner said: "Artists and researchers share a common aspiration to discover, understand, interpret and communicate the natural and cultural environment we live in."
"It is the very existence of Manly Dam that resulted in the decision in the mid-1950s to establish WRL at the University of New South Wales' Northern Beaches Campus in Manly Vale."
While on the WRL, on Saturday February 15th, the Water

Research

Laboratory

at Manly Vale are hosting their annual Open Day.
The WRL team say:
Ever wanted to know why rips form in the surf or what happens to all the sand on the beach in a storm? How much water does it take for a car to float away in a flood? Interested in how dams, harbours and breakwalls are designed? And how, exactly, do these things get tested anyway?…




Based on Sydney's Northern Beaches at Manly Vale, WRL spans four hectares tucked away below Manly Dam. WRL is one of the biggest scientific and engineering facilities in Australia, and our talented researchers solve all kinds of problems related to water and the environment. We don't wear lab coats or use test tubes in our 'laboratories', instead we use machines to make cyclonic waves to test coastline structures. We build scale models of dams and harbours larger than your living room! When we go out into the field we fly drones with infrared cameras or ride jet skis with echosounders.




The WRL Open Day is a fantastic opportunity for you to experience our unique, world-class research facility first hand. Tour our massive labs, meet our experts, and see engineering and science at work.




All are welcome! If you are interested in water, engineering, science or the environment, then come along!
The WRL Open day will be at 110 King St, Manly Vale, 9 am to 1pm.
Of course, just getting out and enjoying our wetlands and coastlands, possibly picking up some plastic and rubbish along your way, is a great nod towards World Wetlands Day 2020, especially here, where so many are attracted to and revel in an
aquatic
environment
. Have a surf, have a sail, sit down near the mangroves and enjoy all the shorebirds, take a stroll beside Narrabeen lagoon or through the Warriewood wetlands, paddle at Church Point, Bayview or even alongside McCarrs' creek.
Everyday in Pittwater is a great day to celebrate our wetlands and learn more about how we can look after them better with barely an hour going by without someone picking up a plastic bottle, or a week without trying to help birds entangled in discarded fishing gear, or joining a bushcare group to help clear weeds and plant out native species to 'bring it all back'.
Avalon Rock Pool Baby Fish Rescue By Residents
Dozens of people, including youngsters from the van der Wallen family, rescued lots of fish from a putrid Avalon rock pool this morning and in the afternoon. They relocated them nearby so the high tide would allow them to go back to sea. They were very weak so everyone hopes they recover before the new tide.
Those there state 'not enough oxygen or else the seaweed tannin too strong, they were all gasping on the surface....nice to ''sea'' so many people caring.'
Photos by Adriaan van der Wallen include, with thanks to Andrew Boomer, "among these are a Sydney Surgeon Fish, a Pygmy Leatherjacket, Saver Tooth Blenny, next ones down in the green net look like Archer fish which is a good find, and a small Grass Trumpeter, and prawns! lots of them"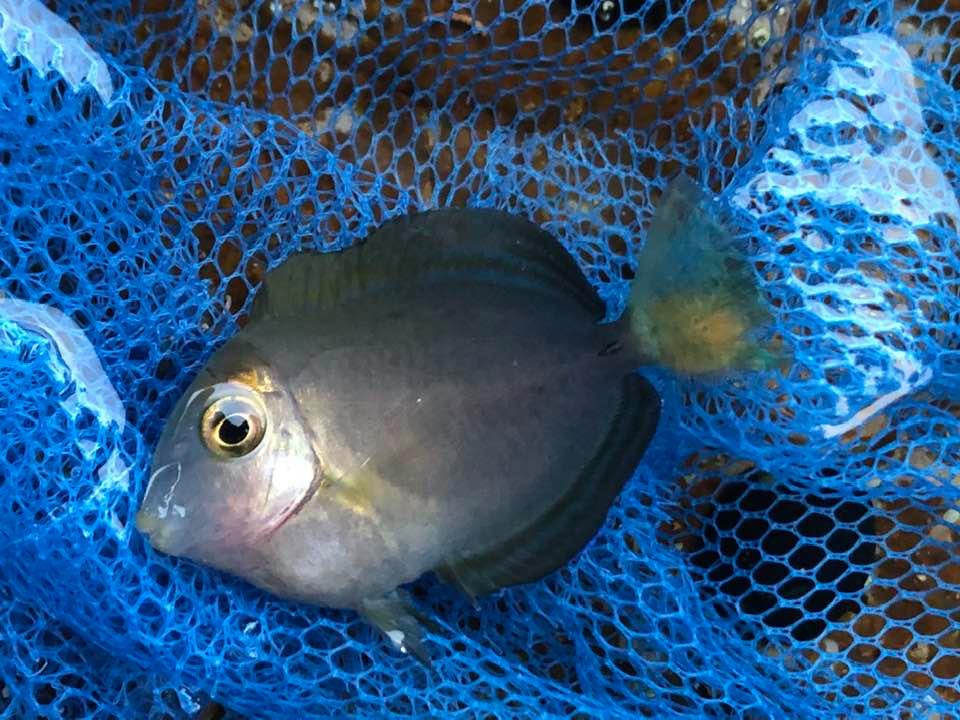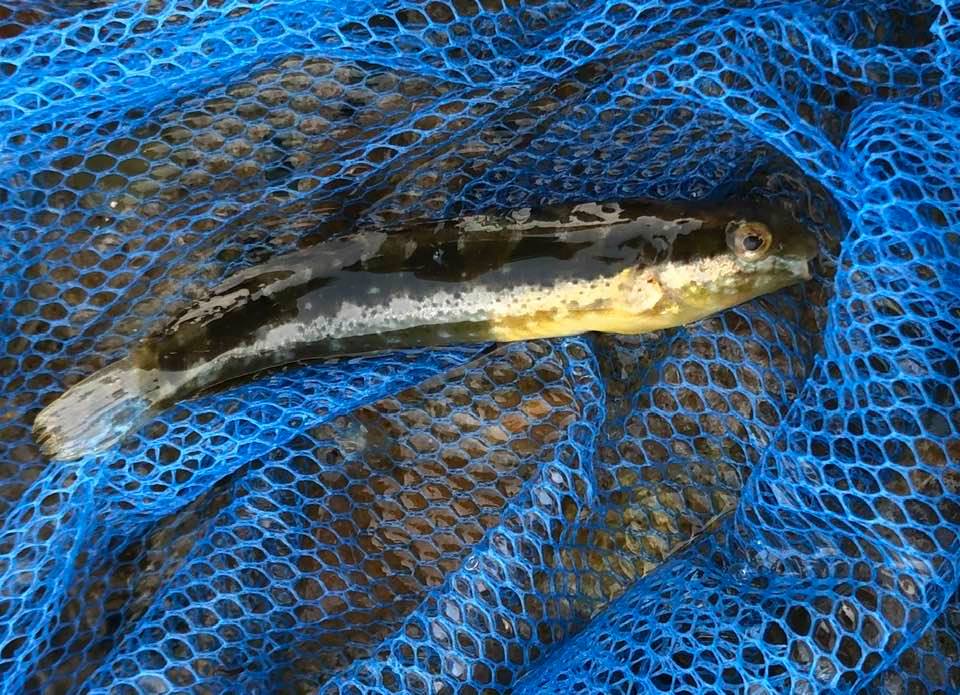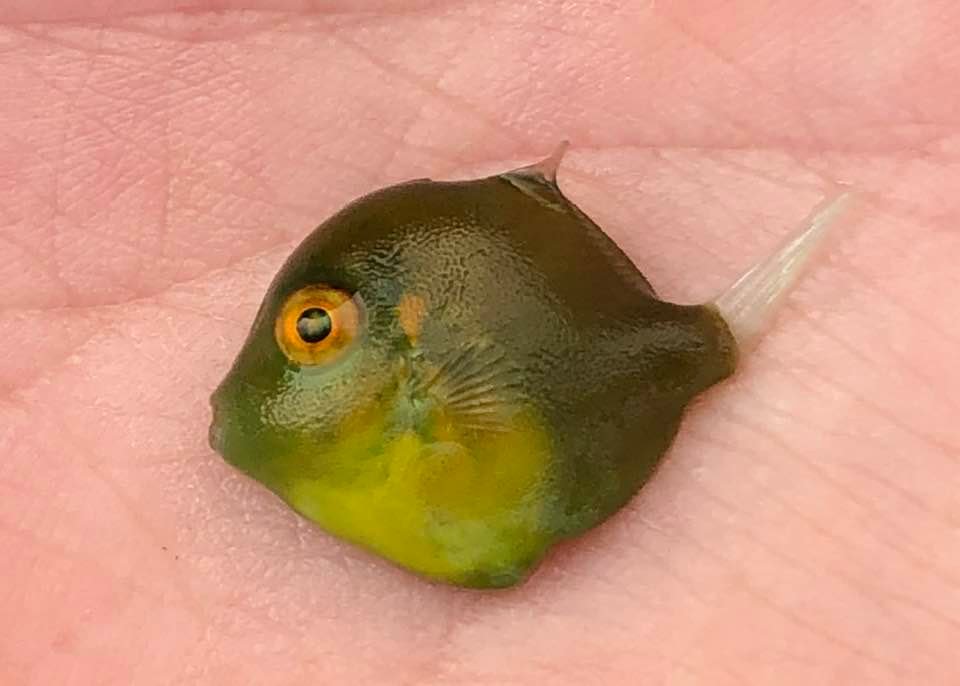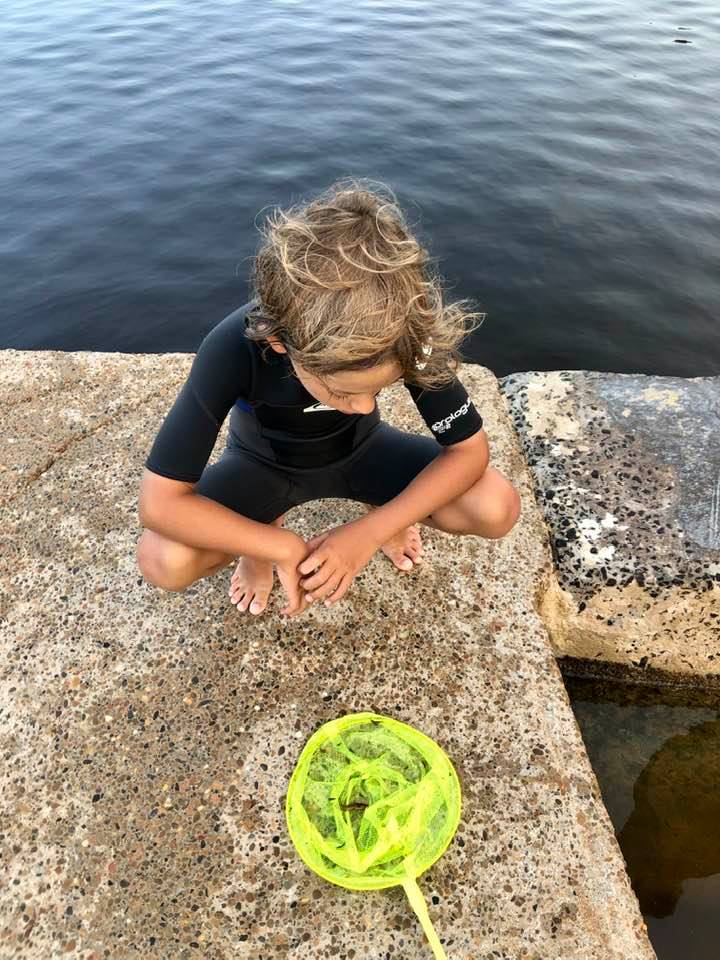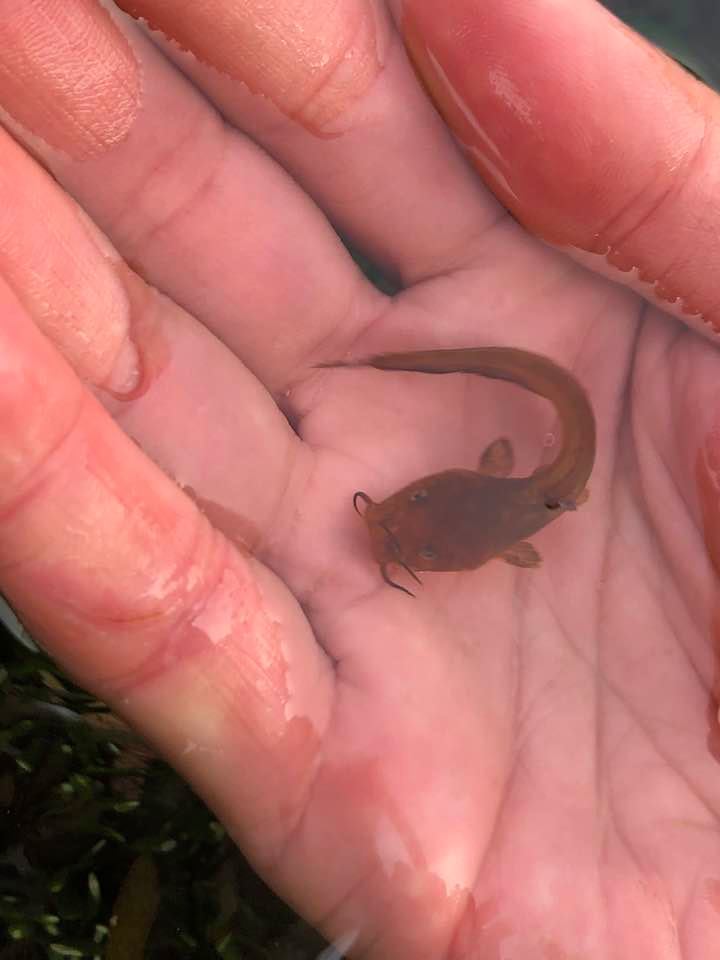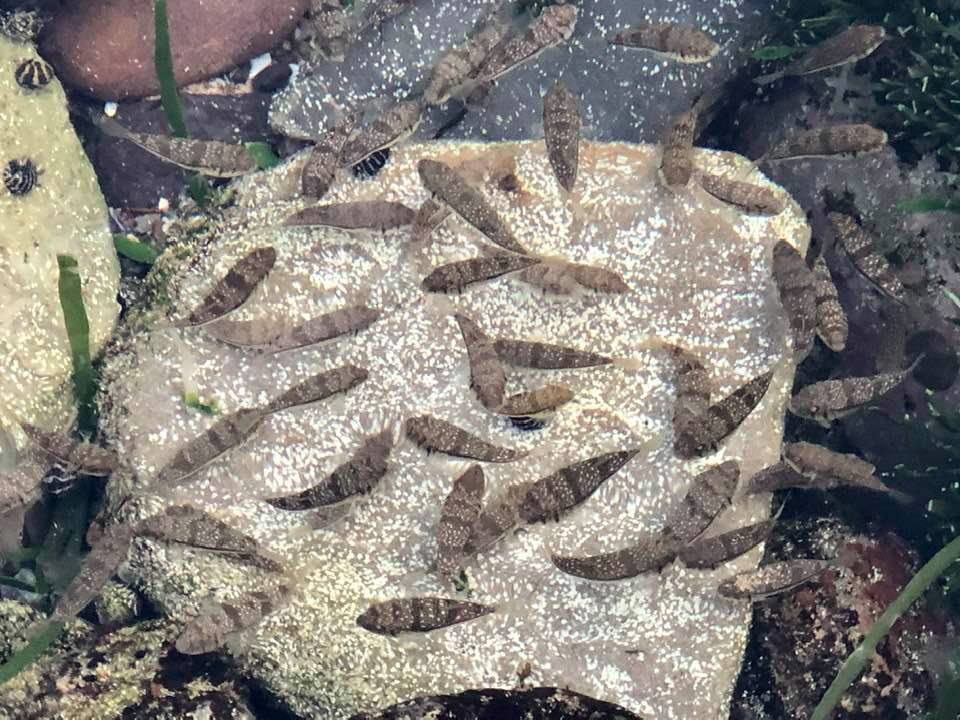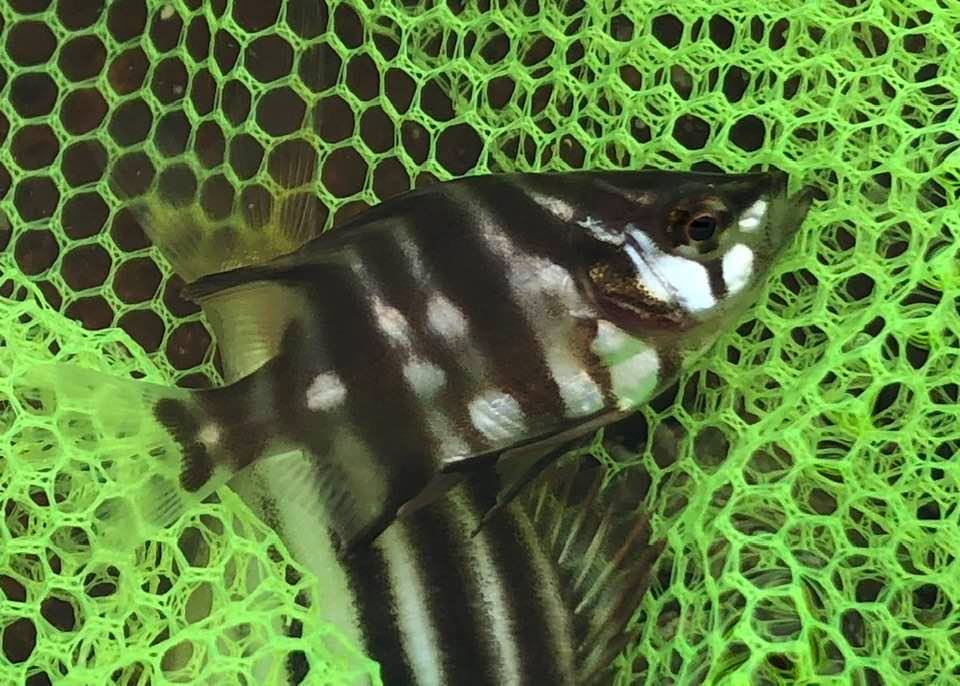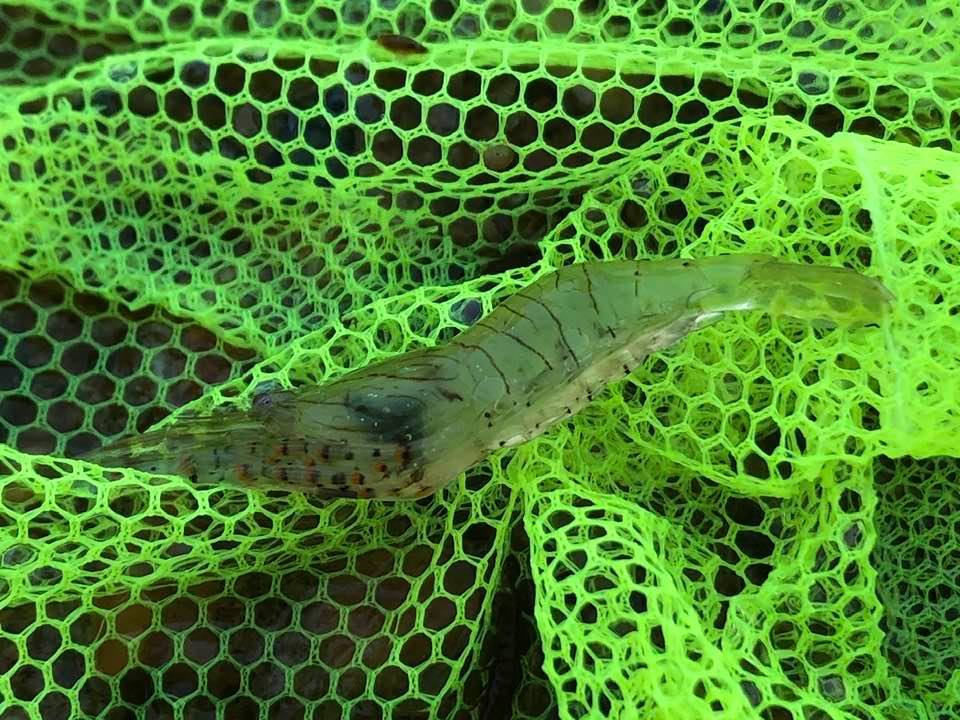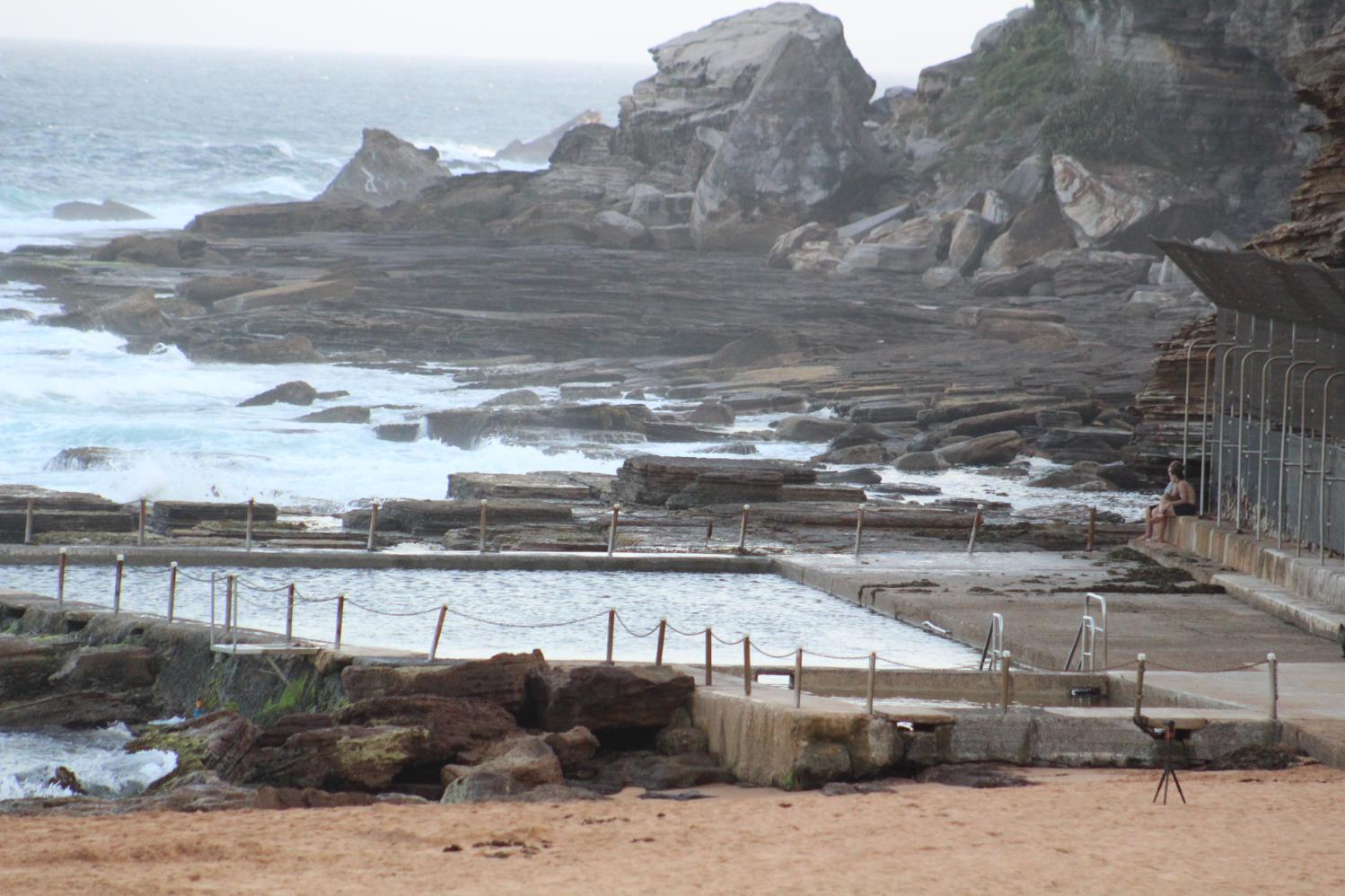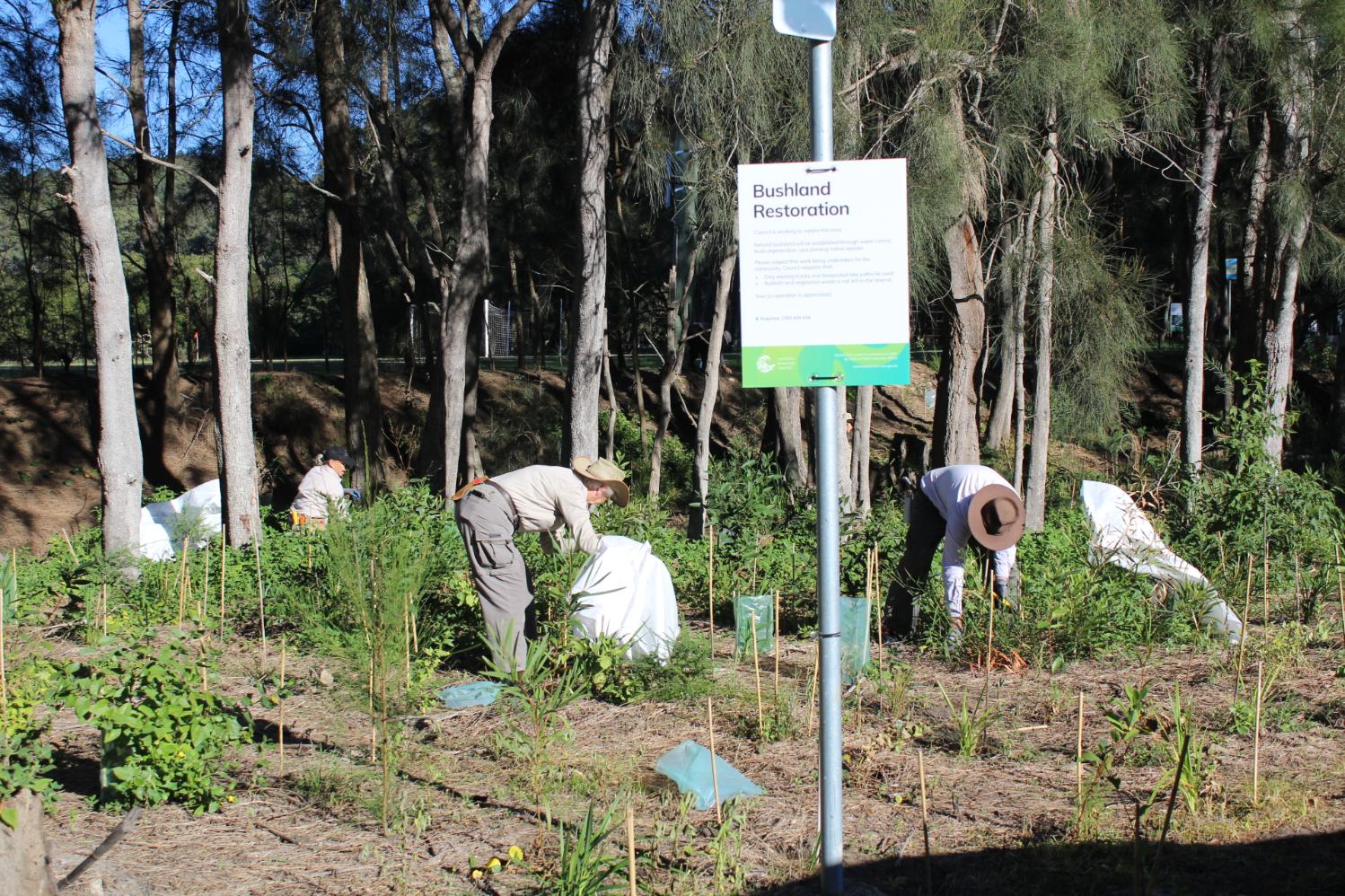 Careel Creek Bushcare and Wetland Restoration Project - towards the Careel Bay end. A J Guesdon photo.