September 10 - 16, 2023: Issue 598
Champions Crowned At The Woolworths Surfer Groms Comp Kiama 2023: Locals Among Winners - Congratulations!!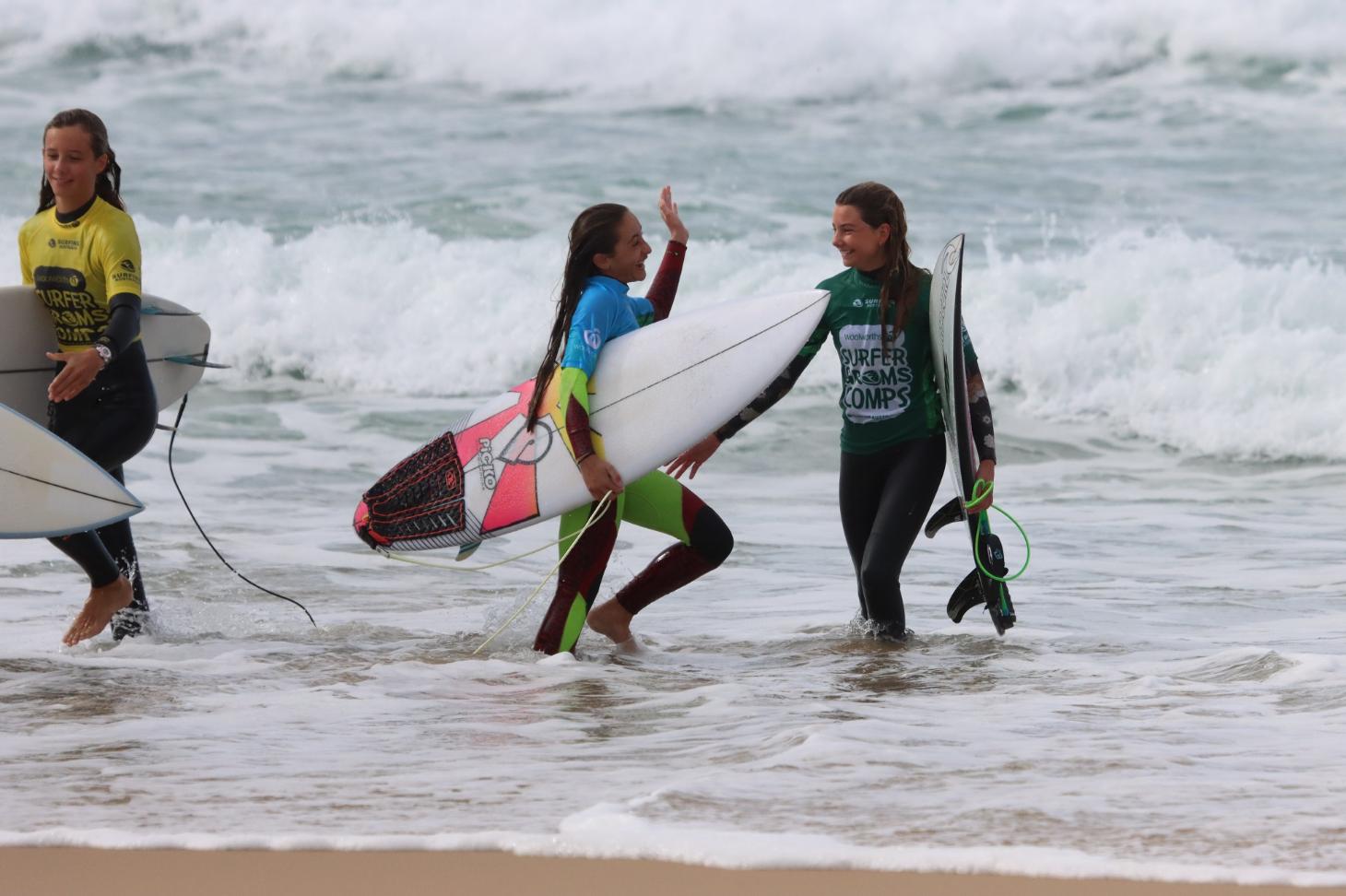 Wednesday 6th September 2023

Stop one out of four of the NSW based Woolworths Surfer Groms Comp Series wrapped on Sunday in challenging conditions across the weekend.
Starting off at North Werri Beach for day one and commencing finals day at North Jones Beach, the harsh winds and scary swells didn't seem to hold back the 90 plus grommets any who all stepped up to the plate.
On the boys side of the draw, it was U12 winner Andy Blanchfield (Norah Head) who was an overall standout throughout the two days competition. Andy came away with the highest Two wave heat total of day one (13.40) and won the final with a combination heat total of 10.10.
After winnings last years' U14's all-expenses-paid trip to the National Woolworths Surf Camp at the High Performance Centre Ashton Mekisic (Scarborough) was eager go back to back. Mekisic previously took out the Woolworths Surf Groms Comp Cronulla in 2022, with a stellar performance over the weekend he has now managed to add another 1st place trophy to the cabinet.
Another athlete backing up his win from last year was Maverick Macgugan (Avalon) after dominating the field in the U10 Boys. The young grom finished up with a combined heat total of 11.80 leaving Sani Hellman (Ulladulla) in second followed by Hayden Men (Merewether) in third and Clive Morriss (Avoca) in fourth.
As for the girls side of the draw, it was Everly Morgan (Ulladulla) who consistently caught the judges eyes. Everly, the 2023 U12 NSW State Champion made finals in both the U10's and U12's. The nine-year-old came victorious in the U10's for her second year straight. In her U12 Girls Final it was a nail biting heat with Coco Woolley (Boomerang Beach). The pair went blow for blow and after the final siren the judges where unable to separate the pair, although it was Woolley who came out on top in a count back.
When it came to the U14 Girls final, it was a neck-and-neck fight between first and second. Talia Tebb (Avoca) managed to narrowly come out saving her best perforce till last. Tebb locked in the highest female score of the event with an excellent 8.25 to take out the win over local competitor Lani Cairncross (Kiama).
The highest single wave score of the whole competition went to Sani Hellman (Ulladulla) with a 9.5. Sani left beach goers shocked as he took off on waves well overhead and carved his way to the shore. The little superstar who has big ambitions is starting to pave his way in the surf community and results are following. The five surfers in the U8's mixed surfed twice and the two results were combined to find the official winner and final placements.
All scores can be seen here.
Results
Under 8 Mixed
1st Sani Hellman (Ulladulla)
2nd Archie Darragh (Gerringong)
3rd Indianna Elkerton (Warilla)
4th Bonnie Tobin (Caves Beach)
5th Chevy Macgugan (Avalon Beach)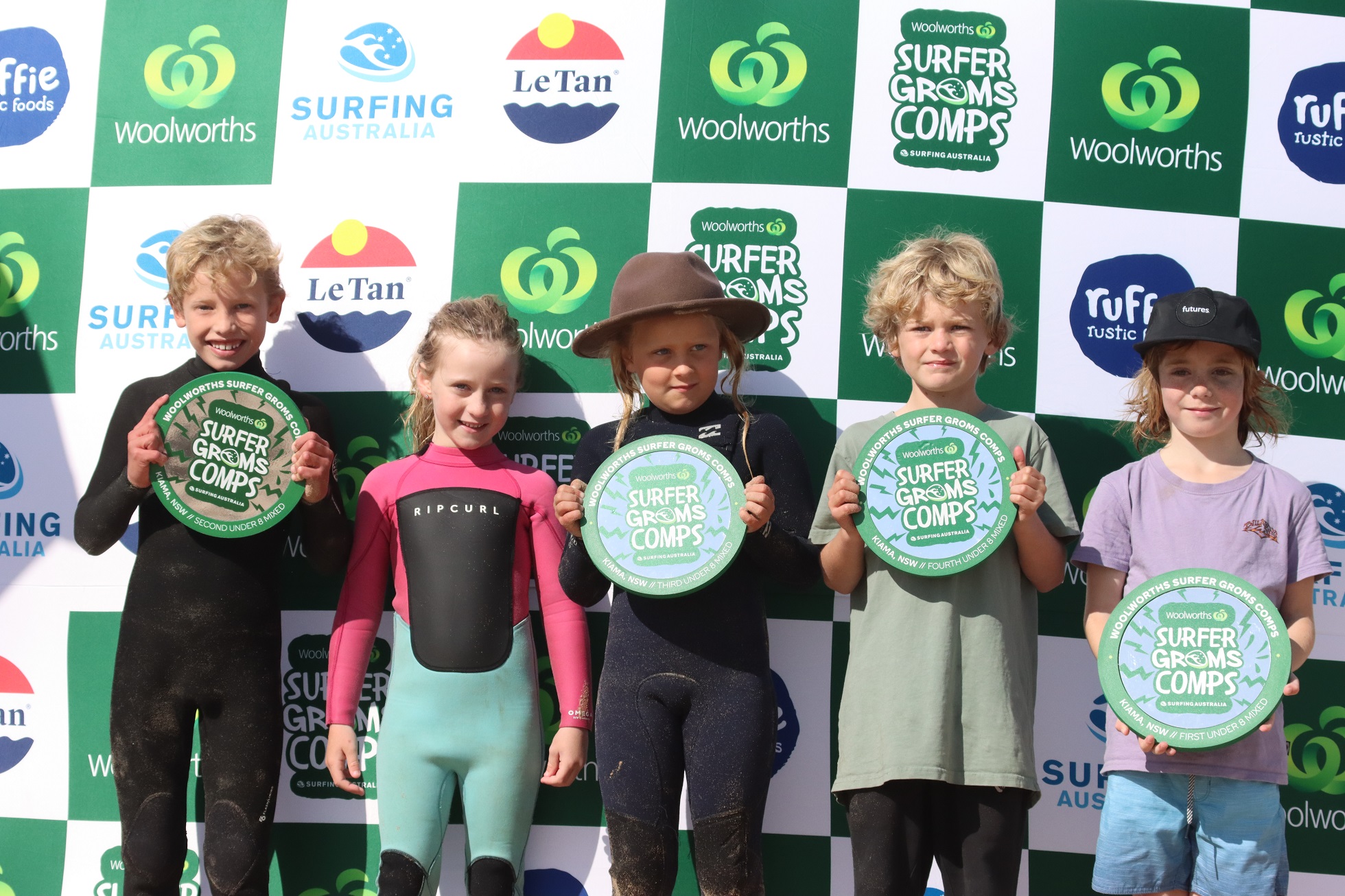 Under 8 winners
Under 10 Girls
1st Everly Morgan (Milton)
2nd Callie Hull (Flinders)
3rd Chloe Grainger (Newport)
4th Ruby Blanchfield (Norah Head)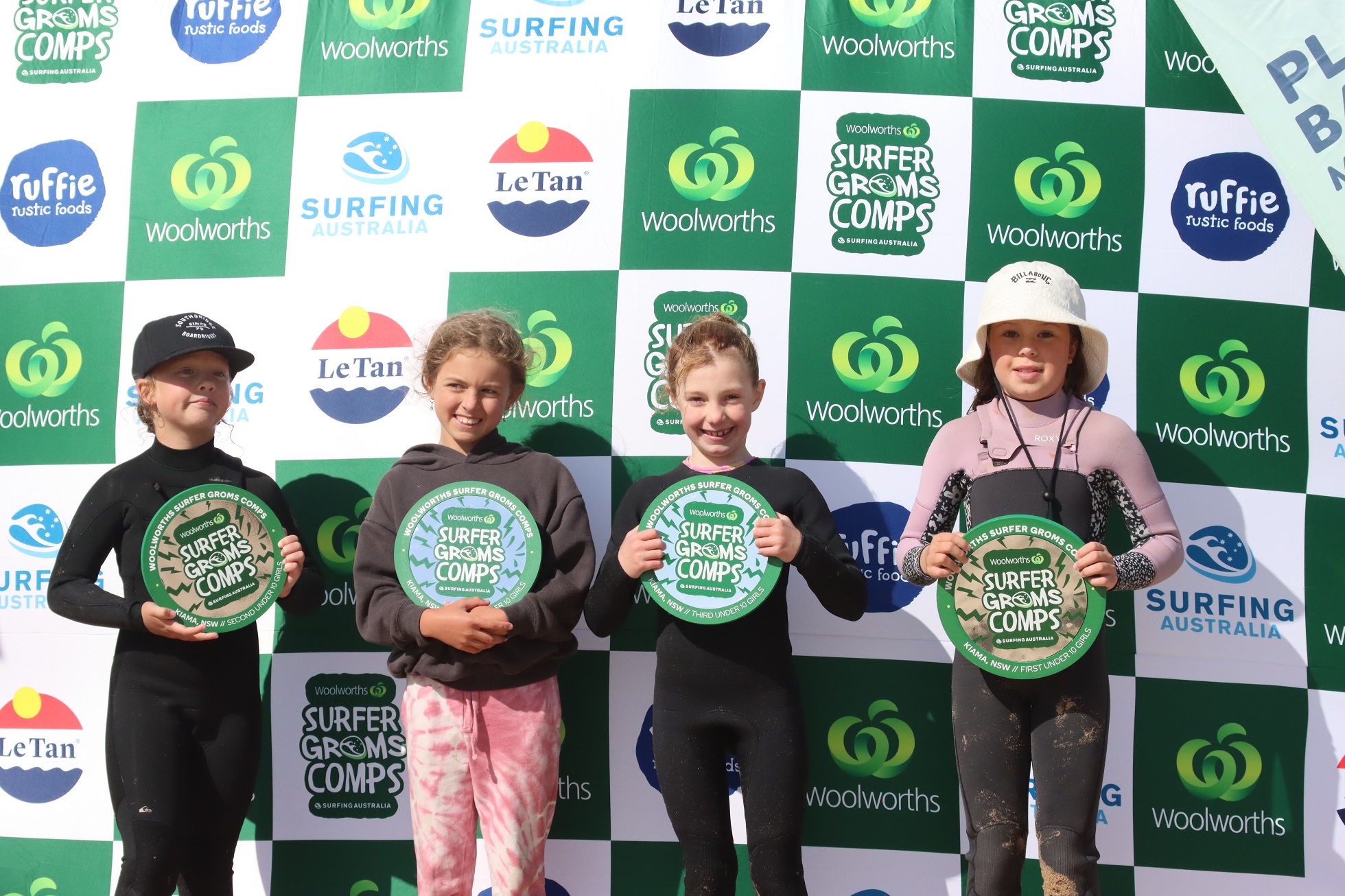 Under 10 Girls winners
Under 10 Boys
1st Maverick Macgugan (Avalon)
2nd Sani Hellman (Ulladulla)
3rd Hayden Mee (Merewether
4th Clive Morriss (Avoca Beach)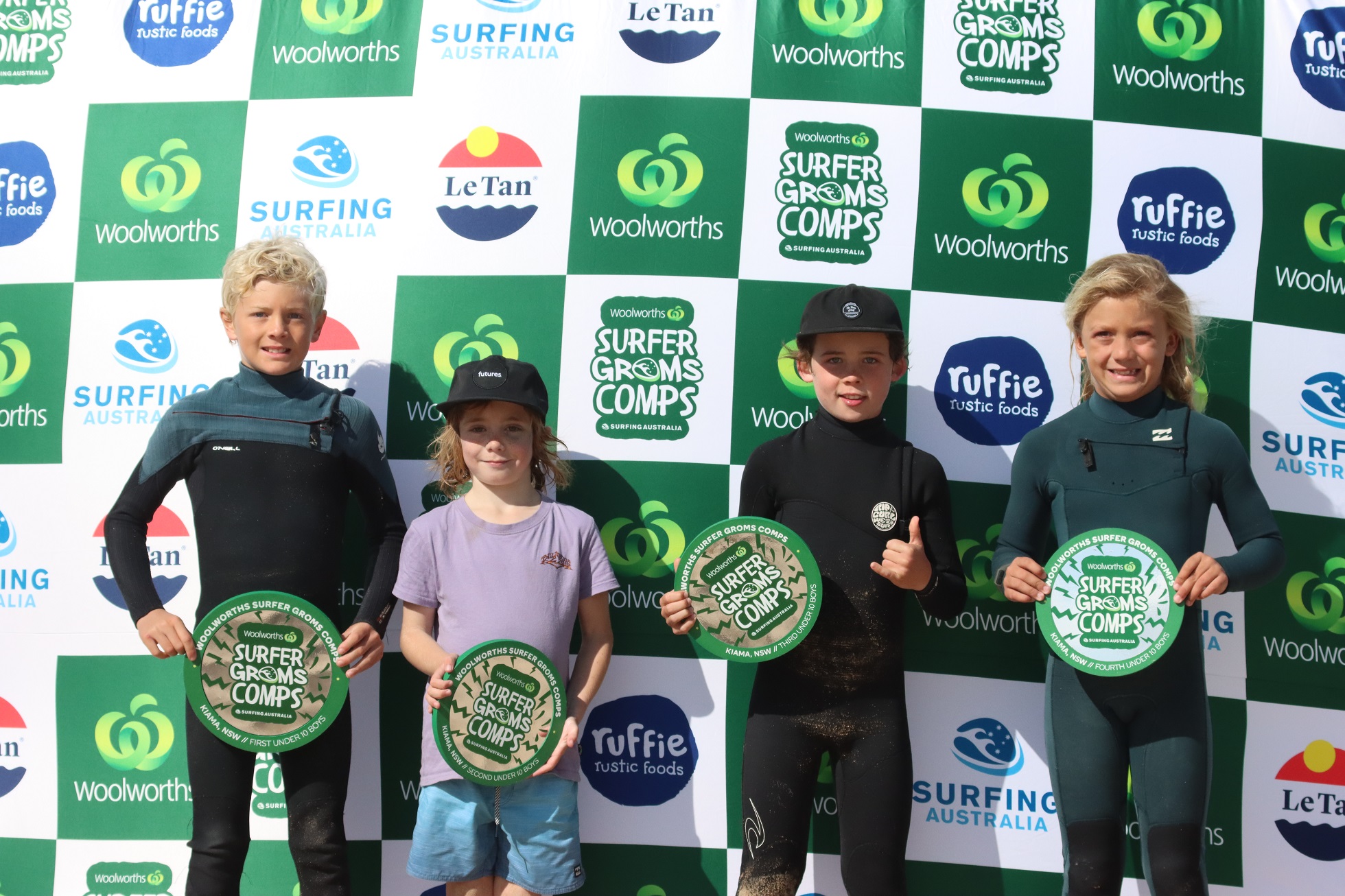 Under 10 Boys winners
Under 12 Girls
1st Coco Woolley (Boomerang Beach)
2nd Mila Grainger (Newport)
3rd Everly Morgan (Milton)
4th Coco Hamano (Terrigal)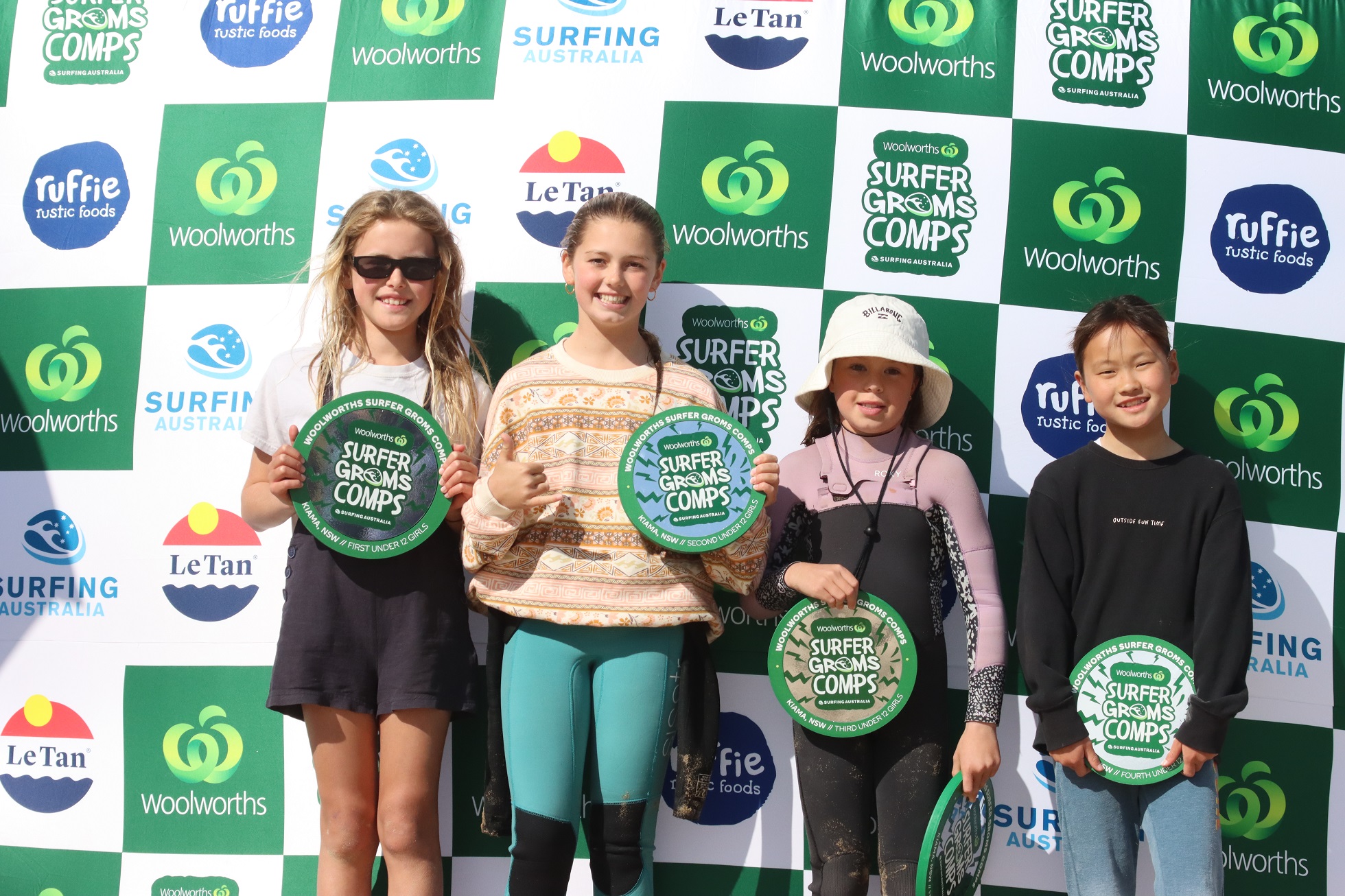 Under 12 Girls winners
Under 12 Boys
1st Andy Blanchfield (Norah Head)
2nd Jacques Callebaut (Freshwater)
3rd Byrnn Spierings (Bondi)
4th Henry Smith (Mona Vale)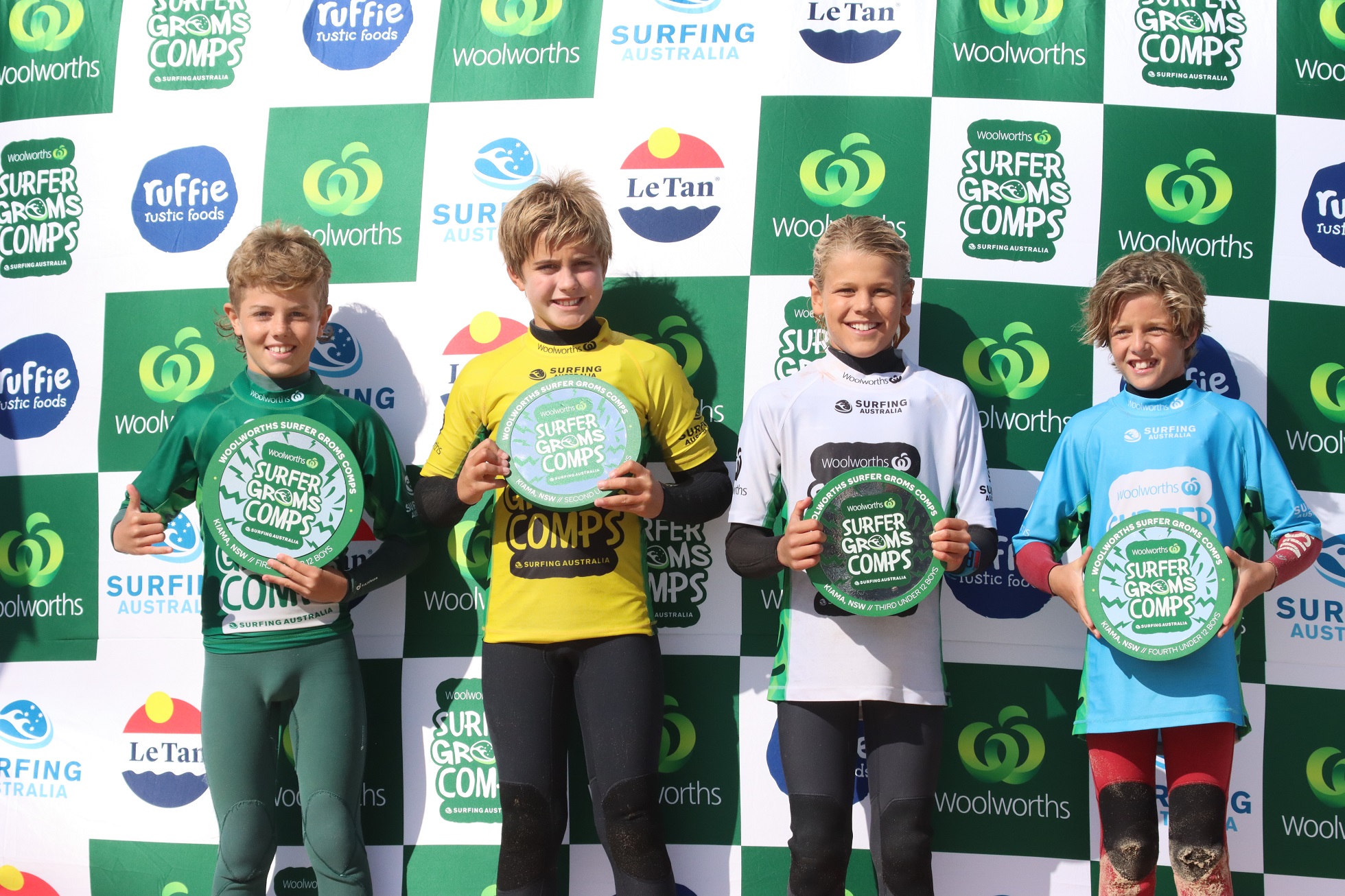 Under 12 Boys winners
Under 14 Girls
1st Talia Tebb (Avoca)
2nd Lani Cairncross (Kiama)
3rd Pearl Eaton (Lilli Pilli)
4th Elina Wood (Jones Beach)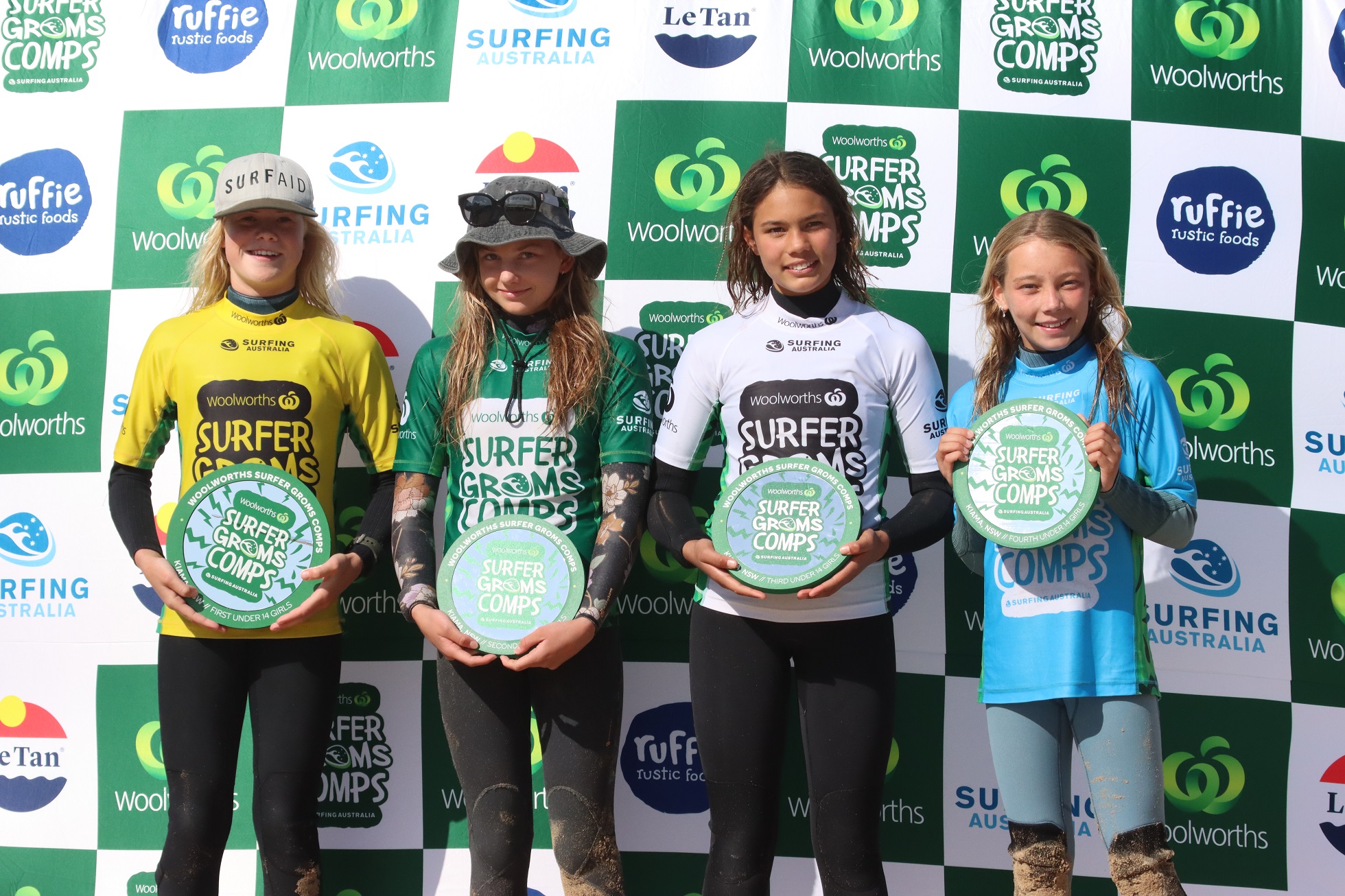 Under 14 Girls winners
Under 14 Boys
1st Ashton Mekisic (Scarborough)
2nd Mateus Leal (Dee Why)
3rd Hunter Sutcliffe (Manly)
4th Jacob Sheehan (Bronte)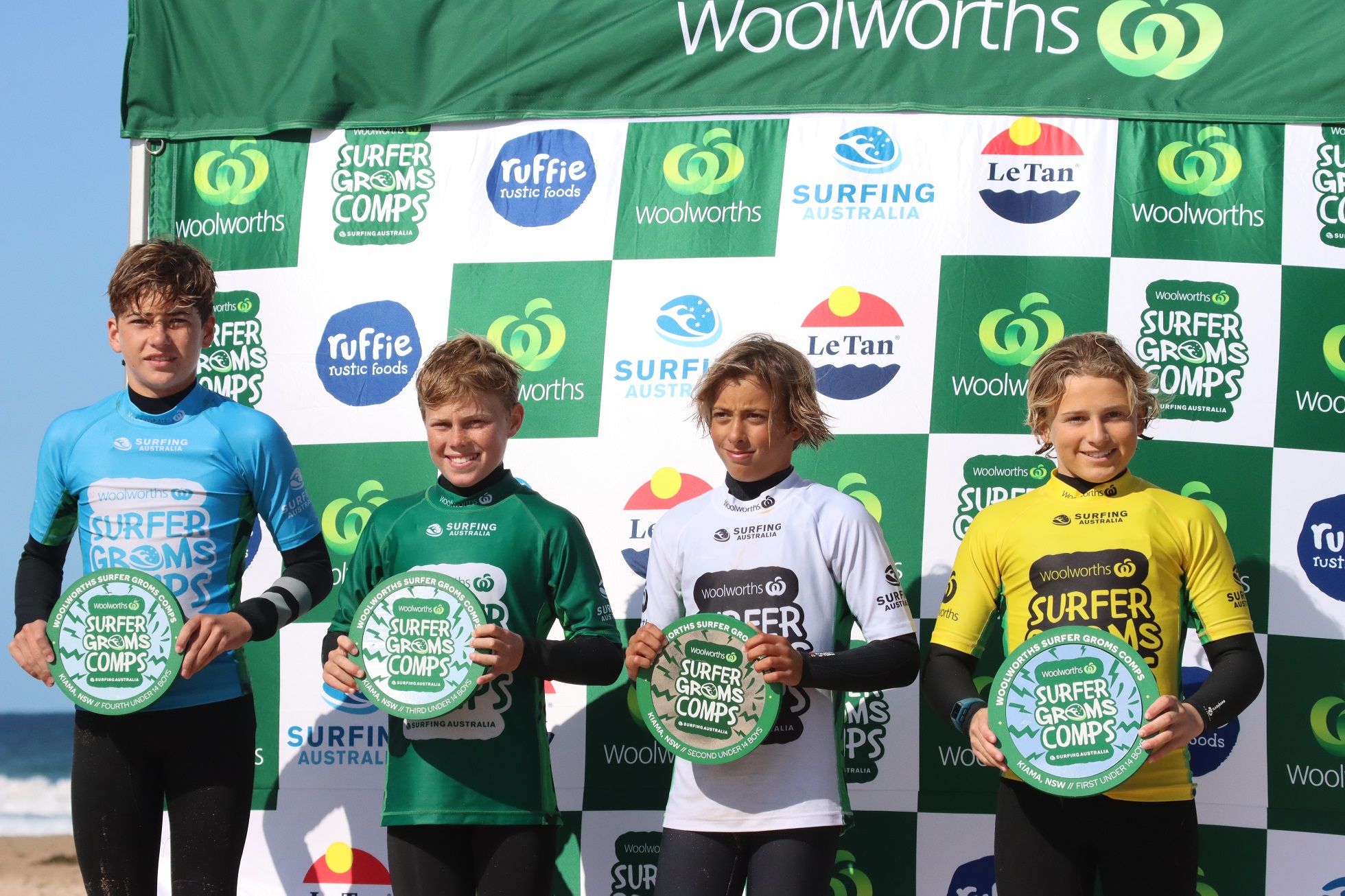 Under 14 Boys winner
Regarded as one of the major stepping stones in the development of young Australian surfers, the 10-event Woolworths Surfer Groms Comps series caters for surfers from Under 8 to Under 14 and will be held in New South Wales, Queensland, Victoria, Western Australia, Tasmania and South Australia over summer.
As an added bonus, the respective winners of the Under 14 boys' and girls' divisions from each event will receive an invite to attend an all-expenses-paid, three-day Woolworths Surfer Groms Comps National Final Surf Camp, (1-day coaching clinic, two days of competition and heat analysis coaching) at the Surfing Australia High-Performance Centre (HPC). For the South Australian, Victorian and Tasmanian events, the Woolworths Surf Camp prize will be awarded to the highest place Under-14 Boy and Girl who reside in that respective state.
Woolworths Surfer Groms Comps 2023 Schedule:
EVENT 1 - Kiama, NSW - Sept 2 - 3, 2023
EVENT 2 - Coffs Harbour, NSW - Sept 9 - 10, 2023
EVENT 3 - Fleurieu Peninsula, SA - Sept 30, 2023
EVENT 4 - Gold Coast, QLD - Oct 7 - 8, 2023
EVENT 5 - Torquay, VIC - Oct 14 - 15, 2023
EVENT 6 - Clifton Beach, TAS - Oct 28, 2023
EVENT 7 - Northern Beaches, NSW - Nov 4 - 5, 2023
EVENT 8 - Trigg, WA - Nov 18 - 19, 2023
EVENT 9 - Cronulla, NSW - Dec 2 - 3, 2023
EVENT 10 - Sunshine Coast, QLD - Dec 9 - 10, 2023
National Final - Surfing Australia HPC, Casuarina, NSW - Dec 16 - 18, 2023
Report and photos by Surfing NSW