February 14 - 20, 2021: Issue 483
Rotary Club of Upper Northern Beaches Donates Fire and fog Nozzles to West Pittwater RFS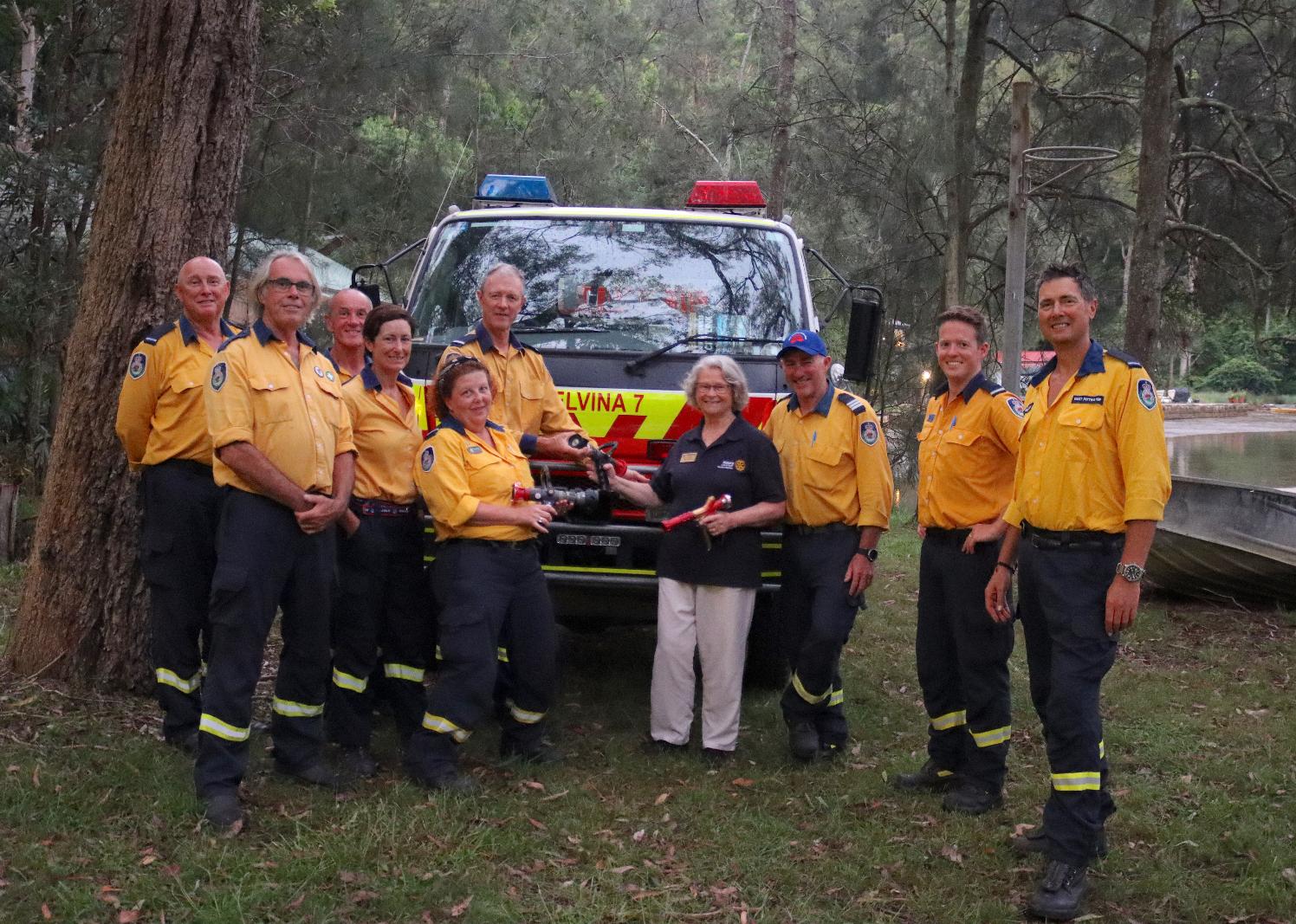 Photo: Members of West Pittwater RFS, receiving the Nozzles from Rotary - l. to r. : - Geoff Nimmo; Jon Matthews; Greg Hurst; Melinda Broughton; DC (Deputy Capt.) Kylie Stackhouse; DC Paddy Brougton; Rotary Deputy Community Director Raylene Jarvis; Captain Andrew Cutler; DC Pat Warnes; Andy Derijk.
Last year, the Rotary Club of Upper Northern Beaches, along with other Rotary Clubs collected funds which were donated to our front-line fire fighters in our local RFS brigades and this we reported to you in a previous Issue.
Further funds of $19,000 have now been donated from Rotary Clubs in New Zealand and Japan to our local Rotary District area and the Rotary Club of Upper Northern Beaches were able to receive over $2,000 of this which has enabled the West Pittwater RFS brigade to replace damaged special fire and fog nozzles from two of their Cat 7 vehicles whilst on deployment in the fires on the Southern Highlands, South Coast and Gosper's Mountain areas over last summer.
These nozzles were presented to the RFS brigade last Saturday at a special barbeque at their Elvina Bay station on the western shores of Pittwater, at which the brigade was awarded the Premier's Citation for participating in last year's bushfires.
Captain Andrew Cutler recalled that he had informed the Rotary Club when they had a zoom meeting with the UK Rotary Clubs last year that the NSW fires had burnt 72,000 square miles or 18.6 million hectares of land (equivalent to over ¾ of the UK land area) in which 34 people including 7 fire fighters were killed and over 3,500 houses and buildings burnt.
Andrew himself spent a total of 26 days on deployment starting at Longnose Point fire in Pittwater then up to Tenterfield and working his way south in stints of 1 to seven days, including multiple deployments around the Gospers Mountain Fire west of Sydney and the Blue Mountains, then down the Southern Highlands around Bargo for the Green Wattle Fire ending up in Cooma in the Snowy Mountain area in late January.
Greg Hurst started after Longnose in September in the mid north coast area and spending 30 days chasing the fires as the marched south. Dave Lambert, Pat Warnes and Wayne Lazarides also spent a number of weeks out on the fireground.
They had another 17 firefighters spend between 1 and 10 days on deployment. They were often not on their own appliances as these were also out on far fields across the state. In fact for extended periods, they had neither of their trucks available to them and they had a 500 litre bladder and a pump in their Toyota troopy and a pump and a 1000litre IBC on a flatbed truck to give them fire coverage
Andrew also stated that the scale of the fires really became apparent to him when he brought a yacht back from Sydney to Hobart race and due to the smoke, he didn't see land from Wineglass Bay in Tasmania until Bangally Head at Avalon - thank goodness they had a GPS.
We owe so much to these incredible members of our community.
Rob Haines
President
Rotary Club of Upper Northern Beaches