August 25 - 31, 2019: Issue 418
Ready Steady Tokyo Test Event 2019
This summer, Enoshima yacht harbor is the venue of the 470 World championship (2 – 9 August), Ready Steady Tokyo – Sailing (Test Event, 15-22 August) and the Hempel World Cup Series Enoshima (25 August – 1 September).
Five Medal Races took place on the fifth day of racing at Ready Steady Tokyo – Sailing, with the top three sailors of each fleet laying down the marker ahead of next year's Games.
At the official test event for Tokyo 2020, Brazil, New Zealand and Italy all claimed a gold each, with Great Britain taking the most medals overall so far with four.
Rio 2016 gold medallists Peter Burling & Blair Tuke (NZL) held a 13-point lead ahead of today's 49er Medal Race, but they were anything but complacent.
Knowing that Lukasz Przybytek & Pawel Kolodzinski (POL) were their only challengers to gold, the Kiwis took full advantage of a poor start for the Poles.
From then on they had the fairly simple task to beat them to the finish line – which they did so, crossing in eighth ahead of the Poles in ninth.
This battle allowed British duo Dylan Fletcher-Scott & Stuart Bithell, who had arrived in Japan straight from their fourth SailGP event of the season in Cowes, UK, to finish with a strong third and clinch silver.
Explaining the start-line scenario, Tuke said, "The Polish put themselves in a pretty compromising situation with about 10-15 seconds to go, and we sort of took the opportunity to aid them to be the wrong side of the start.
"From there it was quite easy for us in the race; we made sure we stayed ahead of them at the next mark, and that was that.
"It was good to get that opportunity because you don't get that sort of practice that often so we're really happy with that."
"This is a big one, being the Olympic test event, and definitely something you're trying to perform well at," added Burling.
"This is the only real practice we get at the right time of year with everything as close as we can with what we're trying to do in a year's time.
"It's pleasing to take a solid win here. We feel like we're progressing nicely and getting better as we go."
The Nacra 17 Medal Race was also an exciting affair, as five teams were all realistically able to claim a top-three spot.
Ruggero Tita & Caterina Banti (ITA) had topped the fleet all week long and did not relinquish their lead, finishing fourth in the Medal Race to get gold by 12 points.
"We are really happy – we started the week first and we stayed there, sailing one of our best Medal Races today," said Banti.
"To win here is important and we're really happy about it, it's been a really difficult race area with difficult conditions."
Elsewhere in the fleet, a ninth-place race finish for John Gimson & Anna Burnet (GBR) was enough for them to keep hold of silver.
With points tight, their British rivals for the Tokyo 2020 spot, Ben Saxton & Nikki Boniface, were able to get bronze by finishing ahead of nearest challengers Jason Waterhouse and Lisa Darmanin (AUS) and Santiago Lange and Cecilia Carranza Saroli (ARG), who got silver and gold respectively at Rio 2016.
Team Waterhouse-Darmanin stated after the medal race, ''Congratulations to the Italian and 2 x British Teams. We finished 4th Overall.''
''After a penalty 360 turn before the start (Port/Starboard), we crossed the line behind the fleet and had to fight hard to get back into the mix. After putting ourselves back in contention we tussled with the Brits down the last run but were pipped by a metre and a point for the bronze medal. Not the way we wanted to end the regatta but we were pleased we bounced back from where we started the event with a hole in the boat.
''It's a 5 day turnaround now before the World Cup Event here next week. It will be a bigger fleet and we are ready to rumble.''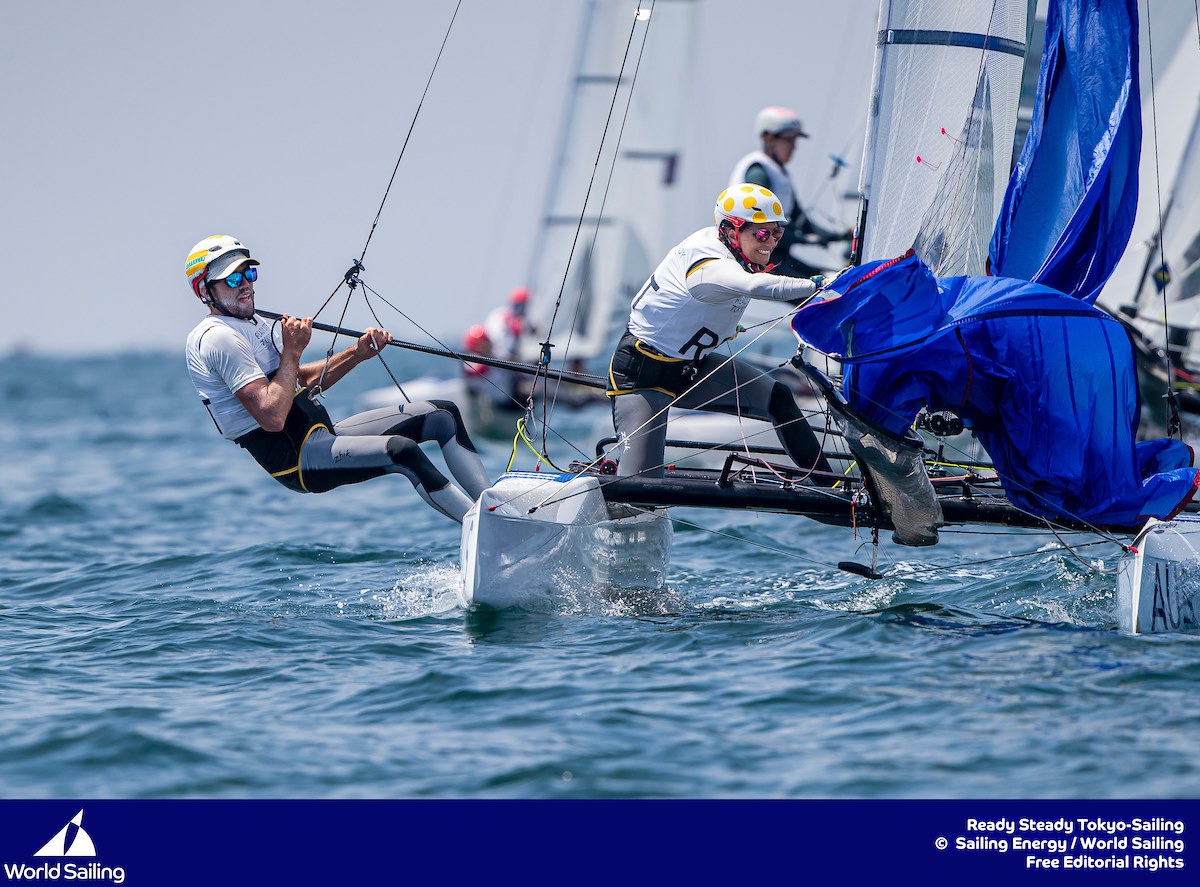 Just one Medal Race could be sailed on Day 6 of Ready Steady Tokyo – Sailing, the official test event for Tokyo 2020 in Enoshima.
Only the 470 Women's Medal Race went ahead, starting just after 16:00 local time, and it was French duo Camille Lecointre & Aloise Retornaz who clinched gold.
Other gold medals went to Hungary, Sweden, Belgium and Australia.
Wind speeds did not top 8 knots all day, with a dying 5-knot breeze present in the afternoon which began to decrease towards the end of the 470 Women's race.
Racing in the Finns had already been abandoned for the day, while the Laser Radials managed to start a race but had to abandon it halfway through.
The Lasers and 470 Men went out onto the water with good intentions, but the decision was soon made to call off all racing for the day.
Ahead of the 470 Women's Medal Race, Lecointre & Retornaz led Hannah Mills & Eilidh McIntyre (GBR) in a reverse scenario to the recent Hempel World Cup Series Final in Marseille.
Agnieszka Skrzypulec & Jolanta Ogar (POL) were 10 points off in third, with home favourites Ai Kondo Yoshida & Miho Yoshioka (JPN) and Silvia Mas & Patricia Cantero (ESP) still in with a chance of a medal.
With just a point between the French and the British, it all came down to the Medal Race – and it was the French who executed a perfect performance.
They won the race to extinguish any chance of losing gold, and the rest of the podium line-up remained unchanged, with silver and bronze going to Great Britain and Poland respectively.
"We are really happy to win here one year before the Olympics," said Lecointre.
"It was a very tough situation; the points were tight and anything could happen.
"There was pressure for the Medal Race, but very quickly we got in front, and then we could breathe a bit more."
"It was a long day; we wanted to go sailing and when we arrived on the water it was a new wind we didn't know," added Retornaz.
"We have a lot of training ahead of us – we know already what we want to work on."
The Laser Radial Medal Race was also shaping up to be an interesting contest, with Emma Plasschaert (BEL) leading reigning Olympic champion Marit Bouwmeester (NED) by only three points and Maria Erdi (HUN) six behind in third.
A decision to abandon all racing came shortly after their Medal Race attempt was abandoned, confirming gold for Plasschaert.
"We went out but it was already quite marginal," the Belgian explained.
"We started a race but throughout the downwind it started to die out, and we rounded the gate with no wind, so they made a fair call to abandon it.
"It's a shame we couldn't finish it because I was in a good position, but they made the right call."
On her test event victory, she added: "I'm feeling really stoked – we've been working towards this event for the full year, so it's nice to confirm we're on the right track. I've never really been in a position where I've worn the yellow bib on the last few days, so for me it was a test to handle my nerves, and I'm happy with how I handled myself."
Points were close in the Laser fleet, too; Jesper Stalheim (SWE) had a three-point lead over Rio 2016 gold medallist Tom Burton (AUS), with Hermann Tomasgaard (NOR) two points behind the Aussie, and Matt Wearn (AUS) and Sam Meech (NZL) also in with a shout.
Stalheim admitted he was fairly relieved about not risking losing the gold medal with a light-wind race.
"I didn't really want to race in zero knots with four guys that could beat me, so it's nice they called it off for me!" he joked.
"When they put the D flag up there was good wind. We weren't waiting on the water for too long, but we saw quite soon that there wasn't any wind for the Radials, and I was fairly certain they would call it up.
"I'm really happy. A medal is always the aim but I wanted to put on a good result more for myself. I was leading the Worlds for a couple of days but then I put in a couple of bad races, so it was nice to put one entire event together."
Burton, the reigning Laser World Champion, was second in the standings before what would have been an all-important double points medal race today. It was the weather that prevented him the chance of going for Gold.
"Yesterday was obviously a good day for me and also for all at the front of the fleet. Having a bad day before gave me all the impetus to kick on. It is better when you pick the fastest track around the course; it does make you smile. All the little things add up, like starts, and tactics."
For Burton and all the rest of the Australian Sailing Team, the hot conditions were very much part of the challenge, a reminder of the sheer physicality of this sport. "The days were long, and brutal, especially at the start of the regatta," he said. "We are getting more and more used to the vagaries of the conditions, and it is all in the memory bank for the future."
It was unquestionably a tough day in the office for teammate Matt Wearn, who had been in the top five for the whole regatta, but had to settle for fourth after a few mishaps on the last day. The lack of breeze may have robbed him of the chance for a fight back, but he will have plenty of those in the upcoming World Cup Series event.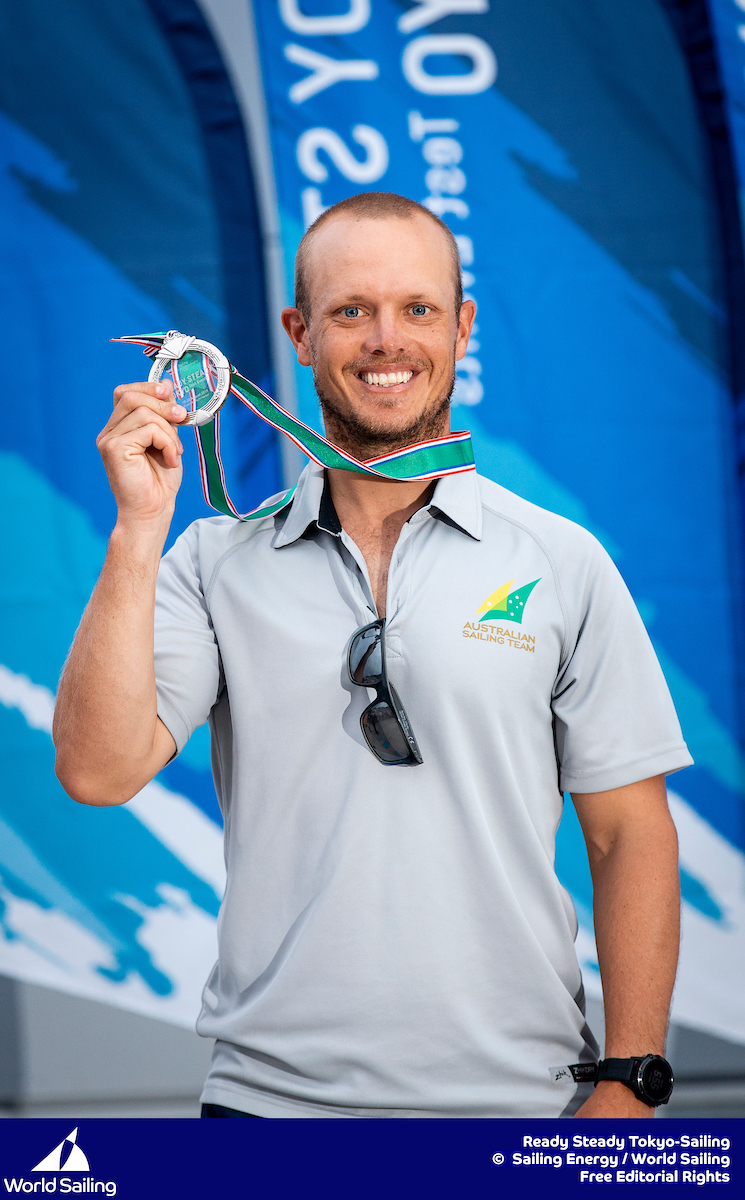 Tom Burton, Silver

The 470 Men was one of the more clear-cut medal scenarios, with only the top three having a realistic chance of a medal.
Mat Belcher & Will Ryan (AUS) were only two points ahead of Anton Dahlberg & Fredrik Bergström (SWE), with early fleet leaders Jordi Xammar & Nicolas Rodriguez (ESP) 11 points off second.
Gold for the Aussies, silver medallists at Rio 2016, meant they sealed their second consecutive title on these waters in a matter of weeks after their World Championship victory.
"It's great to be able to win this event – it's always pretty challenging to be able to put In a good performance on Olympic waters," said Belcher.
"Will and I did our Worlds only two weeks ago, so to come to this event, continue our development and work on key areas was nice, and it was really special to win another medal here.
"We didn't do much differently but we are trialling different things and did change a few things from the Worlds, so it's been great to use this period to work on that.
"We are just enjoying the conditions here – this week was different to the Worlds and every day we are here during this period will be valuable in the long run."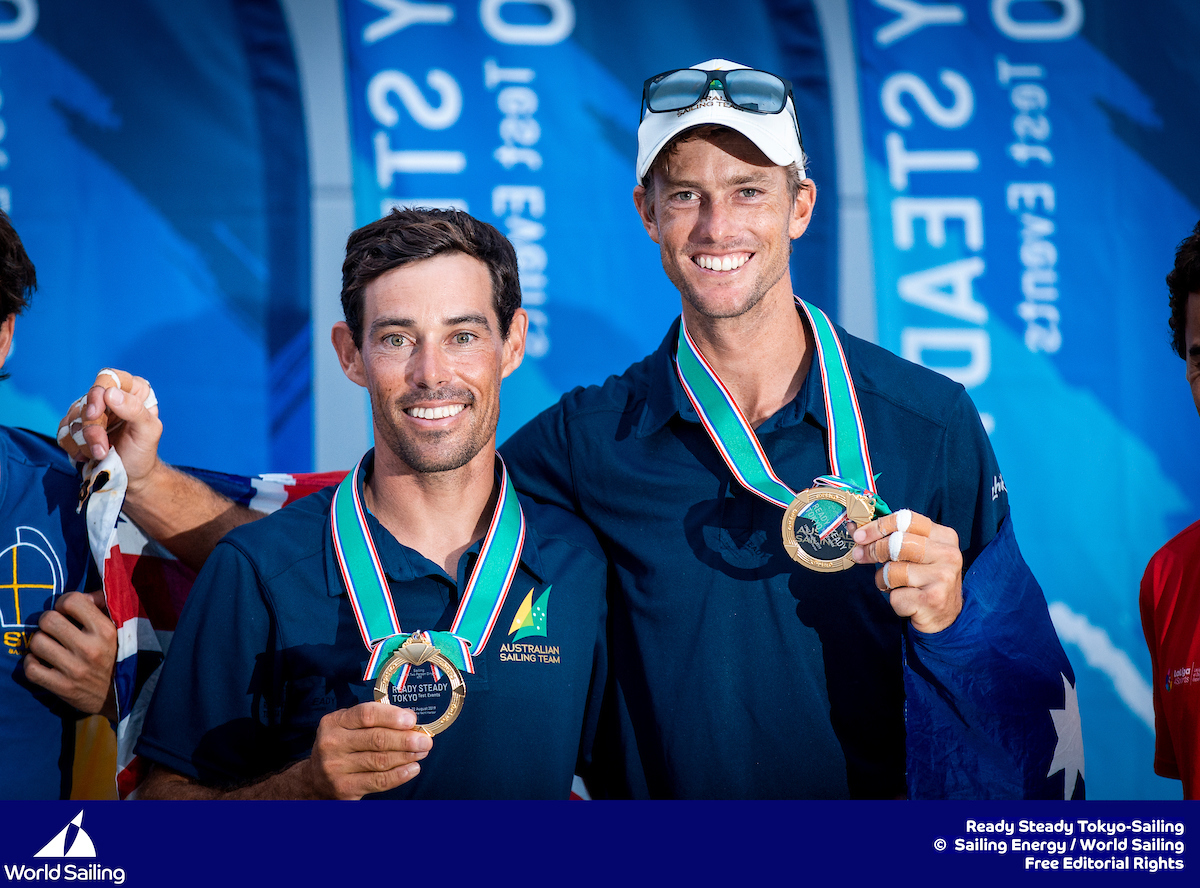 Mat Belcher & Will Ryan, Gold

Zsombor Berecz (HUN) had already wrapped up gold in the Finn fleet, so the battle for silver between Nicholas Heiner (NED) and Giles Scott (GBR) was decided by AP over A, with the Dutchman taking second place ahead of the reigning Olympic champion.
"It's great to win any regatta but the test event is special," said 2018 world champion Berecz.
"We didn't spend a lot of time here so it's especially good – we had almost every kind of condition and I managed to perform every day.
"We have a lot of work ahead of us but I would say if we don't make any mistakes in the next year and everything goes to plan, then I will be happy and prepared for the Games.
"I'm very happy with how we are doing and how we have been performing in the past few weeks."
Following Ready Steady Tokyo – Sailing is the Hempel World Cup Series in Enoshima, with the sailors involved taking a few days' break before Day Zero on Monday 26th August.
By Liz Owen - World Sailing
Australian Sailing Team Final Results for Ready Steady Go Tokyo Regatta:
Men's 470 (22 boats)
1st: Mat Belcher and Will Ryan 2, 3, 3, (8), 3, 1, 8, 1, 1, 3 – 25pts
Women's 470 (20 boats)
14th: Nia Jerwood and Monique de Vries 7, 7, 16, 12, 7, 16, 16, 11, (19), 11 – 102pts
49er (21 boats)
14th: Sam and Will Phillips 5, 5, 2, 8, 18, 12, 16, 16, (22 UFD), 22 UFD, 2, 19 – 125pts
49erFX (23 boats)
6th: Tess Lloyd and Jaime Ryan 4, 13, 8, 15, 3, 19, 6, 3, (20), 9, 8, 5; MR 8 – 101pts
Finn (22 boats)
14th: Jake Lilley 9, 11, 8, 14, 7, 3, 17, 10, 17, 10, 15, (23) UFD – 94pts
Laser (35 boats)
2nd: Tom Burton 4, 8, 6, 4, 7, 13, (27), 15, 4, 2 – 63pts
4th: Matt Wearn 3, 4, 8, 14, 8, 4, (22), 1, 14, 11 – 66pts
Laser Radial (41 boats)
28th: Mara Stransky 29, 41(BFD), 5, 22, 38, 25, 38, 27, 8, 2 – 191pts
Nacra 17 (21 boats)
4th: Jason Waterhouse and Lisa Darmanin 4, (20), 13, 5, 5, 4, 3, 3, 4, 2, 3, 9, MR 14 – 69pts