April 15 - 28, 2018: Issue 356
Warringah Rugby Club News: Season Openers 2018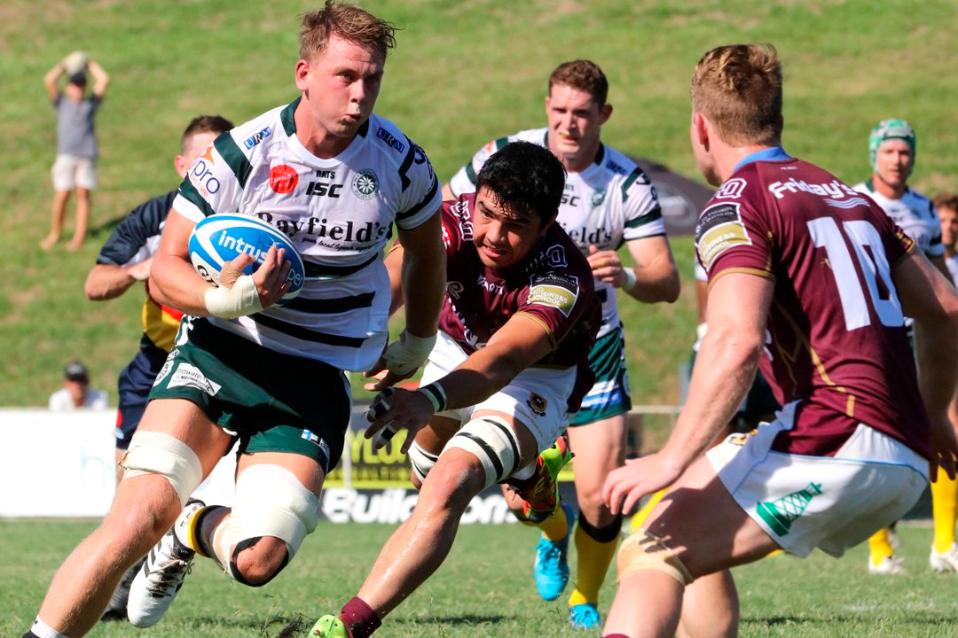 Warringah Rugby Club vs. University of Queensland, in 'Tackling Violence' Cup 2018 - Photo by Warringah Rugby Club
Warringah Rugby Club News: Season Openers 2018
This weekend (April 14th) three of the Rats finest reach Club milestones. All three are premiership players and wonderful clubman that's display what being a Rat truly is. As they take the field we say thank you for your service and dedication to our community.
Harry Jones - 50 First Grade Games Sam Ward - 100 Club Games Josh Holmes - 150 Club Games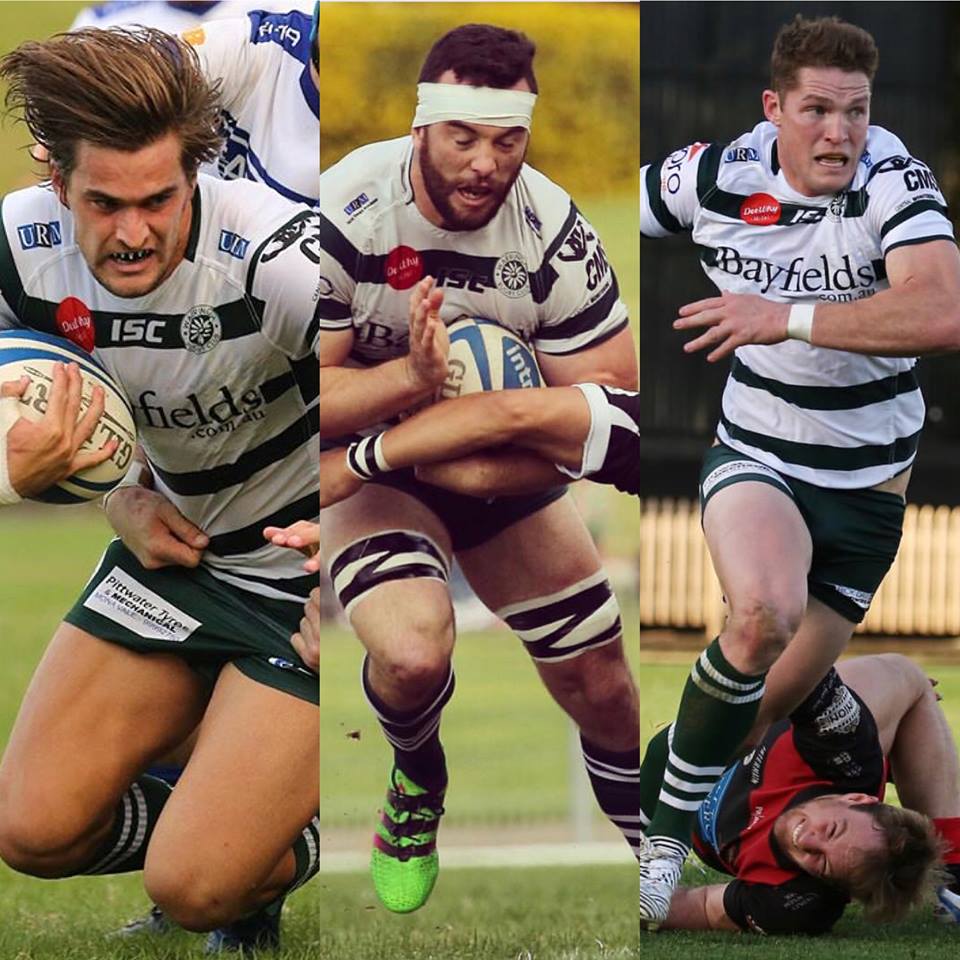 Our Trial season started March 10 with a physical match against Easts down at Porters Reserve. For some of our players it was a trip down memory lane playing on the field where it all started for them. The novelty of re-visiting the home of one of our village clubs proved both satisfying and nostalgic. We had a solid win against Easts, but still a lot to work on.
We're approaching this season with the loss of 3 starting players from our 1st Grade Grand final team; Sam Needs (Japan), Tom Connor (Australian 7s) & Josh Gillard (Canberra-career) along with Cam Treloar (retired…again) Tasi Tuitohu (Work) from the Grand final 23 man squad. Regular 1st Grade contributors Mick Adams (Manly) & Paula Kaho (Wests) have decided to move on.
Following the first trial was the much anticipated Club Championship game against University of Queensland. Back at Rat Park for the first time in 2018 we had a good crowd and a taste of promising things to come. The day was sponsored by NSW Government initiative "Tackling Violence", a code of conduct that we've signed up to as a Club and is one of the many community engagement focuses for this year.
The boys came away with the silverware which was yet more icing on the cake on the back of last years' Premiership win.
We rounded out our trial season on March 24 again at Rat Park against Gordon. Another promising win to put us in good stead for the season.
The same winning trajectory unfortunately didn't continue into Round 1 as we were back to Norths on Saturday April 7th where it all ended rather magically last season. The game started well with a strong first half performance that saw us go into the sheds tied at 10 all at half time. The second half was riddled with errors that hurt us on the scoreboard. Norths picked up the pace in the last 15min of the game and ran away with a 27 -18 victory. Not the start the Rats were after but we will be better for the run and are excited to be at home this Saturday, April 14th, against Randwick as we celebrate Members Round at Rat Park.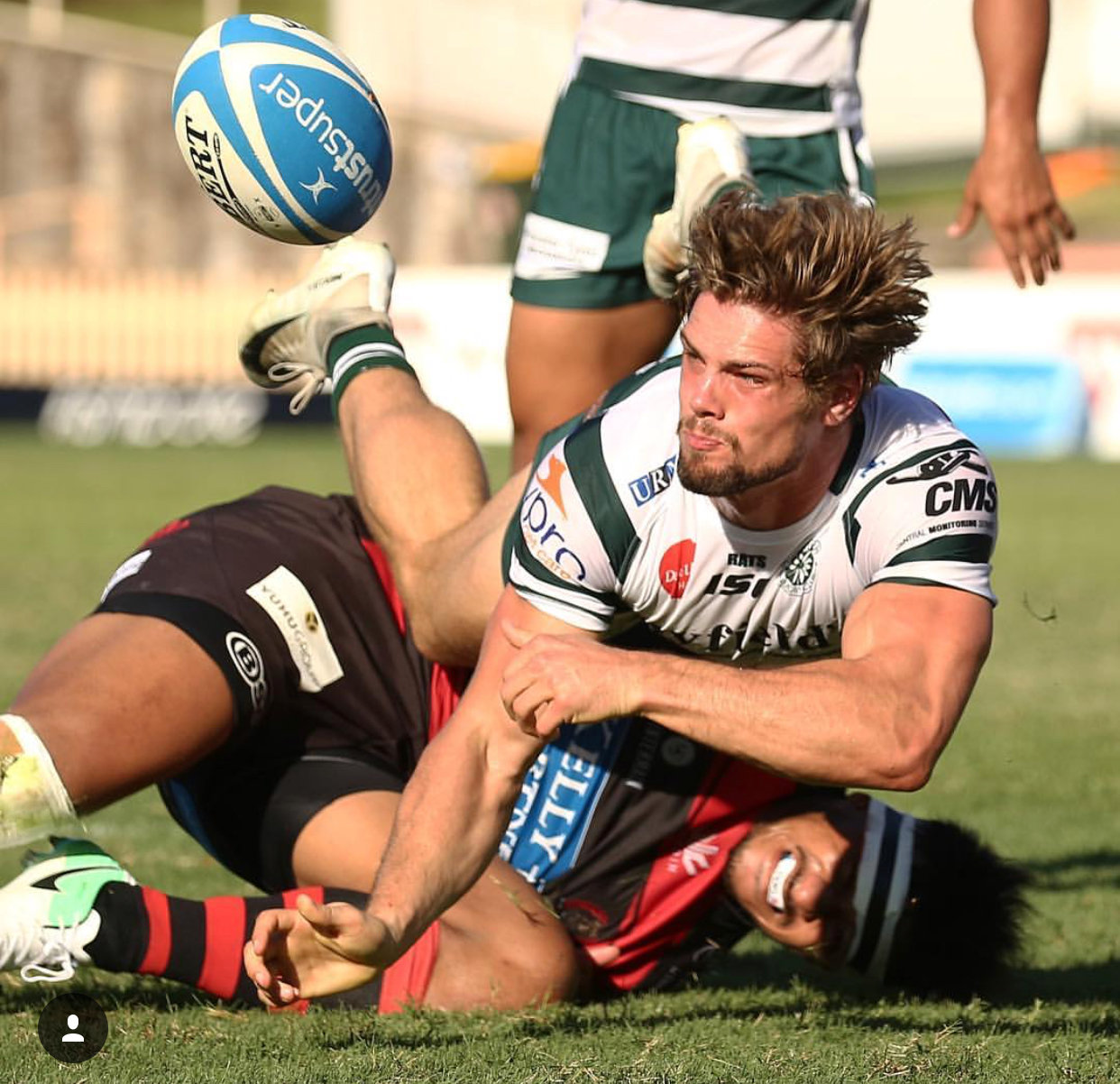 Other scores in 1st Grade were:
Easts 15 vs West Harbour 12
Eastwood 13 vs Manly 32
Randwick 48 vs Gordon 5
Souths 62 vs Penrith 7
University 36 vs Parramatta 12
On Saturday the Rats lower grades showed that in 2018 they will be a force to be reckoned with some outstanding rugby being played and clutching two wonderful win in 3rd and 4th grade;
2nd Grade - WRC 17 vs Norths 45
3rd Grade - WRC 31 vs Norths 14
4th Grade - WRC 21 vs Norths 5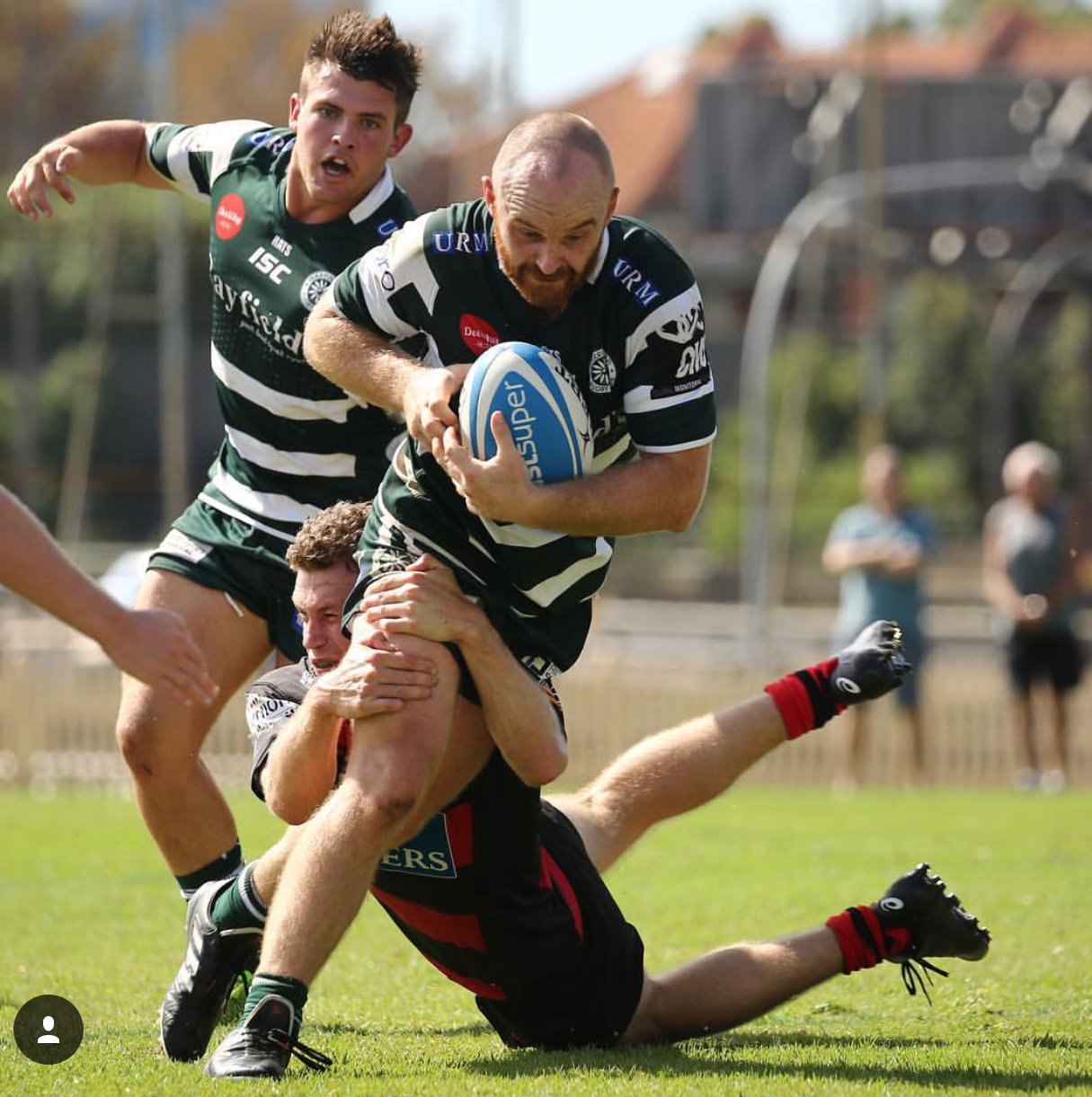 The Colts took on competition favourites Norths at Rat Park under lights. With a fresh new look the 2018 colts promise to be exciting and give the finals a real shake this season. With a strong win in 3rd Colts this platform was set for a good night at the office. We were unable to get the results we needed in the 1s and 2s Colts but coach Simon Kacimaiwai was happy with the effort and fight the team showed. The Colts travel to Randwick this weekend for another tough game but with plenty of confidence after the weekends effort.
Colts Results:
3rd Colts - WRC 26 vs Norths 19
2nd Colts - WRC 0 vs Norths 40
1st Colts - WRC 7 vs Norths 10
Rattettes Premier Rugby Sevens Competition Launch
This weekend marked the first of the woman's Premier Rugby 7s which will occur on a monthly basis over the season making way for 15 a side on the other weekends. It's a new dawn for a lot of the Sydney premier clubs fielding women's teams for the first time. The enthusiasm of all the clubs to make this happen and the quality of athletes participating showed that it was definitely time.
With 10 of our best players involved in the Super W it gave others within the squad a chance to show what they have and push for selection in future tournaments as well as the 15s team.
The team came up against a very strong Southern Districts team first up with some representative players unfortunately going down. Using the lessons from the 1st round loss the Rattettes turned it around, duly beating Eastern Suburbs and Norths by large margins. The experience of captain Anne Rutlidge came to the forefront as she and fellow veteran Lynda Davis started orchestrating the team, bringing out the skills of the younger players. Jamie Blazejewski was immense in defense until she injured herself midway through the 3rd game, showing the new girls that in any Rugby match, the contest is always physical. Sabine Blakeman, Miki Trbojevich and Sarah Oxley worked hard finding a lot of yardage in the middle of the paddock with some strong carries for the team to work off. Shenai Lendill, Jemima Moffet and 16 year old Jasmine Bonomi all showed the depth we have in speed and finishers, the youngster Jasmine grabbing the first of her hopefully many tries for the Rats.
Carmen Leung is new to the club this season after playing touch and Oztag most of her life, she has worked tirelessly over the past 5 months and the weekend was a breakout for her. The confidence she gained scoring 5 tries must be good but it was the dazzling footwork and sniping runs which pleased the coaches most. The little pocket rocket can finally feel at home playing Rugby and is looking forward to the next hitout. The find of the weekend though is most surely Eriko Hirano. The Japanese National winger only arrived in the country at the start of the week and no doubt Northern Suburbs wish she didn't!! Eriko dominated every facet of that particular game after being somewhat subdued in the first couple. She is here thanks to Mark Gerrard's connection with Japan and is studying English for the next 6 months.
Although not a winning tournament for the Rattettes, it was most definitely positive as we continue to improve our depth and talent for the future. On behalf of the players, coaches and management, we would like to thank everyone for their support as the players had the privilege of playing on the hollowed North Sydney Oval before 1st grade. We know this meant an adjustment to traditional kick off times for the lower grades and the support in the stands was very much appreciated.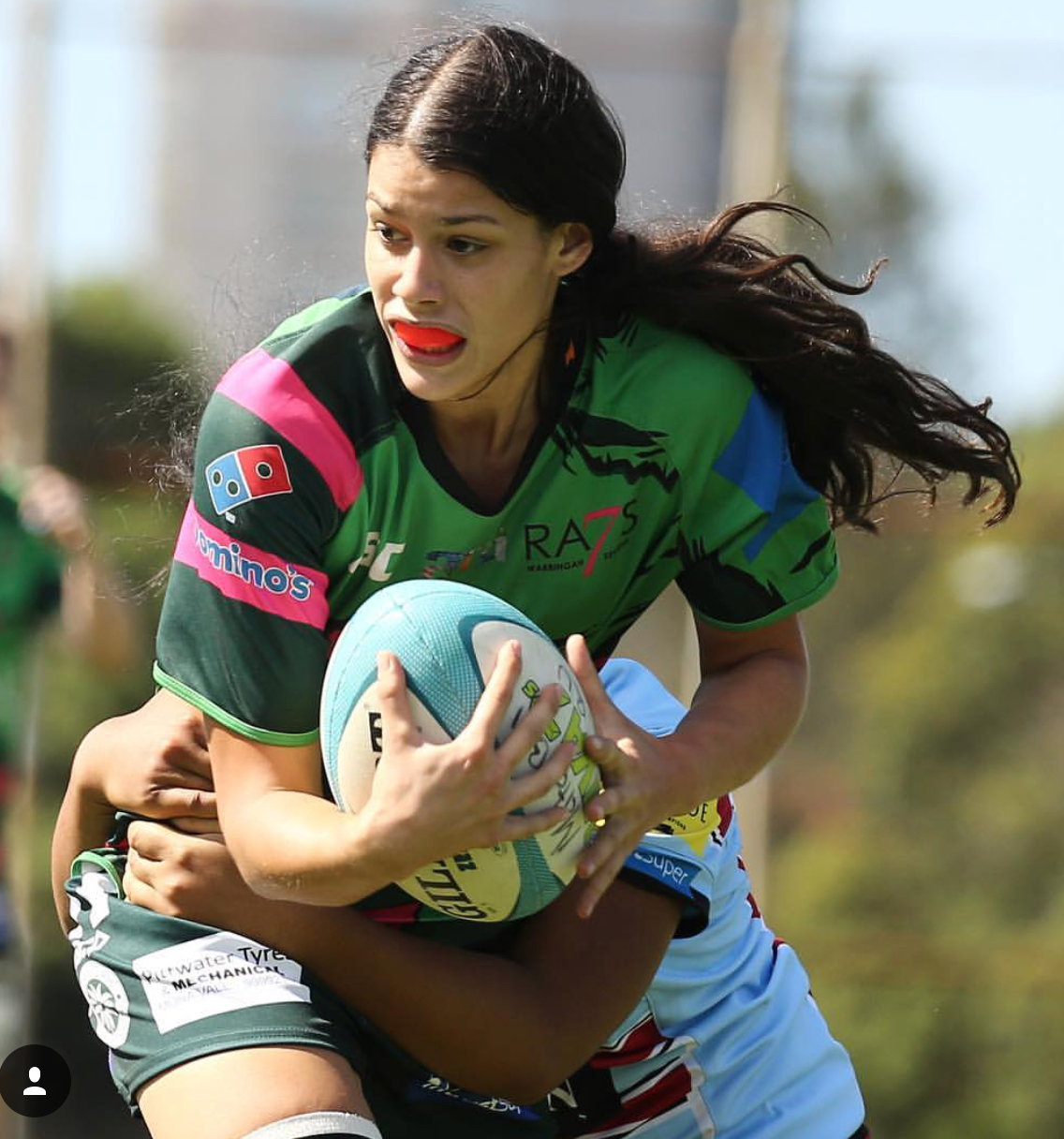 Members Round - 14th April 2018 - Rat Park
This week we are back at Rat Park for our first home game of 2018. Members Round is all about celebrating our amazing members. There are awesome giveaways at the Resolute ball passing competition and an opportunity to have a photo holding the Shute Shield or the Australian Club Championship Cup. Jumping castle, great food and beverages all will be on show this weekend for our valued community of members.
Grade Game Times:
Rat Park - Pittwater Rugby Park
4th Grade 10:45am - 3rd Grade 12:00pm - 2nd Grade 1:25pm - 1st Grade - 3:00pm
Colts Game Times:

Coogee Oval
3rd Colts 12:20pm - 2nd Colts 1:35pm - 1st Colts 3:00pm
Rattettes:
Blacktown - TBC (time and game address will be advertised on WRC website) 3:00pm
2019 Rugby Work Cup with the Friends of Warringah
Friends of Warringah (FOW) are hosting a tour group for the 2019 Rugby World Cup in Japan. There will be an information night on Wednesday the 25th April at 7:00pm at Rat Park in the Clubhouse. WRC will be supplying snacks and beverages… all are welcome!
Please RSVP to Christine@warringahrugby.com.au by 23 April 2018.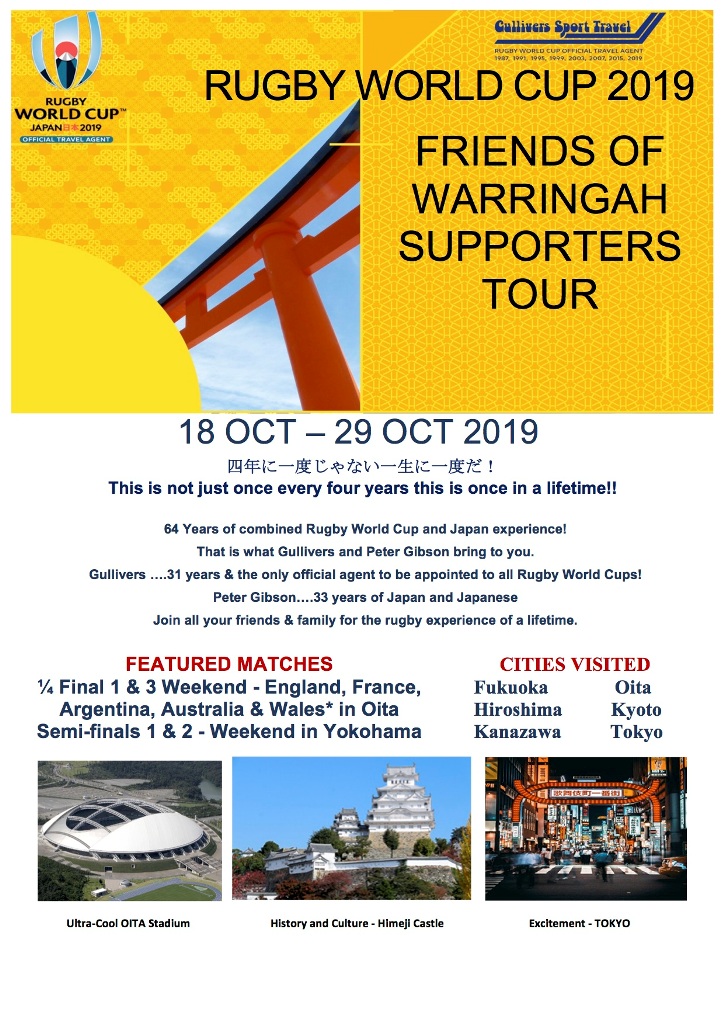 Rats Holiday Clinic
Two weeks to entertain your kids in the holidays is a long time! Just ask Luke Holmes, he's got 4 of them! Register your kids today for our holiday clinics on the 19th and 26th of April. Numbers are limited so get in quick….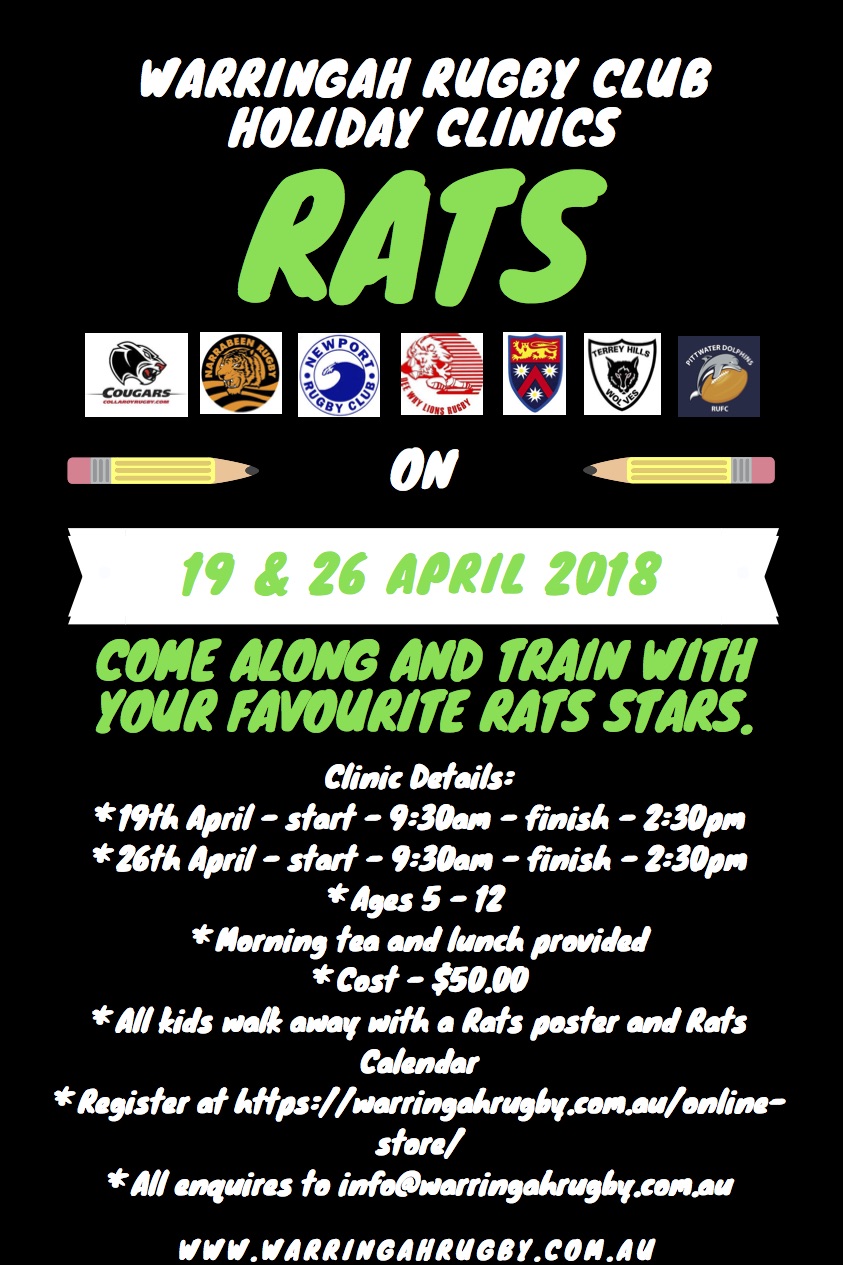 Report and Photographs by Warringah Rugby Club