January 23-29, 2022: Issue 523

Warren Young OAM: Celebrating 40 Years As A Patrolling Life Saver At Avalon Beach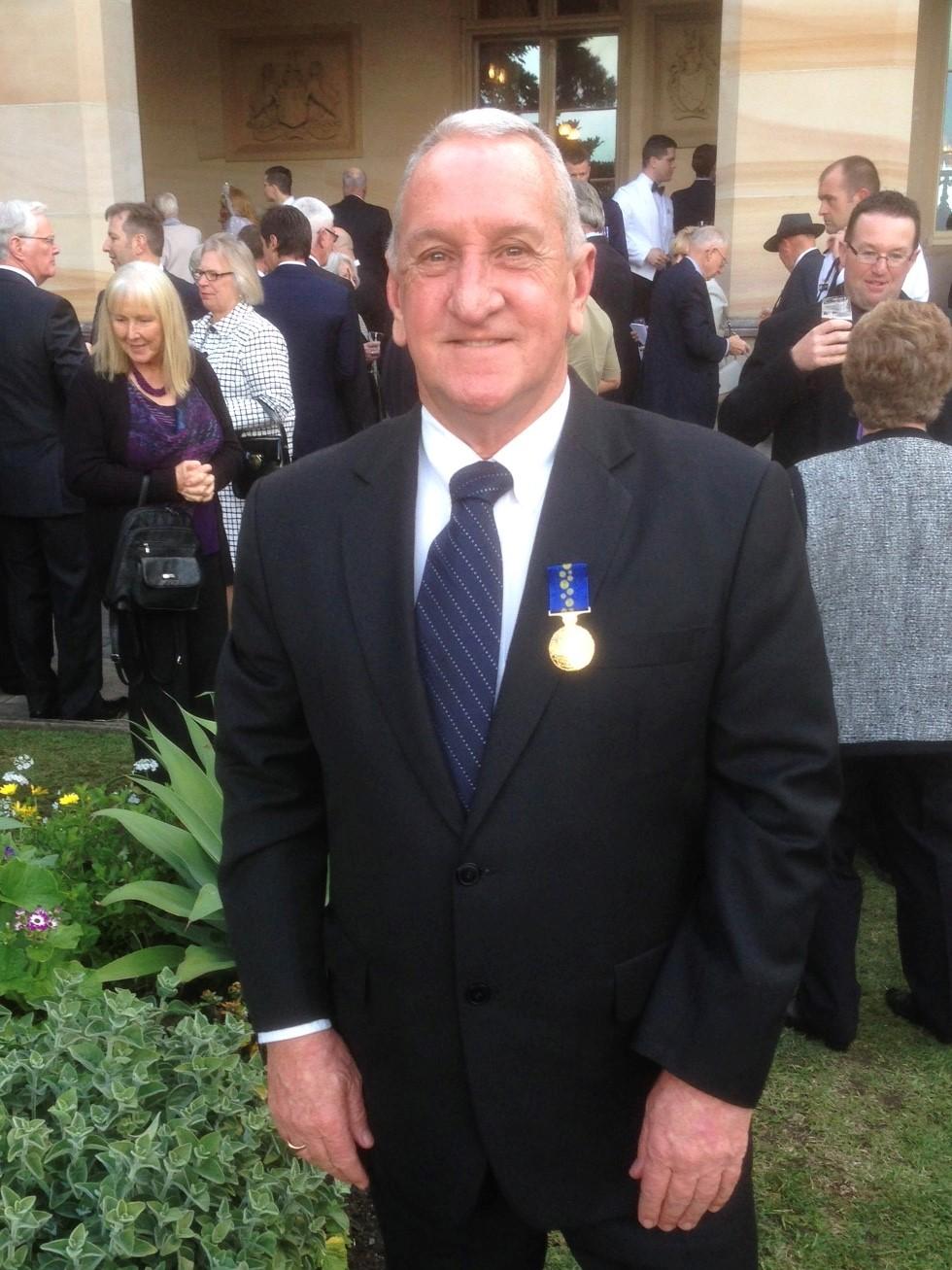 Pittwater is rich with people who quietly go about investing their time, energy and acumen into our community, not just in one role, but sometimes undertaking many roles and doing so, as a volunteer, not just for a year or two, but for decades.
On June 9th 2014 Warren Young was awarded an Order of Australia Medal - and OAM for 'Services to Surf Life Saving'. A read through of all he has done through years as an Avalon Beach SLSC member, where he is a Life Member, indicates this gentleman has done a great deal for many for a long time.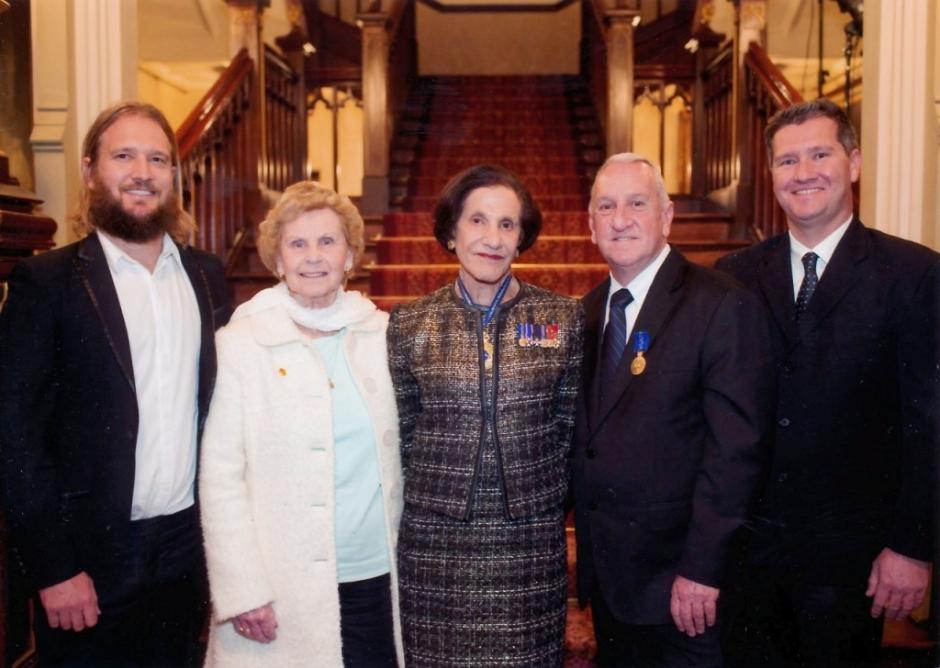 Ben Young, sister Rosalind Carr, Dame Marie Bashir AD, CVO, Warren and Mark Young - presentation of OAM
On the first week of January 2022 Warren realised ''40 consecutive years at the one place – it was 40 years ago this week that I did my first Patrol.''
This week we caught up with Mr. Young.
Are you still patrolling with any of those members?
No. One of the guys used to be the President of Nippers when I first became involved, Paul Keen, as I was involved in Nippers before getting my Bronze, he said 'maybe we should get our Bronze'. He still goes to the beach every day. Our Bronze test at that time was the last year you had to do a reel and belt swim as part of the cohort. I actually had to say 'Paul', and Paul is a big bloke, and here I was trying to pull him in to the point where we could basically stand up, and I said to him 'Paul, you can stand up now, will you get on your feet please'.
Of the four guys that I was involved then that I Patrolled with, Paul is no longer involved, another is a Life Member but no longer doing Patrols and the third moved to Terrigal. We're all still good friends after all those years though.
You have held numerous roles, including being President and steered the4 club through some of its more challenging times – including during the Baywatch filming based at Avalon Beach SLSC? What stands out for you?
Well, yes, there have been some interesting times. Roger Sayers is part of my current Patrol, Patrol 5, and we've kept each other sane. Ultimately it's something that we love and love doing. We go there and although there are challenges, when you're doing something good you enjoy it. We're not there to get a pat on the back or receive accolades – we're just there to look after the community and visitors to the beach.
If you had to pick just one favourite experience during that time – what would it be?
My son Mark is now in Yamba surf club but was originally a member at Avalon Beach SLSC. He did Lifeguard duties overseas at Cornwall – he'd do a Summer here and then Summer over there for about 10 years. He also did a couple of years in the Channel Islands.
That family legacy is something of which I'm very proud as it now stretches to three generations of family members serving community.
When Mark moved to the North Coast he was thew NSW Professional Lifeguard of the Year, only to become the Australian Professional Lifeguard of the Year.
Now my granddaughter Lilli, who only became a professional Lifeguard in December, and is still going to school, recently saved a kangaroo on her first Patrol as such. Her dad had said 'Lil, you should get your Gold Medallion and then you will get paid for it when you're on the beach if you get a position as a Lifeguard'.
She couldn't believe it, said 'my very first rescue was rescuing a kangaroo.'
That beach is called 'Iluka Bluff' and is part of the National Park there. The kangaroo jumped off the rocks into the surf. There was quite a few people on the beach and on the rocks and luckily someone took a video of it. Lilli was on radio the next day and the ABC News – so it went a bit viral. (Visit: https://www.abc.net.au/news/2022-01-05/kangaroo-surf-rescue/100740244 )
Her sister Ava is also surf lifesaving now too at Yamba – so the three of them actually do patrols through that club. I did a Patrol there with Mark and Ava when I was on holidays over the Christmas period, so that was lovely.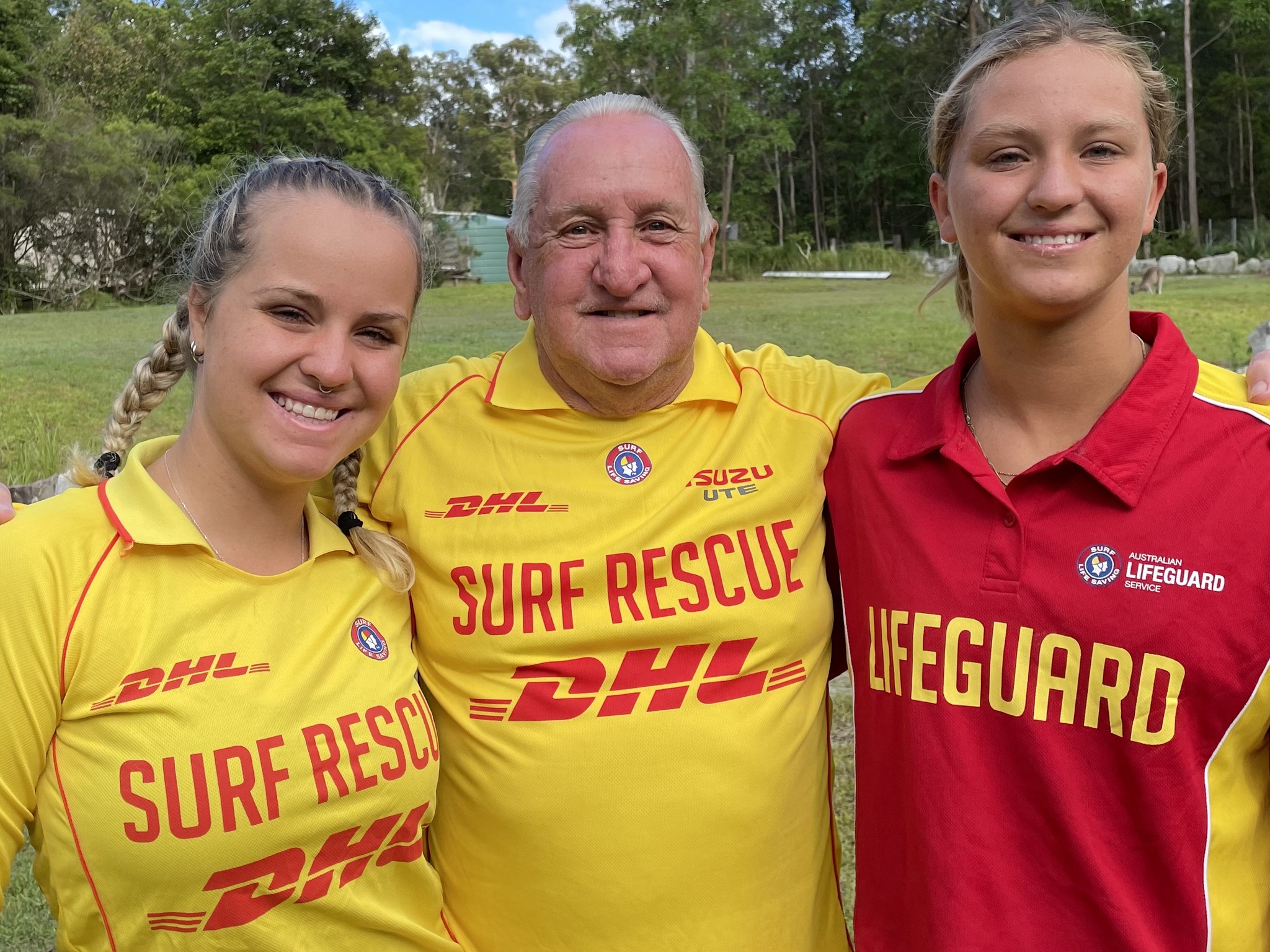 This is Ava, Grandad and Lilli. Look carefully there's a Kangaroo over Lilli's shoulder!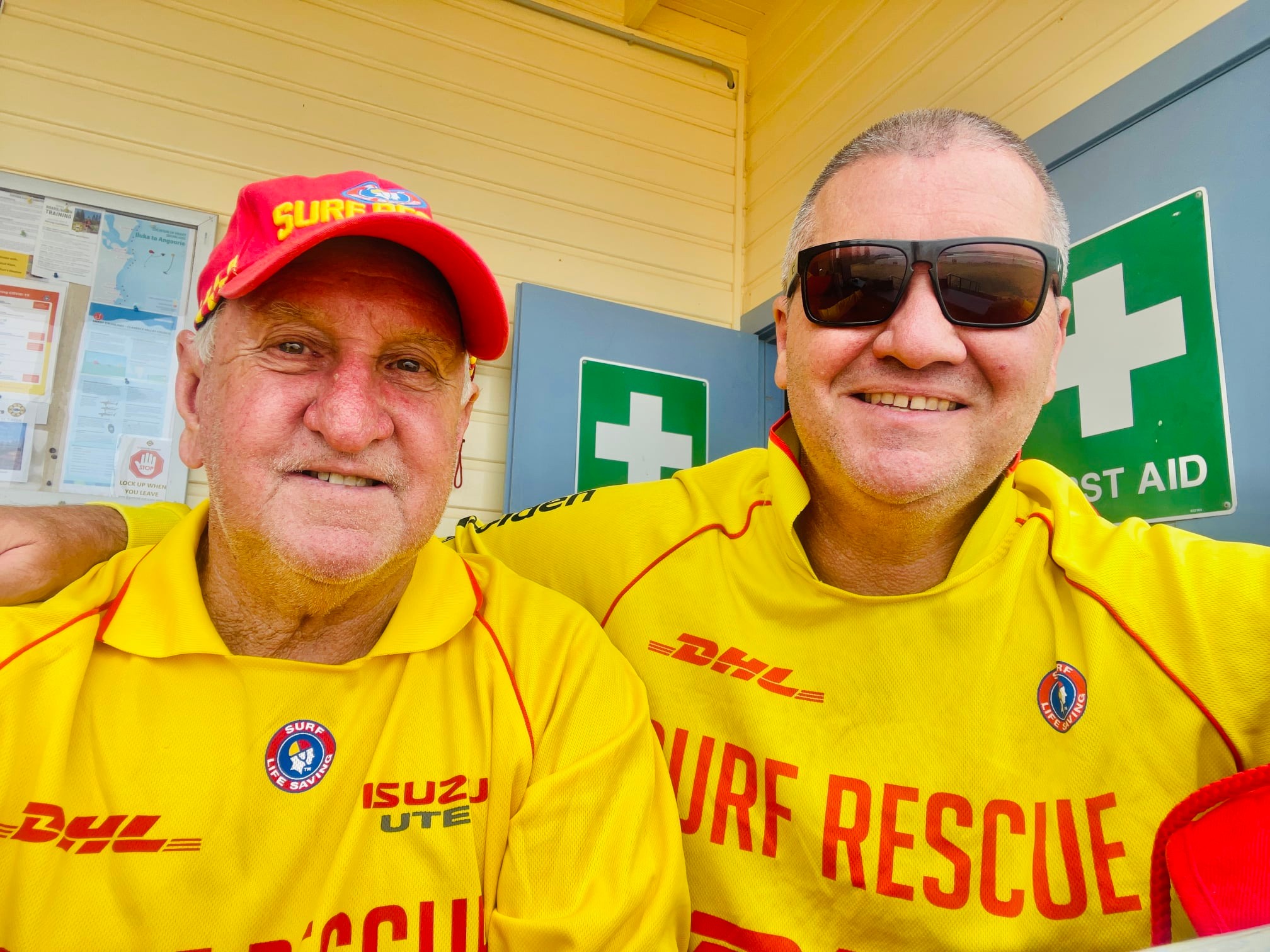 Mark with his old man doing a patrol at Yamba SLSC

In 2014 you were recognised with an OAM for 'service to surf life saving'. This was backed up by a long list of works and events done for the movement – but what has your favourite been?
When I look back I would have to say it was when we had the Event of the Year recognition from Pittwater Council after the Tsunami that impacted Java. That was the most moving experience. For people that weren't even surfers, just from the community, to come down and hold hands from one end of that beach to the other, and all the boardriders that were out in the middle – it was just amazing. The cooperation of the churches, as it was a Sunday, who told everyone 'come down to the beach', the local surf shops and businesses who spread the word – it was just wonderful to see that whole of community response was extremely special. Hopefully we never see that again but for our community to pay tribute to those who had gone through this was something that has stuck with me.
So, are you going to do Patrols for another 40 years?
I don't think so. Sooner or later it is going to be time to move on. The thing about some of us old boys being on the Patrol is that we know that beach pretty well and we know where the rips are, we know what's going on under whatever conditions we find, and we know how to communicate pretty well with the boardriders. When I first started out doing Patrols there was the boardriders and the clubbies; if we put the flags up where they were they'd say 'why are you doing that?'. Now we have an understanding because a lot of our members are boardriders too and we also have boardriders saving people as well. Nowadays we're actually working together, we have a good relationship.
What would your message be to people who are new to the area or just visiting for the day?
Please, Swim Between the Flags. If you see signs up that say the Beach is Closed, don't go in the water – the beach is closed because it's too dangerous for you to be in the water.
If you have children, please take them to between the flags for a swim or to the kiddies pool at the south end of the beach.
Warren is a softly spoken gentleman who won't tell you much about what he has done, and although some of it is on a large scale, when you see Warren he's happy doing seemingly small things, there on hand to move furniture when the new clubhouse was being built, and there again when it needed moving back in.
Ask him about himself, he'll tell you about his sons. Tell him how beautiful his home is, he'll talk about how great his lovely wife was at putting rooms together. He does have a few constants that can be seen to thread through though - a love of surfing and the water, a love of family, a great business ethic which knows details are what make success, and a dedication to making life good that follows through until done, for everyone.
Below runs our interview with 'Wazza' from 2015, to share a few more insights into where all this comes from.
When and where were you born?
I was born in Marrickville in 1948 at the Bethesda Hospital. I was born and raised in Marrickville, went to school at Marrickville Public School in Illawarra Road, which was also the road I lived in. I then went to Tempe Boys High School, which was a quick bus trip away.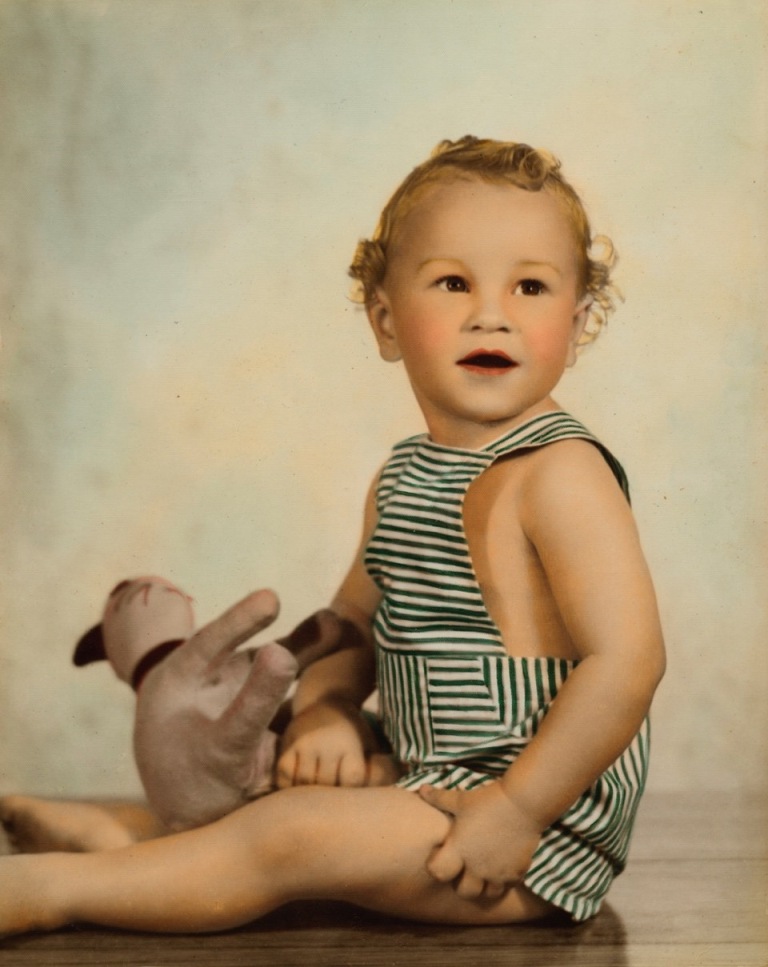 Warren as a Baby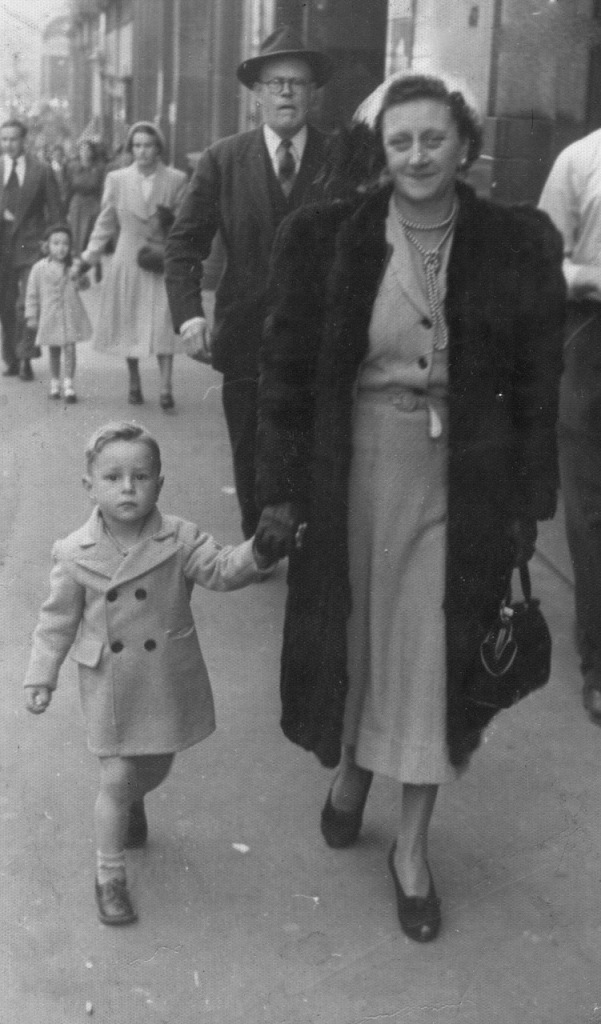 With Mum in Martin Place - Sydney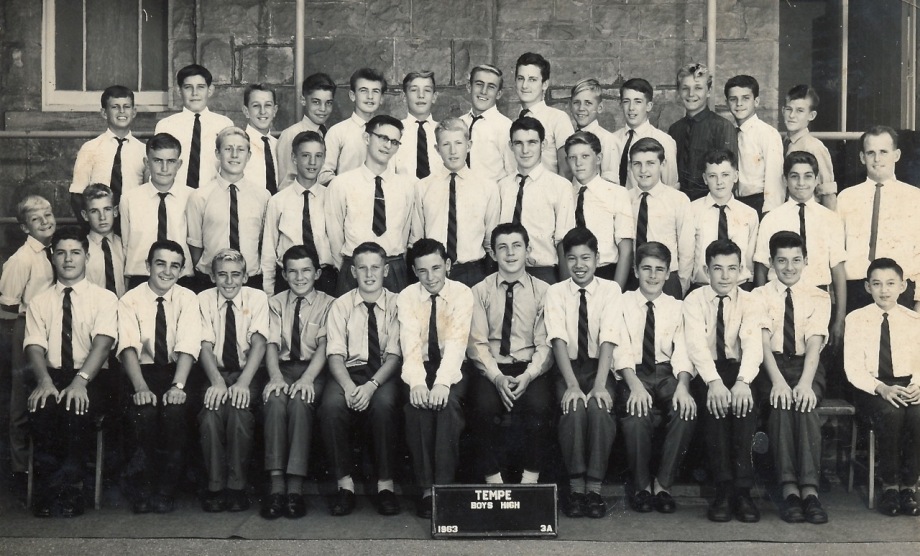 Warren at school third from left at back
Swimming and surfing were always a passion since I was first awarded with the Department of Education Swimming Certificate in 1958. At the age of 10 my uncle would take me to the Pyrmont Swimming Club meet at Victoria Park Pool. Our end of season picnic was at Avalon Beach and that's where my love affair with Avalon Beach started. There was a War Veteran's lottery first prize which was a house at Avalon so my mother was encouraged to buy tickets so we could move there but never thought I would ever have that chance.
In 1961 at age 13 I received my Royal Life Saving Society-Australia, Water Safety Certificate, the first step in what was to become a surf lifesaver.
What was the landscape of Marrickville like while you were growing up – did you see many changes?
Oh yes, there were a lot of changes. When I grew up it was very much a working class area, with a lot of big factories. One of these used to be the Australian Wool Mills where they used to do many of the processes to make fibre for clothes. My father worked for Shelley's Drinks the most popular drink at one time, and they were in Marrickville. The other big place there which many would remember was ETA, they made peanut butter among other things. It was a really busy area.
I lived very close to the strip shopping centre, which is still there and has been revitalised. Marrickville has become quite trendy and is likened to Balmain and Newtown and Paddington, due to its proximity to the city.
What did you do when you left school?
I started working at Coles on Saturdays, underage at 14, although they didn't know. I left school after getting the Intermediate Certificate, when only 15. My mother said 'you must get into a bank' and so I joined the Rural Bank of New South Wales. I had a really fantastic career with them. Initially I worked in the Head Office for two years and was then transferred out into the branch network first working at the Maroubra Junction branch in 1967.
What was Maroubra like?
The great thing about being there was the guys I used to work with were surfers. I used to put my surfboard on top of the car and take it to work and then after work the majority of the staff would all go down to the beach and have a surf, including the Manager. In 1965 I'd purchased my first car and first Malibu surfboard, a 9.5. I now had the chance to explore the beaches and cruise up the northern beaches where North Av was one of my favourite spots.
After Maroubra Junction, I worked at a few different branches, including Hurstville and Mascot. I was transferred into the city near Railway Square after these branches.
At that time I thought 'I don't think banking is really for me' – I was more of a creative person – I'd always been interested in advertising, public relations, that side of the business and I'd like to get into that area.
I asked about being transferred and was told there were no vacancies but that they had a position available in the Travel Department. I was transferred there and worked in the Accounts and went from being the Accounts Clerk to being the Travel Manager and overseeing 40 staff in different locations. It was a really interesting job.
The Rural Bank became the State Bank and at that time there were a lot of changes going on within that bank. There were a lot of banks at that time who had Travel Departments asking, 'why are we doing this?'
I was called up to the Managing Director's office one Friday night at 8 p.m., and the discussion was 'we've going to get out of travel, what's your direction, what should we do?'. I answered we should sell the business; it's a very successful business. It was my job to then negotiate the sale of the Travel business.
It was sold, after six months of negotiations, to Thomas Cook. Thomas Cook were on an expansion phase in Australia at that time. The greatest asset from the State Bank sale were the calibre of the staff that ran the Travel Department – very experienced, they had good conditions, subsidised home loans etc, nobody wanted to leave. On completion of the sale I joined Thomas Cook and was Manager of one of their major city locations initially. In joining Thomas Cook I was awarded 'New Face of the Year', I must have been doing something right.
I was transferred into the Corporate area of the business where my role was to look after major corporate accounts as a Sales Manager. Later on I was promoted to Area Manager – North, being responsible for branches this side of the harbour right up to Newcastle.
For a short time I based myself in the Mona Vale office then later on at Warringah Mall where I managed my little empire from there – this would have been 1977.
The corporate side of Thomas Cook was then bought out by American Express and the retail side of the business was bought out by Harvey World Travel. That was a little like David Jones being sold to Target, it was a big surprise.
With the split in the business there was a lot of cutting back and major changes. I was at the surf life saving News South Wales State Championships at Byron Bay when my wife called me and said she'd had a telephone call from American Express and they want to speak to you. At first I thought 'oh, someone trying to sell me a credit card' but the guy had left his name and number and asked me to call when I had a chance. The following day when I phoned they said they'd been given my name by a colleague who said I'd been at Thomas Cook and they wanted to know if I was interested in joining their sales team. I explained I was up the far North Coast but would be back Monday, he asked me to stop in and see them at North Ryde on my return, which was where they were Amex were located at that time.
After a very short interview they said they wanted me! and after some negotiations I joined American Express. I started as a Sales Manager for travel and corporate card then went on to be a Business Development Manager looking after some major global customers. I progressed with Amex through some of their moves and ended up in Liverpool Street in the city.
American Express Presentation for sales excellence in 1998
Amex took over National Australia Bank Travel, Westpac Travel and Thomas Cook, they were building themselves up all this time, especially on the corporate side of the business, which went hand in hand with their corporate card.
What's the difference between corporate travel and an individual travelling?
Where you have a company that has a lot of people travelling they want to ensure they have got the best deal, best airfares, management reports and substantial cost saving benefits and dedicated travel consultants – although now they can book online within their office and it's all billed to their account.
Retail travel is where you have many local travel agents specialising in holiday travel someone walks in and says 'I want to go to Bali' or somewhere in Australia or the world. The corporate consultant is focussed on getting them there, getting them the best hotels, and anything else they may need.
You would have seen changes too – such as Business Class for example?
My very first Travel Agent's education trip was on American Airlines who were flying to Australia at that stage to Fiji. They were first with the 707 Luxury Jet – which was quite unique as they introduced movies and music on board.
On this 707, which was shaped like a cigar, in front of every two seats they'd have a drop down screen. A big spool of film ran from the back of the aircraft, right down the left hand side and then across the front of the aircraft and up the right hand side. So people would start watching the movie on left side and by the time it got to the right side you'd be twenty minutes down the track from those watching it up front ! Quite often the film would snap within the cabin ceiling.
A friend of mine's father worked for Bell and Howell who made the 16mm projectors; he was always at the airport fixing these problems.
Then things got better when they introduced the 747 – movies on board, and the upstairs lounge for first class passengers, with a spiral staircase would take you to a lounge with a bar and lounge chairs.
This was only the beginning of massive changes in aircraft and in flight entertainment.
Business customers wanted their employees to arrive fresh. This saw the introduction of Business Class. The Chairman and executives would be in First Class others in Business Class or if your company didn't have the budget you're further down the back in economy.
How long were you with American Express?
Ten years. I left as I had a brother who had cancer. He lived at Mackeral Beach and didn't have anybody to look after him. So I took a couple of steps back and said 'family comes first' – I left in July; he passed away in August, the following month.
That was hard, not just losing him, but he lived at Mackeral Beach, such a beautiful place to live, but suddenly we had all this furniture and belongings to move from offshore back to this side of Pittwater. You never know what's around the corner.
Following that I established a business, called 'Wazzabout' in 2004– doing different photography through connections at American Express and some assignments for American Express with conferences and meetings.
Later that year I received a call from a previous colleague who had worked with me in Rural Bank Travel days – he asked what I was doing now and if I was interested in being an Assistant Tour Manager on this trip he had organised for the Rats of Tobruk war veterans. This involved going to Singapore and Changi then on to Egypt, visiting Cairo, the pyramids and others sites. We went to Alexandria and from there to El Alamein – :
One of the most moving times in my life occurred at El Alamein on the 11th day of the 11th month at 11am when we laid a wreath on the Australian War Graves.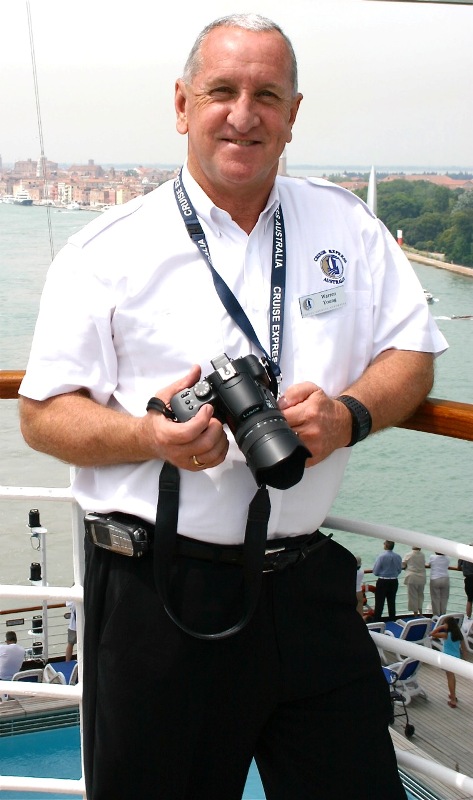 Back to Alexandria we joined a ship called 'Discovery'. We cruised to Benghazi, Libya then by mini buses to Tobruk. That was an adventure we only had the one day there and did around 1200 kilometres in that time. At one stage I was worried as we had these Mercedes Benz Mini-buses, I had eight people in my bus, and was sitting next to the driver, who couldn't speak a word of English, and looked at the speedometer and we were running at 180 kilometres an hour. I kept signalling 'slow down, slow down', to which he would smile and barrel on.
On our way back his lights wouldn't work; we were out in the middle of the desert in the dark. We placed his bus in the middle of the other four buses so they could direct him with their lights. We were not far outside of Tripoli when his engine finally went and we had to cram everybody into the other buses. We left the tour guide and my other Tour Manager behind at a service station, they had to hitch hike but gained a lift on the back of a truck back to the port. Fortunately they made the ship.
Right: Tour Manager at Venice
From there we went on to Tripoli, Tunisia, Malta and Sicily before arriving in Rome. We flew to London and had a special ceremony at the new Australian War Memorial in Hyde Park. We attended a special function, hosted by the Australian High Commission on The Strand, for all our War Veterans. As a courtesy they invited the Germans and the Poles who were also a part of the Tobruk campaign.
I had one old gentleman say to me "Mate, we went over there to fight them in that bloody war what are they doing at our party?!"
It was a amazing experience all round, you do meet some wonderful people – I really enjoyed that part of it.
I now work part time as Event and Tour Manager at Cruise Express, we recently won the prestigious 2014 Cruise Agency of the Year(Silver).
Let's talk about Surf Life Saving – after surfing at Maroubra in 1967, how did that change into becoming part of a surf club, as these were at odds with each other during that period?
I was never a surf life saver - it was only when my kids came along that I became involved. Mark was five, Simon four at that time, both became part of Nippers – which started at 4 years back then. We joined at Avalon Beach and as so often happens, it was a case of 'mate, can you give us a hand with this here' and then 'a hand with that there' and before you know it you're in! and frankly, it's one of the best things I did in my life.
My eldest granddaughter Lilli and her sister Ava, are both in Yamba Nippers, so it goes on.
From my kids being involved, it has been pretty amazing what surf life saving has given us – my eldest son Mark was NSW Professional Lifesaver of the Year and then became the Australian Lifeguard of the Year. I'm very proud of him achieving that; it's not easy. He was also a lifeguard in Cornwall and the Channel Islands. Mark is now a Paramedic.
My second son, Simon, wasn't actually involved in the surf club but loved surfing. He went on the world surfing circuit and for the last 12 years has been Team Manager for Volcom in Europe.
Just prior to Christmas he was retrenched and has now moved back to Australia with his family. He has two girls Lea and Grace and wife Anne and they will reside with me initially – so that's great – I get to be granddad full time for a while. Once again he has done very well for himself, surfing professionally and then working in the industry.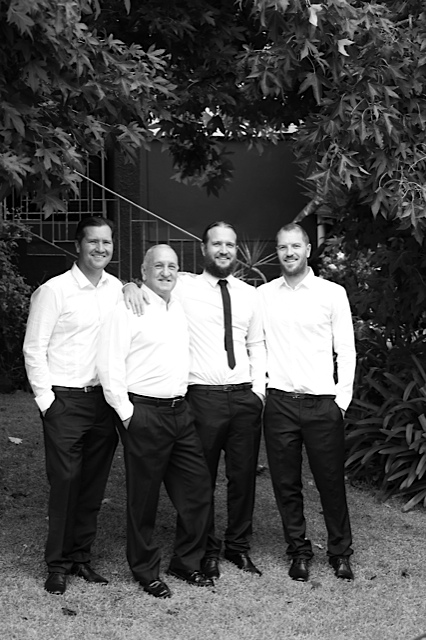 left: Warren and his sons
My youngest son, Ben, is National Sales Manager at ONBOARD Industries a surfboard manufacturer in Mona Vale. At one stage he too was part of the surf club and did a season in Cornwall as well as a Professional Lifeguard. He lives in North Avalon with wife Marisa and two girls Sahri and Aylah.
You have put in a phenomenal amount of time, doing everything, every job and filling every voluntary role in the structure of a surf club. Which were your favourites?
One of my early favourites was when I was president of the nippers; a separate club at that stage. We even had our own IRB and weren't part of the other club. During that time we had to amalgamate with the senior club and that brought testing moments.
Being involved with nippers was all about getting the kids involved learning surf skills and having fun. We had some amazing times; I remember we went to the New South Wales State Carnival at Byron Bay. As I was involved in travel I chartered the coach; which for the first time had facilities on board like a videoplayer. We had an amazing time; the kids loved it and it sure entertained them over that big distance.
One of our dear friends, Edna Carter, was there to do the cooking, along with a couple of others – when I think back to those days I remember people like Pete Carter who started with me at 4 years of age and now he's the Vice President of our club. We were one big family.
We did a similar thing down at Mollymook where we had around 100 kids sleeping in the CWA Hall on air beds and I thought 'never, ever again' – but we did another trip near Mollymook, staying at Burrill Lake. We'd decided to do a camping trip and had all the tents and associated tents set up by the bus company as they did camping safaris. Half way through the night we had a massive electrical storm and had to evacuate everyone into the toilet block; so there was always some kind of adventure. You look back on it all with a smile, kids still say to me 'remember that time when we went to Umina?…' . We had the State Carnival over there and one guy from the club had a fishing boat so the kids took their surfboards with them. They anchored out off the beach and they jumped off and paddled in "we're here!!"
The rest of us took the ferry to Patonga and had a bus waiting over there to take the rest of us to the beach. These were great times, great memories for everyone.
What about some of the later roles you took on at Avalon Beach SLSC – which were your favourites there?
One of the most moving experiences when looking back was when we won the Pittwater Community Event of the Year (2006) just after the Tsunami and that it occurred on the day of our Ocean Swim. I thought we should do something about this and went around and contacted the Ministers of the different churches, owners of surf shops and local businesses to get the word out. I didn't imagine we would have so many people come and what would we do when they did ?
I thought, we'll get everybody along the foreshore and all join hands and let's see how far we go. They went from one end of the beach to the other and then we had all the surfers out in the middle of the beach forming a circle of friends as well – it was just amazing.
When everyone was there we thought; well, what do we say? – I said a few words and reflected on those who lost their lives, and others caught up in that disaster and their families

Tsunami Tribute - picture by Steve Jacek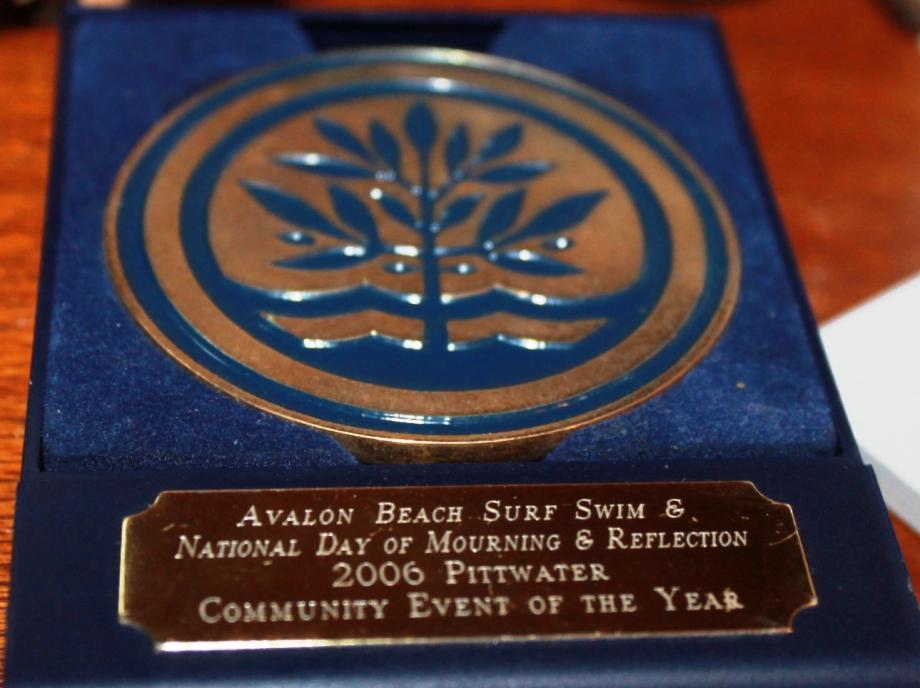 Your wonderful photography – how did that begin?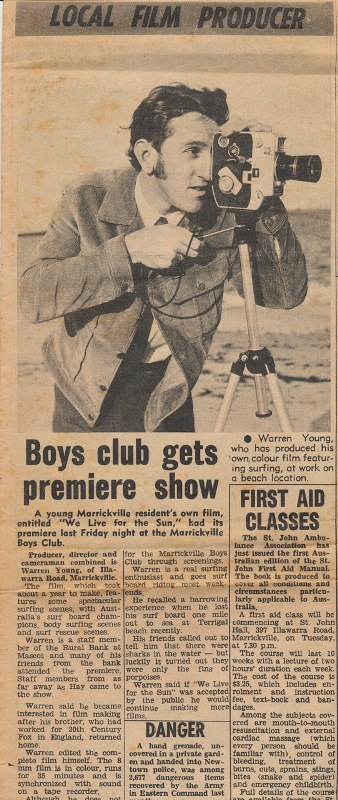 Welcome to the office of Wazzabout- I still have my very first camera, a Kodak Box Brownie – and I still have a record of my very first trip that I put together: all these photos were taken on this. That was the first time I'd ever been in a plane as well, I was in 6th Class.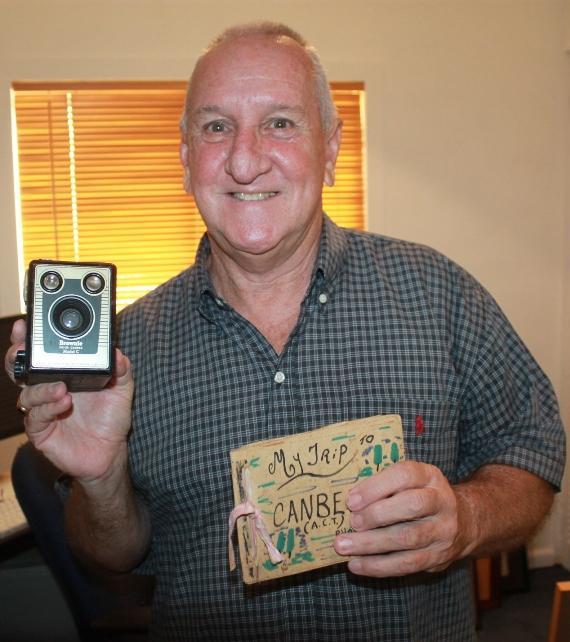 Right: from Free Weekly 28 Aug 1969
When I was living in Marrickville I had one of these old style Movie Cameras and made a surfing movie with friends called "We Live for the the Sun' – the soundtrack was synced with a reel to reel tape recorder. I had all these people who were working with me at the Rural Bank at that time come to the Marrickville Boys Club to watch the surfing movie. I still have a VHS copy here somewhere.
Part of movie was when we went to the Gold Coast with our surfboards. We dressed up in a suit and tie to go on the plane what is what people did in those days !
My brother worked for Hoyts and it was an interest we shared and allowed me to pursue it more.
Which are your favourite photographs that you have taken?
I love this one as it's quite different and the colours are good (wedding one)- I love the one of Col Campbell that was taken on Sydney Harbour and used to promote Australia Day. When I was on the Australia Day Committee and brought in the photos I'd taken to the next meeting, they said 'fantastic – love them'. I gave them copies – 12 months later it turns up in the Sunday Telegraph Australia Day Program – no credit, no acknowledgment. I said 'look I don't mind you using my photo but I had the person in the photo call me up and say 'I'm in the paper' –and I hadn't even seen it.
They then turned around and asked me if I had any more that I'd taken after that time, in particular if I had a darker person or some females, which I did. I then had to go and copyright approvals and releases from those in these pictures and submitted them and then they were umming and ahhing about whether they should pay for them!
Left: Col Campbell Australia Day surfboard challenge - appeared in 2005 Programme
For people who want to get into photography professionally, what would you suggest they need to know?
I love that fact that everyone can take a photograph now, whether in a digital camera or on their phone. The basics to remember are to make sure your subjects are turned towards the light, if you have the sun behind them, you're just going to get dark shapes.
One of the things to remember when taking weddings you have only have once chance so get it right; if you're doing it as a professional, make sure you have back up equipment, extra charged batteries, an extra lens and make sure you get a great selection of shots. At the end of the day you could spoil somebody's best day of their year or life if you don't get it right!
You have also photographed around 20 years of Surf Carnivals?
Yes, I enjoyed doing that but have pulled back a bit in recent years. I still love doing it and have bought one of those Go-Pros and looking forward to learning how to get the best out of that. But again, even if buying a digital camera for just personal use, make sure you learn some basics, even if you're just going to be taking a few shots – you want the record to be as good as you can.
All that post-production work you do, cropping, bringing the colour up, will also enhance what you have taken.
I used to do a lot of video and with video the post-production workload is enormous; getting the music in the right place and sound for speeches, if you don't get it right it's not good. You may end up sitting at your computer for weeks on end doing post-production work if you are going to go into this professionally.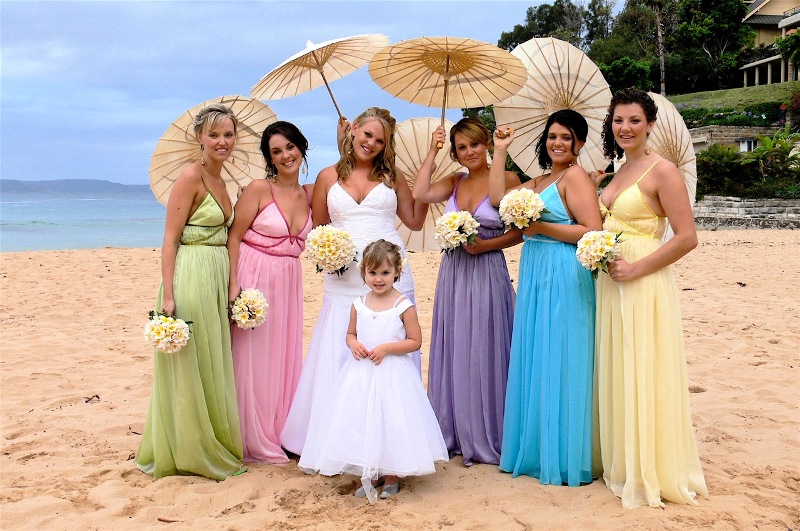 How many photographs have you taken?
I'm not sure – in this one photo-bank I have 56 thousand photographs, and that's just one.
This photo of a shark – that was an opportunity to fundraise for the Avalon Beach SLSC – Col Dalgliesh, who used to be the butcher in Avalon called and said 'mate. I've got a shark here for you, somebody caught this down at Palm Beach, in Pittwater'. So we put a sign up on the main road 'Gold coin donation' and people came to see the shark.
This photograph you've taken here of the Olympic Torch relay – what's the story that goes with this picture?
As the Olympic Torch was coming through the Northern Beaches life savers put up a Guard of Honour right along Manly Beach. A Surf Carnival was run at the same time. I was part of the welcoming committee and got to take these photographs for the record.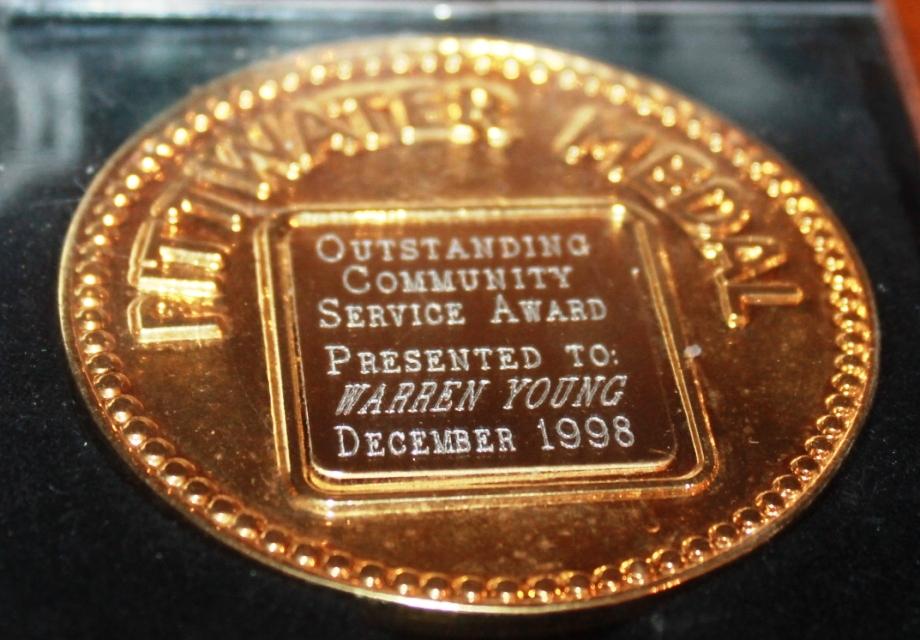 You were President of Avalon Beach SLSC when Baywatch came to Avalon – what was that like?
Roger Sayers and myself were part of the guiding committee, Roger had known Greg Bonann a former Lifeguard from Baywatch previously. There were some terrific aspects of that; the production company came in, they painted the clubhouse and then we had the opportunity of doing a much needed extension, which we couldn't afford. They were going to be on the beach from the end of the Season to September.
Unfortunately some residents really objected to this going ahead. It was quite possibly the worst time of my life. I recall a big meeting held at Barrenjoey High School the same week my dear wife Barbara had been diagnosed with cancer. I had to cope with that, cope with the meeting and the associated fallout that occurred. We were doing a community consultation and discussed how it would benefit the community, they were going to be using the local shopkeepers and facilities, etc. and the next day it was as though that meeting hadn't taken place, the positives agreed to were again all negatives. After that experience I'd never want to be involved in anything like that again; I had media constantly phoning and television stations that wanted to run stories, it all got very grubby quite quickly.
We have had feature films and many other commercials made at the club. Home and Away, which is filmed in Pittwater, and has contributed to our community, are positive reminders of what can occur when our area is used for filming kinds of ventures- they put money back into the community and surf clubs for equipment that saves lives.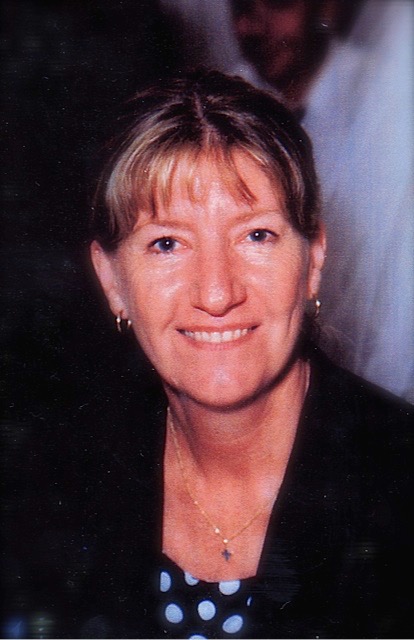 Where did you meet Barbara?
Working together at the Rural Bank Head Office. Barbara later worked in Hertfort's, was part of Avalon Quilters, was the coordinator of Safety Houses around here too.
We met and went out for a while and then had a break when I was transferred out into the suburbs. I was then brought back into the Head Office and was there one day, the lift doors opened, and there was Barbara standing waiting to get in the lift.
She turned and walked towards the steps so I caught the lift to the next floor and ran down the stairs, caught up to her and said 'are you avoiding me?' and embarrassed the poor woman. I married the love of my life Barbara in December 1970. We were married for 29 years.
We moved to Collaroy before moving to Avalon in 1972. The first of our three sons, Mark, was born in 1973, Simon in 1975 and Ben in 1980 . All were born at Mona Vale Hospital.
Barbara was very active in the community, she was a very caring lady. I recall she always included people in the community who didn't know too many others, would take them along and make them part of one group or another. She was part of Playgroup and a lot of those people are still my friends.
There are lots of Awards here, some marking 25 years service, the Pittwater medal – what does it feel like to have so much recognition for so much voluntary work?
My eldest son told me it was time I let somebody else have a go (laughs).The two I'm proudest of are these – when my son Mark and I both got Rotary Pride of Workmanship Awards in the same year and being awarded the Order of Australia last year.
Avalon Beach SLSC celebrated its 90th year in 2015, what would you see as landmarks through those 90 years?
What stands out to me is it is and always has been a very community focused club. That has always been one of our strengths. In the early days we had guys who came all the way from the other side of the harbour to stay and patrol our beach and in particular during the war years. In many cases, they became Life Members and played an important role in the success of our club in many ways.
People like our Life Member Warren Mitchell OAM and his contribution with the IRB would naturally stick out, this has become part of Surf Life Saving Clubs throughout Australia, equipment saving thousands of lives. That is by far our surf club's greatest contribution to Surf Life Saving itself.
More recently the new surf club would be a stand out – I never thought I would see, in my lifetime, a facility that suited what the volunteers and those who visit Avalon Beach need. To see what we have now, even with some people saying 'it's too big', things have changed since we first kicked off as a life saving club, it's not 1925 anymore with only a score of people as members.
If it can raise income from other sources for leasing parts out for classes or weddings etc. that's great as the community isn't having to support these structures through their rates. It was a major project and credit must go to Richard Cole, Robert and Christine Hopton and everybody who got involved, Council, our local MP Rob Stokes and the NSW Government and supporters – it was a mammoth effort and a fantastic result.
What is your favourite place in Pittwater and why?
I love the Boathouse at Palm Beach because of the setting, it's just beautiful looking out from there. The gardens as you enter are so welcoming now, the staff are amazing, great service, everybody has a smile on their face. When I take visitors there they're always very impressed.
What is your 'Motto for life' or a favourite phrase you try to live by?
Make the most of every day.
Warren Young OAM - From Avalon Beach SLSC's Annual Report 2013/14:
Avalon Beach SLSC was proud to see Warren Young awarded an OAM for services to Surf Life Saving in the Queen's Birthday Honours list on June 9th 2014. Warren has been a member of Avalon Beach SLSC for 35 years. His commitment to surf life saving is exceptional. He has been a patrolling member and part of the backbone of Avalon Beach SLSC since first joining the Club in 1979 as Assistant Age Manager for the Under 4s Nippers. Three years later he obtained his Bronze Medallion and like a lot of Nipper parents became an active lifesaver.
Warren has held a committee position of some sort every year since he joined. He is also a Life Member of the Club and of Surf Life Saving SNB. His involvement has seen him organize events outside the traditional surf lifesaving events, such as surf life savers attending Olympic celebrations.
As well as patrolling for 30 years, Warren has been Director of the annual Avalon Beach Surf Swim, which is the major fundraiser for our club, for the past 20 years. He is a past President of both the seniors (for 11 years) and Nippers.
Among all the ocean swims, the Avalon Beach Surf Swim is recognised as one of the best organised, having been one of the first on the ocean swim circuit. We have attracted more than 1000 swimmers for a single event and Warren's work as Director has helped our club raise more than $200,000 over the years - essential funds for lifesaving equipment. Pittwater Council named the swim the Community Event of the Year when we dedicated it to the tsunami victims and attracted thousands to our beach to remember. This was organized by Warren.
Warren dedicates an enormous amount of time to Surf Life Saving and is also involved with the Avalon Historical Society. He was a committee member of the Australia Day Ambassador's Program for 15 years. Warren is well recognised for his efforts in Surf Life Saving and has been awarded a Certificate of Recognition for his outstanding contribution to the Pittwater area for the past 20 years by Pittwater Council.
He was one of the main coordinators for the Australian IRB Championships held at Avalon Beach in 1998. This major event was in planning for 18 months and was the biggest event ever staged at Avalon Beach.
Warren is well known for his generosity both in the local community and throughout Surf Life Saving on the Northern Beaches of Sydney. He was instrumental in arranging the Club's regular participation in the annual Anzac Day march. He contributes to many annual reports for various clubs, providing photographs and videos he has taken at events.
Some of the challenges and successes during his time at the helm include:
- Incorporation of the club
- Organising the club's 70th, 76th, 80th and 85th Anniversary functions
- Winning the inaugural "Most Outstanding Club of the Season" award
- First Hero of the Surf Awards
- The Club's first Australian Champion Boat Crew
- Baywatch - dealing with the controversy over filming in our club and on the beach
- Hosting the Australian IRB Rescue Championships
In recognition of his community work, his club and community positions and awards include:
- Junior Club Record
- Age Manager for 10 years, Registrar, Publicity Officer, Competition Manager, State Carnival Organiser, Water Safety Officer, Branch Delegate, Carnival Official (10 years), Treasurer, President Junior Surf Club (3 years). Appointed Life Member Junior Activities 1992.
- Senior Club Record/SLS Sydney Northern Beaches
- Bronze Medallion, Advanced Resuscitation Certificates, Surf Life Saving Instructor's Certificate, Training Officer, Radio Operator's Certificate, Certificate II in Public Safety, Defibrillation Course, Vice Captain, Patrol Captain, General Committee, Vice President, Deputy President, President (11 years), Norman Cook Club Member of the Year 1993 and 1996, President's Award 2006 and 2012, Vice President Surf Life Saving Sydney Northern Beaches (11 years), Branch Delegate, Club's Representative, Life Member 1999, Co-founder Ocean and Open Water Swimming Association, Pittwater Ocean Series Committee member.
Awards/recognition include:
- Pittwater Medal 1998, Australian Sports Medal 2000, Pittwater Citizen of the Year 2002 (Runner up), Rotary Club of Pittwater Pride of Workmanship Award with son Mark 2002, Australia Centenary Medal 2003, Distinguished Service Surf Life Saving Sydney Northern Beaches 2003, Pittwater Community Event of the Year 2006, Life Membership Surf Life Saving Sydney Northern Beaches 2009/2010 season, 20 years + Volunteering in Pittwater 2012.
Warren is a true gentleman who would do anything for anyone. A recent article in a local newspaper even referred to him as a surf lifesaving "legend" at Avalon Beach and we are proud to have him as a member.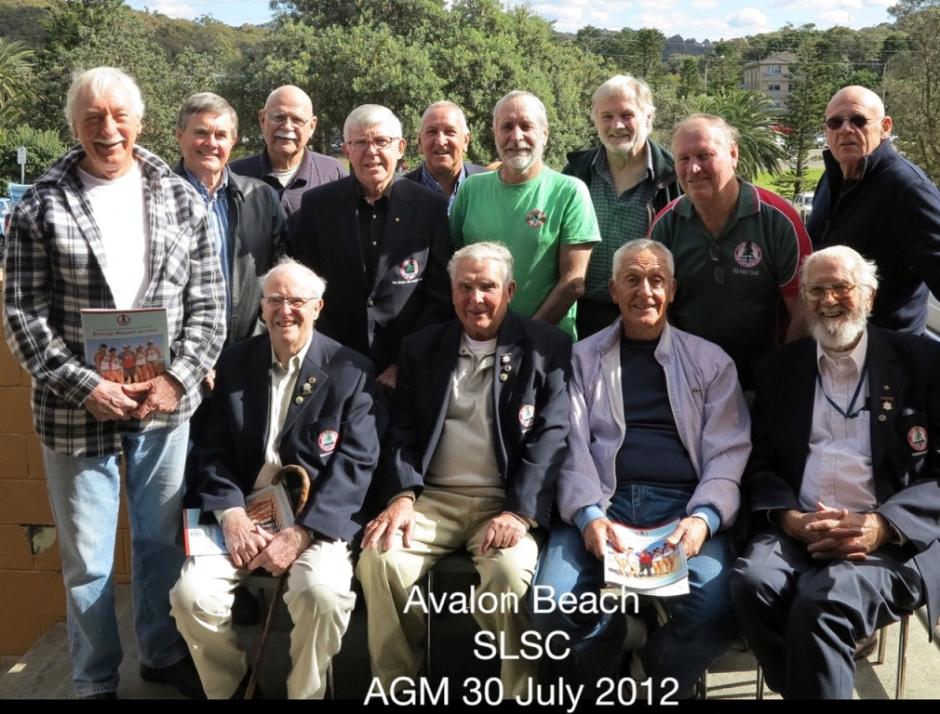 Avalon Beach SLSC - Life Members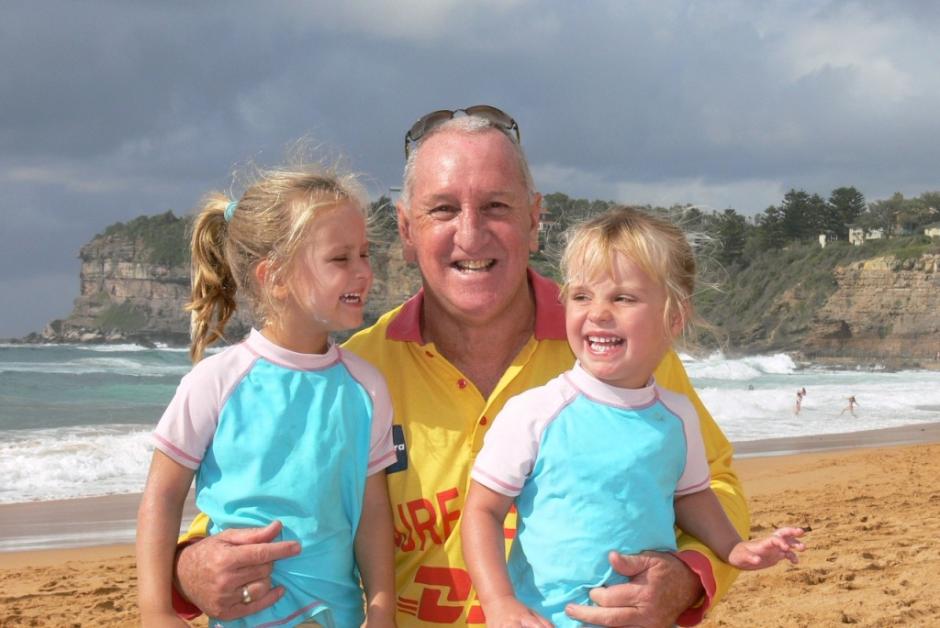 Lilli and Ava Young with Granddad a few years ago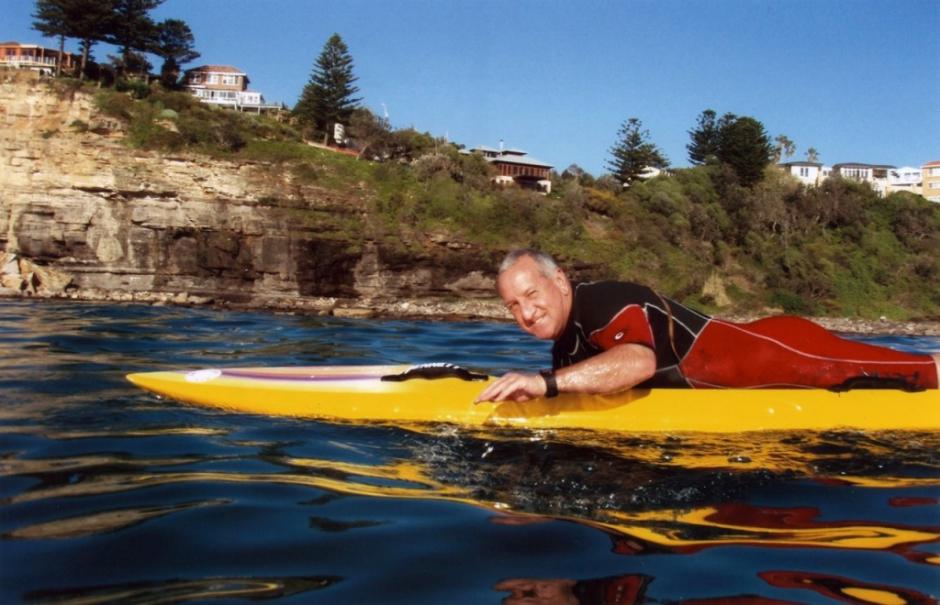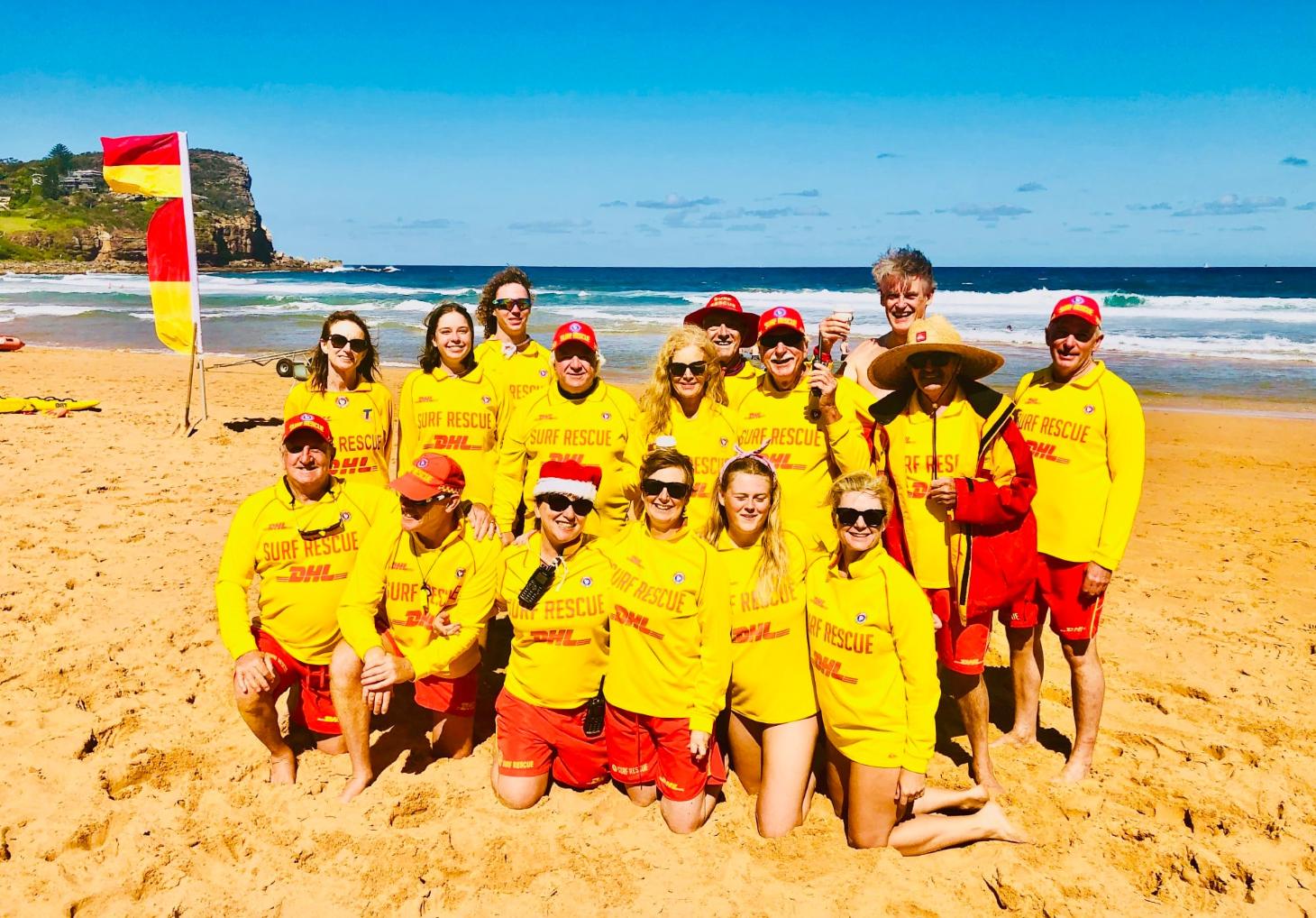 Patrol 5 of Avalon Beach SLSC