June 5 - 11, 2016: Issue 266

'Wanda' The Wildlife Mobile Clinic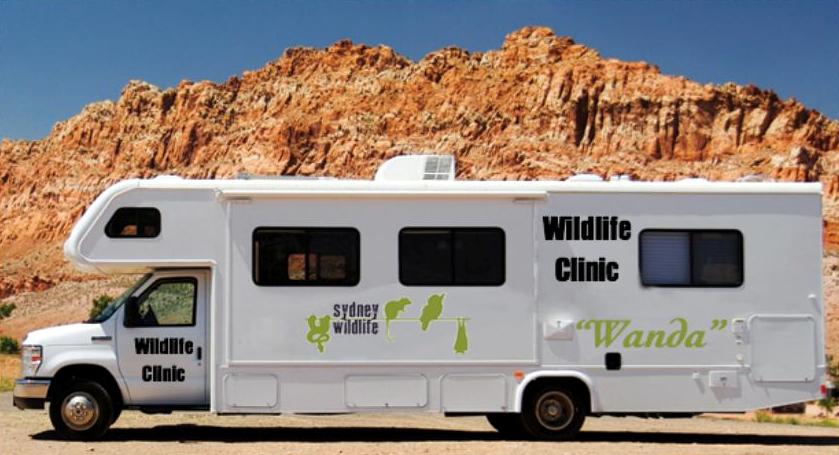 (Concept photo only)
The History
Joan Reid (our Sydney Wildlife Rehabilitation Facility manager) came up with the idea for the Wildlife Mobile Clinic during a Brain-storming Session when a group of young consultants from Ernst and Young came out to volunteer their time at our Rehabilitation Facility. We were all very excited about the idea and discussed how we could go about funding the van. My (then) 11-year-old daughter, Kayleigh, had once written to Premier Mike Baird about saving our wildlife and he had responded favourably so she decided to contact him again. She presented the idea to him and he suggested we get in touch with Ministers Rob Stokes and Brad Hazzard to discuss grant options. Kayleigh, Joan and I presented to each of them and they both loved the idea and were extremely helpful. Minister Stokes set up a meeting with the NSW Minister for the Environment at Parliament House. We caused a bit of a stir when we arrived at Parliament House with one of our kangaroo joeys in tow…! Wildlife carers have to take their dependent baby animals wherever they go as they are often on 3-hourly feeds. It didn't occur to us that it was something the security department would be concerned about 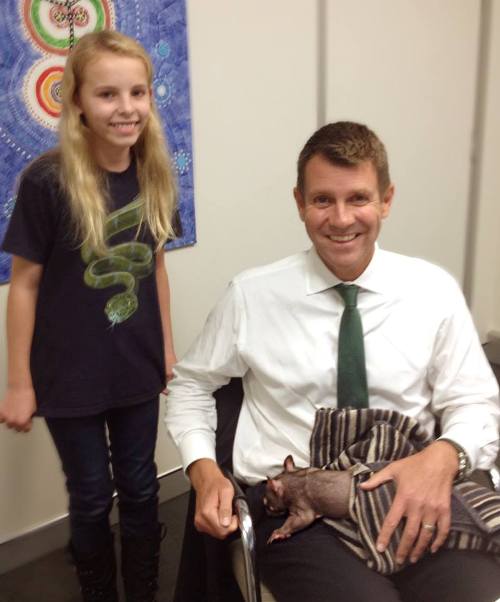 Kayleigh presented to Premier Mike Baird, Minister Rob Stokes, Minister Brad Hazzard, Minister Mark Speakman at Parliament House. The joey and wombat that went to Parliament House:) !
We will be applying for the grants suggested by our Ministers. However, as we don't know whether or not we will be successful with our application, we have decided to start fundraising in the interim. We don't want to wait too long because in the past year, we've lost:
185 wallabies (not including in-pouch joeys)
84 brush tail possums
62 ringtail possums
19 long nosed bandicoots
12 echidnas
2 goannas
6 snakes
And countless birds including powerful owls, brush turkeys, lorikeets and kookaburras
Our Campaign
When our pets get hurt or sick, we rush them to a veterinarian and are happy to pay whatever it takes to make our furry/feathery/scaly family member all better, right?
But what happens to our wildlife when they get sick? They don't have owners to rush them to the vet or pay for their treatment. Who takes care of them when they are in pain and in need of care?
We are Sydney Wildlife www.sydneywildlife.org.au We are an organisation made up purely of volunteers (we receive no Government funding) - and we rescue these wild animals and care for them. We receive in excess of 13,000 calls for help annually in just the Sydney Metropolitan area. However, we are not veterinarians and sometimes the wildlife need treatment that can only be provided by a professional veterinary surgeon. At the moment we are burdening our local vets with injured wildlife and they are having to bear the medical costs, while our volunteer rescuers bear all other costs. Wouldn't it be wonderful if there was a service that helped our wildlife, our volunteers and our veterinarians…?
Well, we have a solution! Sydney Wildlife's goal is to establish a Wildlife Mobile Clinic which will provide treatment to injured or sick wildlife, whilst taking the pressure off our local veterinarians. But we need your help to fund it! With your help, we are aiming to raise $50,000 towards buying the van. With a sponsored clinic, we would be able to provide all medical equipment and medical supplies to our volunteer veterinarians, thereby reducing costs to their own veterinary clinics. We would also be providing free training to veterinary students who are always desperate to learn how to treat our wild critters.
The Northern Beaches area is renowned for its natural beauty and for its glorious array of wildlife. But our wildlife face more dangers than ever before - habitat loss being their biggest problem. When they lose their habitat, they are forced to look for new homes, causing them to wander onto roads, become entangled in fences and bringing them into contact with domestic and feral animals that often attack them. The clinic aims to provide quick treatment to these animals and the van can also be deployed to areas where natural disasters have struck.
If you're one of those people who loves the sound of kookaburras laughing at dawn or if you're delighted by the sight of a gentle wallaby making her way across the grass with a joey in her pouch or even someone who just enjoys watching a friendly blue-tongue lizard gobbling snails in the garden, then please help them by donating to Sydney Wildlife - your donation will go towards acquiring a mobile van or will provide other essential care to wildlife in need.
If you would like to donate to our campaign, click on www.gofundme.com/22abqws
If you would like to become a sponsor and have your name on our van please email info@sydneywildlife.org.au or call Sydney Wildlife on 9413 4300
Our website is www.sydneywildlife.org.au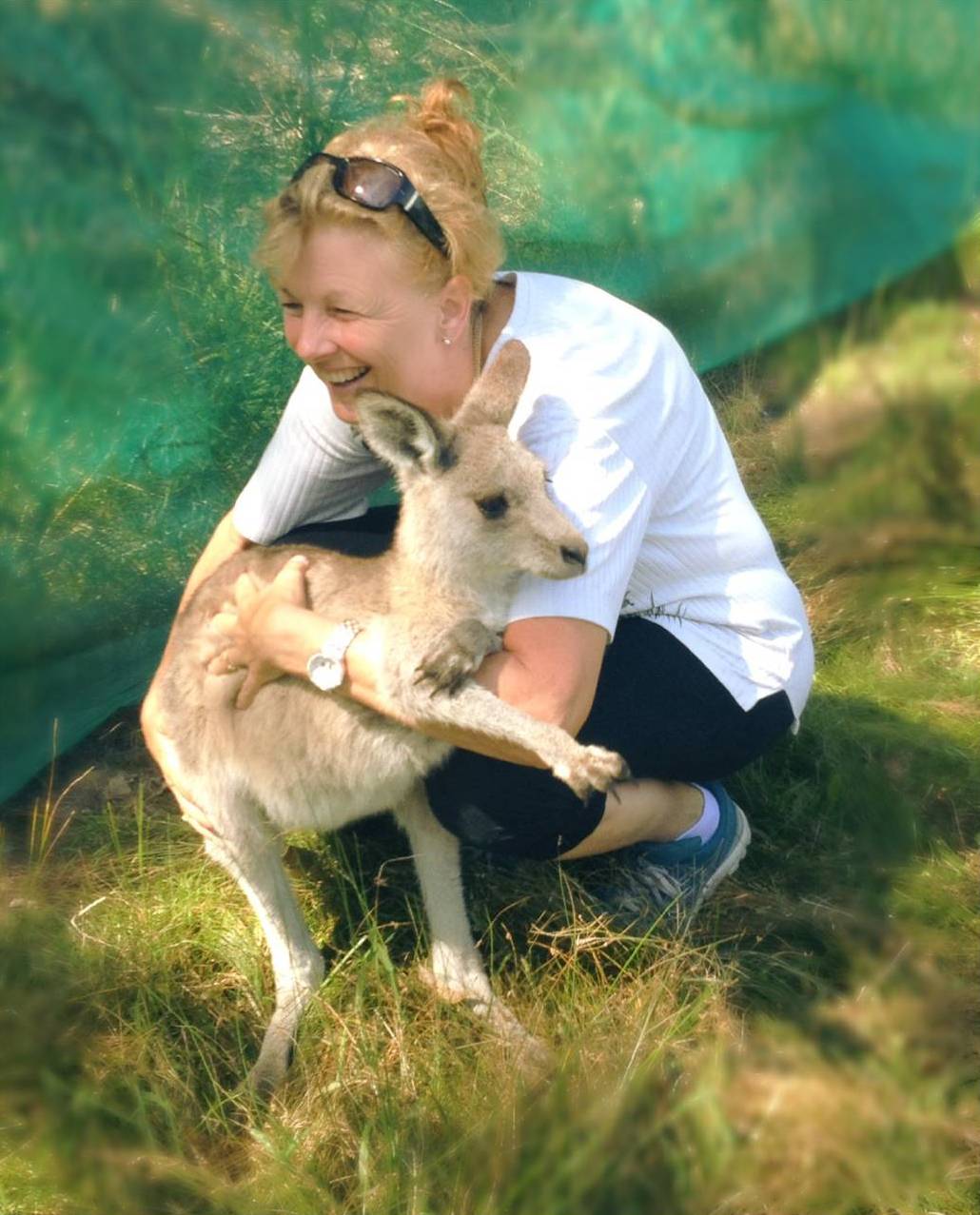 Joan Reid (our Facility manager) with one of the kangaroos at our Sydney Wildlife Rehab Facility.