April 9 - 22, 2017: Issue 308
The
Sydney Northern Beaches
Veterans Centre Inaugural Resilience Luncheon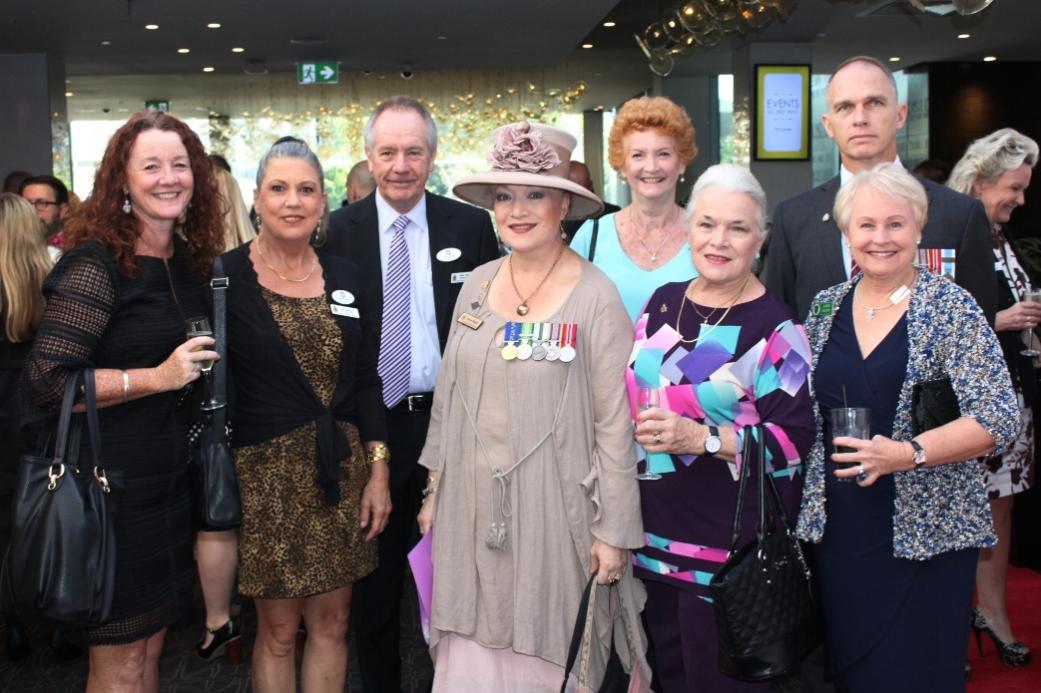 Left to right: Kylie Ferguson, former Deputy Mayor Of Pittwater and current NBC facilitator, Honorary Secretary, Avalon Beach RSL Sub-Branch and SNB Veteran's Centre, Lynn Murphy, Alen Telling, Pensions Officer at
Avalon Beach RSL Sub-Branch, Tamara Sloper Harding OAM, Vice President
Avalon Beach RSL Sub-Branch, Mrs. Telling, Dannie Sloper, Liz Trelly,
Avalon Beach RSL Sub-Branch, Adrian Harding,
Avalon Beach RSL Sub-Branch.
The
Sydney Northern Beaches
Veterans Centre, Dee Why RSL, Inaugural Resilience Luncheon
The first ever Resilience Luncheon was held on Friday April 7th to raise funds to support the Veterans Centre Sydney Northern Beaches. The event realised its goal of meeting the seventy thousand dollars required to meet current support services needed by ADF Service people and their families. The target was reached through raffles held on the day, a live auction which included a 10 day Kokoda Trek for the 75th anniversary with flights donated by Air New Guinea, a holiday in Hawaii staying on Waikiki beach and a special Government House Christmas ornament donated by Mrs. Linda Hurley, wife of His Excellency General The Honourable David Hurley AC DSC (Ret'd), the Governor of New South Wales among the items.
The Veterans Centre was launched out of a need for change; a need for improving quality and accessibility to a complete range of services and to help the Veteran community reconnect with society and their loved ones.
MC Ita Buttrose, AO OBE welcomed attendees His Excellency General The Honourable David Hurley AC DSC (Ret'd), the Governor of New South Wales and Mrs. Linda Hurley, Tamara Sloper Harding OAM RAN, and wife of the late Commodore Graham Sloper (Rtd. RAN), Dannie Sloper, Jason Falinski, MP for Mackellar, and other distinguished attendees, as well as acknowledging and paying her Respects to Traditional Owners.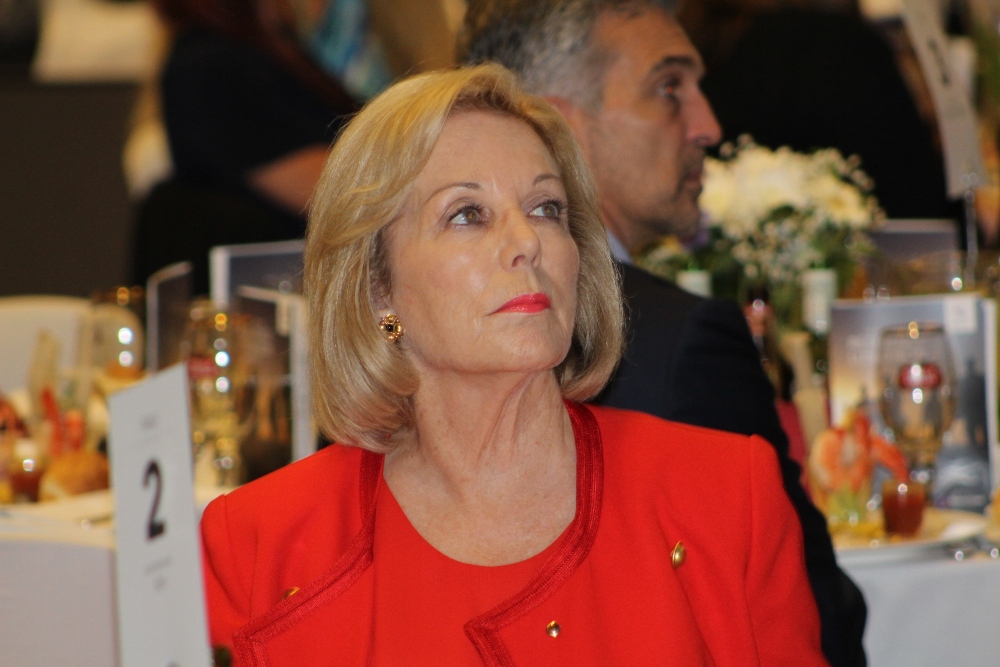 All of our local Returned Service Sub-Branch Presidents, Vice Presidents as well as representatives from associated clubs such as Castle Hill RSL, Directors of RSL's and CEO's of many local businesses were present.
MP for Pittwater, the Hon. Rob Stokes was unable to attend but ensured a seat for a veteran was funded so he/she could enjoy a wonderful 3-course luncheon with premium beverages and entertainment by world-renowned speed painter, Brad Blaze.
Addresses by His Excellency General The Honourable David Hurley AC DSC (Ret'd), the Governor of New South Wales, Tamara Sloper Harding OAM RAN, Ben Webb Veterans Centre Manager and former Army Serviceman, and Dee Why RSL CEO Grant Easterby preceded the keynote speaker Major Matina Jewell (retired).
We run their words below – please read and gain an insight on how we may better serve those who have served us.
Tamara Sloper Harding OAM RAN: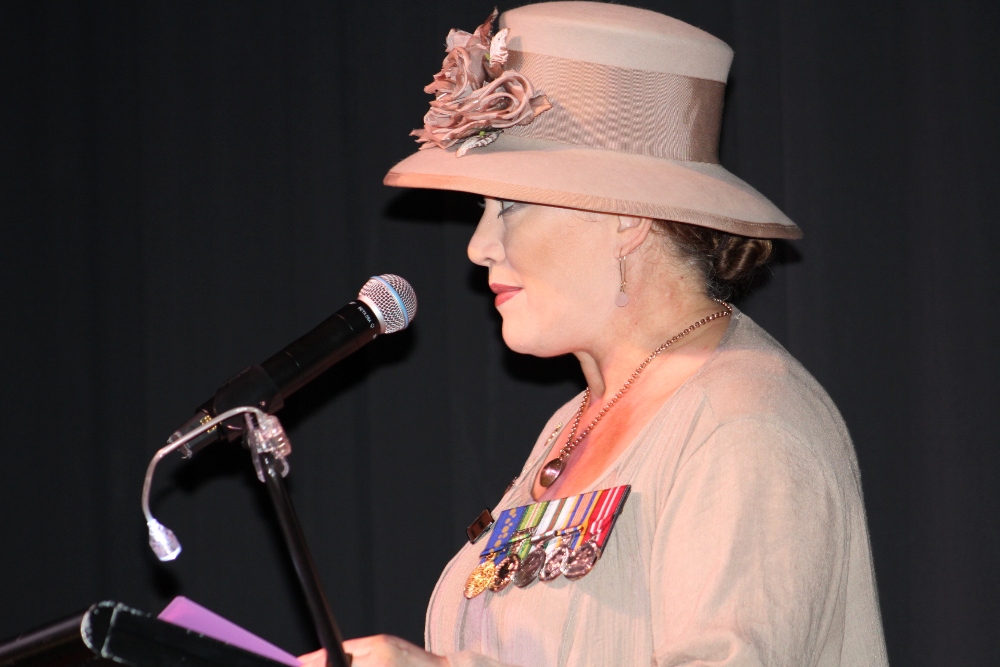 Thank you Ita, and good afternoon Your Excellency and Mrs. Hurley, the Honourable Jason Falinski, distinguished guests, veterans, ladies and gentlemen.
Ever since Ben first told me about this fantastic event I have been thinking about what to say. The truth is, it shouldn't be me standing here, it should be Graham Sloper, my Dad. This was his dream — his vision - and I thank you for being part of bringing it to fruition. Serving and supporting others was inherent in Graham's character.
Following a highly distinguished career in the Royal Australian Navy, Graham continued working tirelessly to assist those in need, particularly the Veterans in our local community.
He was a people person, a man who cared about everyone — always putting the needs of his troops before his own, he had time for all regardless of rank or position.
He had the ability to draw others in and form a cohesive group to work for the benefit of all.
When I was a junior officer I looked up to Graham and it was his strong moral courage that I found most inspiring. He shaped many of our careers and influenced so many of our lives. The overwhelming message coming through from his former shipmates is that "they would follow him anywhere". He was a leader like no other.
He was described as the last of the colourful characters that made up his generation of Naval officers. He was larger than life.
Graham was an instrumental part of the team that founded the Veteran's Centre Sydney Northern Beaches to ensure former and current defence personnel get the financial and emotional support they are entitled to.
When we think of Veterans in our community we think of those who served in the Second World War, the Korean War, provided National Service or our Vietnam Veterans. But Graham's focus was also on our younger Veterans, people who have recently returned from places like East Timor, the Solomons, Iraq and Afghanistan and the needs of this younger generation of Veterans.
The plight of younger veterans and their families was really brought home to Dad in a personal way when my husband Adrian and I moved back to Sydney with our four young children. We are both veterans — back then we were "younger veterans".
Dad spent most of my childhood at sea so the day to day trials of family life were reasonably foreign to him. His admiration of Mum certainly grew enormously as he realised what it must have been like for her all those years. A couple of nights a week Dad would assist me with the children's bedtime routine, homework, bath dinner and story. He became aware of the huge impact our military service and resulting ptsd had on our children and our daily lives. How many other young veterans and how many families all over the country must be affected like this?
An inspiration to many, his ceaseless efforts to look after all who had served were reflected in the way he considered them to be part of our extended family.
In those last days in the hospital Dad had a list of instructions for me to follow — but one he repeated again and again was - Encourage people to please look after new Vets coming through.
He devoted his ceaseless energy to develop ideas to solve problems and create events to bring together people so they could understand each other.
The Avalon Tattoo was one such event.
This has now evolved into the Northern Beaches Veterans and Community Day, to be held in Avalon on 12 November. A day to bring our veterans and our local communities together, it will involve many schools and community groups and veterans support services and will raise funds for this very veterans centre. So please keep that date in your diaries.
Graham is still with us, his legacy lives on in all of us his spirit remains here within us - as does his thirst for justice, his community spirit and desire to make a difference in the world. What a fantastic team there is here to make Graham's dream for veterans a reality.
We must continue his work for the benefit of others. We are his team - it is this team here at the Veterans Centre — supported by all of you — that continue his work here today will allow his legacy to lives on.
Thank you.
His Excellency General The Honourable David Hurley AC DSC (Ret'd), the Governor of New South Wales: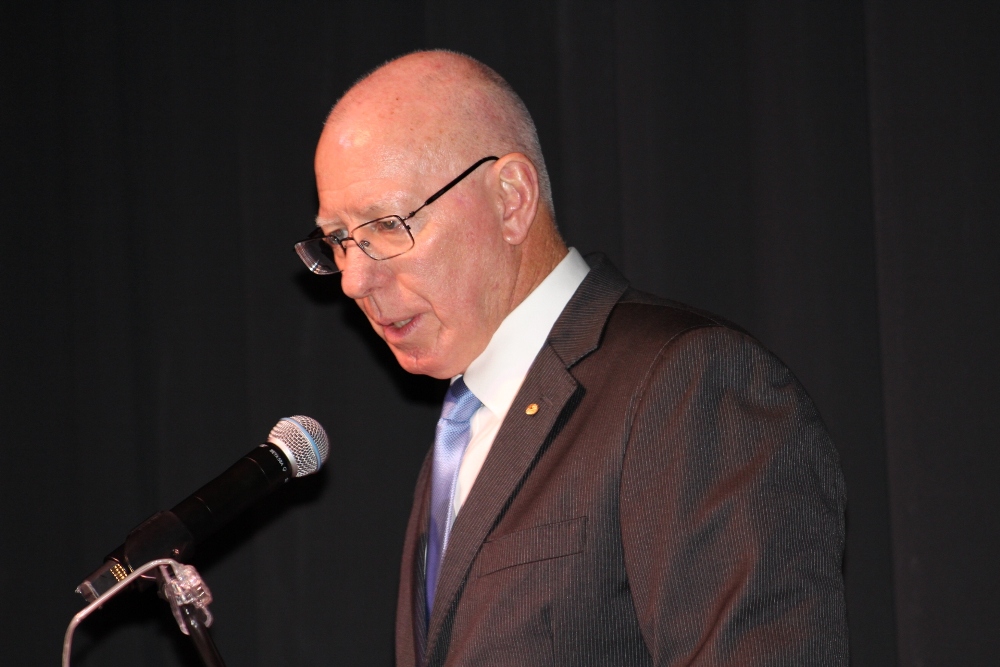 Ladies and gentlemen, thank you for inviting Linda and I to participate in what is a very special occasion for the Veterans Centre.
We've recognised all our Distinguished guests so I won't reiterate that but I also acknowledge the Traditional Owners of the land on which we meet today.
I think my job is to lay out the challenge of why we are gathering today.
You may be aware that last year Andrew Condon, a former Colonel in the Australian Army, was asked to conduct a survey of the ex-Service Organisations which was called the
Ex-Service Organisation Mapping project
, to find out what was happening in the Ex-service personnel base in terms of supporting our Veterans.
When Andrew produced his report last year he found that across Australia there are over 3000 organisations' that include in their List of Objectives support for Veterans and their families. When you look into that 3000 there are over 560 who state their entire reason for being was to support Veterans and their families.
Yet, I would say, for every one of the 41 young men who suicided last year, the constant call from the families and loved ones left behind was that there was no support.
These two stories don't reconcile.
We have the support, many pathways are blocked, many pathways are difficult, but many pathways were open.
What we're trying to do, and what Ben and his team are trying to do in this particular centre, is open those pathways for Veterans and their families to make it easier to access the services they need.
We can't tolerate the situation where 560 organisations say they are there for Veterans, yet Veterans suicide.
It is not a good story.
So what do we need to do?
A number of things;
1. How do we improve our in extremis support to organisations such as V360 that are there at the moment someone goes off the radar screen and we know they're in trouble – how do we respond rapidly to that?
2. How do we get better coordination between our Ex-Service organisations – there is a myriad of these here but we are not well coordinated. We need to have a greater ability to centralize support and make pathways clearer and more accessible to our Members, Veterans and their families.
Angus Houston
is currently working with DSO's to achieve that.
3.
We have to do better in transition as Members leave the Service. Those with Operational Service, those without Operational Service, those in immediate need of help, and those who can move outside quite efficiently without help. But what does that transition process look like, and who should be responsible for it.
In the space that the Veterans Centre here is trying to address; how do we provide the advocacy services for those who are particularly involved in Military compensation requests or for assistance. How is that voice developed, who should be doing it, which is an important aspect, indeed the initiative to now certify advocates, to make sure they are appropriately trained and qualified to do the job is critical. I applaud that.
And more importantly, for the Veterans Centre initiative here, bringing the community closer to the Veteran community, ensuing the community is aware of the roles they can play in helping our Veterans and their families adjust to civilian life and post-Service, and indeed, if they need assistance in any way, how can that be provided.
These things are not a list from which we can pick and choose. This is a complete list, a conclusive list, and we need to address it.
There are many things underway. Public Service jobs are being created by the NSW Government with over 200 of these specifically designated for ex-Servicemen and women.
J P Morgan with the business community in Sydney, is facilitating a major project which mirrors what they have achieved in the United States to find employment for our Veterans, as is Soldier On and other organisations. In the United States J P Morgan, within two years, created 300 thousand positions for United States Veterans, an enormous achievement, and I think we can do, on scale, as relatively well in Australia.
So these things are out there, but we only have to turn to the latest
National Mental Health Commission's report
to see that we still have problems in the community. None of what I have read in that Report surprises me, which is unfortunate.
Yes, inroads have been made, progress has been made, but the journey will continue.
We're not going to resolve those problems here today but this Veteran's Centre is a critical part in helping us solve those problems.
We need your support, both moral, today financial. We need your encouragement, Ben and his team need your encouragement in thinking why we are here – for those who have Served.
So thank you for coming and thank you for being so supportive of the Veteran's Centre here on the Northern Beaches.
Dee Why RSL CEO Grant Easterby: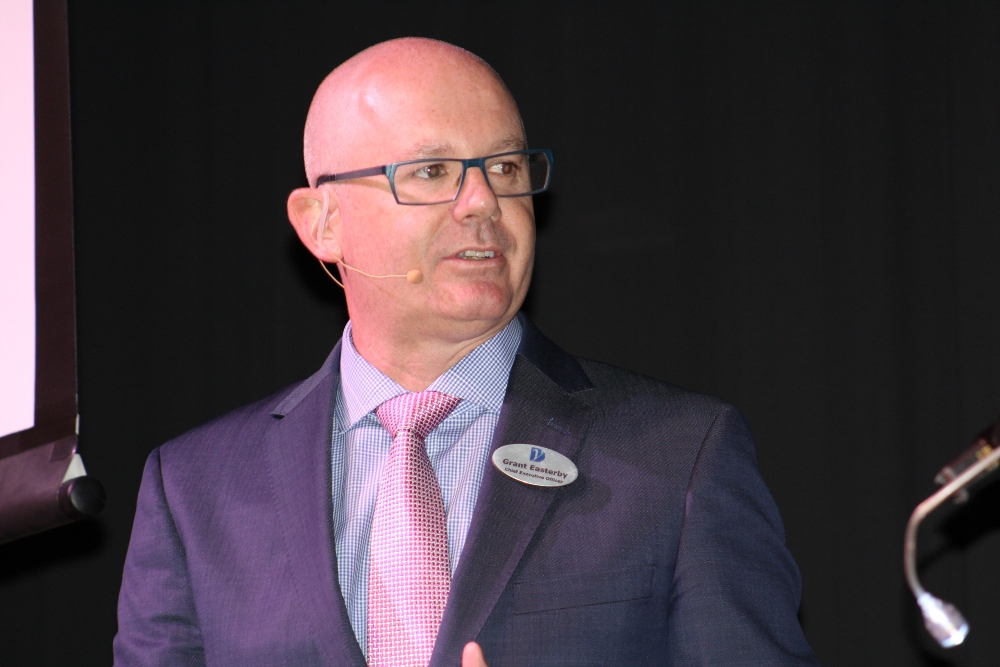 Mr. Easterby presented an articulate overview of Dee Why RSL support of the Northern Beaches Veterans Centre which commenced two years ago during a Strategic Planning Session at the RSL.
"In these sessions we talk a lot about construction and building and bars and rooms like that which we meet in today. We investigated what we are doing as support for Veterans and we decided 'not enough'.
We embarked on research, speaking to a lot of organisations and a lot of individuals to understand what the problem was. The glaring deficiency was identified as those who are currently serving and have recently finished serving.
During our research we came across Commodore Graham Sloper AM (Rtd, RAN) and inspirational men like John McInerney, Bill Hardman and Robin Tapp, Adrian Talbott from Homes for Heroes who is involved in providing homes for people who have no homes and have served our country.
We wanted to do more, we had capacity, we had resources and we had intent. And so the Sydney Northern Beaches Veterans centre evolved to be here at Dee Why RSL Club.
In speaking to Ben Webb, the Manager of our Veterans Centre about today's function I asked him how many people had committed suicide in the last month. Ben said, 'well, there were three last week.'
Now I think that's a pretty shocking statistic. Three people, who have served this country, under the age of 25 years, in one week, took their life because they couldn't cope.
This is what Ben and his team are dealing with every single day.
This is what the Veterans Centre was created for. It's fairly modest and needs expanding, but it's inviting and warm and was created to help younger Veterans who haven't had that support we've been able to provide to older Veterans. Our older Veterans will find the Centre is for them too but we wanted to address that glaring deficiency identified through our research.
Key to our research was that we had to have somebody behind the centre, who was the driving force, who had to have the lived experience of the Veterans. Because they have to feel that connection, they have to feel that trust. Because it's about understanding and support.
We went on a search, which ended up being a nationwide search, and found this chap, Ben Webb. We flew Ben over from Adelaide and shared the vision of Graham and John and Bill and the Committee and asked if he'd be interested in taking on this job and we convinced him.
I'd like to make mention of something the Governor has done – yes, he has attended today but he has also done more than that. The governor and his wife Mrs. Hurley were here last year when they heard about the work that is being done.
They came along and spoke to younger Veterans in our Veterans Centre in this club about what the problem was.
What I think is important about that is we respect the Governor's position, respect the work that he does, that he has found this important enough to come along tot his local Northern Beaches venue because he cares about them.
So, more than just thanking the Governor for his attendance today, he has come along a year ago, with no accolades, to see what he can do to help at a suburban local level. So thank you Governor.
Initially Ben Webb was asked to be art of an advisory committee on collaborations for younger Veterans and what was needed to achieve that. So our Veterans Centre Manager Ben, although perhaps not on a best friends basis with our Governor and the Prime Minister, certainly knows them and they appreciate the work that he is doing.
Last year we held a forum of some 48 organisations to determine how they could support Veterans and not get in each other's way and not duplicate services. The relationships formed and networks achieved then have been critical in us assisting Veterans going forward.
This connections and networks are vitally important to do the work we wish to do.
What is equally important is the grass roots support within the community that's being provided. As an example, a spouse of a Veteran suffering from PTSD came to the Centre last year and said, 'I need your help. We rent a property at French's Forest, we're having a Real Estate inspection in a couple of weeks time and we're going to be evicted because the garden looks like a jungle and my husband and I are stressing because we haven't been able to look after the house.
Why haven't they been able to look after the house? – Because her husband is an Afghanistan Veteran with a steel spine due to injuries suffered through Service. He has two little children.
We decided we needed to get a Landscaper up there and then thought, 'no, we'll do better than that, we'll send the staff up there' – and here is a photo of yours truly with others doing this work – CFO, Sarah Sullivan, was there, Mitch Newman, Christina Therese, Steve our gardener and Ben all went there and in five or six hours we'd leaned up the garden.
The relief on the Veteran's and his wife's face brought tears to our eyes. It seems such a simple thing to do, but for the person receiving that it is much more than that.
One more example is a War Widow who lives in this area who gave her pension each month to the Veterans Centre to do what we could to support local Veterans. Once again we had a distressed spouse whose husband was suffering from severe PTSD and was not abusing their child.
We have a very strong association with the B Centre at Warriewood. The B Centre specializes in dealing with traumatized children, whatever that trauma may be, they provide assistance, and format programs to help those children through that trauma.
That War Widow's pension provided the assistance for that child to go through an 8 week program at B Centre- that would not have happened without the Veterans Centre.
______________________________
As preface and as part of introducing Ben Webb, Mr. Easterby, and his staff played a video abut Ben Webb in which a Vietnam Veteran speaks about some of his fellow ADF Servicemen not speaking about or seeking help for 20 years after that conflict. This gentleman asks all younger ex-Service and current Service Members to seek help when they need it – to not leave themselves isolated.
An overview of what Ben described as an 'embarrassing video', stating he was looking forward to the mockery that would shortly follow from his attending ADF Peers, was also a great insight into the journey Ben went through prior to taking on his role as Manager of the Veterans Centre.
Ben joined the Army straight out of school starting in February 2001. He spent his first 5 years in Artillery and then transferred across to RAEME (Royal Australian Electrical and Mechanical Engineers) and got a trade as an electrician. In 2013 he was a medical discharge and faced starting again.
"I accumulated many injuries over time, a lot of wear and tear. I've had surgery three times, both knees and a right shoulder, which ended up building to Chronic Pain Syndrome. Following on from that, I developed Major Depressive Disorder as well.
Ben still has to work at finding his way forward, every - single - day.
Ben Webb:
"But what this video does do is highlight some of the big challenges that we face. Being part of a very engrained culture as Soldiers, Seamen and women and Pilots makes us good Service people. As being a civilian, it doesn't quite translate across.
"His Excellency has already mentioned three key areas;
The Professionalization of Advocacy services – to get people the help they need.
The challenges in transition that we face in coming form Service life across to civilian life, and the sheer number of services out there that are not coordinated, not streamlined. These are huge challenges that need to be faces and we have got a lot of work to overhaul this and provide effective services.
I'd especially like to mention the partners and the children of Veterans, the unsung heroes, and doing it a lot harder without the support that ADF Members receive. They take on the role of carer, supporter, motivator, problem solver, or trying to hold the family together and not actually understanding what's happening to their loved one. Hugely challenging.
So given these challengers it can't really be that much of a surprise how many Veterans out there and their families are struggling. I'd especially like to mention the Homes for Heroes program who are dealing with those who have hit rock bottom; the guys out there who are homeless, have addictions, chronic physical and psychological conditions. Homes for Heroes are doing a hell of a job and must be congratulated for that.
Last year our team at the Veterans centre came together with multiple organisations across the Northern Beaches, assisted by 180 current and former Servicemen and women, and their families. We do this through a wholistic support model and personal empowerment.
This has been very difficult, as I've mentioned, due to the entrenched cultures that we're up against and very complex social problems. That's what we do to address this –we take these challenges and address them with an innovative and structured approach to create a collaboration work across government, business, philanthropy, community organisations, ex-Service organisations, and individual members of the community. This is the way that I can see we can achieve lasting change.
Unfortunately we can't keep up with demands; we now have a waitlist of 36 people who we need to help next week, not next month.
That's why we're here today; to raise funds so we can get the help we need to provide the support on the ground that is needed.
So please enjoy the afternoon but also please keep us at the forefront of your minds – ex-serving men aged 18 to 24, a suicide rate twice that of Australian men the same age.
I really truly wish I could have a week without hearing about another suicide.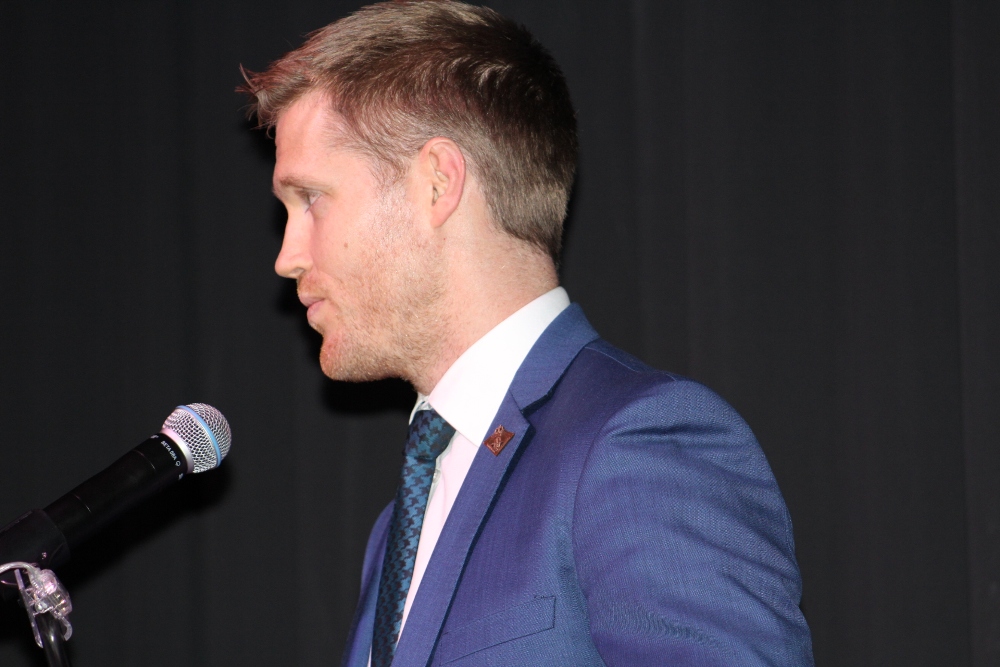 Further
Veterans and Veterans Families Counselling Service (VVCS) and Veterans Line can be reached 24 hours a day across Australia for crisis support and free and confidential counselling. Phone 1800 011 046
Government welcomes NMHC review into Veterans' mental health
29 March 2017: Media Release
The Government today received the National Mental Health Commission's (NMHC) review of suicide and self-harm services for veterans and members of the Australian Defence Force (ADF).
Minister for Veterans' Affairs and Defence Personnel Dan Tehan and Minister for Health Greg Hunt acknowledged receipt of the review.
"The Government has a responsibility to the men and women who defend our nation and we are committed to addressing veteran and ADF suicide," Mr Tehan said.
"The Government will look closely at the recommendations in this review and respond in due course. We will also release the full review for the public on Thursday.
"This review will complement other Government initiatives to tackle suicide.
"We have made mental health treatment free for depression, anxiety, post-traumatic stress disorder and drug and alcohol misuse conditions for anyone who has served one day in the ADF.
"And last year the Government released the first-ever robust data on the incidence of suicide among past and present ADF personnel and more specific findings will be released this year."
Minister Hunt said the findings and recommendations from the Review will be an important consideration in the roll out of mental health services.
"We've already announced the establishment of 12 suicide prevention trial sites across Australia – including one in the Townsville region that will have a focus on veterans' mental health," Mr Hunt said.
"The Commission's report will be used as a guide to inform ongoing trial design and suicide prevention strategies developed and implemented."
Australian Defence Force Review
28 March 2017
The National Mental Health Commission has provided the Australian Government with its final report on the review of services available to veterans and members of the Australian Defence Force (ADF) in relation to prevention of self-harm and suicide.
The final report and recommendations will now be considered by the Australian Government.
The Commission's final report can be found
here.
Pittwater Online News Album of Photographs of the great supporting attendees available for their records HERE