September 19 - October 2, 2021: Issue 511

Veterans Centre Australia
New name - Same Service
Celebrating the 10th year of this Great Local Initiative - now available Australia wide

Website: www.veteranscentre.org.au
The Veteran Centre Sydney Northern Beaches (VCSNB) was established in 2011 and has become a trusted and independent point of contact to more than 1000, current and former ADF personnel, and their families, in the Northern Beaches and greater Sydney region.
After 10 years of local operation, Veterans Centre Sydney Northern Beaches (VCSNB) is now Veterans Centre Australia (VCA). The creation of VCA is both an endorsement of the work of VCSNB and a reflection of the continuing and growing need for professional support of veterans and their families across the nation. VCA purpose remains the same – to ensure that current and former serving Australian Defence Force (ADF) members and their families are provided easily accessible support.
VCA Mission:
To create a national capability devoted to the care and wellbeing of current and ex-serving ADF members and their families.
VCA Charitable Purpose:
To ensure that current and ex-serving ADF members and their families are provided easily accessible support.
VCA Service Delivery:
The elements of this Veteran Wellbeing program have been designed and modelled from the Australian Institute of Health and Welfare's (AIHW, 2018) Veteran Centred Model.
The VCA team is made up of both staff and volunteers who recognise that veterans and their families having multi-faceted needs when transitioning from the ADF, which can either be tactical in nature, or require long term assistance.
VCA has three key deliverables that directly address the specific needs of the veteran community:
Care Coordination & Case Management Planning to support Medical Transition from ADF.
Military Legislation & Advocacy Support to Current and Former Serving ADF Members.
Community of Practice (CoP) to encourage community collaboration, training, and communication.
"We build a team around the veteran and their family to ensure that individual needs can be supported, and we encourage our clients to use solution-focused strategies to empower their own decision-making". - Nikki Noakes, Centre Manager

"We also know that the unique needs of the veteran community often require input from more than just one service provider and by participating in a Community of Practice, we use a collaborative cross sector approach to care coordination, ensuring that positive client experiences can be achieved." - Nikki Noakes, Centre Manager
VCA will continue to build on the incredible work of the founders, their vision, and 10 years of providing professional support to Veterans and their families across the nation when experiencing transition from the Australian Defence Force.
"There is no doubt that separating from the military presents a whole range of challenges that affects everyone differently, no matter the circumstances of the transition. These can be positive or negative experiences. For me personally, I initially faced several difficulties in "civilianising" mine and my family's lives, and I was starting to get overwhelmed and frustrated by the sheer volume of it all," - Ryan Carmichael, VCA Chair
The VCA approach has professionalised advocacy services and established a "wellbeing first" model dedicated to supporting Younger Veterans and their families who experience transition from the ADF for medical reasons.
"Thankfully I was connected early with the Veterans Centre who helped break down the process and point me in the direction of services relevant to me, and importantly they have supported me through my whole journey, and I am honoured to be appointed Chair of VCA and to work alongside a committed team," said Ryan Carmichael
Appointed inaugural Non-Executive Chairman of Veterans Centre Australia, Ryan Carmichael Lieutenant Commander RAN (Retd.), built a formidable career in Defence and the Public Sector, including more than 15 years of highly accomplished and commended service as a Mine Warfare and Clearance Diving Officer with the Royal Australian Navy.
He has worked globally across complex environments with both government and industry, leading cross-functional teams to deliver practical outcomes and highly effective business solutions. An Executive Level professional, Ryan's experience has primarily been focused in the areas of command and leadership, operations, plans, project implementation and capability management roles. He also served distinguished tenures embedded with the Australian Special Forces (2nd Commando Regiment) and the Royal Navy (UK). He is known for his expert knowledge as a specialist in the areas of maritime autonomous systems, ship handling and navigation, counter terrorism and mine warfare and clearance diving. Ryan is still recognised by the Navy as one of the key subject matter experts in the field of Unmanned Surface Vessels and Autonomous Underwater Vehicles.
Ryan is now the Chief Operating Officer and Co-Founder of the Whiskey Project, an Australian veteran owned business building operator-focused watercraft for those who risk their lives in tactical maritime environments.
Named after the military callsign for specialist water operators, The Whiskey Project was founded by former Navy Clearance Divers who set out to create "the watercraft we wish we'd had". Seven months after its inception, The Whiskey Project launched their first Next Generation Tactical Watercraft, Whiskey Alpha at Pacific 2019 International Maritime Expo in Sydney.
Originally from South Australia, where he spent weekends with his grandfather building timber boats on the Murray River, he now lives with his wife Katrice and their three children in Pittwater.
Ryan spoke to Pittwater Online News this week about the changes at VCA.
Ryan, you are the inaugural Chair of the Veterans Centre Australia, formerly the Veterans Centre Northern Beaches, what led you to take this role on?
Firstly, because this is a great centre. I've been involved with the Veterans Centre as an ambassador and briefly served as a Director for the last 12-14 months and have found this is a great facility. I first encountered the Veterans Centre as a client when a transitioning Veteran years ago and saw first-hand the great work they were doing under the former leadership.
Everyone leaving the Services and transitioning to civilian life can benefit from this service and so supporting this organisation was something I was very happy to do. I was very privileged to be approached when this opportunity came up to nominate for Chair as we formed the new constitution and new Veterans Centre Australia. To me this is a fantastic opportunity to do anything I can to lead the Board, to help Nikki the Centre Manager and the rest of this exceptional team to do the great work they do.
The name change to Veterans Centre Australia – what does this mean?
The services that have been delivered by the Veterans Centre have grown beyond the northern beaches naturally over the last couple of years and this is simply a recognition of that.
We had a lot of Veterans that were reaching out looking for assistance based on recommendations or being put in touch with the Veterans Centre Northern Beaches and didn't know whether they could come to us for assistance simply because they were from somewhere else in Australia.
This is working in particular now where we are all using remote access and where we have volunteers and service centres on the bases around Australia. So this is simply a natural transition to recognise the service can be provided nationally and over time we'll expand that. At this point in time it simply means and recognises there are no barriers for Veterans and their families to reach out to us.
You are an Avalon Beach RSL Sub-Branch member, which is another way Veterans can be supported in their local community. Why was it important to you to join your local Sub-Branch?
I joined the Avalon Sub-Branch while still serving – to me these have always been a natural place and part of where Service families can meet other people in their community and find connection with people who have shared experiences. Initially it can be a place of comfort and mateship and discussion, whether social or otherwise.
Where I have seen the Sub-Branch grow over the last couple of years, and which is what creates my interest, is tying that into the community - which is well represented here.
When you do leave Service it's important to keep your connections and find that community or camaraderie which you have shared when Serving.
The other aspect with RSL Sub-Branches, and this has been prevalent particularly in the Avalon Beach RSL, is their connection to the community by being part of it, whether that's connecting with schools or community groups. Through helping to share the stories of Veterans within the community this creates connection and this has always been a great aspect of Avalon Sub-Branch. In fact the Northern Beaches RSL Sub-Branches all have this great connection to their community from being an active organisation within it and this then creates a great community feeling – that's important for members, that sense of relatedness.
Your career in the Services with the Royal Australian Navy was all about being in the water, your career after leaving the services in co-founding The Whiskey Project Group is all about on the water - are you an adherent to what Tamara Sloper-Harding states is the adage of 'Once Navy, Always Navy'?
(laughs)
Yes, I suppose you can never take the sailor out of a person even after they've left the RAN but for me it does go a step further. My parents weren't in the Navy but they were in the public service in the diplomatic corps, so I have grown up around public service and serving others. For me the Navy was my home and career for 16 years. I have then taken on professional roles prior to my current focus and work as a co-founder of The Whiskey Project, which is building operator-focused watercraft for those who risk their lives in tactical maritime environments.
We work with leading engineers, architects, innovators, academia and both emerging and established Australian organisations to integrate advanced materials and new technologies into our watercraft to develop new capabilities, a new global benchmark for performance, and new efficiencies across The Whiskey Project Group family of watercraft.
We've also been able to provide a landing pad for ex-Service personnel and we are committed to continuing to seek opportunities to provide pathways for veterans into our organisation. We've been able to help them with their transition – they come and spend time with us and then go for it elsewhere.
So it's pretty hard for me to get away from the water.
Do you go surfing or get in the water when you get a day off?
I'm a pretty rubbish surfer so I don't go surfing but I do Ocean Swims or ocean pool swims – Bilgola is my local pool so I enjoy a swim there.
Tamara Sloper-Harding OAM and Ryan Carmichael Lieutenant Commander RAN (Retd.) helping to promote Light Up the Dawn ANZAC Day 2020. AJG photo
__________________________________________________________________________________
FY 21, VCSNB Service Delivery Statistics:
Clients Welcomed – 215 (+67%)
Clients Assisted – 373 (+45%)
Medical Discharge – 138 (+86%)
Liability Claims Submitted to DVA – 710 (+20%)
Clientele demographics –
15 – 49yrs - 65%
+50yrs – 35%
Female: 22%
Male: 78%
VCA started on the Northern Beaches and now the geographical limit to service delivery no longer applies. More than half of VCA's clients live outside of the Northern Beaches and are in every State and Territory across Australia. Those numbers are growing.
Veterans Centre Australia has been honoured and humbled to provide targeted veteran services with the assistance from our generous partners and sponsors, and we look forward to extending our service across Australia and forging a strong Community of Practice.
We have been honoured to provide targeted veteran services with the assistance from our generous partners and sponsors, in particular, Dee Why RSL Club, Dee Why RSL Sub-Branch, Campsie RSL Group and Club Rivers and we look forward to extending our partnerships, and the sharing of information at a national level to ensure that we can continue to support veteran and family needs, no matter where they live.
Website: www.veteranscentre.org.au
Upcoming online VCA events listed at: www.veteranscentre.org.au/vca-events
We are listening!
September 17, 2021:
Veterans Centre Australia (VCA) is listening! We are surveying transitioning and transitioned ADF members, their partners and family members to understand the social, mental, and physical health needs in the VCA community. Our needs survey will build a comprehensive picture of needs and challenges to inform our next steps.
The survey is anonymous and will take 10 minutes to complete.
The links are here:
Transitioning/Transitioned ADF Members
Partners or Family Members of Transitioning/Transitioned ADF Members
New name - Same service.
Veterans Centre Australia.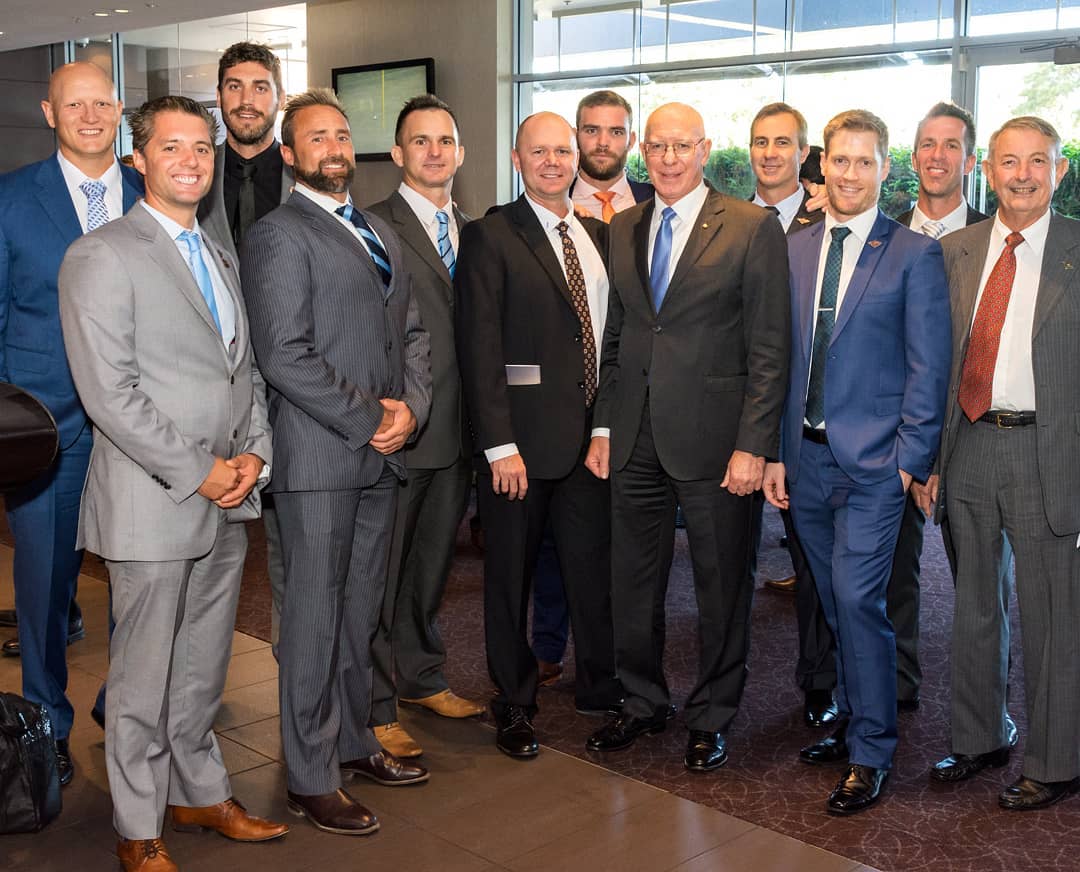 Governor-General of Australia, His Excellency, General the Honourable David Hurley AC DSC (Retd) and his fellow veterans at the inaugural Resilience Luncheon back in 2017.
Unfortunately, this vital fundraising event could not take place this year at Dee Why RSL due to COVID-19. The Veterans Centre Sydney Northern Beaches relies on money raised from this annual event plus generous donations from the public and community organisations in order to continue its essential support, providing free care coordination and military legislation advocacy service to veterans and their families.
For more information about the Centre or if you would like to donate, please visit the Centre's website www.veteranscentre.org.au