March 5 - 11, 2023: Issue 574
Vale Sydney Fischer AM OBE


4th March 1927 - 23rd February 2023
Late of Mosman
Aged 95 years
Syd stood head and shoulders above the rest. His life revolved around his sport of sailing, the building industry, property development and the marine industry. A remarkable man by any standards, a great many owe a debt of gratitude to him. Syd always lived life to the full, packing more into a day than most do in a week, never wasting a minute. He will not be forgotten.
Survived by his four children Penelope, Clayton, Annabelle, Dominique and his seven grandchildren Rebecca, Brenton, Emily, Jackson, Thomas, Petra and Peri.
A private cremation will be held for close family.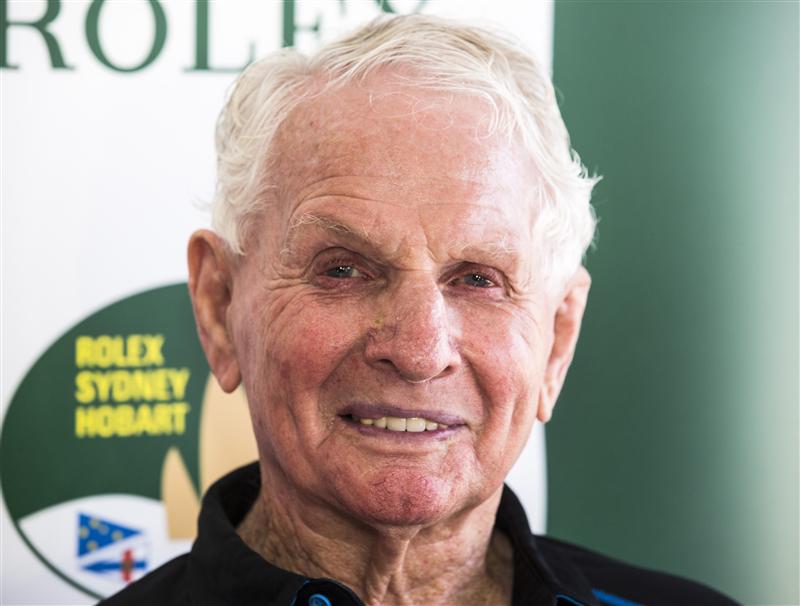 Syd Fischer 2012 Rolex Sydney Hobart - Daniel Forster, Rolex pic
Yachting legend Syd Fischer passed away on Tuesday afternoon, February 23rd, he was 95.
Born 4 March, 1927, Fischer stood head and shoulders above the rest. His work life revolved around the building industry, property development and the marine industry, including Sydney City Marine, these days managed by grandson Brenton Fischer. He was hands-on in every aspect of his businesses and in sport.
"Tough as nails", was how business and sailing associates described Fischer "tough, but fair", Fischer would respond. The 'Fischer school of hard knocks', was another expression he enjoyed hearing. This comes from his life lessons – 'get a good deal,' was among them. A polarising figure, you could not help but respect and admire him.
Since turning 80 in 2007, he constantly proclaimed with a big grin, "I've mellowed," and indeed he had. He was a very different Syd to the one I worked for at four America's Cups, starting in 1986. However, the tough side still appeared on occasions…
Awarded an OBE in 1971 for multiple sporting achievements in first grade football, surf lifesaving (boat captain) and sailing, Fischer was inducted into the NSW Sports Hall of Fame in 2002-03 for these achievements.
In the 2017 Queens Birthday honours list, was made Member (AM) in the General Division for significant service to sailing as a yachtsman and international competitor and as a mentor to young sailors. They weren't the only ones to benefit, others employed by him, me included, were given incredible opportunities we would not have had otherwise.
More recognition came when he was named Australian Yachtsman of the year 1971/72 and again in 1992/93; Ocean Racer of the Year 1993, 1996, 2002, 2008 and Veteran Ocean Racer of the Year in 2007, 2012; Award for Services to Yachting 2003/03; Lifetime Achievement award at Australian Yachting Awards 2013. He was proud to receive the President's Award at the 2014 Australian Yachting Awards from Matt Allen.
Fischer's most cherished though, came with the announcement in March 2017 that he was to be inducted into the America's Cup Hall of Fame, the ceremony finally held at the Royal Yachting Squadron in Cowes, UK, on the evening of 31 August, 2018. It was collected by his grandson Brenton, as doctors advised Fischer not to travel (he was 91).
Seven weeks later, on the evening of 19 October, 2018, he was inducted into the Australian Sailing Hall of Fame.
Without doubt Australia's most successful yachtsman, Fischer self-funded five America's Cup campaigns, equalling the record of the Late Sir Thomas Lipton. Fischer represented the Royal Sydney Yacht Squadron and Cruising Yacht Club of Australia at the multitude of sailing events contested throughout his life.
His first America's Cup campaign was in 1983 with then followed Steak 'N Kidney (name later changed to Sydney) in 1986-87. It was a special boat designed by another great, Peter Cole, which other syndicates (Australian and international), tried to charter and buy without luck.
After those came Challenge Australia in 1992, Sydney 95 in 1995 and Young Australia in 2000. It was the only and final Australian syndicate to contest for the 'Auld Mug'.
Fischer managed each of the syndicates. He built the compound, office and sail loft from the ground up for the 1986-87 campaign in Fremantle, helped by some of the crew. He also sailed races in both the 1983 and 1986 Cups (and let me go aboard during trials in Freo), all this while dashing back and forwards to Sydney and overseas to attend to business.
The Sydney yachtsman represented and captained Australia internationally more times than any other person: Admiral's Cup (represented a record eight times, captained Australia a record seven times and won or placed in four Cups); Clipper/Kenwood Cup (represented six times, captaining four winning teams). With a chartered boat, won the 1971 World One Ton Cup in Auckland.
He launched the America's Cup and offshore yachting careers of numerous young sailors, starting with Iain Murray. At just 25 years of age, Murray's first America's Cup gig was as skipper of Advance in 1983. And of course, there was James 'Jimmy' Spithill.
The majority of those crews have gone on to great success in America's Cups, Olympics, Sydney Hobarts, Volvo Ocean Races, international one-design, match racing, world championships and in business. Sailing has a hell of a lot to thank him for.
His appointment as skipper of the Young Australia team catapulted James Spithill into the America's Cup arena at the age of 19. He turned 20 during his participation and was the youngest skipper in the history of the event. Fischer first introduced him to the offshore racing scene via Ragamuffin and the Sydney Hobart.
In 2010, at 30, Spithill went on to become the youngest skipper to win the America's Cup. He has not looked back. For that campaign, Fischer launched an Australia-wide search to find the best young sailors.
Up to and including the 2015 Sydney Hobart, Fischer competed in 47 Sydney/Hobart races (taking line honours in two and winning one). Only three other yachtsmen contested more, including his friend and longtime crew, Tony Ellis, who holds the current record of 54 races, set in 2022 (the two did 41 Hobarts together).
From 2011-2015 (84-88 years of age), he became and remains the oldest skipper and competitor in the race.
During those 47 Hobarts, Fischer captained Australian and NSW Southern Cross teams in: 1975, 1993, 1995 1997 and 2004 - more times than any other person - and won a record nine Blue Water Point Scores, the CYCA's annual offshore point score series. In all, more than 250 people have sailed with Fischer in Sydney Hobart Yacht Races alone.
In July 2013, Syd took monohull line honours in the Transpac Race with Ragamuffin 100, originally Maximus, launched in 1989. In October that year, he took line honours in the Hong Kong Vietnam Race with Ragamuffin 90, the Dubois 90, and broke the race.
In April 2014, he took line honours in the Rolex China Sea Race with Ragamuffin 90 in the biggest international fleet since the 20th century. In May that year, Fischer followed up with line honours and broke the race record in the Okinawa Tokai Race.
September 26, 2014: A new 100 foot hull was created to go under the deck of Ragamuffin/Loyal with spare keel from Wild Oats XI. It left Nowra factory and was delivered the following morning at 4.00am under the cover of darkness to Fischer's Sydney City Marine.
In July 2015, with a new 100 foot hull, Ragamuffin 100 finished second on line to Wild Oats XI in the Transpac Race. In September, she took line honours in the 672nm Hong Kong Vietnam Race, breaking the race record Fischer had set in 2013 with his Ragamuffin 90.
Fischer was also a philanthropist, doing it in his own quiet way, but many in sailing benefitted. He also helped some from among his crews who were having the odd struggle.
At 91, 'The Silver Barracuda', a nickname given to Fischer that goes back more than 50 years, was still going strong. His physicality was somewhat diminished through his nineties, as he pushed himself in first grade rugby league, boxing, surf lifesaving and elite sailing, necessitating daily sessions at the gym. These things took their toll.
However, Fischer was still mentally sharp. While the harsh side of his personality had evaporated, the cheek and humour remained; evidenced at functions, birthdays and dinners I shared with him, Tony Ellis, Bruce Gould and others.
The sayings he practiced in everyday business and life were legendary. My favourites, learned from him during the 1986-1987 Steak 'N Kidney America's Cup days, continue to hold me in good stead today: 'Trust is good, checking is better' and 'Delegation is not abdication'.
A remarkable man by any standards, a great many owe a debt of gratitude to him. Fischer lived life to the full, packing more into a day than most do in a week, never wasting a minute. He will not be forgotten.
Fischer is survived by his four children: Penelope, Clayton, Annabelle and Dominique and seven grandchildren: Rebecca, Brenton, Emily, Jackson, Thomas, Petra and Peri.
Di Pearson
Mr. Fischer has a number of local connections to our area, one of the early members of Bilgola SLSC here his love of water sports and beginnings as a carpenter stand still in the foundations of the Bilgola SLSC clubhouse, which he helped build as a member.
In a 2019 celebration of the club's 70th year of serving on the beach, past President David Lyall PSM ESMM FAIB, related how the clubhouse was built while Bruce Robertson OAM, recalled how Syd started out as a stroke in surf boats and later steered the club to their first Australian Championship medal as Sweep.
Mr Lyall said;
When I first started we ran a lot of functions at Bilgola. We would close off Allan Avenue. We held concerts to raise money. We even sold hot water on the reserve to people coming in for the day for picnics – all to raise money for the club.
The gear at the club was at that stage stored in the garage of the Dr. Oag family, one of the families who had a house on the beach. Their sons Colin and Ian were original members.
After that we had a tent for storage in the laneway that went down between Bilgola House and the beach. Then Avalon surf club gave us a surf boat, which we affectionately called 'Irene' and it was decided we needed a clubhouse. An architect was engaged, pro bono.
In 1952 the lady who owned Bilgola House offered that premises and its site, plus the land all the way back to the Serpentine, for 18 thousand pounds. The committee of then decided 'why should we spend all the money we've made, plus borrow more, when the council is going to give us some land over on the reserve and we can build a clubhouse there.'
So the then Warringah Shire Council of those days very graciously put two pegs in where the clubhouse could be built. The pegs were placed right against where the club's barbecue currently is, on that lawn, and along the cliff-face. Luckily, two members, unknown, got slightly inebriated one night and went and quietly moved the pegs to something that wasn't under the cliffs.
One of the members, Jim Robinson Scott, then borrowed a bulldozer from his firm and bulldozed the site of the present clubhouse.
At that stage there were two tradesmen in the club, Syd Fischer and myself. Fortunately all the other members were so enthusiastic we built the bottom half of that clubhouse ourselves with the help of Midge Gonsalves, the stonemason from Palm Beach.
For the second part we let a contract, which was the top floor, and then it was duly opened – which you (Pittwater Online) have published the newspaper records of.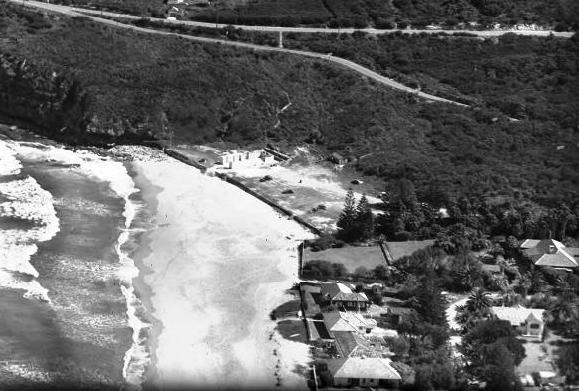 Frank Hurley photo, circa 1950-1953 and section from showing clubhouse foundations under construction courtesy National Library of Australia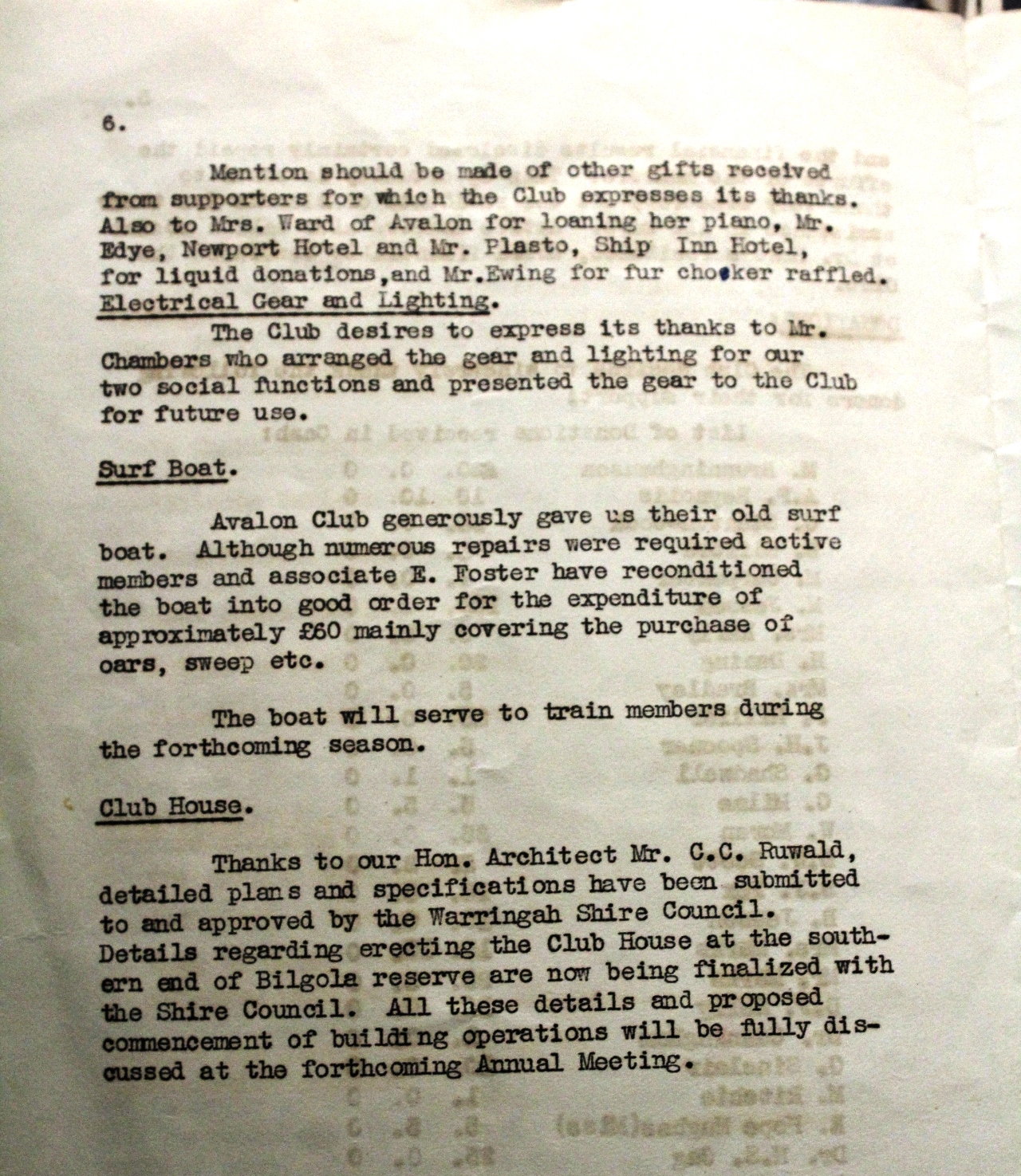 a page Bilgola SLSC's 1st annual report, 1949-1950 Season
Bruce said, or his boating activities:
''We had and have a very good boat club there. We had Syd Fischer as our Stroke at one stage. He was pretty good.''

Mr Fischer didn't restrict himself to surf boats though, excelling in the club's annual carnivals:
BILGOLA — First-round Club Championship. — Surf Race: N. Hosking 1, N. Lyall 2, :K. Monro 3. Ski Championship: S. Fischer 1, G. Thomas 2, B. Hawe 3. Belt Championship: B. Chappie 1, N. Lyall 2, W. Hoskings 3.. Beach Sprint: B. Nader 1, C. Oag 2, K. Monro 3. Greyhound details (1952, December 22). The Daily Telegraph (Sydney, NSW : 1931 - 1954), p. 13. Retrieved from http://nla.gov.au/nla.news-article248854067
BILGOLA.-Club championships -
Belt race N Hosking, 1. K Munro, 2 G Howe. 3 Board race G Howe, 1, J A Parker, 2, K Munro, 3 Ski race G Howe 1, S Fischer 2 D Lyall, 3 Handicap surf race N Hosking, I, N Renwick, 2. L Routley, 3.
BUNGAN.-First round club championship, ski race W Amschutz 1 Johnston 2 R Ames, 3 Beach sprint T Terrill, I, J Johnston, 2 M Chapman, 3 Musical flags K Ogden, 1, M McCreadie, 2, A Gourlay, 3
AVALON V COOGEE.-Invitation Day.-R. and R.: Coogee, 1; Avalon, 2. Surf race: K. Winter (Coogee), 1; B. Cribb (Coogee), 2; G. Cahill (Coogee), 3. Teams' race: Coogee, 1: Avalon, 2. Ski race: H. Booth (Coogee), 1: N. Davidson (Avalon), 2, M. Watt (Avalon), 3. Board race: J. Sorrell (Coogee), 1; E. Cahill (Coogee), 2; K. Gates (Coogee), 3.
FRESHWATER.-Bert Morgan old timers' trophy, surf relay: B. Lumsdaine, 1; K. Bennenberry, 2; J. Craig, 3.
MANLY.-Women's beach display march past: Manly. 1: Queenscliffe, 2; South Narrabeen, 3. Aggregate point score: Manly, 21, 1; Maroubra, 9, 2. Beach sprint: J. Gill (South Narrabeen), 1; L. Burrows (Brighton), 2: J. Davis (Terrigal), 3. .Beach relay: Brighton, 1; Maroubra, 2; Collaroy. DETAILS OF SPORT (1954, March 29). The Sydney Morning Herald (NSW : 1842 - 1954), p. 10. Retrieved from http://nla.gov.au/nla.news-article18417140
During Winter, at this time, he played for Manly, where his inability to suffer fools gladly showed up with characteristic regularity:
Forward sent off
S. Fischer, Manly forward, was sent off in the reserve grade game between Newtown and Manly, at Erskineville Oval today, after the line umpire had reported an illegality. Fischer had been previously cautioned. Forward sent off (1949, May 7). The Sun (Sydney, NSW : 1910 - 1954), p. 6 (FINAL FOOTBALL LAST RACE). Retrieved from http://nla.gov.au/nla.news-article229775092
As did his amazing fitness:
WESTS LEAD MANLY IN LEAGUE TUSSLE
Trailing 5-7 at half-time to Manly-Warringah Western Suburbs gained the lead in the second half of a close-fought Rugby League match at SCG today.
HALF-TIME Manly-War. 7 West. Subs. 5 Referee : A. Oxford. By W. F. Corbett The game was played on a hard, fast ground, with a light westerly. Wests are the minor premiers; Manly-Warringah, on 22 points, equal third in the premiership with South Sydney. O'Connell, Arthurson, Sullivan and Lumsden carried the ball beyond halfway, where Manly were penalised. Bain kicked into touch in Manly 25. , Forward passing by Manly ! In a promising movement working toward Lumsden on the right wing checked the Manly side. A penalty helped them, but then Bain kicked cleverly into touch deep in Manly 25. - Wests looked certain to score with Cullen, four of his comrades and Ratcliff handling, but close to Manly line the ball was knocked from Ratcliff's hand as he was shaping a pass to Fitzgerald. Wests kept hammering Manly line. Beaumont a few yards from his own line kicked to Bain standing just inside halfway. Bain attempted a field, goal but the ball went wide. O'Connell tried to run the ball out and got his kick in just before he fell under a heavy tackle. Beaumont was injured. For nearly a quarter of an hour Wests had been in Manly territory. , . " Callinan was getting the away fast to his supports but good Manly defence and Wests' errors stopped them. Ratcliff was nearly in. stumbling from a light tackle and falling a yard from Manly line. 1 Wests scored a well-merited try. The movement originated from a loose ruck in Manly 25. Trevena went wide, sending the ball fast to Callinan, who sidestepped skilfully to beat three men and get the try fairly wide out. Bain's kick was delayed while Lowe was treated for an injury. Bain, a left-footer, landed the goal. Wests 5-nil. Wests continued to storm the Manly line. Manly were penalised but from just outside the 25 Bain missed . the goal. Willoughby and Sullivan moved well together but Sullivan dropped the ball. Callinan gathered and ran from his own side of halfway to Manly 25. Mis-handling pulled up Wests. After Willoughby had tackled Lowe heavily, Bain ran up with the ball and kicked from his own side of halfway into touch in Manly 25. Lowe was dangerous and several forwards came in to support him. Watson being unable to hold the last pass with the Manly line a few yards away. A penalty eased pressure for Manly with Rowles kicking into touch 10 yards on his own side of halfway. O'Connell shot away with the ball. Lumsden going inside as if to take the pass. Two tacklers came at O'Connell. There was a laugh when he realised he was trapped, sat on the ground and the tacklers hurtled over his head. Fitzgerald put Wests on the attack when he kicked the ball through, went after it fast and tackled Sullivan. Manly's best movement of the game so far originated with Sullivan deep m his own half. He sent the ball to Willoughby and as Wests cover defence came at him, passed to Lumsden. Cullen came across with a tackle and Lumsden lost the ball. . . . , O'Connell was injured in a tackle. Manly was given a penalty, but the kick was delayed while O'Connell s right ankle was strapped. Rowles kicked the goal. Wests 5-2. Striving desperately to score, McLean and Trevena worked the blind side. Trevena and Cullen combined well but Cullen's pass went astray. Sullivan pulled the ball 'in and dashed beyond halfway, passing to Hunter, who kicked when Manly had prospect of scoring. Bain saved Wests. The story of the game was practically all Wests. Cullen and Ratcliff threatened the Manly line. Bain joining them. Farrell was giving his men great service from the scrums, winning 19-7 to this stage.
Manly supporters roared With excitement when Herbert broke away on a weaving run, passing to Sullivan, to Fischer, who ran beyond halfway. Manly were given a penalty. From 35 yards out Rowles kicked his second goal. Wests 5-4. Solid Manly defence prevented the score from mounting. Lowe was almost in for a try when Fitzgerald and McLean were close to scoring. Lumsden threw Cullen into touch on a corner post.' Manly scored a magnificent try just before the half-time bell rang. McCann, author of the try, started his run deep in Manly 25 when a Wests try looked imminent. Away bolted McCann beyond half-way. He turned a pass in to Kempshall who whipped the ball across to Lumsden who raced on for the try, Rowles missed the goal. Manly 7-5. Farrell won the first half scrums 20-8. Manly were awarded seven penalties to four. Half-time Scores: Manly 7 Wests 5. The second half opened with a scrum at half-way. Manly won this one. Willoughby took a pass in capital style, but his pass to Sullivan was forward. Wests were hard-pressed until Bain ran tile ball up. Rowles went to full-back in this half. The injured Beaumont went on the left wing with his right knee bandaged. Wests were awarded a penalty 35 yards out, almost in front. The referee spoke to Arthurson. Bain kicked his second goal. Wests 7, Manly 7. Wests scored when Trevena moved fast around a scrum and sent to Ratcliff, to Callinan, who went across for his second try. Bain missed. Wests 10-7. Attendance officially was 15,862. WESTS LEAD MANLY IN LEAGUE TUSSLE (1952, August 23). The Sun (Sydney, NSW : 1910 - 1954), p. 7 (FINAL FOOTBALL LAST RACE). Retrieved from http://nla.gov.au/nla.news-article230711108
A long-term supporter of local sailors, launching the America's Cup careers of some of Australia's and Pittwater's most respected yachtsmen, including James Spithill, lain Murray and Hugh Treharne, who was tactician aboard the 1983 Cup winner, Australia II.
As a starter in the early editions of the Pittwater to Coffs yacht races his smile as Ragamuffin left the other side of Barrenjoey was almost serene, and then he'd turn his face north, focused on serious play while the adept crew he'd always surround himself with made that boat sing.
Syd Fischer was the 1996 line honours and handicap winner of this race. These images from the 2013 edition start off Barrenjoey, included praise for his crew aboard Ragamuffin, telling Damian Devine, RPAYC, "they worked hard all the way and worked well together. They are a great bunch of guys and unfortunately it wasn't to be in this race, but that's yacht racing. The race overall was enjoyable and not too difficult. The boat performed well."

Mr. Fischer's approach to life was also that the journey is enjoyable, not too difficult if you're prepared to put in the hard yards and go the distance, and if you do, you will do well.
Fair winds and following seas sir -
Thank you for helping build Bilgola SLSC club a base that is still stands seven decades later,
Thank you for supporting our local sailors.
Thank you for being forthright at all times and under all circumstances,
Thank you for staying true to Pittwater and Manly as one of us.