August 4 - 10, 2019: Issue 415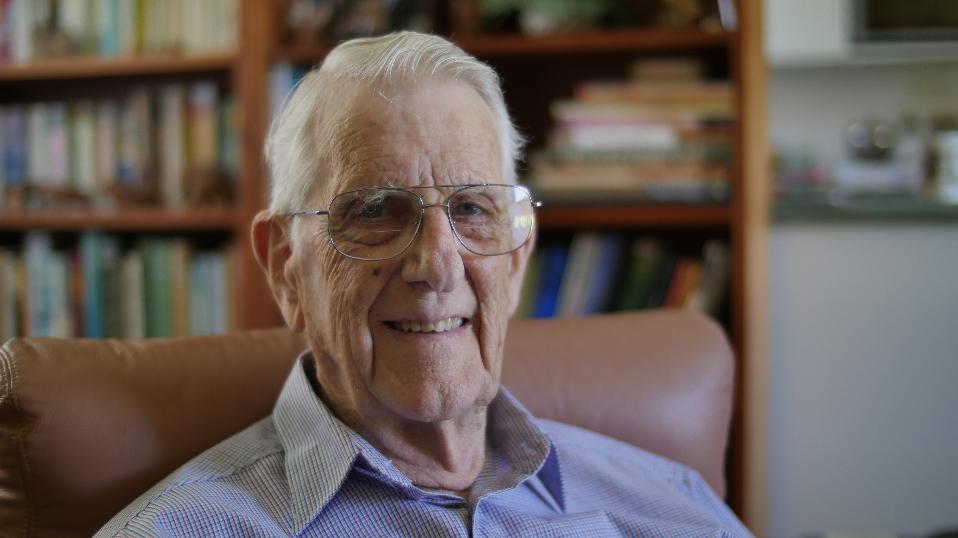 Geoff Ruggles at home in December 2014 - photo by Steve Edmonds
Vale Geoff Ruggles
13.11.24 - 30.7.19
Geoff Ruggles, one of two surviving crew members from the inaugural Sydney Hobart Yacht Race in 1945, died peacefully on Tuesday evening aged 94.
At 21, Geoff was the youngest of an otherwise older experienced crew on Wayfarer when they headed to sea in the Cruising Yacht Club of Australia's (CYCA) inaugural Sydney Hobart Yacht Race. The yacht was owned and skippered by Peter Luke, co-founder of the CYCA.
Earlier, Geoff lived in Mosman where he had joined the Sea Scouts as a 15 year-old. "It started my love of the sea," he said, recalling, "It was during World War II and a lot of youngsters were sent to Sea Scouts to get a bit of discipline while their fathers were at the War."
It fired his interest in boats and the sea, so at 20, Geoff joined Griffiths Yachts, where he learnt to sail. The following year, Geoff was given the opportunity to do 'The Hobart'.
Geoff was wearing nothing more than a pair of shorts, a beanie festooned with a red pompom and a wide smile. He was bare-chested and bare-footed as they left Sydney Harbour (the crew charging their departure over a bottle of beer doled out in tin cups), bound for Hobart.
As the youngest and most inexperienced, Geoff made himself handy opening tins of food and serving the crew meals and any other job that needed doing. Before leaving the Harbour, he cut his leg as he came up on deck. A fellow crew cleaned and stuck a band aid on the small wound. But you could not wipe the smile off his face.
I first met Geoff in 2004 and again in 2014. Reminiscing that year, he remembered having the time of his life, "a real boy's own adventure," he said.
Surrounded by race memorabilia at his home in Kiama, on NSW's South Coast, Geoff was interviewed for the CYCA's 70th race and vividly recollected that first long voyage. He said he had succumbed to sea-sickness and suffered an impacted wisdom tooth. "Lucky for me there was a dentist aboard, but it was so painful, I remember it like it was yesterday."
Geoff also recalled "being hit hard by a big storm on the first night. It really knocked us around."
And down the Tasmanian Coast: "At one stage we tacked 18 times in a row. In the end we just dropped anchor off The Isle of the Dead (a cemetery adjacent to Port Arthur for those who died inside the prison camps), which was a bit ironic."
Wayfarer's sails, not the best when they left Sydney, were in tatters by the time she reached Hobart. Peter Luke's boat arrived in Hobart last of the nine starters, in 11 days, six hours and 20 minutes. It remains the slowest time on record in in the history of the race.
In 2004, Geoff was given the honour of firing the 5 minute warning signal for the start of the Sydney Hobart. Firing the 10 minute gun was John Gordon, who sailed aboard Winston Churchill in the first race.
Geoff also made it out on the water to watch the Parade of Sail (in which Wayfarer took part) and Sydney Hobart start in 2014. He made his way back to the media centre afterwards and told me how thrilled he was to have that opportunity.
Geoff was a captivating, old-school gentlemen with a graphic memory and a remaining interest in the 628 nautical mile race; following it each year on television.
He went on to do two more Sydney Hobarts on Wayfarer; halving the passage time on their second attempt. On the third, Wayfarer sprang a leak and stopped at Jervis Bay to make repairs. Geoff, due to be married, feared time was running out, so left the boat and headed to Melbourne and marriage to his first wife, May. It was the end of his offshore racing.
Twice married and the father of seven children (the eldest, Christopher, pre-deceased him). Geoff enjoyed a long and happy life. He is survived by his wife Kathy and children Jeremy, Matthew, Fairlie, Ben, Sophie, Lucy and extended family members. Our heartfelt sympathies go to them.
Di Pearson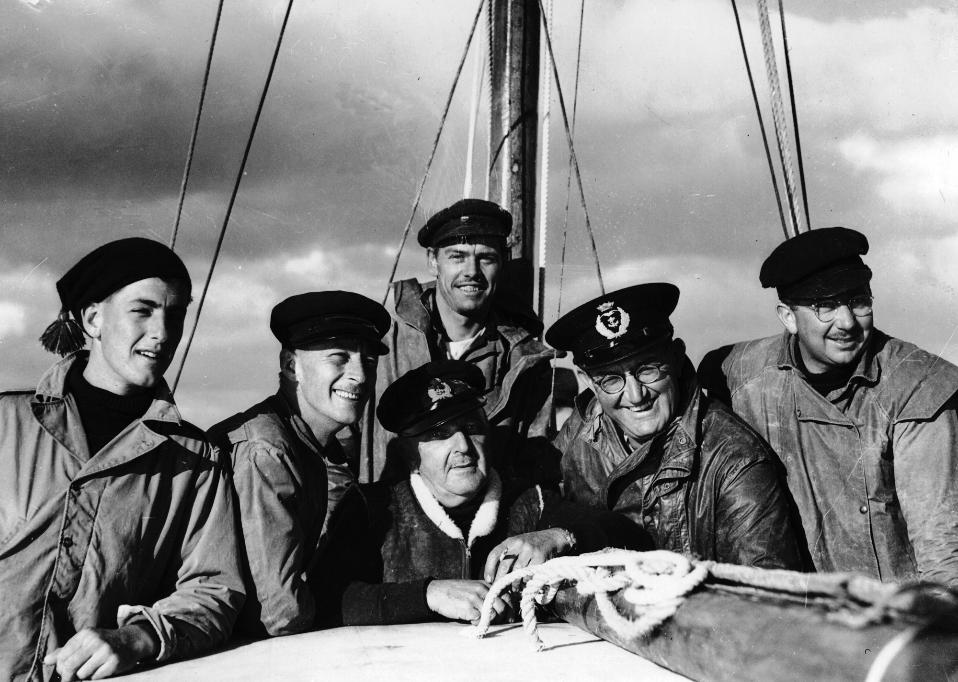 Geoff Ruggles (left) on Wayfarer in 1945 - Photo Courtesy CYCA