February 27 - March 5, 2022: Issue 528

The Upper Northern Beaches Rotary Club's Inaugural Art Show To Support Local Charities
Upper Northern Beaches Rotary is holding its Inaugural Rotary Art Exhibition & Auction to raise funds for important charities making a difference in our local and global community. The event will be held in the Mona Vale Memorial Hall, 1 Park Street, Mona Vale.
Charities selected for this event all work with women and/or children in crisis, with the aim of reaching permanent positive outcomes to halt the crippling cycle of issues such as family trauma, economic hardship, poverty and homelessness.
The Joint-President of the Club, Elizabeth Lovell says that "The quality of local art is fabulous and we are so excited to have such a variety of mediums, including painting, glasswork, photography, weaving and sculpture. Rotary Upper Northern Beaches is so looking forward to supporting our local artist community as well as these important charities."
The exhibition kicked off with an opening event for the public on Friday 25th February. On the night, the Johnson Bros Mitre 10 Rotary Art Exhibition Winner of $2000 was announced as Tony Cabassi for his painting 'Hues of Blue' - a stunning work which looks abstract up close but when you stand back you can see storms, rain and streaks of diffused and vibrant lights.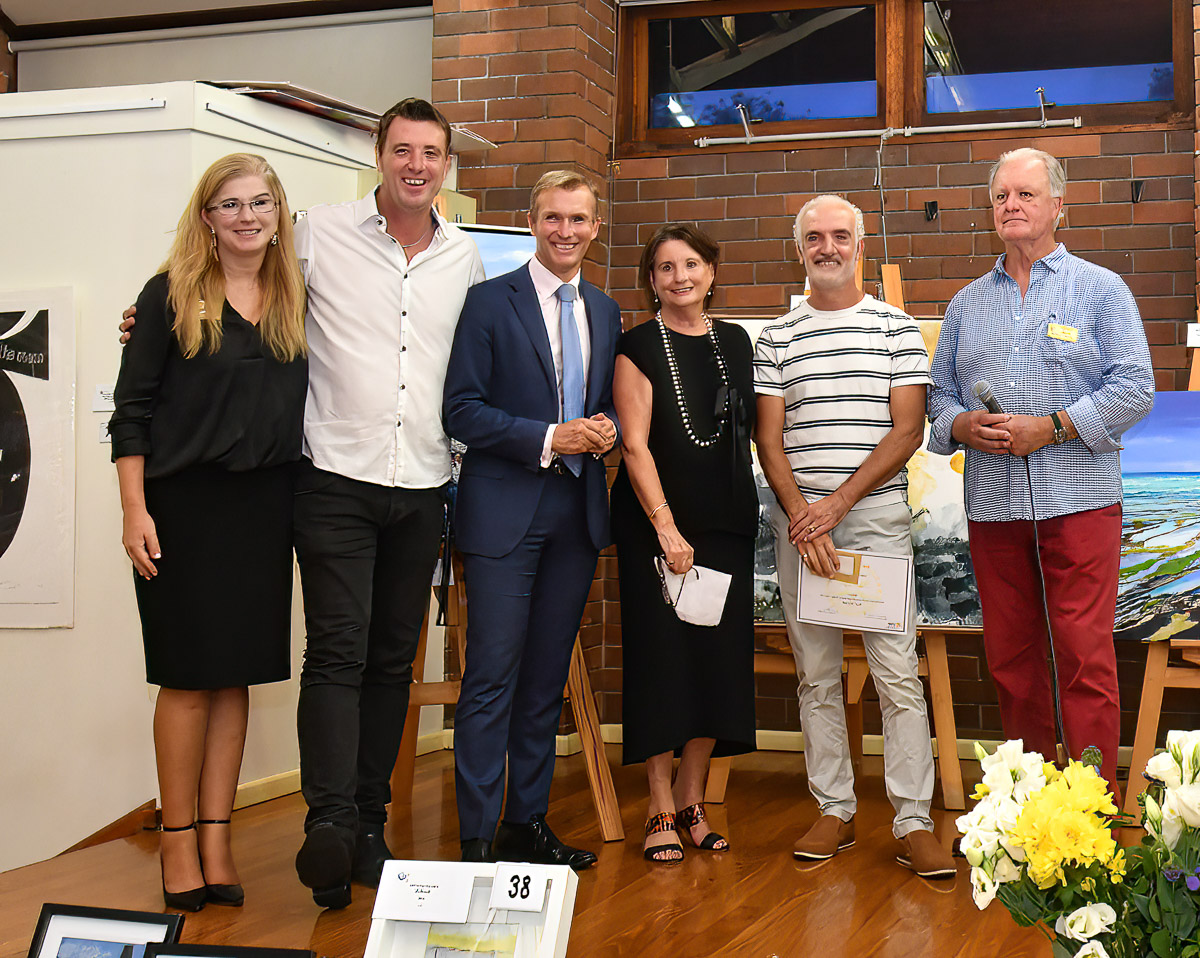 Left to right: President (Joint): Elizabeth Lovell, NBC Mayor Michael Regan, Pittwater MP The Hon. Rob Stokes, Beth Lawson, chair of NB Women's Shelter,
Tony Cabassi, Tony James. Photo:
Michael Mannington OAM
A selection of the works were auctioned as part of the proceedings, with all items quickly being snapped up.
Over the rest of the weekend, the balance of works are for sale and entrance to the exhibition is via a gold coin donation at the door, with no pre-booking required. There are 63 Artists and over 200 paintings on display ranging from brilliant amateur works to paintings by Artists who have entered Archibald's and other professional compeitions.
The exhibition and sales will be open on Sunday 27th February from 9am-1pm in the
Mona Vale Memorial Hall, 1 Park St, Mona Vale
.
At the end of the weekend, a Peoples' Choice Award of $500 will also be awarded to an artist.
Artists will receive 50% of the selling price and the balance will be donated between these four charity areas - so you can find something unique for your own home and also be supporting the great work of these charities:
The
Upper Northern Beaches Rotary Club
area includes the part of the Sydney Northern Beaches area stretching from Collaroy to Palm Beach. The area is virtually surrounded by water, bordered by the Tasman Sea to the east, Dee Why to the south and Pittwater to the west and north.
Each Rotary Club is part of a district. The Rotary Club of Upper Northern Beaches is part of District 9685, one of two districts covering the Sydney metropolitan area. The district includes 79 Rotary clubs in the area stretching from the Blue Mountains to the sea north of Sydney Harbour, reaching across the Hawkesbury River and north to Toukley on the Central Coast.

Although over 120 years young, the Rotary movement in 2022 is 1.2 million neighbours, friends, and community leaders in more than 200 countries who come together to create positive, lasting change in our communities and around the world.
The objectives of Rotary are:
Forming friendships and engaging through a group as a way to perform community service.
Practising high ethical standards in business, professional and individual conduct, whatever our occupation or role in life.
Applying the ideal of service to our personal and community lives.
Advancing international understanding, goodwill and peace through a world fellowship united in the ideal of service.
The core idea is to make the world a better place. UPNRC projects range from helping Australians who are having a tough time to supporting communities in other countries, enabling them to create their own sustainable future. There is always a focus on what needs support locally.
The Club Directors & Management 2021-22 are:
Board of Directors
President (Joint): John Power
President (Joint): Elizabeth Lovell
Secretary: Robyn Miller
Treasurer: Simon Masman
Club Service: Alan Smith
Youth Service: Tony Durbin
Community Service (including International and Rotary Foundation): Bruce Lakin
Fundraising: Annette Baggie
Other Senior Positions
Youth and Vocational Service: Tony Durbin
Marketing and Membership: Colette Cusack and Tony Butera
Sponsorship: Annette Baggie
Project Managers
The Big Dig: Annette Baggie
Palliative Care: Gail Carew
Australia Day breakfast: Tony James
Christmas Carols in the Park: Bruce Lakin
Christmas tree sales: Alan Smith
Golf Day: Annette Baggie
Beach2beach: Annette Baggie
Tree of Joy: Tony James
Build Your Future Today (Cambodia): Tony James
Soibada village (Timor Leste): Tamara Sloper-Harding OAM
As you can see, they are a very active club.
New members and extra hands are always welcome. You can find out more an get involved, with regular local meetings with great Speakers, at:
www.rotaryuppernorthernbeaches.org
Below run a selection of images from opening night, the auction works and the art on display taken by
Pittwater Onlines
' Features photographer Michael Mannington OAM, founder of
Community Photography
.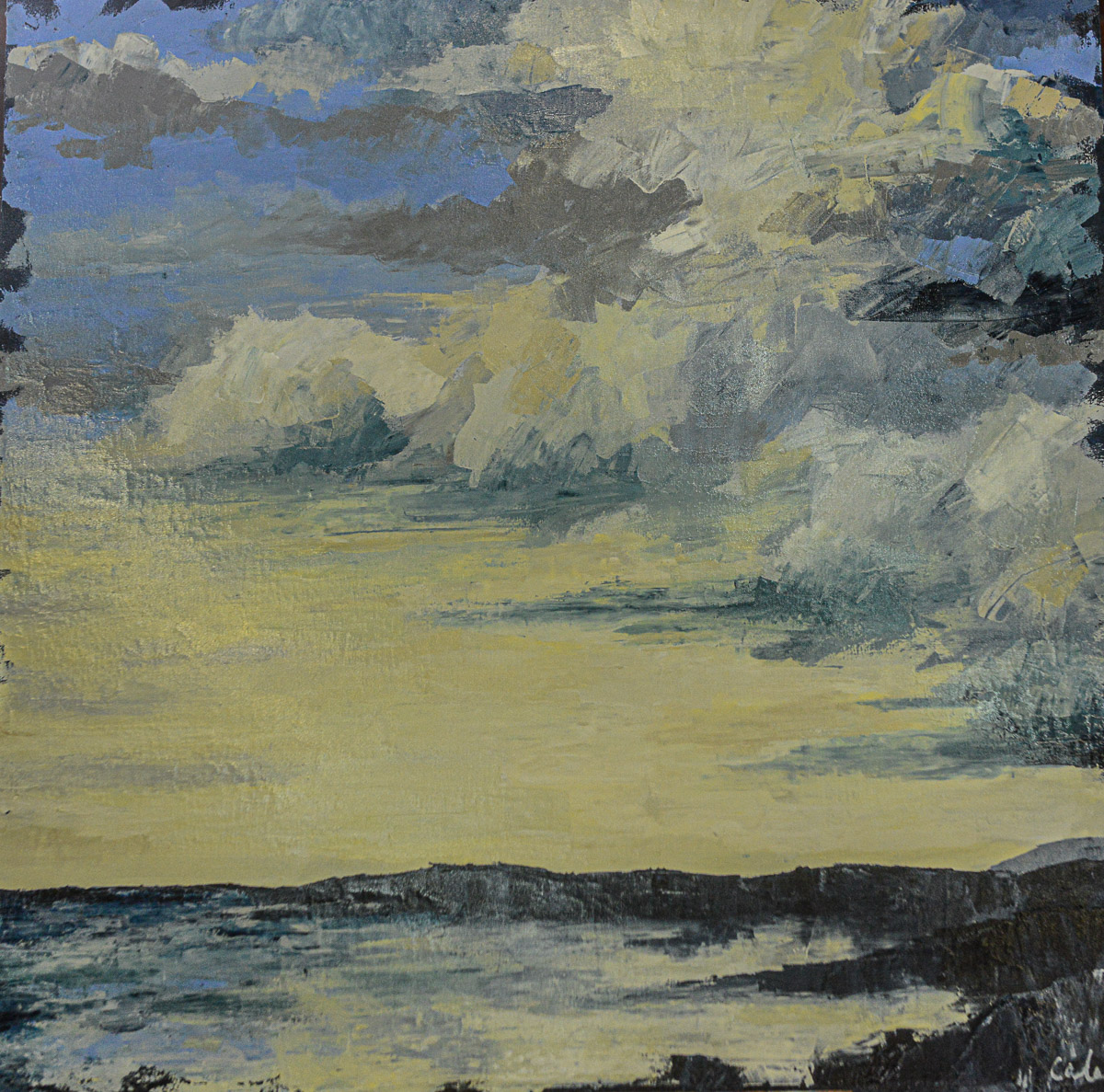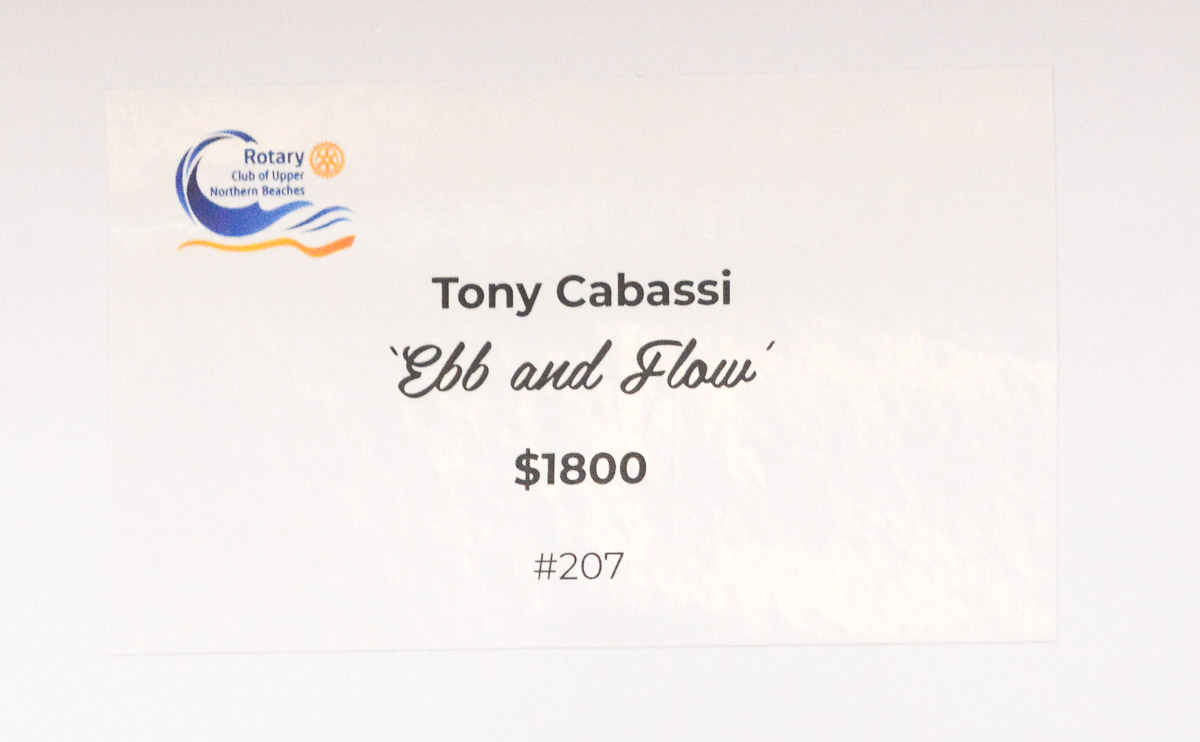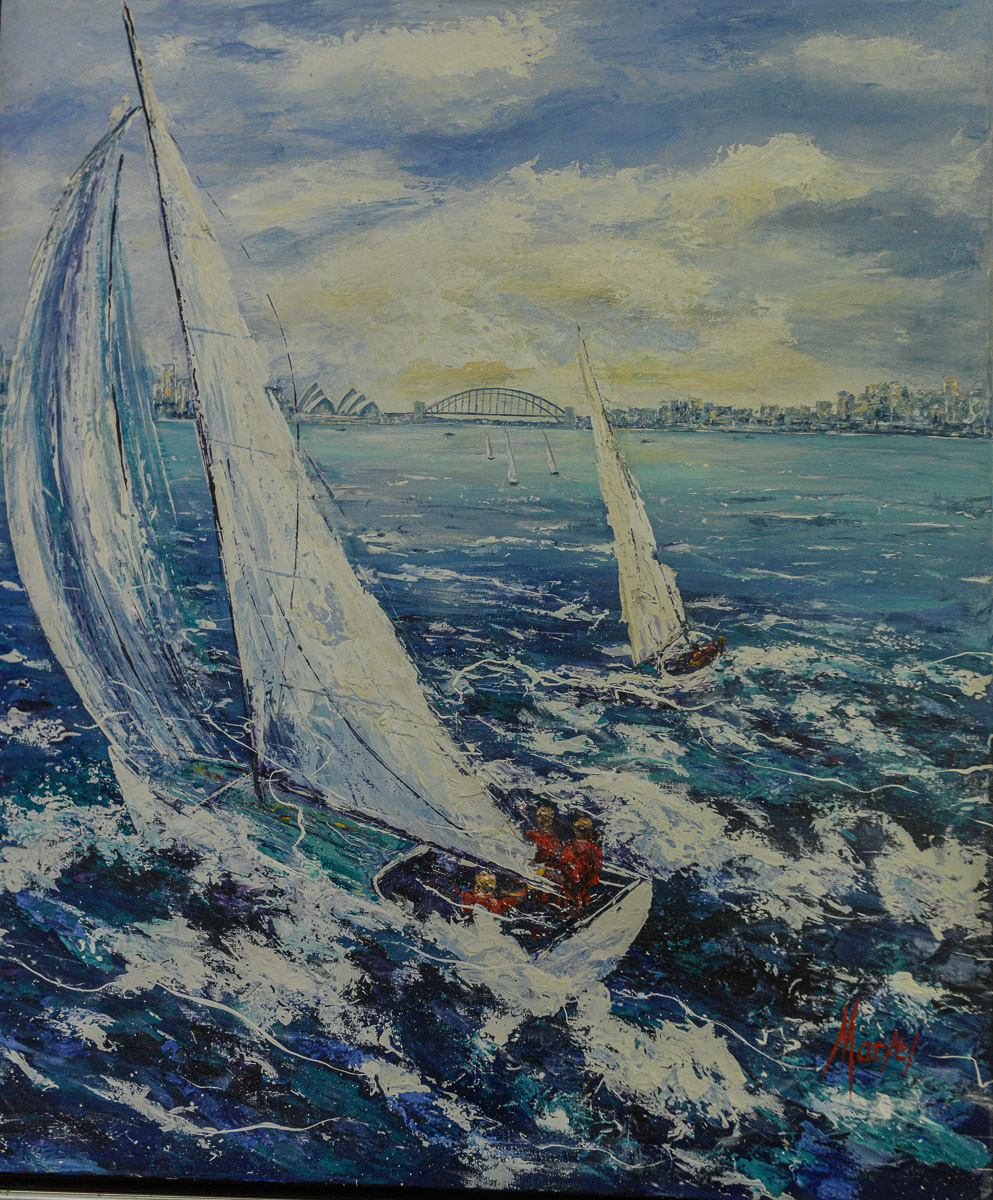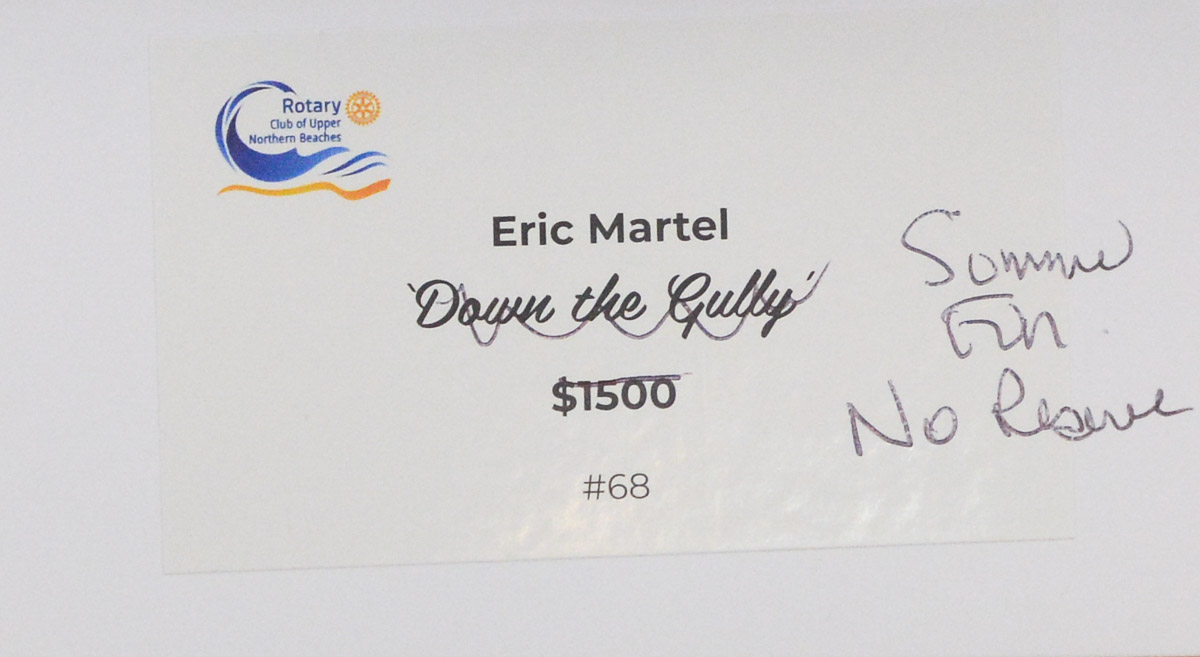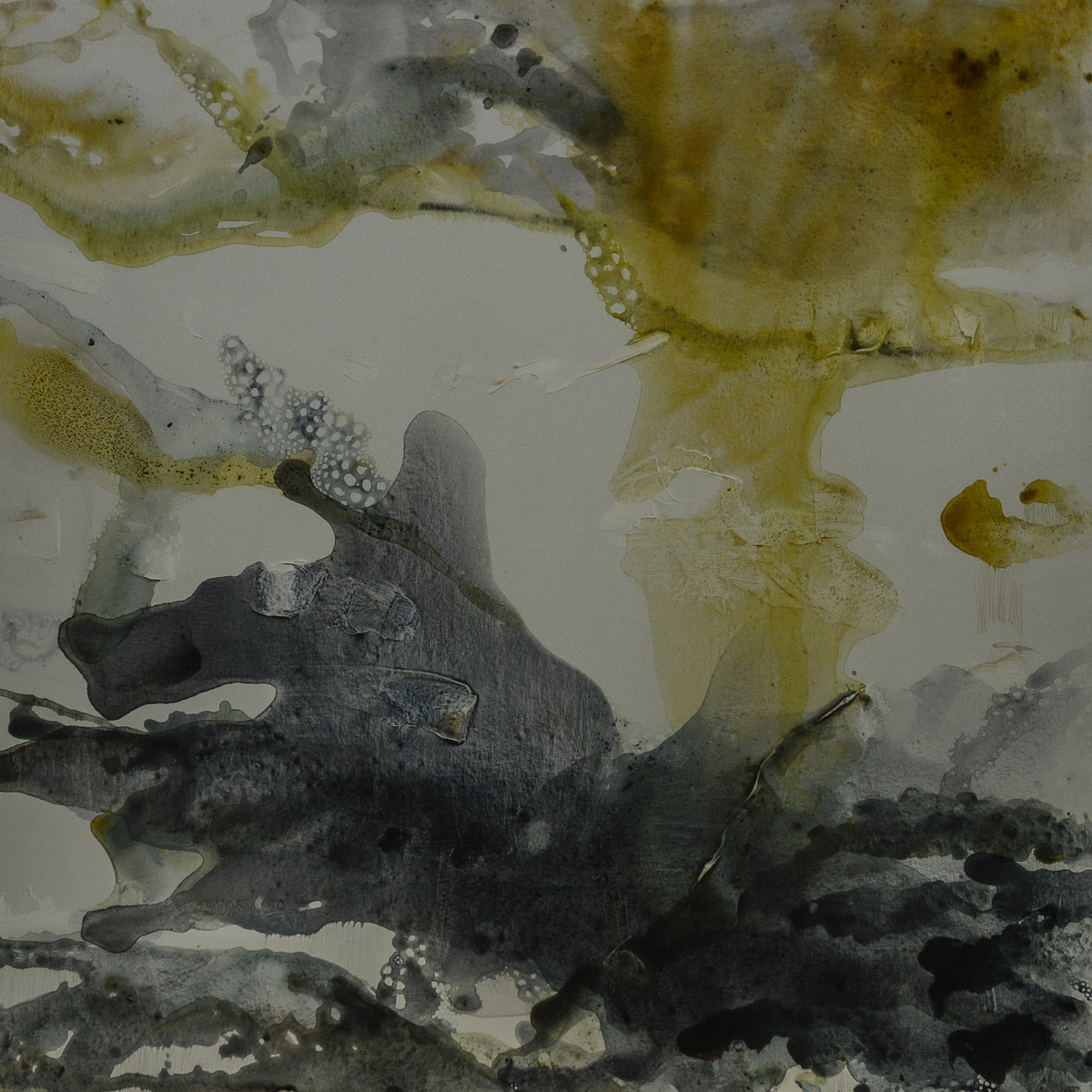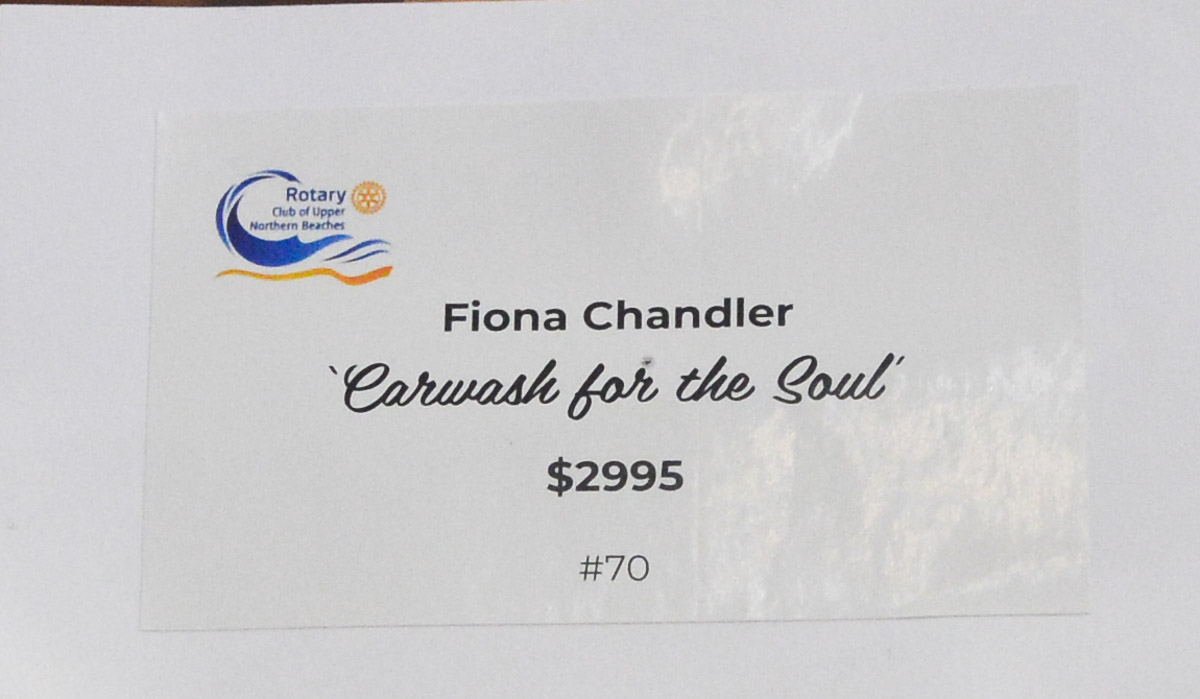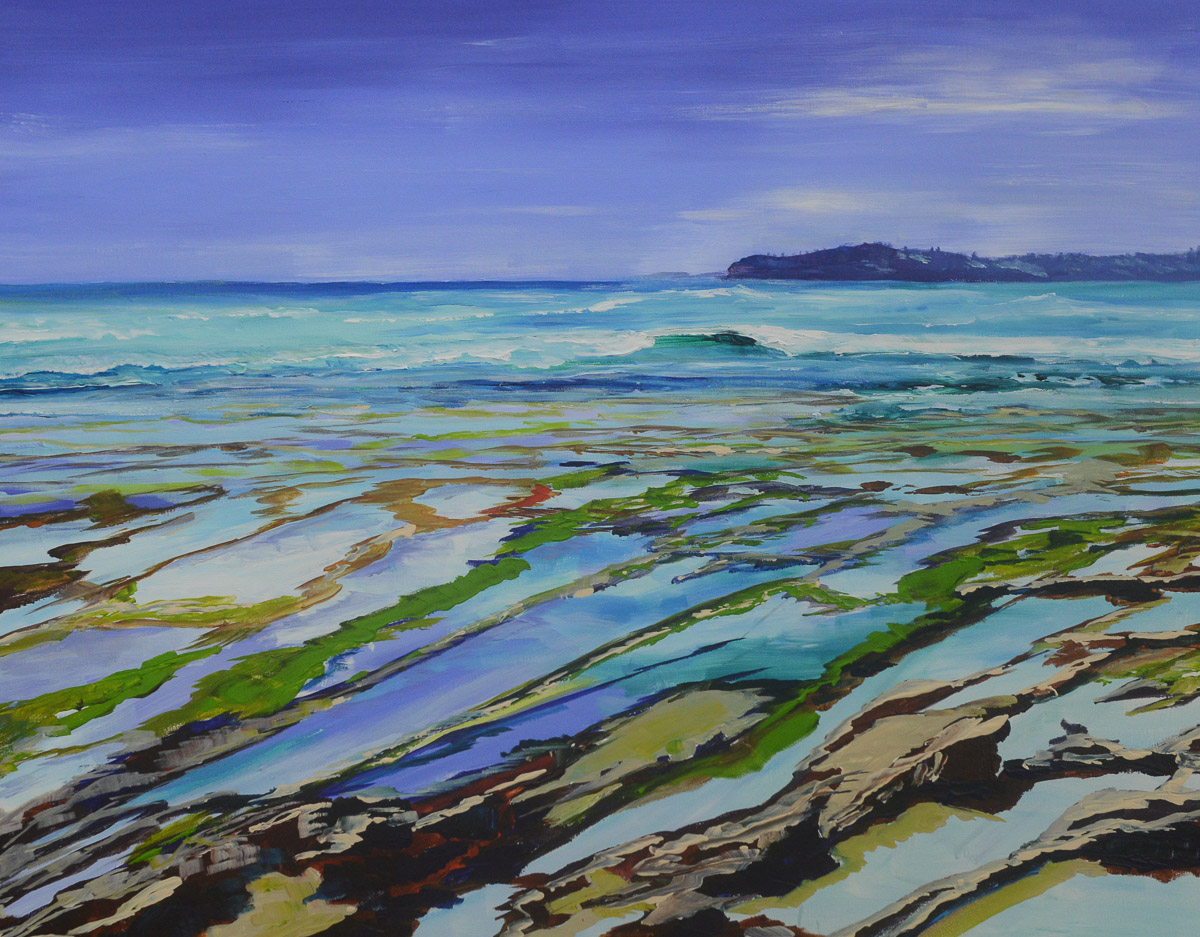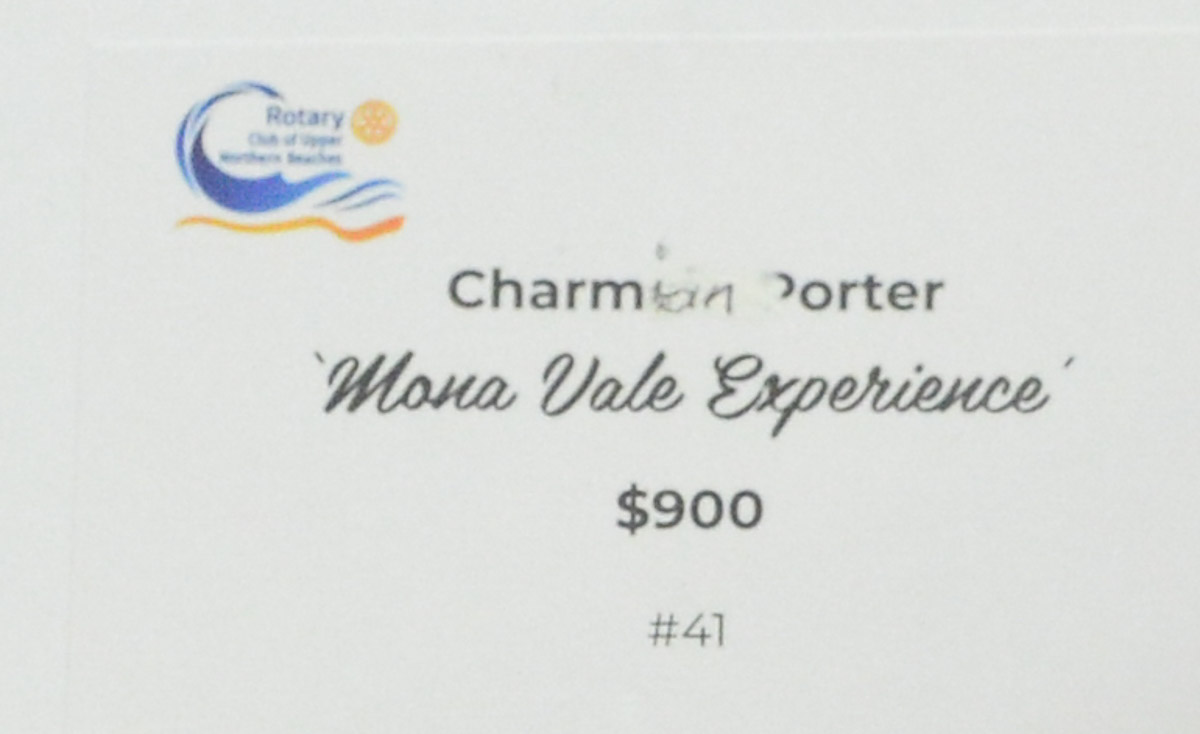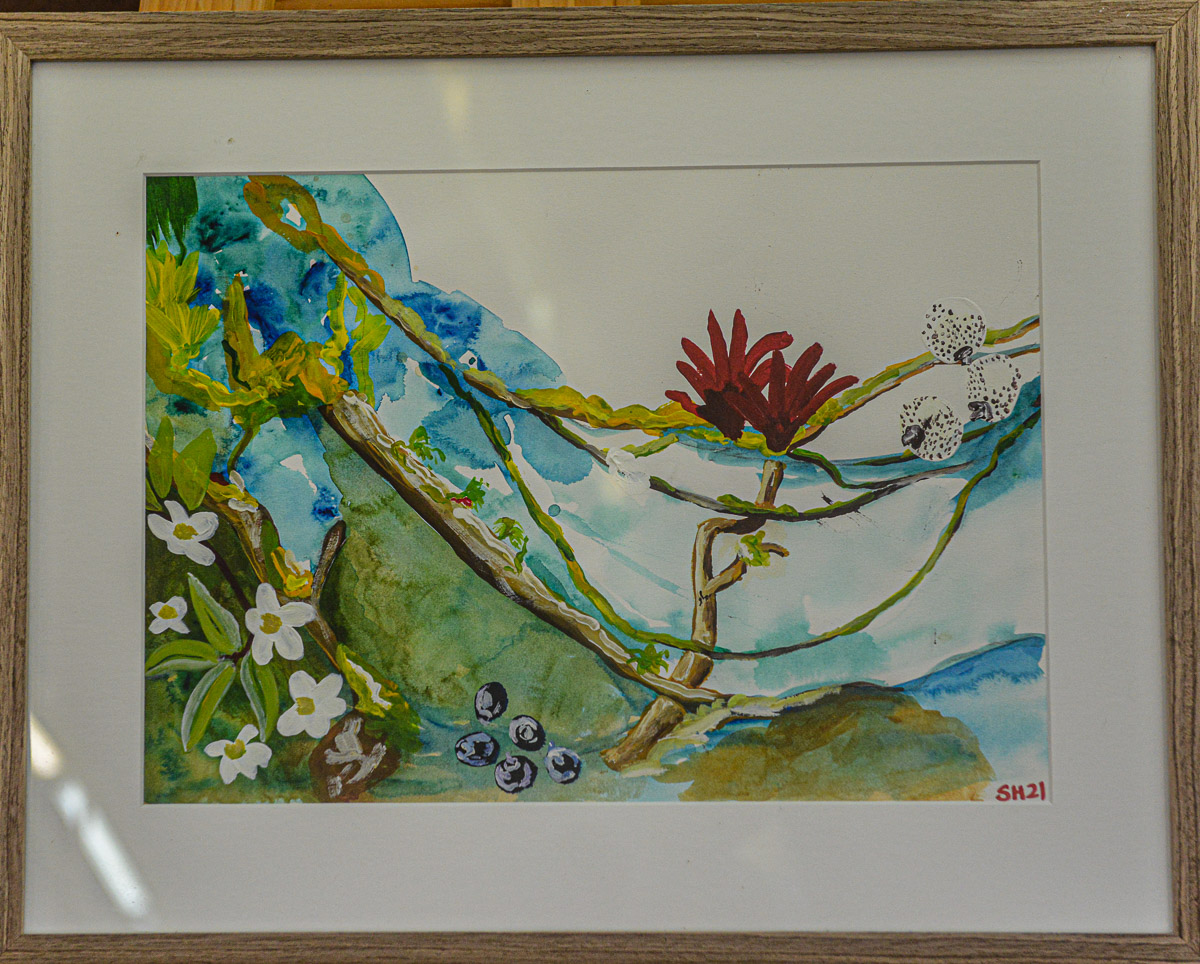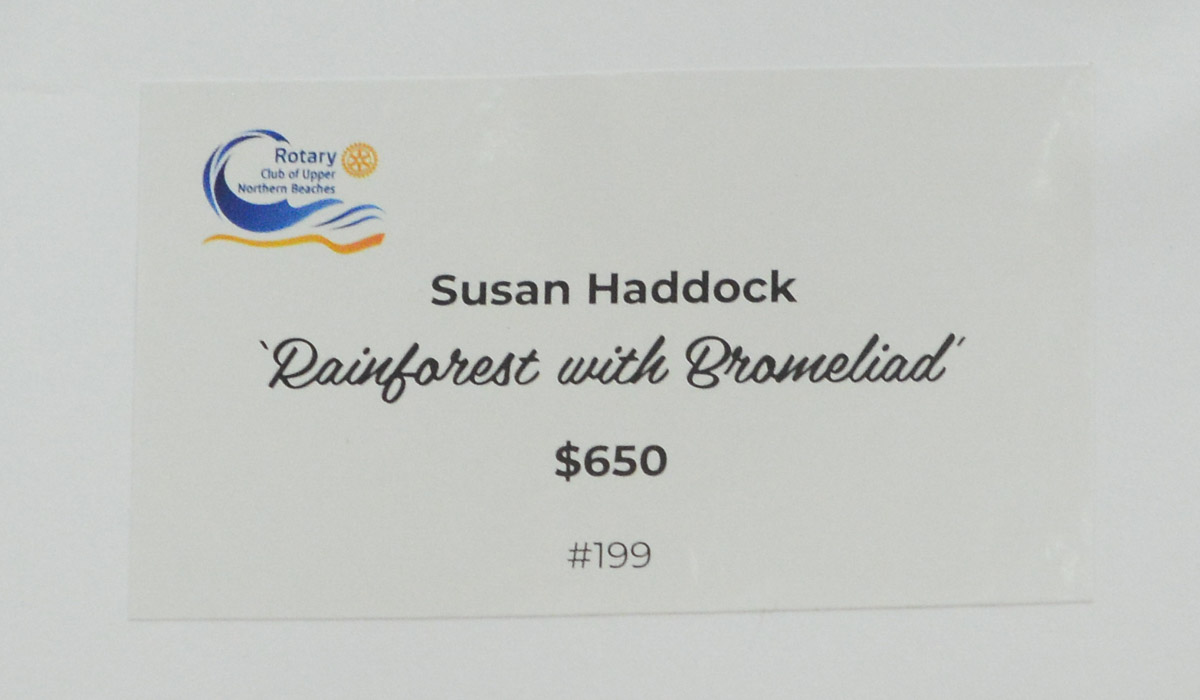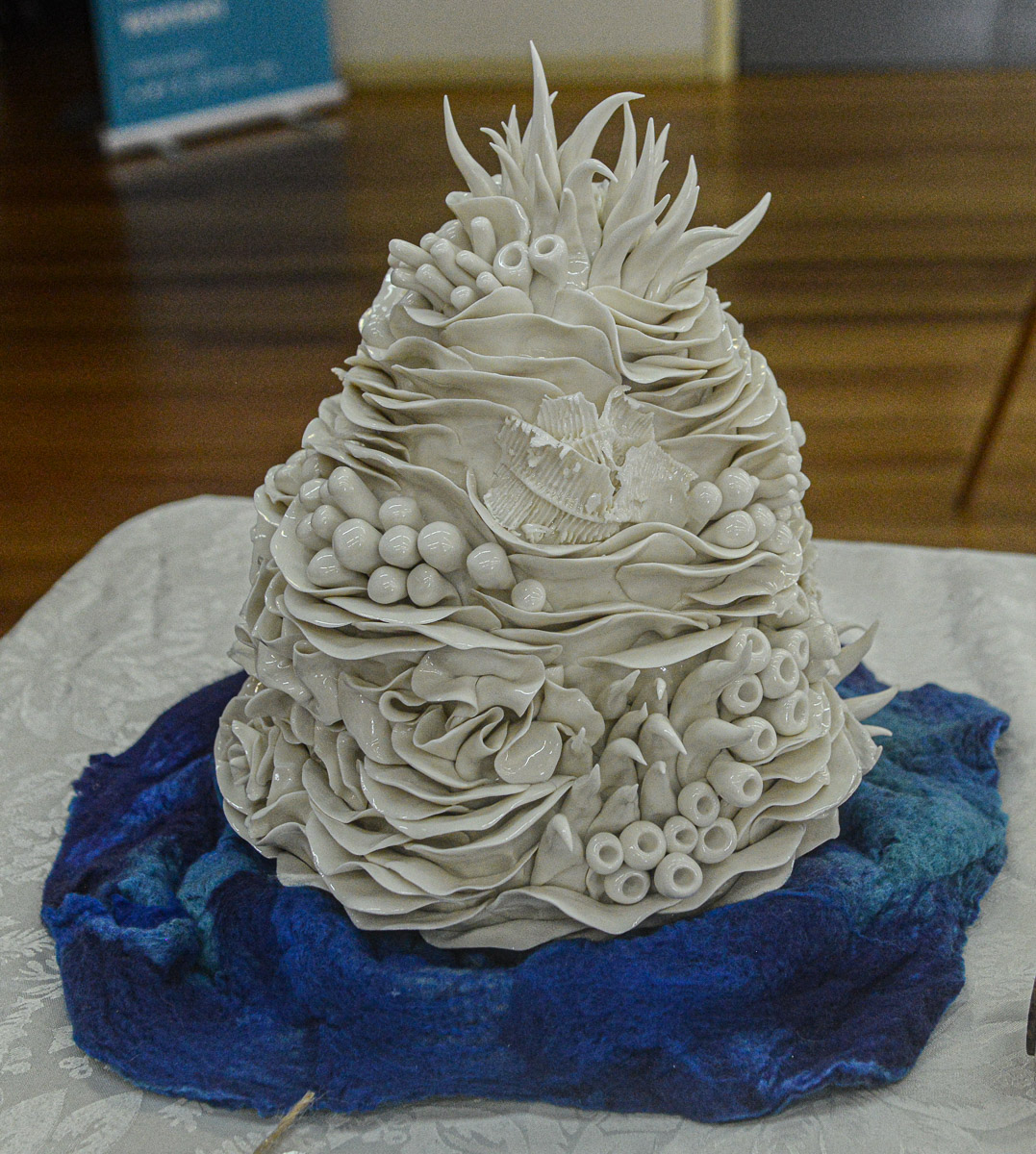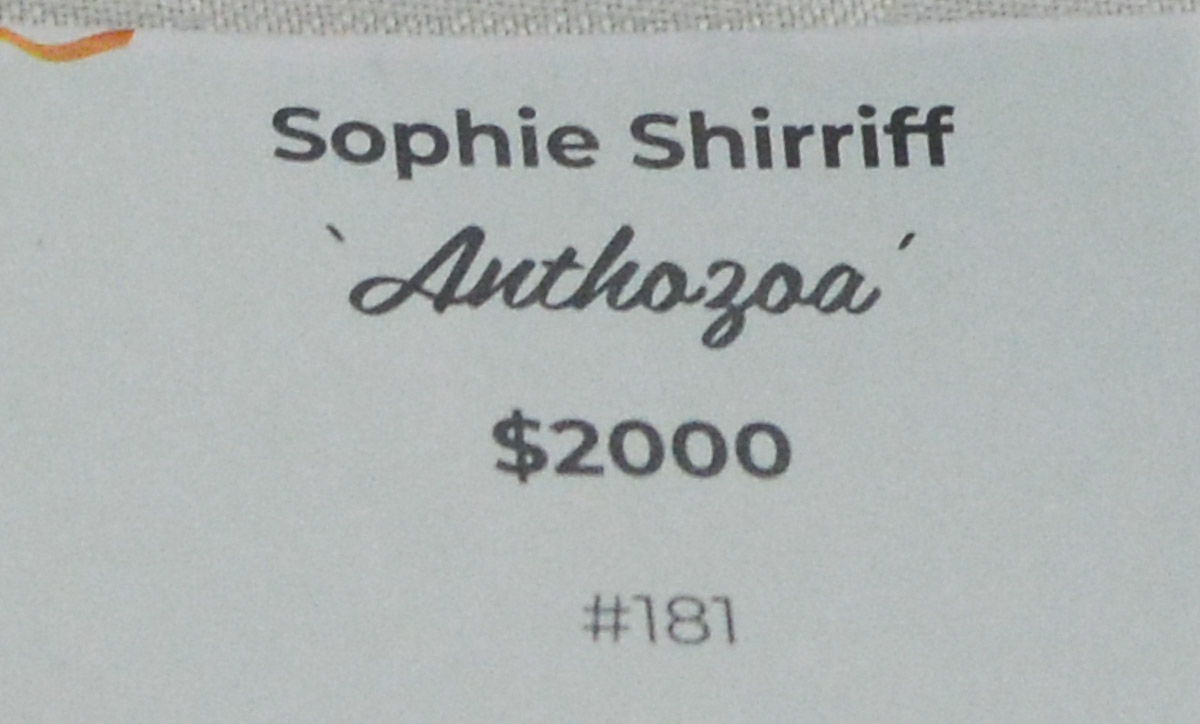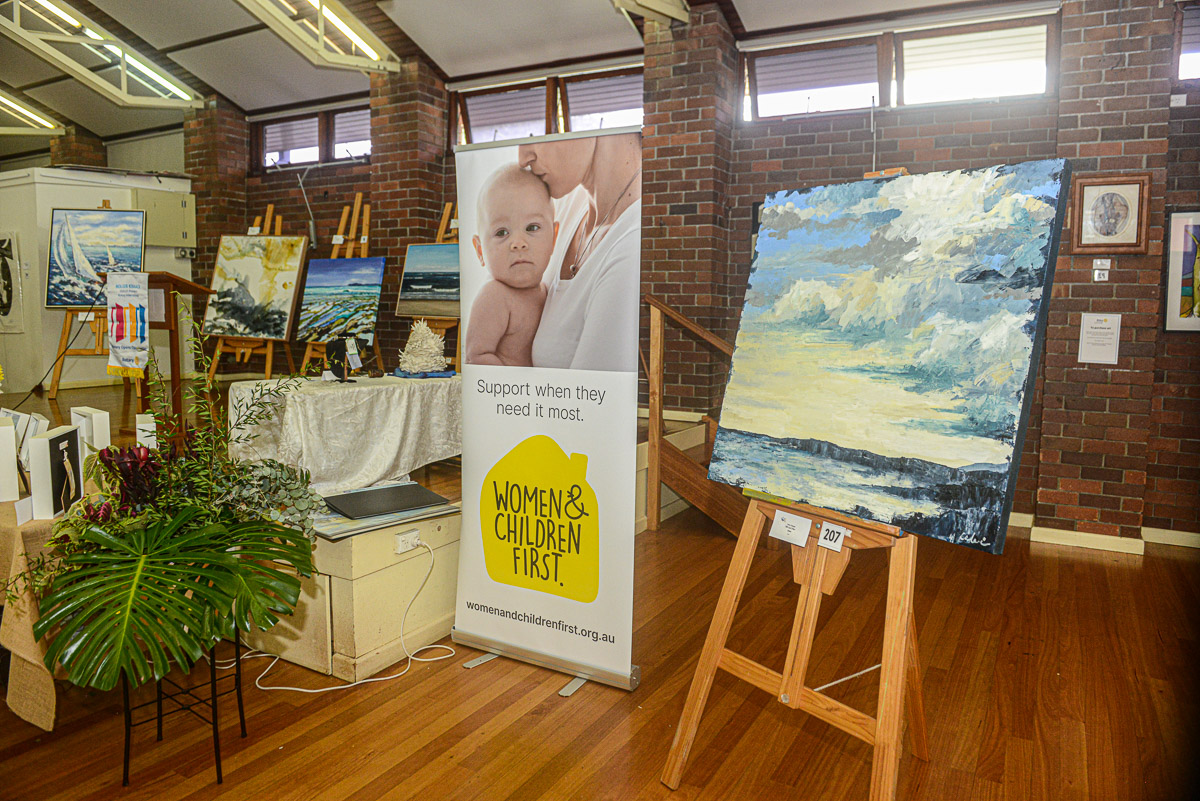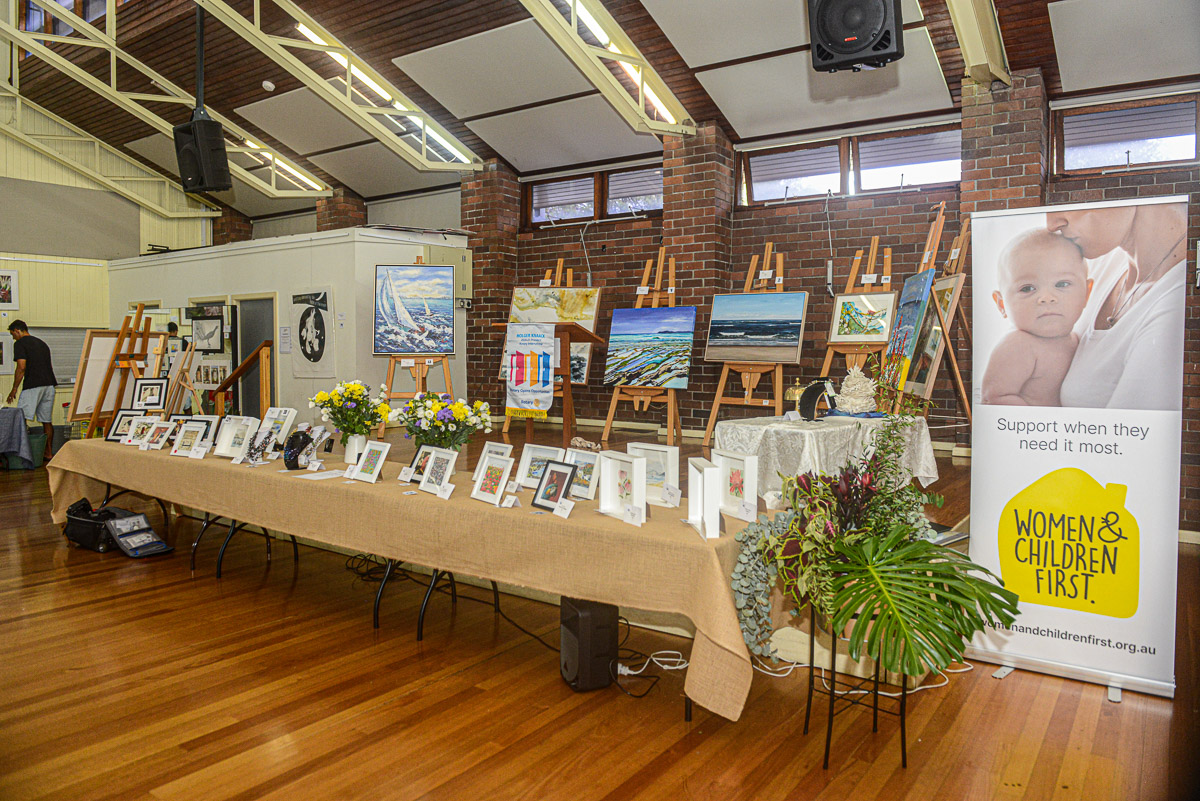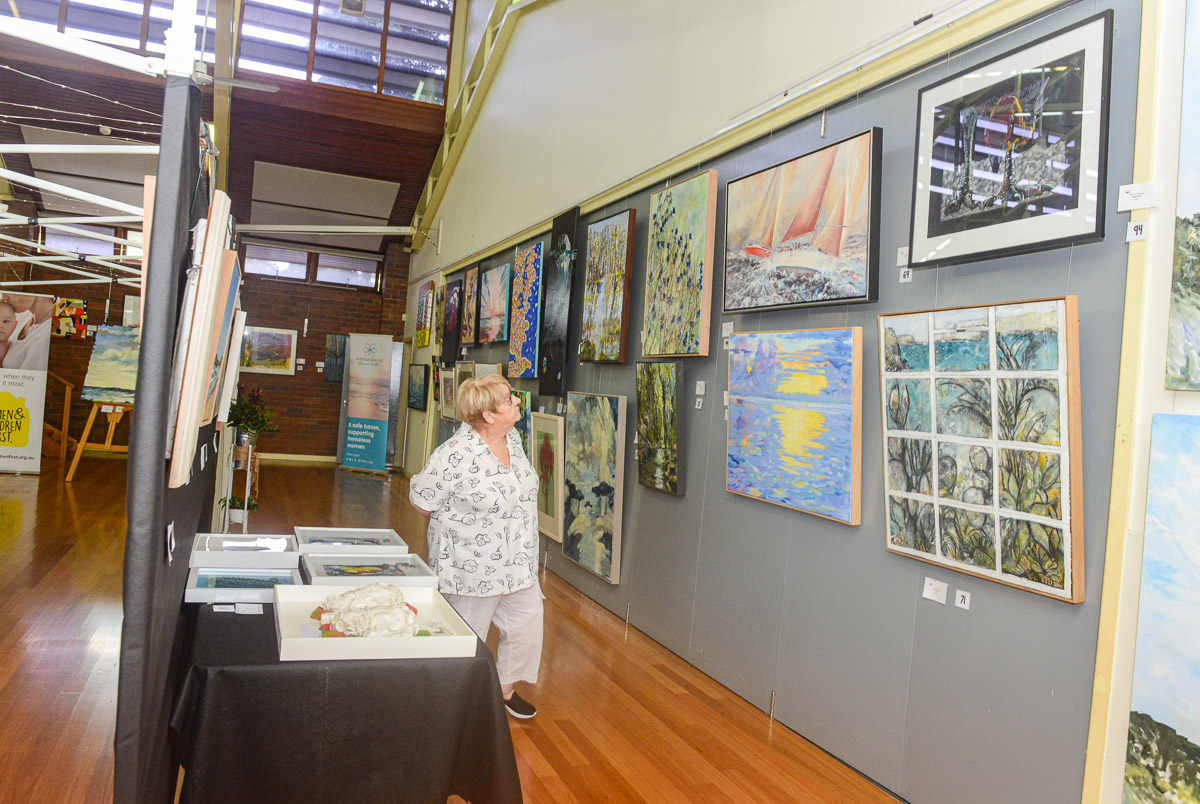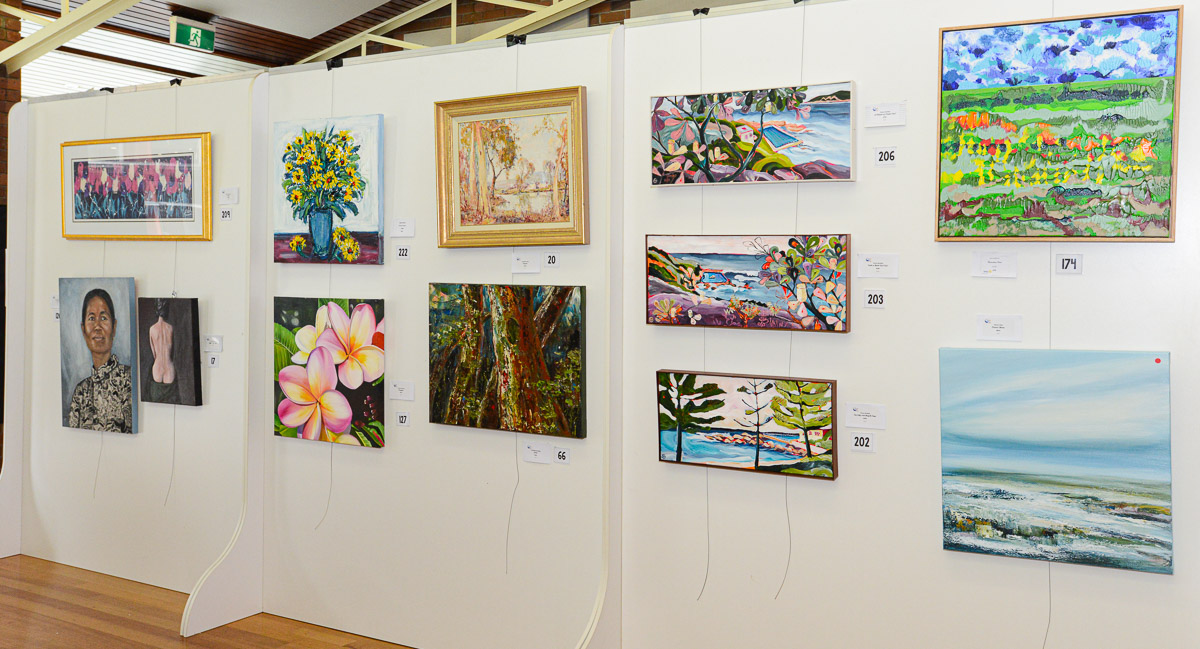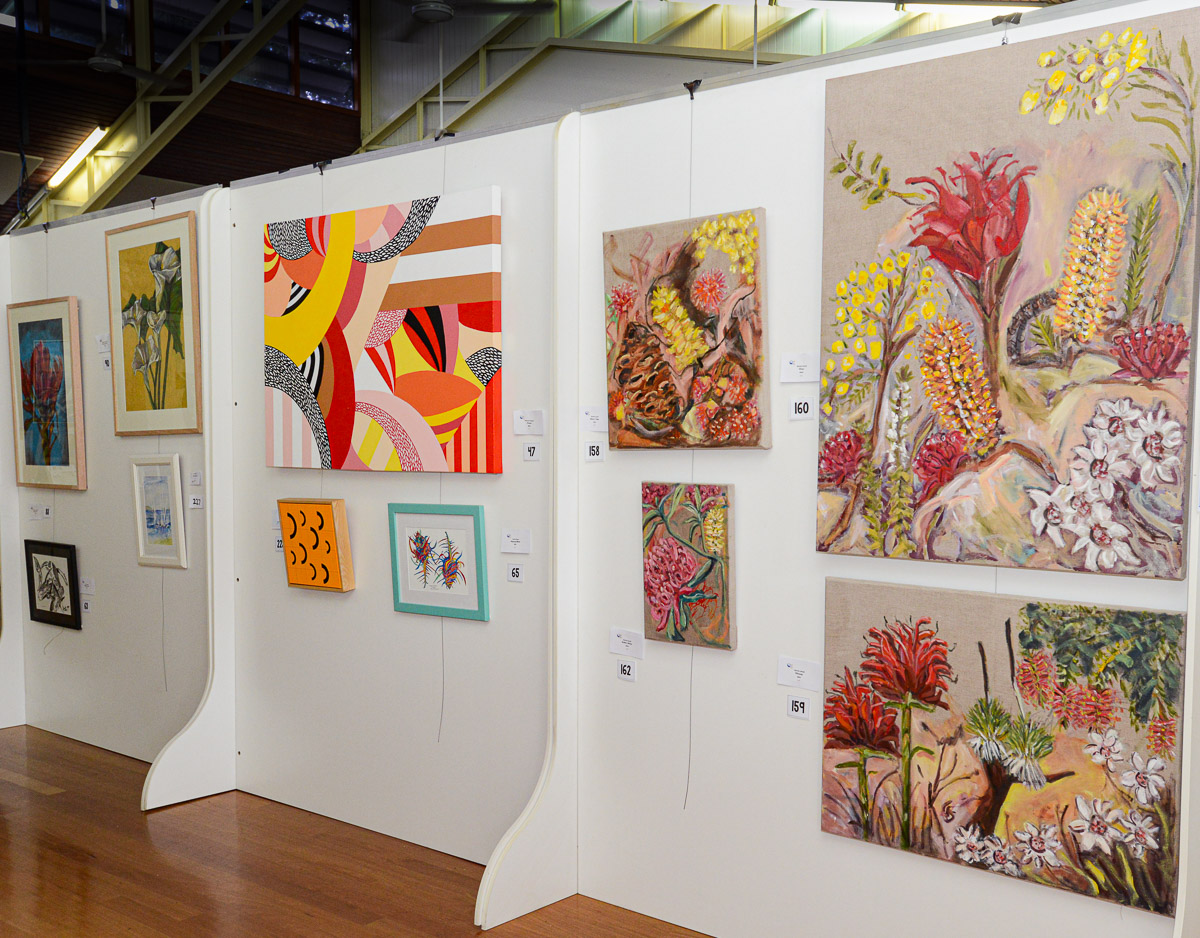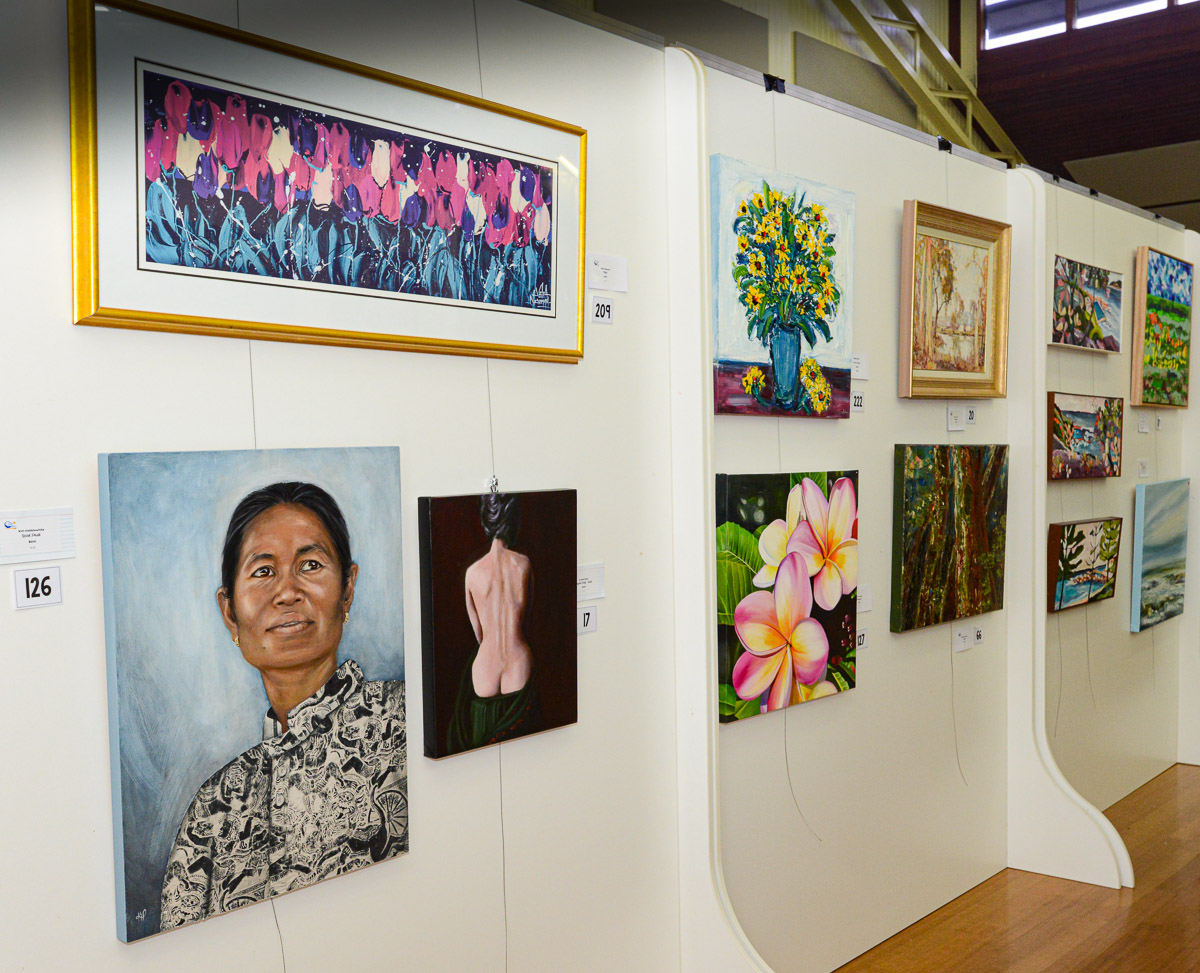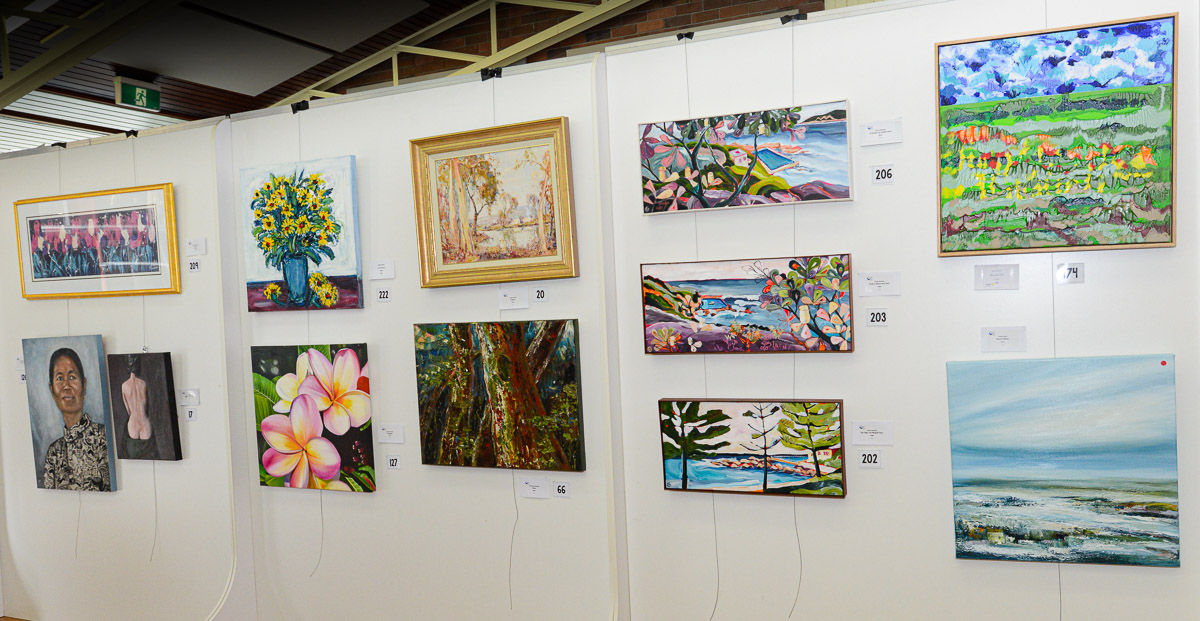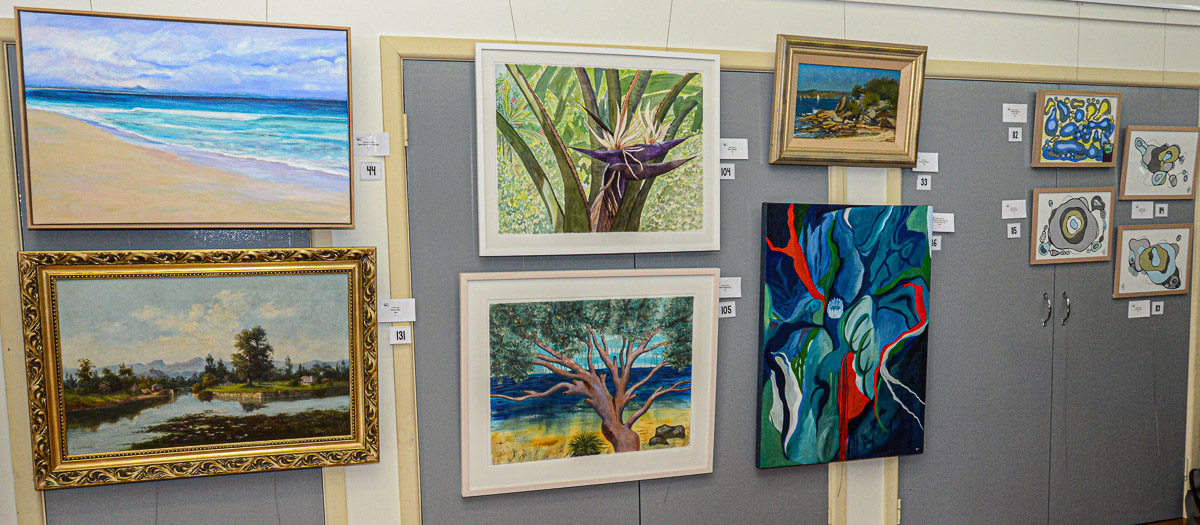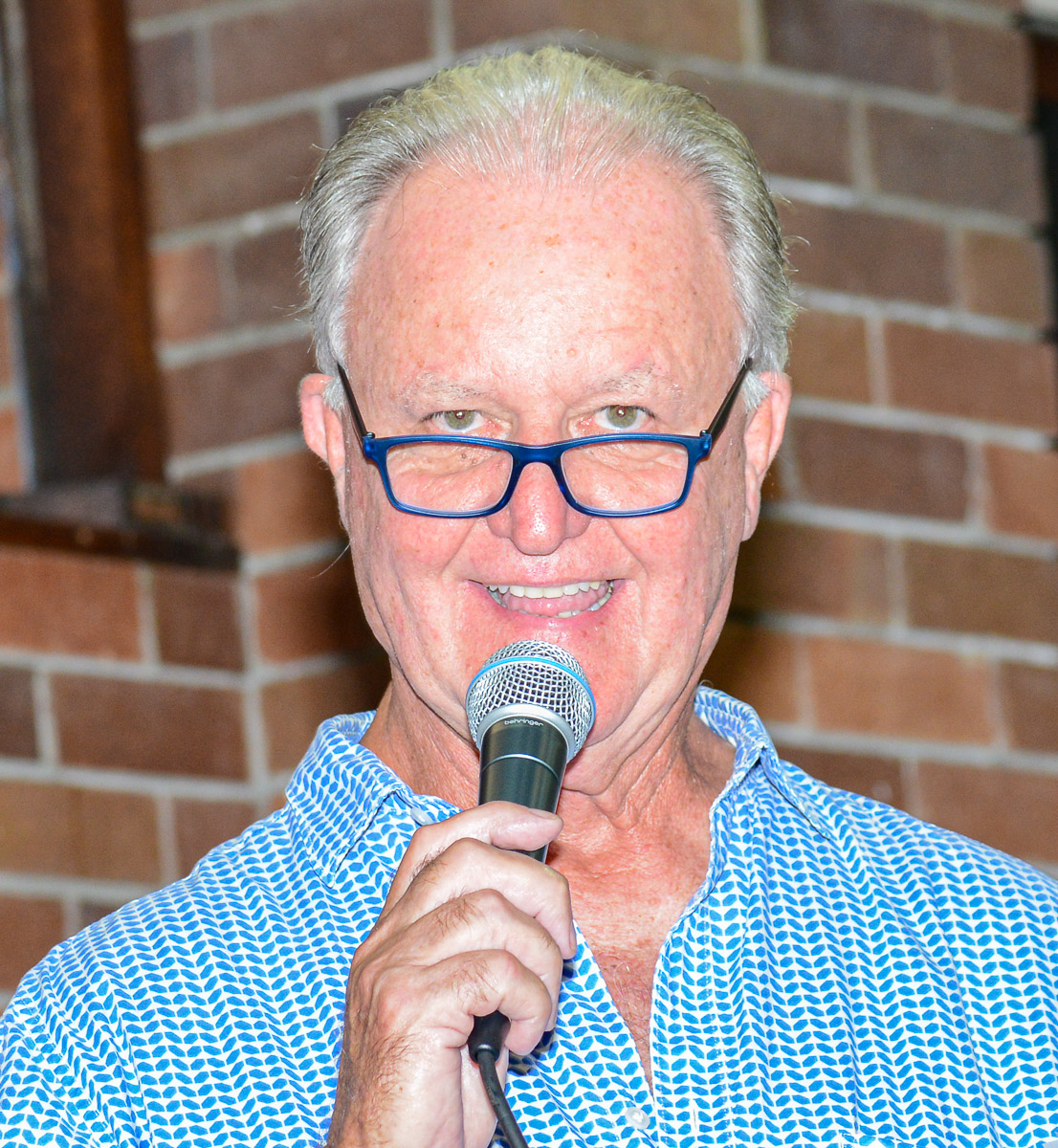 MC Tony James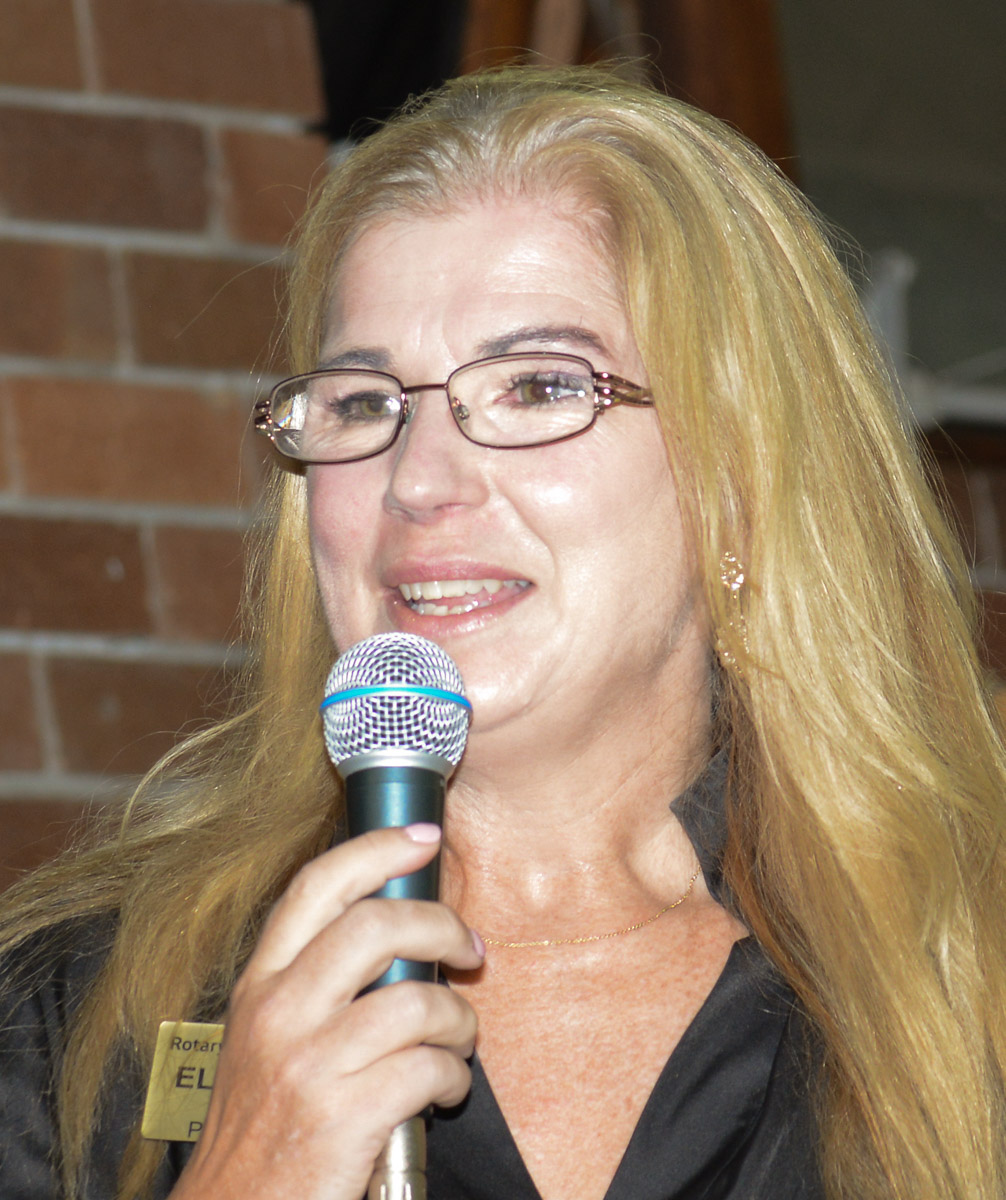 Joint President Elizabeth Lovell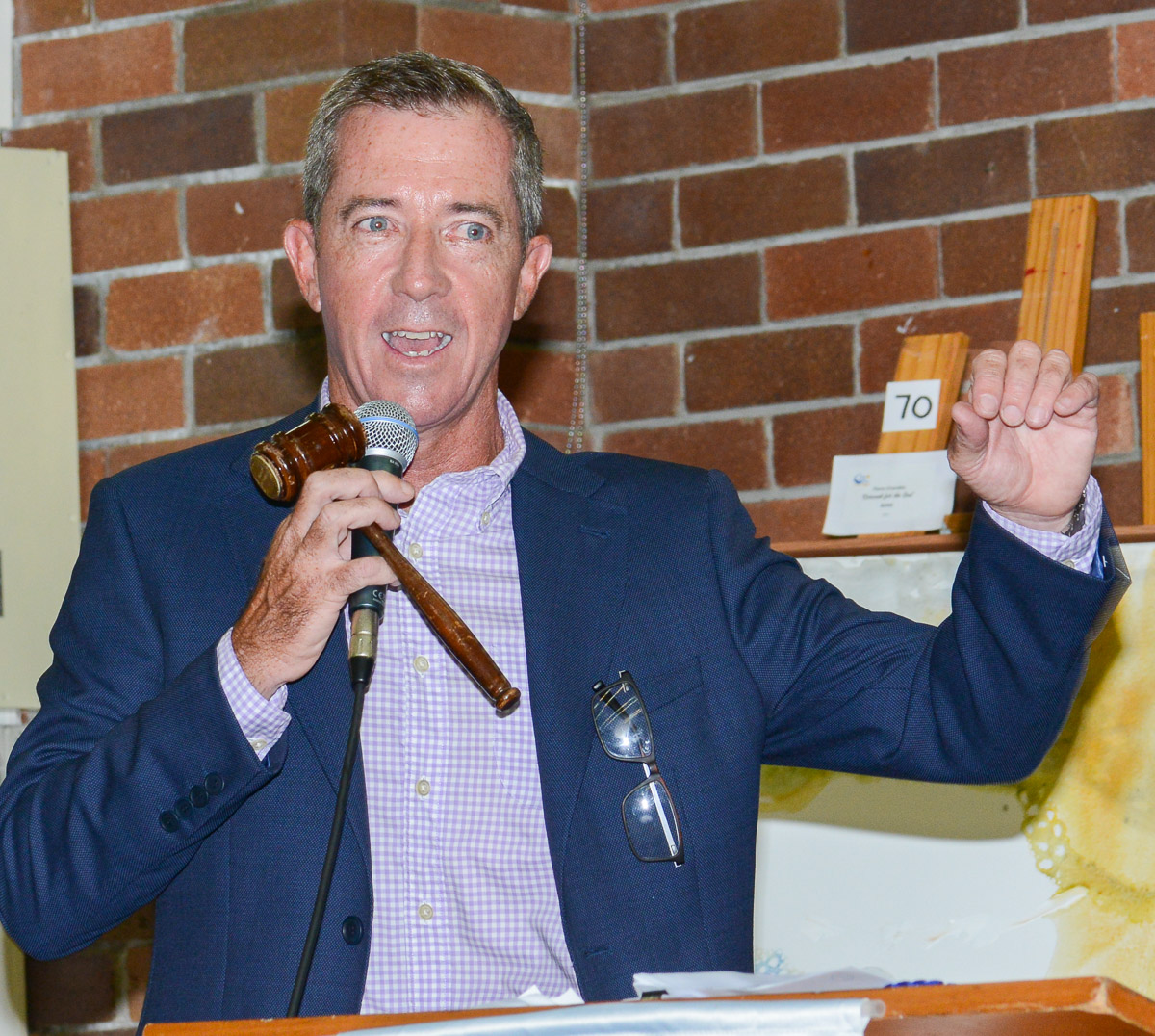 Auctioneer Jake Downs