February 5 - 11, 2017: Issue 299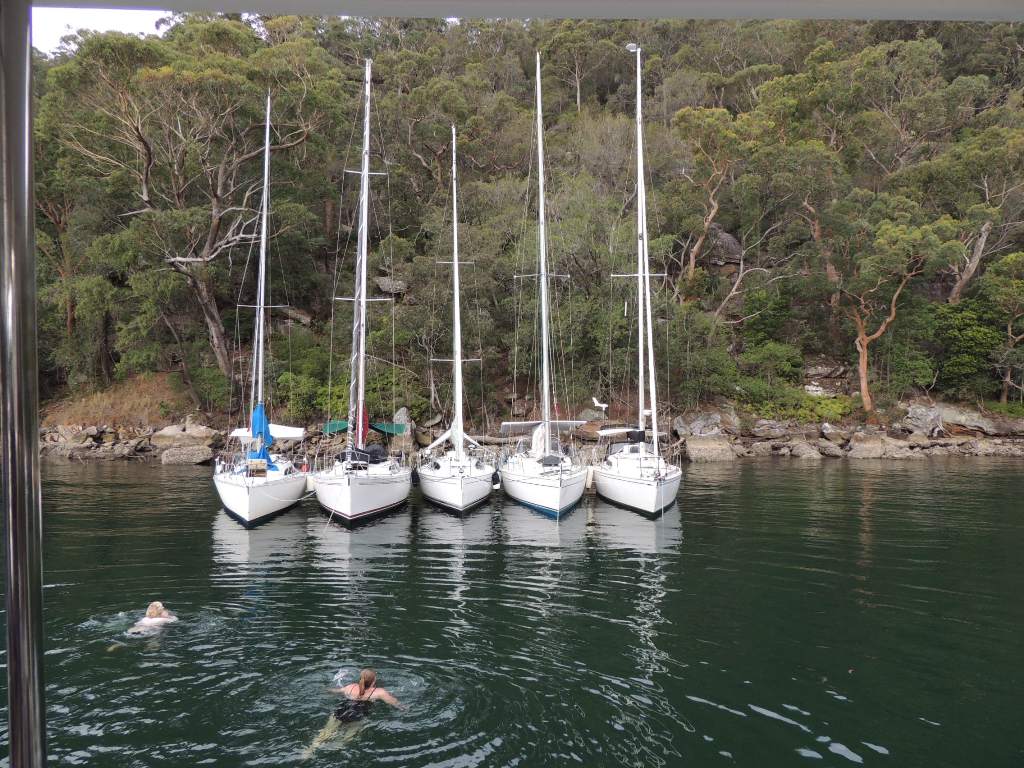 Up River
By Robyn McWilliam
Downtime after Christmas soothes the soul. A brisk southerly assists Red Red Wine's annual pilgrimage up river. With just a no.2 headsail, we motor sail towards Lion Island crouching in the entrance to Broken Bay.
Pittwater is scintillating as usual under blue skies. Rounding West Head's sandstone cliffs, incoming swells require steering effort. Water darkens, gusts hit and my yacht surges along past the sandy strip of Patonga Beach then the opening to the Hawkesbury River.
Gum tree-clad headlands surround this waterway making it such a special escape. Almost everyone that owns a boat is out on the water at this time of year. As well hire craft of small fishing boats and laden houseboats are puttering about. Luxury cruisers roar past creating monstrous wakes rushing to claim a spot.
There are five yachts and Toni's power boat in our gathering this year. We arrive in Castle Lagoon, anchor and join the raft up. Stern lines tied to dead logs, we face south in case of bad weather. It is the hottest ever over the next four nights so the sun awning is a bit of a saviour. Dunking in the water is gloriously refreshing. Staying wet cools the body down; I sit in the cockpit hoping for a breeze.
Toni spends time swanning around on the water, her tangerine parasol matching the beak of her Christmas present. One afternoon we take our nibbles and wine aboard and motor up Smiths Creek checking out the boats in each arm. We pick up a mooring off Cottage Point to catch a breath of air. With fresh prawns and oysters purchased earlier from the bell-ringing seafood boat we enjoy happy hour on the spacious deck.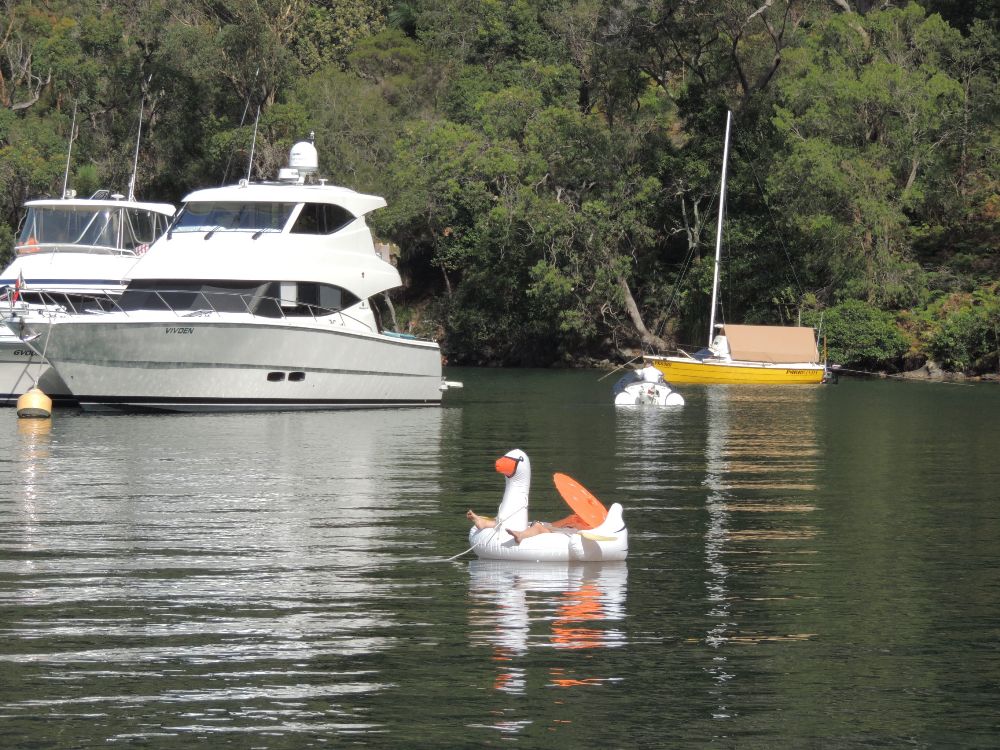 Toni swanning around

Most mornings we kayak over to Cottage Point Kiosk for coffee or milkshakes. Tinto, my labradoodle, lazes on the front of mine, awaiting her walk.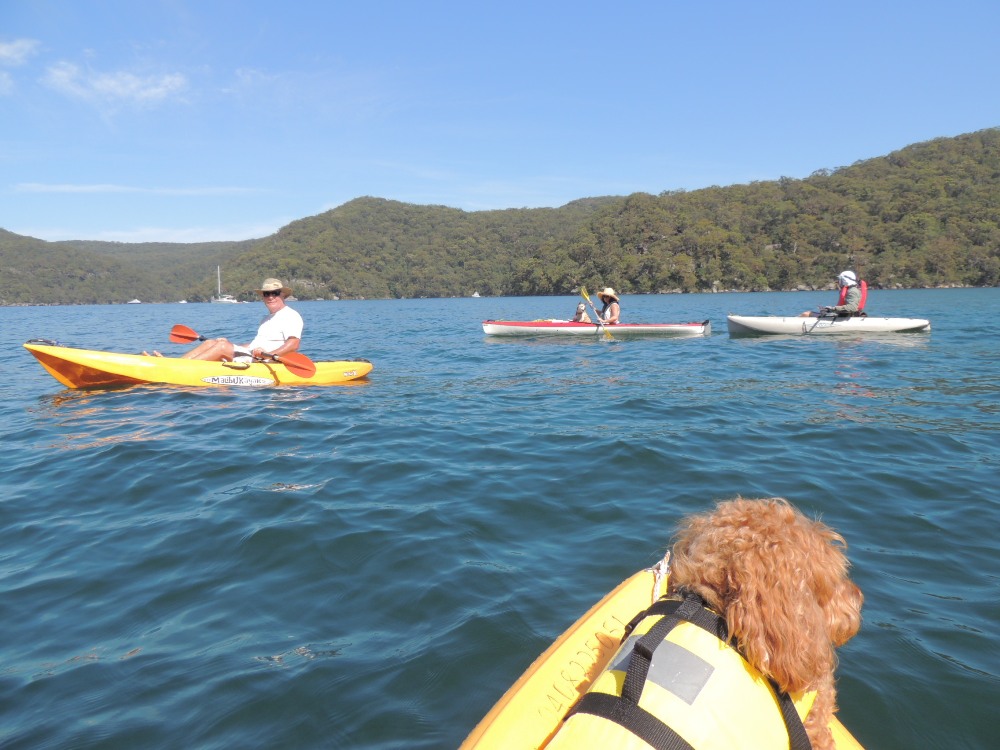 Kayaking to Cottage Point

One day we paddle along the shore of Yeoman's Bay communing with the bush. Gliding past sandstone weathered in intriguing shapes, I revel in its hues ranging from beige to rust. The apricot branches of angophoras and green spikes of grass trees stand out in the bush. Water sluices among crusty oysters.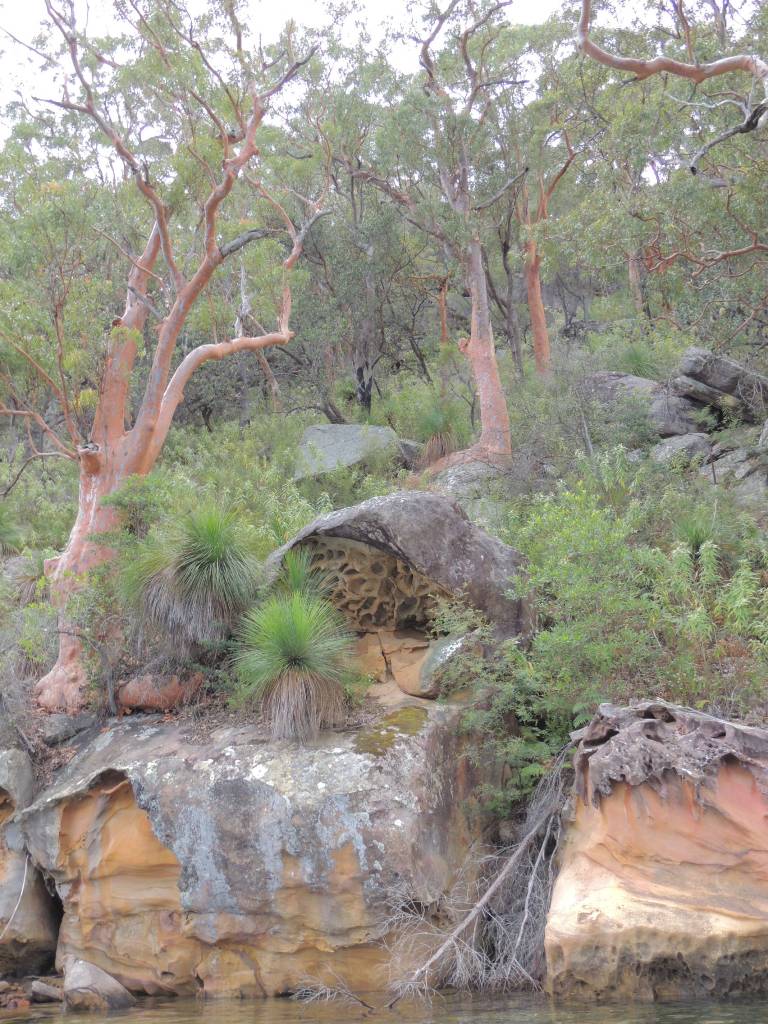 Apricot angophoras and grass trees

In the mangroves a spider unsuccessfully tries for a ride on my paddle. Arachnids and I don't kayak well together. On dusk the cicadas' final crescendo brings quiet and stillness to our watery surrounds. After dinner, in darkness, Keith strums his guitar.
Our relaxing days over, a burst of fireworks over Pittwater ushers in 2017.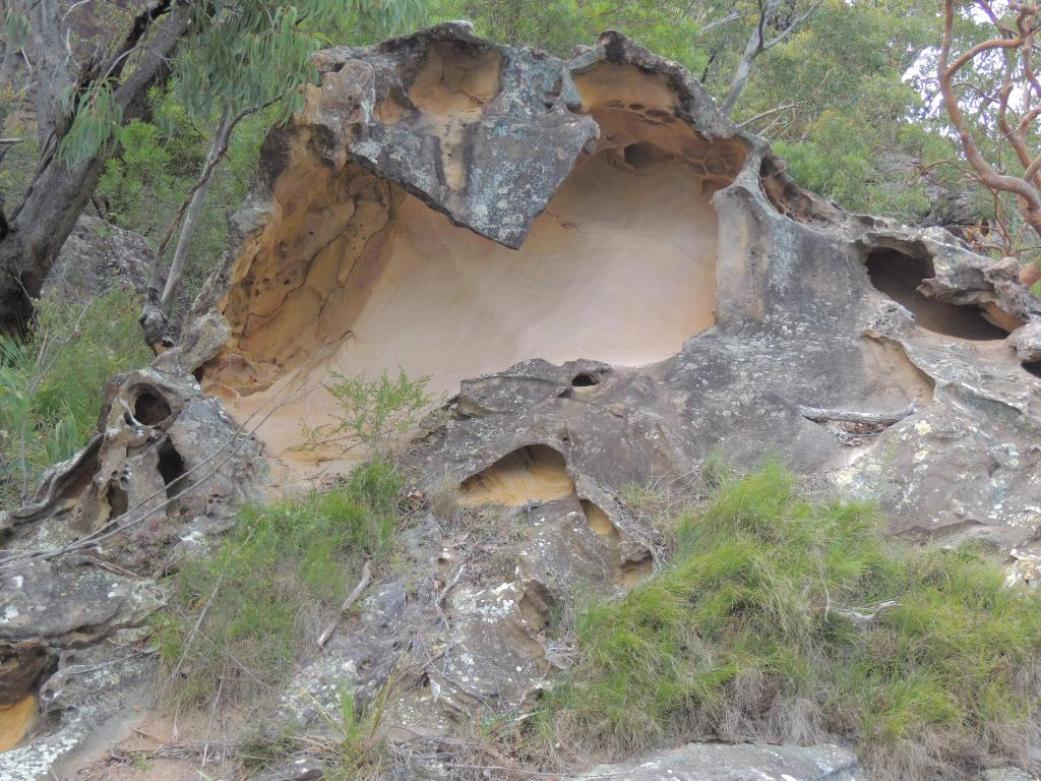 Article and Photographs by Robyn McWiliam, 2017.