December 3 - 9, 2017: Issue 340
Tyler Wright Wins WSL World Title No 2 In Epic Conditions At Maui Pro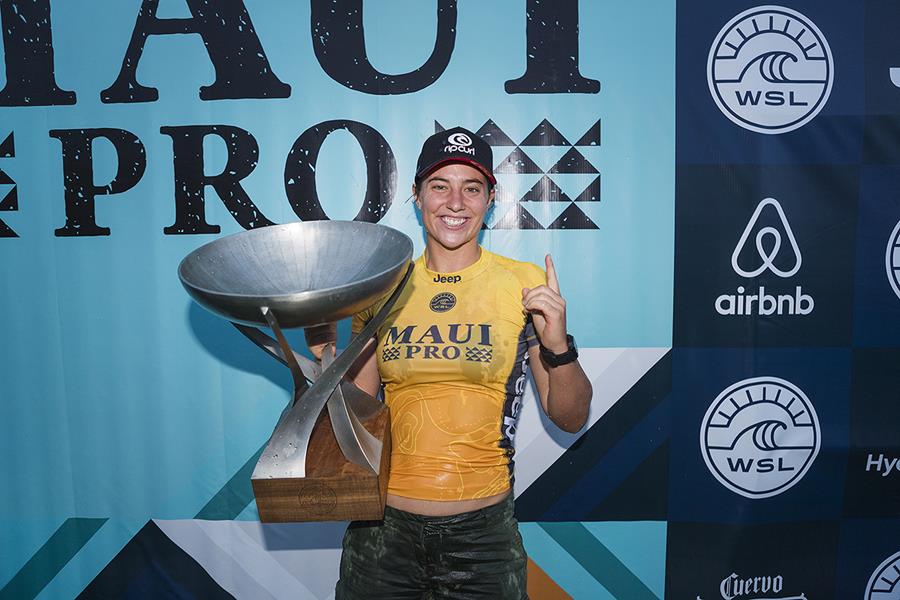 Image: Australia's 2 x World Surf League (WSL) Women's World Champion Tyler Wright celebrates in Hawaii. Image credit: World Surf League
Tyler Wright Wins WSL World Title No 2 In Epic Conditions At Maui Pro
COOLANGATTA/QLD
December 1st, 2017
Tyler Wright claimed her second World Surf League (WSL) Women's World Title today in perfect waves at Honolua Bay in Hawaii.
Five-to-seven foot (1.5 - 2.1 metre) offered pristine conditions for the competitors. Massive upsets followed in Round 4 and the Quarterfinals, where Wright garnered the World Title by day's end.
"Today was perfect," said Wright. "I was so excited to be in this event and excited to be in this position. I have just been having the best week and I cannot explain how much this week has meant to me. We've just had a sick team and everyone has been amazing. All through the year, there have been little ups-and-downs, but to be in this moment right now in the position -- I was happy before I won and I am just as happy now."
The now two-time WSL Champion, Wright, came into the event in second place on the Jeep Leaderboard and as the defending event winner. Last season, the young Australian came charging through 2016 with a newfound determination and confidence, resulting in five CT wins (Gold Coast, Margaret River, Rio de Janeiro, Lower Trestles, Maui) and the world surfing crown. Wright continued the momentum into this year, locking in one event win at the Oi Rio Pro. In a dramatic turn of events, Wright suffered a knee injury just before the CT event in Cascais, Portugal but has since surfed her way to a huge comeback, climbing up the rankings to second and putting herself back in the World Title race to clinch the Championship again.
"This year definitely had its challenges, but I do not look at them that way," Wright commented. "It was such a time of learning and growing that I took so much more from it than the knee injury itself. This year has just been one where I could have bowed out a lot of times but chose not to. I wouldn't be here if it wasn't for my team. They brought me back in from Portugal and the work they did in France was absolutely incredible. It is hard to explain how much they showed up and made sure I was in the right headspace to go out and compete and bring it to Maui in the end."
With the major eliminations of World Title contenders Sally Fitzgibbons (AUS) and Courtney Conlogue (USA), Wright's last obstacle to claiming the title came down to the Quarterfinal matchup against event wildcard Brisa Hennessy (HAW). Hennessy, who played spoiler yesterday with her elimination of Fitzgibbons, could not find her rhythm in the heat and gave Wright her big victory with a 16.10 (out of a possible 20) two-wave score.
"It was not just one and done after winning last year," continued Wright. "I decided in 2015 that I was going to win one every year and I want to hold true to that. Working with Glenn [Hall] over the last two years has been incredible. We have this long plan, and I plan to stick to it. Back-to-back is just a true testament to his dedication and the work he puts in non-stop. It takes a team to do this, so I want to thank him and everyone who has gotten me to this point in life. It is just nice to be here. Thank you."
Conlogue's World Title hopes were dismantled for the third year in a row after losing to Nikki Van Dijk (AUS) in Round 4 Heat 3 today. The nail-biting heat between Conlogue and Van Dijk saw the Australian capitalize on her first and last waves for a slight 2.41-point advantage over the American. Current World No. 2 Conlogue faltered on multiple attempts as she looked for a minimal 6.11 to overtake Van Dijk. Conlogue's elimination gave Wright the opportunity to take down her second World Title in the Quarterfinals.
Despite taking out Conlogue in Round 4, Van Dijk fell to Malia Manuel (HAW) in the Quarterfinals and will be eliminated in Equal 5th place from the Maui Women's Pro.
Stephanie Gilmore's (AUS) impeccable form at Honolua Bay continued after posting another near-perfect 9.50 in her Quarterfinal heat against Silvana Lima (BRA). Although Gilmore could not earn her seventh World Title, the decorated competitor looks unstoppable in her hunt for a history-making, fourth Maui trophy.
"I said I wanted to start the year at the top and then had a dip, so I want to finish at the top and that means to try and win the event," Gilmore said. "I am stoked for Tyler [Wright] winning again! She's an incredible surfer and to go through a knee injury and still win a World Title is unbelievable. I'm just really happy for her."
In another huge event upset, rookie Bronte Macaulay (AUS) took down Carissa Moore (HAW), three-time WSL Champion and two-time event winner, in the final Quarterfinal heat to close out the day. Macaulay's backhand attack was relentless from start to finish, opening with a 6.33, and continued to show her persistence until the final horn sounded. This marks the 2017 CT rookie's best result of the season and will face off against Manuel in her Semifinal match-up.
Event organizers will convene tomorrow morning at 7:30 a.m. to assess conditions and make the next call.
The event will be broadcast LIVE via WorldSurfLeague.com, the WSL app and on Facebook LIVE via the WSL's Facebook page. Also check local listings for coverage on CBS Sports Network in the U.S., Fox Sports in Australia, ESPN in Brazil, Sky NZ in New Zealand, SFR Sports in France and Portugal, Sport TV in Portugal and the EDGEsport Network.
For more information, check out WorldSurfLeague.com
Tyler Wright's 2017 WSL Championship Tour Results:

Roxy Pro Gold Coast: 5th
Drug Aware Margaret River Pro: 2nd
Rip Curl Pro Bells Beach: 3rd
Oi Rio Women's Pro: 1st
Outerknown Fiji Women's Pro: 3rd
Vans US Open of Surfing: 5th
Swatch Pro at Trestles: 9th
Cascais Women's Pro: 13th
Roxy Pro France: 3rd
Maui Women's Pro: TBD
By Surfing Australia