February 5 - 11, 2023: Issue 570
Two New Surfboats For Avalon Beach Surf Life Saving Club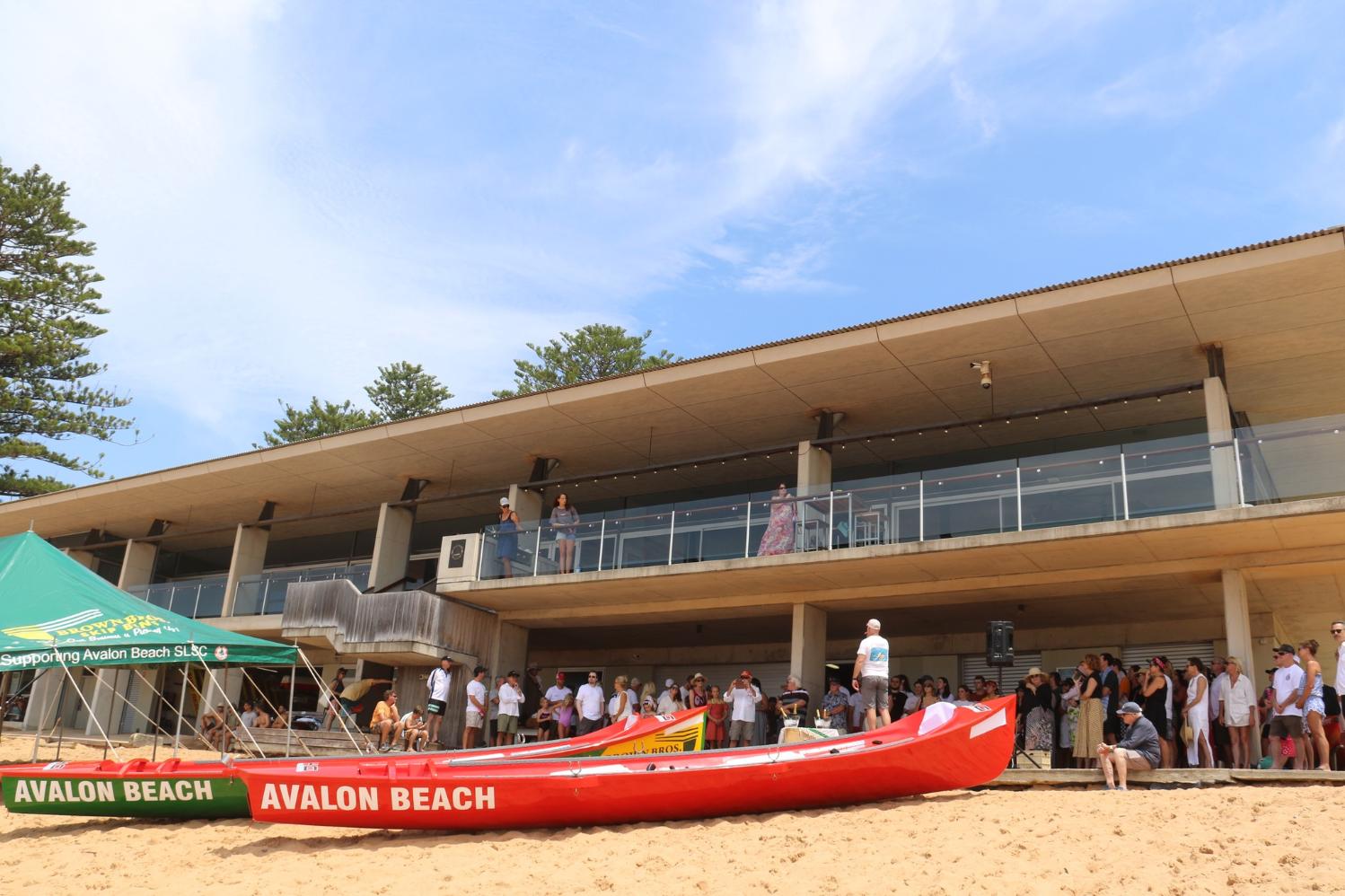 Two new surfboats for Avalon Beach Surf Life Saving Club launched and named on Sunday January 29 fittingly honour two people who've played a big role in the Club's surfboats and in the Club's overall history.
A large crowd of current and former club members, Life Members and guests applauded the naming of the boat "Sue Millar", as the perfect choice for one of the new boats, honouring the widow of surf boat legend and Life Member Rick Millar.
The other new boat was named "Brent Walker 93", also a perfect choice,honouring Brent who was part of the Club's first Open Surfboat Rowing Championship Crew (Brent, Darryl Johnson, "Hector" Heathcote, Nathan Press, Rick Millar sweep) who won the Gold Medal in 1993. Brent sadly passed away in early 2018.
Both boats were made possible through the sponsorship of Brown Bros. Skip Bins.
Sue was described by Life Member and past Deputy President Peter Carter not just as "the lady behind the man" but she herself played a large part in the Club's surfboat family. Together with their two young daughters Lara and Skye she would accompany Rick and the team to the many carnivals they would compete in around Australia and overseas (USA, South Africa, France) encouraging every one in the team and in her way acting as "team mother" particualrly to the younger boaties, including Pete.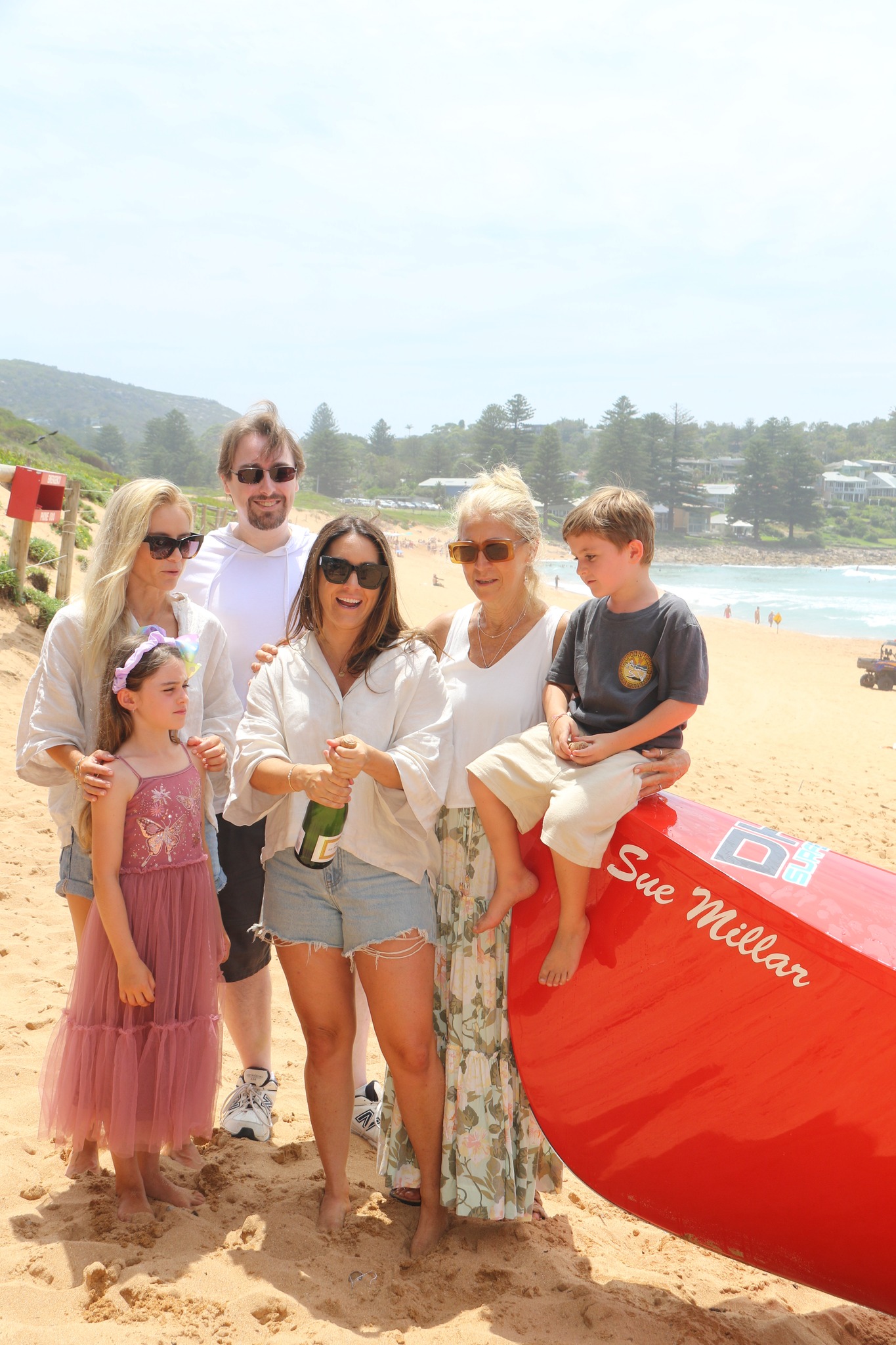 Sue Millar and family
The Millar family, who some would say was headed by Sue (she wouldn't say so... and neither would Rick!) was an integral part of the Club's boat crews and their successes basically dating from the Gold Medal win in 1993 until Rick's passing in late 2018 A surf boat was named in Rick's honour in 2004 and he won his last Australian Gold Medal with an Under 19 Girls crew in early 2018.. a fantastic achievement.
Past President Ash Cardiff, now the Director of Surf Sports and a boatie, reminded the audience that although surf boats were originally used for rescues, today they are mainly for competition, but they are a great way to attract Club members and encourage young people.
Training as a team and competing against other surf clubs are a great way for young people to build their fitness, personal strength, learn teamwork and skills, self discipline and self respect - skills which are necessary in surf rescues as well as for life - as well as having an extended family and having Fun!
Several of the younger members who spoke at Rick's funeral said he gave them life skills and was a big influence on their lives beyond the surf club.
Boaties do surf patrols and several, including Pete for example, are IRB Drivers or crew abd have senior roles in the Club.
The 1993 surfboat competition success as a result of Rick's driving passion for rowing, with active support from Sue, undoubtedly helped attract more people - male and female - to the Club over the years.
Brent Walker was a popular member of the '93 Gold Medal Crew, Consequently as part of that team he also played an important role in the Club's growth, which went on leading to more competition successes in surf boats in particular.
Brent was a true gentleman, quiet, always willing to help, and was well liked in the Club.
Three of the remaining members of the '93 crew, "Hector" Heathcote - who spoke about Brent - Darryl Johnson and Nathan Press took Brent Walker '93 on its inaugural foray in the surf on Sunday. The fourth crew member for the day, Craig Goozee OAM is a Long Service Club Member and boatie, who also knew Brent well. (A pretty good effort just quietly considering the Gold Medal these boys won was 30 years ago).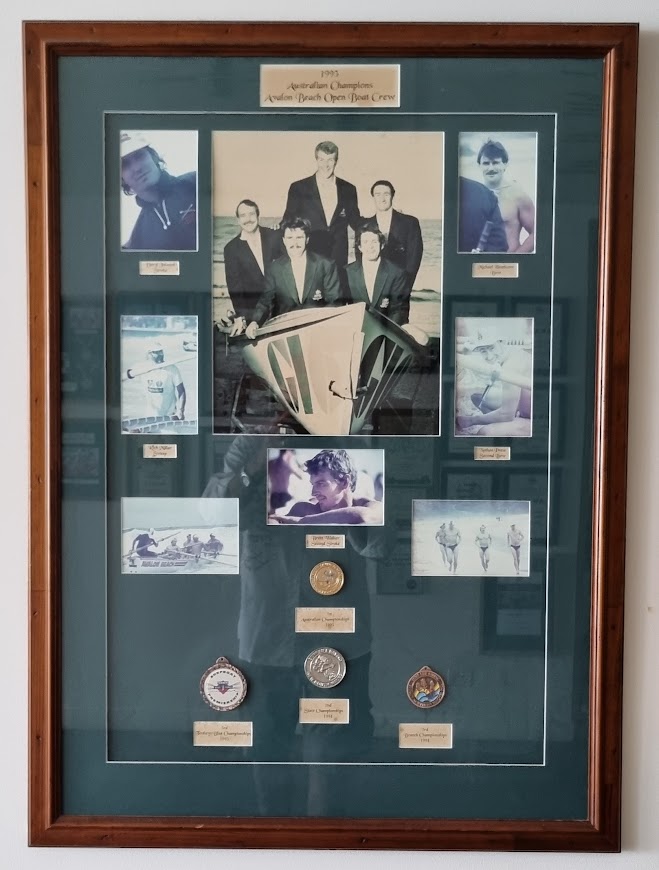 The 1993 Australian Open Surfboat Champions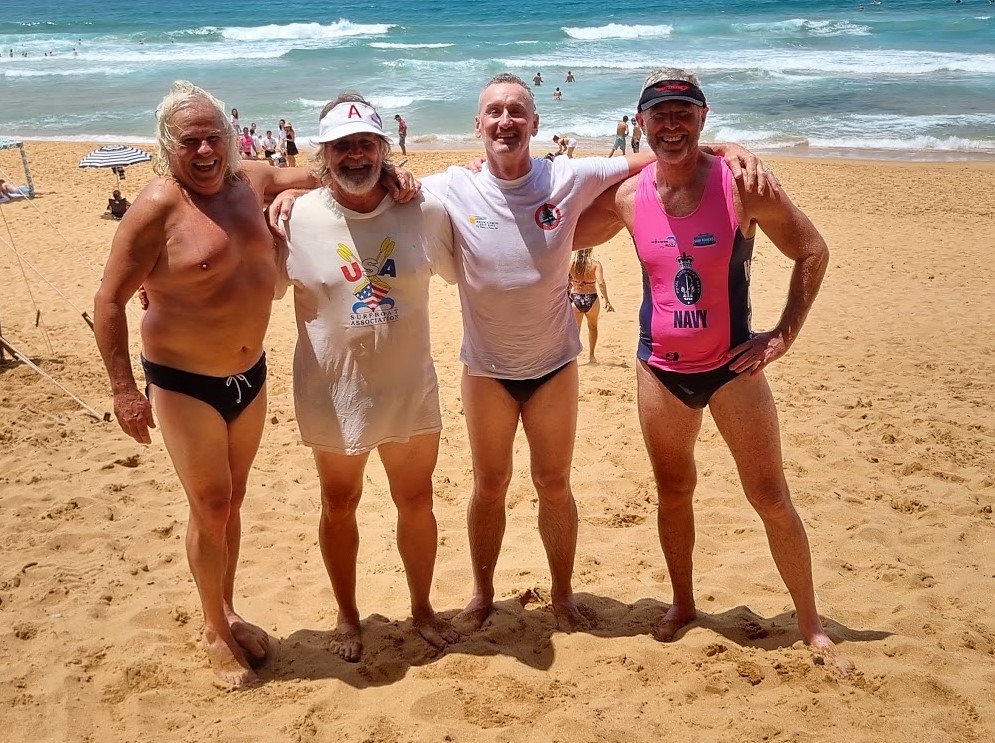 Today...l to r: Hector Heathcote, Darryl Johnson, Nathan Press and Craig Goozee OAM
Sue and Brent's individual recognition are both well deserved.
Sue, Rick and Sue's daughters Lara and Skye, grandchildren, Rick's son Chad and his sister Trush Bailey attended the christening of Sue's boat.
Brent 93 had the champagne poured on it by his wife Monique, and their sons Oscar and Huxley.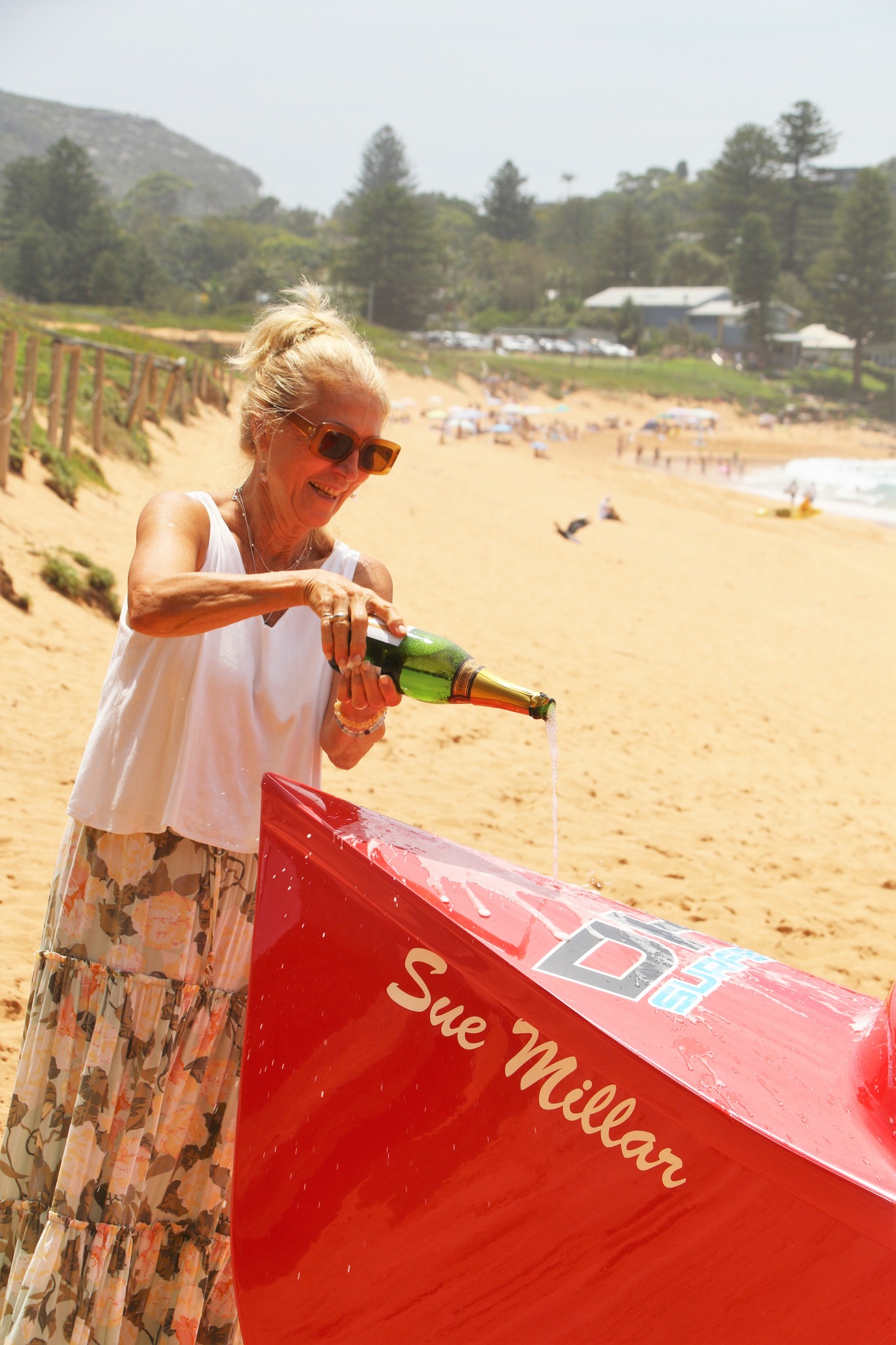 Sue Millar christening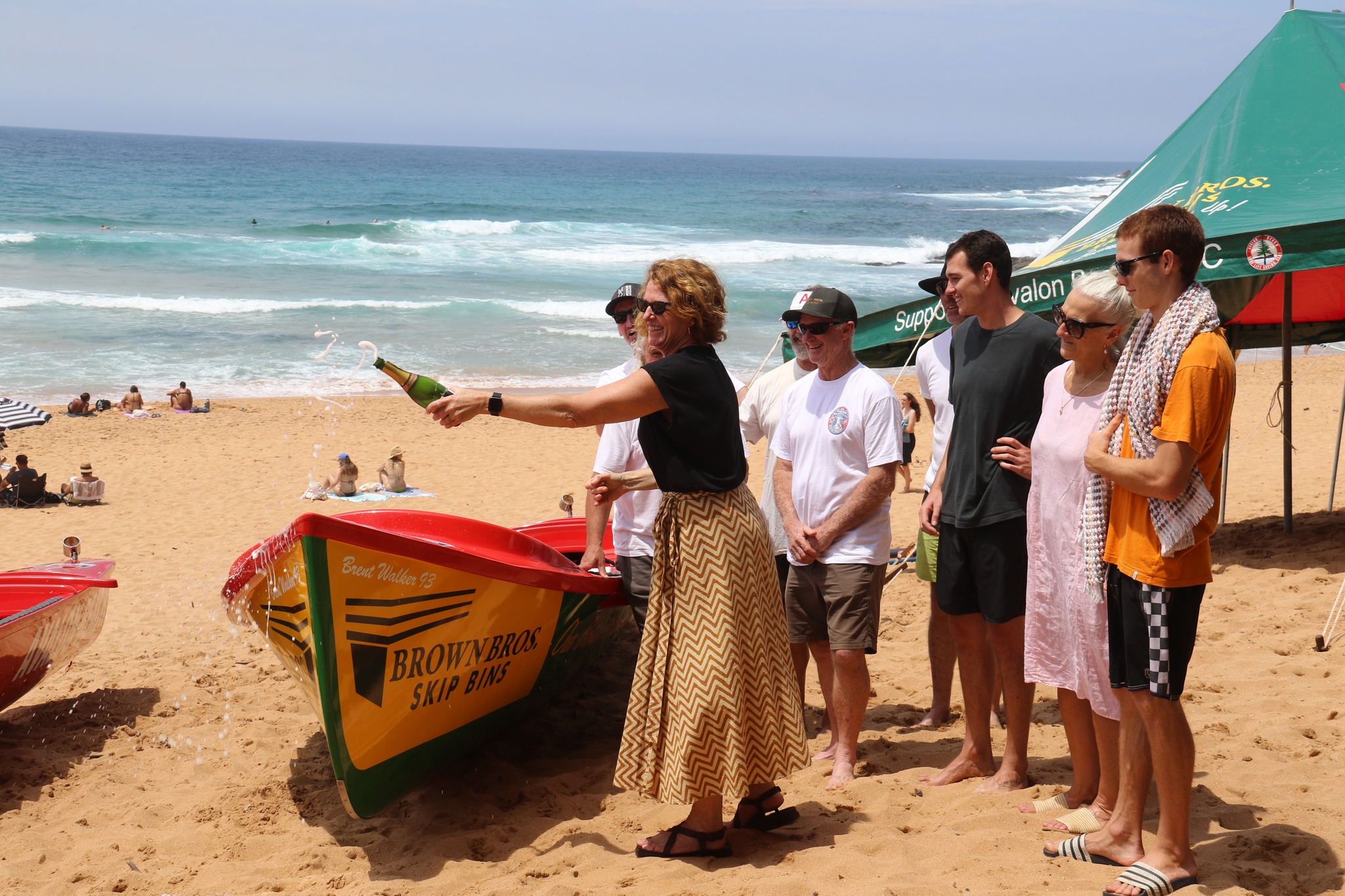 Brent Walker 93 christening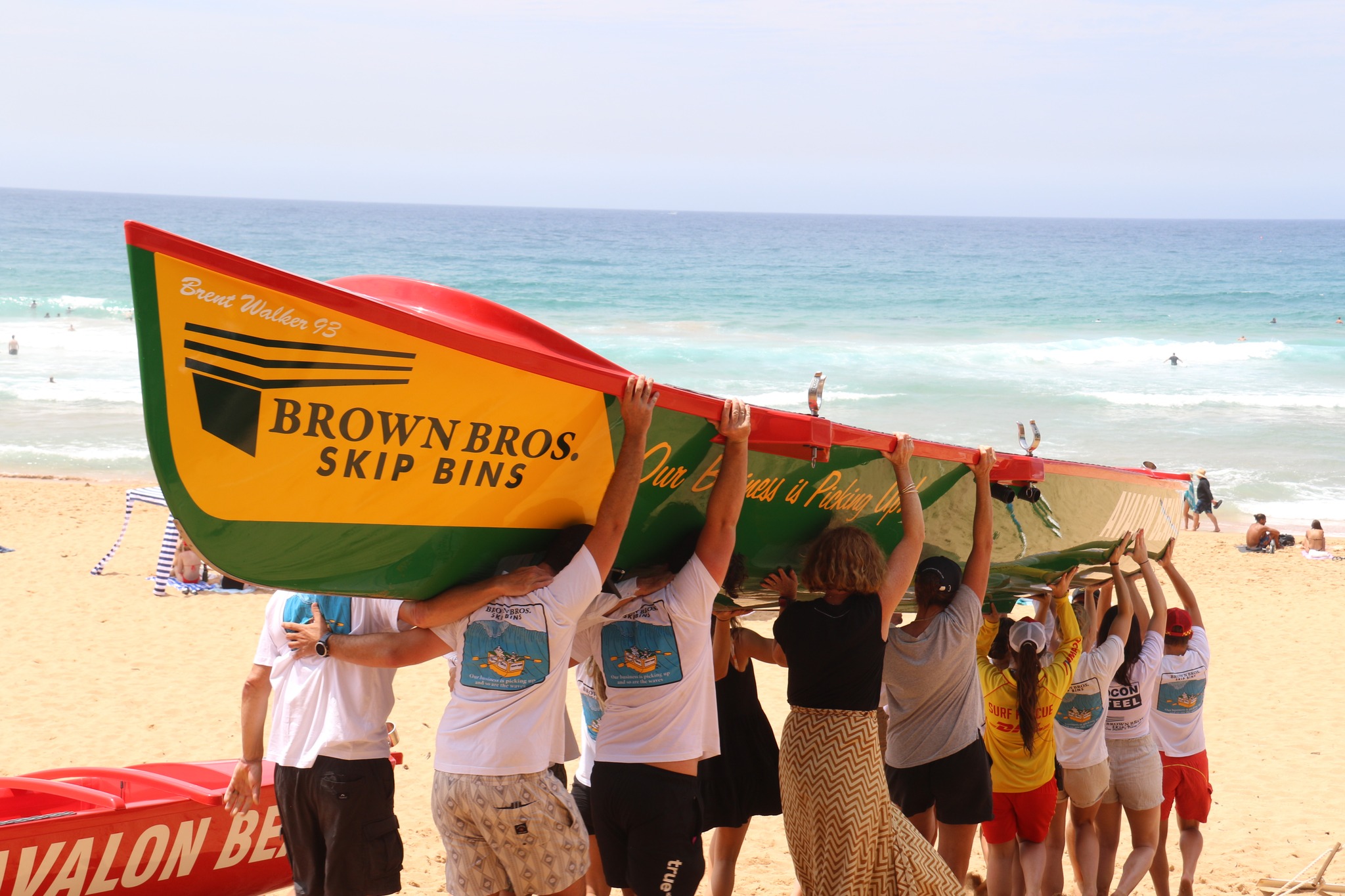 off for the Inaugural Row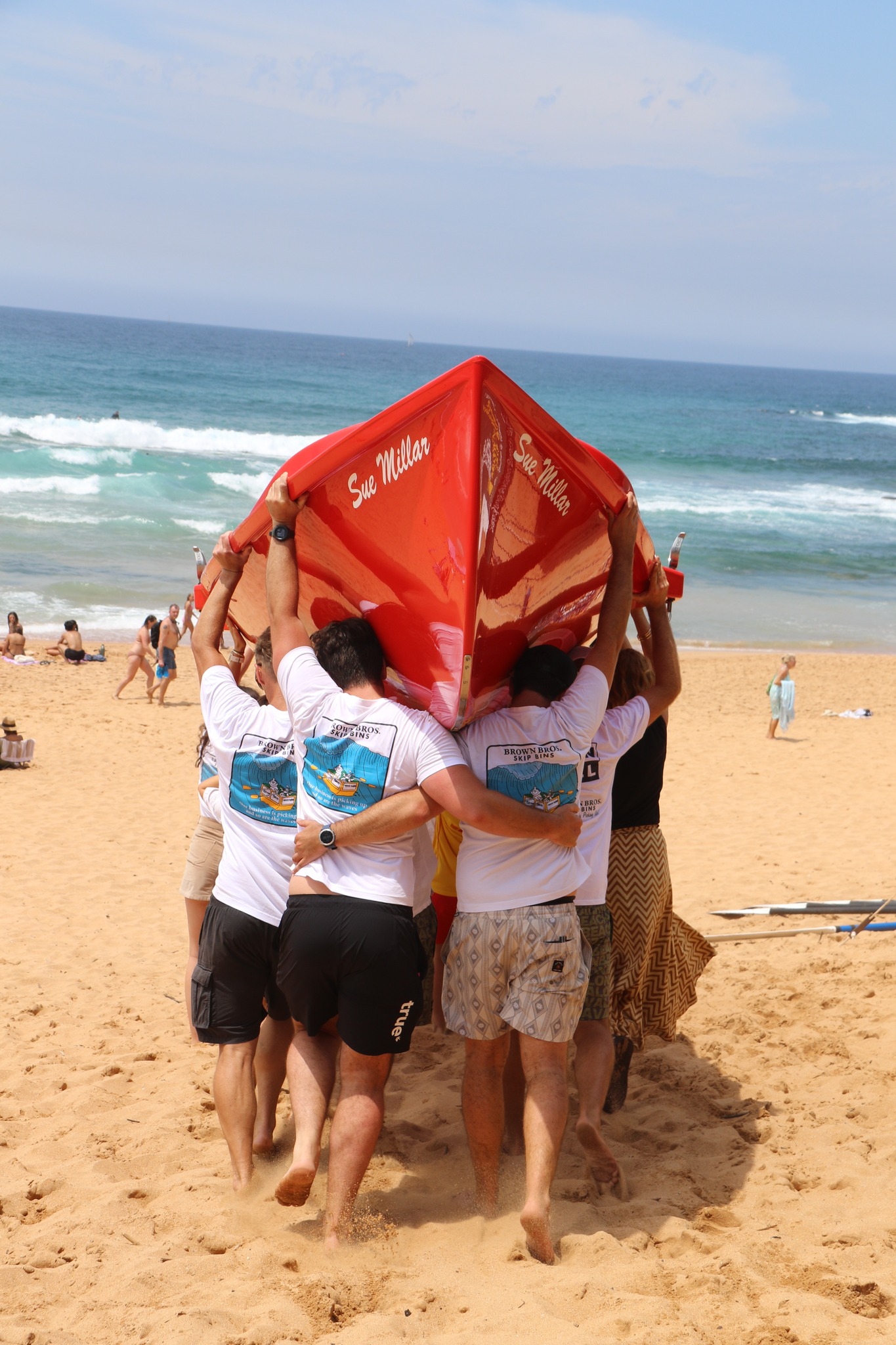 off for the Inaugural Row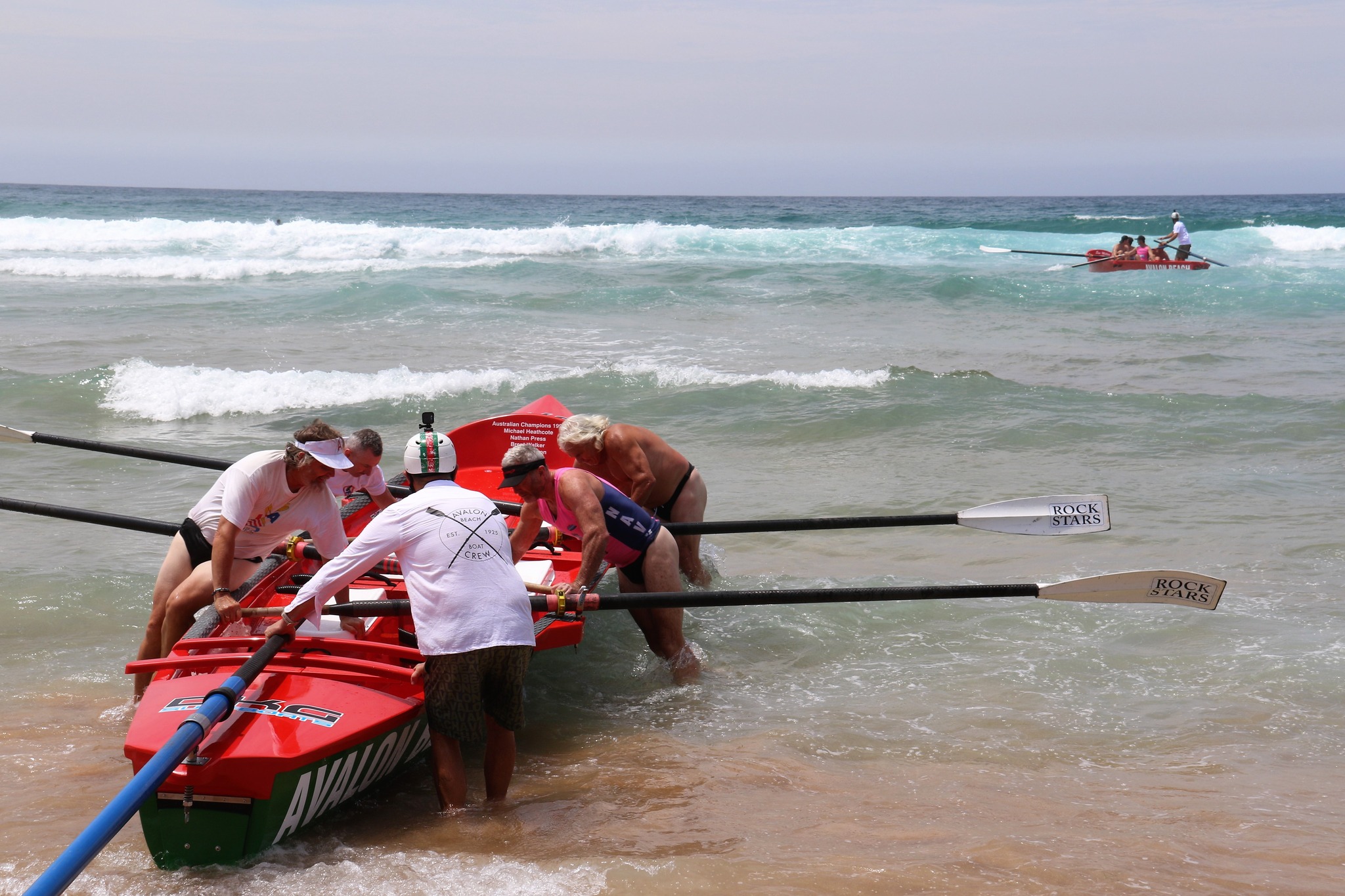 Here's to many medals ahead for their boats!
New Club members are always welcome. If anyone thinks they may be interested in having a go in surfboats or any other surf club activity, join the club to gain their bronze medallion please contact the Club through avalonbeachslsc.com.au
It's a great way to meet new friends and have fun while doing worthwhile community service as a volunteer surf lifesaver.
Report by Roger Sayers OAM
Life Member, Publicity Officer
Photos by Roger Sayers and past-Presidents of ABSLSC Christine Hopton OAM and Richard Cole.