March 13 - 19, 2022: Issue 530
Tour de Cure 2022: Pittwater Connections in John & amanda Fuller + Co-Founder Samantha Hollier-James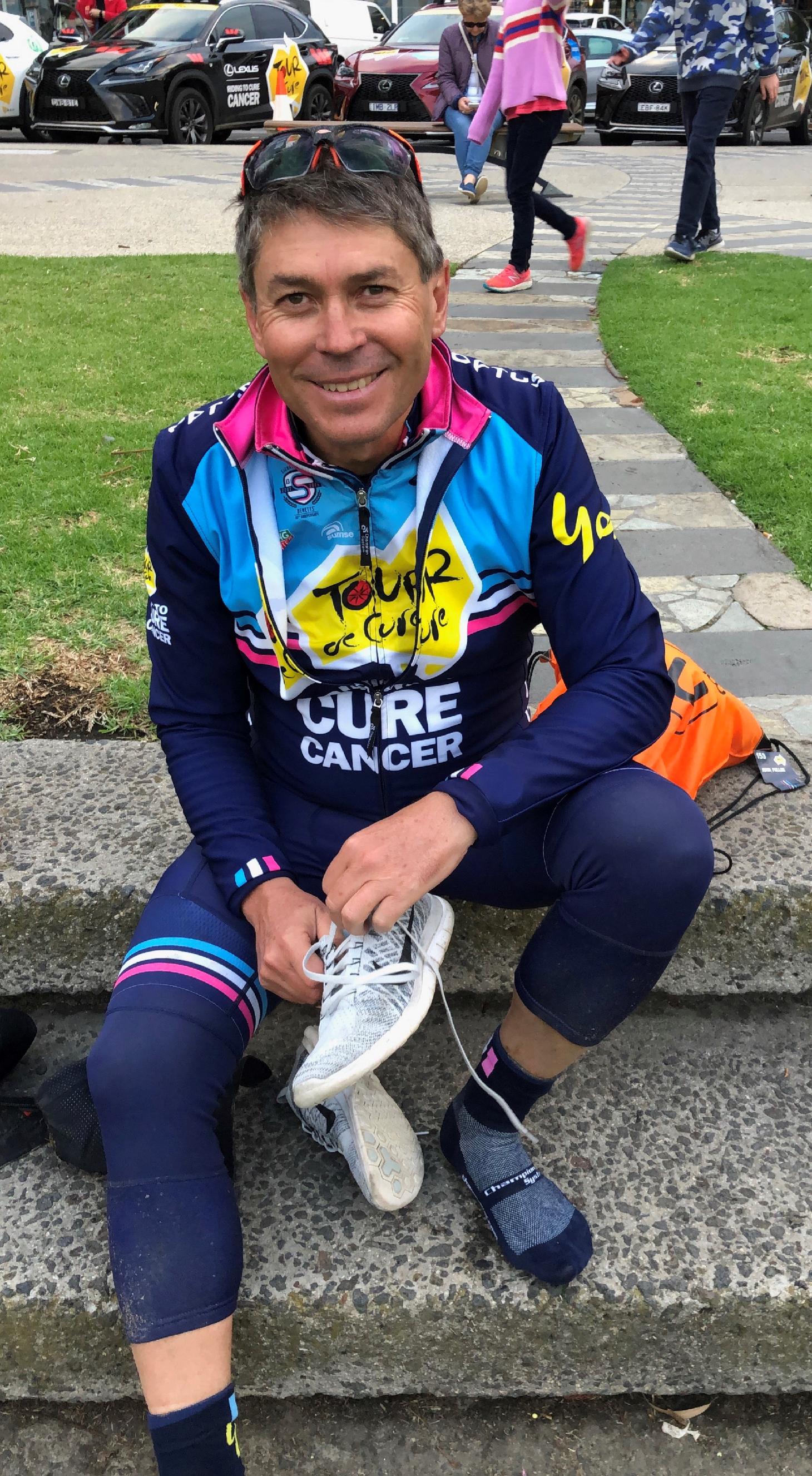 John Fuller in Geelong, ready to go. Photo: Amanda Fuller



"DOING SOMETHING TO HELP SOMEONE ELSE WITHOUT LOOKING FOR ANY SORT OF REWARD IS ONE OF THE MOST SATISFYING THINGS YOU CAN DO"
This quote by Mark Beretta OAM in 2019 resonated with local residents John and Amanda Fuller.
Bring on 2022 and avid cyclist John Fuller has again put his hand up to ride on what will be his fourth Tour de Cure signature tour this year, from Geelong-Canberra 11-19th of March -1400km riding with 14000m climbing to raise funds in cancer research.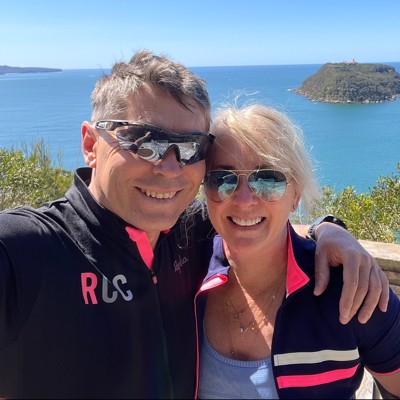 His wife, artist Amanda (Pittwater Artists Trail) has signed on this year as support crew and has also donated an original oil painting to assist with fundraising.
John is a Neurosurgeon at Macquarie Neurosurgery looking after brain and spine tumours in both Sydney and Canberra and is therefore at the frontline caring for patients as they battle with cancer.
You may have spotted the TDC jersey early mornings around the Northern Beaches as he trained around his busy work schedule...early starts and long days.
One of the reasons John and Amanda chose to support Tour de Cure is because of the impressive track record with all funds raised having led to at least 50 significant cancer treatment breakthroughs.
If you would like to support John and Amanda by making a donation to raise funds for another epic effort please click on the link below and it should take you directly to their fundraising page. Every $50 donated gets 1 entry to win the painting ($500=10 entries! ) as well as knowing your donation will help find a cure. The winner of the painting will be drawn on Sunday 27/3 at the end of the Pittwater Artists Trail first 2022 exhibition at Newport Community Centre.
John and Amanda's Tour De Cure 2022 page: https://tourdecure.grassrootz.com/signature-tour-2022/amanda-johnny
You can follow the TDC team live on Sunrise every morning!

Mark Beretta OAM first joined Tour de Cure for a Signature Tour in 2010, bringing along the Sunrise team and broadcasting live each morning from the road. Since then, he's been back every year and signalled his commitment to the organisation by joining the Tour de Cure Board in 2011.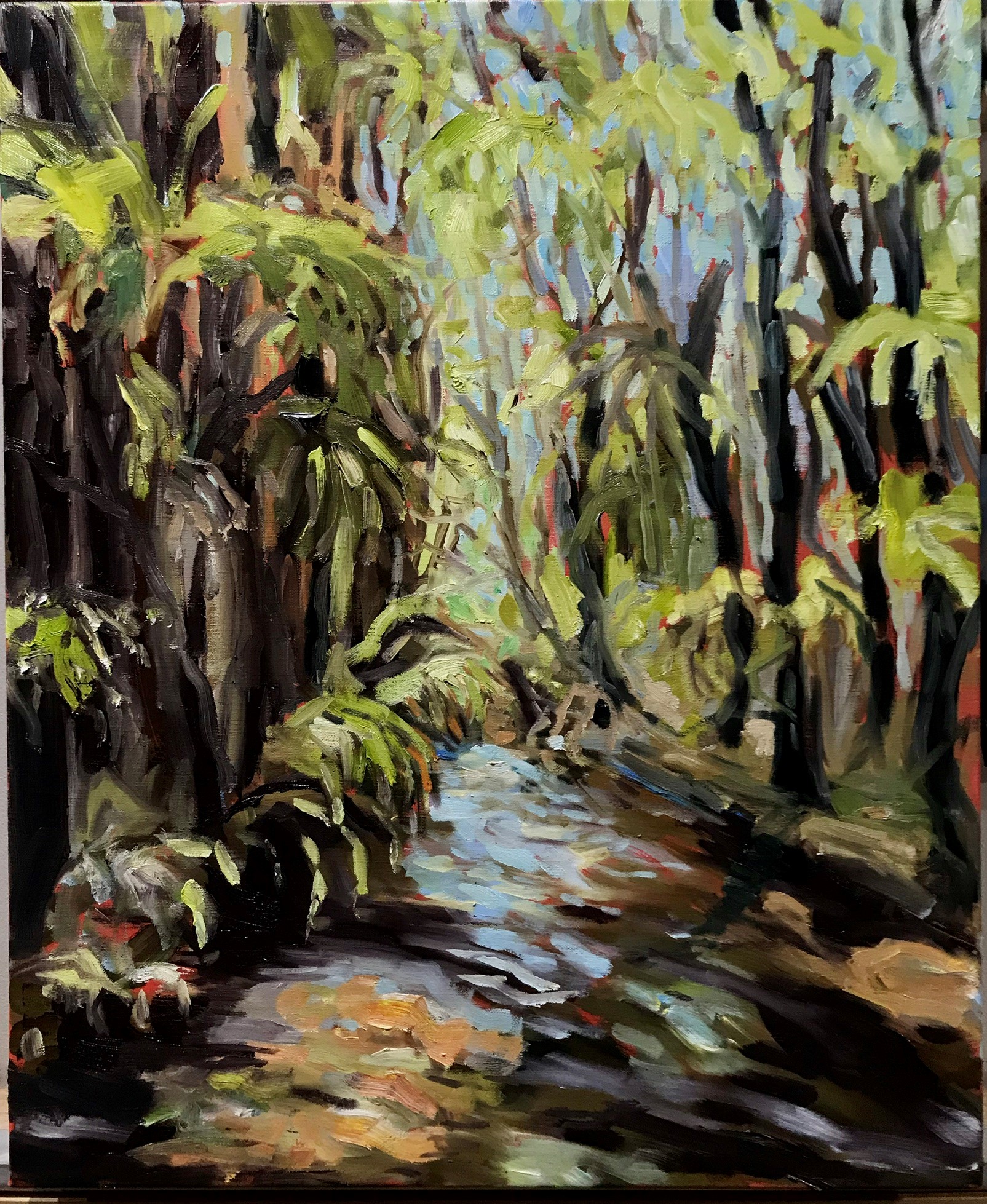 A Reflective Path By Amanda Fuller, oil on linen - Framed

The Fullers aren't the only local connection though.
Finalists in the 2022 Aware Super NSW Community Hero of the Year Award for NSW Women's Week included Pittwater lady Samantha Hollier-James.
Aware Super NSW Community Heroes are women who work tirelessly for their community; she's the first to roll up her sleeves to help others, and motivates those around her to contribute to their communities.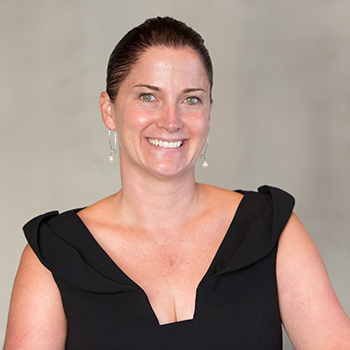 Samantha Hollier-James is a co-founder of Tour de Cure, the charity that raises money to fund cancer research, support and prevention programs.

Mrs Hollier-James was inspired to make a difference when her family was affected by cancer. Co-founding Tour de Cure in 2007, the charity has since raised over $75 million and funded 563 Australian cancer research projects, 57 of which have resulted in breakthroughs.
Tour de Cure has also raised awareness of cancer with 170,000 primary school children with their message "be fit, be healthy, be happy."
Mrs Hollier-James volunteers for Tour de Cure while working professionally as a senior manager in the media industry.
As a co-founder of Tour de Cure in 2007, Sam drew on her personal loss as well as her business, marketing and events experience to help turn a simple idea into an incredibly successful organisation. Sam is passionate about family, friends, community and curing cancer.
Sam also works tirelessly to nurture and mentor young leaders and help people achieve their goals, whatever they may be.
In her commercial role at oOh!media, Sam is responsible for growing clients' businesses through integrated group solutions, and her work has been recognised through winning the B&T Women in Media "People's Choice" Award in 2019.
Sam was a NSW Australian of the Year Finalist in 2018.

Tour de Cure's 2022 Signature Tour commenced on Friday March 11 and will run until the 20th.
Cycling from Geelong to Canberra via Bendigo, Albury and Wagga Wagga, 152 riders and support crew from Tour de Cure are aiming to raise $2million, through their individual fundraising efforts over the last 12 months. This money will go to fund cancer research, support and prevention projects Australia-wide.
This Covid-safe tour means that there will be two teams travelling consecutively, with the second team leaving Geelong on Saturday 12 March. The two teams will then ride 1,445kms to Canberra via Bendigo, Albury and Wagga Wagga.

As part of the tour, the team will fund 9 different cancer grants of $10,000 to the local communities they pass through to help support those affected by cancer in these regions.
Cancer Council, Young, spokesperson Ricky Puata talks about the impact of the $10,000 grant to his region;
"We know that cancer outcomes are among the best in the world but for regional areas in NSW, like Young and districts, outcomes remain poorer than metropolitan areas. This grant funding from Tour de Cure enables Cancer Council to continue our important work"
"We provide information and support for people with cancer. Our free Transport to Treatment service is a practical option for eligible cancer patients to be taken from Young to cancer treatment in Wagga Wagga when they have no other means of accessing their treatment. We provide cancer information for people accessing their treatment and also have a Support Line (13 11 20), which is staffed by trained cancer health professionals to answer questions from Young locals about cancer."
"We are grateful to those who support Tour de Cure and the generosity of the Young community".
Each cyclist has a personal connection to cancer, whether they be survivors, supporting loved ones with cancer or paying tribute to those that have succumbed to the disease.
Gerry Bateman from Bendigo is a cancer survivor and 2022 will be the 7th Signature Tour she has supported. Being diagnosed with a rare and aggressive type of breast cancer in August 2018 did nothing to weaken her resolve.
"I'm really passionate about people getting their [health] checks done," Mrs Bateman said.
She urged women to 'check your boobs', regularly, for any changes.
"It doesn't matter how old you are," Mrs Bateman said.
Loved ones lost inspired her involvement in the Tour de Cure. Her brother, Bendigo inspector and National Police Service Medal recipient Gerry Rudkins, mother, Pat Rudkins, and lifelong friend, Janette Dyall, all died from cancer.
"It makes you feel like you're doing your bit," Mrs Bateman said.
Simon Rountree, CEO, knows the significant impact Covid-19 has had on fundraising, which is why the Tour de Cure team has pushed forward with extensive planning and co-operation within state policies to deliver a Covid-safe event.
"Covid-19 has had a dramatic impact on cancer research, and we just want to get more funds to the researchers to ensure they can continue to find new treatments for cancer. One way that we raise these funds is through cycling events, so that's why we are holding Signature Tour using our approved Covid-safe protocols. Safety of our team and the communities we visit are our highest priority, whilst still delivering the funds to cancer research."
From humble beginnings in 2007, the Tour de Cure community has grown to become a national movement of thousands of people, walking, running, riding and swimming to raise awareness and inspire support in the fight to cure cancer. The generosity of our supporters has enabled us to raise $75 million, fund 563 cancer projects, educate 175,000 school children on how to prevent cancer and we're proud to have contributed to 55 scientific cancer breakthroughs.
Cancer Projects & Grants
9 communities (Geelong, Ballarat, Bendigo, Wangaratta, Beechworth, Albury, Wagga, Young, Goulburn) will be presented with a $10,000 donation.
1. GEELONG - Peace of Mind Foundation, Brain Cancer Support. The Survivorship Diary is a resource designed to assist patients diagnosed with a brain tumour or brain cancer, to keep track of appointments. medications and important questions to ask.
2. BALLARAT - Ballarat Regional Integrated Cancer Centre (BRICC) Wellness Centre. Funding a sleep physician to discuss issues with sleep and give patients tips and information on strategies that could be implemented to improve their sleep
3. BENDIGO - Bendigo Health Fundraising & Foundation. Connecting local patients with a range of supportive services and complementary therapies such as oncology massage, yoga classes, reflexology, tai chi, pet therapy and mindfulness sessions.
4. WANGARATTA - Northeast Health Wangaratta. Much needed equipment for our Oncology Patients - More appropriate treatment chairs are needed that ensure the comfort of our patients and ease to undertaken treatment. Our Wig and Headwear supplies need a complete update as they are very old and out of date.
5. BEECHWORTH - Turban Angels. TURBAN PROJECT (lions.org.au) Yarrawonga Lions sew over 40,000 turbans for cancer. The Grant will go towards fabric and a new sewing machine.
6. ALBURY - Wellness Centre at Albury Wodonga Regional Cancer Centre. Providing Exercise Oncology programs for those who have finished their primary treatment or who are receiving maintenance therapy.
7. WAGGA WAGGA - Can Assist Wagga Wagga. Supporting individuals suffering from cancer, by means of assisting financially with Pharmacy accounts related to their treatment, fuel vouches, telephone account payments and groceries.
8. YOUNG - Cancer Council NSW. Practical support for cancer patients, carers and families through the provision of services, including Cancer Council Transport to Treatment
9. GOULBURN - Convoy For Kids. Provides support for local children with cancer, terminal illness and permanent disabilities, by providing financial assistance to the families of such children.
Cancer funding in Australia and the Tour de Cure story
In 2017 the Federal government funded $174.8Million in cancer research through its NHMRC program, however this represents only 13-15% of requests made from Australian cancer researchers in that same year.
Clearly there is a gap in how much research the government can fund, and that is why TdC exists. We raise money through personal and corporate donations for bike rides, walks, health challenges and gala events to fund much needed cancer research, prevention and support programs.
Since 2007, TdC has raised over $75million, funded 563 cancer projects, contributed to over 55 cancer advances or breakthroughs, and talked to over 175,000 school children about making healthy lifestyle decisions. While this sounds impressive, we are only able to fund a quarter of all cancer project grant applications made to us each year. We are determined to fund more, because we know that our funding allows the continuation of vital cancer research in Australia.
Tour de Cure aims to keep Australians busily engaged in cancer research. We couldn't do it without the continued support from our corporate partners and donations by everyday Australians. We'll only end cancer by working together to fund much needed research. And that's something we can all come together to support.
Call to Action
You can show your support and help cure cancer by donating to Tour de Cure at www.tourdecure.com.au