November 10 - 16, 2019: Issue 428
The Eos - Classic Pittwater Yachts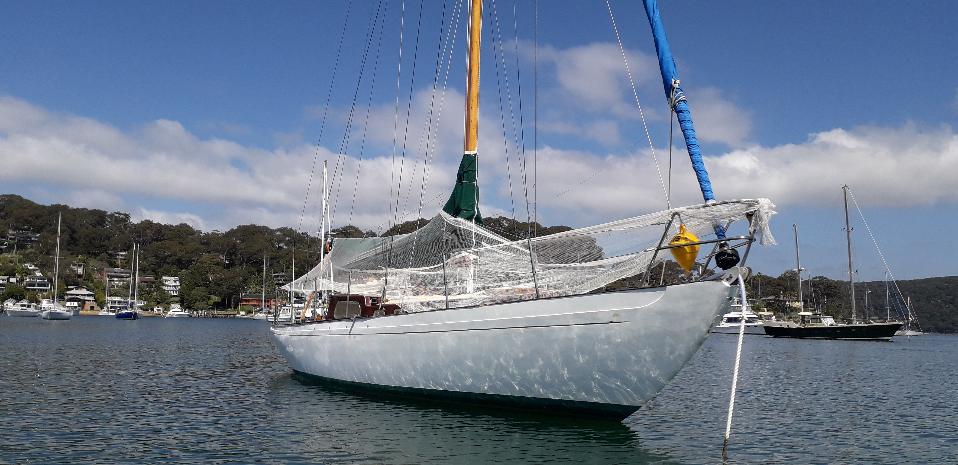 Eos bow - photo by Malcolm Lambe
As we head into the cruising season, one for all those who can't wait for end of year get aways, or for those already indulging!
Eos, owned by Malcolm Lambe and currently moored in Careel Bay, was the first Brittany Class sloop built in Australia. She has sailed in three Sydney to Hobarts' (1956 and 1960, with Tom Flower as Skipper/Owner and the 50th edition in 1994 under Brian Wilson, Skipper/ Owner) as well cruised in the Pacific, to Tasmania and sojourns to the Great Barrier Reef.
Her first ocean voyage was to New Zealand in January 1959.
The Brittany class of yacht was designed by Jack Laurent Giles just before World War II. The first of the class, 'Bettine' was launched in 1939, and is reputed to have won a cross Channel race (English Channel) that same year.

Designed by Jack Laurent Giles, Eos was built to a later variation which introduced a deck stepped mast supported by two steel columns on either side of the central walkway and the coachouse was carried full height through to the forward cabin. She was built at Seaforth by newly qualified shipwright David Linton and Tom Flower, an engineer with the Beecraft Engineering Works which was located on Sydney Road between Hope Street and Kempbridge Avenue. Tom had bought the plans in the early 1950's and she was built at Seaforth in the Engineering works and launched on Saturday, May 26th 1956 at Clontarf. Tom, his wife, three sons and a daughter lived nearby in Bungalow Avenue, Balgowlah.
Tom had chosen a site which the haulage contractor had declared an easy job. By normal standards it may have been easy, but the amount of clearance the trailer driver had to weave his long vehicle back across the yard could have been best measured with a feeler gauge.
The crane, already in position, had a trial run for positioning the jib over the hole that had been made in the roof of the shed in which Eos lay. Two huge wire slings were slung under, and passed to the hook on the crane, chafing blocks of softwood having been fastened to the hull previously, to take the load. The slings were parcelled with hessian to protect the paintwork. With a line to the bow and another to the stern to prevent spin when the crane lifted her, Eos was ready. As she was raised, four chocks were placed around the hull to support her and then two large Oregon flitches placed athwartships across the deck. Chains were fastened to the ends of the flitches and pulled down to the deck of the loader with chain and pulleys.
She was released and left supported by four chocks and four chains - light rigging it seemed for a 7.5-ton lady who was to still face a couple of miles of roadwork, possibly more severe than she would ever face afloat.
The route to the water, having been previously used by the haulier, was known to be free of traps such as low power lines, low bridges, and so on, although a tight hairpin bend was to test the driver's skill. With all care and caution, the convoy (loader, yacht, crane, several carloads of well-wishers, small boys on bicycles, and even a few barking dogs) moved off towards Middle Harbour, where the crane again took her and gently placed her on a marine slipway. Tom declared that if he had known the way she was to have been handled, he would not have lost a wink of sleep the night before, and he could then have arrived in time to see her placed on the slipway.
Tom had strong connections with the 14ft Skiff Club next door to the Davis Marina at Balgowlah and for a while Eos was their start boat. He was enthusiastic about teaching youngsters to sail and took them on trips to Pittwater. Manly Yacht Club stalwart Bruce Davis was one such youngster who sailed on Eos with Tom. [3.]

Tom Flower campaigned his new yacht enthusiastically, with the first of the heavy-duty Middle Harbour Yacht Club skite plates for Eos racing in Division 2 dated 1956-1957 where she was 1st in the Pulbah Island Race, 3rd in the January Ocean race and 2nd in the CYC Founders Cup. During the 1957-1958 season she won the Annual Point Score and the Vice Commodore's Trophy, came 3rd in the March Ocean Race and 2nd in the MHYC Carnival.
The Eos, MH 71, was a Middle Harbour Yacht Club yacht and remained so until Tom Flower passed away.
The Eos passed on to two young sailors, Anthony (Tony) Curtis and Vernon Moore. They embarked on an ambitious voyage around the South Pacific starting with New Zealand. Tony's friend, John Paton, who had never sailed before, was persuaded to go with them for 'a pleasant holiday'.
Brian Wilson, past President of the Manly Yacht Club and future Eos owner, describes in History of the Eos (part 2) their first South Pacific Run:
At their planned departure time the weather forecast was not too good, heavy winds were forecast and Cyclone Paul was about. Tropical cyclone Paul developed out of a tropical depression that first became evident in the southwest Gulf of Carpentaria on 2 January 1980. By 3 January 1980 this tropical depression had developed early signs of a cyclonic circulation and had deepened to 997 hPa, but it had been drifting slowly southeast and made landfall before reaching cyclone intensity. The Weather Bureau advised them it was 'not a good time to go to sea' but they cast off anyway.
On January 16th 1980 the barometer dropped 4 points and things got hairy, their single side band radio would receive Radio Moscow in English but all they could receive from Australia was snatches of cricket commentary; no weather forecasts.
The barometer kept dropping, and was suddenly below 998 mills - the cyclone had caught the Eos. The wind was constant at 50 knots or over and then their wind gauge jammed at its maximum of 60 knots. Twice Eos was rolled on her beams end until the mast was in the water. The door to the lazarette in the stern was smashed so water pouring into the cockpit fed straight into the bilge. The floorboards in the main cabin were floating before that gap was plugged.
Vernon described how on one occasion he found himself standing with one foot on the side of the hull and the other on the cabin ceiling praying for Eos to right herself. She did.
At the height of the storm they put out a PAN PAN call. No response. To try a MAYDAY was futile.
The engine ingested water and refused to start; no way to charge the batteries. The main sail split in two and had to be taken down. All the time the seas were building.
Under bare poles and with three hawsers attached to big fenders streamed over the stern she was doing 6 knots and keeping her head up as she charged down the face of 35ft waves with the odd monster wave much higher than that. Fortunately the drogue effect of the hawsers kept her stern to the wind and prevented her pitch poling down the face of a wave.
The weather had been overcast for days, which meant that getting a fix with a sextant was impossible. All navigation was by DED reckoning and so their exact position was not known. They decided their best bet was to head for Lord Howe Island but were wheer it was. Eos was fitted with roller reefing at that time so they rolled the bottom of the top half main sail around the boom and hoisted the remainder - balanced with a small jib the Eos was moving.
By this time the crew were exhausted; they had been wet under their wet weather gear for days and with their harnesses on for the same length of time, the men had salt-water ulcers on their derrieres, serious chaffing from the harnesses and itching in their armpits.
Fortunately the DED reckoning proved accurate. The sight of Lord Howe Island silhouetted in the gold light of a setting sun brought tears to their eyes and they could finally peel off the wet weather gear for the first time in seven days as they skimmed into the calm waters in the lee of the island.
At 0815 on January 23rd the Eos was towed into the lagoon by a long boat. They had been at sea for two weeks and travelled nine hundred and fifty seven miles just to reach Lord Howe.
"Did you see any other boats out there?" was the first question asked.
Surprised at the question they discovered New Zealand yacht 'Smackwater Jack', a Whiting one tonner, had left Hobart after the Sydney to Hobart race to return home in a race from Hobart to Auckland at the same time Eos left Sydney. Tragically, she was lost without trace. Her Skipper/Owner/Builder Paul Whiting, wife Alison, John Sugden and Scott Coombes were on board when she disappeared.
Maritime historian Noel Hilliam spotted a deflated life-raft with three bodies about 1km north of Round Hill, Ripiro Beach more than a week after the official search for the 'Smackwater Jack' and her crew ended. Even then an effort to recover the bodies was delayed by high seas and they were not seen again. In 2008, 28 years later, a cockpit grating was found just north of the monument on Omamari Beach, with the same Historian stating then it could belong to the lost yacht.
Seven weeks after they landed at Lord Howe the Eos set sail for New Zealand again. Vernon had made a visit to Sydney and returned with new and repaired sails while the others gave Eos a makeover of fresh paint and varnish and a scrub from the bottom up.
Three weeks out from Lord Howe Island they saw the light on the most seaward of the Three Kings Islands off the northern tip of New Zealand. They docked at Auckland and were tidying up prior to a well earned beer when a couple strolling towards the yacht stopped for a chat.
"I sailed over from Sydney in a yacht just like that. We tied up right here," the man said
"Shocking trip, thought I would never see land again. In fact, I was so relieved to be alive that I went straight to that phone box over there and proposed to this lady over the phone".
"Yes" she said.
"In fact," said the man "today is the anniversary of that phone call and I promised my wife that I would show her the exact phone box where I made that call exactly two years ago.
"This yacht is remarkably similar to the yacht I sailed in," the man then said, inquiring, "What's her name?"
"Eos"
"EOS! It's the same Yacht!"
Whereupon the exhausted crew of Eos went off to the pub for a beer and to sleep in the hotel accommodation booked by the couple who were delighted to stay aboard the Eos instead.
Their voyage proceeded south from Auckland then west through the Cook Strait then north again to New Plymouth where it was intended to do some filming. However, the filming did not materialise so the Eos headed north towards Fiji. By this time Tony's brother Peter, a shipwright, had joined the crew. He became ill on board so Suva became a definite port of call for medical attention.
Peter recovered and while he was doing so Tony and Vernon took advantage of the break, spending much time at the Royal Suva Yacht Club. Their next leg was to Efate Island and took the form of an impromptu race with other cruising yachts. The Eos won and the race became a recognised event in the ocean-racing calendar.
Brian Wilson bought the Eos from Tony and Vernon in 1992. "I had owned another timber yacht, "Kuruwa", for 10 years, which was a fine club racer, but very cramped. I wanted something bigger but the bigger it was the older it had to be so that I could afford it." Mr. Wilson states in Part 3 of History of the Eos.
After searching from the Hawkesbury to Port Hacking he finally saw the Eos right under his nose at Davis Marine, where she had been sitting idle for around two years, and she was for sale. After purchasing her he set about doing some restoration works and even took Tom Flower's sons, Errol, Terry and Kevin for a sail in her, daughter June abstaining.
They recalled, as apprentices at Beecraft Engineering, making the patterns for the bronze castings for Eos, the winches, various brackets holding the hull together, the stanchion bases, the rudder bearings and the floors. June recalled putting the little wooden plugs into the hull planking - there were literally thousands of them.
When Brian found out Eos was eligible for the Sydney to Hobart Yacht Race of 1994 he shifted his focus from making her look great on the water and comfortable inside to do all required to secure a Cat. 1 certificate, and a cruiser/racer classification.
Brian says in Part 3 of his History of the Eos:
'...the Hobart crew had been selected (coerced) and were in training. Bruce Hitchman, Greg Paine, Elizabeth Stubbs, Gabrielle McKenzie, Neil Wilson and myself. Bruce and I had both sailed the Sydney/Hobart on "Pacific Breeze" in 1988.
We entered all the pre big race events, sailed all the MYC races. We sailed an overnight cruise to get everyone used to a watch system, and, completely unannounced to the crew, Neil Wilson fell overboard and had to be rescued in accordance with our Man Overboard drill. He fell over out at sea by arrangement and later said he had never seen the Eos disappear into the distance so. He had second thoughts about his decision to volunteer.'
On December 26th, 1994, the Eos was among a fleet of 371 starters (309 finished). The 50th race still holds the record for the largest fleet, although this year's edition has been capped at 170.
The race gave them a wide variety of weather from flat calms to howling southerlies, Mr. Wilson recalls in Parts 4 and 5 of his History of the Eos;
At one point there was a line squall the like of which I have never seen before or since. Nothing was cleated. All sheets were ready to let go instantly should the need arise. At one point the shackle on the main halyard broke and we lost the reefed main. A headsail halyard was used in reverse. Eos did not have wind instruments but we knew the wind was strong as we passed Bass Strait. Even with the storm sails set Eos was being flattened. We were doing six knots and that seemed far too fast when we slammed into a wave.
What surprised me was the fact that the waves, which were as big as two story houses, were so close together. There was no time to recover before the next one hit. In the lee of a big wave Eos would sit upright only to be knocked horizontal as she reached the crest.
A breaking wave would fill the cockpit and the subsequent knock down would tip it all out again. She took in surprisingly little water ... Later on in Hobart we learned from a yacht that had been relatively close to us that they recorded 70-knot gusts...
Although race officials failed to record their finish time they were eventually declared 14th in the Veteran's Division. Eos was the second smallest yacht in the race.
The highest speed they attained was 11.2 knots and the best run was 2 1/2 hours at 9.2 knots, the latter being achieved on the run home while the Skipper was blissfully asleep below and Bruce was on the helm.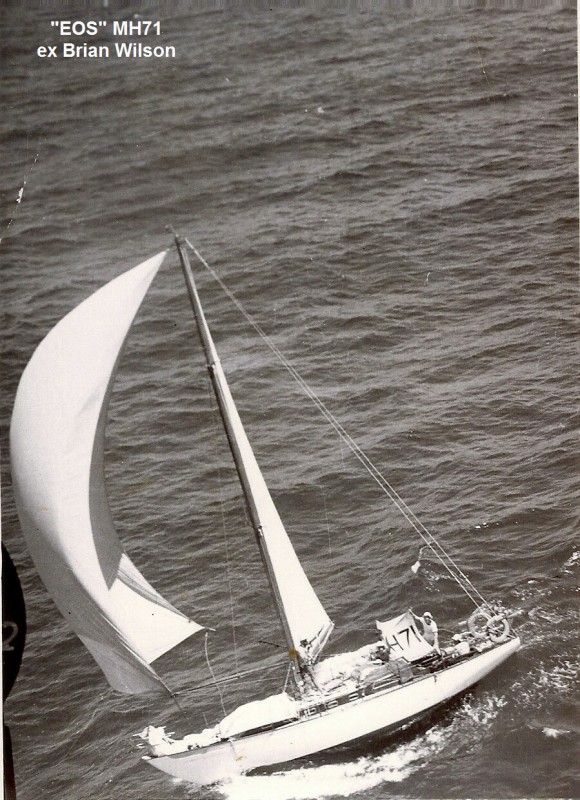 Since 1994 Eos raced at Manly Yacht Club, initially with a Cat. 4 certificate, which meant she was doing the offshore races in daylight hours and more recently with a Cat. 7 for inshore racing, reflecting Mr. Wilson's shift in his sailing.
She was awarded 2nd place in the 125th Anniversary Regatta at the Sydney Amateur Sailing Club, was 4th in the 1996 Great Veterans Race at the CYC, 6th in the 2002 Great Veterans Race and won the Classic Yachts PHS Class at the Audi Sydney Harbour Regatta in 2009 and was Manly Yacht Club Champion in 2006.
In March 2017 Brain Wilson stated;
'Eos is now 61 years old, built to a design conceived in the 1930's, and she is still full of sailing. I too was conceived in the 1930's but now I am no longer so full of sailing. My energy levels have dropped a bit and looking after Eos is becoming harder so Eos will be sold in the foreseeable future.
I have owned her for 25 years. As a non-sailing Scottish migrant who arrived in Australia by boat in 1969, I have exceeded my wildest dreams on the water with Eos.'
The Eos then went to Malcolm Lambe, who has been 'messing about in boats' on Pittwater since knee high to a grasshopper. He lavishes the same care and attention to maintaining this classic yacht as all her fore owners have and he and his family take her around Pittwater and to quiet, calm nooks such as Refuge Bay.
In Greek mythology, Eos was a Titaness and the goddess of the dawn, who rose each morning from her home at the edge of the Oceanus. The daughter of the Titans Hyperion, a bringer of light, the One Above, Who Travels High Above the Earth and of Theia, The Divine, also called Euryphaessa, "wide-shining" and Aethra, "bright sky". She was the sister of Helios, god of the sun, and Selene, goddess of the moon, "who shine upon all that are on earth and upon the deathless gods who live in the wide heaven". The generation of Titans preceded all the familiar deities of Olympus who largely supplanted them. In some accounts, Eos' father was called Pallas.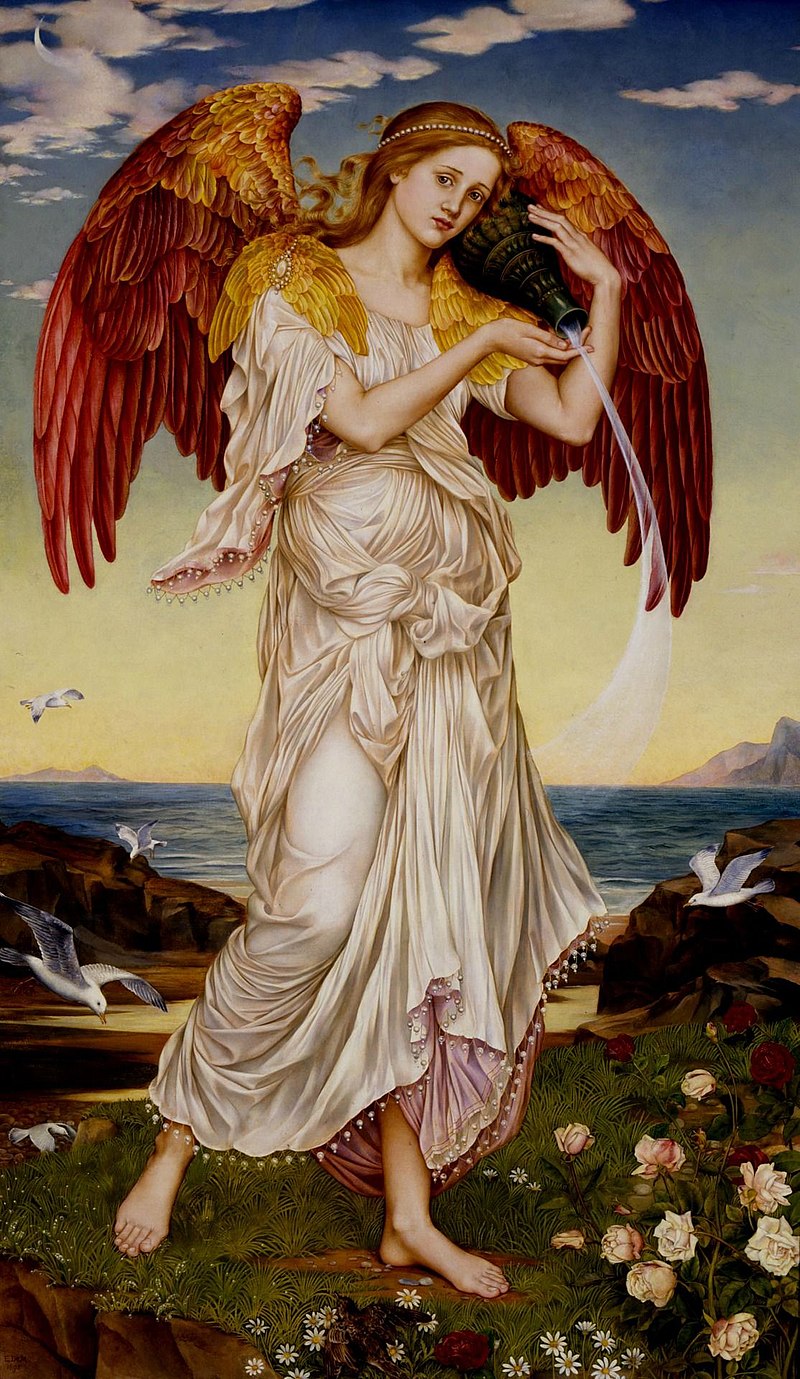 Eos by Evelyn De Morgan (1895)

Eos married the Titan Astraeus ("of the Stars") and became the mother of the Anemoi ("winds") namely Zephyrus, Boreas, Notus and Eurus; the Morning Star, Eosphoros; the Astra ("stars") and the virgin goddess of justice, Astrae ("starry one").
The Eos still being around is due to people like Malcom Lambe who have a passion for these classic beauties with wonderful lines and keeping them as they should be. Crafted out of Beech, the trees were selected in the forest at Wauchope and the logs railed to Sydney to be milled into full-length planks.
Four yachts were built at the same time from the same timber - one of them being the Lion class 'Siandra' two times outright winner of Sydney to Hobart Yacht Race (1958 and 1960). Another Lion class, the classic 'Kaiyu', was impounded recently at Careel Bay and ended up at the tip.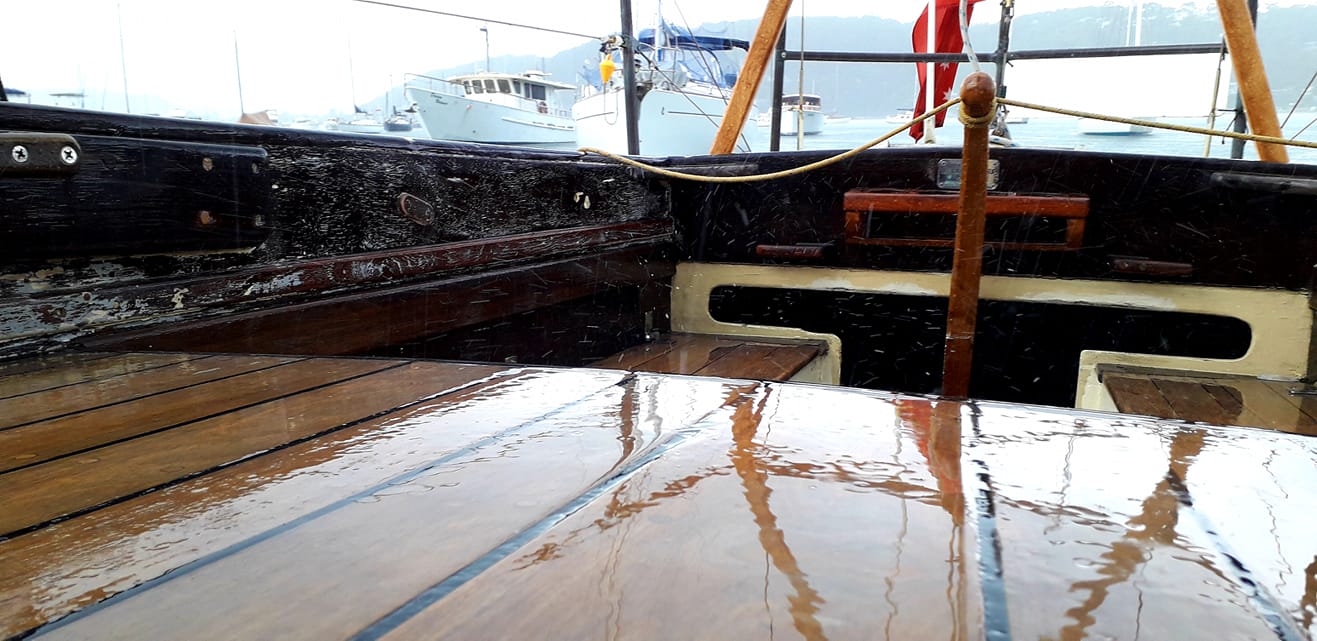 Eos, shining after rain, March 2019 - photo by Malcolm Lambe
This week the Eos has been at Gonsalves Boatshed at Palm Beach where a Gold cove line and Enamel Altex paint job by Ian Begg and crew from Mackenzie Marine has her looking resplendent. Her Summer sojourns on Pittwater for the Lambe family await... proving that a thing of beauty is a joy forever, and although most boat owners will tell you that the purchase price is just the beginning of what you will pour into a yacht, Australia, and Pittwater, would be much the poorer without those for a passion for Classic Yachts and being able to see them as they glide on by you, still.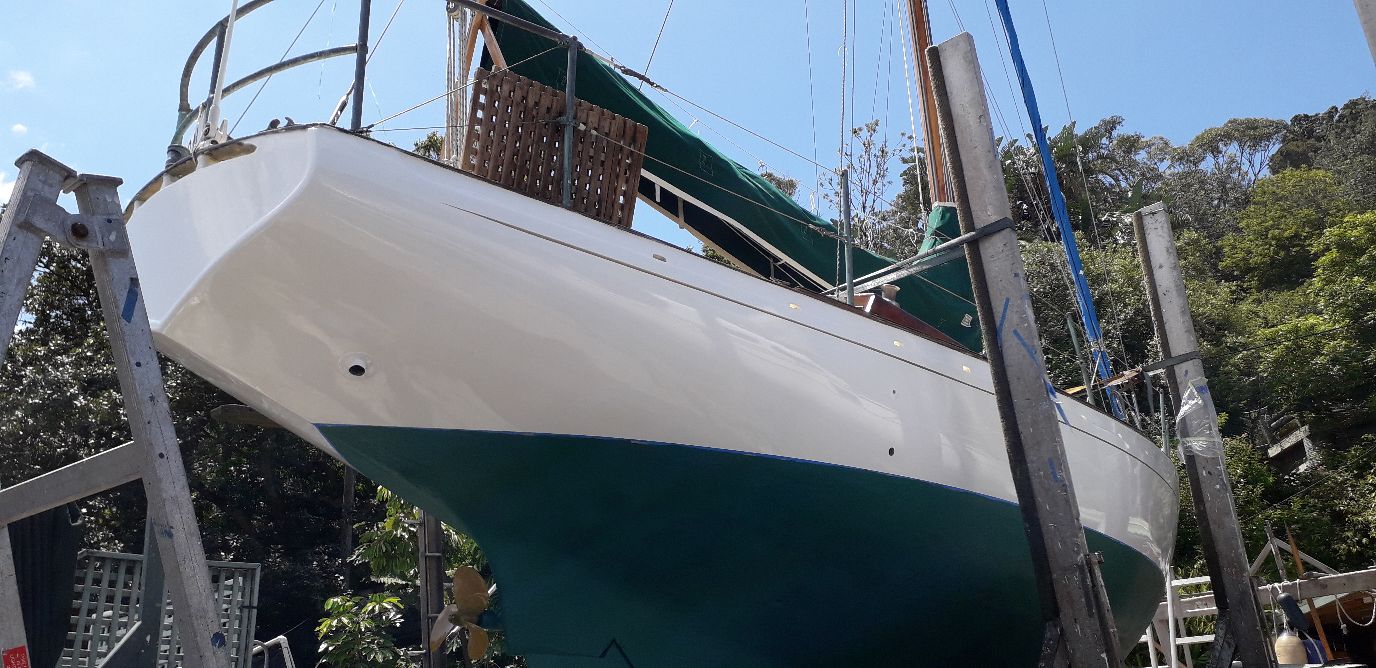 Eos - Gold cove line, November 2019 - photo by Malcolm Lambe

The CYC's Great Veterans Race is open to single hulled self-righting displacement boats only. Entrants shall be yachts with a launch date prior to or in 1975. This year's edition takes place December 7-8 on Sydney Harbour. The regatta will signal the beginning of a month of celebrations leading up to the 75th anniversary of the 628nm race south on Boxing Day, the 2019 Rolex Sydney Hobart.

EOS Stats.
Rig: Masthead Sloop
LOA: 10.21m, 33.5f
LWL: 7.74m, 25.4f
Beam: 2.56m, 8.4f
Draught: 1.64m, 5.4f
Displacement: 6800 lbs

References
"Other man's boat: Eos" written by Jack Sargent, Seacraft Magazine November 1956
"Transporting a Yacht" by Max Barnett, Seacraft Magazine November 1956
Eos, Classic Yacht, from http://boatgen.com.au/eos

EOS - THE BRITTANY CLASS YACHT - Part One by Brian Wilson (past President and Historian of MYC) - Manly Yacht Club Newsletter, MARCH 2017 retrieved from https://www.myc.org.au/forms/Old%20Newsletters/2017/Newsletter%20Mar2017.pdf

HISTORY- EOS THE YACHT - PART 2 by Brian Wilson (past President of MYC) - Manly Yacht Club Newsletter, APRIL 2017 retrieved from https://www.myc.org.au/forms/Old%20Newsletters/2017/Newsletter%20Apr2017.pdf Authors note:- Vernon Moore was a TV

cameraman for Channel 7 and for many years a 60 Minutes cameraman. Most of the information in part 2 of this article was based on the contents of a letter that Vernon wrote to his daughter, Taylor. In it he wrote a detailed account of the Eos voyage to New Zealand, his experience in Vietnam at the fall of Saigon, a trip to Afghanistan and boyhood visits to an uncles farm where he befriended a horse.

Vernon passed away a few years prior to this History of the Eos being written.



HISTORY- EOS THE YACHT - PART 3 by Brian Wilson (past President of MYC) - Manly Yacht Club Newsletter, MAY 2017 retrieved from https://www.myc.org.au/forms/Old%20Newsletters/2017/Newsletter%20May2017.pdf

HISTORY- EOS THE YACHT - PARTS 4 and 5 by Brian Wilson (past President of MYC) - Manly Yacht Club Newsletter, JUNE 2017 retrieved from https://www.myc.org.au/forms/Old%20Newsletters/2017/Newsletter%20Jun2017.pdf

Tropical Cyclone Paul, 7 - 8 January 1980, BOM, retrieved from http://www.bom.gov.au/cyclone/history/paul80.shtml

Malcolm Lambe, chats and discourses, 2019.
John ('Jack') Laurent Giles (1901–1969) naval architect, a graduate in Engineering Science from Cambridge University, was renowned for his sailing yachts. His Lymington, UK based Laurent Giles & Partners was founded in 1927, has produced over 1300 motorboat and yacht designs, and is still producing beauties today.
Mr. Laurent Giles was awarded the honour of Royal Designer for Industry in 1951. He described as part of his design philosophy that a yacht should have "the utmost docility and sureness of manoeuvring at sea, in good or bad weather" - his boats were designed to maintain a steady course with minimal action by the helmsman but respond instantly to the helm if the need arose.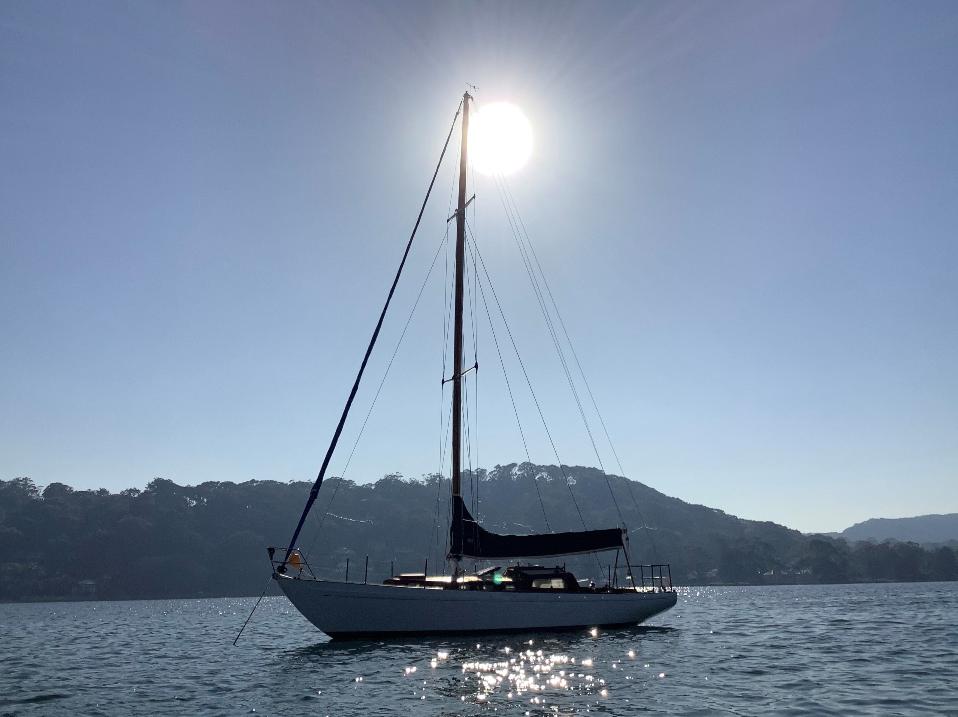 Eos, of the sun - photo by Malcolm Lambe, November 2019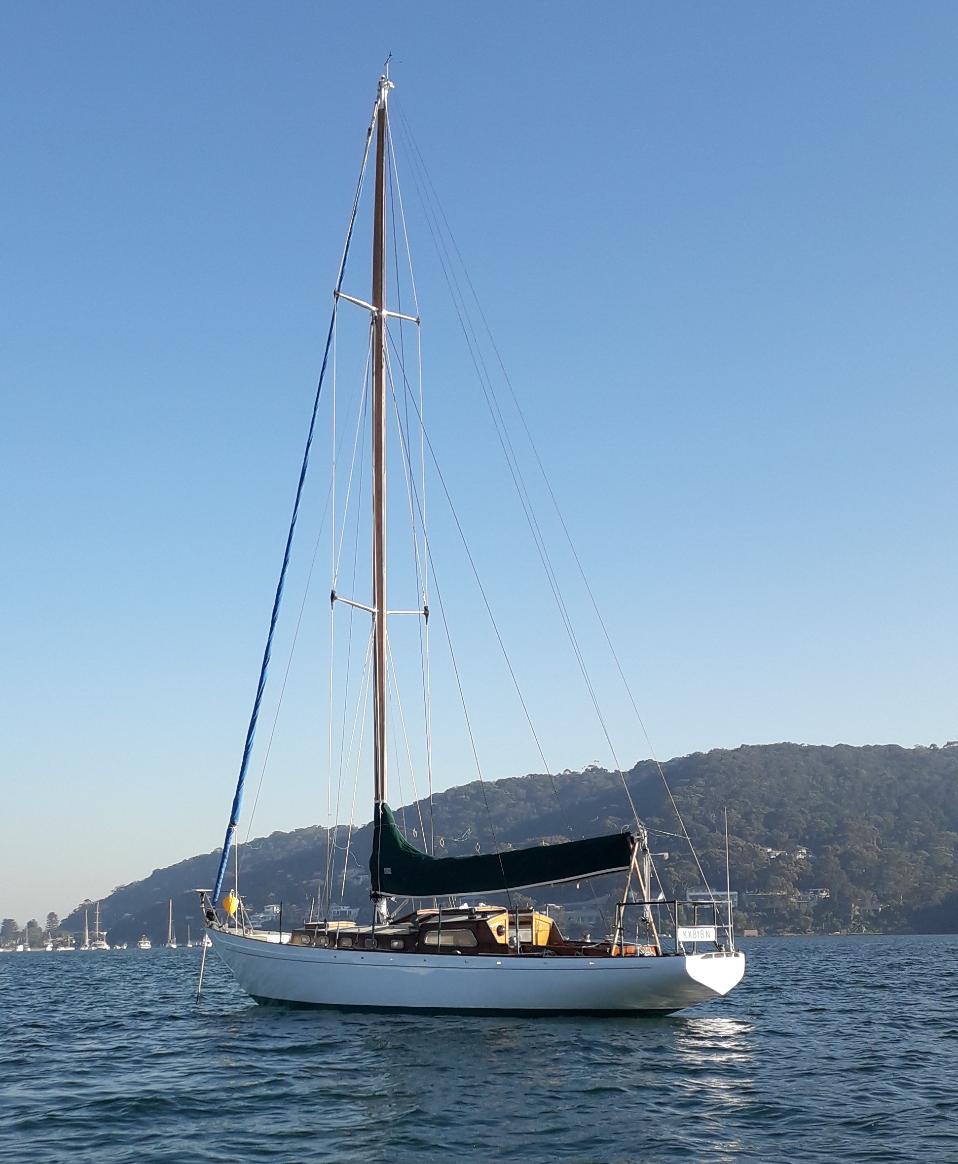 Eos - photo by Malcolm Lambe