February 5 - 11, 2017: Issue 299

Summer in Pittwater: The Big Swim 2017
The 2017 BIG SWIM
Thought to be New South Wales longest continuing running ocean swim with its first start in 1974, THE BIG SWIM presented by the Whale Beach Surf Lifesaving Club is a journey swim, not around the buoys in a bay, or up and down a beach outside the break, but a true ocean swim, from Palm Beach to Whale Beach around the headland through the Tasman Sea.
Held on the last Sunday of January each year with a distance of 2.5 - 2.8 km, it is known as THE BIG SWIM because it is BIG, conditions vary from dead calm to testing south-easterly or uncomfortable nor'easter's which can arrive early in summer with swells from all directions making for challenging swimming when you breathe to the left.
This year's swim was held on Sunday 29th January, 2017 and as a precursor the URM Little Big Swim commenced at 830am with an 800 metre swim at Palm Beach. This is a perfect introduction to open ocean swimming with enormous water safety and a fabulous location for a short course swim.
MP for Mackellar Jason Falinski was starter for the 1,700 swimmers who braved either the Little Big Swim or the Big Swim this year.
Kylie Ferguson was also on hand and started the Big Little Swim, saying, "It's great to see so many swimmers."
Mr. Falinski said afterwards, "This year's swim series has been phenomenal, closing with 1,700 swimmers braving the 3km stretch between Palm and Whale beach for the annual Big Swim. It's just such a great atmosphere: everyone is welcome, all levels of athleticism are celebrated and so many volunteers from different groups work together to make these events possible. The swims really are a celebration of our lifestyle on the Northern Beaches. We love being outdoors, spending time with our families and investing in our local clubs. As always I cannot thank the organisers, contributors and participators enough for having me along and letting me contribute in whatever way I can. Over the year I will continue to work with all the manly clubs and organisations in our area. That's what's so great about the Beaches, we are proud of the fact that we get involve and make things happen."
Palm Beach SLSC said "It was great to support Whale Beach SLSC today as 1,700 swimmers joined in for 'The Big Swim' - one of Australia's premier ocean swims.
Hats off to Whaley who know how to run a good show, and well done to all who gave it a crack too - an awesome achievement!"
Margaret-Anne Hayes, from Can Too, said " Thank you so much guys, you did an absolutely splendid job, and thank you for letting me make a few announcements regarding Can Too swimmers. It was much appreciated. Can Too swimmers will raise $300-$500,000 toward supporting young Australian cancer researchers. It is thanks to folk like yourselves who volunteer your time and efforts on a glorious Sunday morning which makes it doable, safe, and so enjoyable. Next year I shall persuade your new Fed. member Jason to do the 'little swim'.
Whale Beach SLSC were very happy with this year's event – funds raised through this final 2016-17 Pittwater Ocean Swim Series event are put towards training and equipment to enable the volunteers at the surf life saving clubs who run them do what they do best – prevent the loss of life on our beaches.
The Big Swim is the final event of the Pittwater Swim Series where by competing in just 3 of these swims particpants can win a trip to the Byron Bay swim.
The fastest male and fastest female in The Big Swim win the opportunity to compete in the Mana Fiji Swimfest September - October 2017. 10km, 3km, 1km and 500 metre events.
Their Prize consists of:
• 5 Nights accommodation at Mana Island Resort and Spa (2 persons if desired)
• Return airfare and transfers
• Entry in the Mana Ocean Swims see above.
• Total prize value AUD $3500 per person
This year Newport's Maddie Spencer and Freddie Brown came back to Whale Beach 1st. Freddie Brown finished 1st in the 800m at Newport's Pool to Peak swims in January, finishing in 9:31 and placed 3rd in the 2k swim, finishing in 23:47.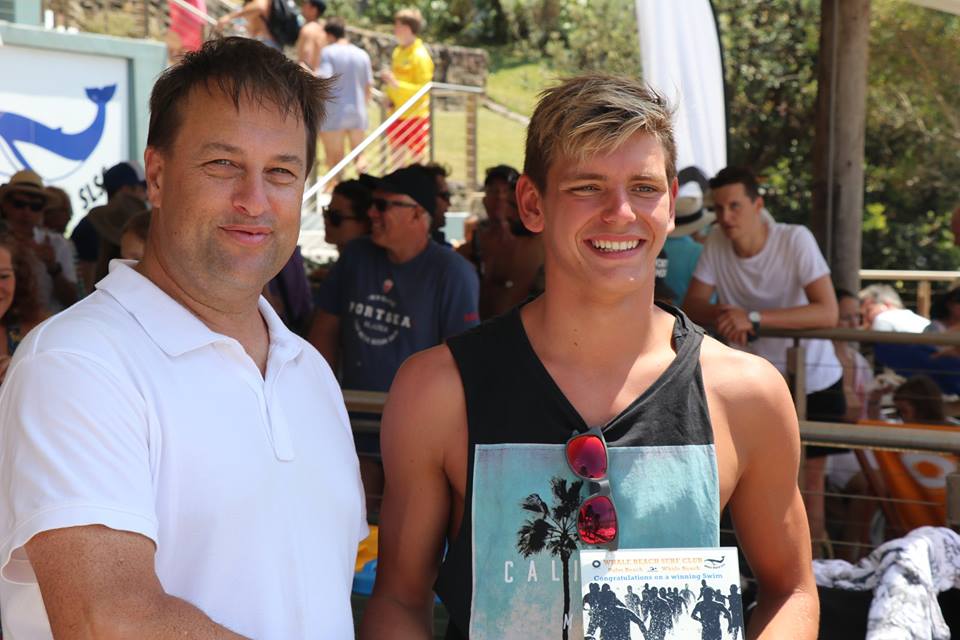 Maddie was first female back to the beach in Avalon's 1.5k Ocean Swim in a time of 18:08 on January and first female again in the Warriewood to Mona Vale Swim held the Sunday before, January 22nd, completing that in 29:19.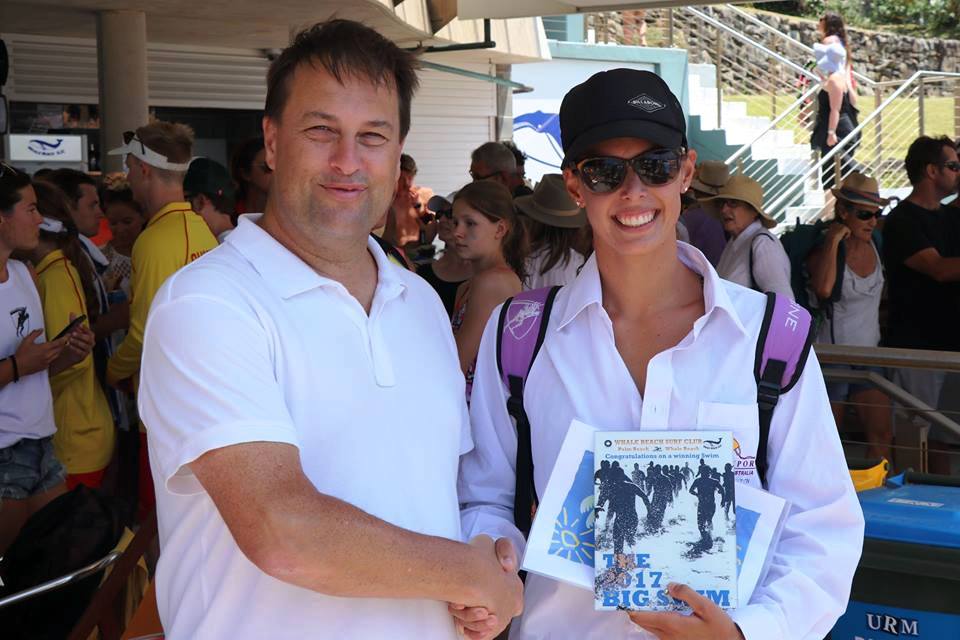 The Big Swim 2017 Results are available here
1
Open
Freddie BROWN (3) 00:33:56
2
40-49 Years
Matt FERNANDEZ (329) 00:34:05
3
50-59 Years
John DE MESTRE (537) 00:34:08
TOP FEMALE
1
Open
Maddie SPENCER (918) 00:35:47
2
20-29 Years
Emily MIERS (895) 00:37:07
3
40-49 Years
Dori MILLER (1091) 00:37:25
POS
NAME (#)
TIME
CATEG (POS)
GENDER (POS)
1
Ben ROTHERY
00:11:08
12-33 years (1)
Male (1)
2
Dominic SWIFT (1324)
00:11:25
12-33 years (2)
Male (2)
3
Alex THOMPSON (1325)
00:11:29
12-33 years (3)
Male (3)
4
Sophie DE SALIS (1412)
00:11:46
12-33 years (1)
Female (1)
5
Alec PRICE (1319)
00:12:15
12-33 years (4)
Male (4)
6
Louise WILLDRIDGE
00:12:35
34-49 years (1)
Female (2)
7
Mark MCGREE (1355)
00:13:06
34-49 years (1)
Male (5)
8
Flynn WORNER (1334)
00:13:07
12-33 years (5)
Male (6)
9
Adrian DERNEE (1372)
00:13:10
50+ years (1)
Male (7)
10
Amber-Rose MASTROIANNI
00:13:30
12-33 years (2)
Female (3)
The
Around the Bends - Newport-Avalon Swim
is coming up this Autumn - scheduled for Sunday March 19th, this swim starts at Newport Beach, then north, around the headland towards Bilgola and on around the next headland and into Avalon Beach - another 2.5k swim. More
here
on that one.
Some of the colour and fun from last Sunday runs below courtesy of images supplied by the Office of Jason Falinski MP, Member for Mackellar