Artists Of The Month June 2019:
THE FABRIC OF LIFE Group Exhibition At Be Brave Art Space, Avalon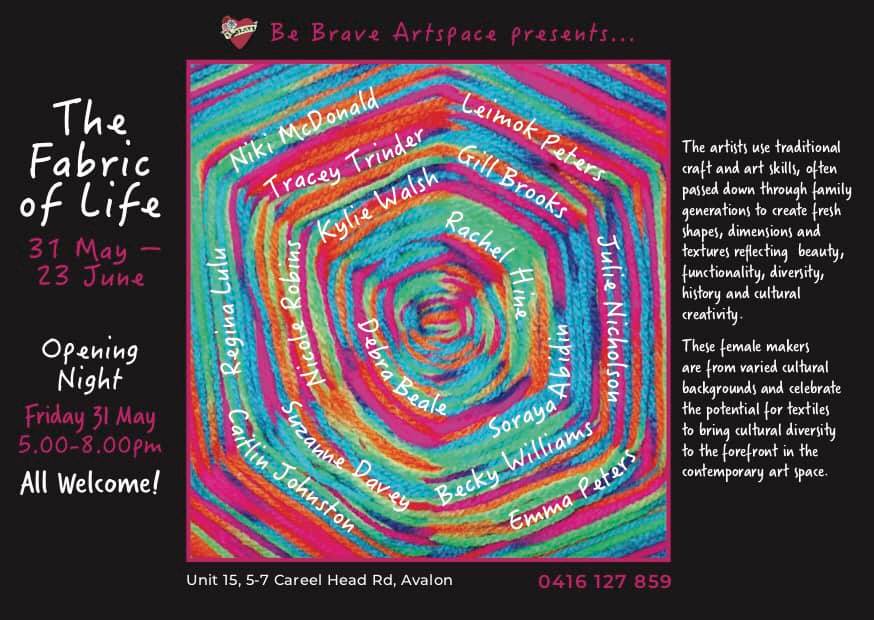 THE FABRIC OF LIFE
Group Exhibition
May 31st to June 23, 2019
Be Brave Art Space
Unit 15 5-7 Careel Head Road
Avalon
Sat/Sun: 10 to 4pm
Thurs/Fri: 11 to 3pm
Proprietor and Artist Tina Berkeley has been working on this one for months and was busy curating hanging all these works when we caught up with her on Tuesday, May 28th.
A group exhibition of makers and creatives who express themselves artistically through tapestry, weaving, basketry, beading, sewing, embroidery, felting, knitting and constructing new forms from natural materials.
Artists who use traditional craft and art skills, often past down through family generations to create fresh shapes, dimensions and textures reflecting beauty, functionality, diversity, history and cultural creativity. These female makers are from varied cultural backgrounds and celebrate the potential for textiles to bring cultural diversity to the forefront in the contemporary art space.
Showcasing the work of:
Soraya Abidin
Debra Beale
Gill Brooks
Suzanne Davey
Rachel Hine
Caitlin Johnston
Niki McDonald
Julie Nicholson
Emma Peters
Nicole Robins
Tracey Trinder
Kylie Walsh
Becky Williams
With a selection of work from Ni-van traditional weavers, Regina Lulu and Leimok Peters from Vanuatu.
Artists And Their Work:
Soraya Abidin
Soraya Abidin is a bi-cultural textile artist born in Australia. Works are materialisations of her bi-cultural identity, addressing cultural misconceptions often experienced by bi-cultural people, described by W. E. B. Du Bois in 1903 as;
"The sense of looking at one's self through the eyes of others"
Her Australian/Malaysian heritage is explored through a 'switch' in the cultural frame of craft mediums and the stylistic clash of these two cultures.
Self-taught techniques of quilting and embroidery are used to create oversized appliqués using vintage Asian silks collected from Malaysia and antique, estate and bequeathed quilting sources in Australia.
A love of the primitive nature of Malay cultural crafts has evolved into raw raffia hand embroidery in her work, paired with British quilt and vintage Asian materials to create the oversized wall appliqués.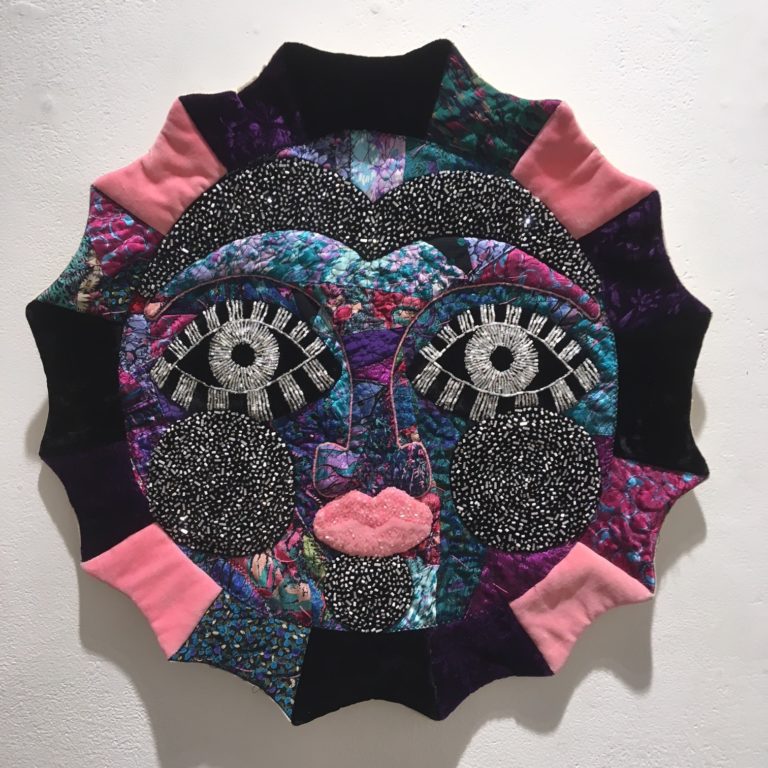 Soraya Abidin, Double-Consciousness - quilted and beaded, 2018

Soraya Abidin, Embrace-head, detail, 2018

Debra Beale
Ceremony and Country
My artwork represents Australian Aboriginal Women and our deep connection to our homeland. My unique signature collection of textiles, adornments and jewellery form a relationship between family, country and my inner deep self as a mother, grand mother, sister, aunty, niece, cousin and a friend. Synthetic and organic materials collected from the Wiradjuri Nation, along with gifts from the Gamilaraay and Kulin Nation are used as a tool to document the oldest living culture in the world. These materials consist of silk, cotton, string, shells, quandong seeds, Illawarra flame tree seed pods, wooden beads, echidna quills, copper wire, metal wire, fabric paint, clay beads, emu feathers, kangaroo leather, kangaroo fur, possum skin, dyes, sap and leaves from the Australian Eucalyptus tree, iron water, rain water, yellow ochre mixed with Australian Wattle seed resin and seaweed (kelp) collected by my 4 year old grandson Koen from the Eora Nation.
Creating my work I experimented with eco dyeing allowing this process to create its own song lines. The finished garments have embedded markings documenting ancient cultural practices passed down from generations to generations. The line markings give a sense of time, travel and space. The use of colours and natural materials reflect a cultural imitation of the Australian landscape and its inhabitants, creating a tactical flowing narrative which brings the wearable objects alive with rhythm and movement, thus experiencing a feeling of sensuality relating to Secret Women's Business which is celebrated with song & dance and laughter, bringing warmth, protection and creating a mood of togetherness.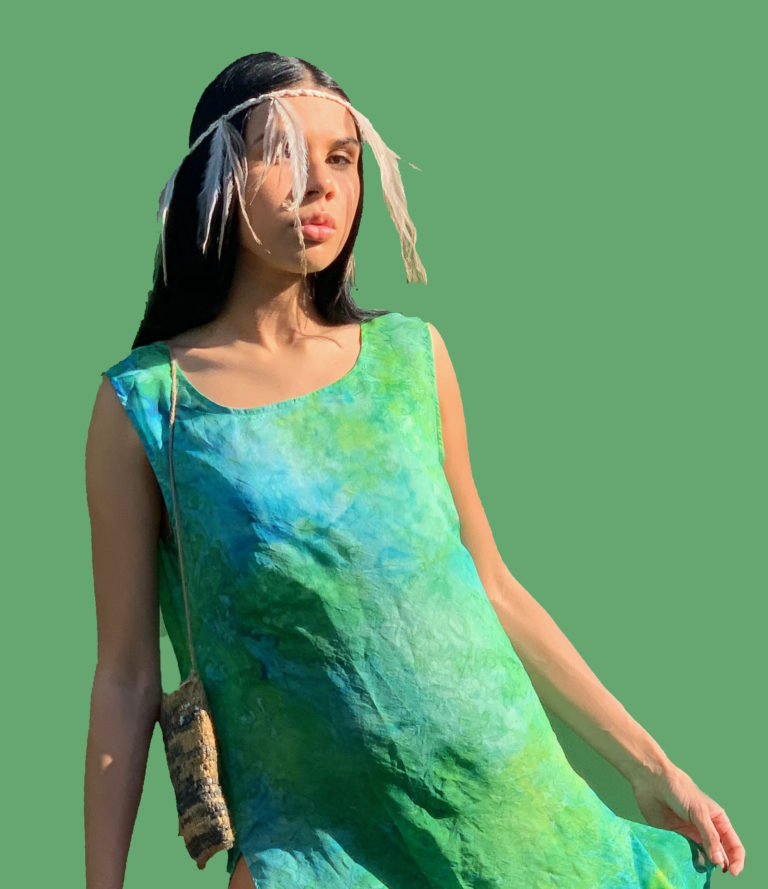 Debra Beale, tyeisha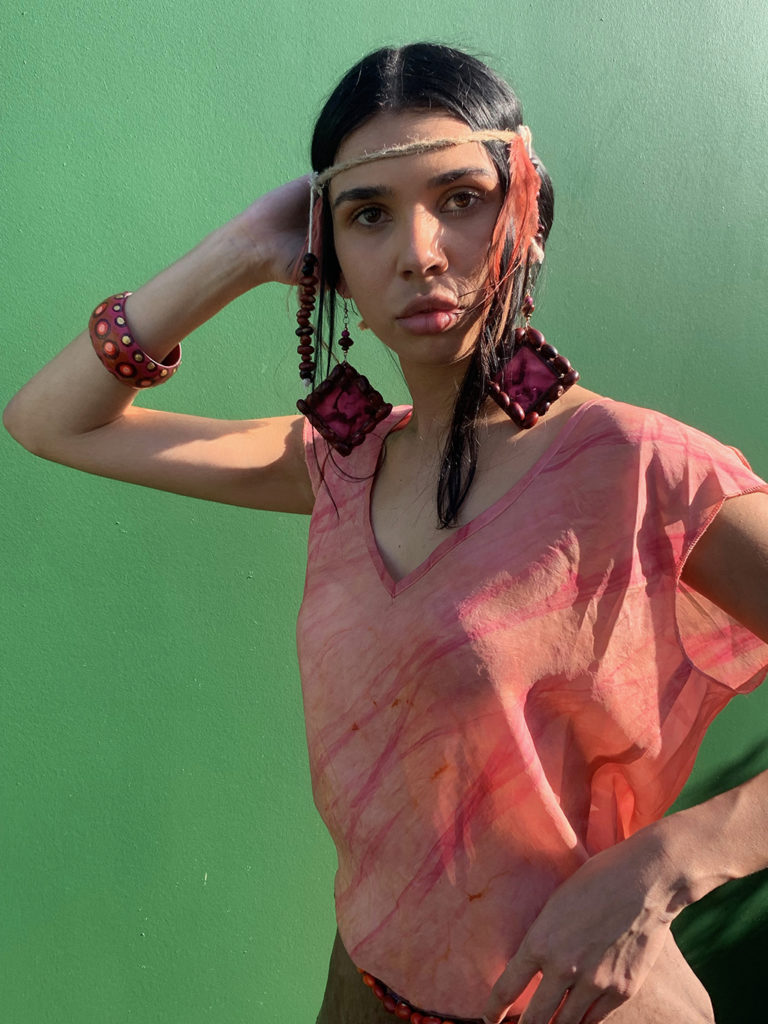 Gill Brooks
Feltwilde is a studio practise run by fibre artist/felt-maker Gill Brooks. Gill was first introduced to felt-making in 1994 and was immediately struck by it's versatility and uniqueness in the fibre/textile world. Gill designs and makes all her pieces from her studio in Marrickville, using primarily Australian merino wool but also fabric off-cuts and remnants from the fashion industry and thrift stores.
The art of felt-making dates back thousands of year and was the first method used by man to make a fabric from fibres. Handmade felt is a unique and strange textile: moisture, heat and friction applied over time to wool fibres creates an extraordinarily versatile and utilitarian fabric, adapting itself beautifully from lightweight scarves and wraps to heavier applications such as bags, boots and carpets.
In the past few years Gill has been experimenting with the application of other fibres and textiles to the wools surface prior to felting. During the felting process the wool fibres find their way through the weave/spaces in the fabric, and as the wool shrinks, the 2 disparate surfaces gradually fuse together. This creates a unique hybrid textile with a never-ending array of different texture, pattern, and design possibilities.
Gill's work and profile have been published in various book and magazine publications over the years, including Vogue Living, House and Garden, Better Homes and Gardens and Textiles Down Under.
It is both handmade felts endless possibilities and its low environmental impact that keeps Gill inspired and delighted by this marvellous medium. It truly is a timeless textile, and the ultimate in eco-chic.
Artists Eco Statement
"I use mostly Australian merino wool in my practise, which is both sustainable and bio-degradable, sourced from local small businesses in NSW. The fabrics I use are off-cuts and remnants from the fashion industry which would normally go to land fill, either directly from the source or via places such as Reverse Garbage. Alternatively, I source second-hand silk/cotton items from thrift stores which I then unpick and cut up to use in my pieces. My practise produces very little waste, as a lot of my designs are based around re-use and re-cycling my own off-cuts but what is left-over is taken to Reverse Garbage, to be re-used in turn by others."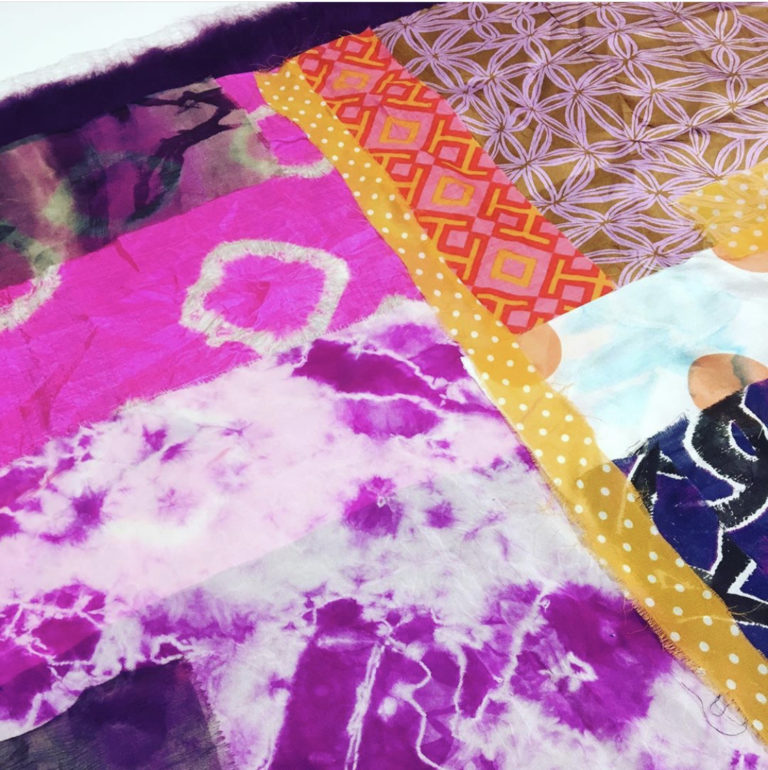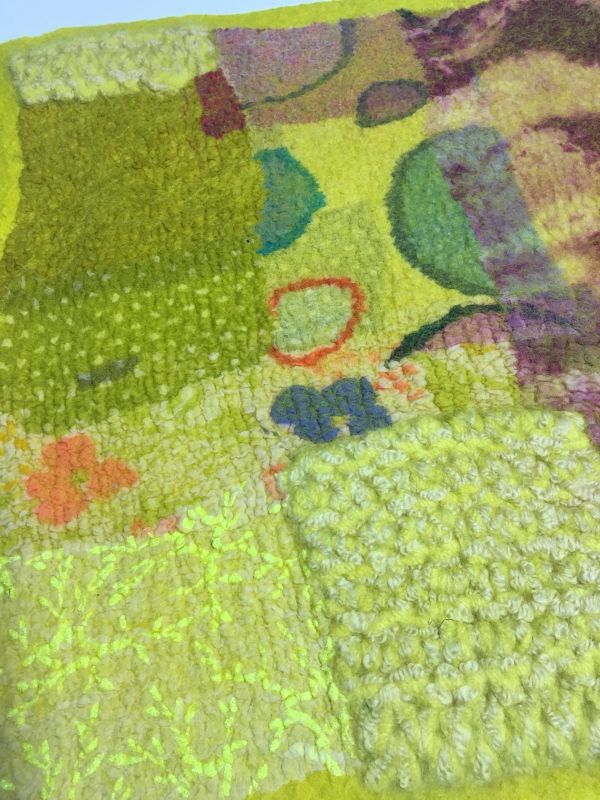 Suzanne Davey
My creative practice embraces materiality, the haptic and performative bodily actions as ways of investigating contrary human behaviours such destruction and restorative care towards the natural environment, the politics of power, and our interrelationships with natural systems.
In Echo materials have been removed from the environment, reconfigured and then presented as a domestic 'eco adorned' wall hanging.
Silk textiles have been eco printed and dyed using plants, vegetables and leaves collected on local walks through various natural environments on the Northern Beaches. These include a variety of eucalyptus leaves such as eucalyptus cinereal and eucalyptus nicholi. The processes of eco printing and dying have been explored by experimenting with a variety of plant materials, different mordants, ways of binding and folding textiles.
Afterwards the stained silk lengths were 'eco adorned' with biodegradable materials such as hessian, cotton and plant materials. Textiles processes such as deconstruction, loose applique, tying and stitching were applied to explore 'eco aesthetics' and environmental concepts such as repair, disrepair, degradation, fragility, suffering, removal and displacement.
The work is also informed by recent travels to Japan and a personal connection to the 'wabi-sabi' aesthetic centred on the acceptance of transience and imperfection, including the aesthetics of asymmetry, roughness, simplicity, austerity and appreciation of natural materials and processes.
Suzanne Davey Textile Biography
Suzanne's creative practice is focussed on mixed media installation and sculpture. By creating spatial ensembles from textiles, ceramic, natural and everyday materials she aims to examine fragility in natural systems, social vulnerability and power struggles and inter-relationships between people and spaces they inhabit.
Tactile material investigations and site research are integral to her work. Materials and techniques are selected because of their links to core ideas such as fragility . In a recent work a uniform was deconstructed and reconstructed into a fragile network through repetitive stitch, exploring tensions between states of repair and dis-repair. Her current body of work is investigating emotional boundaries between plants and the spaces we co-inhabit through the application of textile techniques such as stitching, binding, weaving, and wrapping to flora. Echo uses plant stains.
Suzanne has exhibited widely in gallery, public and natural spaces since focusing on her creative practice from 2012. Her professional background includes arts administration, public programs, education, community arts and design. She is involved with arts organisations such as the contemporary textile collective, Seed Stitch, Eramboo Artist Environment, an art critique group and co-ordinates the Tramshed Potters Club.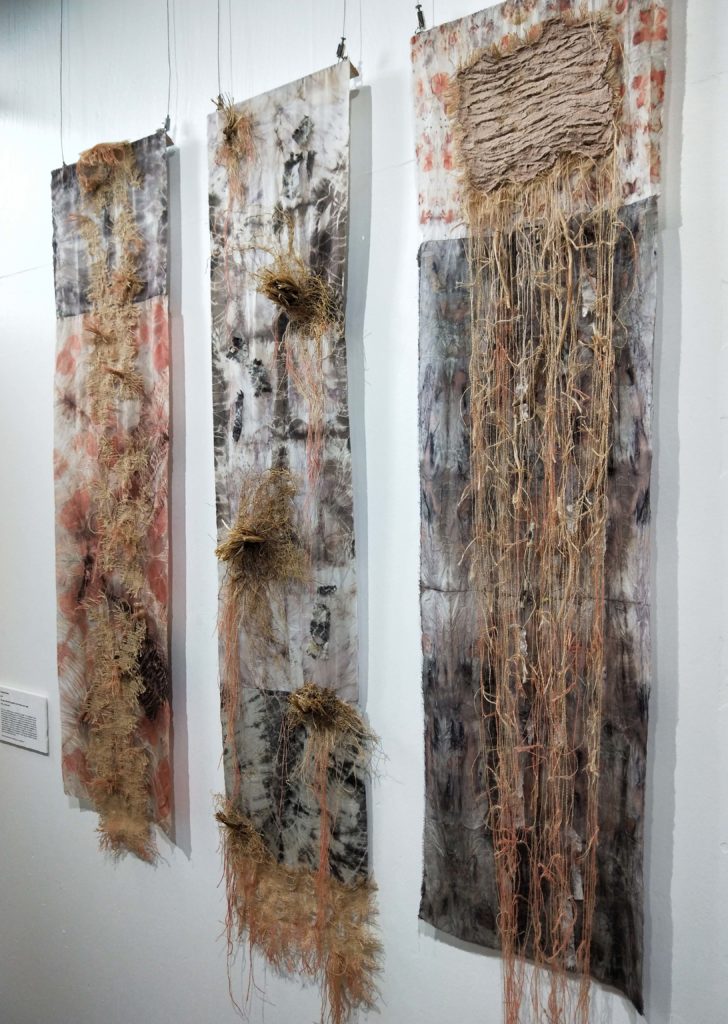 Rachel Hine
The works of Geelong based artist Rachel Hine, are created in the medium of tapestry. She is a Masters graduate from Monash University, and has worked as a professional weaver at the Australian Tapestry Workshop. Rachel has exhibited consistently, locally and internationally for many years, and is known for her contemporary and whimsical portraits of women. With a strong interest in the history of tapestry, Hine's use of pattern and texture create a warmth and mystery that encourages an intimate viewing. The miniature nature of her work allows for the use of precious and vintage threads that add a sophisticated and complex edge to her textile artworks.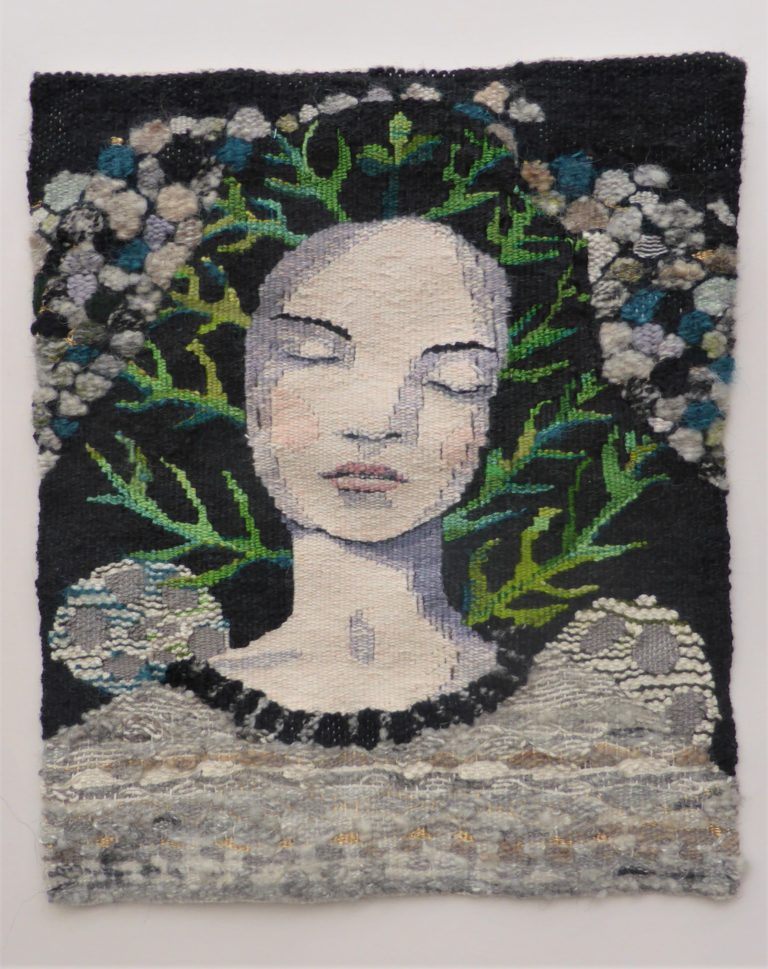 Girl in the Garden Daydreaming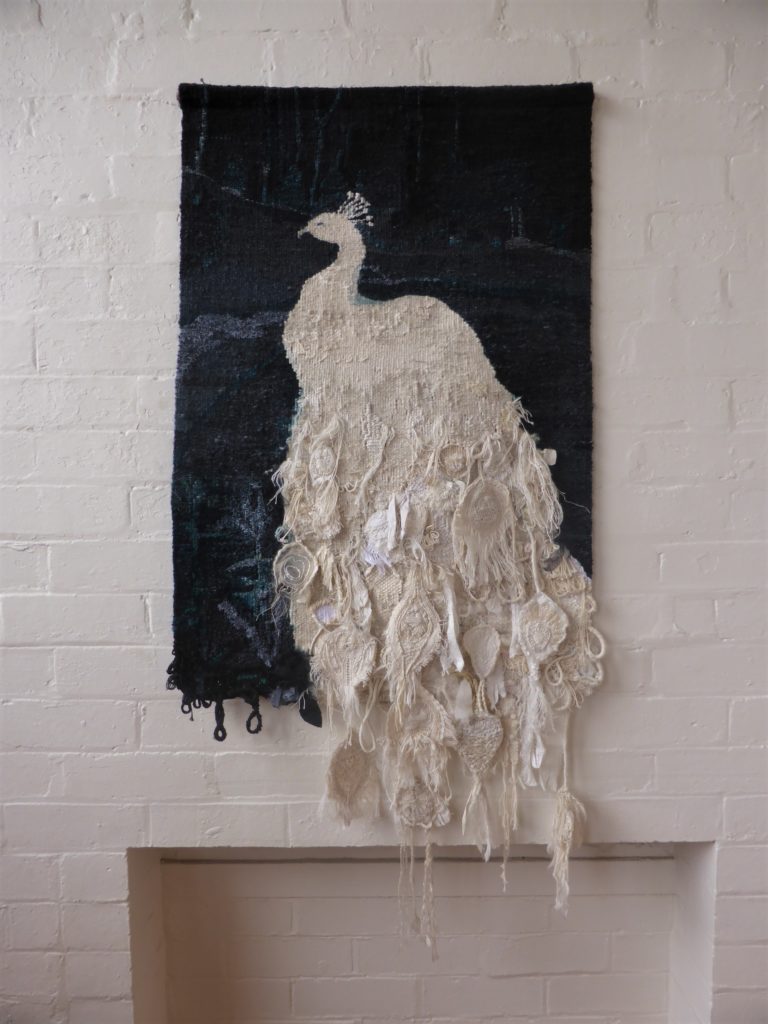 Peacock
Caitlin Johnston
I've been interested in creating art since a young age and have always wanted to continuing making art for myself and home, I've self taught myself how to tapestry weave and made myself a loom, I've always been inspired by the textures and colour pallets that fit well together which lead me to creating all my tapestry wall hanging that were inspired by natures colour pallets.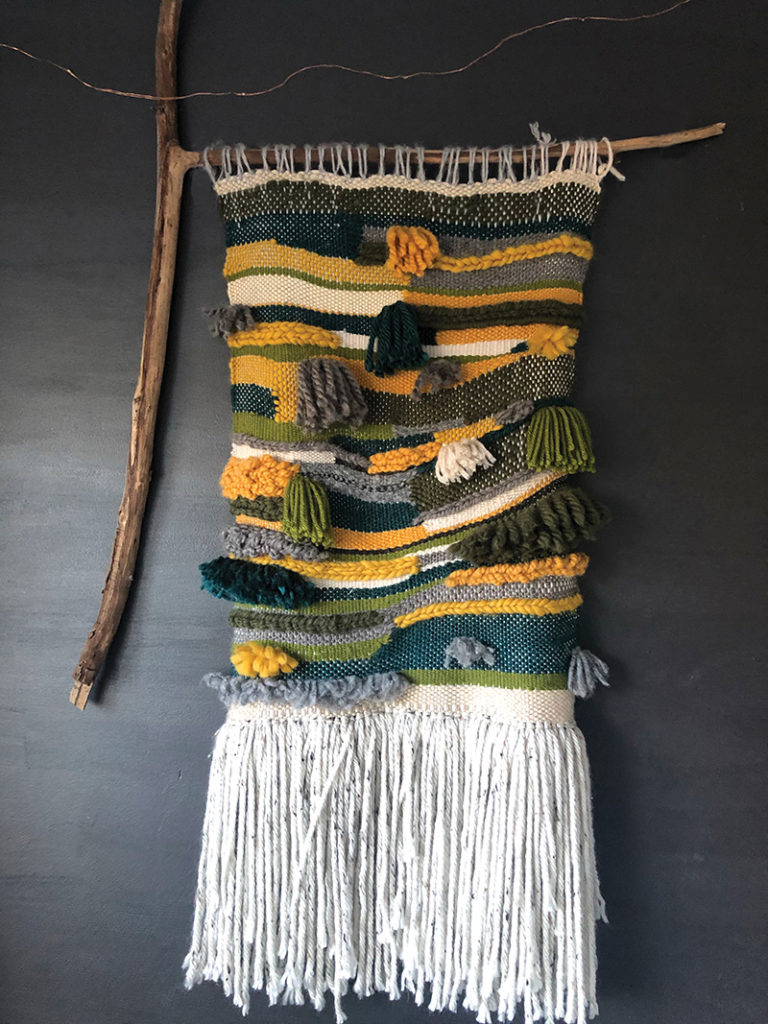 Niki McDonald
Urban faces, spaces and attitudes made permanent in wool. The sass of urban life balanced with the pace of needlepoint tapestry.
I'm saying that our urban environment empowers the women who embrace the colours, reflections, lights and brights.
I'm inspired by the ephemeral and drawn to the mechanical nature of my textile arts practice. Within the repetition and toiling is a space that allows me to connect with my intuition and inspires me beyond the daily grind.
The repetition of stitches echoes the pixels of digital work and the spray-paint used on the streets. I complement the stitches with photos I have taken and printed onto fabric, it offers texture, relevance and contrast.
Ironically street art is fast, contemporary and masculine. Tapestry is slow, traditional and feminine.
Slowly Taking Dictation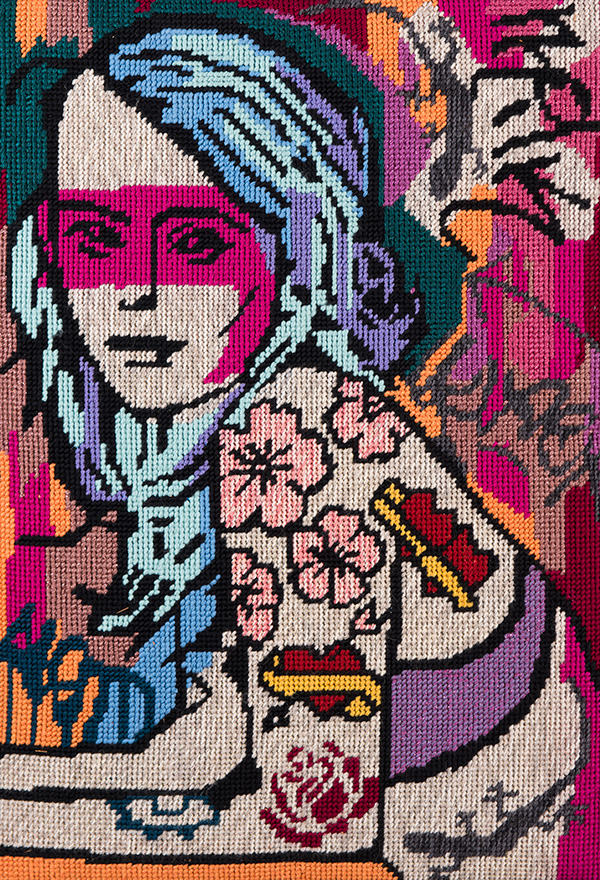 My Garden My Rules
Body of Work –
Secretary of the Invisible
Anni Albers Quote, 'being creative is not so much the desire to do something as the listening to that which wants to be done: the dictation of the materials. Creating is the most intense excitement one can come to know.'
Secretaries by Czeslaw Milosz
'I am no more than a secretary of the invisible thing
That is dictated to me and a few others.
Secretaries, mutually unknown, we walk the earth
Without much comprehension. Beginning a phrase in the middle
Or ending it with a comma. And how it looks when completed
Is not up to us to inquire, we won't read it anyway.
I am using the tools and techniques of domesticity for urban sass and sustained self-expression. In this body of work I am listening and responding and trying to get out of the way and allow the doing to be done.
Julie Nicholson
Julie's woven wall hangings explore the relationships between various textures and colours using beautiful wools, twines, feathers and found driftwood. She used a home-made loom from a large metal coat rack to create these particular pieces.
She has begun to dye the wool at home giving a subtle variation in tone and colour which has lent itself to her current series of work based on her explorations of Pittwater over the summer.
Paintings and sketches of the waters blues, greens and turquoises in Pittwater have inspired these large weavings, whilst the layers of wool fringing are suggestive of the seaweed and grasses found in the water.
Julie also teaches very successful weaving workshops to adults and children around Sydney.
100% Australian and Italian Wools, Australian Nundle Woollen Mill roving, loopy mango, Feathers, twine and pom poms. Each weaving is hung on found local driftwood or sticks.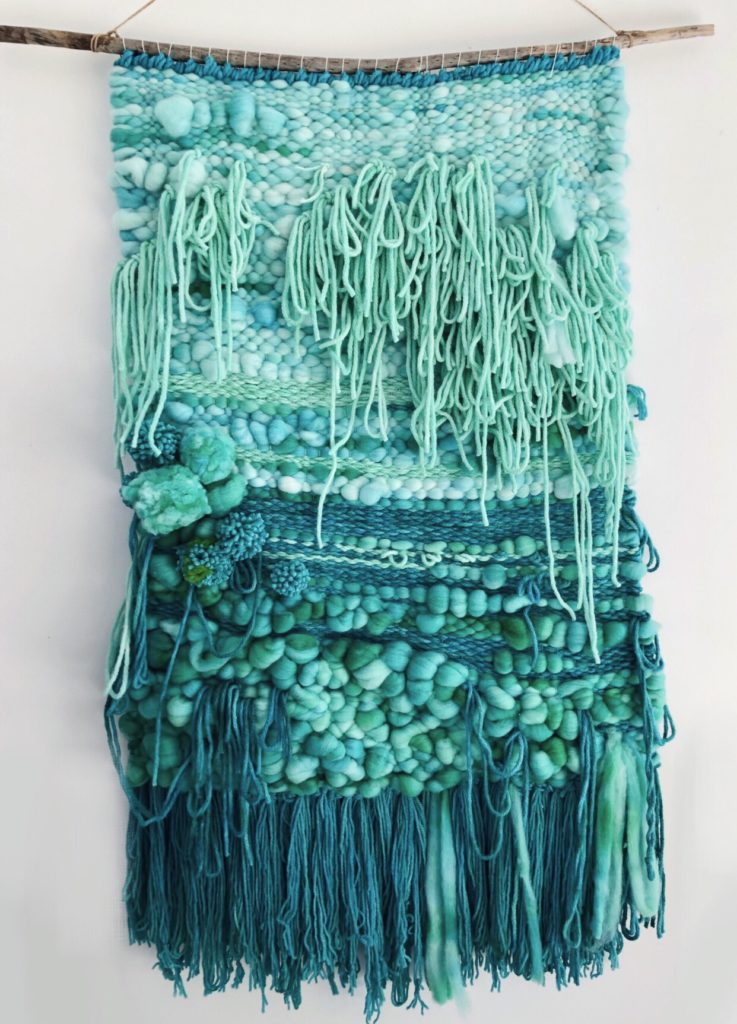 Emma Peters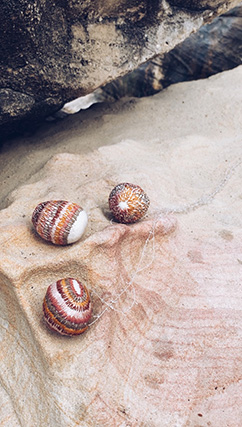 Emma Peters is a textile artist, writer, researcher and educator with extensive experience in the textile design industry.
She is passionate about making creativity accessible; building creative communities; and supporting others to integrate a creative practice into their lives through events and workshops.
Emma's textile practice and research considers our relationship with material culture in terms of narrative, identity, memory, place and connection. She is interested in the tangible relationships we have with textiles, and the ways in which we interact and express ourselves in the world through colour, pattern and texture. Materials and technology are challenged and integrated to exploit their potential as evocative, emotionally durable and sustainable tools for creating textiles.
Since working as a commercial textile designer with several of Australia's leading homeware brands, Emma has been awarded a Master of Design, published research, exhibited as a solo artist, taught as a sessional academic at Art & Design, UNSW and UTS and is a founding member of the Seed Stitch Collective, a textile group focused on elevating fibre as an artform and creating new opportunities for the textile community in Australia.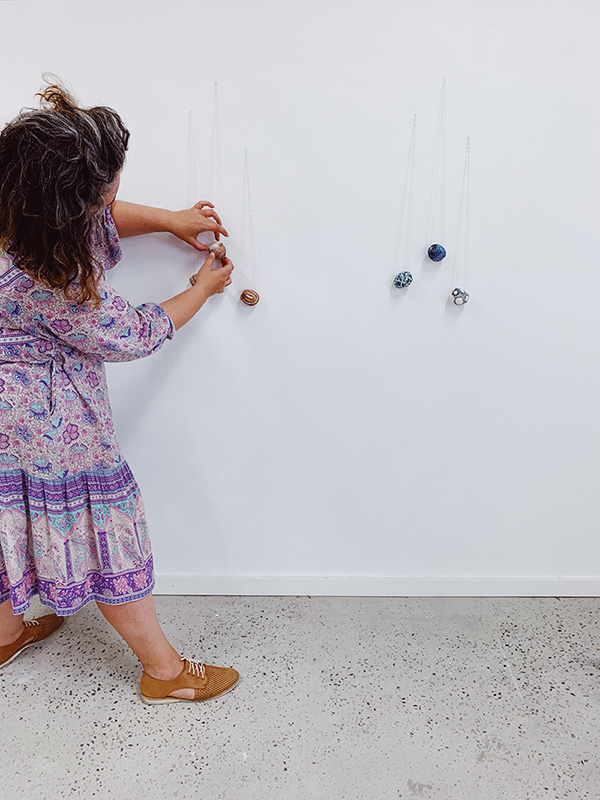 Nicole Robins
My interest in basketry and fibre art is a mid-life coming together of different areas in my life. Travel. I lived for 7 years in Latin America in my 20s and early 30s and it feels like I have been looking at basketry and weaving and craft all around the globe for a long time. I am drawn to the artistry and colour and how living arts relate so closely to people's lives – often women's. As a long time feminist I have been very interested in women's development projects, which help women earn a realistic income through their art and craftwork. I also love plants and became quite a digger when I finally settled down in Sydney in my early thirties. On a whim I took a basketry weekend workshop with Meri Peach in 2011 at the Botanical Gardens. I haven't stopped since then.
At the moment my practice is centred around a sense of time and place, especially the contemporary plant world around me in Sydney. I am trying to use traditional techniques from basketry while embracing our current range of domestic, native and non-native plants – these don't feature in other places or times. I am interested in documenting the plant world we live in and moving away from more functional basketry pieces. The inspiration is definitely from the plant world around me in Sydney but the forms are drawn from all domains of life – how people live and what they choose to have around them to give their environment beauty and meaning. Lately I like the idea of hanging work – baskets, flat pieces, wall sculpture and pendants. I like the notion of bringing the natural world into our interior landscapes and beautifying and texturising our living and working spaces. It is also making a statement about valuing artisanal objects and considering them as art works worthy of putting on our walls. Not everyone realises that all baskets are handmade and that the gathering, drying, soaking and weaving process takes considerable time. The politics of the slow craft/ slow stitch movements have great resonance for me.
I have lived in Sydney's Inner West for over twenty years and nearly all of my materials are gathered or grown in the local area. Sydney is a very green city with a wonderful climate for gardening and harvesting leaves and vines all year around. The sustainable element of my work brings me great joy. Fibre choice celebrates Sydney's diverse plant life and I like to use whole, recognisable fibres whenever I can, juxtaposing indigenous plants, exotics and, yes, even 'weeds'. I use basketry techniques that will showcase the beautiful fibres, rather than the other way around. Sculptural ideas are driven very much by the inherent sculptural qualities of each fibre.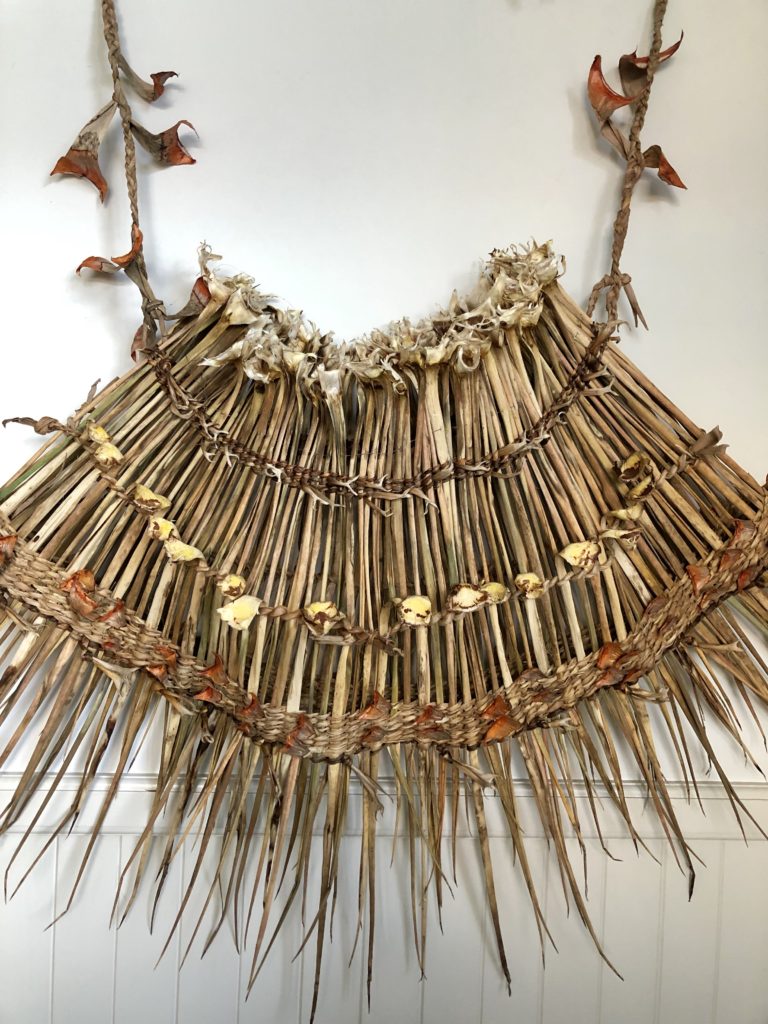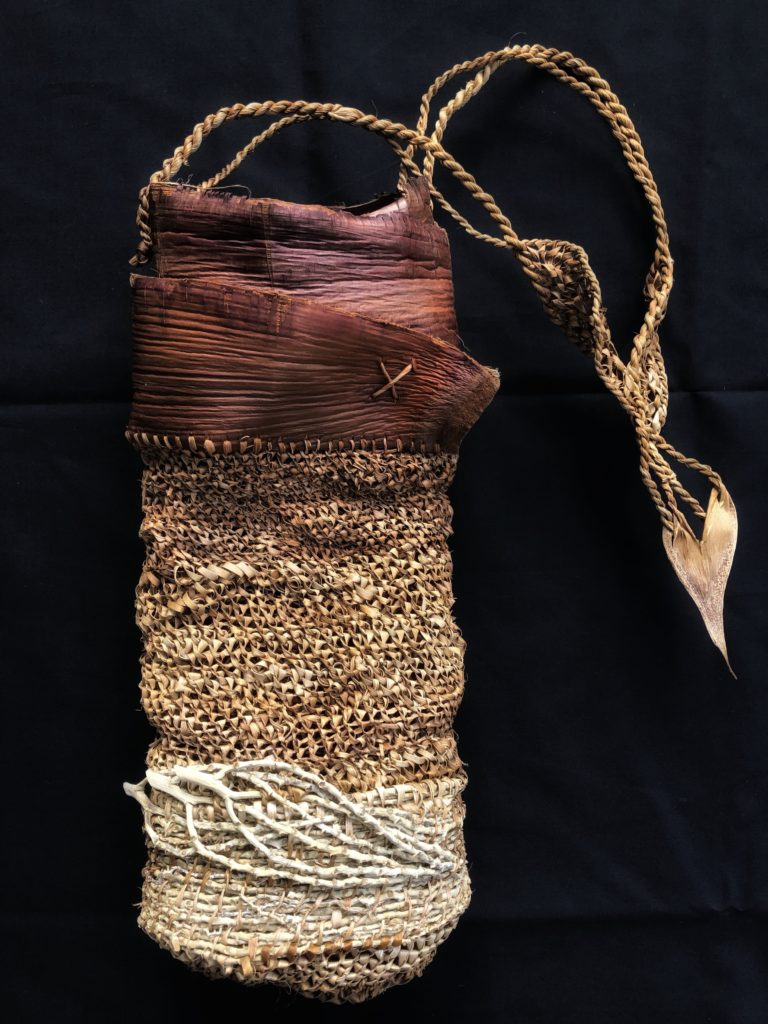 Kylie Walsh
Kylie Walsh is an emerging Sydney based fibre artist. She is interested in the dynamic quality of yarn and how she can transform the tactile, pliable medium into a taut bold form, to achieve a graphic/ painterly effect. Through the development of a wrapping technique, a kind of hybrid-weave, Kylie creates yarn paintings and sculptural objects, that are dominated by bright colours and geometric patterns.
Kylie is excited by Gestalt effects, particularly in the curation and viewers perception of the wrapped form. She tends to create work in series: whilst her pieces can be enjoyed individually, it is in the collective assembly of her work where infinite possibilities for arrangement, tessellations and pattern play emerge.
As well as pursuing her art practice, Kylie is passionate about supporting local makers. She holds a Graduate Diploma in Arts Management from UTS and has been working professionally over the last four years in arts administration and craft retail, working with some of the best makers in Sydney's handmade community. Under her curatorial practice We Heart The Arts she has also curated pop up events including exhibitions, markets and crafternoons. She is also a member of the Seed Stitch Collective.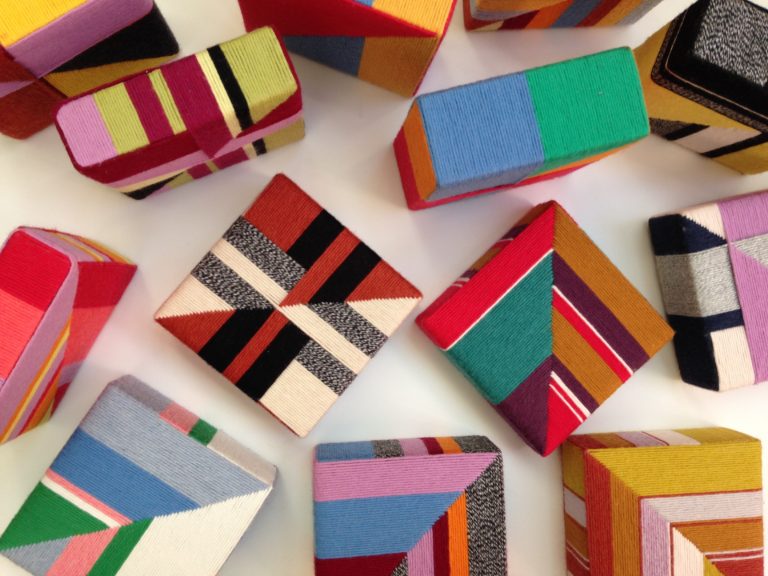 Becky Williams
I am a mixed media contemporary textile artist with a passion for shibori, feltmaking, printing, dyeing and free-machine embroidery.
I moved to Sydney in June 2015 where I continue to run my specialised textile workshops.
My 8 years teaching experience includes Post 16 education in the UK, lecturing Textiles on Alevel, Extended Diploma and FDA courses.
Originally from Falmouth, Cornwall (UK) I am a member of the International Feltmakers Association. I studied Contemporary Textiles in Cardiff, Wales, graduating with a first class Bachelor of Arts honours degree in 2008.
My work has been exhibited worldwide, including Sydney, London, Paris and Japan.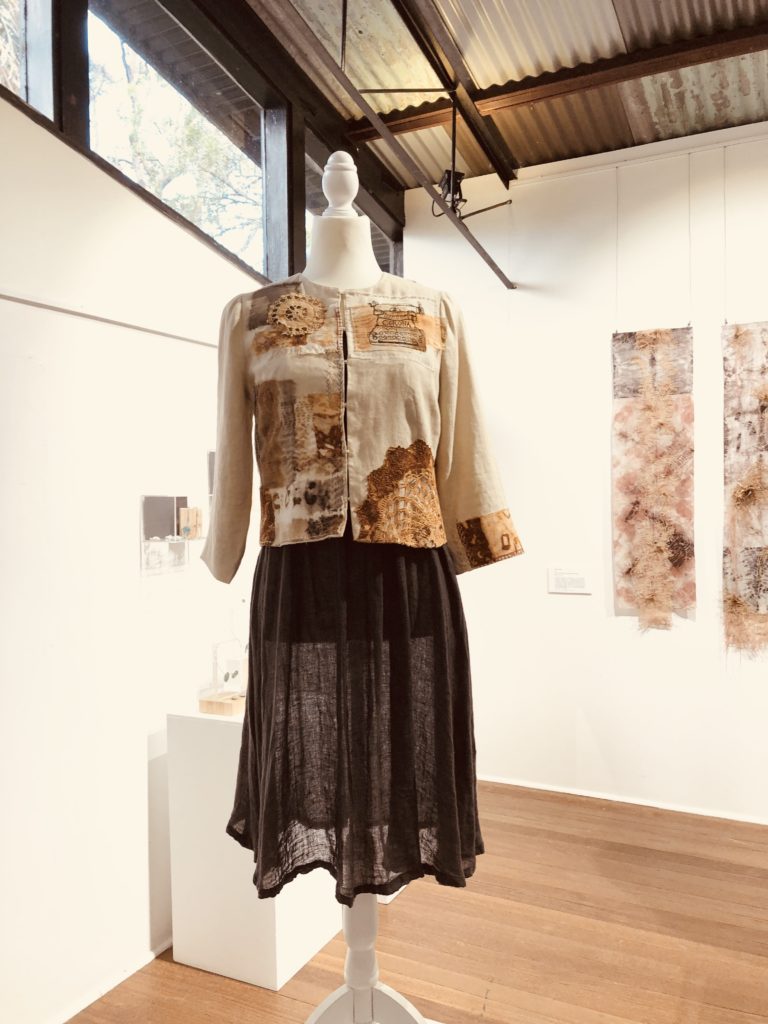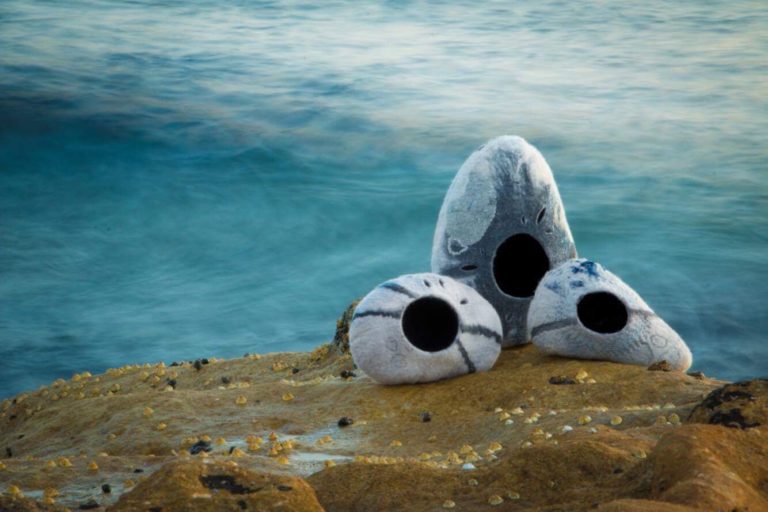 Tracey Trinder
Sydney based artist/ceramicist has always loved textiles. Having collected thousands of men's ties, Tracey Trinder has given these masculine symbols of corporate life a new start as stunning, earth friendly, feminine fashion pieces.
Growing up with an incredibly creative mother and grandmother I was always surrounded by mountains of fabric, piles of patterns and a world full of ideas. At night I would go to sleep to the whirr of the sewing machine and lie there imagining the wonderful pieces my mum was creating in the next room: Wedding dresses, ballet tutus, formal dresses, bags, furnishings … there was nothing she couldn't "whip up." I would often come home from school to find someone standing on our kitchen table in their new finery, waiting patiently while she marked the hem and made the final adjustments. And I knew when she headed off looking tired to her other job as a florist that it was because she'd been up half the night sewing tiny seed beads and sequins onto velvet and satin bodices; tulle and voile skirts.
When we visited her family home in New Zealand and my grandmother Zora, the world's greatest collector and hoarder, pulled out and dusted off old boxes that contained the intricate figure skating costumes she had made for my mother, it became pretty obvious where Mum's creative juices flowed from.
From very early on, starting out with needles and thread, a big biscuit tin full of buttons and all the lace and trimmings we wanted, my sisters and I were determined to get a bit of that creative juice flowing through our veins too. I remember the day we finally graduated to an old hand cranked Singer Sewing Machine that Mum bought second hand. The excitement levels were intense! It's not like there wasn't a perfectly good "electric" sewing machine in the house but Mum said the old, hand version would slow us down and teach us to sew "properly." Her perfectionism drove me crazy at the time but now I'm constantly thankful for it.
It was dolls clothes, purses and library bags when we were little. Having only one hand to turn the wheel and the other to guide the fabric really was a challenge for small hands. Especially the day I put the needle straight down through my thumb. A lesson hard learned but never, ever forgotten!
At thirteen, our first teenage birthday, each of us received our very own, electric sewing machine. Some people have been surprised when I've told them this but in our house you crawled, you walked, you sewed. Not doing it was never really a consideration. And I loved it from the start.
The works I'm creating for you now are designed to be truly unique. Pieces that make the wearer feel special. Pieces that say … This is who I am or This is how I'm feeling. I want to offer people something worth keeping. An alternative way of thinking in our disposable society . Treasures that will last. I think it's important for us as individuals and I think it's important for our world.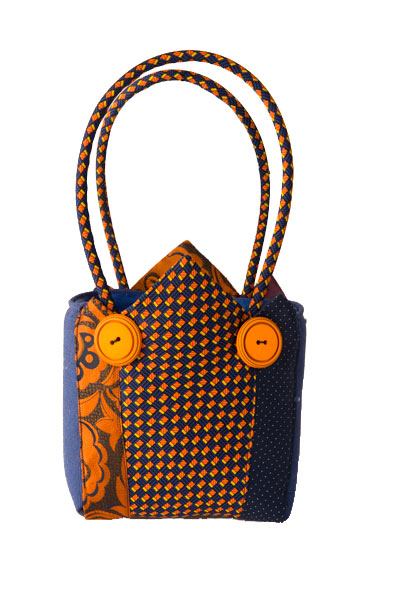 Penny Paisley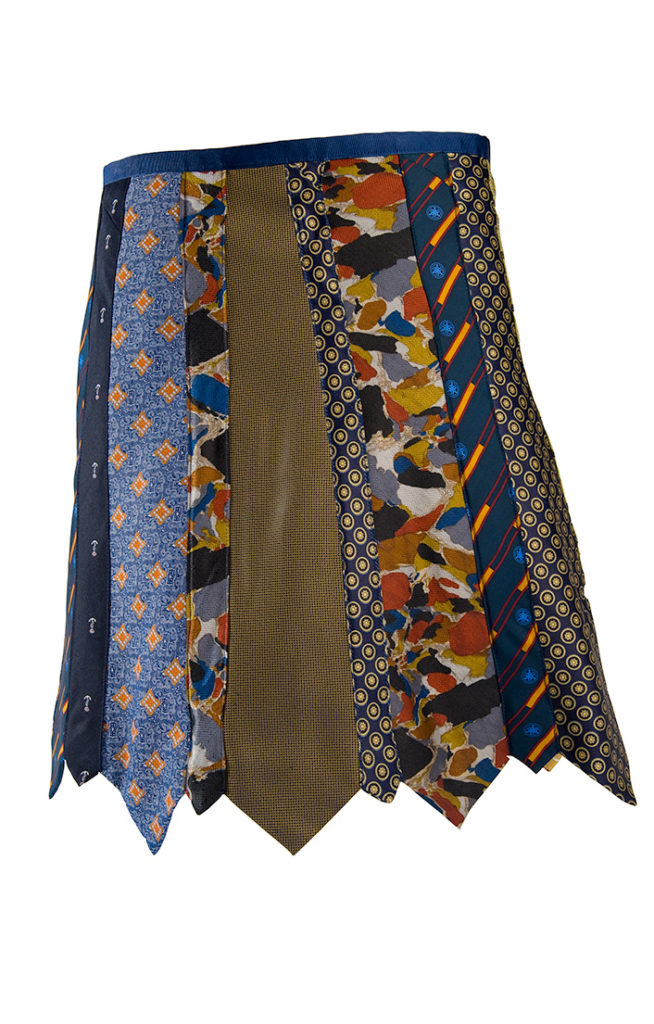 Trindella
Regina Lulu
I can weave a lot of different patterns. I mostly weave them into aelen (island) baskets, but I also make the mats, drink holders (with a neck rope), cushion covers, placemats and house decor.
Some baskets design take me 2-3 days to weave, but I can weave 2-3 simple designs in one day.
A lot of thought goes into my basket designs. This is mostly to ensure they are supported and finished well.
I was one of the first to design, produce and sell the wine holders that you might have seen around town.
I hope to be involved in the handicraft industry for a long time yet. One day I might also look to expand my business to sell kava.
When I'm not busy weaving I enjoy spending time with my cats.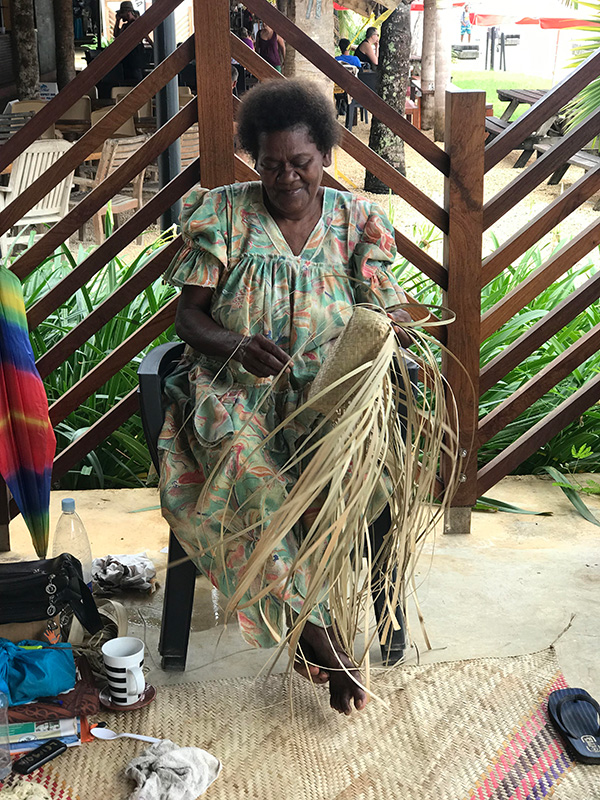 Leimok Peters
My mother taught me to weave when I was 18 years old. I started to with which we use to sell or trade with other villages. Then a new lady in our village taught me a new weaving technique. Coconut broom (the spine of a coconut leaf) is used to give these pandanus weaving shape.
I still use this technique today in a lot of my work.
I began selling to tourists when tours brought them to my village, but this is my first exhibition.
I have 7 children, and my 2 girls can weave well, but they both have full time jobs so they don't often get a chance to weave.
When I am weaving, I am sewing my weaving into other products. I set myself goals a lot of goals to ensure I'm productive. If I'm ever lacking motivation, I find that if I start weaving new inspiration and product ideas come naturally.