September 1 - 8, 2018: Issue 374
THE BIG DIG: Treasures At The Beach - A Rotary Family Fun Day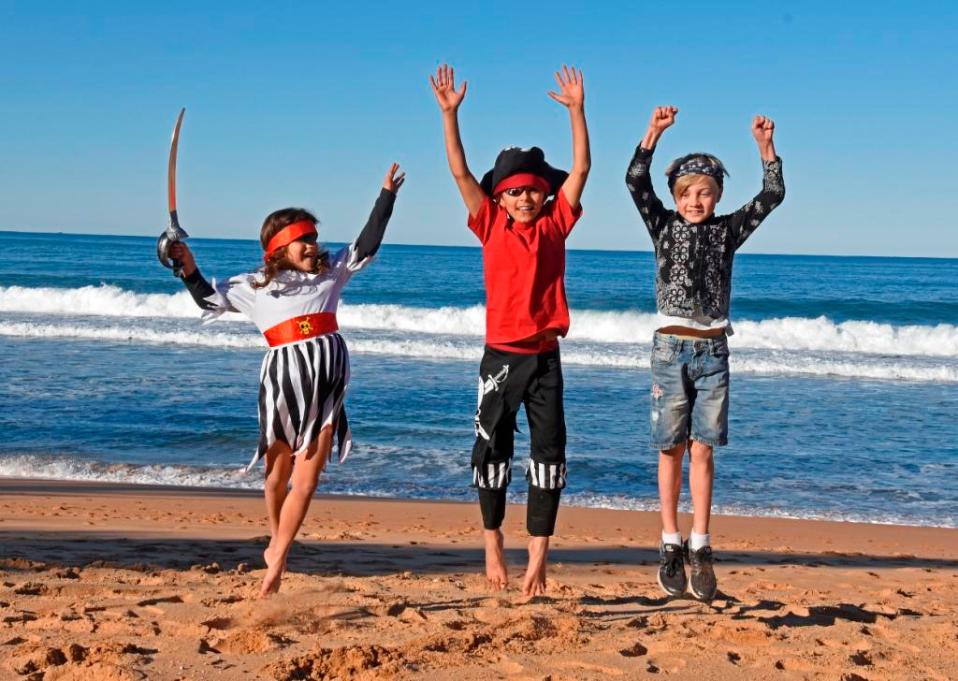 Isabella Chidambaram, Fredrick Chidambaram and Casey Logan are ready to have BIG Fun next Sunday at Newport Beach
THE BIG DIG: Treasures at the Beach - a Rotary Family Fun Day
The Rotary Club of Upper Northern Beaches is delighted to announce the Big Dig Treasure Hunt, an exciting morning of pirate-themed family fun on Sunday 9 September at Newport Beach. With something for all ages, kids dressed up as pirates find treasures hidden in the sand.
The beach at Newport will be divided into age-specific areas, each one containing a number of tokens hidden in the sand. For an entry fee, kids can "dig for treasure" and trade the tokens they find for prizes.
There will be an adult Big Dig area as well, with prizes appropriate for grown-up pirates. And there are some special "Pirate Gold" prizes available, such as "Drive a BMW for a Weekend", courtesy Col Crawford BMW, and a Sydney harbour cruise for two, courtesy Travel View Avalon.
Other attractions will be set up around Newport's Bert Payne Park next to the beach - games, crafts and food, with more prizes to be won. The event will also feature a sand sculpture exhibition by noted sand artist Newton Bishop. Families are encouraged to wear their best pirate gear and there'll be prizes for the Best Dressed Pirate.
Prices to participate in the Big Dig are $5 for children, $10 for teenagers and $30 for adults. Tickets can be purchased on-site on the day, or can be purchased in advance at www.trybooking.com. Entry to the site is free.
Registration starts at 8.30AM and the fun continues until 1.00PM, with prize digging scheduled by age group. A tasty BBQ breakfast and lunch will be available during the event.
"We're really excited about introducing the Big Dig to the Northern Beaches," said Rotary club President Simon Masman. "It will be a great morning out for all young pirates... and for pirate parents, too."
Presented with the support of the Newport Surf Lifesaving Club, the event is modelled after the Big Dig organised by the Rotary Club of Port Macquarie Sunrise. Now in its 7th successful year, the Big Dig is a popular highlight in Port Macquarie's annual event calendar.
The Big Dig is a fundraiser for the Rotary Club of Upper Northern Beaches, helping the club to support a variety of local organisations in aid of mental health, including the Be Centre, Lifeline Northern Beaches, the Veterans Centre Sydney Northern Beaches, and the Palliative Care Centre at Mona Vale Hospital.
For details, go to www.rotaryuppernorthernbeaches.org or contact Liz on 0412 007 068 and bigdig@rotaryuppernorthernbeaches.org.
Bring the whole family, me hearties, and join in the pirate fun at the beach!
About the Rotary Club of Upper Northern Beaches
The Rotary Club of Upper Northern Beaches (RCUNB) is one of over 1,100 Rotary clubs in Australia, part of the global network of more than 35,000 clubs dedicated to making the world a better place – across the globe, in our communities, and in ourselves. With about 50 members, our club has helped to build sustainable communities in Timor Leste and Cambodia, and has donated tens of thousands of dollars to local organisations in the Northern Beaches from Collaroy to Palm Beach. Among the club's local projects is the annual Community Service Appeal Car Raffle in support of local schools, sporting clubs and other groups. www.rotaryuppernorthernbeaches.org/
About Lifeline Northern Beaches
Part of the national Lifeline network - the leading provider of suicide prevention services in Australia - Lifeline Northern Beaches provides quality telephone and in-person support services to relieve distress and suffering caused by crisis situations. Lifeline's 13 11 14 service, providing 24 hour a day, 7 day per week assistance to those in need, has been serving the Northern Beaches area for over 40 years. www.lifelinenb.org.au
About Be Centre
Warriewood-based Be Centre is a leading children's mental health charity providing Play Therapy for kids aged 3-12 years. The Centre is dedicated to early intervention, stopping cycles of harm and helping children heal from difficulties and trauma so they can create a brighter future. They also offer programs to support parents and carers and to develop the skills of professionals who work with children and families. www.becentre.org.au
About the Veterans Centre Sydney Northern Beaches
Located at Dee Why RSL Club in the heart of the Northern Beaches and accessible to all Veterans in the region, the Centre brings a holistic approach to care and assistance for anyone with military connections: veterans, their spouses, family, relatives and friends. The centre is a non-aligned, independent service designed to provide meaningful assistance and positive outcomes for the veteran community. http://vcsnb.org.au
About the Newport Suft Lifesaving Club
Aiming to educate local adults to children to be competent and safe in the beach/surf environment, the club has a strong focus on educating our children within the community and providing them with a range of activities. These include surf knowledge and techniques, introduced to the children through the Nipper programme which runs on Sunday mornings throughout the summer months. The club also takes pride in keeping the general public safe by providing a beach that is patrolled through summer. www.newportsurfclub.com.au