October 20 - 26, 2019: Issue 425
Team NSW Wins 39 Medals In SLSNZ 2019 Pool Rescue Championships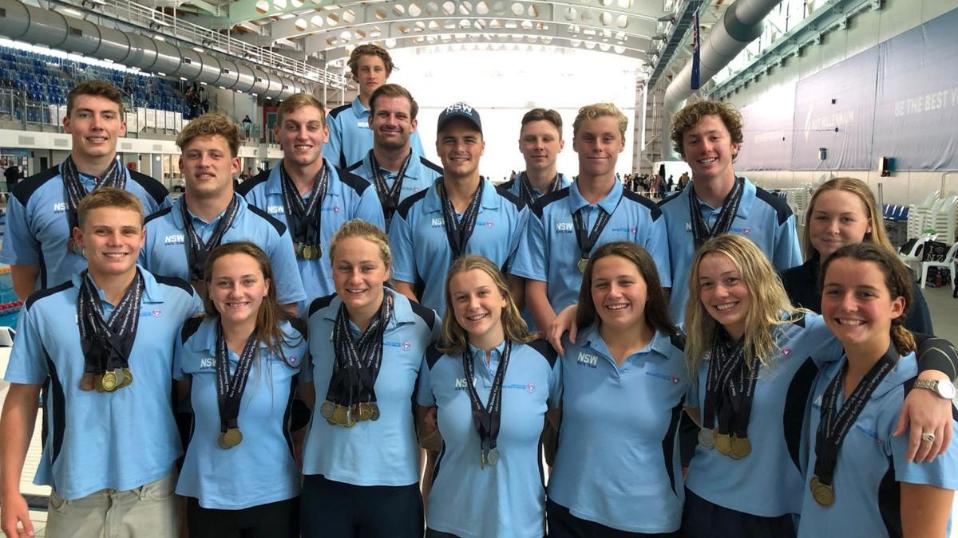 Wednesday 16 October 2019
By Surf Life Saving NSW
The state's best Pool Rescue athletes have returned to Australia with a trove of 39 medals after cleaning up at the New Zealand National Championships on the weekend.
The team, which was selected based on their excellent results at the NSW and Australian Pool Rescue Championships, travelled across the ditch to put their skills and speed to the test against the Kiwis.
Over two-days the NSW athletes competed in all divisions including the coveted Super Lifesaver event. For the first time, the team entered Open competitors who came up against the likes of New Zealand pool superstars Steven Kent and Chris Dawson.
NSW has sent a team to compete in the championship event since 2016, using it as a development opportunity for athletes only. This year the team was made up of state and national champions including Australian record holder James Koch. The athletes were accompanied by Head Coach Sue McCaughtrie (Brunswick SLSC), Assistant Coach Tom Simpson (Shelley Beach SLSC) and Team Manager Max Gonzales (Bronte SLSC).
Max Gonzales said this year the team was opened up to Under 16s, Under 19s and Open divisions to assist with the lead up to the Commonwealth and Royal National Pool Championships. "This year has been the most successful year for us yet as a result of creating this additional major meet for our athletes," said Gonzales.
"Not only does Pool Rescue provide the perfect opportunity for maintenance of rescue skills and techniques in preparation for the patrol season," said Gonzales, "for those who also compete in beach and surf events it puts them in the ring to be selected to represent Australia at the World Championships.
"It's also a great opportunity for us to see how the New Zealanders are working with their clubs and athletes to promote Pool Rescue and develop the pathways to strengthen the sport as a whole in NSW."
Tom Simpson said the entire team performed at their best. "The expectations of the team were quite high based on their outstanding times at the state and Australian Championships," said Simpson. "Many of them were aiming to outperform their personal bests despite coming off the back of a big training block. To return home with so many medals is amazing."
Highlights include James Koch's (Shelley Beach SLSC) gold medal in the Open Male 200m Super Lifesaver event. "This is one of the most grueling events testing all capabilities of athletes under the pressure of the clock," said Tom. "James achieved his gold in 2:13.68."
A talented swimmer in the pool and the surf, James is a two-time recipient of the Saxon Bird Memorial Trophy at the NSW Championships. "It's great to see him transition into Pool Rescue racing and expand his success as an multi-faceted athlete," said Simpson.
Champion Ironwoman Emily Doyle (Newport SLSC) also had a great result in the Under 19 Female Super Lifesaver improving her Australian Championship gold medal time and taking a silver medal with a time of 2:30.68. Doyle achieved a first place in the 50m Manikin Carry along with a number of other individual and team medals.
From Cudgen Headland SLSC, Lily O'Sullivan and Joey Warne made their representation worthwhile with Joey taking out the Under 19 Male 100m Manikin Tow with fins while Lily took second in the same event. This is 14 year-old Lily's first year competing in Pool Rescue and she has already claimed both NSW and Australian titles.
Athletes who competed in the teams and relay events also performed at a high level across the board with 16 medals in total returning to Australia.
Surf Life Saving NSW Director of Surf Sports Don van Keimpema said it was great to see the NSW team continue their success internationally after a big year on home turf. "Pool Rescue is one of our fastest developing surf sports and it is really complementary to our athletes and lifesavers," said van Keimpema.
"Taking opportunities like this to travel internationally and continue to refine their skills for individual and team events is so important. For the team to return home with the success that they have is a bonus and we're very proud of them all," he said.
NZ Pool Rescue 2019
2019 NZ Championships Representative Team
Holly Holmesby – Bulli
Chelsea Jones – Bulli
Chantal Luxton – Cudgen Headland
Joseph Warne – Cudgen Headland
Lily O'Sullivan – Cudgen Headland
Emily Doyle – Newport
Jake Morris – Newport
Joel Piper – Newport
Kimberley Doyle – Newport
Katelynn Doyle – Newport
Amelia Wegenaar – North Curl Curl
Jacob Cerniauskas – Redhead
Bailey Proud – Redhead
Jack Curran – Redhead
Ethan Garland – Shelley Beach
James Koch – Shelley Beach
Tom Simpson – Shelley Beach
Thomas Rodham – Terrigal
Kaylah Holmes – Umina Beach
Blake Hessel – Umina Beach
2019 NZ Pool Rescue Championships – Team NSW Medallist
U16 Male 200m Obs – Joel Piper 3rd 2.11.24
U16 Female 200m Obs – Chelsea Jones 1st 2.18.80
U19 Female 200m Obs – Emily Doyle 3rd 2.17.46
Open Male 200m Obs – Jame Koch 2nd 1.58.86
U16 Female 4 x 50 Obs Relay 2nd SLSNSW 2.06.33
U19 Mixed 2 x 50 Obs Relay SLSNSW (1) 1st 1.56.16 SLSNSW (2) 2.02.26
Open Male 4 x 50 Obs Relay SLSNSW 1st 1.48.13
Open Mixed 4 x 50 Obs Relay SLSNSW 1st 1.58.61
U16 Male Line Throw SLSNSW 1st 0.16.13
Open Male line Throw SLSNSW 3rd 0.14.50
U19 Female 100 Rescue Medley 2nd Emily Doyle 1.17.80 3rd Kaylah Holmes 1.20.35
Open Male 100 Rescue Medley 1st James Koch 1.03.93
U16 Female 4 x 25 Manikin Relay 1st SLSNSW 1.45.40
U19 Female 4 x25 Manikin Relay 1st SLSNSW 1.35.83
Open Male 4 x25 Manikin Relay 2nd SLSNSW 1.20.73
U16 Male 100Manikin Tow with fins 3rd Tom Rodham 1.01.01
U16 Female 100Manikin Tow with Fins 2nd Lily O'Sullivan 1.05.47 3rd Chelsea Jones 1.08.61
U19 Male 100Mankin Tow with Fins 1st Joseph Warne 0.56.37
U19 Female 100MankinTow with Fins 2nd Emily Doyle 1.03.82
Open Male 100Manikin Tow with Fins 1st James Koch 0.53.58 2nd Bailey Proud 0.54.84
U19 Mixed Pool Lifesaver Relay 2nd SLSNSW 2.14.95
U16 Male 100Manikin Carry with Fins 1st Tom Rodham 0.53.67
U19 Male 100Manikin Carry with Fins 2nd Blake Hessel 0.51.79 3rd Joseph Warne 0.52.25
U19 Female 100Manikin Carry with Fins 2nd Emily Doyle 0.59.28
U16 Male 50m Manikin Carry 3rd Tom Rodham 0.35.00
U19 Female 50m Manikin Carry 1st Emily Doyle 0.37.86
U19 Mixed 4 x 50 Medley Relay 1st SLSNSW (1) 1.44.11 3rd SLSNSW (2) 1.47.08
Open Male 4 x 50M Medley Relay 1st 1.36.11
Open Mixed 4 x 50m Medley Relay 1st 1.55.44
Open Male 50m with Fins 2nd James Koch 0.17.17
U19 Male 200m Super Lifesaver 3rd Blake Hessel 2.22.19
U19 Female 200m Super Lifesaver 1st Emily Doyle 2.30.84
Open Male 200m Super Lifesaver 1st James Koch 2.13.68
Open Mixed 6 x 50 Mega Relay 1st SLSNSW 2.16.15