July 18 - 24, 2021: Issue 502
Sydney Wildlife Mobile van Celebrates one year of weekly clinic service: donate your Return and Earn bottles to support vital wildlife rescue and rehabilitation - every 10 cents counts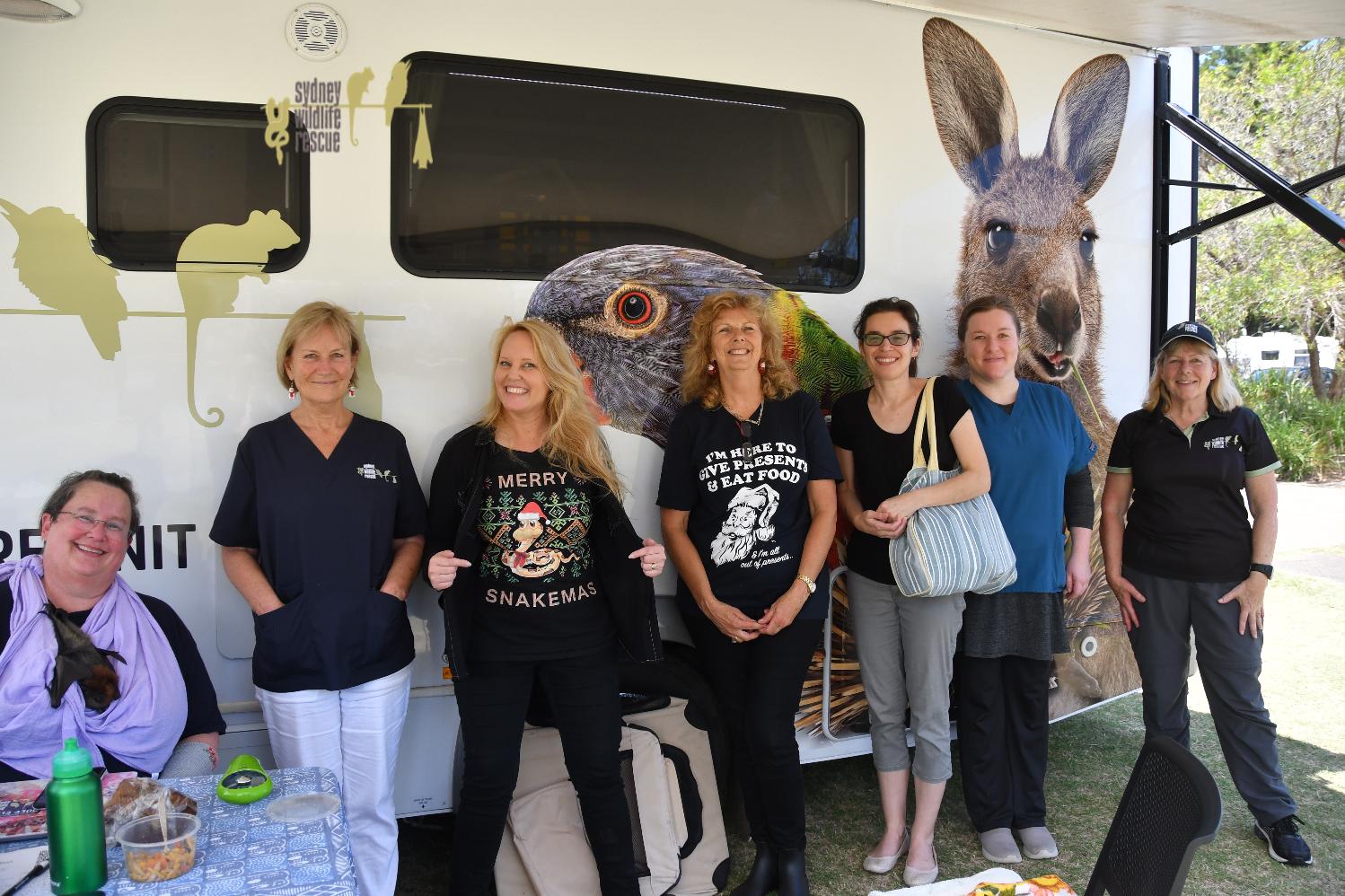 Sydney Wildlife Rescue Volunteers, vets and carers at their weekly Clinic, December 2020
One of the Essential Services still required during the current stay-at-home safety measures is
Sydney Wildlife Rescue
as the need to rescue local and care for our wildlife does not stop, even during a Covid outbreak.
To look after these animals medicines, bandages, x-rays, transport, food and more are required.
As a 100% voluntary organisation, Sydney Wildlife relies on donations from the public to meet these costs, at present largely met, in the case of ongoing at-home rehabilitation, by the Sydney Wildlife Volunteer Carers themselves.
In Pittwater we have a dedicated and outstanding group of people who are all members of Sydney Wildlife Rescue and Rehabilitation. From Pittwater has sprung the realisation of the Sydney Wildlife Mobile Clinic as well as the Sydney Wildlife Rehabilitation Centre.
Currently Sydney Wildlife Rescue is registered for Return and Earn in NSW. This time it is accessed by an App called My Tomra - which is the organisation that runs the recycling. To donate your returned bottles simply download the My Tomra App, then search "Our Wildlife" and you will see Sydney Wildlife Rescue listed. You can set that as the payout.
You then just scan the bar code from the App at the recycling machine and the 10c will be donated to Sydney Wildlife Rescue. The machines can be located anywhere in NSW.
Please have a look as it's a good way to support Sydney Wildlife to care for our wildlife and do your bit to keep Australia Beautiful.
Although over the counter locations for our area are currently closed there are still several Reverse Vending Machines where you can allocate your 10 cents per item towards Sydney Wildlife.
Pittwater RSL Club Mona Vale: 7am to 10pm
82 Mona Vale Rd, Mona Vale
NBISC Warriewood: 7am to 10pm
Jacksons Rd, Warriewood
Time & Tide Hotel: 8am to 8pm
30 Campbell Avenue, Dee Why
Golf Paradise Terrey Hills: 7am to 8pm
1A/1B Myoora Rd, Terrey Hills
Belrose Super Centre: 7am to 7pm
4/6 Niangala Cl, Belrose
This week an update on what Sydney Wildlife volunteers have been doing. Report by Margaret Woods.
Sydney Wildlife Rescue Van Celebrates One Year of Weekly Clinic Service
How did this service come about?
We could not help noticing that many of our local vet clinics were being inundated with injured wildlife and were treating these animals using all their own resources. We could see that many of the vets wanted to do more for their wild patients but were constrained by time and expenses. At the same time, we were assisting in the fire grounds near Canberra and were rescuing animals and travelling great distances to get them to a vet clinic - many of which were already overflowing with injured wildlife.
What we needed was to find a way to unburden local vet clinics by providing a wildlife-only veterinary service but also find the way to take that service "on-the-road" to areas struck by natural disasters or experiencing a heat-stress event etc. The idea of a Mobile Care Unit was formulated by Joan Reid - one of our Sydney Wildlife Rescue volunteers. Together with many of the other volunteers within the organisation, we embarked on a fundraising mission to raise $200,000.
We held a multitude of events - everything from a High Tea in the beautiful "Coomalong" gardens in Bayview to a sophisticated Black-Tie dinner at the Cardinal's Palace in Manly. It took around 3 years to raise enough funds to purchase a brand new Jayco Motorhome and convert it from a recreational vehicle to a fully operational veterinary-service-on-wheels. Not only did we convert the interior, but we also gave the exterior a bit of a cosmetic lift by embellishing it with photographs of some of our Sydney Wildlife patients - Harry the koala, Maurice the green tree snake, Wanda and Waldo, the naughty wombat duo and many more. This was achieved by combining the talents of photographer Peter Sharp of Tame and Wild Studio and Clayton and Troy at Pivot Creative. Many of our internal modifications were done by Tony Philps who co-runs the Mens Shed in Belrose and is also a member of the Belrose Lions Club.
We had planned to have a "Grand Opening" with ribbon-cutting, speeches, champagne and self-congratulations…! But the Black Summer bushfires struck and we were
deployed immediately
to the South Coast fire grounds to assist one of our sister organisations (Wildlife Rescue South Coast) with fire-affected wildlife. We ended up spending almost 3 months going to various fire-ravaged areas such as the Blue Mountains, the Snowy-Monaro region (Cooma, Cathcart etc) and the South Coast. We worked in conjunction with many other dedicated organisations to provide treatment to every type of species. It was literally a "Baptism by Fire" for the Mobile Care Unit.
The Service today – June 2021
We now have an incredible team of Sydney Wildlife volunteer carers (Joan Reid, Lynleigh Greig, Susan Smith and Margaret Woods) running The Mobile Care Unit which has been providing treatment on a weekly basis for a year. The service is open to carers from any wildlife rescue organisation and we see all species of native Australian wildlife - from bats, bandicoots and gliders to wallabies, goannas and venomous snakes. Our patients have varied from a 2g frog to an 80kg kangaroo!
Sydney Wildlife's Mobile Care Unit boasts diagnostic services such as radiography, microscopy, blood analysis, faecal testing, ultrasound and much more. Our amazing volunteer veterinarians not only provide first-class treatment to their patients but they also give of their time to train vet students in their final year of study. Dr Margot Horder is our Head Veterinarian who oversees all areas of the Care Unit. Dr Louise Matthews and Dr Margot Horder have both undergone extensive training in the treatment of native animals and continue to up-skill wherever they can. Dr Izidora Sladakovic is one of our specialist vets who has a keen interest in our avian and reptilian species. Dr Izi is currently the only veterinarian in Australia to have a Diploma in Zoological Medicine. We are also joined monthly by Dr Kath Graham who treats any patient with eye anomalies and provides advice about patients with temporary visual issues. Physical rehabilitation is provided by Fran Wilcox who also volunteers her time on a case-by-case basis for patients experiencing temporary mobility issues.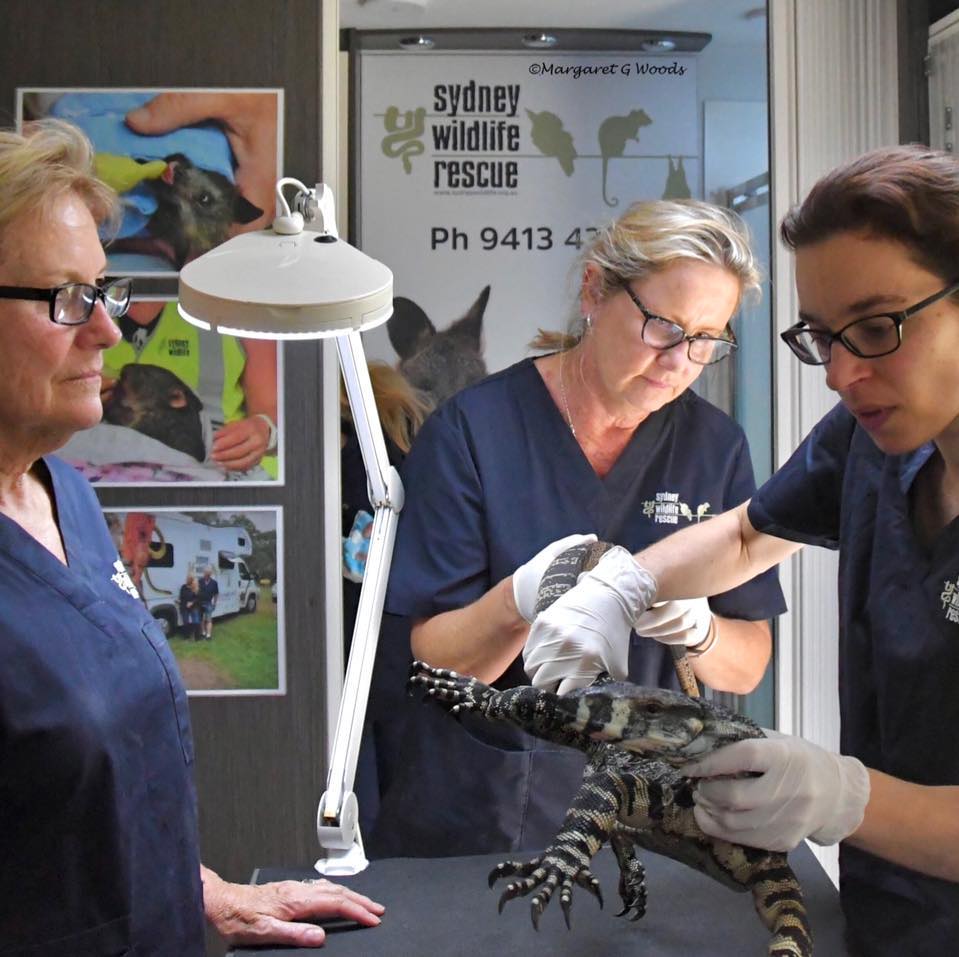 Our heartfelt appreciation goes out to the Northern Beaches Council and the Coastal Environment Centre in Narrabeen for hosting us every week outside this wonderful community education facility. Their support is invaluable to us.
Our team can see around 10 patients a day and we have estimated that we have already provided over 2100 hours of work - all on a completely voluntary basis!
Many of our medical goods are provided by Anne Jackson who is another Sydney Wildlife Rescue volunteer. Anne started the MediDivert service around 18 months ago and essentially diverts unused medical supplies from hospitals away from landfill, for use in other areas such as wildlife rescue and vet practices.
However, it costs around $30,000 a year to run the service and we rely on the generosity of the public for donations to keep the service and equipment operating. We are a registered charity and donations of greater than $2 are tax deductible.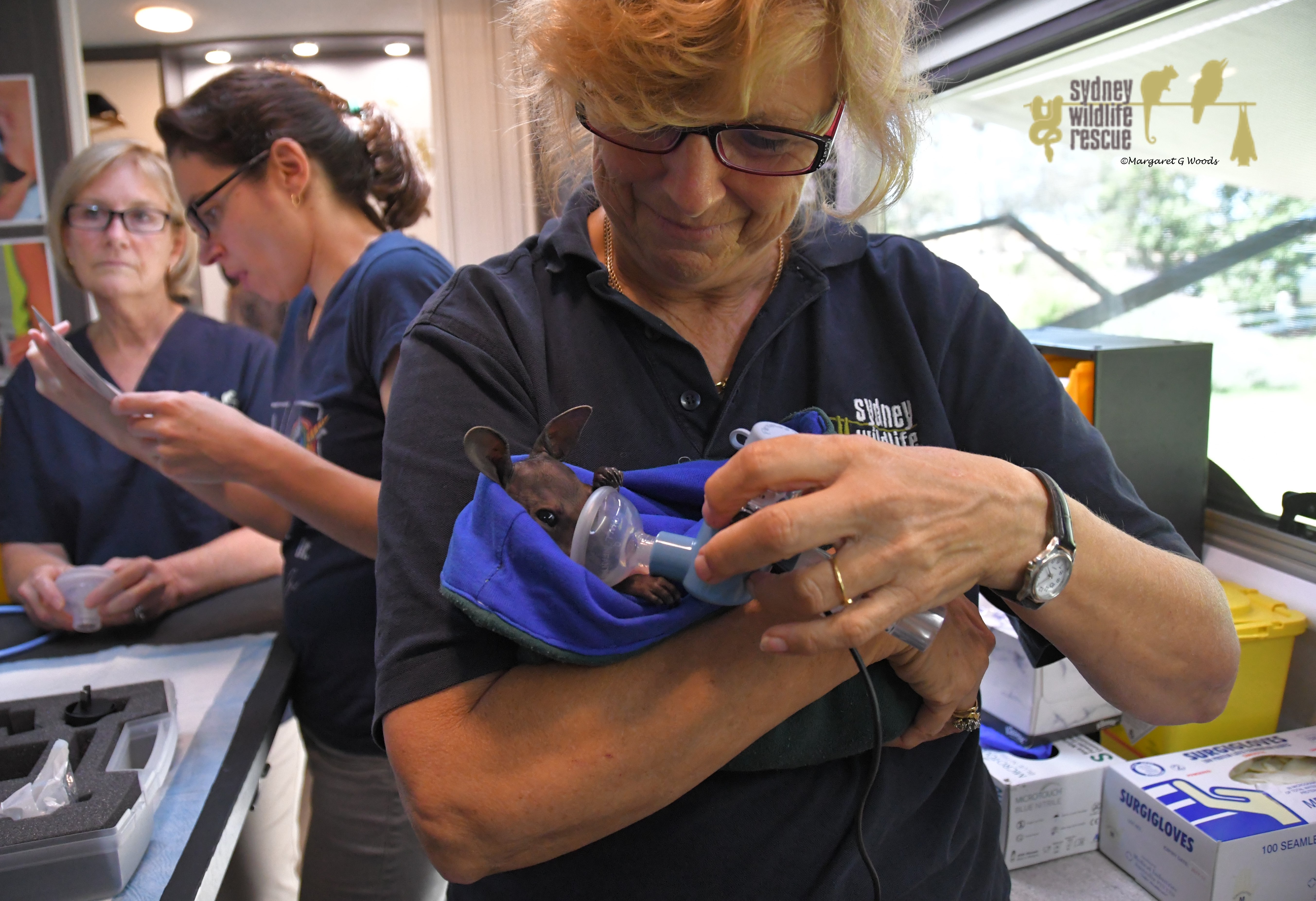 Sydney Wildlife Rehabilitation:
After the immediate care - rehabilitation for release
Sydney Wildlife Rescue's Rehabilitation Facility
Have you ever wondered where our patients go after they have finished treatment and are getting "match-fit" for release?
Our Mobile Care Unit's co-manager, Joan Reid (along with a dedicated group of volunteers) also manages our Sydney Wildlife Rehabilitation Facility where many of our patients spend time in their pre-release phase.
From big to small, we have to house them all. Having a facility that is suited to both the large predatory powerful owls down to the cute little feathertail gliders, they all need the space and security of a controlled environment to rebuild their strength prior to being released. After first spending time in a carer's home receiving medical treatment or being hand reared, these animals need to then go to a large aviary or enclosure to build up strength. For birds, this allows them to learn to fly with precision and endurance and for mammals, the skills for climbing and jumping between branches or hopping at speed that will be critical once released.
Our facility has multi-use enclosures which can be customised to each patient for their specific needs. Most of the aviaries can house birds that need to build up their flight muscles or possums that need space to exercise or even reptiles - like lace monitors - that need to build strength after a period of recuperation.
Many bird species live in groups in the wild. To give them the best chance of surviving once released we need large enough aviaries for them to form these groups. They also need enough space to fly without damaging their wings. The aviaries have been lined with a heavy-duty shade cloth to prevent any feather injuries occurring from the wire mesh.
For mammals, they require large enough areas to be able to jump and climb branches to search for food, navigating a habitat that mimics their natural environment as much as possible.
There is a quarantine room where large patients - such as wallabies - can wake up from sedation without harming themselves due to it having rubber padded walls. There are large paddocks for kangaroos and wallabies to "belt around" in and get bush-fit. There are also purpose-built facilities that can house wombats who love to dig big deep burrows and do 'zoomies'. Echidnas, the greatest escape artists are housed in our pit section, which is designed to be escape proof.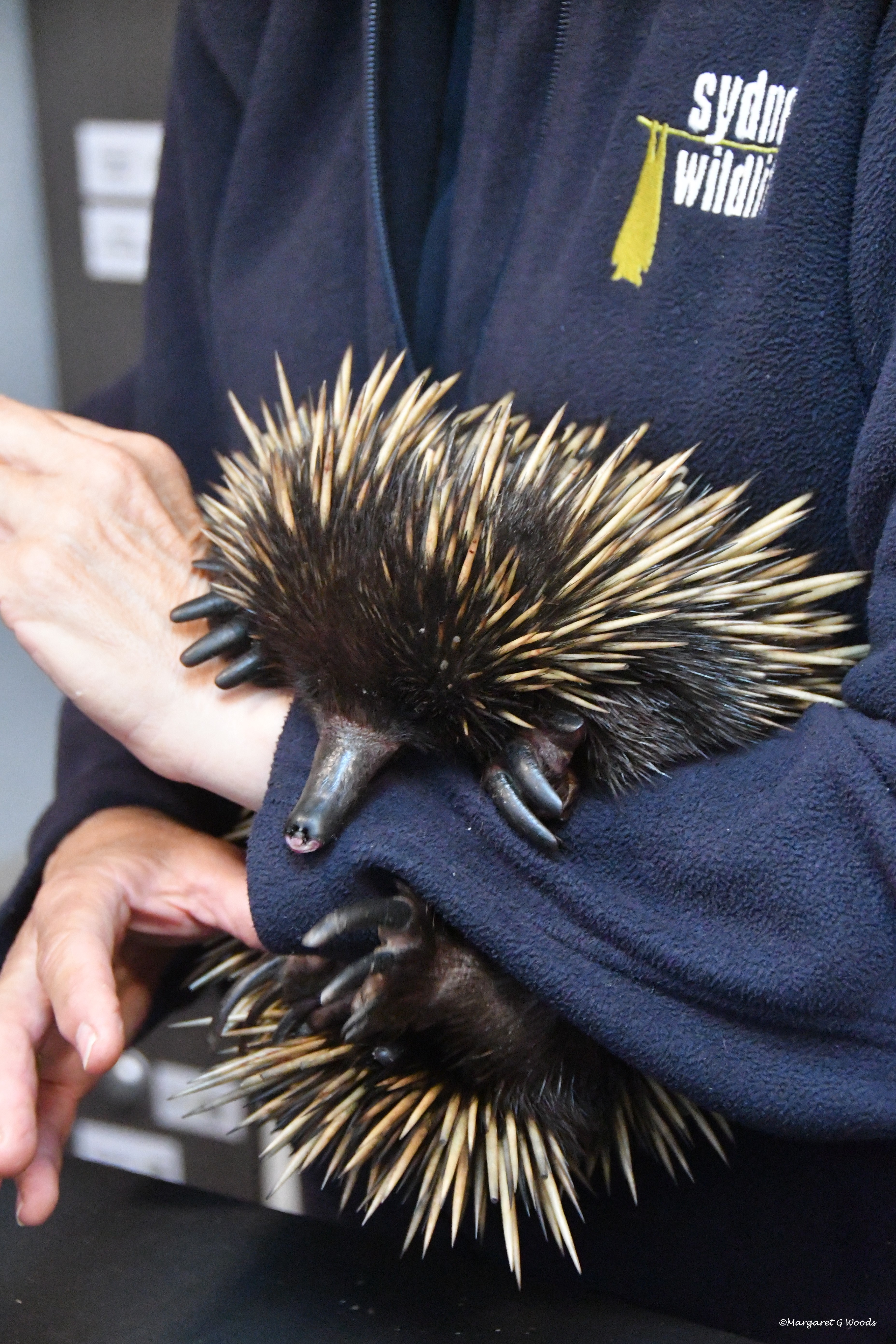 Above all, the facility needs to provide a safe environment for wildlife, where they can get ready for release without interference from predators or humans. This will give them the best chance of survival when they are released into their natural habitat.
The facility is run by our dedicated volunteers who spend many long hours and whole weekends keeping it clean and in good nick.
At times company working bees are organised and these volunteers provide their labour to repair, mow, clean, weed and tidy the facility.
We make sure the volunteers minimise their contact with the animals to encourage dehumanisation. The facility is NOT open to the public as the animals are preparing to go back into their natural habitat.
By releasing healthy, strong animals we are ensuring that the hard work the carers have done (sometimes 18 months' worth) to save their lives will help the preservation of our unique wildlife in this great city.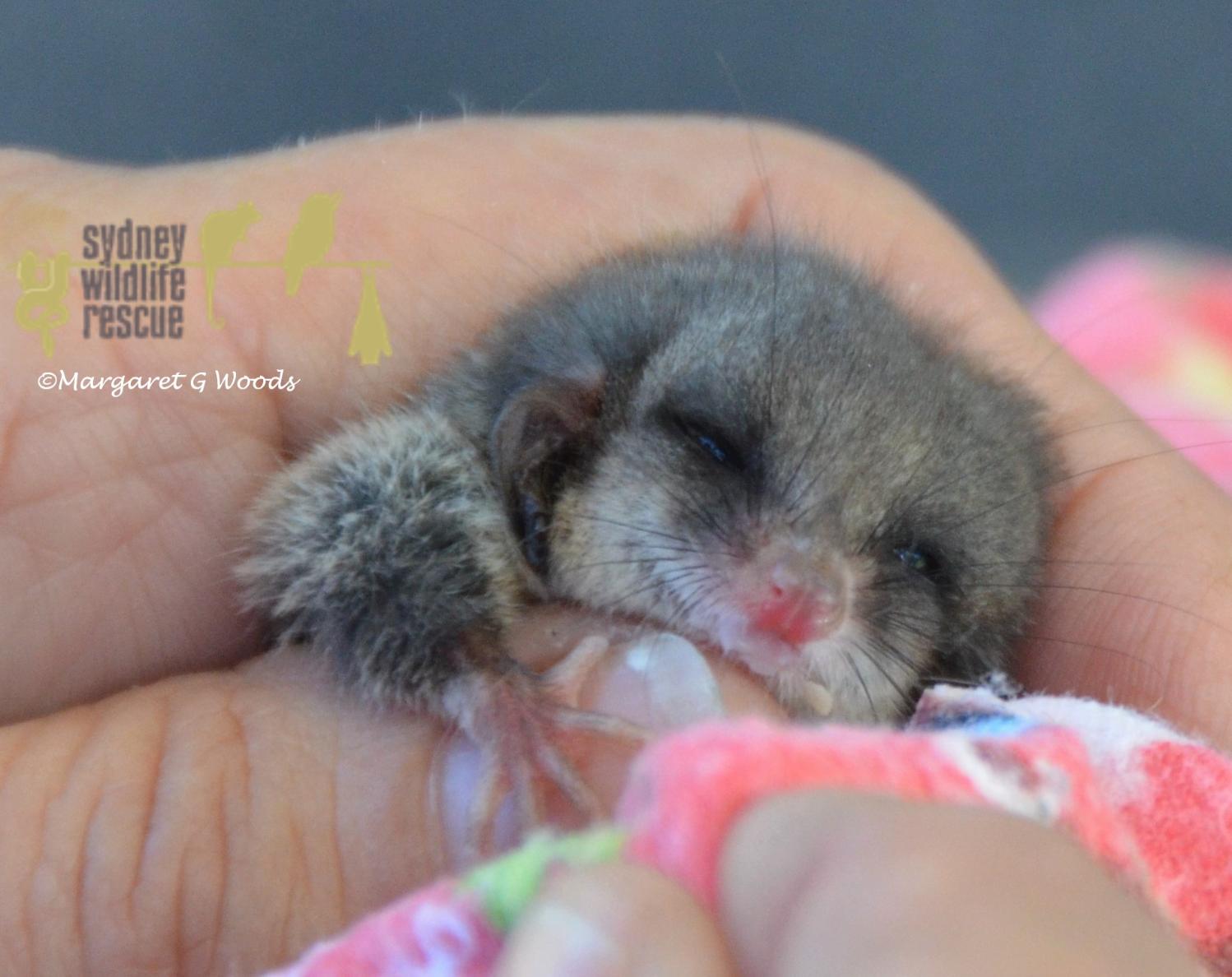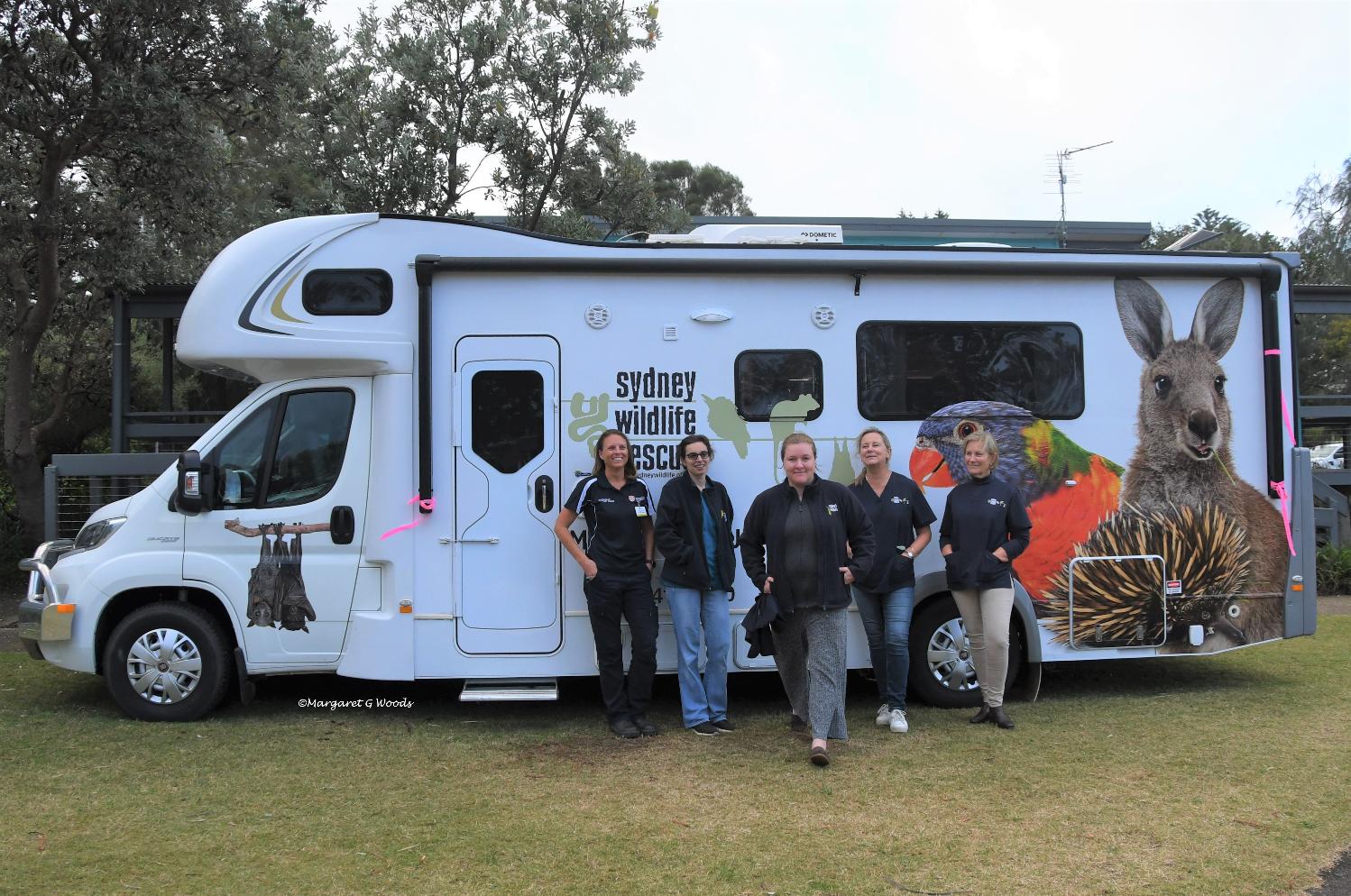 SWR Vets at the SWR Van at Narrabeen