February 16 22, 2020: Issue 438
Sydney Wildlife Mobile Care Unit And Sydney Wildlife Updates: Back into the firegrounds + sending nesting boxes and pouches to kangaroo island - february 2020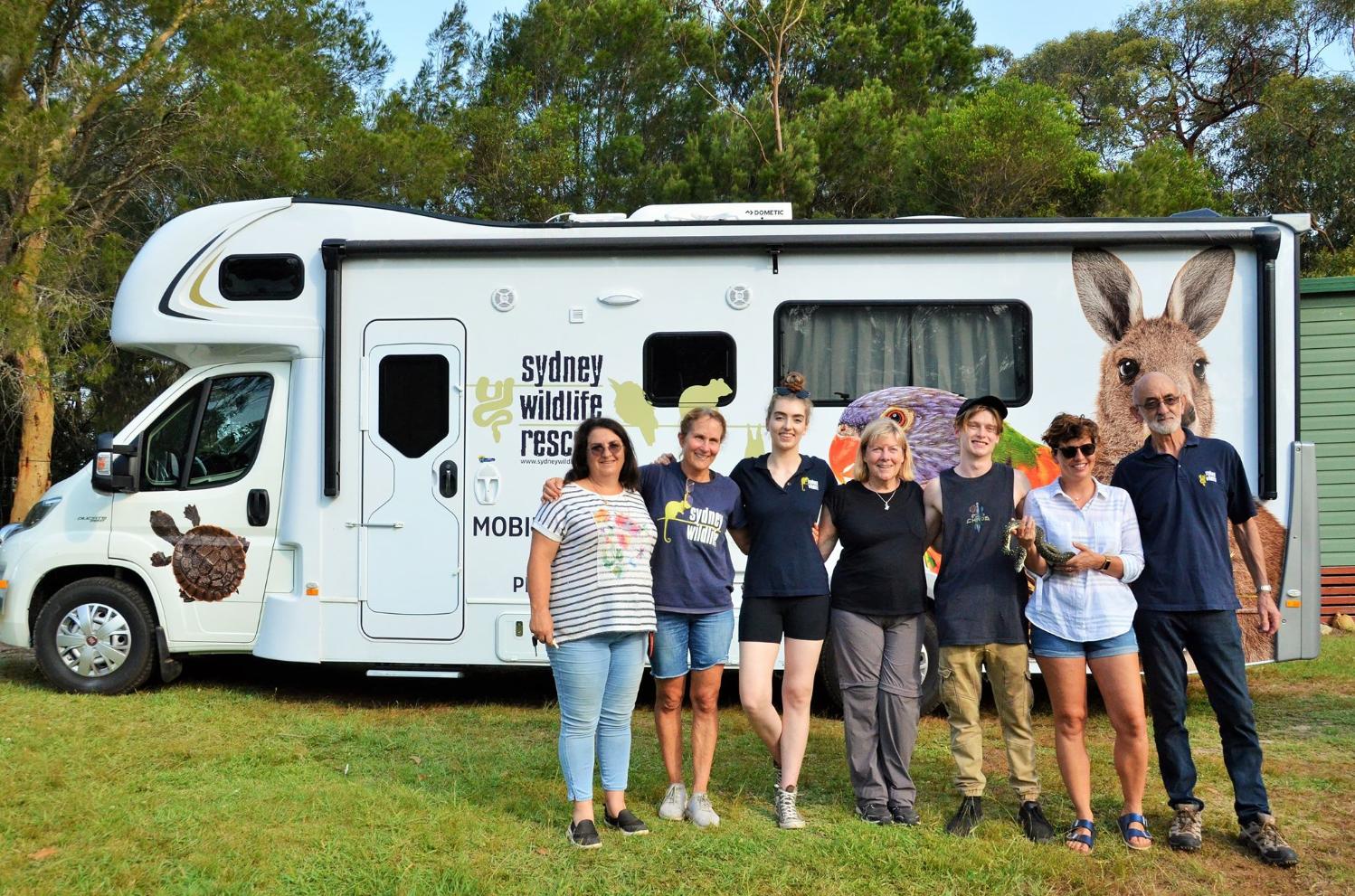 Sydney Wildlife Volunteers from here being hosted by Wildlife Rescue South Coast - all photos by Sydney Wildlife, Sonja Elwood and Lynleigh Grieg
On February 3rd, 2020 the Sydney Wildlife Mobile Clinic headed south again to the firegrounds. They went supplied with a multitude of amazing new items they never dreamed of having donated to them.
Troy Animal Healthcare not only donated every product they had on our Wish List but they were hand-delivered by their incredible CEO! These are products that veterinarians have been using to treat wildlife for many years and which are imperative to the successful outcome of many health issues.
Then the lovely Imogen from WVS (Worldwide Veterinary Service) delivered not one, not two, but THREE items that have been on our Wish List for ages! A brand new Olympus microscope, a nebuliser and a centrifuge! The volunteer veterinarians are so excited to have these items on board!
Thank you, Nic and Imogen - you are both legends! And huge thanks to Lisa and Richard Johnston for getting us all in contact with each other.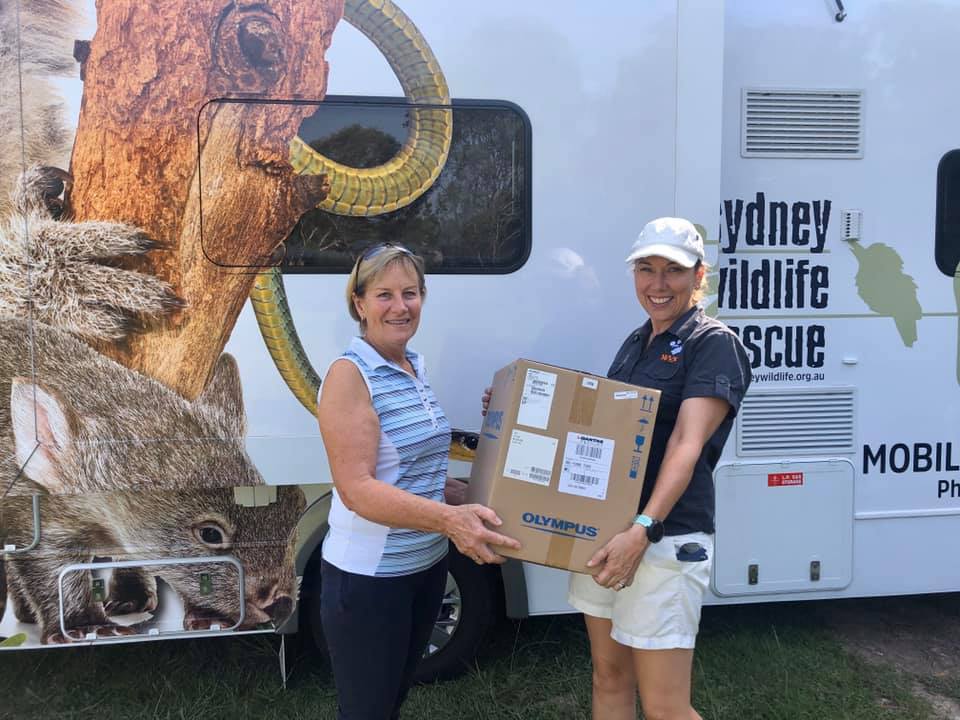 Dr Margot receiving the microscope, centrifuge and nebuliser from Imogen from WVS. Thank you so much!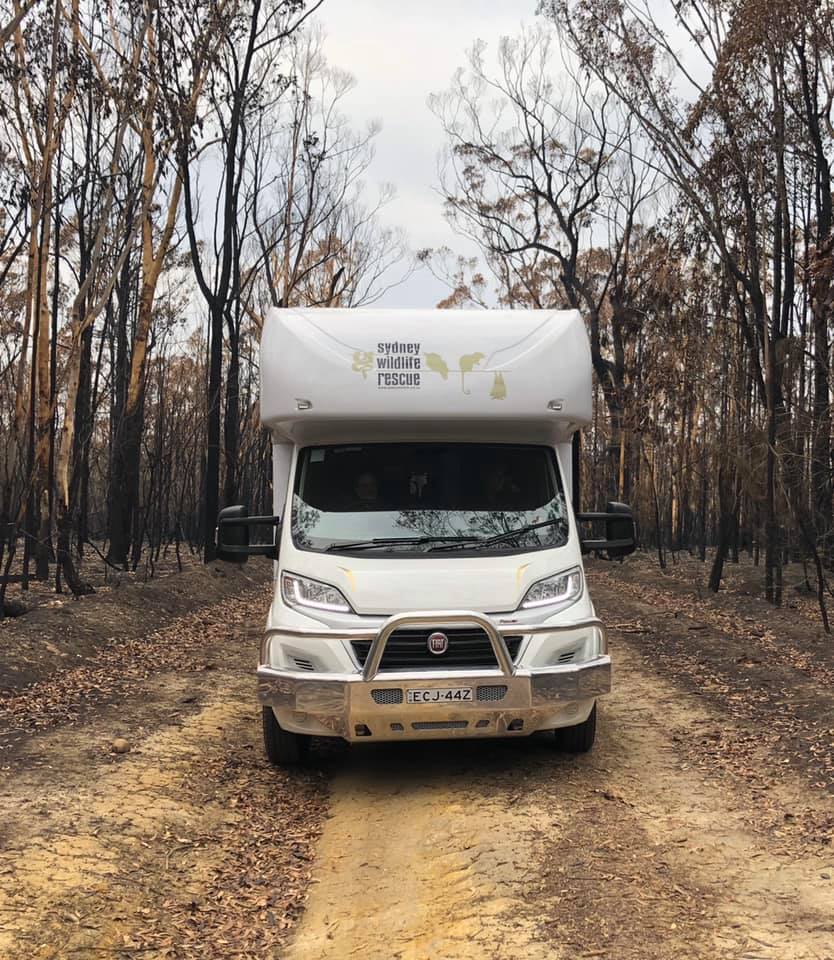 Back into the firegrounds
They have had the honour of working with Dr Michelle Oakley (Yukon Vet) and Dr Jamie Peyton and her husband, Professor Eric Johnson - all the way from Canada.
Dr Peyton is an
award-winning burns specialist
who is using ground-breaking methods on burns victims. The wonderful
Wildlife Rescue South Coast kindly hosted them all again.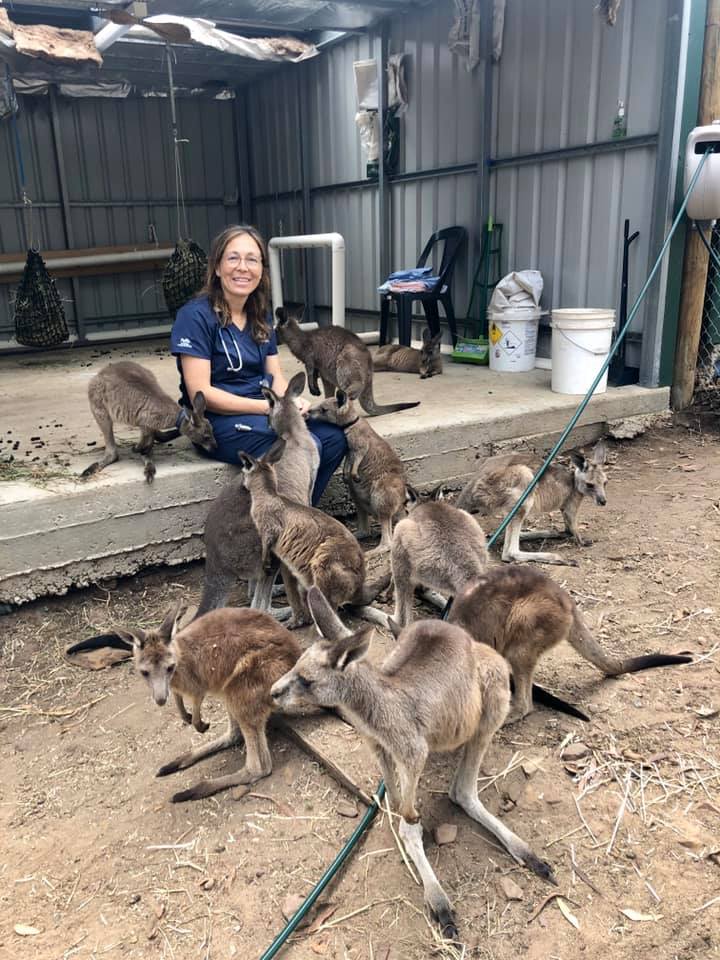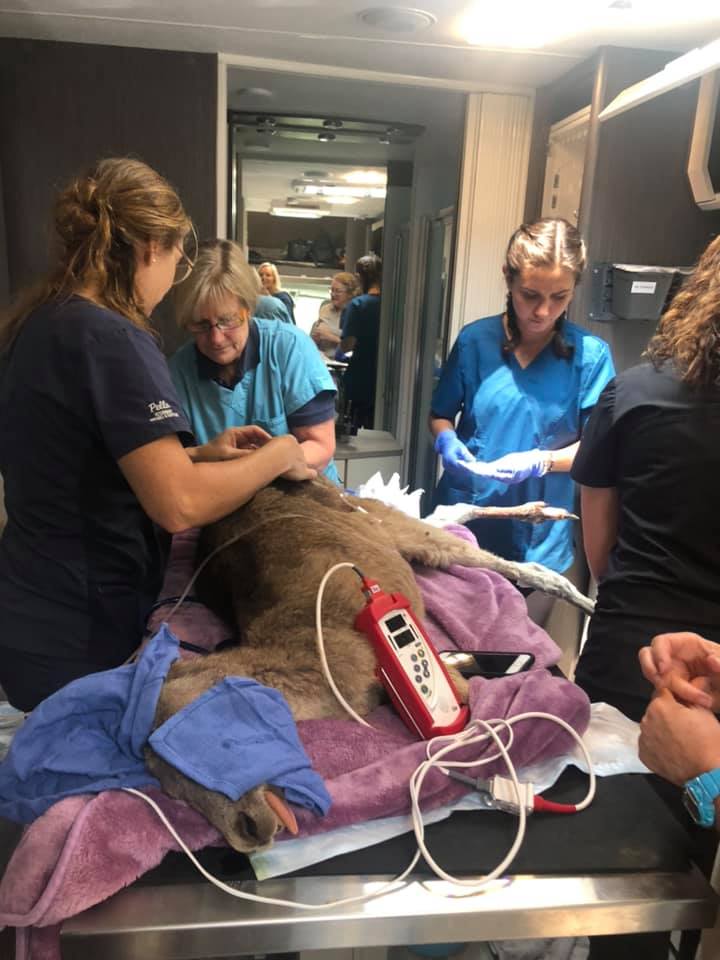 Dr Michelle Oakley with some of her fans
Dr Michelle, Dr Margot, Jenna and Sierra in the Mobile Care Unit, performing miracles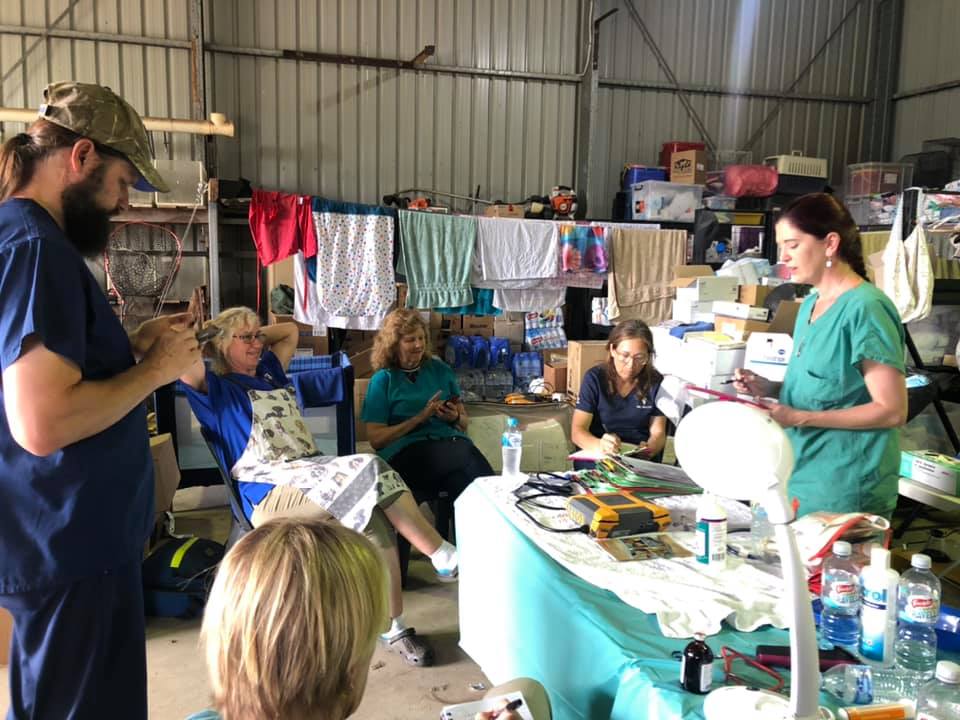 Dr Peyton giving a report to the team after doing rounds.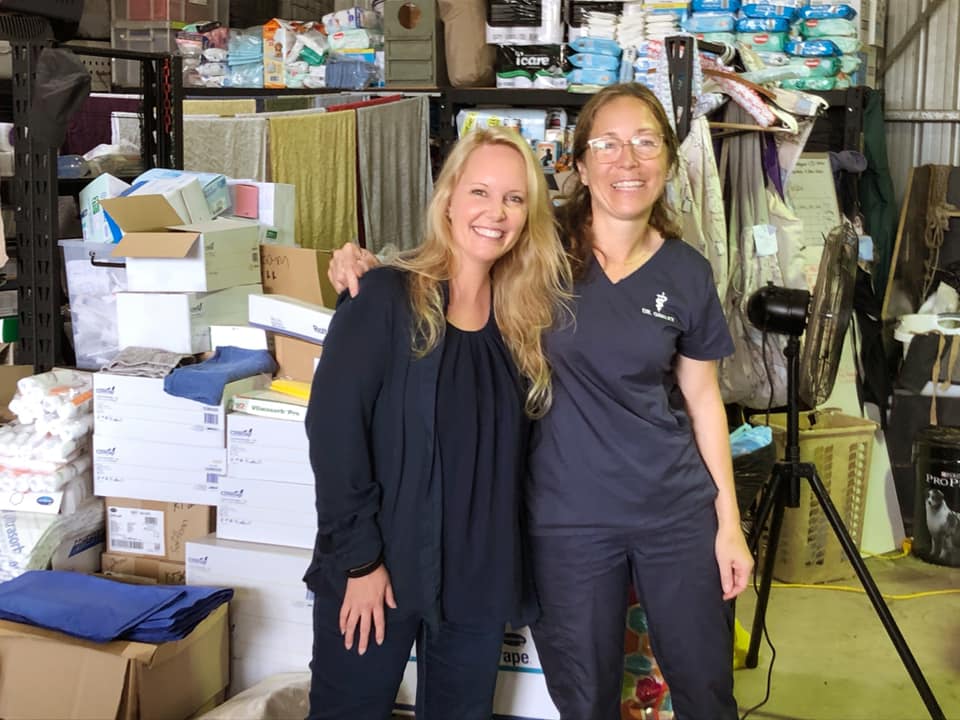 Dr Michelle Oakley (Yukon Vet) with Lynleigh Greig

An MTV clip of Sydney Wildlife Mobile Clinic rescuers and carers in action has been shown on the screen in Town Hall Railway Station this week.
The MTV Sydney Wildlife clip is available at:
HERE
- The clip features
Wildlife Rescue South Coast along with our own local
Sydney
Wildlife volunteer carers. In it you will see
Margaret
Woods
daughter Bec(possums and blue tongue) Joan Reid (wombat), Lynleigh Greig (joey), Ed (bat), Lorraine (joeys) and Sara(wombat) from Wildlife Rescue South Coast.
BTW Sydney Wildlife don't need any craft - pouches etc. They do need donations to run the Mobile Clinic van, telephones, buy supplies, equipment and food for wildlife though.
Sydney Wildlife Sends Help To Kangaroo Island
Last week Sydney Wildlife volunteers 'hi-jacked' a private jet bound for fire-ravaged Kangaroo Island and filled it with everything from possum boxes to bird feeders, water-stations to joey pouches! And a large quantity of medical supplies provided by MediDivert (a system started by their own Anne Jackson where hospital items destined for landfill get diverted to those in need).
HUGE thanks to hard-working volunteers Lorraine, Margaret, Sarah, Anne x 2, the wonderful ARC and the pilot, Richard, ensured that all the supplies reached the RSPCA on Kangaroo Island where they will be disseminated around the island for use by wildlife in need.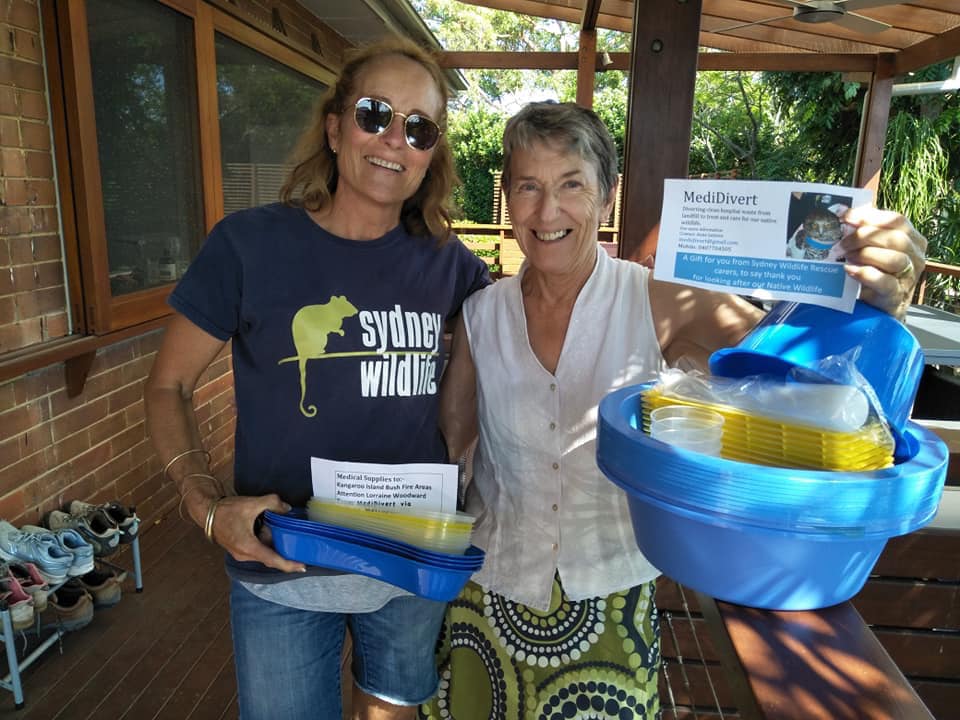 Lorraine and Anne with MediDivert items.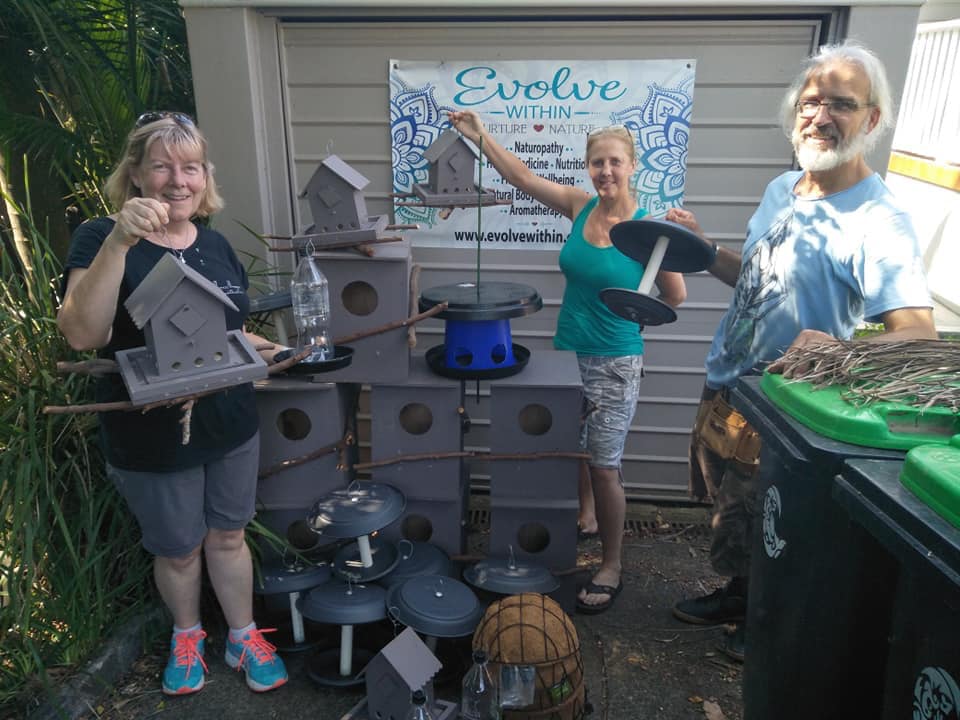 Margaret with Anne and her husband who made these beautiful bird feeders possum boxes and dreys (nests for ringtails).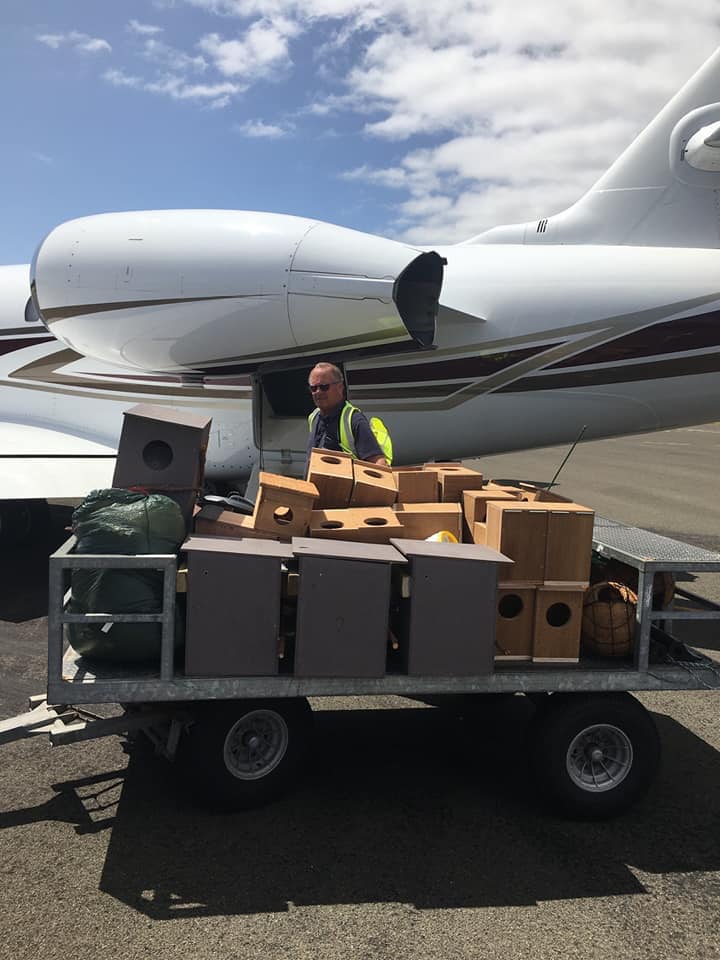 Loading up the jet with supplies for fire-affected wildlife in need.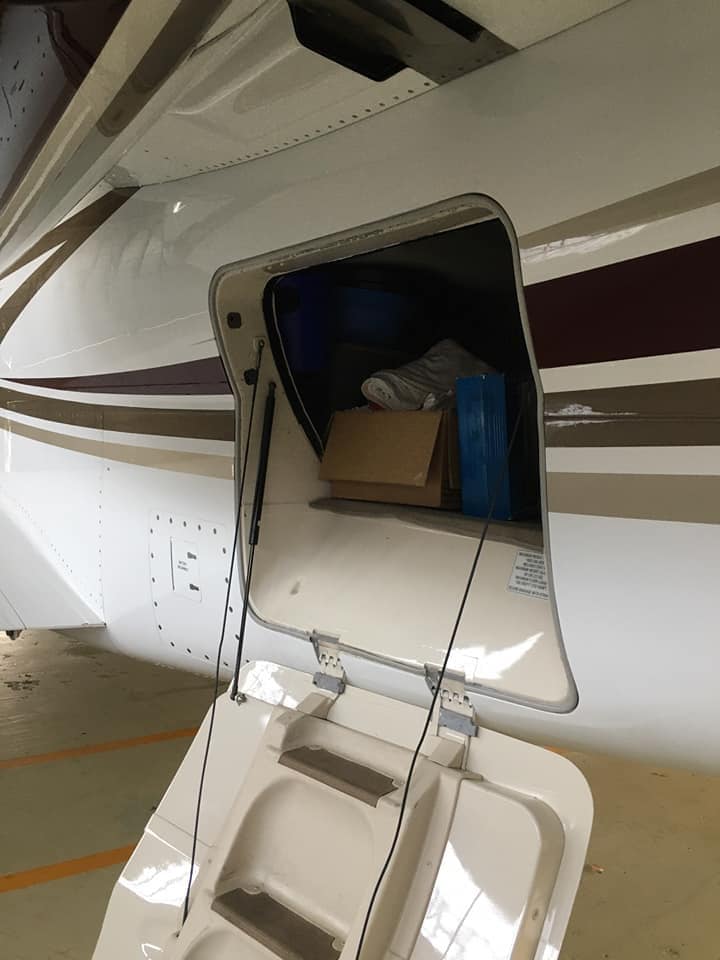 The plane packed to the hilt with possum boxes, water stations, bird feeders, medical supplies and pouches.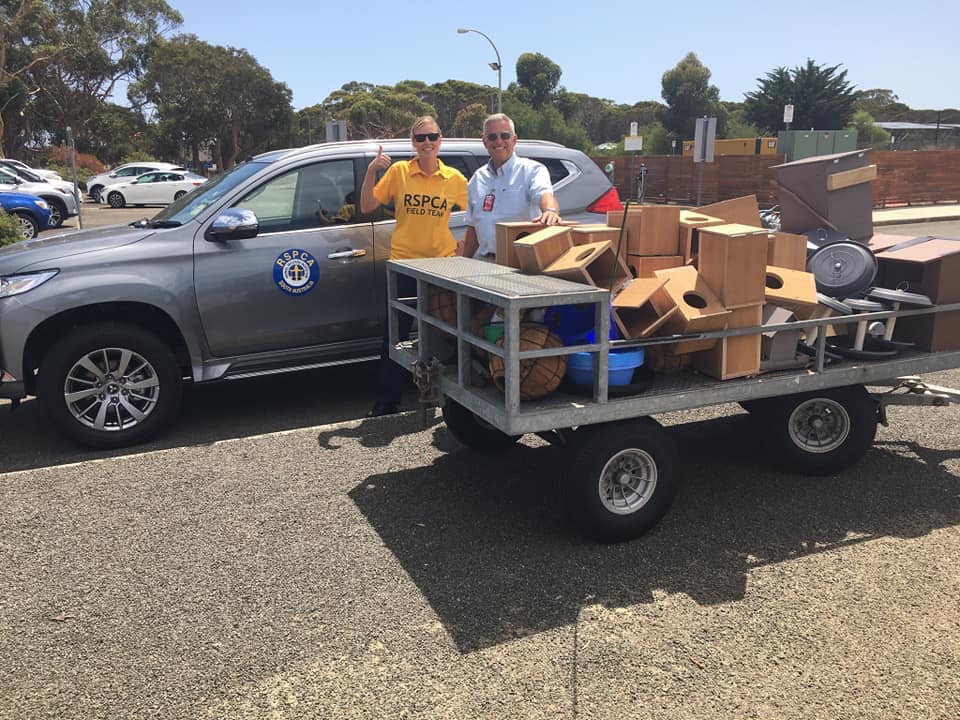 RSPCA member at KI with Richard - the pilot of the jet.
The dedication of all the volunteers - from a multitude of organisations - in the fire zones has been unequivocal and irrefutable.
These photos were taken on Wednesday February 12th, 2020, in the pouring rain and thick fog of the evening, and then well past midnight in the field clinic where the only light was provided by head-torches. This is HUHANZ, Sydney Wildlife, Vets Beyond Borders - at an emergency triage site in Cathcart on the far south coast NSW - still trying to save what they can as the window of opportunity starts to close for the wildlife injured in the fires
Tired hands, weary arms, hungry bellies, frayed emotions.
But one purpose.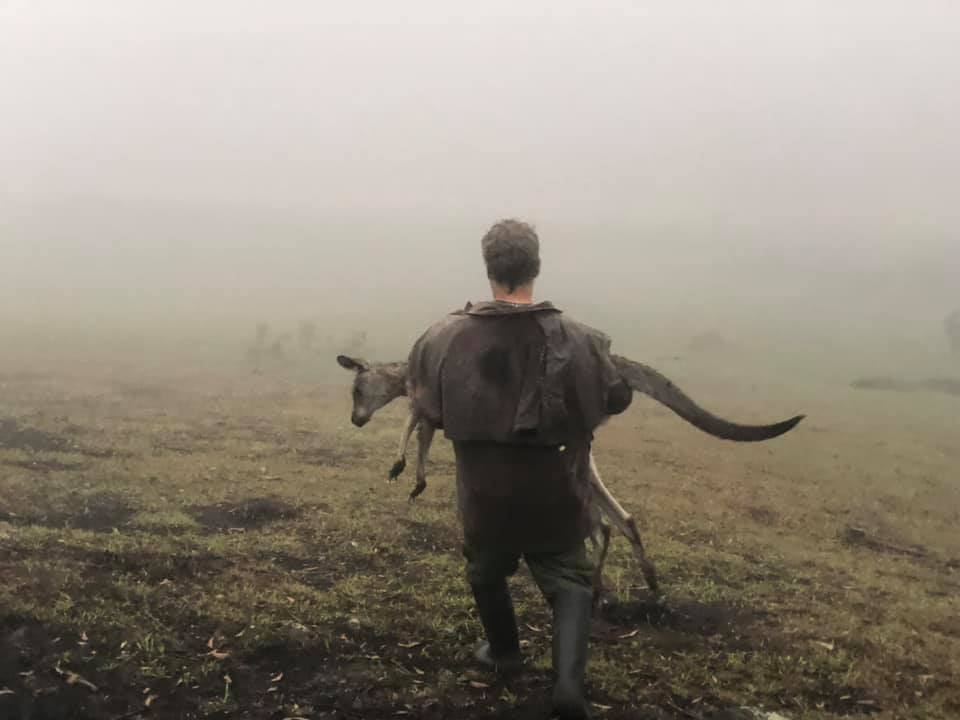 A burnt and sedated kangaroo being carried through the fog to a waiting vehicle and whisked away for treatment.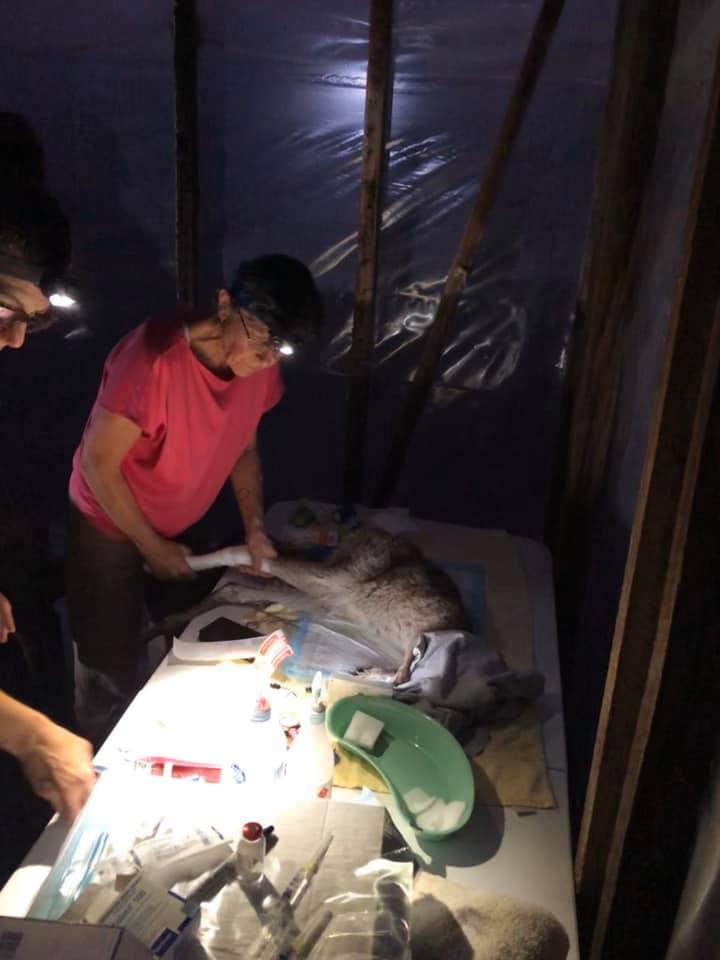 Two amazing veterinarians who travelled from Victoria and worked past midnight for days on end, by the light of torches.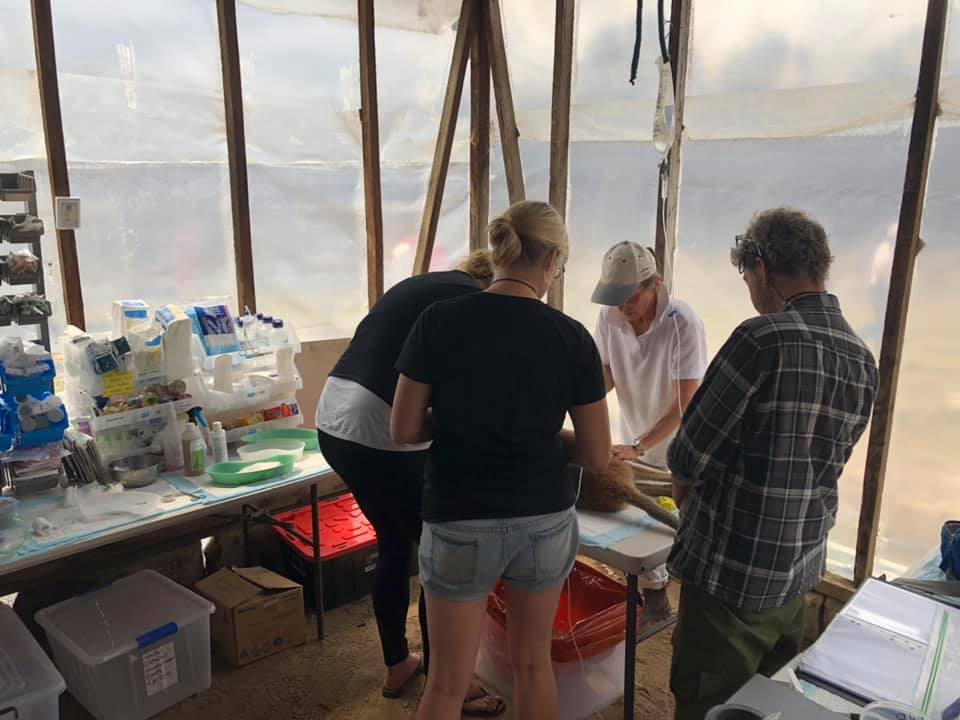 Such a great field triage centre put together by the New Zealand Helping You Help Animals (HUHA) gang.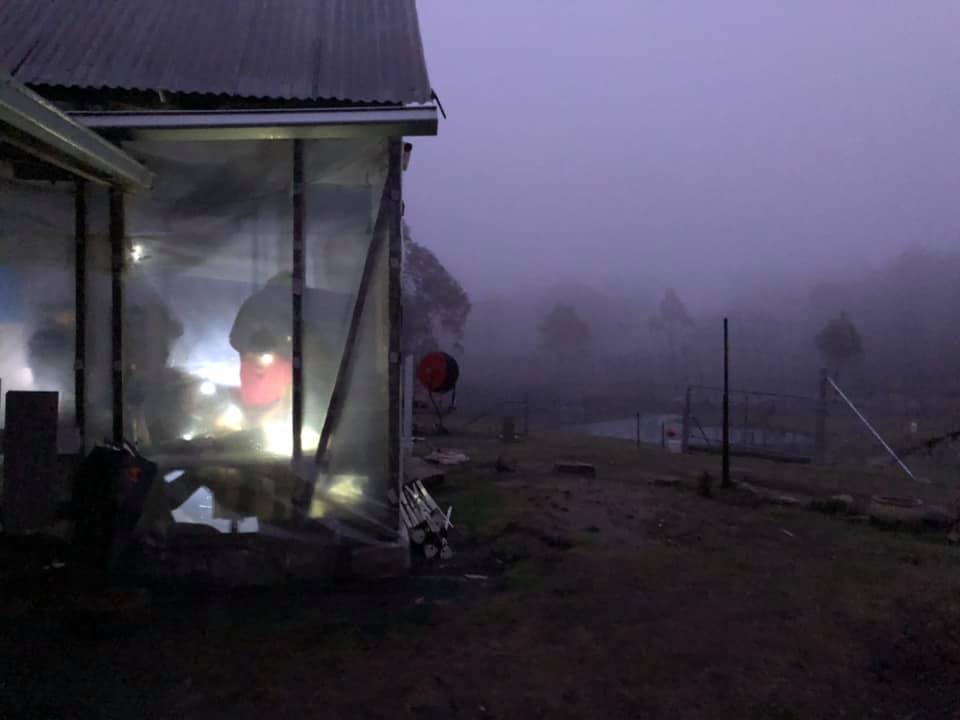 The field clinic put together by the incredible HUHA NZ team.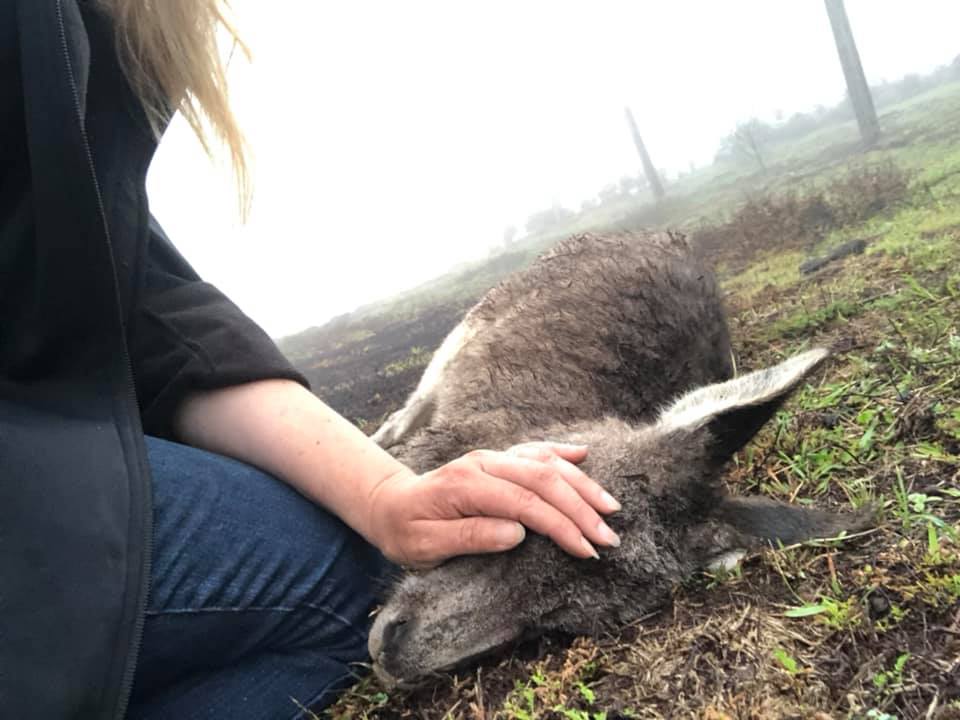 The hand of love - waiting for some 'muscles' to lift this darted (sedated) kangaroo to the clinic.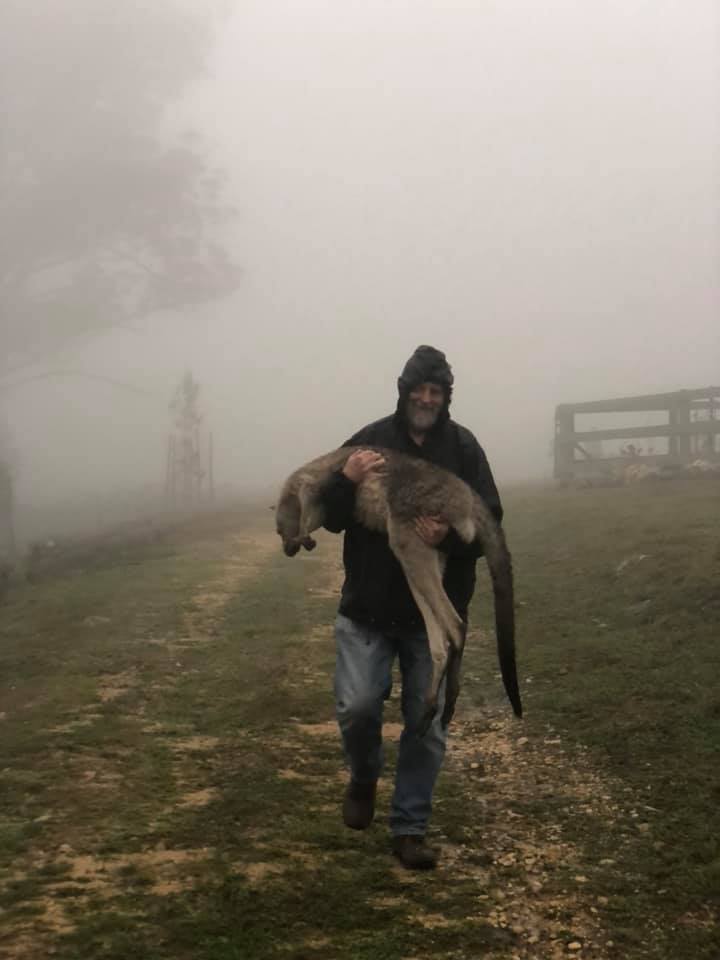 Rain and fog didn't stop us.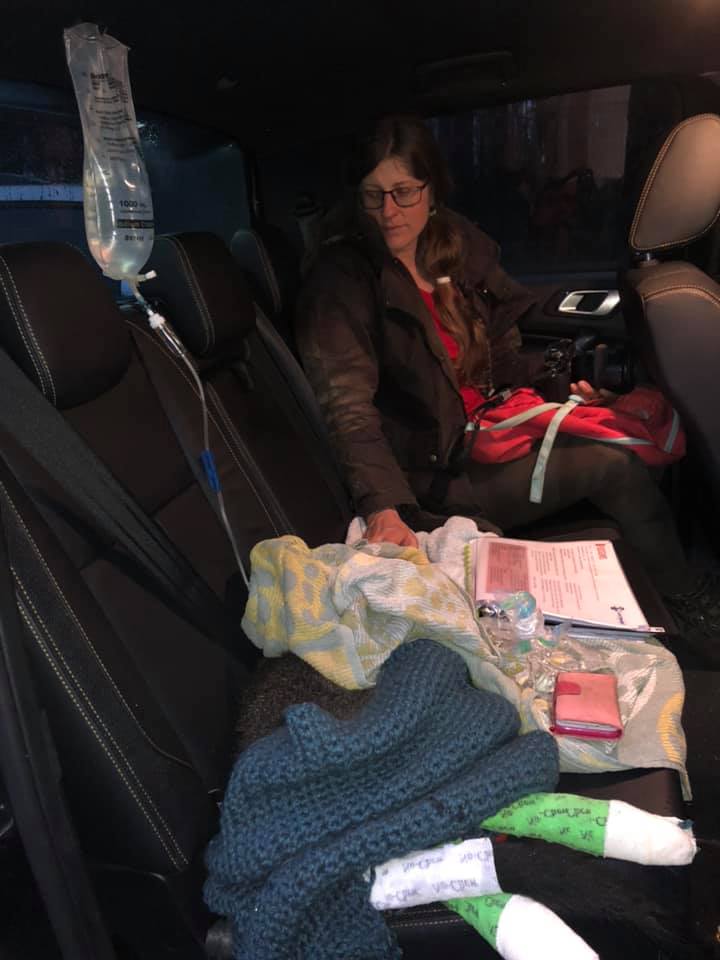 Using a 4x4 hire car as a recovery room and drip-stand. Custom-built enclosures put together on-the-spot by some of the darters, vets and HUHA builders.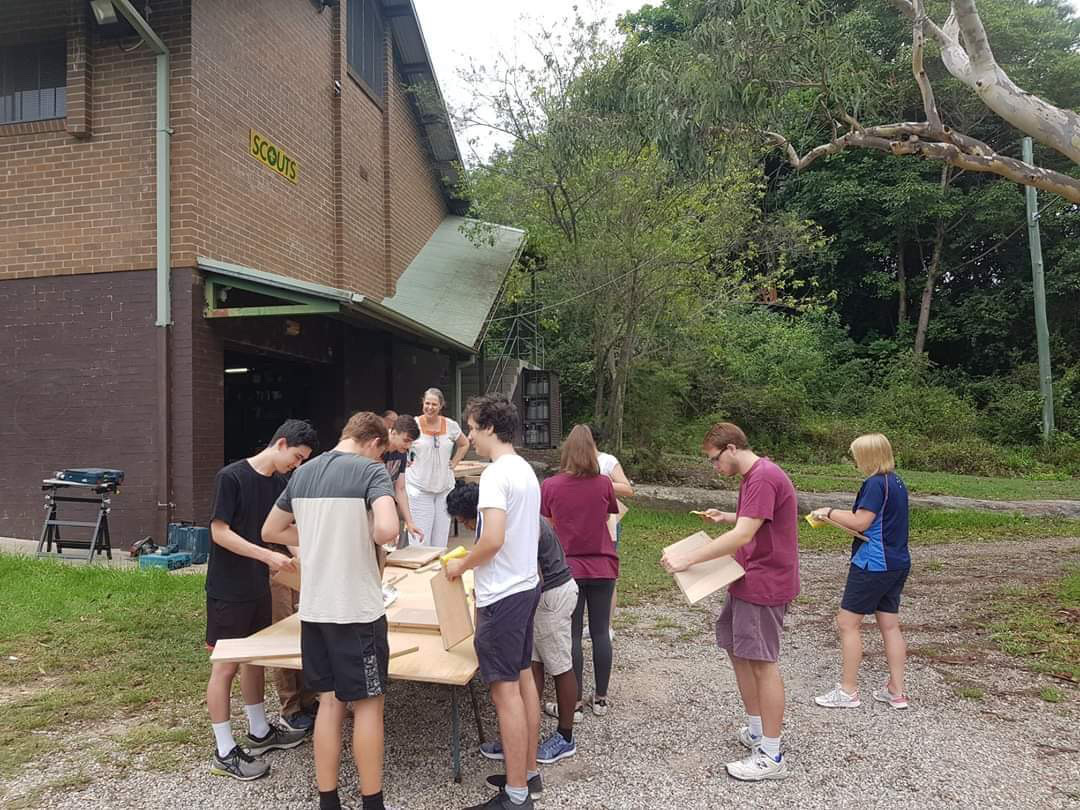 Thank you Waitara & East Wahroonga Vennies for making 26 possum boxes! And thank you North Shore Timber Thornleigh for donating the material. You all rock!!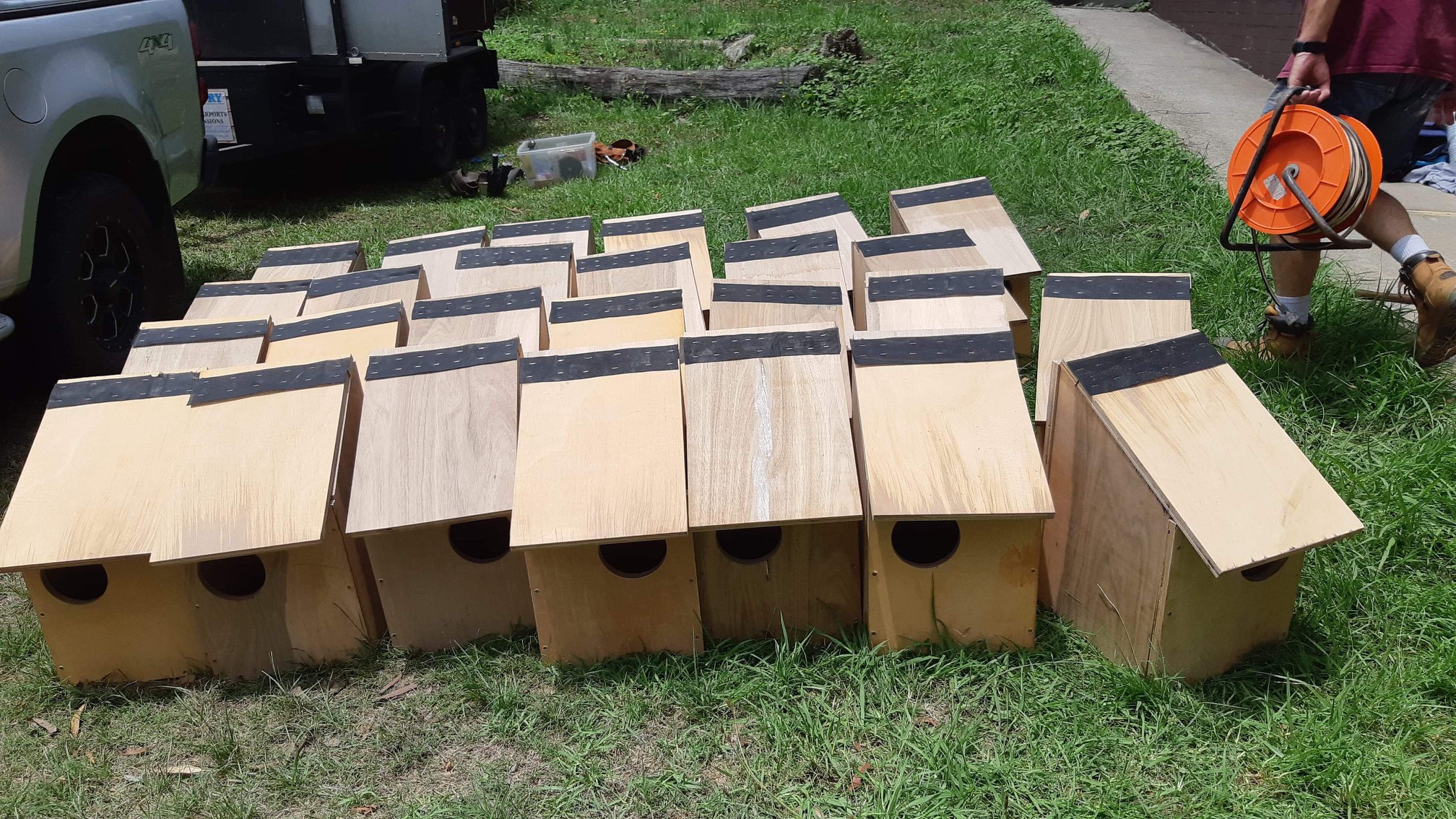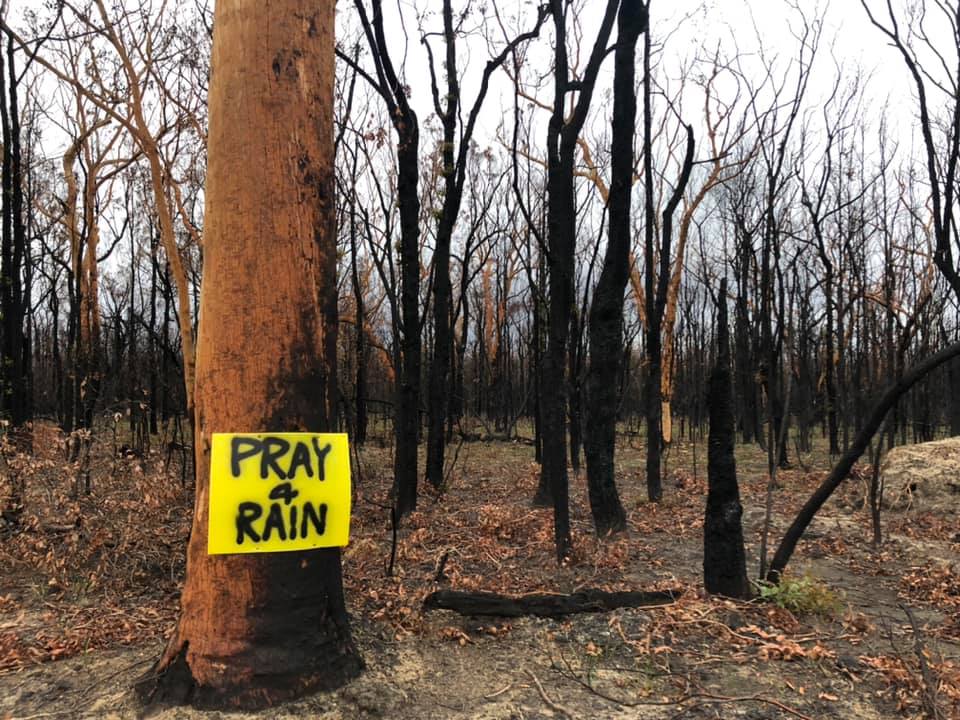 'Should've specified the quantity...' photo by Lynleigh Greig