March 8 - 14, 2020: Issue 441
Sydney Surf Pro. Junior Kicks off 2020
Sydney Surf Pro.
The 2020 Sydney Surf Pro Junior will kicked off this week, serving as the introduction to the very first World Surf League (WSL) Challenger Series event, the 2020 Sydney Surf Pro. The two day event saw a massive Australian and international field of over 100 competitors, all vying for a top spot on the WSL Australia / Oceania JQS Rankings and a start at the 2020 World Junior Championships.
The 2020 Sydney Surf Pro Junior got underway on Thursday, March 5th in stormy two-foot conditions with some of the nation's best juniors making light work of the tricky surf.
Perennial Pro Junior standout Xavier Huxtable (Jan Juc, Vic) showed his competence in shifty beachbreak conditions, claiming an impressive victory in his opening round. In conditions that shared an uncanny resemblance to his local Victorian beachbreak, the natural-footer was able to find a handful of longer-running lefthanders that allowed him to punch of a variety of decent backside cracks and finish the heat with a respectable 12.25 two-wave heat total.
"There's a couple of scattered peaks out there over the entire contest bank, and I was really fortunate to find a couple," said Huxtable. "My whole gameplan out there was to get a wave as quickly as I could. I found you could get stuck waiting for too long otherwise. My focus this year is mainly doing Year 12 at high school as well as the Pro Juniors, so each heat I win feels awesome."
Local surfer and current Australian World Surf League (WSL) Junior Qualifying Series (JQS) leader George Pittar (Manly, NSW) showed his eagerness to back-up his previous 2020 Pro Junior victory with a solid result on home turf. The natural-footer weaved his way through a handful of lumpy sections to find punchy sections with plenty of scoring potential. Pittar finished the heat with a respectable 12.25 two-wave heat total and will contest his round two heat tomorrow.
"It's awesome there are some waves here for competitors," said Pittar. "The lineup could be a bit challenging when you get those giant wind gusts but you would get a small moment when it would clean right up. Thankfully, the conditions were a little bit cleaner in my heat and there were some playful waves. I would love to get a good result here in front of my hometown crowd on the beach I surf every day."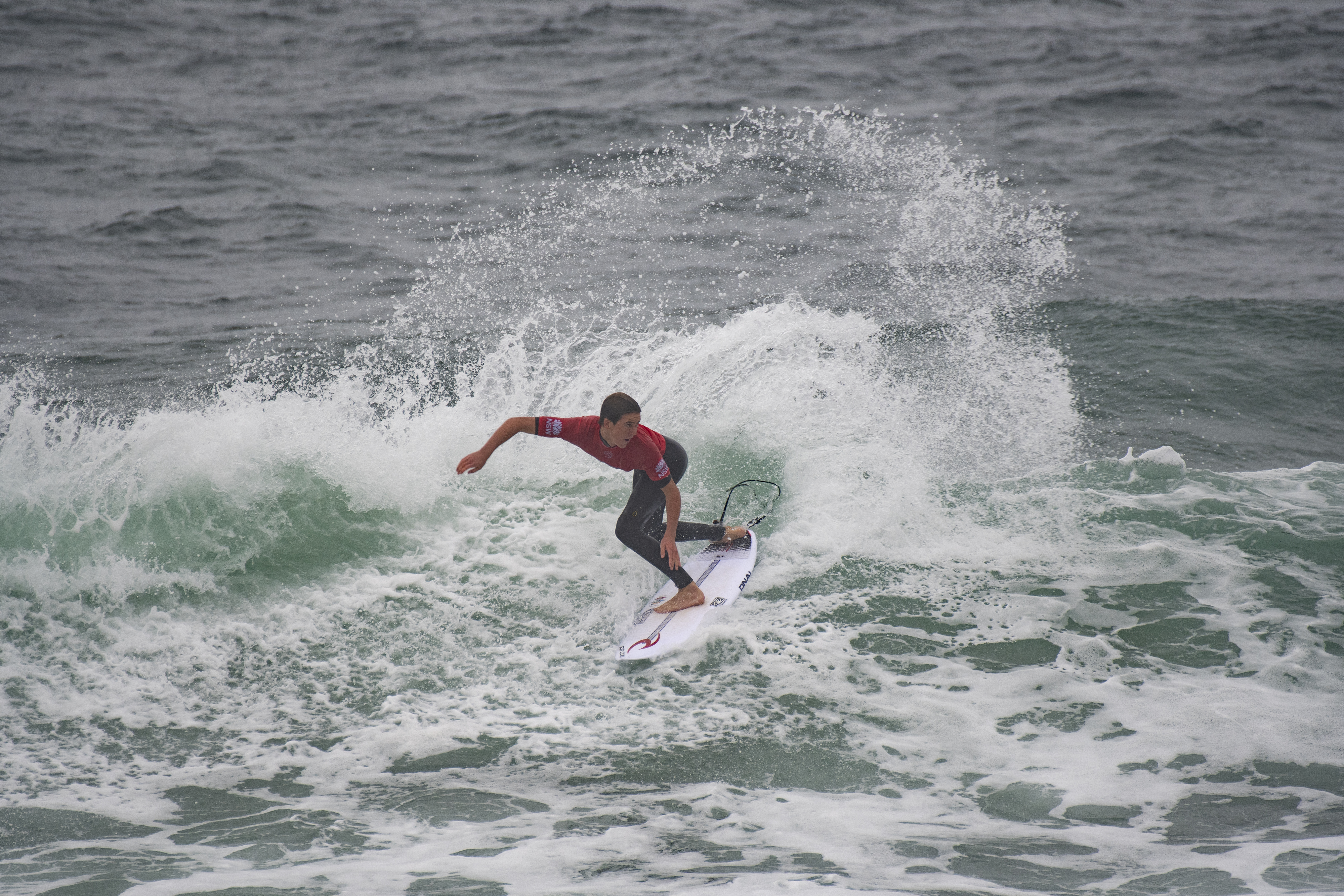 George Pittar - photo by Ethan Smith/Surfing NSW

Jamie Thomson (Narrabeen, NSW) used the confidence he gained from his recent wildcard into Newcastle Surfest to move through his opening heat at the Sydney Surf Pro Junior this morning. Thomson showed moments of brilliance in his heat, notching up a decent 14.15 two-wave heat total for a variety of impressive forehand carves and snaps. Thomson will face Zeb Stokes (Sunshine Coast, Vic), Spencer Kay (Jan Juc, Vic) and Mike Clayton-Brown (Port Stephens, NSW) in round two.
"Surfing in Surfest against Julian Wilson was an awesome feeling and definitely made me realise what I need to do to beat them, so coming here I really wanted to put those tactics to use," said Thomson. "This event here is one I've always felt comfortable in. It's only 20 minutes away from my house and some of the best surfers are here preparing to compete in the Challenger Series event so you really get to learn a lot while being able to stay comfortable at home."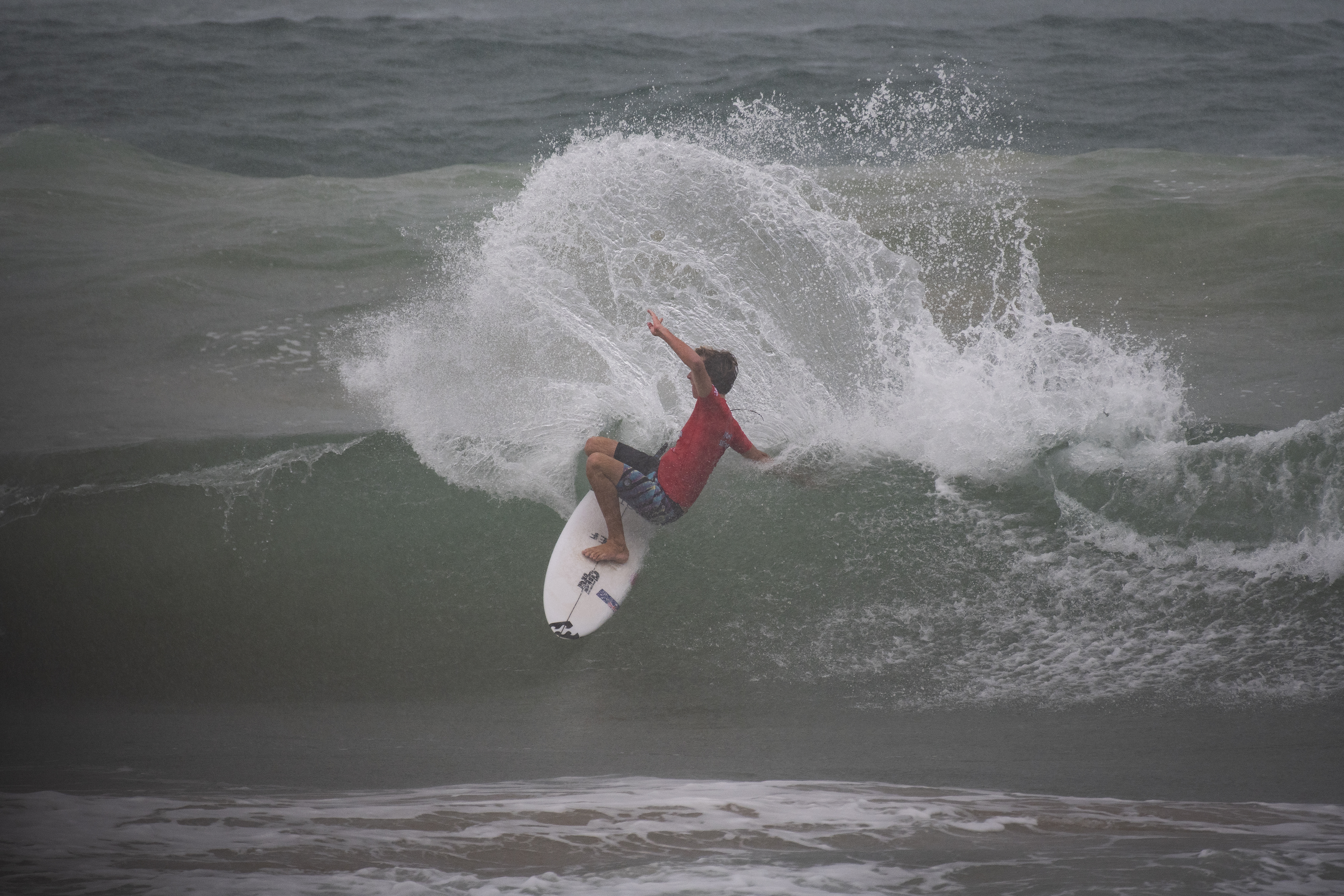 Jamie Thomson - photo by Ethan Smith/Surfing NSW

Milli Allport (Shelly Beach, NSW) made her intentions clear in the opening round of the Women's division, nailing an excellent 8.50 wave score. The Central Coast goofy-footer showed power beyond her years in the heat, hammering a handful of powerful forehand hooks and power gouges to post the highest wave score of the Women's first round.
"The waves in that heat were heaps of fun," said Allport. "When I found that left-hander I knew it was going to be a good wave and fortunately it kept throwing up sections for me. It'd be nice to find a few more of them in the next heat."
Sunshine Coast native Ellia Smith (Coolum, Qld) charged hard out of the gates in her round two heat, finding a bunch of playful peaks. The natural-footer executed an array of impressive backhand snaps and turns to notch up a decent 11.70 two-wave heat total and cement her spot into the quarterfinals.
"The weather was wild throughout that heat, so we went on hold just before we started," said Smith. "I think going on hold may have worked to my advantage as I got more of a chance to assess the conditions and I think that break really helped. When I found that 6.80 scoring wave, I had actually just pulled off another wave and that little left just popped up and ran perfectly along the back and allowed me to do a few snaps."
The elite two-day junior event will bolster the Men's and Women's Challenger Series events and ran from March 5 – 6.
The Sydney Surf Pro WSL Challenger Series event will run from March 8 through 14, 2020. Please visit WorldSurfLeague.com or download the free WSL App for more information on the Sydney Surf Pro Junior and the newly announced WSL Challenger Series.
The Sydney Surf Pro couldn't happen without the support of Destination NSW, Sydney, Northern Beaches Council, Hotel Steyne, Harvey Norman, Boost, Air Asia, Bonsoy, Bond University, The Drop Festival, SurfAid, Surfing NSW and WSL.
Report by Surfing NSW
Ethan Hartge and Charli Hurst take out the 2020 Sydney Surf Pro Junior.
MANLY BEACH, SYDNEY
Friday, 6 March 2020
Ethan Hartge (Caves Beach, NSW) and Charli Hurst (Port Kembla, NSW) have taken out the top honours in the Sydney Surf Pro Junior at Manly Beach today following two exciting finals that saw giant turns and giant scores.
Hartge waited until the final stages of the final to strike, unleashing a barrage of gigantic backside snaps and carves to post an excellent 8.40 wave score that allowed him to overtake Xavier Huxtable (Jan Juc, Vic) who was holding down the top spot for the majority of the final. The win is the best result to date for the young Lake Macquarie natural footer and he will take a substantial jump up the World Surf League (WSL) Australia / Oceania Junior Qualifying Series (JQS) rankings as a result of the victory.
"I'm so happy to get this result," said Hartge. "I just wanted to go as big as I could but I just needed to calm myself down to make sure I got the scores I needed to get in the lead. Thankfully I found that last one that allowed me to get some decent scores for those backhand turns. This is definitely my best result to date and all those guys in the final helped push me to do some of my best surfing."
Much like Hartge, Charli Hurst claimed the biggest victory of her career to date, taking out the Junior Girls division. Hurst shone in the long lefts on offer throughout the final, carving and snapping her way to victory with a respectable 12.15 two-wave heat total and getting the win ahead of Cedar Leigh-Jones (Avalon, NSW) and Carly Shanahan (Wooli, NSW) who claimed second and third respectively. The result is a turnaround from her most recent 17th place finish at the Hydralyte Sports Surf Series Qld Pro Junior back in January.
"It was a tough final with some tricky waves and all the girls were ripping, so I found it to be really nerve-racking," said Hurst. "I set the whole aim to get two decent scores and once I got that I just wanted to keep building. I know that Carly got second at the Carve Pro back in January and Cedar got second at the Central Coast Pro at Avoca last week, so I was thinking about that as well, but I just tried to stick to my own gameplan thankfully it worked."
Xavier Huxtable appeared to have one hand on the victory until the dying stages of the final when Hartge notched up the aforementioned score. Huxtable, put up a valiant fight in the final heat, posting a solid 14.35 two-wave heat total, but was unable to find the required 7.61 wave score required to take back the lead from Hartge.
"I'm stoked to get some pumping surf at Manly and this result," said Huxtable. "All the boys were ripping and as the time was ticking down I began to feel more and more confident about winning, but in saying that all those guys have the potential to post good scores and win, so I never ruled anyone out. Whenever someone needs less than a perfect ride, it's always possible to get knocked into second and that's exactly what happened."
Cedar Leigh-Jones (Avalon, NSW) posted her second runner-up finish in a week, taking out second place in the female division behind Hurst. At only 15-years-old, Leigh-Jones finished in second spot behind Sarah Baum (ZAF) in the recent Sisstrevolution Central Coast Pro on Sunday, only to come to Manly and post another sizeable result. Much like Hurst, Leigh-Jones will take a solid leap up the WSL JQS rankings.
"I've been trying to surf as much as I could and just keep my surfing as fun as I could, which I think paid off," said Leigh-Jones. "I knew it was going to be tough to win, so I tried to remain as calm as I could leading into the final and pick the best waves I could find."
The elite two-day junior event served as the curtain-raiser to the Men's and Women's Challenger Series events and ran from March 5 – 6.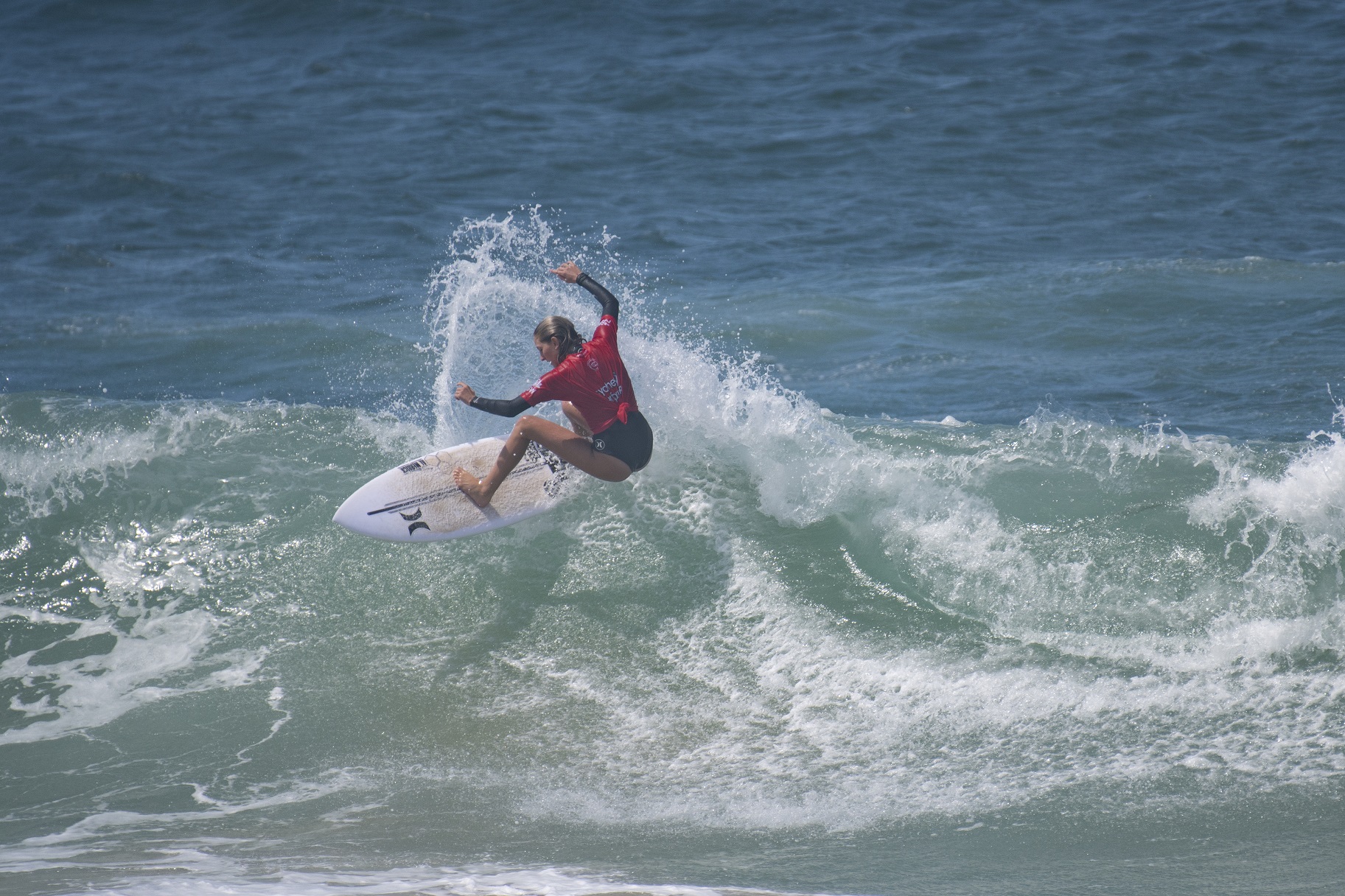 Cedar Leigh-Jones - Photo by Ethan Smith / Surfing NSW

Results
Men

Ethan Hartge
Xavier Huxtable
Jarvis Earle
Zane Assink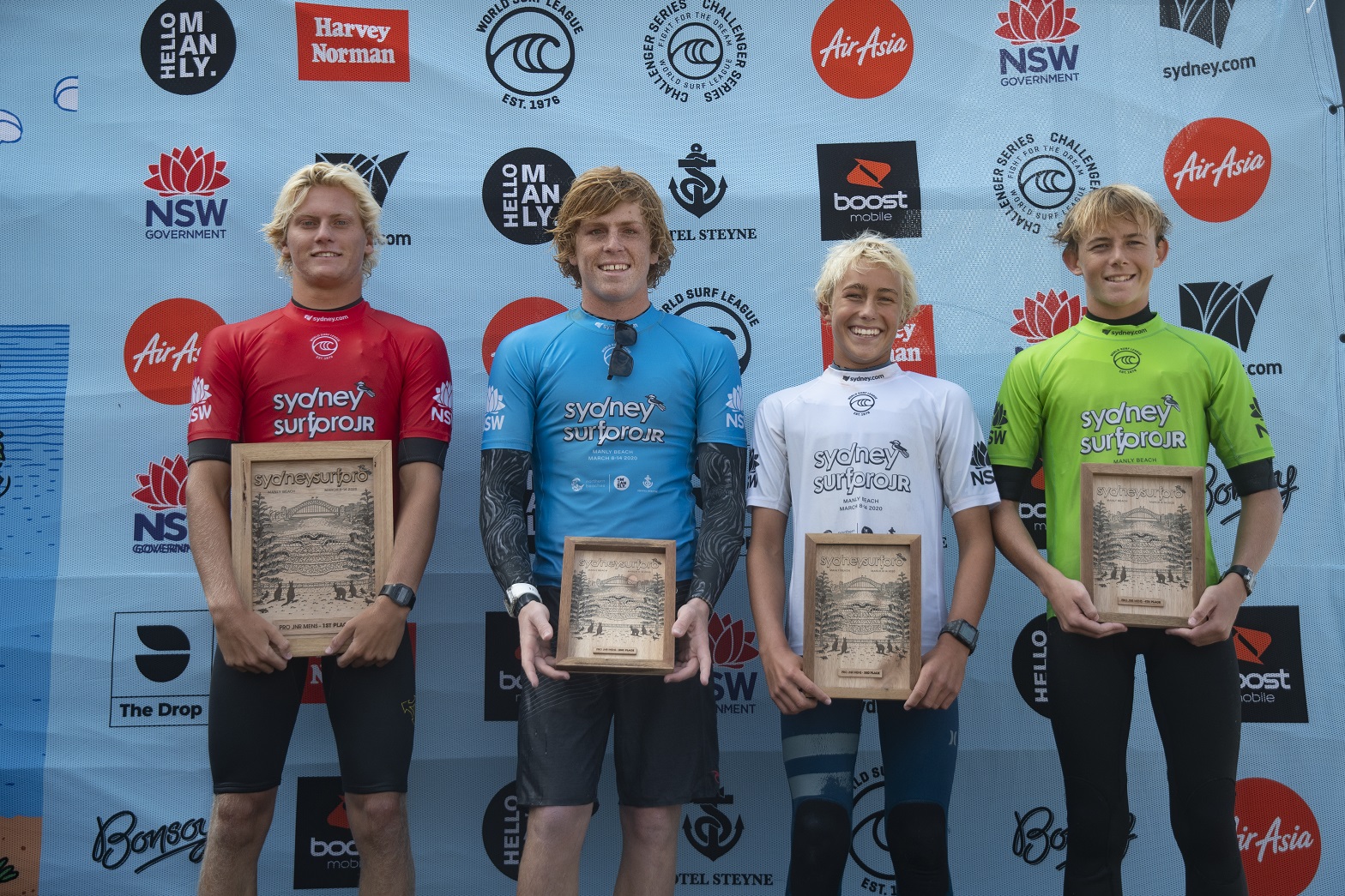 Photo by Ethan Smith / Surfing NSW

Women

Charli Hurst
Cedar Leigh-Jones
Carly Shanahan
Holly Williams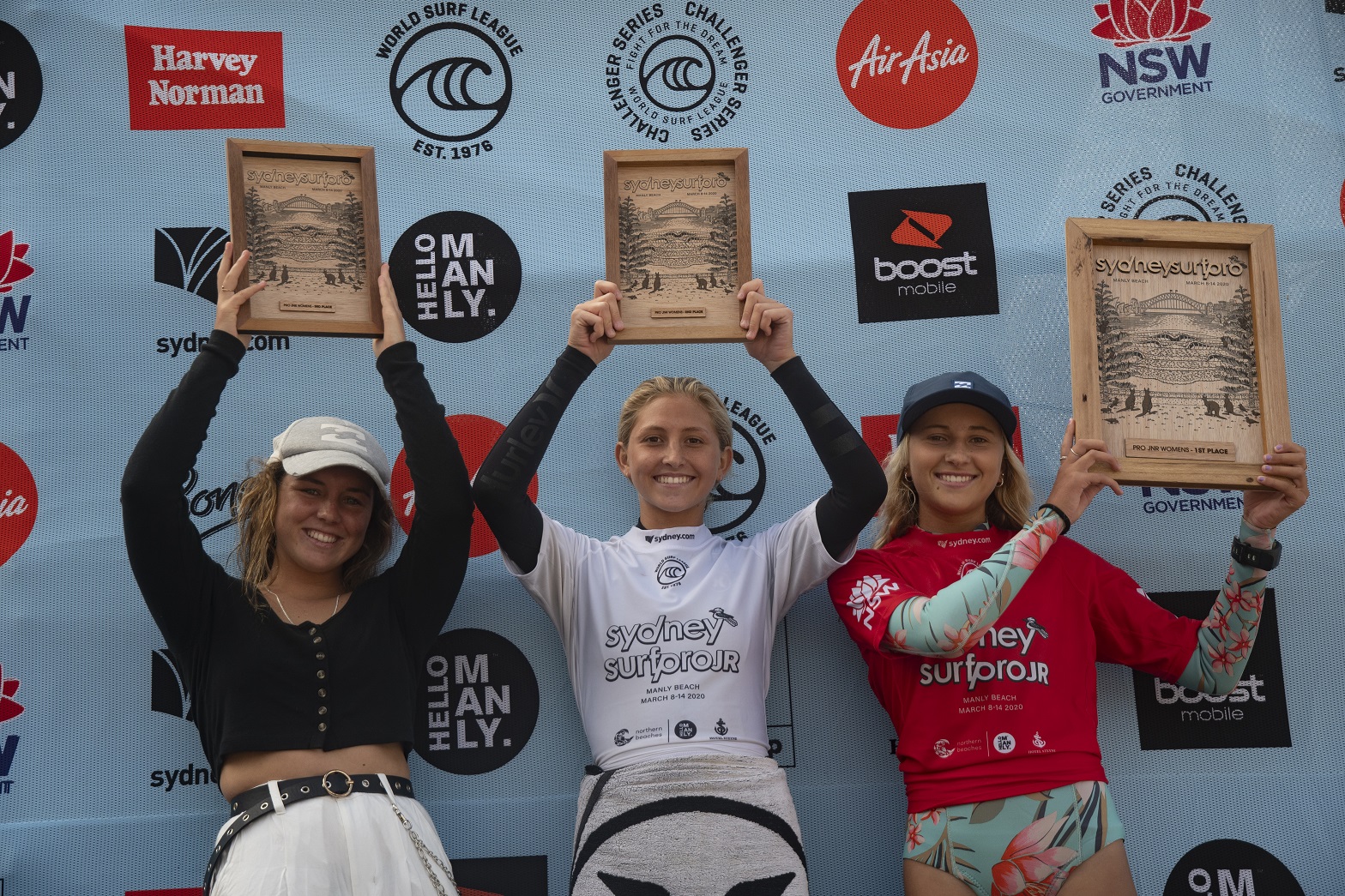 Photo by Ethan Smith / Surfing NSW
Report by Surfing NSW