March 13 - 19, 2022: Issue 530

RPAYC In Focus: Sydney Harbour Regatta 2022 + Titans Of Sailing Early Entries For Club Marine Pittwater To Coffs Race + She Sails 2022 Regatta & Gwen Slade Regatta + RPAYC To Host 2022 NSW Optimist Championship
Middle Harbour Yacht Club's Sydney Harbour Regatta concluded on Sunday March 6th with winners decided after competitors dealt with big gusty winds, heavy downpours interspersed with a teasing watery sun for a short spell, before the clouds closed over and visibility became limited.

Congratulations to the following RPAYC members who were on the podium:
Super 40
1st - REVOLVER: Michael Ritchie
Open Class IRC
2nd - CICERO: Mark Hellyer
3rd - SOOZAL: Keiran Mulcahy
Open Class ORC
1st - CICERO: Mark Hellyer
3rd - SOOZAL: Keiran Mulcahy
Also thank you to the RPAYC race management team lead by Stephen Merrington who looked after Course Area Echo.
Coming up is the 2022 Club Marine Pittwater to Coffs race with entries closing March 25th - Di Pearson's reports on both these run below.
Next weekend, March 19 to 20, 2022, the Royal Prince Alfred Yacht Club will host the She Sails Regatta, which will include the 2022 Gwen Slade Regatta, a one design Etchells Regatta with women at the helm of each boat. This Regatta commenced in 1981, initiated by RPAYC Life Member and world-class sailor, William Russell Slade in honour of his late wife, Gwen Slade, and to encourage women sailors.
Russell Slade was a prominent face of sailing in the 1960s, having competed in the Olympics and being a strong competitor in 16ft Skiffs and 5.5m class boats he was also the first person to build a Fibreglass yacht in Australia, Janzoon II.
Russell, as described by his son, Paul Slade, was a very passionate man and envisioned that sailing is a family involved sport based on fun with winning not being the major objective. Russell's love for one design racing lead to the choice of boat and development of the Gwen Slade Regatta. The Etchells was chosen as it was a growing class and the simplicity factor would help promote the inclusion of advanced and beginner sailors. With a little media help from the Packers, Russell was able to launch the first Gwen Slade Ladies Regatta in 1981. The event is still going strong and is highly contested every year.
Pictured below is the 2016 winning team skippered by Annie Taylor, with members of the Slade Family and Commodore Ian Audsley.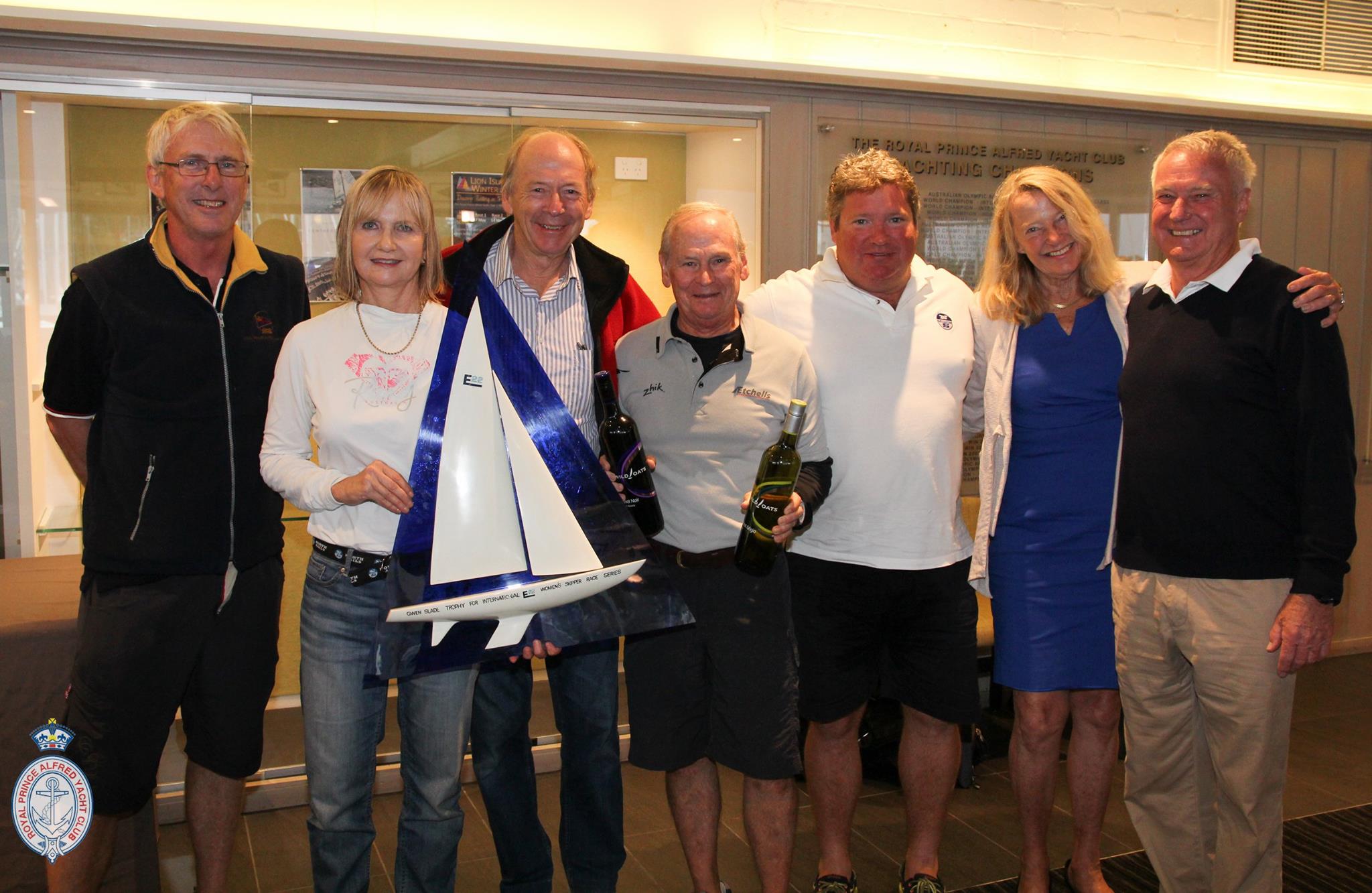 The RPAYC has a strong history in supporting women's sailing, beginning with their introductory sailing courses right through to our Centreboard racing, Youth Development squads, mentoring by successful women members for younger sailors and successful SheSails Twilight Series.
The RPAYC SheSails Regatta 2022 will be a combination of crew training and racing. On Saturday, participants will join RPAYC coaches for a day of on-shore and on-water training, with a focus on developing crew work, spinnaker skills and gaining an understanding of racecourse strategy. On Sunday, teams will participate in some short course racing, with support from RPAYC coaches and mentors.
An entry must be completed for each day: Development Training by individual sailors, and the Open One-Design Regatta by the team skipper. Teams may enter a team onboard an RPAYC Elliott 7, or enter their own Etchell to be eligible for the Gwen Slade Memorial Trophy.
NOR and entry forms are available at: rpayc.com.au/shesails-rpayc-regatta
Later on this month the 2022 NSW Optimist Championship will be held at the RPAYC over 26-27 March. Registration for this event closes Wednesday March 16 2022. Entries are open now at www.optinsw.org.au/events/129723
Coming up we'll run focus pages on our other great on the Pittwater estuary clubs - the Palm Beach Sailing Club, which is celebrating 60 years in 2022, the Avalon Sailing Club, which includes a fleet of historic couta boats as well being an Australian Sailing - Discover Sailing Centre and provides courses based on the Discover Sailing Syllabus, the Woody Point Yacht Club, which is running its Two Island Race today, Sunday March 13, and is the home of the annual Putt Putt Regatta on Pittwater, the Bayview Yacht Racing Association, the home of dinghy and yacht racing on the pristine Pittwater, the Royal Motor Yacht Club's Multihull and Cruising Division, the club that hosts the Lock Crowther Regatta each long weekend in October - and all of which have multiple ways for you to get involved as a volunteer or particpant in hoisting a sail and getting some fresh salt air through your hair not only throughout Autumn, but all year round.
Titans Of Sailing Early Entries For Club Marine Pittwater To Coffs Race
Two of Australia's highest profile yachts, Christian Beck's 100ft LawConnect, and Matt Allen's TP52 Ichi Ban, are early entries in the Royal Prince Alfred Yacht Club's (RPAYC) 2022 Club Marine Pittwater to Coffs Harbour Yacht Race to start off Barrenjoey Headland at 1pm on 8 April.
In late December, Ichi Ban became just the third yacht to win the Sydney Hobart three times in the history of the race. On the weekend, Allen added a fourth consecutive Adelaide to Port Lincoln Yacht Race win to his extensive tally. Ichi Ban is, without doubt, the boat to beat in offshore racing.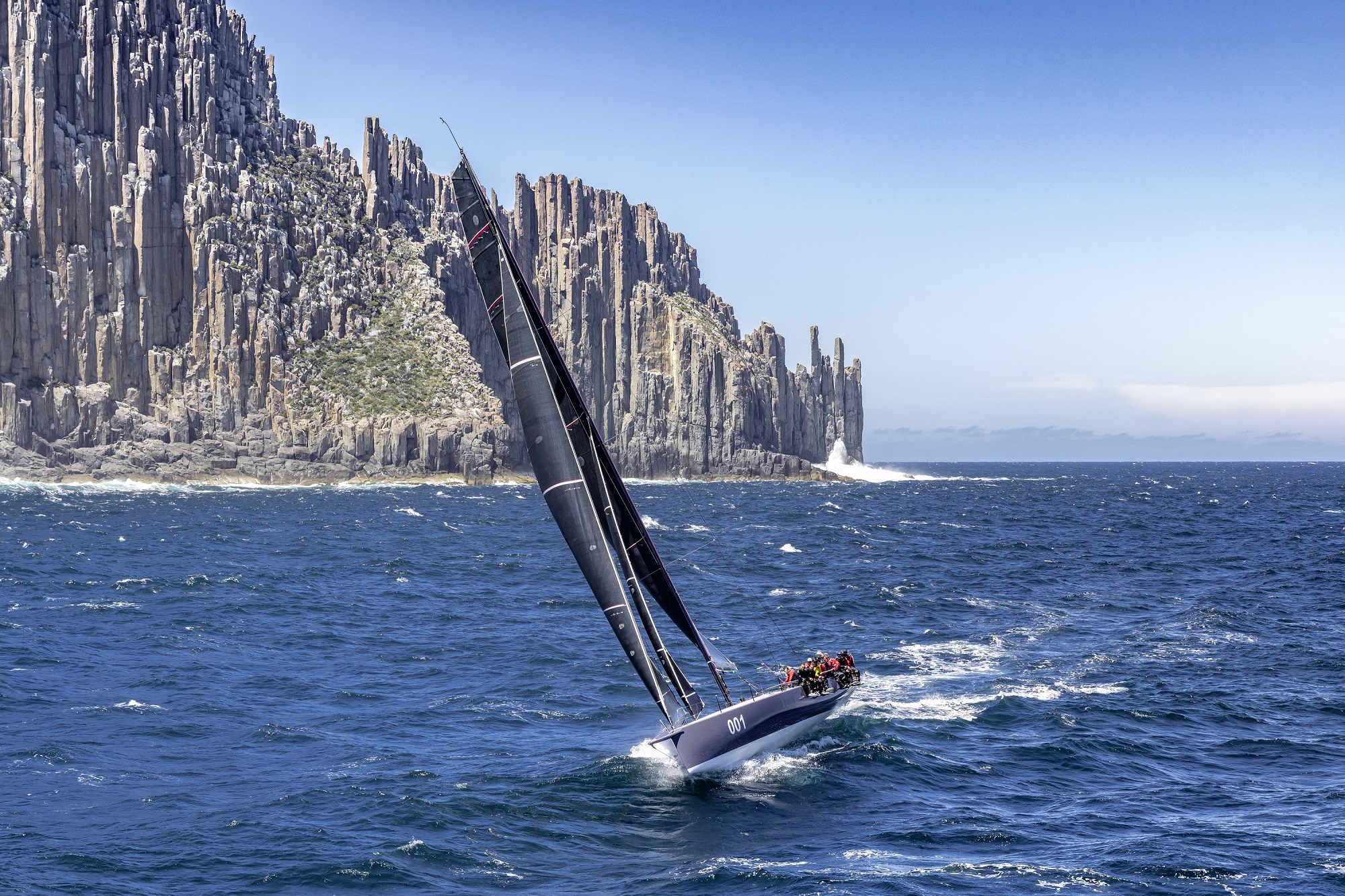 Ichi Ban on the way on to winning the 2021 Rolex Sydney to Hobart. Photo: Andrea Francolini/Rolex

"I've never done the Pittwater Coffs before. It has a good history," Allen said. "We're keen to do it and to support it. Changing the start date (away from early January) has helped us to do that.
"Positioned in April, it also gives us the ability to head further north after to do the Brisbane Gladstone race," Allen ended.
On the flip side of the coin is Christian Beck's LawConnect. She placed second over the line in the 2021 Sydney Hobart and Beck is keen to test his boat on the shorter course with the possibility of claiming a new race record. The current record stands at 18 hours 29 minutes and 14 seconds, set by Wild Oats IX in 2003. It is one of the most enduring sailing records in Australian history.
"I really want to go do the race," Beck stated. "We entered last year but it was cancelled. I haven't done the race before, so I'm very much looking forward to it."
On board will be Beck's son Indy, who turns 15 in March. Beck junior is on the cusp of a promising sailing career, having put his yachting skills to the test on Dad's MC38, InfoTrack.
Indy sailed as crew on InfoTrack when it made its MC38 one-design regatta debut in October 2020. Last May he skippered it to victory against a classy field in Act 2 of an MC38 event. In between, the school boy has honed his skills and is becoming an impressive skipper and tactician.
"He's a better sailor than me," Beck admitted recently of his teenage son.
Queensland is also represented in the 36th running of the 'Pittwater-Coffs'. Geoff Dews has entered his Jeanneau Sun Fast 3200, Hell's Bells. His son, Lincoln, who retired from the inaugural Two-handed division in the 2021 Sydney Hobart, will be aboard. The boat is already in Pittwater, waiting and will be sailed fully crewed this time.
"We are absolutely looking forward to doing the race. I did the very first one, but haven't done another since," Dews commented.
"It's a complex race. It's a straight line race, but there are so many passing lanes. It also finishes in such a nice place, which is an attraction for us," Dews concluded. The 'us' refers a crew comprising mainly Queenslanders and Coffs Harbour locals.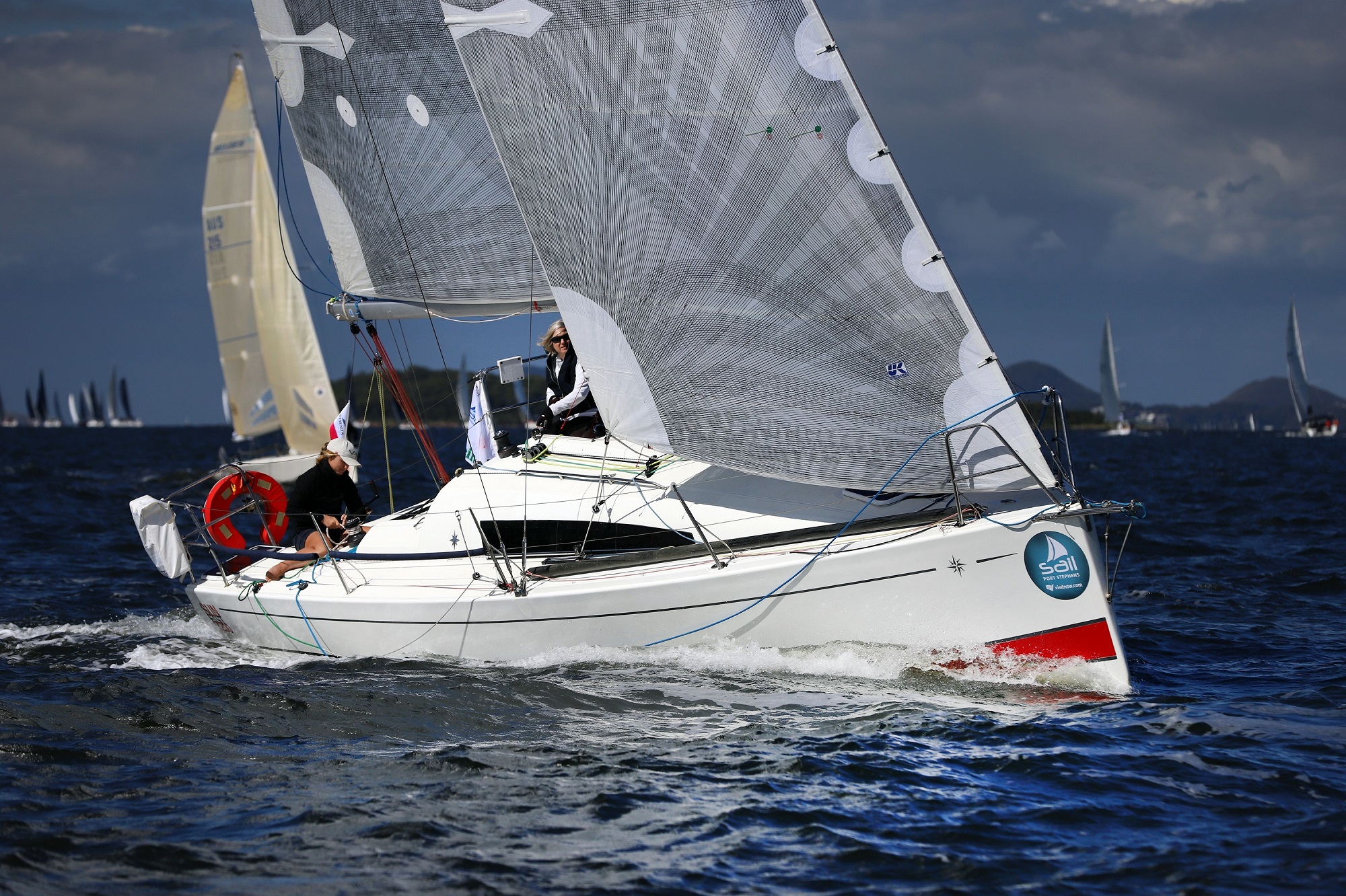 Hells Bells gets around - here she is competing at Sail Port Stephens. Photo: Mark Rothfield

Local representation will come from stalwarts of the RPAYC and offshore racing. Richard Hudson has entered Pretty Woman. His Farr 45 has graced the start lines of a multitude of events, his most recent the Sydney Hobart and the RPAYC's Pittwater Regatta in mid-February. A key element of his crew, part and parcel of all his programs, are youths from the RPAYC Youth Development program.
Ian Edwards has entered Wings. The Dehler 46 has cruised the Pacific, contested the RPAYC Pittwater to Paradise race, along with the Sydney Noumea and Groupama races. She has also pointed north to Airlie Beach, Hamilton Island and Magnetic Island race weeks in Queensland. The comfortable cruiser/racer is a deceptive description, as the boat performs well across the board.
The Club Marine Pittwater to Coffs Harbour Yacht Race is open to monohulls and multihulls in IRC, ORC, PHS, OMR and Short-Handed categories,. It is a popular coastal event for many reasons, including the pretty seaside destination, the 226 nautical mile course and the fact it is a Category 3 race, making it simple and cost effective to enter.
Schedule:
Thursday 7 April: Fever-Tree Crew Party and Race Briefing
Friday 8 April: Race start 1300hrs
Saturday 12 February: Race continues
Sunday 13 February: Presentation, Coffs Harbour Yacht Club
Entries for the Club Marine Pittwater to Coffs Harbour Yacht Race close on March 25th at 5pm, with late entries incurring a late entry fee.
For all information including entry, please visit the official website: www.pittwatertocoffs.com.au
By Di Pearson
Sydney Harbour Regatta - Fog Lifts And Rain Abates On Day 1
March 5, 2022
The veil of fog lifted just in time for the start of the Sydney Harbour Regatta (SHR) this morning, with racing due to start from 11am on the eight course areas from the Harbour Bridge to Manly on Sydney Harbour.
A 3-knot breeze meant racing on the IRC Open and Super 50 offshore course was delayed. The AP came down and the Warning Signal replaced it at 11.40am in the Middle Harbour Yacht Club (MHYC) hosted event, now in its 17th year.
PHS classes on their Harbour course. Photo: Andrea Francolini SHR 2022

IRC Open
Three windward/leeward races sorted out who was best in light airs offshore. Nine Dragons, with MHYC's Bob Cox at the helm, came out fighting and ended the day with a pair of second places and a win to be one point ahead of Keiran Mulcahy's Soozal, which scored 1-3-2 results. Mark Hellyer's Cicero is a further four points adrift in third place.
Super 50
The Super 50 class, comprised solely of TP52s, using the SHR for the opener of a brand-new TP52 series. They sailed on the same offshore windward/leeward course area as the IRC Open fleet with longer beat. Just who will win this inaugural series remains to be seen, but today, the relatively unknown Matador (David Doherty) was teaching the masters a lesson.
Doherty tipped the scales in his favour with a third and a pair of wins to lead Gordon Ketelbey's Zen by two points. Matt Donald/Chris Townsend's Gweilo is a further point away in third.
James Corrie, mainsail trimmer on Matador, explained this afternoon: "We've been working on things for a little while now and a couple of combinations are coming together and working out well for us. Everything is starting to gel.
"The racing was close between all of us. The new TP52 series is our focus. David bought the boat from Geoff Boettcher (former Secret Mens Business) 12 months ago. This is his second season in the boat," he said of Doherty who is new to the grand prix racing scene.
Super 40
Revolver (Michael Ritchie), arriving here on the back of second place at the Pittwater Regatta, won both races from Little Nico (Adrian Walters). "We had a pretty good day. We're really happy with that. The boat was launched five years ago and it's taken us that long to get it working the way we want it.
"I think the light conditions suited us. We put ourselves in the right place on the course and our downwind speed helped us, we were able to sail deeper downwind. We were able to hang on upwind, which surprised me, as all the others have square top mains, we have the conventional rig."
Super 30
The Super 30 class boasts a large and fast fleet of 20 'all-sorts' and shared a race area on the northern section of the Harbour with the Super 40s. Super 30s contested two windward-leeward races followed by a short passage race. Brian Tavener's Ophir came off best in Race 1, with Guy Irwin's Clewless? charging home for second, just 21 seconds separating the pair. Tavener reversed the results in Race 2, just 17 seconds between them when the handicaps were applied.
It came down to the passage race, which not unexpectedly, changed the shape of the results. The race was won by Peter Woodhead's XC3SS, which has taken the series lead from Ophir. Clewless? has dropped out of the picture for now after finishing 18th in Race 3.
J/70
New NSW J/70 champion, Reg Lord (Juno), came out firing in the light airs on Sydney Harbour, with a trio of wins, proving he is the one to beat. Andrew Tompson's Jabberwocky scored 3-2-2 results to claim second place, with three races remaining. Tim Ryan and his Vamos finished second at the NSW Championship, but could not get up enough steam today and is sitting in fourth place.
Adams 10
The Adams 10s raced on the same windward/leeward courses as the J/70s in North Harbour. This class is always a battle to the last. Tracy Richardson's Artemis finished at the top of the pile after three races. She leads Brian Lees (Contentious), but the two are on equal points.
The lone female in the class here, Richardson only took up sailing seven years ago: "We are excited and pleasantly surprised to be where we are. It's very close racing, very competitive, but we've trained hard and worked to get the boat up to scratch," she said.
Yngling NSW Championship
Gary Pearce and his Black Adder crew put the rest on notice on the first day of the Yngling NSW Championship. They ended the day with 1-2-1 results. Gary Wogas is in second place with Karma, after scoring 3-1-2 results. Jan Newland's Yertl is in third place after finishing 2-3-3. This Championship is likely to come down to the wire.
"I've been sailing Black Adder for about 10 years," Pearce said. "The last couple of seasons we've been working towards this. Unfortunately, Hamish Jarrett (Miss Pibb, the gun boat of the fleet) couldn't make it this weekend, so we can't prove how our performance has improved. We were very pleased with the day though.
"The first race started out around 7 knots and by Race 2, we were getting gusts to 12 knots. It was really nice sailing conditions. Tomorrow we'll have to sail smart: Get a good start, start on the right side of the course, get the angles right and stay in the breeze downwind," he said.
Performance Spinnaker Divisions 1 and 2
These two divisions contested two races from start area D. Brendan McAssey's S1 made the best start to the day, claiming Race 1 in Division 1 from Peter Sorenson's Advanced Philosophy. It's no easy feat beating Sorro, the master of many classes. And that being said, it was the return of Sorro when his pair of second places trumped S1's win and fifth place. Sorro leads.
Twelve seconds decided Division 2s first race and Steve Nash/Paul Stubbs' Irukandji was the victor from Graeme Neuhaus' Crowded Haus.Race 2 and Irukandji kept her series lead from Crowded Haus when the two scored second and fourth places respectively.
"A bit unexpected to do so well, but your always hope for the best and give it your best shot. We've got a good regular crew and it was very much a team effort. It's working out well for us," Nash commented.
"It was light on for breeze in Race 1, so it was a bit easier to sail the second race. It was a short race though, so you had to get a good start, which we did. There was a bit of congestion on the line, with 32 boats, but we all got through it."
Performance Spinnaker Division 3 and Non-Spinnaker Division
The two divisions raced on course area C, in the vicinity of Taronga Zoo where the giraffes would have been able to enjoy the view.
John Crawford's Innaminicka leads the Beth Abbott skippered Rapid Transit in Performance Spinnaker Division 3 by six points, following Crawford's two wins. John Vickery's Windsong is in third place going into tomorrow's final races.
Meanwhile, in Non-Spinnaker, Angus Ekberg's Sea Change has the upper hand over Larki Missiris' Molon Labe - meaning 'come and take them', which is what Missiris usually does on the race course. Sea Change is just three points ahead, so who knows what the final outcome will be tomorrow.
This afternoon and into the evening, crews were kicking back on the beach in front of the Club for a sausage sizzle and drinks and relaxing post-race music, not to mention the Fever Tree Gin Bar.
Middle Harbour Yacht Club acknowledges the support of Royal Sydney Yacht Squadron, Cruising Yacht Club of Australia, Sydney Amateur Sailing Club, Royal Australian Navy Sailing Association, Royal Prince Edward Yacht Club, Manly Yacht Club, Royal Sydney Yacht Squadron, Royal Prince Alfred Yacht Club and the Sydney Flying Squadron.
Our thanks go to key sponsors: Club Marine, Robert Oatley Wines, Short Marine, Quality Marine Clothing and Telstra Business Technology Centre.
All information on the Sydney Harbour Regatta, including results at: www.shr.mhyc.com.au
By Di Pearson
Sydney Harbour Regatta: Winners Announced After Tough Day Out
March 6, 2022
Middle Harbour Yacht Club's (MHYC) Sydney Harbour Regatta (SHR) concluded this afternoon with winners decided after competitors dealt with big gusty winds, heavy downpours interspersed with a teasing watery sun for a short spell, before the clouds closed over and visibility became limited.
All courses were sailed on Sydney Harbour today, including the Open IRC and Super 50 fleets. The two divisions started and finished their three races at Watsons Bay. All bar the Super 40s were away on time in a 15-knot breeze, gusting to 18 knots, substantially more than the forecast 10 knots.
The Super 40 start was delayed when Adrian Walters' Little Nico broached and lost two crew members overboard. This is an experienced owner and crew, so both were crew retrieved quickly and are fine. From there, Walters decided to abandon racing for the day.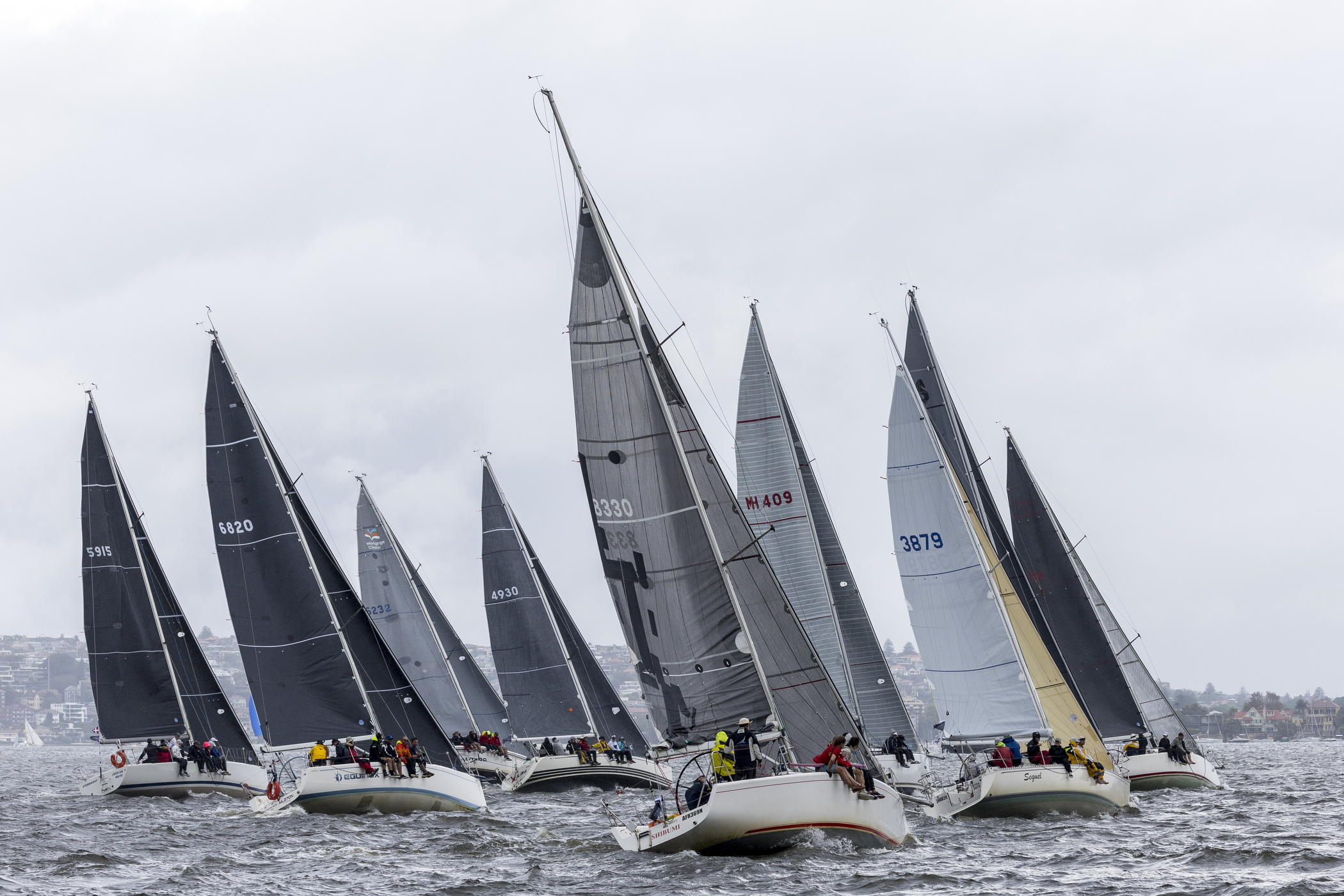 PHS Division 2 get off the start. Photo: Andrea Francolini, SHR 2022

IRC Open
Nine Dragons (Bob Cox) led Keiran Mulcahy's Soozal by one point, with Mark Hellyer's Cicero is a further four points behind in third place when they headed to the race course today for two more races. Cox's win and a second means he is the clear winner by seven points from Cicero. Soozal placed third, a further point behind. It was a delayed gift, as Cox had a birthday on 3 March.
"I'm very happy with our result," Cox said. "It was a shame a couple of boats from RPAYC couldn't make it, especially Bushranger, it's so competitive. It was still very close competition, especially with us and Khaleesi at the bigger end and Soozal at the smaller end. Soozal never gives up.
"It was very shifty today. The windward/leeward races were good to get our crew work sorted out. It's been good practice for Sail Port Stephens. We've had five wins there in the past, and we're going back to try again," Cox ended.
Super 50
The new kid on the block, David Doherty (Matador) has carted off first place in the Super 50 division, which also doubles as the first event of the inaugural TP52 Series. Matador beat local boat, Zen (Gordon Ketelbey) to the punch by four points. Matt Donald/Chris Townsend's Gweilo carried over their third place from yesterday, a further four points in arears.
Super 40
Revolver's (Michael Ritchie) fourth place today was enough to give her the series win after she led into the day with two wins. With Little Nico (Adrian Walters) out of the picture, Darryl Hodgkinson moved up to second overall with his Carkeek 40, Victoire, his Race 3 win lifting him up.
Super 30
Peter Woodhead's XC3SS led from Brian Tavener's Ophir coming into the day and Woodhead followed through. Seventh and fourth places gave the local sailor a three-point buffer over Ophir. This is not the first time Woodhead has landed on the top of the podium and it won't be the last.
J/70
New NSW J/70 champion, Reg Lord (Juno) has made two on the trot, winning the class at this Sydney Harbour Regatta. Runner up at the Championship, Tim Ryan and his Vamos, made a comeback to finish runner-up here as well. It shows how consistently well these two boats sail.
Adams 10
Tracy Richardson's Artemis led Brian Lees' Contentious on countback coming into the day, but Lees bounced back to claim the overall win from Richardson by three points. The competition between the two was thrilling.
"Last time I won, I won an Audi. We've won here a couple of times. Looks like we've come good again – older and smarter," Lees said laughing.
"I was pleased to see Tracey do well – she hasn't been sailing very long. We didn't find the conditions too hard to handle. On our course the breeze was pretty consistent. It was very tight racing and we had a few close calls. The boats were doing 10 and 11 knots quite a lot of the time."
Black Adder new Yngling NSW champion
Gary Pearce (Black Adder) had the bit between the teeth, unwilling to relinquish the 2-point lead he carried into the day from Gary Wogas (Karma) in the Yngling NSW Championship. Pearce and crew fired off three more bullets from three races. He claimed the title from Wogas, who scored a trio of second places. Jan Newland's Yertl held onto third overall, scoring a trio of third places.
Performance Spinnaker Divisions 1 and 2
Peter Sorenson (Advanced Philosophy) kept the pressure on Brendan McAssey's S1 to win overall by two points, the same margin he led by yesterday. It seemed likely the win would be between the pair – and so it was. Sorro was always going to be the benchmark, but he is still tinkering with his Sydney 38 and changing crew around.
"Rain, wind, it was very unpleasant," Sorensen commented. "In the second race we got pushed over the line early, had to come back, then broached gybing the spinnaker in 20 knots - and nearly ran into a start boat – not the one for our course though.
"It was a terrific race otherwise," he said without a hint of sarcasm. "It was very fast. We saw 32 knots, but generally it was under 25, it was coming and going."
Sorensen owed his success, he said, "To changing the crew around a bit and it worked pretty well," he said. "I'm pretty pleased with how we went, especially after finishing second to Conspiracy at the Sydney 38 NSW Championship a couple of weeks ago."
In Division 2, it was unusual to see the Jack Stening/Colin Gunn sailed Stormaway out of the top placings at the end of yesterday, but the pair 'stormed' home with third and fourth places to steal the series from under the noses of the rest. Graeme Neuhaus, who sat in second place coming into the day with Crowded Haus, finished the regatta the same way, two points adrift of the victors.
However, neither of the top two won a race today. Simon Oliver's Odyssey claimed Race 3 and Rumba (Rob Carr/Steph Cook/Kerry Burke) won Race 4.
Performance Spinnaker Division 3 and Non-Spinnaker Division
John Crawford finished the way he started. Innamincka led the Beth Abbott skippered Rapid Transit in Performance Spinnaker Division 3 coming into the day and has won the series from Abbott cleanly, six points separating the pair after a further two races were sailed.
Neither won a race today, those honours went to Dean Dransfield's Escape (Race 3) and Michael Bleakley's Scaramouch (Race 4), lifting the two up to third and fourth places overall respectively.
John Crawford came ashore unaware Innamincka had won. "Are you sure? I didn't think we had that good a day. The weather suited the bigger heavier boats. We're very happy to win. The forecast was miserable, we got a bit of rain, but nothing horrendous," he said.
MHYC did a good job with this regatta. Sydney Amateur Sailing Club and RANSA ran our courses and did a good job too."
In the Non-Spinnaker division, yesterday's leader, Sea Change, skippered by charterer, Angus Ekberg, held on to win overall – just. Sixth and third places meant he won on countback from Nathan Lockhart's Scarborough, which scored fourth and second places today. John De Meur's Elysium won Race 3 to finish third overall, while the Race 4 win went to Martin Blake/Mark Bothwell's Sol.
Post-race festivities included a DJ on the beach in front of the Club as crews made the most of a sausage sizzle and drinks, including at the Fever Tree Gin Bar.
The official presentation and prize giving was held Monday evening, March 9 at Middle Harbour Yacht Club.
Eighty guests attended the Sydney Harbour Regatta Prizegiving on Monday night with presentations to place getters in the 22 divisions of this year's regatta. Commodore Peter Lewis, Chairman Special Events Ian Box and Vice-Commodore Racing Geoff Charters officiated.
MHYC boats and members performed extremely well across a number of divisions and were awarded most of the Special and Grand Prizes. Congratulations in particular to:
Grand Prize First Place – Stormaway (Jack Stening & Colin Gunn) Performance Spinnaker Division 2
Grand Prize Second Place – Artemis (Tracy Richardson) Adams 10
Grand Prize Third Place – Elysium (John De Meur) Performance Non-Spinnaker
Best Performed Female Skipper - Tracy Richardson (Artemis) Adams 10
Crew Prize – Samantha Gallagher (Galan) Performance Spinnaker Division 2
First Place Open Class IRC – Nine Dragons (Bob Cox)
First Place Super 30 – XC3SS (Peter Woodhead)
First Place Adams 10 – Contentious (Brian Lees)
First Place Performance Spinnaker Division 1 PHS – Advanced Philosophy (Peter Sorensen)
First Place Performance Spinnaker Division 2 ORC Club & PHS – Stormaway (Jack Stening & Colin Gunn)
First Place Performance Spinnaker Division 3 ORC Club & PHS – Innamincka (John Crawford)
Many thanks to Sydney Harbour Regatta major sponsors Club Marine, Robert Oatley Wines, Short Marine, Quality Marine Clothing, Telstra Business Technology Centre along with supporting sponsors Mercure Resort Hunter Valley Gardens, Mercedes-Benz North Shore, Manly Spirit Company and Brix Distillers.
Middle Harbour Yacht Club acknowledges the support of Royal Sydney Yacht Squadron, Cruising Yacht Club of Australia, Sydney Amateur Sailing Club, Royal Australian Navy Sailing Association, Royal Prince Edward Yacht Club, Manly Yacht Club, Royal Sydney Yacht Squadron, Royal Prince Alfred Yacht Club and the Sydney Flying Squadron.
MHYC wishes to thank key sponsors: Club Marine, Robert Oatley Wines, Short Marine, Quality Marine Clothing and Telstra Business Technology Centre.
All information on the Sydney Harbour Regatta, including results at: www.shr.mhyc.com.au
By Di Pearson
Sydney Harbour Regatta Celebrates Women In Sailing
Tuesday 8 March marks International Women's Day 2022 and here at Middle Harbour Yacht Club (MHYC) this weekend, we salute all females taking part in the Sydney Harbour Regatta (SHR), NSW's largest keelboat regatta.
Women are involved at all levels in this event, from sailing to race management on and off the water to media boat drivers and protest committee members.
Encouraged by the national authority, Australian Sailing, and clubs around Australia, women's participation in sailing is growing substantially via specialised programs, learn to sail classes and Women's regattas.
This weekend there are women spread throughout the classes and divisions. Owner/skippers include Tracy Richardson, owner of the Adams 10 Artemis and Sara Ladd, skipper on the J70 The Jackal.
Richardson, the new president of the Adams 10 Association, started sailing only seven years ago. "I turned up to Middle Harbour Yacht Club to try twilight racing on a Thursday night. I loved it – I couldn't get enough," she said. "Then my brother-in-law and I bought Artemis in February last year."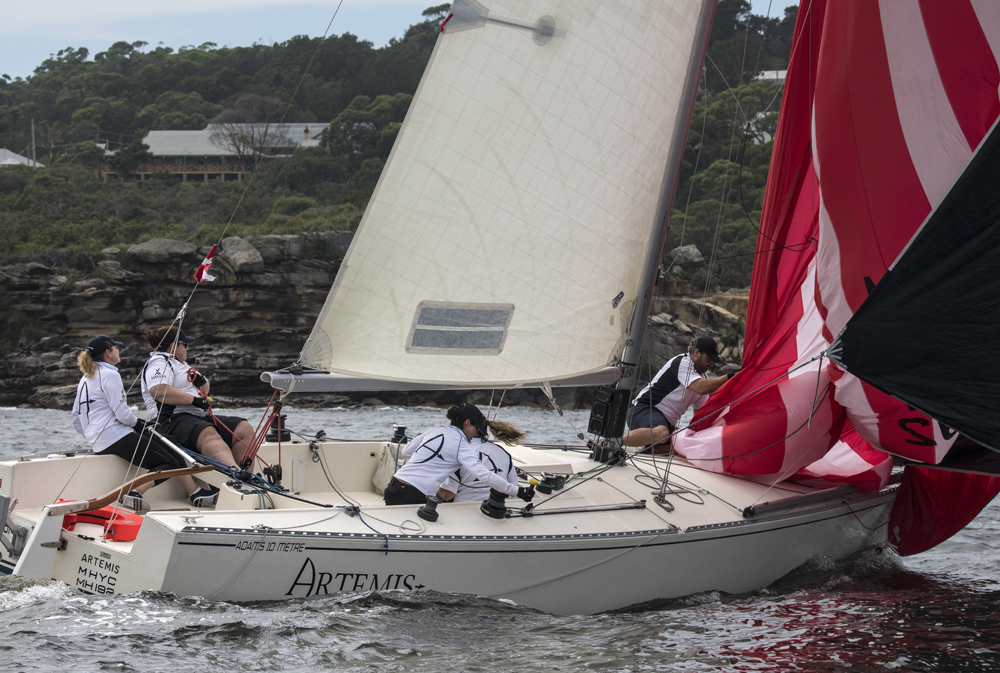 Tracy Richardson and her mainly female crew on Artemis. Photo: Margaret Fraser-Martin

Going into today's final races, Richardson leads the pointscore, unusual for a relative newcomer racing against those who have been around for years. And the class is super competitive.
In the Yngling keelboat, once an Olympic class, you will find Jan Newland. She is contesting the Yngling NSW Championship and is in a good third place overall coming into the final day.
In Performance Spinnaker racing, one of the largest fleets sailing at the regatta on Sydney Harbour is Lisa Callaghan with her Sydney 38, Mondo. Callaghan is also the President of Manly Sailing Club. Stephanie Cook is the enduring co-owner of Rumba, a Northshore 370. In the same division is Julie Clark, who has entered Senta, a Beneteau First 35.
Cook's advice for newcomers: "Try twilight sailing at your local yacht club. Most have a list you can put your name on. It's a great way to see if you like the sport . It's very friendly, social. You don't usually need experience to do the twilights and it fits in with most people's work hours.
"You could also do a competent crew course through your local club's sailing school. They normally introduce you to boats to race on as part of the deal. "They're not cheap to buy and run, so you want to know you're in for the long-term, not just a season."
Racing aboard Keiran Mulcahy's Soozal in the IRC Open Class offshore, and currently placed second, is Stacey Jackson. A veteran of 14 Sydney Hobarts, Jackson skippered an all-female crew on Wild Oats X to second overall in the 2018 Hobart. She used that campaign to highlight the high calibre of women sailors. She also has a Volvo Ocean Race behind her.
An internationally respected yachtswoman, Jackson is a huge advocate of women in sailing and a mentor through the international women's Magenta Project. She has a vision – and that is to see the day when there is parity in numbers between male and female sailors.
Lisa Wilkinson does mainsheet on husband, Matt's competitive Farr 30, Foreign Affair. "She's very good at it – she does a very good job," says Matt, "She races with us in all inshore events."
Annie Taylor from the Northern Beaches is a long-time inshore and offshore racer. Taylor sails anything from one-design to small and larger yachts. At the Sydney Harbour Regatta she is in the IRC Racing division aboard Pete Farrugia's Bullwinkle.
On the Royal Prince Alfred Yacht Club start crew is another Northern Beaches resident, Rosemary Merrington. She and husband Steve are integral to on-water race management teams at regattas and events Australia wide.
"It's been at least 15 years and I still enjoy it," says Merrington, whose interest is highlighted by the Merrington sons, Peter 'Billy' and Anthony, who sail at the grand prix level.
Sailing Administrator at MHYC is Catherine Rofe, who is also on the race committee at Manly Yacht Club. Rofe raced aboard the all-female crew aboard Calibre in the Sydney 38 One Design NSW Championship last month. Skippered by Liz Charles, the boat was chartered for them by the Sydney 38 Association which was keen to have more women sailing in the class and perhaps buying into it.
Although the crew had not sailed together on the one-design Sydney 38 before, they finished fourth on countback in a quality field, indicative of female talent in Australia these days.
"She is all over sailing," MHYC's Sailing Manager, David Staley says. "If there's a race on, J24s, Sydney 38s, whatever, she'll be there. She's passionate about sailing and does a great job with us."
Driving a media boat this weekend is MHYC youth sailing instructor, Jess Longstaff. She coaches the Optimist class and has a background sailing Lasers, Pacers and 420s.
"I started sailing at six or seven through my dad," Longstaff comments. "I love the different people of all ages I meet, sailing a lot of different boats. I just love being on the water," says the 18-year-old, who was Sailing Captain at Wenona School.
On the protest committee, the Chairperson is Erica Kirby. She has been involved in umpiring, judging and sits on protest committees for the last 12 years. She is a rarity and says, "I'd love to have more women involved, especially in NSW. I'd advise interested women to get involved in the jury at your local club and see if it appeals. It's very rewarding - I love travelling to different events."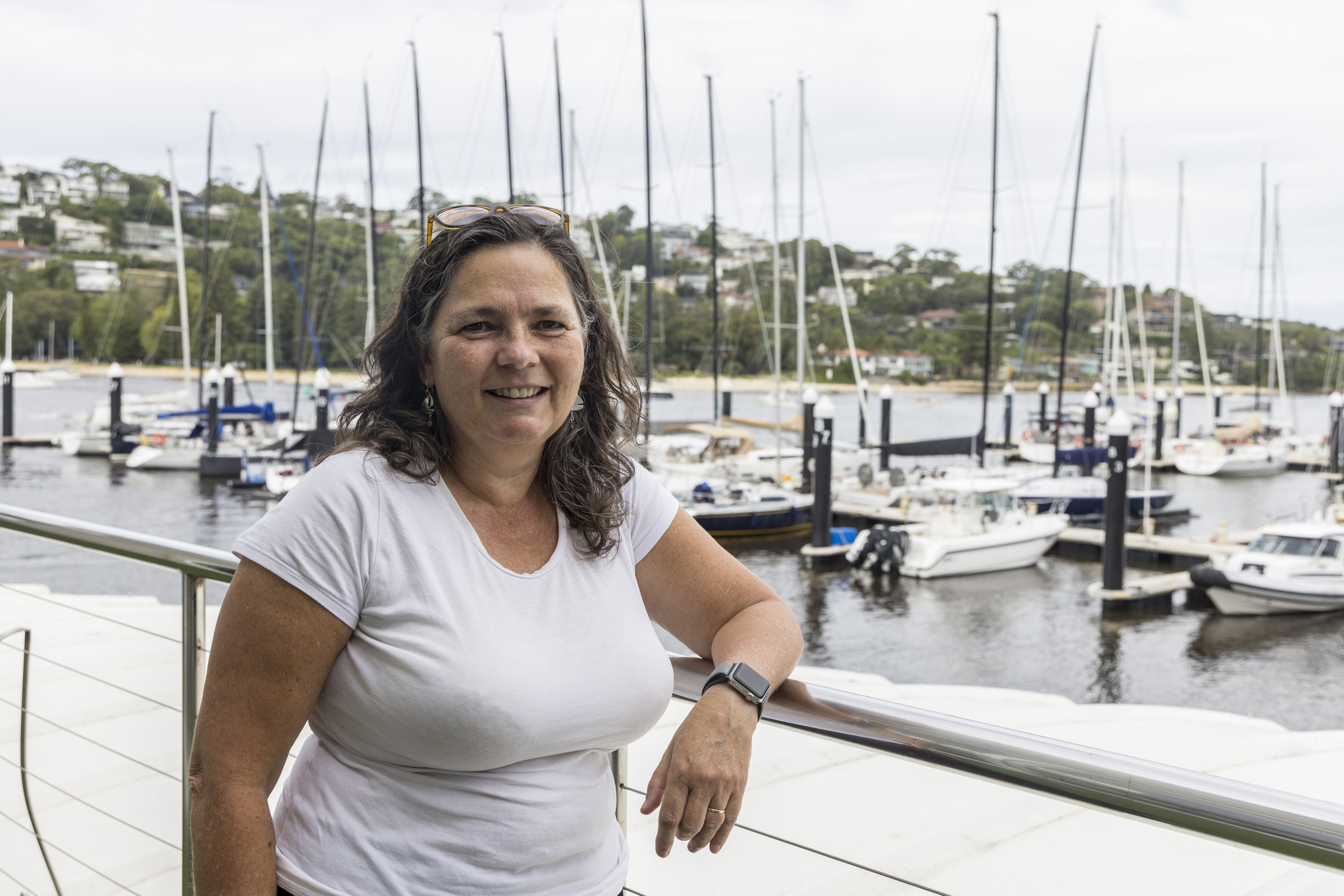 Erica Kirby is Chair of the Protest Committee. Photo: Andrea Francolini

MHYC is a champion of women involved in all aspects of sailing. Julie Hodder is a past commodore and remains a respected navigator in offshore racing with 13 Sydney Hobarts on her resume. She has also co-owned grand prix racing yachts. Hodder would usually be sailing at this event but was tied up with a niece's wedding this weekend.
By Di Pearson