March 8 - 14, 2020: Issue 441
Sydney Harbour Regatta 2020
Sydney Harbour Regatta trophy spoils divvied up
March 8, 2020
More than 20 clubs from two Australian states and Hong Kong made up 19 divisions for the 15th Sydney Harbour Regatta conducted by Middle Harbour Yacht Club (MHYC) with the cooperation of key Sydney clubs and a host of volunteers.
Results are final and prize winners primed for Monday night's trophy presentation at MHYC where all placegetters must be present, or their winnings default to the next in line.
Results for all divisions available here.
All courses (other than offshore) were commentated live on Sunday via the event Facebook page.
Performance Class spinnaker divisions
Geoff and Pip Lavis' Inglis/Dovell 50 UBS Wild Thing (Cruising Yacht Club of Australia) took it to the rest of division 1, completing four Sydney Harbour courses over the weekend of March 7-8 to edge out Jiang Lin's Balmain Sailing Club based X43 Min River by a single point.
Ray Parrott's X-Ray, an X332 from Drummoyne, took top honours in division 2 and in division 3, Peter Francis' Wind Charmer (Greenwich Flying Squadron) proved the strongest in the autumn southerly flow.
Parrott said of his win: "We were previously sailing in the X Yacht division but this time we decided to enter PHS division 2 because the speed of the other boats is similar to ours. Conditions-wise we enjoyed Saturday; Sunday was very challenging very unstable and very difficult for all boats. I think the tacticians had a very tough day."
The Interclub Teams Event for Performance Spinnaker divisions went to the host, MHYC, on 122 points followed by the Royal Prince Alfred Yacht Club (RPAYC) on 137 points and the CYCA third on 145 points.
Super 30s and Super 12s
Adrian Walters' Shaw 11 Little Nico prevailed by a point in the Super 12 division, leading clubmate Lazy Dog, Shaun Lane and Quentin Stewart's MC38, in the final pointscore. "We are happy to win though we didn't reach our best level today," Walters said. Third was Royal Prince Alfred Yacht Club MC38 Easy Tiger, skippered by well-known yachtsman and commentator Rob Brown.
Andy Wharton's Melges 24 +GST (RPAYC) posted a very handy set of scores to nail the Super 30 division by 10.7 points. Second and third were two Royal Sydney Yacht Squadron entries – Adela and Very Tasty. The eclectic group of sports boats, Fareast 28s, Melges 24s and 32s and Farr 30s plus others, completed a five-race series.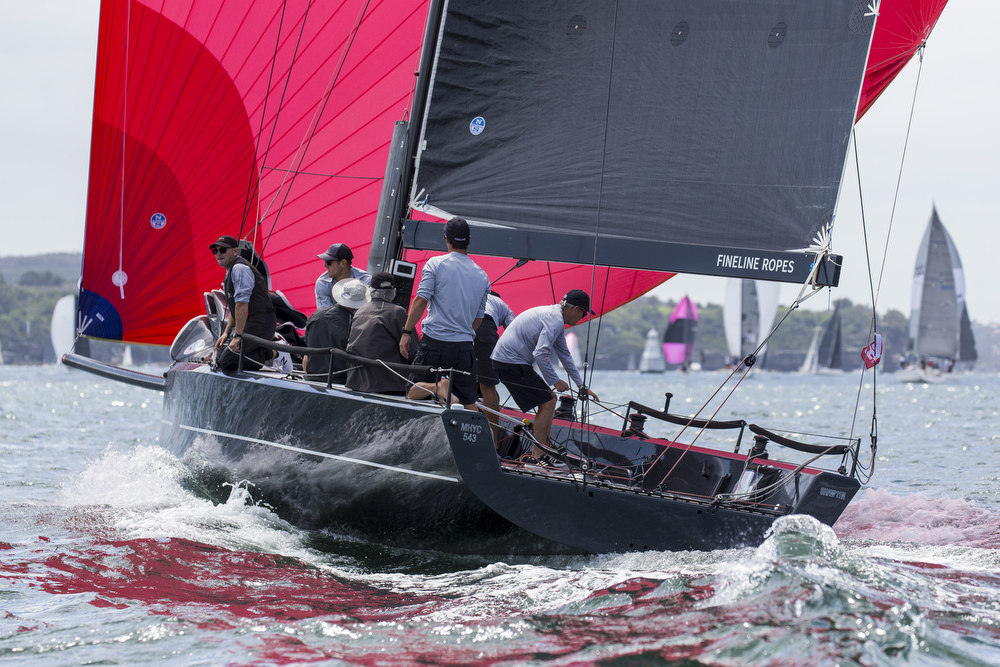 SHR20 Little Nico Super 12 winner - photo by Andrea Francolini 0165

One designs - Sydney 38s, Adams 10, Yngling
The top two results in the Sydney 38 division mirrored the recent class Australian Championship final scores, Peter Byford and David Hudson's Conspiracy (RPAYC) beating Peter Sorensen's Advanced Philosophy (MHYC), though this time the margin was much closer – one point compared to 11.
Mitchell Miller's Adams 10 Rock Solid moved past Powderhulk on points thanks to a bullet in the deciding race. "We knew it all rested on the final race, then we had an OCS when Powderhulk pushed us over! We watched them sail into the distance thinking 'that's it'. There was no point following so we went the opposite way, in one-design, tactically it's the only way to get ahead, and it paid," Miller said. Rock Solid has been a divisional winner at Sydney Harbour Regatta six or seven times prior.
In the Yngling division racing out of Taylors Bay, Hamish Jarrett's Miss Pibb beat Karma and Black Adder.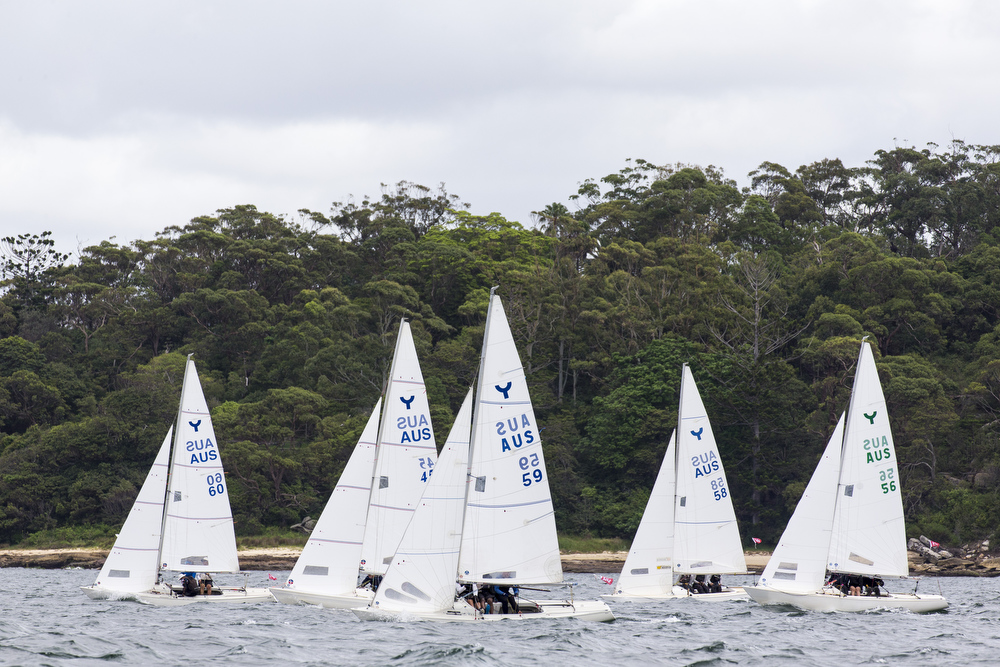 SHR20 Yngling fleet Taylors Bay - photo by Andrea Francolini

Open Class
MHYC boat Nine Dragons, skippered by Bob Cox, out-sailed the rest of the Open class, the DK46 putting an eight point gap on IRC results between them and second place, Gerry Hatton's Mat 1245 Bushranger (RPAYC).
Cox, who recently turned 75, has new vigour in his step following a heart operation, this afternoon announcing: "I'm a new man!". His long-time campaign with Nine Dragons has yielded plenty of Sydney Harbour Regatta victories, and this year his crew put together an impressive scoresheet of five wins from six starts.
"On the first day with disturbed seas and good wind we were strong and that led us to three bullets in a row," the skipper regaled. "We were surprisingly close to the TPs at the top mark, and Primitive Cool. Credit to Bushranger and Soozl who were hanging on to us this weekend. We encouraged these two RPAYC boats to come down for the weekend after we went to their Pittwater Regatta last month, where Bushranger beat us."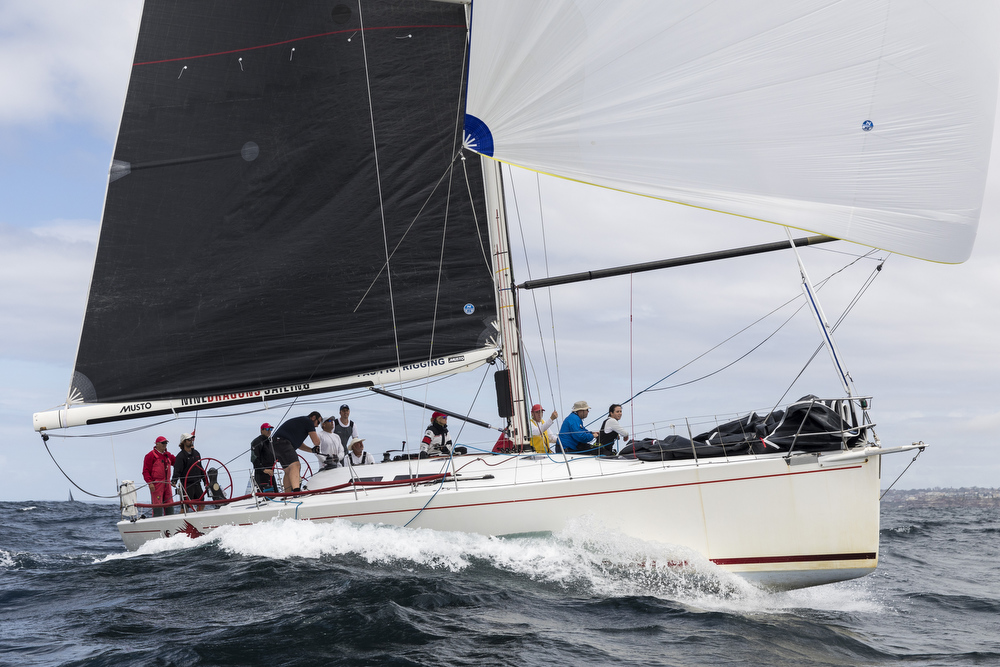 Open Class overall winner Nine Dragons - photo by Andrea Francolini

Final word from the PRO
Sunday March 8 was a much better day, according to the Principal Race Officer Denis Thompson. "While the wind was shifty to start off, the race committee were proactive with changing and shortening courses to suit. It was a smoother day racing-wise with cloud cover that pulled the breeze around, down to five knots then around to the south-east and up to 12-14 knots for the final race of the day. It was good racing."
Top performing female skipper
Helly Hansen's sensational W Salt Flag jacket winner for the best performing female skipper will be announced at Monday evening's trophy presentation.
Key sponsors for Sydney Harbour Regatta's 15th edition include Helly Hansen, Air New Zealand and Robert Oatley Wines. Supporting sponsors are Club Marine, Coral Sea Marina Resort, Stamford Plaza Auckland, Mercure Resort Hunter Valley Gardens, Vittoria Coffee, Fisherman's Friend, KeySun Zinke, ANTAL and the host club welcomes new supporter, Mercedes-Benz North Shore.
How to follow the Sydney Harbour Regatta:
Sydney Harbour Regatta website shr.mhyc.com.au
Facebook: SydneyHarbourRegatta
Instagram: sydneyharbourregatta
By Lisa Ratcliff
Sydney Harbour Regatta day one smiles and spills
March 7, 2020
Sydney Harbour Regatta's opening day brought together a multi-club effort spanning the harbour and offshore for the 185-strong fleet from around the state of New South Wales and Victoria.
Conditions offshore and short runways for the bigger boats made it harder for the Open Class and Sydney 38 fleet to sail cleanly - the crew of John Newbold's RP51 Primitive Cool caught out on a kite drop in gusty SSWers and swell off Sydney Heads. Video by Tilly Lock.
Boat manager David Sudarno said: "We had a puff at the wrong time and had to smoke the halyard. We weren't the only ones with the odd issue. The big boats were doing 18-20 knots downwind on those short legs in a seaway that wasn't helping. We have to work the angles under asymmetric, unlike the symmetric boats that can sail deep."
Across the inshore courses, spread from Manly to Garden Island near the city, boats of all sizes, from Historic 18s to Sydney 36s to sports boats, weaved their way through the traffic on their own course and contended with other racing fleets, plus the usual weekend traffic in SSW 10 knots building to 20 knots.
Middle Harbour Yacht Club members fared well across the divisions, Peter Sorensen's Advanced Philosophy leading the Sydney 38 division three races into their series, and Bob Cox's DK46 Nine Dragons leading the Open Class fleet on IRC handicap from Gerry Hatton's Royal Prince Alfred Yacht Club based Mat 1245 Bushranger.
The Adams 10 fleet is heavily weighted by MHYC boats and fronting the division by two points is Patrick Delaney's Powerhulk.
RPAYC based Melges 24 +GST, skippered by Andy Wharton, had a couple of newcomers on the boat but this didn't stop them posting a win, then a 2nd and a 5th to lead the Super 30 pointscore. "Conditions were great and we went the right way. It's a borrowed boat – I haven't sailed a Melges for a year – I put together a scratch crew and we had fun!" Wharton said.
Saturday's player's player award went to the hardy Cruising Yacht Club of Australia's race management team on start boat Offshore, which had some serious roll on out on the Macquarie course.
Results for all divisions available here.
Link to the daily highlights video by Tilly Lock Media.
Sunday March 8 is International Women's Day and Middle Harbour Yacht Club will mark the occasion with a sensational W Salt Flag Helly Hansen jacket going to the top performing female skipper, and with a photo gallery tribute by photographer Andrea Francolini. Up to 10 female skippers are in the hunt for the jacket, which will be presented once the series results are complete.
The forecast for day two is southerly 15-20 knots of southerly breeze and racing is due to commence from midday.
Key sponsors for Sydney Harbour Regatta's 15th edition include Helly Hansen, Air New Zealand and Robert Oatley Wines. Supporting sponsors are Club Marine, Coral Sea Marina Resort, Stamford Plaza Auckland, Mercure Resort Hunter Valley Gardens, Vittoria Coffee, Fisherman's Friend, KeySun Zinke, ANTAL and the host club welcomes new supporter, Mercedes-Benz North Shore.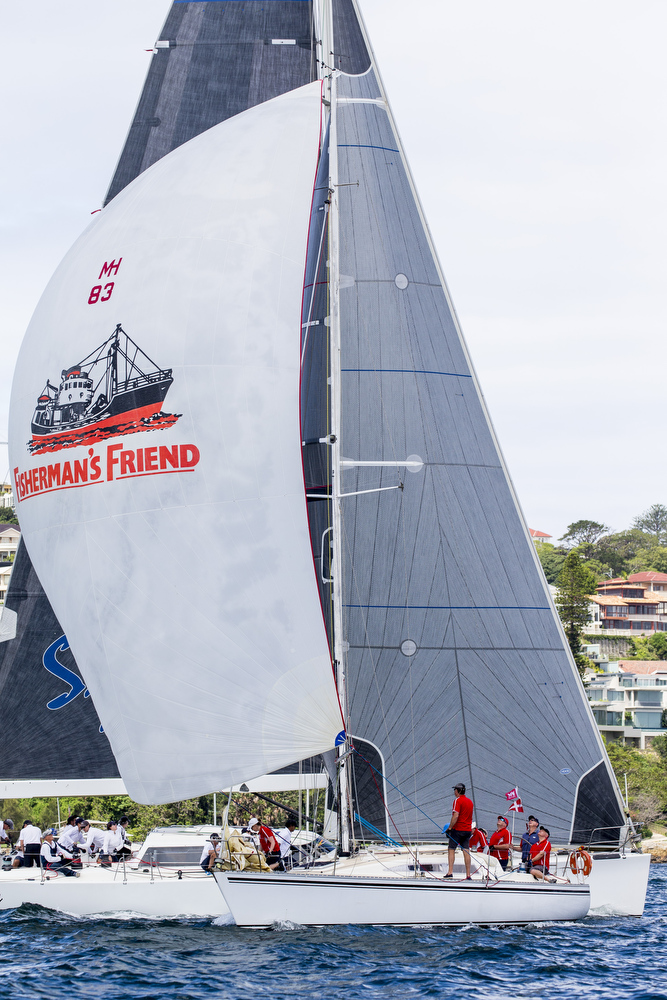 SHR2020 Saga (Greg West) Performance Class spinnaker- photo by Andrea Francolini SHR2020 McGrory-Coleman Forty Two on Sydney Harbour - photo by Andrea Francolini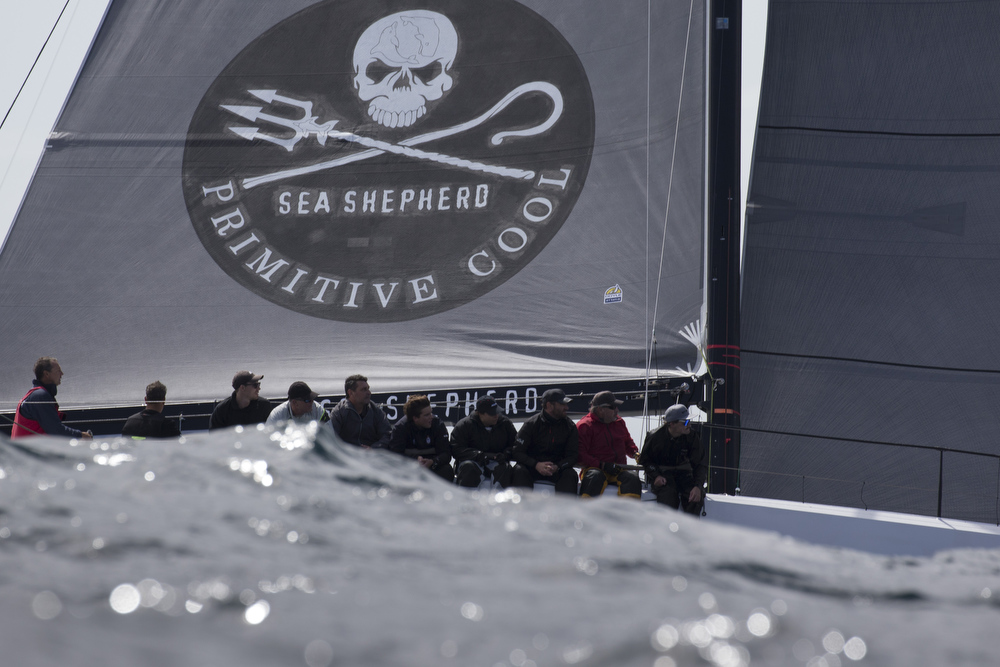 SHR2020 Primitive Cool (VIC)- Open Class day 1 - photo by Andrea Francolini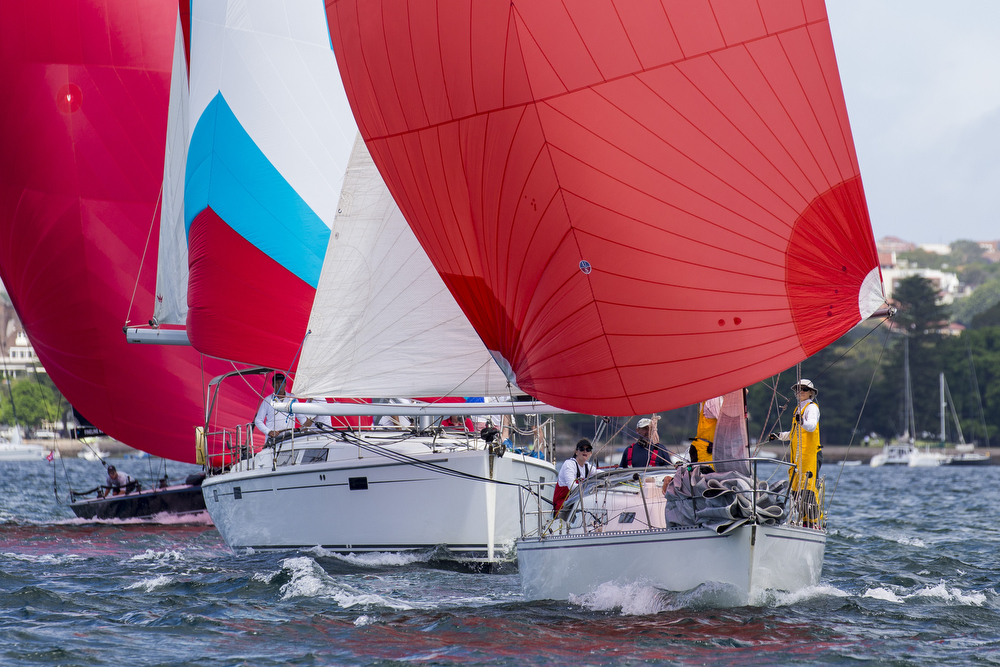 SHR2020 - A good afternoon breeze on Sydney Harbour- photo by Andrea Francolini

How to follow the Sydney Harbour Regatta:
Sydney Harbour Regatta website shr.mhyc.com.au
Facebook: SydneyHarbourRegatta
Instagram: sydneyharbourregatta
By Lisa Ratcliff