January 20 - 26, 2019: Issue 390
Sydney Harbour Regatta - MHYC celebrates 80 years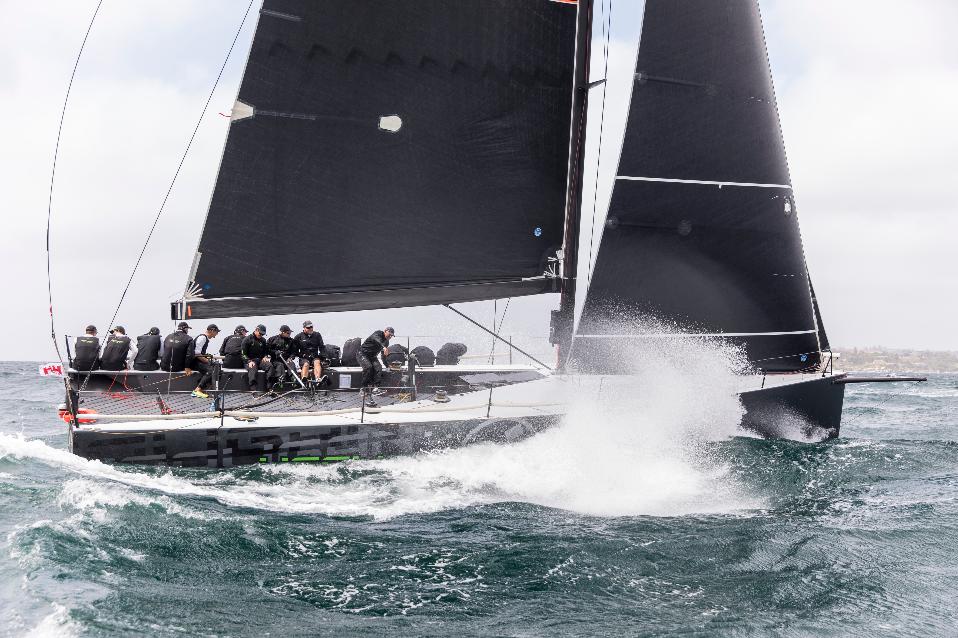 Hooligan shows off her windward speed at the Sydney Harbour Regatta - photo by Andrea Francolini, MHYC pic
Middle Harbour Yacht Club (MHYC) will hold its annual Sydney Harbour Regatta on the first weekend of March, this year incorporating the Australian Sydney 38 Championship and the NSW J70 Championship, a fitting way to celebrate the Club's 80th anniversary.
"We expect to welcome a wide assortment of up to 200 boats in 25 divisions across eight courses for our 14th edition of the Sydney Harbour Regatta," said MHYC Commodore, Peter Lewis, of the autumnal event to be held over the weekend of 2-3 March.
"The Notice of Race is published and entry is open online and will close on 25 February," the Commodore declared of NSW's largest keelboat regatta.
"This year we are working hand-in-hand with Clean Up Sydney Harbour (celebrating its 30th year) to be held on Sunday the 3rd of March."
"We are thrilled to have the support of Middle Harbour Yacht Club for the 30th Anniversary of Clean Up Sydney Harbour," Terrie-Ann Johnson, Managing Director, Clean Up Australia said.
"It is very fitting that the Sydney Harbour Regatta yachts will be flying Clean Up Australia flags on the same weekend while Clean Up activities and celebrations are happening," she said.
"It's a wonderful tribute to the legacy Ian Kiernan AO has left to the community and we thank the Club and competitors for their involvement. We can't wait to showcase the Harbour together and celebrate the efforts of volunteers who have looked after this beautiful asset for thirty years."
Although entry is in its early stages, having just officially opened, owners are already signing on, a healthy indication of continued interest in this first major regatta for the year.
The 2019 Yoti Australian Sydney 38 Championship will be held in conjunction with the Sydney Harbour Regatta on windward/leeward courses over three days from Friday 1 March.
On the weekend, they will be joined by the remainder of the fleets, including the Open Class for IRC and ORCi competitors on offshore courses, including the 'boats of the moment' TP52 class.
In other one-design classes, the mainstays include the Adams 10s, Super 30's and Cavalier 28s on windward leeward courses.
A cross section of nippy Sports Boats will also race on windward/leeward courses. The Melges 24 will join them on this course area, as will the one-design J70 class, which will conduct its NSW Championship in conjunction with the Sydney Harbour Regatta.
One-Design Ynglings, Etchells and Dragons will also take part again, as will the Super 12 class, a mixed fleet will including the growing MC38 class and one can't forget the Historic 18' Skiffs – these classic yachts are a wonderful reminder of yesteryear and continue to be raced by some big names in the sport.
The Performance Class, with divisions for both Spinnaker and Non-Spinnaker create the most colour on the Harbour and their sheer numbers require four divisions.
It goes without saying that Principal Race Officer Denis Thompson and his race management team will again have a large job on their hands, as will Regatta Director Peter Hemery and the onshore team. Their combined efforts ensure a high-calibre event.
Following racing each day, all are welcome back to the Club's unique after-racing festivities on the private beach for a sausage sizzle, drinks and music.
This event would not be possible without the continued assistance of: the Cruising Yacht Club of Australia, Manly Yacht Club, RANSA, Royal Prince Alfred Yacht Club, Royal Sydney Yacht Squadron, Royal Prince Edward Yacht Club, Sydney Amateur Sailing Club and the Sydney Flying Squadron.
Thanks also go to key sponsors Helly Hansen, Air New Zealand, Robert Oatley Wines and Abell Point Marina, along with supporting sponsors Smooth FM, Club Marine, Vittoria Coffee and KeySun.
Enter on line now at: www.shr.mhyc.com.au
By Di Pearson, MHYC media