July 29 - August 4, 2018: Issue 369
Surfing Australia's High Performance Centre (HPC)Expansion Project A Massive Success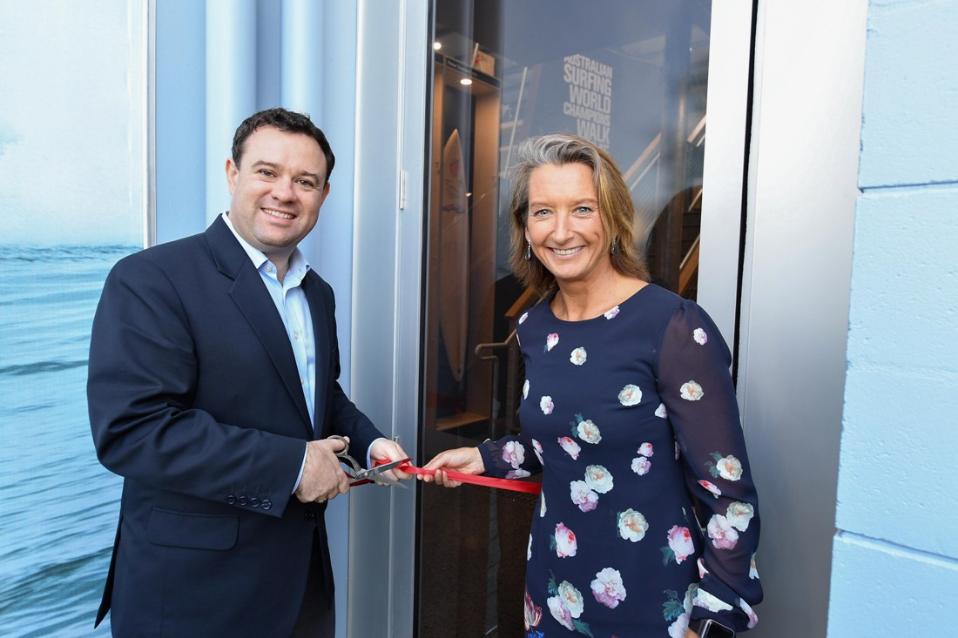 The Hon. Stuart Ayres MP, NSW
Minister for Sport and
Surfing Australia Chair
Layne Beachley
Surfing Australia's High Performance Centre (HPC)Expansion Project A Massive Success
CASUARINA/NSW
July 27th, 2018
Future Australian World Surfing Champions and Olympic surf stars received another massive boost today as the Surfing Australia High Performance Centre (HPC) officially opened the doors on a major expansion project thanks to both Australian and State government funding grants combined with Surfing Australia investment.
The new expanded HPC is an officially recognised Olympic Training Facility and is four times the size of the original HPC building that opened in 2012.
The 7-million-dollar expansion that now offers a 4 level 4000 square meter state of the art facility includes:
Bigger and better Aerial Surf Skate Training Facility including skate ramps rolling into air bags, half pipe, 2 x Olympic trampolines, 1 x super trampoline, foam pit and climbing walls.

Significantly expanded and improved world class gymnasium

100-seat auditorium

5 x larger coaching and treatment room facilities

11 new accommodation rooms with double beds and ensuite/bathrooms

New large dining and kitchen area

Lockers rooms and bathrooms

Office space that houses the entire Surfing Australia staff (235 square metres)

Underground parking for 18 vehicles
All these new facilities will allow for a full-blooded Olympic Campaign heading towards the 2020 games in Japan, whilst ensuring the continued flow of Australian World Champions on the World Surf League (WSL) World Tour. The facility will offer talented surfers from around the nation a world class training environment.
The HPC is also open to recreational surfers via paid camps and other sports will utilise the facility.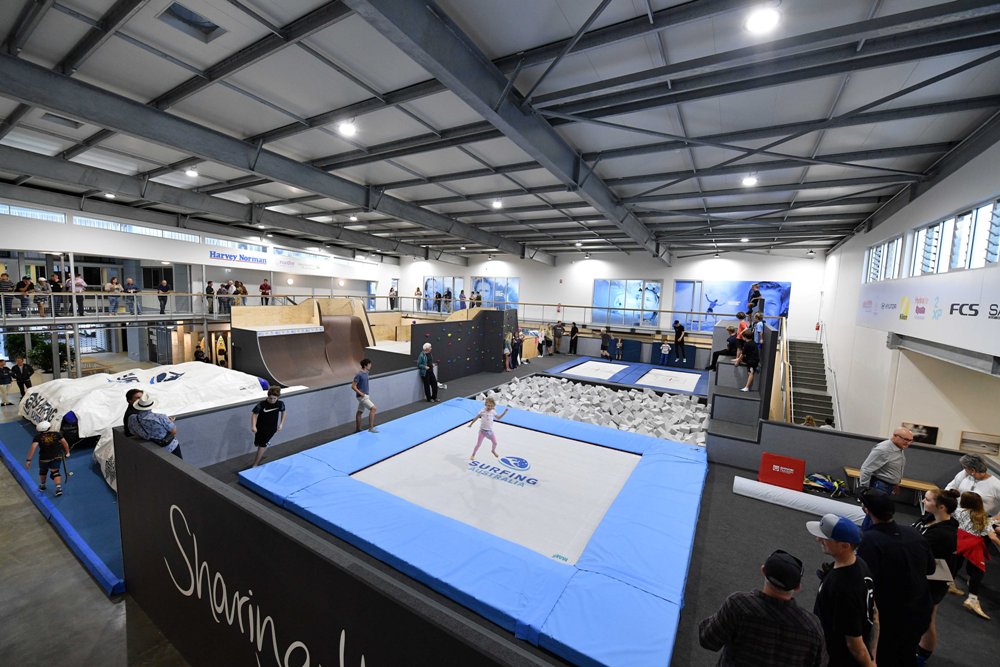 Olympic trampolines

Marlon Harrison tries out the skate ramps

The expansion project was made possible by the Australian Government's investment of $2.536 million in funding through the Building Better Regions Fund and the New South Wales Government represented by Sport and Recreation within the Office of Sport who funded $3 million for the expansion. The balance of the facility funding was through Surfing Australia Investment and through philanthropic donations by Don O'Rorke from Consolidated Properties, Hutchinson Builders support and another private donor.
Minister for Regional Development, Territories and Local Government John McVeigh said the local economy is already benefiting from the new state-of-the-art centre.
"There's been a big increase in the number of surfers riding waves at Casuarina which means business is on the crest of a boom. The regional economy has been given a $1.3 million boost since 2012 and it's likely to more than double over the next five years," said Dr McVeigh.
"Investing in regional sports is not only good for our health and Olympic results, but it also generates economic activity, with this project alone supporting more than 60 jobs during construction and some 90 ongoing roles in the community.
"This means more people are investing and spending more in the local economy which is all part of the Coalition Government's plan to create more jobs, drive economic growth and build stronger regional communities across Australia."
The Hon Stuart Ayres MP said: "I am delighted to officially open this state of the art new facility. Surfing is ingrained into the sporting culture of Australia, and of NSW in particular, so it is fitting that the NSW Government has been able to make such an important contribution to the future international success of our surfers."
Surfing Australia would also like to sincerely thank and acknowledge Harvey Norman who provided the entire furniture fit out at the new HPC. The level of fit out is incredible, and all thanks to the generosity of Harvey Norman.
Murray Graham, Events and Promotions Manager at Domayne said: "The Harvey Norman Group were extremely proud to have been able to provide furnishings for the Surfing Australia High Performance Centre expansion project. The centre will serve as a fantastic facility for the continued excellence we have seen from Aussie surfers on the world stage for years."
The HPC has also been supported by the SAE Group who provided the facility with a 100 KW solar system to ensure the building is environmentally friendly.
The HPC will provide elite Australian surfers and their coaches with the opportunity to practice and train in a controlled, world-class environment, pushing boundaries and ultimately defining the future of the sport at an Olympic and World Tour level.
2012 World Surf League (WSL) Men's World Champion Joel Parkinson said: "To see what Andrew Stark and his staff have done here is incredible and I really congratulate everyone on this amazing building. It's such perfect timing with the building complete, I can't think of any reason Australia can't go to Tokyo 2020 and bring home both men's and women's gold medals."
Surfing Australia Chair and seven-time Women's World Champion Layne Beachley said: "This is a historical day for Surfing Australia. I want to acknowledge the support we received from the Australian and State Government which funded the expansion, making our dream a reality. I must also recognise the enormous effort of the dedicated hard-working team behind the completion of the build. This new World Class High Performance Centre will future proof the development of Australia's surfing champions for generations to come and will forever stand as a lasting legacy of our commitment to the local community and all recreational surfers."
Surfing Australia CEO Andrew Stark said the expansion of the HPC serves as an even better tool for future Australian surfing success on the world stage.
"This is an extremely proud day as CEO of Surfing Australia to be a part of history and open this amazing 4000 square metre training facility for Australian surfers that will serve the sport and national organisation for generations to come. We are so very fortunate to have the support of Australian and State governments who made this dream a reality and we will be forever grateful. This is a true legacy project for Surfing in this country and one that will deliver continued success on the global stage.
"We are particularly happy with the celebration throughout the facility of our World and Australian Champions since the sport's inception in 1963. It Is now a place to come and train and also a place to recognise and celebrate the amazing success of Aussie surfers over the past 50 odd years."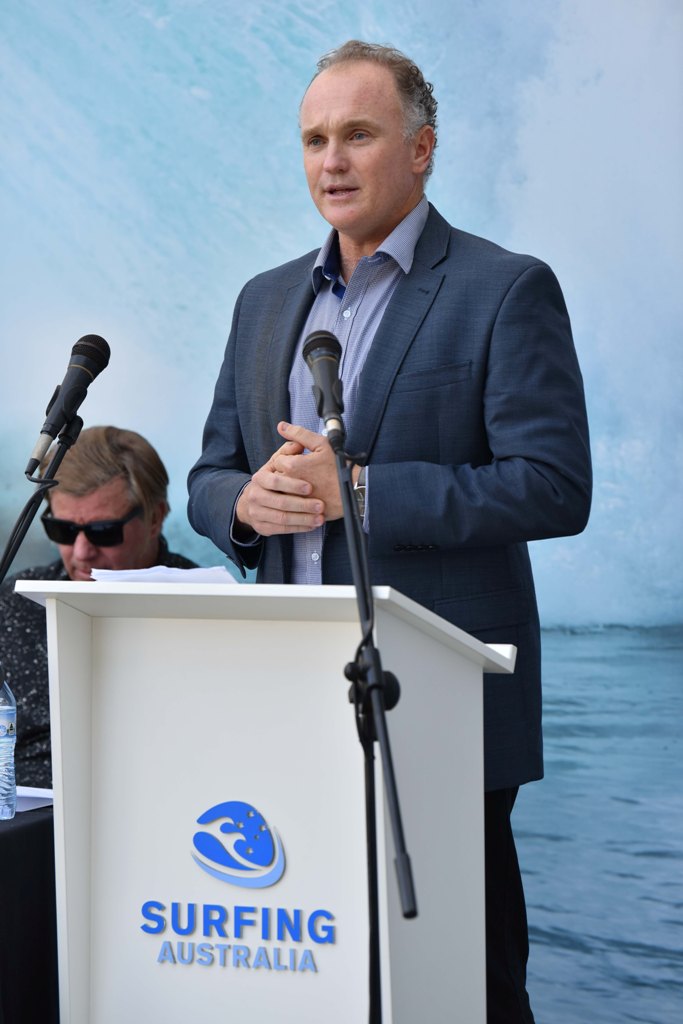 Surfing Australia CEO Andrew Stark

VIP Attendees at today's Surfing Australia High Performance Centre Expansion Grand Opening included: Surfing Australia Life Member Alan Atkins, Australian Surfing Hall of Fame Inductee Colin Smith, Surfing Australia Life Member and former Chair Norm Innis, Surfing Australia Life Member Don O'Rorke, The Hon Stuart Ayres MP, Member for Richmond Justine Elliott, Member for Tweed Geoff Provest and Tweed Shire Councillor James Owen.
World Champions In attendance Included: Phyllis O'Donnell, Layne Beachley, Joel Parkinson, Wayne 'Rabbit' Bartholomew, Mark Richards, Pauline Menczer, Tom Carroll, Mark Occhilupo, Wendy Botha and Pam Burridge.
Report and photos by Surfing Australia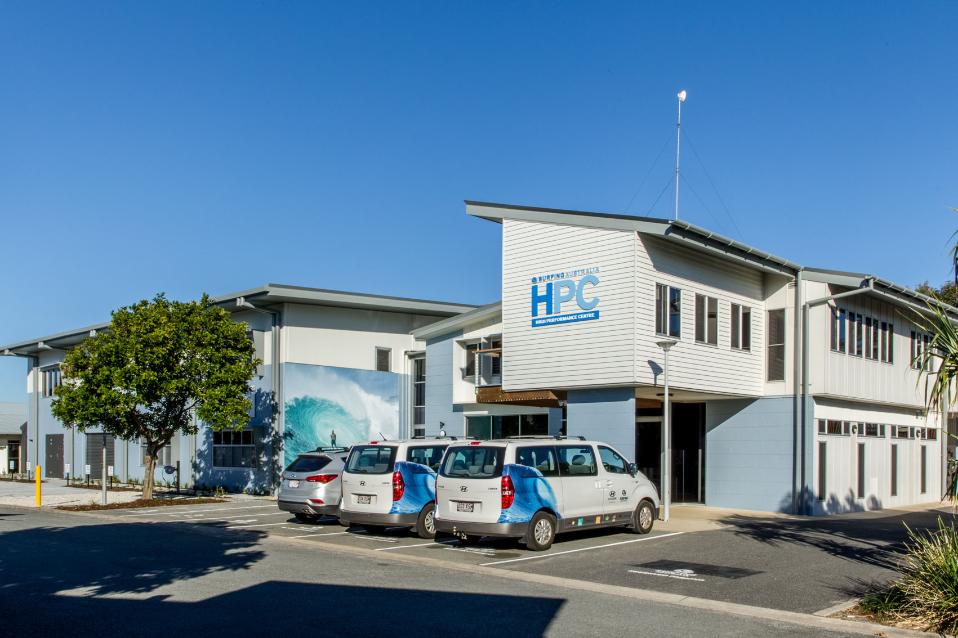 Surfing Australia High Performance Centre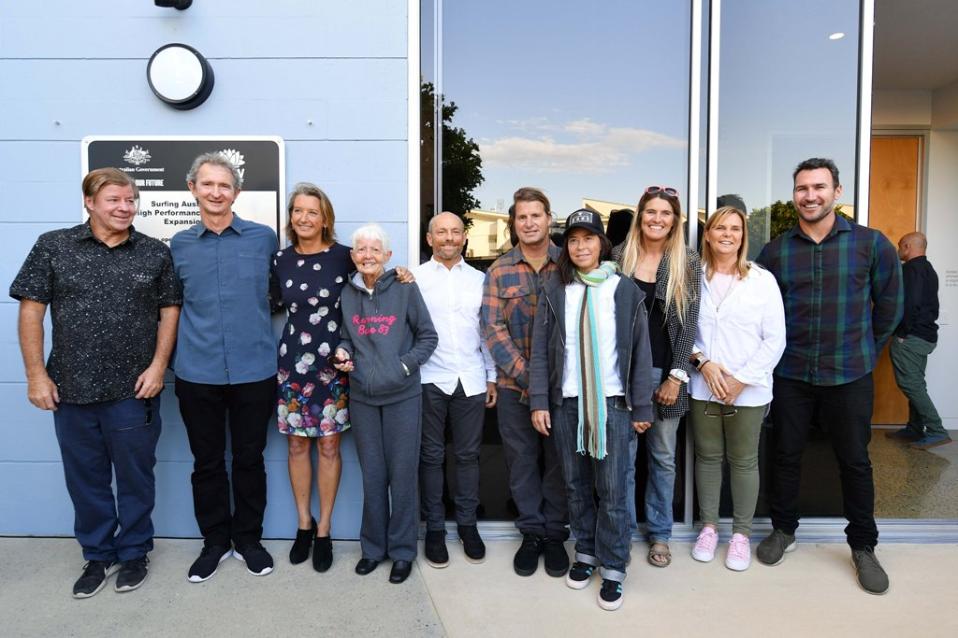 World Champions in attendance; (L to R):
Wayne 'Rabbit' Bartholomew, Mark Richards,
Layne Beachley,
Phyllis O'Donnell,
Tom Carroll, Mark Occhilupo,
Pauline Menczer,
Pam Burridge,
Wendy Botha and
Joel Parkinson
.