November 19 - 25, 2023: Issue 606
Surfing Australia launches first Parliamentary Friends of Surfing group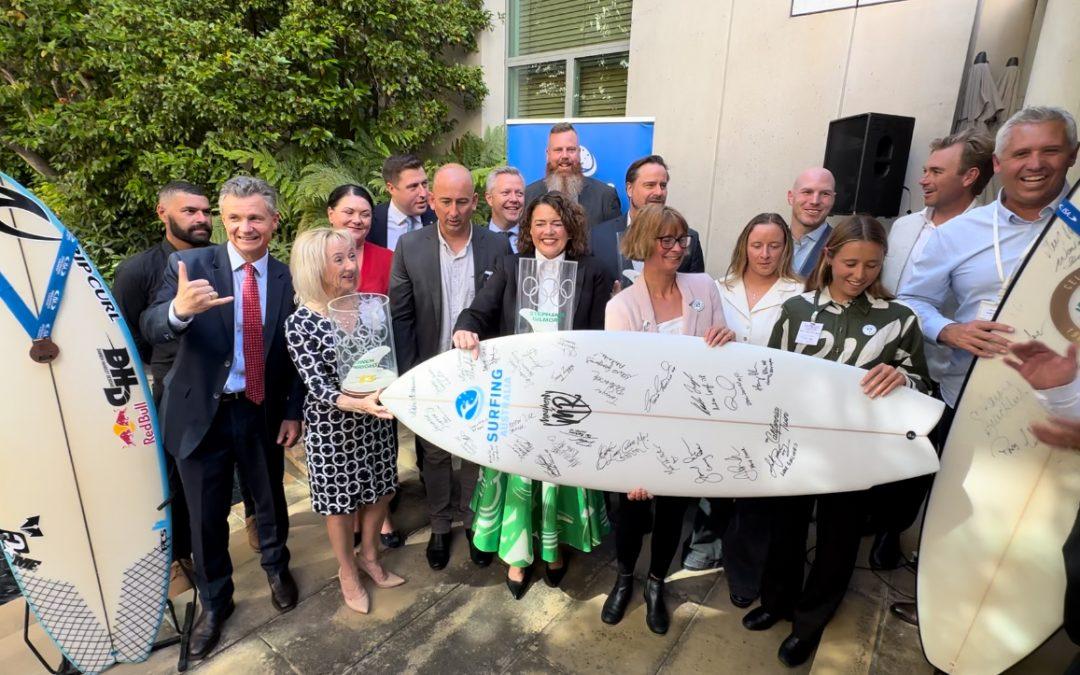 The first Parliamentary Friends of Surfing group launched On Wednesday November 15 2023 at Parliament House in Canberra. Photot: Surfing Australia
Australia's first Parliamentary Friends of Surfing group has been officially launched at Parliament House in Canberra.
More than 50 politicians came together to share the stoke and hear from World Tour competitors, Paralympic athletes and industry experts.
Co-Chaired by Member for Corangamite, Libby Coker MP, Member for Forrest, Nola Marino MP and Greens Senator for lutruwita/Tasmania, Peter Whish-Wilson, the group aims to promote surfing and create opportunities including for politicians to attend surfing events and interact with legends of the sport. Surfing Australia presented the opportunity to host the ISA World Surfing Games for five consecutive years (2025 - 2029) and highlighted other key initiatives for the sport.
Well known surf journalist and former World Tour commentator, John "Reggae" Ellis hosted the launch, with a panel discussion including former World Tour competitor Adrian "Ace" Buchan, World Tour surfer India Robinson, 3x ISA World Para Champion Matt Formston, current World Longboard Tour Competitor Tully White, former World Longboard Tour Competitor and Surfers for Climate Co-Founder Belinda Baggs and Committee Member of the Surfing Australia First Nations Youth High Performance Program, Rory Togo.
In a show of support to the sport, each parliamentarian signed a surfboard while the Parliamentary Friends of Surfing Co-Chairs also received a surfboard fin, which are replicas of trophies gifted to the Tokyo Olympic athletes.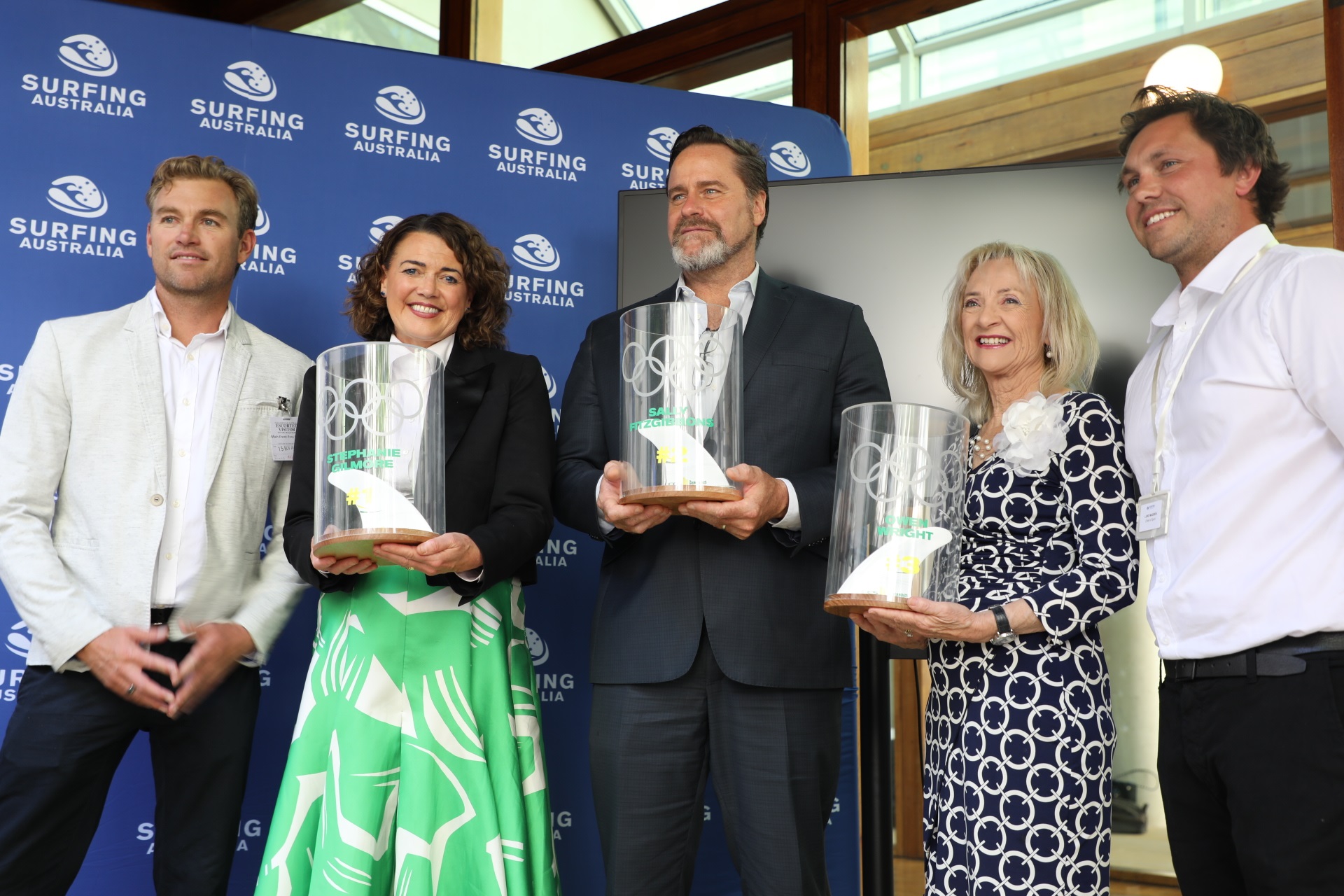 Ms Coker said: "We're a nation that, for the most part, lives on the coast, and one of the draw cards to regions like mine is surfing. So many people come to Torquay, Thirteenth Beach and, of course, Bells Beach because of the amazing surf and that's why surfing is so important for our local economy, jobs, and our lifestyle. So, to bring surfing to Parliament House is a great thrill.
"I'd like to thank the team at Surfing Australia who were absolutely amazing in setting up this event. We had an awesome panel featuring some of our nation's best surfers and Surfing Australia had a great opportunity to catch up with Parliamentarians from all across the country to discuss the future growth of the sport and its incredible capacity as an economic driver. Like them, I want to see this sport continue to grow and I'm looking forward to continuing the relationship between Surfing Australia and the Parliamentary Friendship group for many years to come."
Senator Whish-Wilson said: "I'm stoked and proud to be part of the inaugural Parliamentary Friends of Surfing launch; I wouldn't be in the Australian parliament doing what I do if I wasn't a surfer. While numerous Australians surf to earn a living, many hundreds of thousands more live to surf. It's integral to our national culture and contributes phenomenally to so many people's sense of community and connectedness to the natural environment.
"Surfing Australia does an incredible job of nurturing the grassroots of surfing right around our nation and it's critically important support is provided to this cause and that federal parliament assists in any way we can. Surfing is one of our nation's fastest growing, most popular watersports and it's long overdue that it gets the recognition it deserves as a professional sport, including its inclusion in future Commonwealth Games."
Ms Marino said: "It was fantastic as Co-Chair of the Parliamentary Friends of Surfing to launch this group in Parliament House and to hear from some of the talented surfers of all ages including Matt Formston and the encouragement and support that he gives to young people in the disability space. I want to see Surfing Australia have regular visits to Parliament House so that members and senators learn more about the sport itself and the incredible athletes involved."
Surfing Australia CEO, Chris Mater said: "We're excited to launch the first Federal Parliamentary Friends of Surfing group, which we anticipate will continue to grow. With their support, we hope that we'll be able to secure five years of the ISA World Surfing Games including hosting the Olympic surfing qualification event for the LA 2028 Olympic Games. What an incredible runway that would be, taking us through to the 2032 summer Olympics in Brisbane."
The event was supported by Surfing Australia, Surfing NSW, Surfing Queensland, Surfing Victoria, Surfing Western Australia, Surfing South Australia, Surfing Tasmania and Surfers for Climate as well as the Australian Sports Commission.