December 9 - 15, 2018: Issue 387
Surf Sport Season Kicks Off With Interbranch Championships 2018

There's the unmistakable sense of excitement in the air as surf lifesavers from all 11 NSW Surf Life Saving Branches finalise their preparations for the opening representative surf sport event of the summer to be held on the state's Lower North Coast this weekend.

Black Head Beach will host the Interbranch Championships for the first time since 2012, and is set to come alive in a burst of colour from Saturday as over 300 surf athletes do battle on the beach and in the surf in the quest for medal glory.
With only a maximum of 40 athletes from each branch, consisting of three male and female competitors in the Under 12, Under 13, Under 14, Under 15, Under 17, Under 19 and Open age groups who compete in both ocean and beach events, selections must be strategic with versatility a highly prized asset.
For the athletes themselves performances are crucial with this weekend a last opportunity to impress selectors ahead of the NSW team being named for the Interstate Championships, which will be held at Newport next month.
The fierce rivalry between Sydney Northern Beaches and Sydney looks set to continue with the two branches splitting the last 5 titles between them. The Northerners currently hold the trophy after wrestling it back at Stockton in 2017.
Some of the experienced names to watch out for from Sydney include Riley Dixon (Wanda), Lily Finati (North Bondi), Elyssa Pierce (Wanda), and North Cronulla's Leah Rampoldi, while the Newport duo of Max Brooks and Maddie Spencer have been named as captains of the Sydney Northern Beaches team.
They will be joined by a number of clubmates in the squad including among others Emily Doyle, Zach Morris, Connor Maggs, and Madison Louw, with Piper Harrison (Manly) and Joshua Gedz (Freshwater) also no strangers to representative success.
Hunter made history in 2017 when they finished on the podium (third position) for the first time in 15 years and they will be out to reconfirm that status with another strong performance.
Cooks Hill, Redhead and Swansea Belmont have been the dominant surf sport clubs locally in recent years and they again provide the bulk of the athletes for the representative team.
Bella Williams, Lara Manning, and Fletcher Meyers are among those who call Cooks Hill home while Ethan Coates, Australian champion Nick Stoddart, and Eliza Johnson will be flying the flag for the 2019 State Championship Hosts Swansea Belmont.
Redhead's Nicola Owen, Amelia Ross, and NSW Ironman Champion Daniel Collins have all been selected to compete in the Open Division and will be keen to perform well for their hometown branch.
Still smarting after finishing 4th last season, Central Coast have picked a team boosted by plenty of experience as well as some exciting newcomers.
Lachlan Braddish and Rachel Wood (Umina) and Terrigal's Rachelle King will be charged with the responsibility of being leaders in the team thanks to their extensive experience while U12 competitor Emma Duggan (North Avoca) who has performed strongly in the junior ranks gets her first taste at representative level.
A real strength of Interbranch has always been that it gives up-and-comers the chance to race alongside the more experienced athletes, and gives the U12s their first taste of high level competition.
The athletes from the Country Branches (Far North Coast, North Coast, Mid North Coast, Lower North Coast, South Coast, and Far South Coast) will be using the event as their last chance to tune up against their larger rivals before attention switches to February's Envirobank Country Championships which will be held at Kingscliff on the state's Northern Coast.
A number of athletes recently named in the NSW Country Representative teams to contest the Trans-Tasman and Interstate Championships will be taking part this weekend with Mollymook's Brock Schriver and Sam Zustovich, and Jayden Allen (Warilla-Barak Point) selected for the South Coast team.
The Far North Coast team are out to defend their Country Branch title and will be boosted in that efforts with a number of outstanding athletes.
Earlier this week Maise Miller, Hayley Smith, Paige Leishman, Cahrizma McDonald-Cass, Anthea Warne, Sofie Boyd, Claudia Crawford, Nathan McKenzie, Luke Chafer, Angus Macphail and Kai Onley were among those named in the Country NSW squad for either the Trans-Tasman or NSW Country Interstate competition and all will get the chance to tune-up for January's showdown this weekend.
Many smaller branches have once again taken advantage of the draft quota which allows them to fill their open team with athletes from outside the area to help mentor promising juniors and to ensure every branch is represented in races throughout the carnival.
Surf Life Saving NSW Sports Manager Rob Pidgeon is anticipating a highly competitive weekend of racing.
"Interbranch is always a tough event with every Branch determined to do their best and score crucial points over their rivals. It's always hard to predict a winner.
"At the end of the day it's a great chance for all the Branches to come together and we're looking forward to getting to Stockton and seeing what the athletes can do," he said.
Point Score After Day 1:
1st Sydney Northern Beaches
2nd Sydney
3rd Hunter
4th Central Coast
5th Far North Coast
6th Illawarra
7th South Coast
8th Mid North Coast
9th North Coast
10th Far South Coast
11th Lower North Coast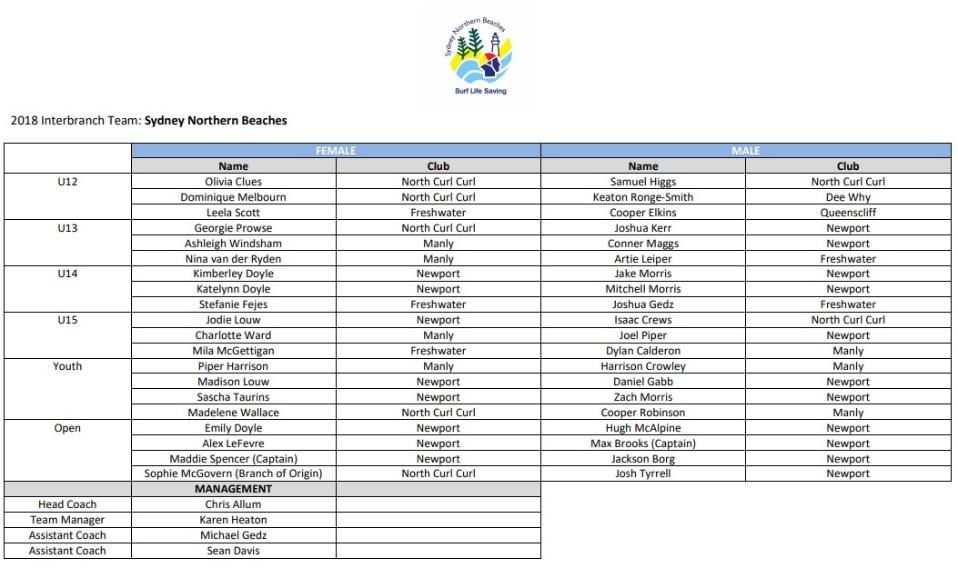 NORTHERN BEACHES TEAM REIGNS SUPREME
Sydney Northern Beaches (SNB) has claimed the Interbranch title for the second year after two days of tough competition at Black Head SLSC on the state's Lower North Coast.
With just 13 points separating them from close rivals Sydney Branch, it came down to the final couple of races to determine which team would take home the trophy.
A great win in the final race of the day, the Open Female Taplin Relay, sealed the deal for the super excited Sydney Northern Beaches team.
The Hunter Branch also backed up their third position on the podium for another year after some stellar performances in the water and on the sand to hold off close rivals Central Coast.
Far North Coast Branch finished on top of the Country pointscore, retaining their fifth place in the 11 branch competition.
SNB's strength shone through in the teams events on Sunday with comprehensive wins in the Open Board Relay, the Youth Mixed Ski Relay and the U14 Cameron event.
Sydney Branch team was just as committed and came across the line first in the Youth Female Taplin, the Female Board Rescue Relay and the U12 Cameron.
Hunter athletes backed up last year's win in the U15 Cameron Relay and also took out the U13 Cameron and the Youth Male Taplin relay.
In her debut as Team Captain for the Sydney Northern Beaches branch, Maddie Spencer was super proud of the efforts of all the athletes in the extremely windy, choppy conditions.
"The conditions are horrendous. It's really tricky out there on the craft, it's even hard to see to swim," she said.
"It's been great though, everyone has supported each other. We all pulled together today as we knew it was super close and we knew we had to do the job. Everyone on the team has been amazing, worked together, supported each other, it's been a real team effort."
The host branch put in a solid effort on home turf and other north coast branches recorded some good results. The Mid North Coast won the Youth Male Surf Race and came third in the U15 Male Board and the Youth Male Ski Race and Ski Teams.
On the sand, the Mid North Coast picked up first in the Open Female Flags and second in the Open Female Sprint and third in the U14 Female Flags.
Hunter athletes were clocking up points across all disciplines but it was the team's support of each other and their former team mate Jess Collins which was most visible. The entire team were sporting swimmers covered in giant sunflowers as a show of support for Jess who is recovering after a terrible neck injury early this year. Her brother Daniel Collins said everyone bonded really well for the Championships.
"Interbranch is a really good stepping stone for the younger kids to get experience and represent more than just their club. It exposes them to a team environment, away from their parents and they have to rely more on themselves and their team mates," said Collins.
Far North Coast competitor Anthea Warne, still on a high after coming second in the Board Rescue Relay with her teammates, agreed the Championships were awesome for high performance development.
"Personally Interbranch is my favourite competition of the year. This is my seventh championships and I wouldn't miss it for the world."
The NSW Director of Surf Sport, Don van Keimpema, thanked the Black Head SLSC volunteers and work party for hosting a great weekend of racing and congratulated all the athletes, team managers, coaches and officials for their efforts.
"We're hoping to build this event to be one of the premier events in the state. The team environment we had this weekend was absolutely fantastic," he said.
He said the performances this weekend had impressed the state selectors and the NSW Team will be announced soon.
OVERALL POINTSCORE
Sydney Northern Beaches 1198
Sydney 1185
Hunter 1055
Central Coast 1000
Far North Coast 834
Illawarra 722
South Coast 675
Mid North Coast 545
North Coast 467
Far South Coast 311
Lower North Coast 267
Full results and the final pointscore can be viewed on the 2018 NSW Interbranch event page.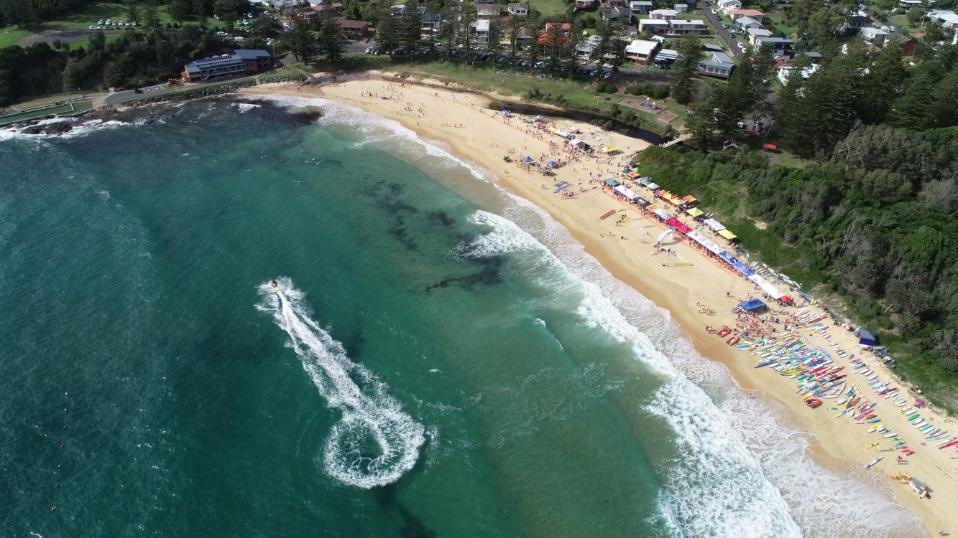 Black Head Beach - day 1 - photo by Surf Life Saving New South Wales.