March 28 - April 17, 2021: Issue 489
Surf Life Saving Australia Elects New National President + new Australian Water Safety Strategy (AWSS) 2030 launched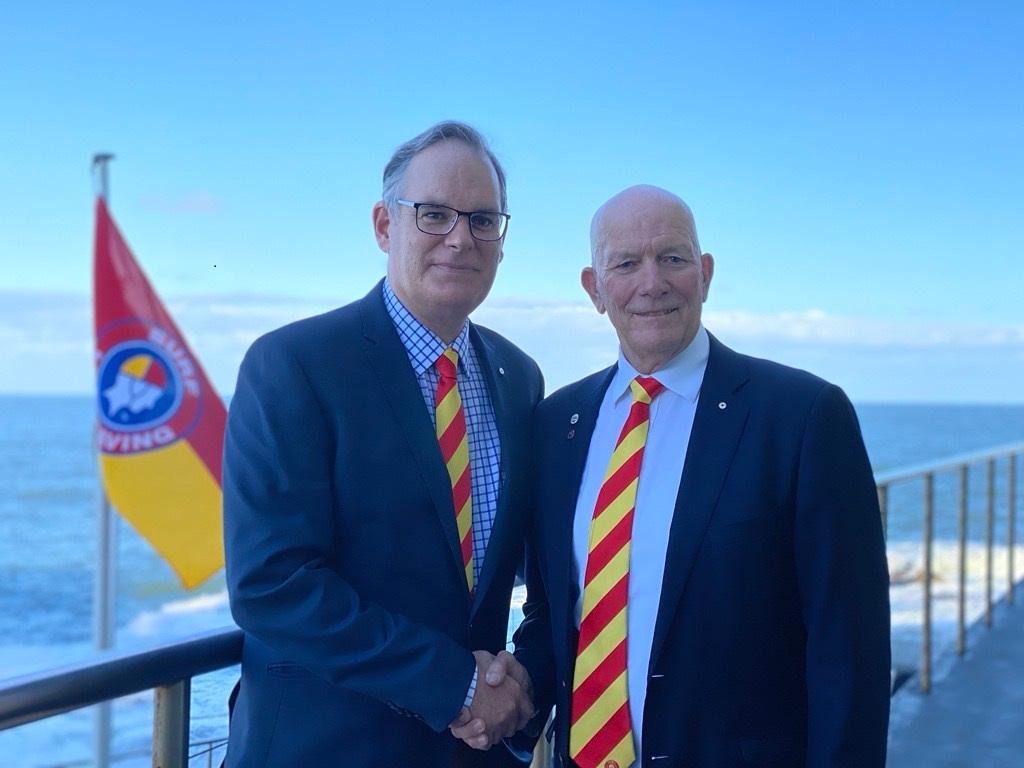 Surf Life Saving Australia is proud to announce that John Baker ESM has been elected to the position of SLSA President at today's Annual General Meeting held at Surf Life Saving Australia's Surf House in Bondi, Sydney, March 26th, 2021.
Mr Baker ESM will become the seventh president in SLSA's 114-year history, taking over from outgoing President Graham Ford AM, who has served as President since 2010.
A Life Member of Brighton SLSC and SLS South Australia, Mr. Baker is the first member outside of New South Wales and Queensland to be elected President, and was extremely honoured, having served as Deputy National President of SLSA for the past five years.
"Surf Life Saving is very much apart of my DNA, I've been involved since I was seven, it very much defines who I am as I know it does many volunteers, so I am incredibly proud to be the seventh president," Mr Baker ESM said.
"Surf Life Saving is a unique organisation; I think it's probably the greatest humanitarian organisation in the world.
"There is no one else that does what we do as a vital emergency service around the country, an iconic sport, a youth organisation and also a training organisation and just a place where communities come together along the coast…it is quite unique."
Mr Baker ESM has been an active patrolling member for over 40 years and has served as the President of Surf Life Saving South Australia for the past 10 years. He is the second longest serving volunteer crew member of the South Australian Westpac Lifesaver Rescue Helicopter Service and brings with him a wealth of Not For Profit Board experience including Australian Red Cross (SA), Virtual War Memorial Australia and The Smith Family (SA).
Mr. Baker ESM also paid tribute to outgoing President Graham Ford AM and said that the organisation was stronger because of his leadership over the past 11 years.
"Graham's left an extraordinary legacy for this organisation," Mr Baker ESM said.
"I think to run an organisation for ten years is great, but what he's done in his time as President has been truly amazing for the organisation… I think we are a far stronger organisation for his leadership."
Outgoing President Graham Ford AM acknowledged Baker's appointment and thanked members for their service and commitment to the movement during his time as President.
"It's just been an incredible 11 years, and I've met some amazing people, some amazing volunteers around the country… it's been an incredible time and one that I'm very proud to have served the organisation as a volunteer," Mr Ford AM said.
"I think he'll (Baker) work with the organisation and our SLSA Board very well. He is Surf Life Saving through and through. He has that DNA in him as a volunteer and he can always talk with the volunteers and I think that's one of the most important things to be able to do that.
"John's been on the board now for nearly nine years, and he's contributed a lot and he really does understand what makes Surf Life Saving Australia tick."
New Water Safety Strategy Launched
One of Graham Ford's last duties as President of SLSA was to Launch the new Australian Water Safety Strategy (AWSS) 2030. The Water Safety Strategy seeks to significantly cut the drowning rate in Australia.
Launched by the Hon Mark Coulton, Minister for Regional Health, Regional Communications and Local Government on behalf of Senator the Hon Richard Colbeck, Minister for Senior Australians and Aged Care Services, Minister for Sport in conjunction with the Australian Water Safety Council (AWSC) on Thursday March 25th, 2021 at Parliament House, Canberra.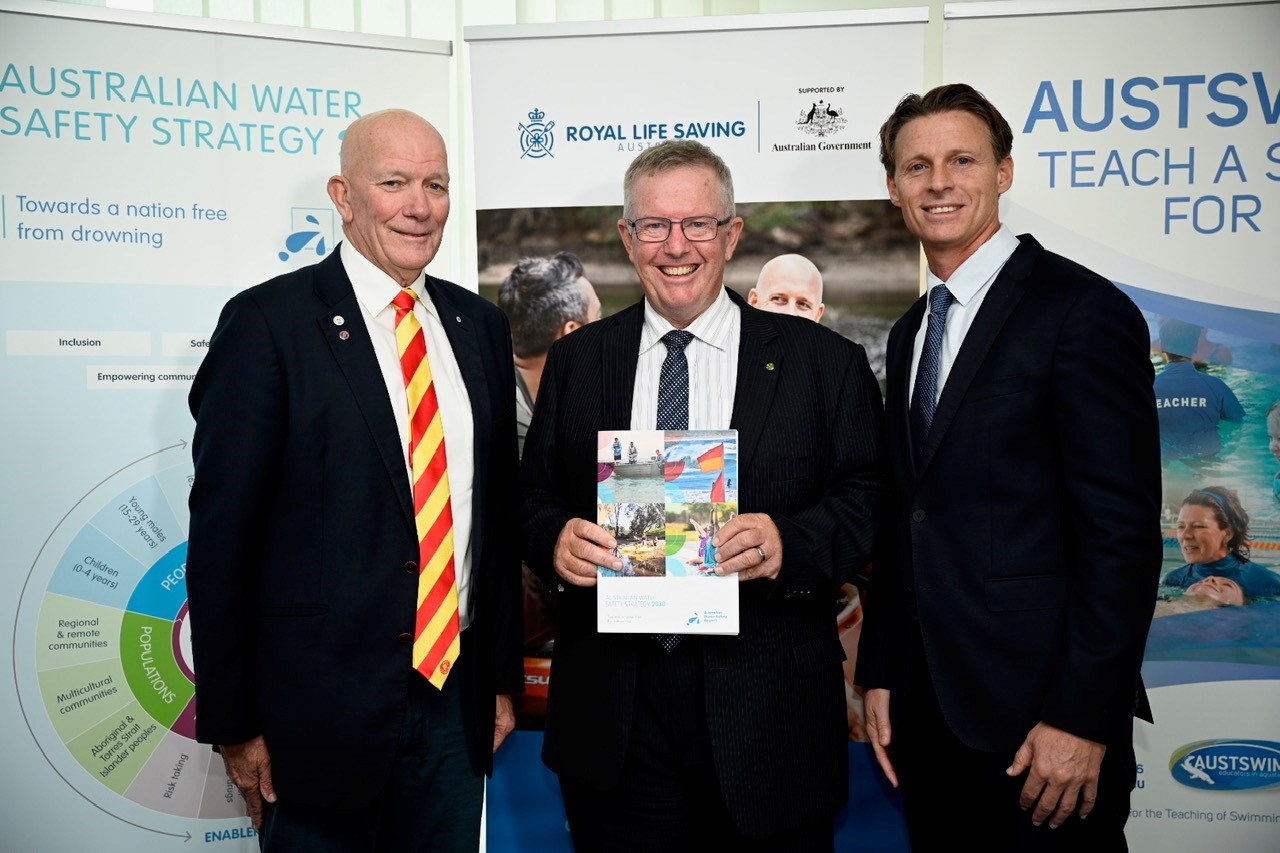 President of SLSA Graham Ford, the Hon Mark Coulton, and Justin Scarr, Convenor, Australian Water Safety Council

Each year more than 280 people die due to drowning, with many more admitted to hospital following a non-fatal drowning incident. 41% of all drowning occurs in coastal environments (beaches, oceans and rocks).
The new AWSS seeks to raise awareness about non-fatal drowning incidents, encourage communities to create local water safety plans and promote access to swimming and water safety skills for all Australians.
SLSA President, Graham Ford AM, acknowledged the significant role of 44,345 active patrolling lifesavers across the country in preventing drowning. Deloitte Access Economics recently estimated that the actions of Surf Life Saving and surf lifesavers save 1,363 lives and prevent 818 critical injuries every year.
"SLSA is proud to play a significant role in delivering outcomes aligned to the Australian Water Safety Strategy and is actively delivering in all five priority areas being: people, places, activities, risk factors and populations," said Mr Ford AM.
SLSA acknowledges the government's commitment to working with us to reduce the drowning rate.
To download a copy of the AWSS 2030 please click here.
Surf Life Saving Australia
Surf Life Saving Australia is Australia's peak coastal water safety, drowning prevention and rescue authority. It is the nation's largest volunteer organisation and one of the largest volunteer movements of its kind in the world.
Established in 1907, SLSA has grown to now include:
314 Surf Life Saving Clubs nationwide
181,000 volunteer members
Perform around 11,000 rescues every year
Undertake 1.6 million preventative actions every year
Volunteers contribute 1.4 million hours patrolling annually, in addition to the 647,000 hours spent on training and education