September 16 - 22, 2018: Issue 376
Strong Queensland Support For The Club Marine Pittwater To Paradise Regatta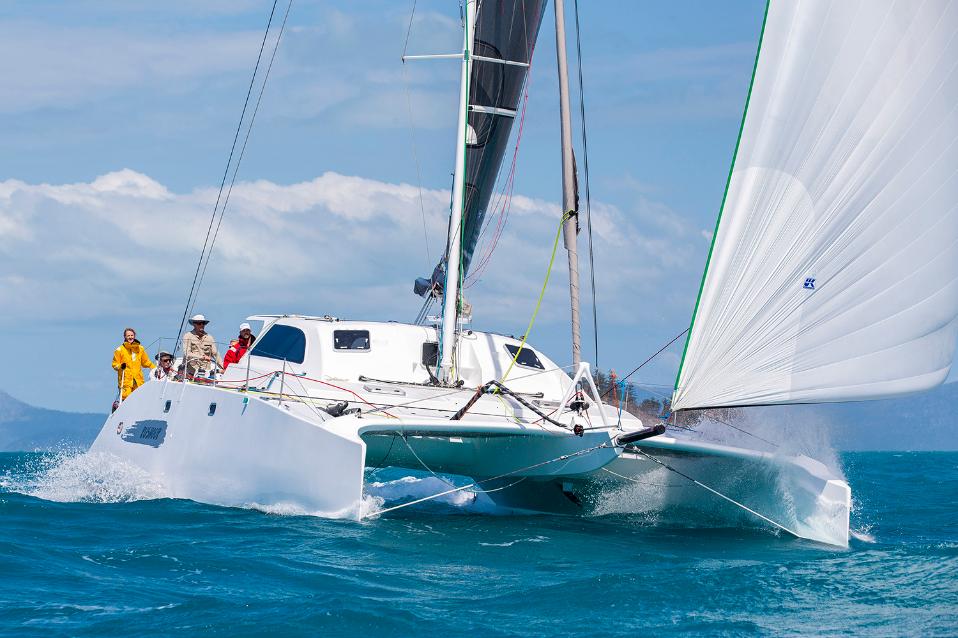 Rushour - photo by Andrea Francolini
Strong Queensland support for the Club Marine Pittwater to Paradise Regatta
Event: Club Marine Pittwater to Paradise Regatta January 2 – 9, 2019 hosted by the Royal Prince Alfred Yacht Club (NSW) & Southport Yacht Club (QLD)
Encouragingly for this year's Club Marine Pittwater to Paradise Regatta is the level of interest from Queensland boat owners planning to cruise to Sydney then race back north as part of a competitive field.
Drew Carruthers' Rushour is the first multihull entry in the Royal Prince Alfred Yacht Club organised race in some years. The Queensland owner hopes to inspire other multihull owners to line up for the 370 nautical mile single-line start at 1pm on January 2, 2019 and blast back up the New South Wales and South East Queensland coast to Southport.
Carruthers will combine the Pittwater to Paradise ocean race with the chance to spend New Year's Eve on the harbour underneath Sydney's world-famous fireworks spectacle.
The 15m catamaran Rushour, which took line and multihull top honours in this year's Groupama Race around New Caledonia, is a first-time entrant as is MGD Mad Jack, Greg Black's modified Ross 1066 he describes as an oversized sports boat.
Originally built for the 50th anniversary Sydney Hobart Yacht Race as Rock n Roll, the Kevin Dibley design competed strongly in the mid to late 1990s and last year was bought from Lake Macquarie and totally overhauled by Black.
"With advice from Kevin I did a full reno including changing the mast position, new fixed and telescopic prodder to run asymmetric kites, new rudder and rudder position, changed the chain plates and a new sail plan. The only thing we haven't done is the new keel mod and I doubt we'll get to this before the Paradise race. It's cost me a bomb but it's like a new boat and we can't wait to line up against the Sydney fleet with a new sail wardrobe!
"We don't care what weather we get; as long as it's not on the nose," Black added.
Typically summer means north-easterly sea breezes along the east coast though sou'easters can also prevail - the ideal scenario for both Rushour and MGD Mad Jack, named after Black's two children Maddison and Jack, neither of which are suited to an uphill battle.
The Ker 11.3 Kerisma Gill is another Queensland entry, Jo and David Rose's Royal Queensland Yacht Squadron joining Southport Yacht Club's own Ocean Gem, a Beneteau 445 owned by David Hows competing for the RPAYC's finish partner.
The introduction in 2017 of a State of Origin Trophy for the winning state brings the essence of "State vs State, Mate vs Mate" to the event. The State of Origin Trophy will be awarded based on the lowest aggregate score of the best three boats from NSW and the best three boats from Queensland in the IRC overall results. The honour went to NSW last year.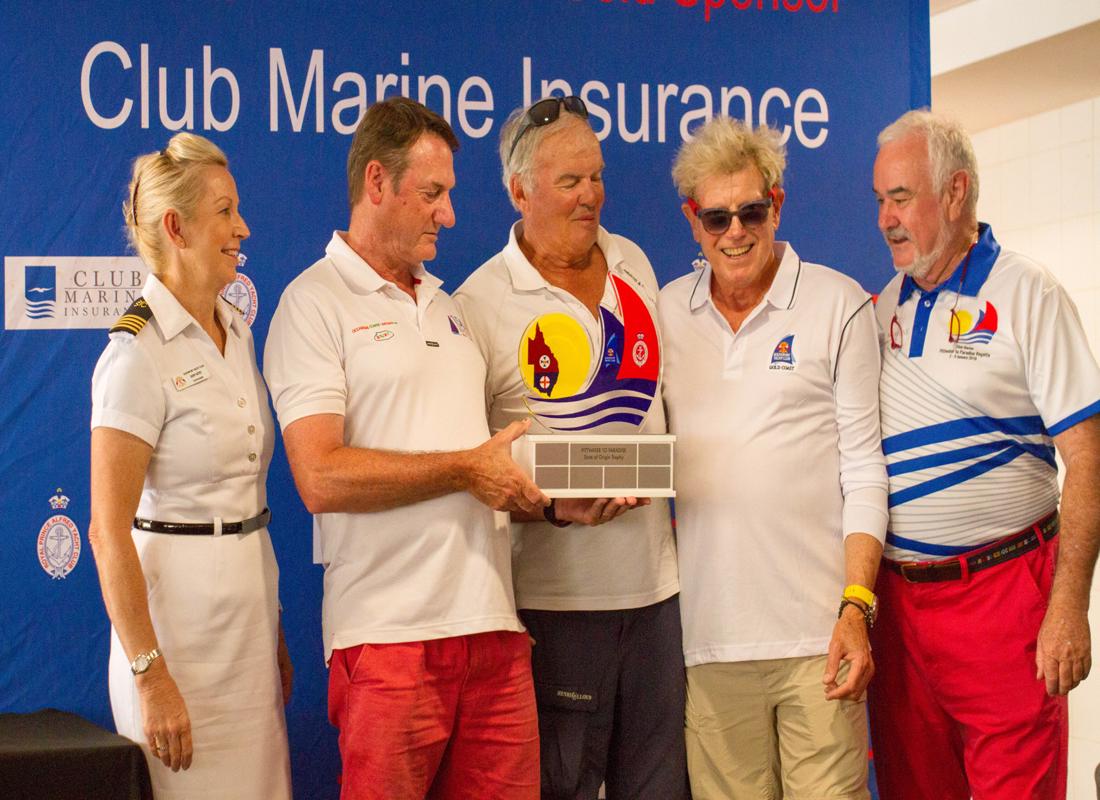 2017 P2P State trophy to NSW - photo by Brendan Rourke RPAYC

Once SYC coordinate the finish of Australia's first major offshore event for the year the club's sailing office will shift to regatta mode and host the popular short-course Bartercard Sail Paradise over January 6-9, 2019. See http://www.sailparadise.com.au/
Ten monohulls and one multihull make up the Club Marine Pittwater to Paradise entry list so far with three months until the deadline for entry and paperwork, on Saturday December 15. The Notice of Race is available via this link.
The RPAYC's sailing office team are ready to discuss relevant courses and assist owners to meet the entry requirements for the club's bluewater series and premier offshore event.
The club is delighted to announce that Henri Lloyd has become an event supporter and will create an online event specific range of merchandise for crews to order and customise with their boat name.
Both Pittwater and the Gold Coast present excellent holiday destinations at a busy time of year and those thinking about competing are encouraged to visit www.pittwatertoparadise.com.au and www.facebook.com/pittwatertoparadise
Twitter: pitt2paradise Instagram: #pitt2paradise

By Lisa Ratcliff