January 26 - February 1, 2020: Issue 435
Station Beach Becomes Conflict Beach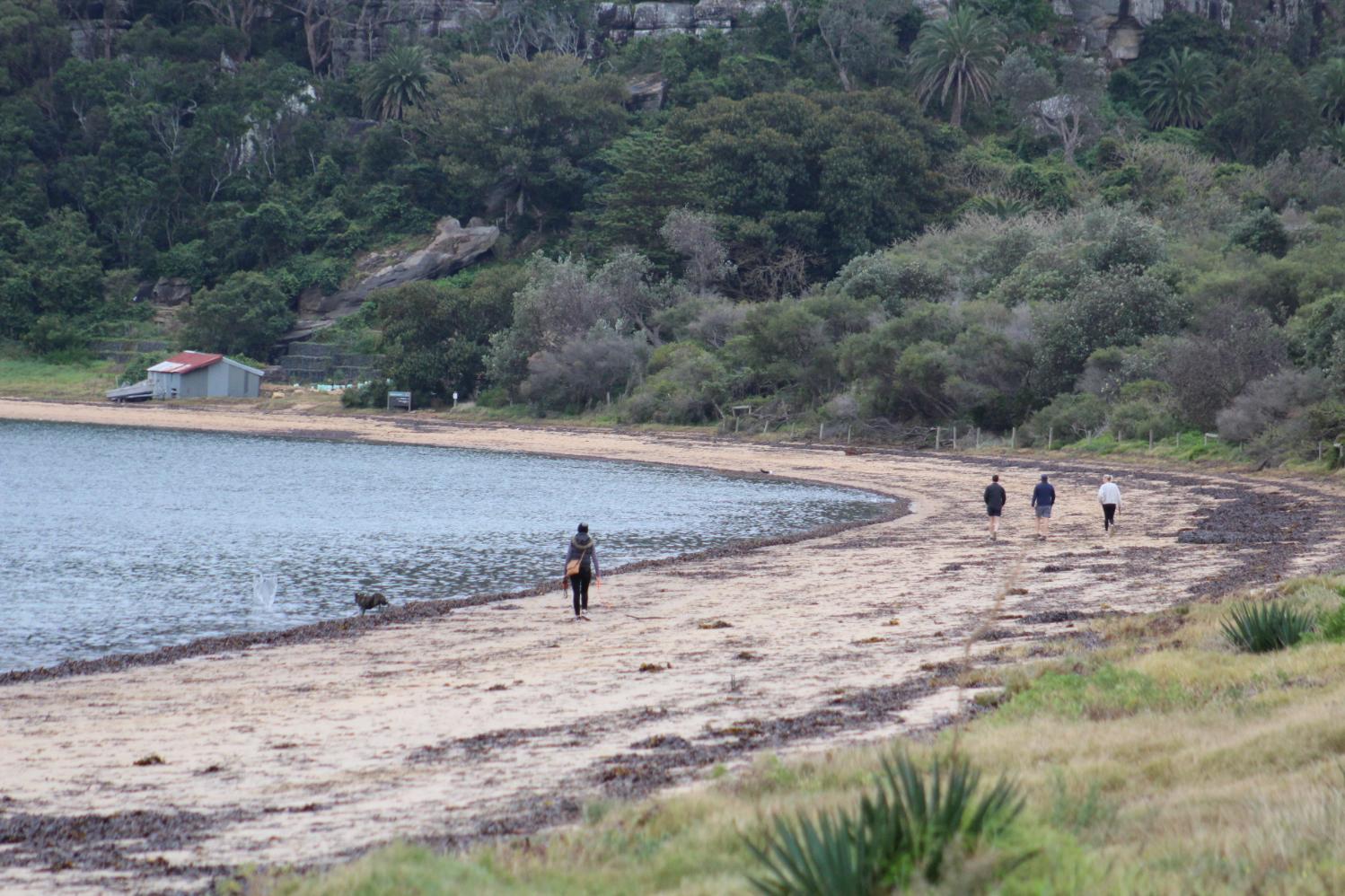 On the north end of Station Beach, heading into the sand reserve beside Barrenjoey National Park, June 2019.
The Palm Beach Protection Group stated just before Christmas 2019 that the Northern Beaches Council's desire to ram through new regulations that would by-pass Crown Lands risks turning all beaches on the peninsula into dog parks. In August 2019, despite the concerns of the NSW Department of Industry and from the local community about the environmental impact, the council voted in favour of an off-leash dog trial at Station Beach.

The trial was on the provision that a licence be provided by Crown Lands. This has yet to be provided, so to appease local activists, a Motion was tabled on December 16th for the December 17th Council meeting, was duly passed and commenced on December 20th. The Motion was to allow dogs onto the beach, required all dogs on the beach to be on-leash at all times and provides a clear outline of where they can and cannot be and the times they have access to the beach. Signage was installed to communicate to pets owners where and what and how.
Critics of the measure state it appears Council has by-passed Crown Lands and run its own licencing program.
"Once again, this is a failure of process, there has been no community consultation or public notification. It is simply about finding ways to by-pass Crown Lands and other NSW Government agencies that hold serious reservations about this dog trial at Station Beach," said Richard Kovacs from the Palm Beach Protection Group.
"It is clear that the timing of the proposal was to ensure there is zero public transparency or accountability," Mr Kovacs said.
The Council's last-minute Motion has been described as 'policy on the run' and appears to overturn the former Pittwater Council Dog Control Policy, which states that all beaches are prohibited areas for dogs.
"If you amend this policy, you are providing a green light for any pristine beach on the peninsula to also be turned into a dog park," Richard Kovacs said.
"Council approved a temporary trial and now we are seeing an aggressive push to change the current dog policy across the peninsula. Our community deserves better planning processes and the current use of our beaches should not be threatened by policy on the run," Richard Kovacs said.
"The new policy proposal for Station Beach has also failed to provide any clarity on the defined western boundaries, markers to define the boundaries, timeframes and how this policy will be enforced, environmental assessments, protection of vulnerable seagrass or [what will happen] if in fact Crown Lands rejects the Council's licence application."
The NSW Department of Industry has expressed concerns about environmental and compliance risks in correspondence to Council and has stated its preference for an alternative site. Council's own REF pointed out several measures that would need to be in place, with one photograph within the document by a Study author included showing a dog defecating on the endangered seagrass.
"To ram this new policy through is a gross miscarriage of due process," Mr. Kovacs said last week.
The Motion voted through, with three against, does have ambiguities. In Item 13.5 - Station Beach Dog On-Leash Area Trial Report it is stated that:
Council staff will continue to pursue a licence to conduct a dog off-leash area trial at Station Beach in accordance with the Off-Leash Resolution.

Should a licence be granted and agreed to by Council, the Station Beach dog off-leash area trial would be initiated in accordance with the Off-Leash Resolution and would replace the interim option outlined in this report.
and
The former Pittwater Council Dog Control Policy (No 30) (Policy) is still in force. This policy states that all beaches are prohibited areas for dogs. The effect of the Off-Leash Resolution is to amend the Policy. .....

Note that this resolution and Council Resolution 267/19 have the effect of amending the former Pittwater Council Dog Control Policy (No 30).
Since then residents have seen dogs running off-leash all over the length of Station Beach, running over children, chasing families from the beach, chasing birds, urinating and defecating everywhere (most dog owners know their pet will place 'markers' 10x in a trot around the block) so it would be reasonable to assume a dog urine tide now laps against a National Park at Barrenjoey, and even cavorting on the endangered seagrass.
Dog owners approached to rein their pets in have been aggressive and rude to those whose children they just ran over – telling them to, apparently, 'f-off, this is a dog beach'.
One gentleman has even stood against the wall of a homeowner's private residence at the southern end of the beach threatening him – you can probably guess who since this person has had their private details published on a social media platform with exhortations to vilify him.
"They are going outside the apparent 'boundaries' dictated – they are there at all times, not just the 'trial times'." one email to Pittwater Online News has stated since the beach was made available to dog-owners.
"There is no Environmental monitoring taking place either – and people have noticed that too."
The passing of allowing dogs, on-leash, onto Station Beach, has also commenced despite a pending Land and Environment Court Hearing about the matter, scheduled for the end of February.
To clarify what has become a sore point for many residents, caused division within our community and ended friendships, Pittwater Online News spoke to Cr. Kylie Ferguson this week, one of the Pittwater representatives on the current Council. Cr. Ferguson confirmed that this is the 'dog trial', and that the 12 months allocated to this has commenced. Ms Ferguson stated that there is Environmental Monitoring already taking place and that extra council Rangers have been detailed to Station Beach to ensure pet owners are complying with the trail's stipulations.
Cr. Ferguson also confirmed that the trial does not allow dogs onto all beaches and that Council is currently working on an LEP for the whole of the council area, which will be up for feedback prior to becoming 'what is'.
Critics point out that McCarrs Creek Reserve was made a 'trial' off-lead area for dogs years ago, under Pittwater Council, and is still listed as such - that 'trial' continues, along with puppy 'deposits' on that edge of the Ku-Ring-Gai Chase National Park and its waterways.
Those who have had a bad experience with dogs on this public beach should report it to Council, with as much detail as possible – the date and time, breed of dog, what occurred. Those who have seen dogs off-leash chasing wildlife should also report these incidents. There are serious consequences and large penalties for those who think Fido chasing a Fairy penguin, or even a seagull, is ok and even funny.
Those who have seen dogs on the endangered seagrass beds at Station Beach should likewise make a report. In fact, report any incidences of all that has been listed above through your emails and phone calls.
The Companion Animals Act 1998 and the Companion Animals Regulation 2008 provide for the identification and registration of dogs and cats, how they are managed and the duties and responsibilities of their owners in NSW.
The NSW state government, under its Responsible Animal Ownership guidelines has the following requirements:
Pets in public places
Your dog must, unless it is exempt from this requirement, be under the effective control of a competent person at all times when out in public. This means that it must be on a leash and under the control of someone capable of restraining it. A small child, for example, may not be able to control a large dog. Under these circumstances, an adult capable of restraining the dog, should walk the dog.
A dog is not considered to be under the effective control of a competent person if the person has more than 4 dogs under his or her control.
If you fail to comply with this requirement, you, or if you are not present, the person in control of your dog, if s/he is aged 16 or over, may be liable for a maximum penalty of $1,100 or $11,000 in the case of a restricted dog, dangerous or menacing dog.
This requirement does not apply to a dog:
in an off-leash area (but only if the total number of dogs of which its owner has control does not exceed 4) or
a dog engaged in droving, tending or working of stock or
a dog being exhibited for show purposes or
a dog participating in an obedience class, trial or exhibition or
a police dog or
a corrective services dog or
a dog secured in a cage or vehicle or tethered to a fixed object or structure.
It is an offence for a dog to rush at, attack, bite, harass or chase a person or another animal (other than vermin), regardless of whether injury is caused. The owner or person in charge of the dog at the time of the offence can be fined up to $11,000 or, if the incident is caused by their recklessness, $22,000 and/or imprisonment for two years (Companion Animals Act 1998, section 16).
It is also an offence for a person to set on or urge a dog to do this, attracting a fine of up to $22,000 (section 17). A person convicted of any of these offences can face disqualification from owning a dog or being in charge of one in a public place for a specified period (section 23). If the dog has attacked or bitten, the dog may be seized and secured (section 18). The penalties are heavier if the dog is declared dangerous, menacing or is a 'restricted' dog, attracting fines of up to $77,000 and/or five years imprisonment of the dog's owner or person in charge of the dog at the time of the incident, as well as permanent disqualification from owning a dog or being in charge of one in a public place (sections 16-17 and 23.). The Act contains specific definitions of 'dangerous', 'menacing' and 'restricted' that relate to their breed and/or their behaviour (sections 33, 33A and 55).
In December 2018 the NSW Government increased dog attack fines from $550 to $1320 under the Companion Animals Act 1998. Under the new laws, a dog owner or the person in charge will be fined $1350 when a dog rushes at, attacks, bites, harasses or chases a person or animal, whether or not an injury is caused. The new laws were to improve community safety around dogs and to create a disincentive to own dogs that are of a restricted breed or declared to be dangerous.
The NSW Office of Local Government requires all councils to report dog attacks. In the period of July 1st to September 30th 2019 Northern Beaches Council reported 52 attacks, the second highest of all councils in the state – only Blacktown came in higher, with 56, and around 30 thousand more registered dogs.
If you or your dog has been attacked then please report it to Council as a matter of urgency on 1300 434 434. Council's guide on what they will need may be viewed here.
Council can also help with Nuisance and Barking Dogs: 'Dogs who bark incessantly, roam and are aggressive are deemed a nuisance. A nuisance order may be issued if your dog repeatedly roams the neighbourhood, makes noise, defecates on peoples' property, chases a person, animal or vehicle or damages property.' Report a nuisance or barking dog to Council, online, here.
We clearly have a problem with Responsible Pet Ownership in our area, even just walking the few metres to the corner this morning two dogs were spotted off-leash beside a main road, one of these running towards other people and dogs whose owners did not know what it would do. Those who think 'nobody cares' should bear in mind the small children their pet may scare, the wildlife that was living here first and most of us want to continue seeing, and their conduct when on a public beach that is for all, and for all all of the time, even when they are visiting – especially during the Summer Season and especially at Palm Beach, where we host so many visitors from elsewhere.
Pittwater Online News will report, again, once the Land and Environment Court Hearing and Judgement has taken place and is available.
Hopefully this year a resolution into a much more suitable place that won't cause the fracas that has been going on to be perpetuated will result in furry frolics in saltwater without the excise of world famous 'for all' public areas next to national parks.
Cyberbullying: e-safety overview- Federal Government
Cyberbullying behaviour might include:
abusive texts and emails
hurtful messages, images or videos
imitating others online
excluding others online
humiliating others online
spreading nasty online gossip and chat
creating fake accounts to trick someone or humiliate them
For Adults: Examples of cyber abuse include
Sharing intimate or sexual photos or videos online without consent — either to humiliate or shame someone, or for the 'entertainment' of others (this is also known as image-based abuse).
Targeted and persistent personal attacks aimed at ridiculing, insulting, damaging or humiliating a person — this might relate to someone's physical appearance, religion, gender, race, disability, sexual orientation and/or political beliefs ('online hate' targeting an individual).
Encouraging someone to self-harm and/or suicide.
Seriously offensive and shocking material — this can include posting inflammatory comments on memorial and tribute pages or posting images of deceased people with intent to upset family members or others.
Repeatedly sending obscene messages to a person or their family, friends or work colleagues.
Posting digitally manipulated explicit images of a person online, for example on social media or on pornographic websites (this is also known as image-based abuse)
Posting someone's personal information on social media or elsewhere online along with offensive and/or sexual comments — resulting in calls and visits from strangers.
Threatening violence or inciting others to do the same — such as threats of death and sexual assault that might lead to physical contact and/or assault.
Stalking a person online and hacking into their accounts, such as social media, banking or email accounts ('cyberstalking').
For example
sarcastic comments
insults (or 'flaming')
strong opposing views
off-topic statements that deliberately derail conversation threads (a kind of 'trolling')
However, when these actions are part of a larger or serious pattern of behaviour targeting an individual, they can become cyber abuse — behaviour that can have a seriously threatening, intimidating, harassing or humiliating effect on the person.
Save evidence
Before you block or delete, make sure you document what is happening. Your immediate reaction might be to make the abusive content disappear, but it is really important you keep evidence of it.
Block and report
Use all the tools available to you to block or mute them.
Report the person being abusive to the service or platform the material was posted on. You can find online safety advice and reporting links in the eSafety Guide. If the material reappears under a different name, report them again.
Many forms of cyber abuse could be considered illegal under state or federal legislation. For example, under the Commonwealth Criminal Code Act 1995 ('the Act') it is an offence to menace, harass or cause offence using a 'carriage service'. Most Australian states and territories also have laws covering stalking, blackmail, criminal defamation and various unlawful uses of technology. A number of jurisdictions have also passed laws creating offences for the threat to distribute, or distribution, of intimate images (image-based abuse).
Legal advice can help you work out the best way to address the cyber abuse you may be experiencing. Depending on your situation, this could include seeking a protection order to keep a person from contacting you or a claim to sue if your reputation has been harmed by another person posting or sharing offensive material about you.