November 17 - 23, 2019: Issue 429

Spark Tank Grant Winners 2019: Young Adults Seize Opportunity For Mentorship With Brilliant Ideas And Projects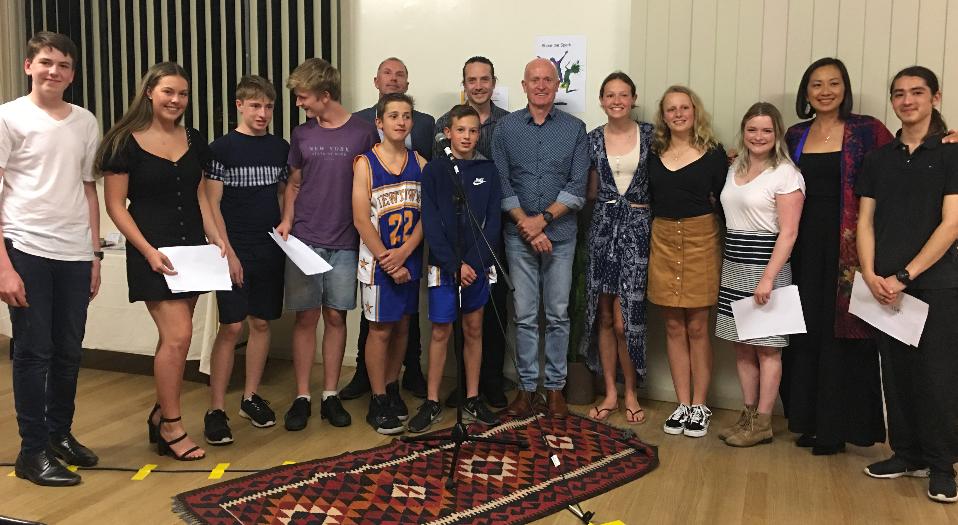 Six teams of young people competed for over $4000 in funding and professional business mentoring at the Avalon Rec. Centre Annex at the end of October. Fourteen youth ranging in ages from 12 to 23 gave their business pitches live in front of a packed house and a judging panel made up of prominent local business men and women.
The business pitch event named Spark Tank, is similar to the TV show Shark Tank®. It was hosted by Share the Spark, an ACNC approved charity that helps young people build resilience and learn life skills. Each team who participated in the event included at least one person they know who is going through a hard time.
"We had over 60 application downloads," said Kimberly Clouthier, a Share the Spark director, "and every single entry we received was either about helping the environment or helping people. It was really heart-warming to see such selfless proposals."
"All the pitches were outstanding," said Crystal Petzer one of the six judges on the panel, "It was a real struggle between us to decide how to award the funding. Everyone deserved the whole lot!"
The two top teams, Austin Turpin 15 and Lucas Farrugia 14 pitching their business idea of E-waste recycling and Jovn Chung-Wright 17 and Aethan Chung-Wright 20 creating vertical micro-green farms both won $1250. Rebecca McCash 23, Nicolas Davenport 17 and Jack Davenport 19 won $800 for their program of unique S.T.E.M. (science, technology, engineering, and math) education and training program aimed at children and young people on the autism spectrum.
The remaining three teams were awarded $300 each, though their mentors can help them raise more with crowd funding. Ethan Stenner 15 and Hayley Creed 18 delivered a very professional and engaging pitch about their Sand Bar Project, that aims to educate and advise youth on the negative effects of using alcohol and drugs, especially at a very young age. Chloe Carr 14 & Tegan Phelan 14 pitched their idea to create an app that lets kids and teenagers or young adults communicate with each other in troubling times in an anonymous way. The youngest team of Alex Poulikakos 12 and Luka Klianis 13 came dressed in their sporting clothes and knocked it out of the park with their pitch for Project Active Life, an app that will get young people up and moving and promote a healthy lifestyle.
Share the Spark was excited to offer these young people this opportunity and will make it an annual event. They also provide free ongoing micro-mentoring programs that match young people up with professionals, usually in their work environment. Any youth between the ages of 8 – 23, who feel they would benefit by spending time with someone who is passionate about what they do, can sign up anytime on the Spark website to participate. http://sharethespark.org.au/
Spark's programs allow young people to experiment and choose who they would like to spend time with, and for how long. This flexible approach encourages interactions with many different professionals over time so they gain contacts and real-life experience in the careers they explore. They also increase their personal confidence, resilience and spark for life.
Share the Spark is also always welcoming new mentors so young people can have a large variety of professions to explore. Mentors must be passionate about what they do and excited to share that spark with a young person. All mentors pass a working with children check and attend two training workshops, one on youth communication and the other on suicide prevention, plus there are ongoing workshops on specific areas, all free of charge.
"Simply by going through our mentor training you are doing a lot to help prevent suicide", Kimberly said, "you will know what to look for, how to talk about suicide and what to do, not just for young people but for anyone in your life."
Spark Tank Awards List Final 2019
1. Project Active Life with Alex Poulikakos 12 and Luka Klianis 13
Pitch: We want to develop an app and build content targeting kids aged from 12 to 17 who have an unhealthy lifestyle. There will be different categories on how to keep healthy, such as exercises (day and night), calorie intake and food recommendations.
We will be doing this because we think that childhood obesity is a big problem for kids and if someone doesn't do something soon it will keep getting worse. We have also chosen this because we share 3 key interests. We love to cook, eat healthy (and diverse foods) and play sport.
Mentor: Paul Wood, a solutions architect and CEO of the Mona Vale based tech firm IP Edge. Since 2002 he has founded and built 2 web development companies to help small and medium sized businesses use the web and web-based systems to their advantage.
Award: $300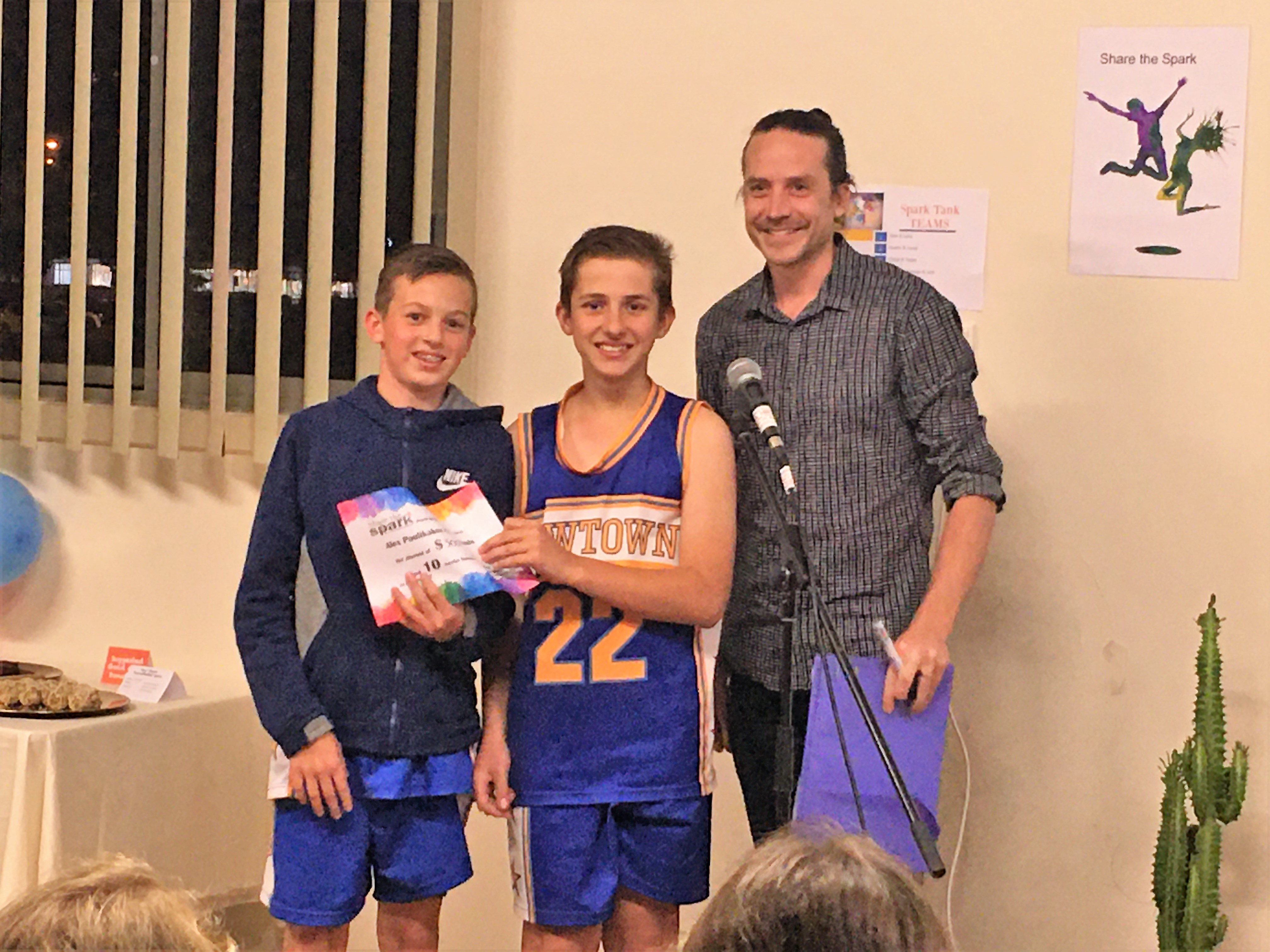 2. E-waste recycling with Austin Turpin 15 and Lucas Farrugia 14
Pitch: Only 12.5% of global E-waste gets recycled globally. We have made thousands of dollars selling computer parts deemed as useless by the public. Our school gives us E-waste which they no longer need, and we sell it all. Our Idea is to set up E-waste collection disposal bins at places such as Officeworks (they have toner recycle bins, and so electronic waste bins could go next to them). We have spoken with the head of sustainability at Officeworks Australia and we are currently looking at options. There's big money in this.
Nobody knows where to shove their old phones, desktops, laptops etc and we could start a campaign about recycling, which is a big trend at the moment. We could also donate money to Headspace, which would get the community involved. We solve the problem of E-waste ending up at the tip and we also make tons of money. People then know exactly where to drop their old tech.
Mentor: Jason Attfield – Electrical Engineer has run small and large companies in Australia and abroad for the last 25 years. He purchased a small local company at the age of 28. Over the next 15 years his company evolved into a national entity and won a number of national distributorships.
Award: $1250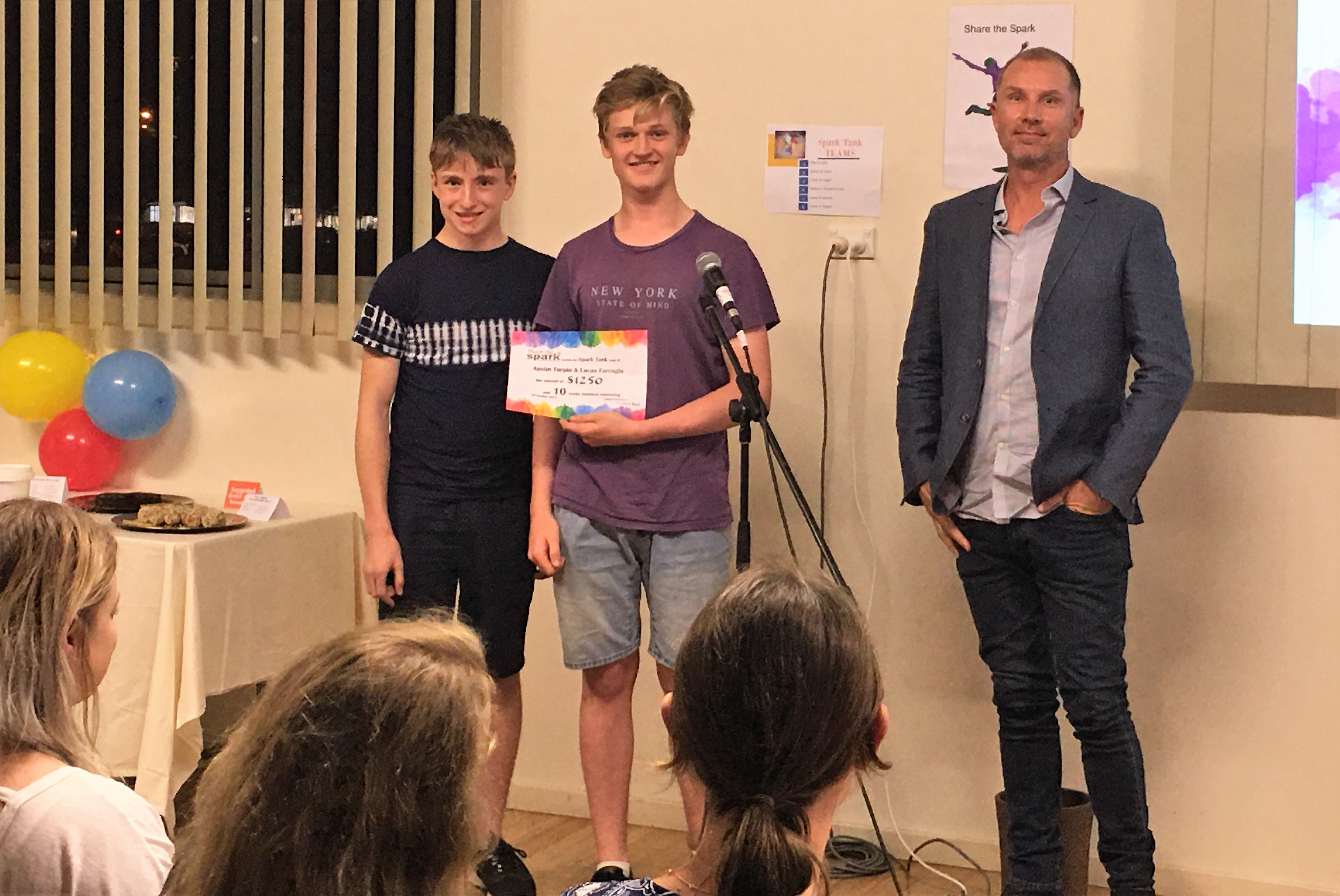 3. Connecting kids with counselling app with Chloe Carr 14 and Tegan Phelan 14
Pitch: Our idea is to create an app or an online platform that lets kids, teenagers or young adults to communicate with each other in troubling times in an anonymous way. Those young people will give tips and guidance towards that situation and try and help them seek further guidance or help them in a tricky situation whether it be at home or at school. As research has shown that sometimes talking to someone is the best way to overcome anxiety or depression. This app or online platform will allow these people to talk to someone if they don't have the confidence to talk to someone face to face letting them know their issues and then the responders will then be able to enlighten the situation or be there to just listen. This platform will be monitored by AI so harmful words or suggestions will not be let through. The app will let people see that they're never alone and that there is always someone there to help them through tough times.
Mentor: Chau Tran Lovell – Co-Founder and Account Director at Hydrant, a design and communications agency based in Avalon Beach. Chau has worked for a broad spectrum of blue-chip multinationals including Procter and Gamble, Novatis, Selleys and Beiersdorf in various marketing roles and shares her knowledge and experience with the young people she mentors.
Award: $300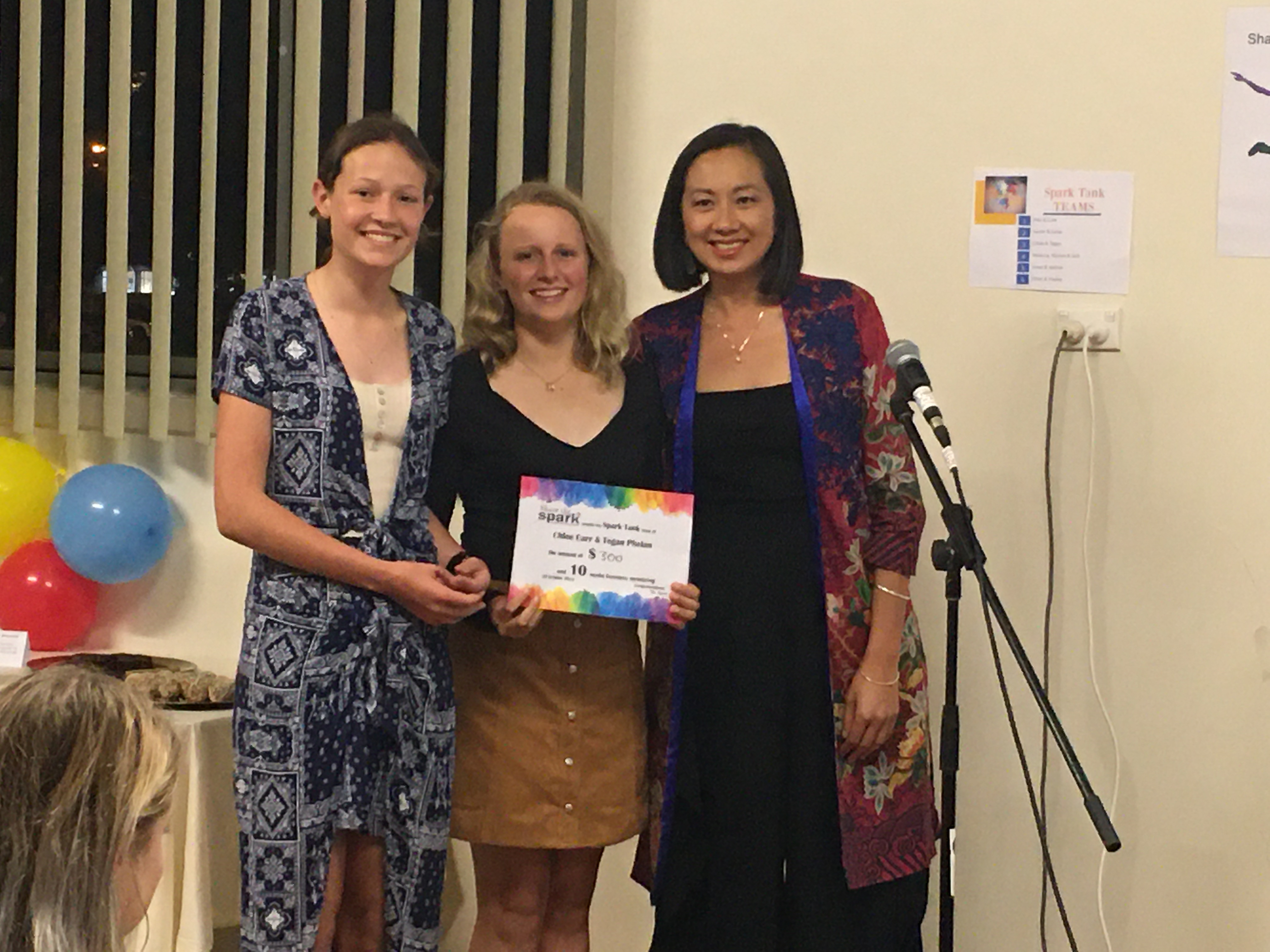 4. STEM for Autistic youth with Rebecca McCash 23, Nicolas Davenport 17 and Jack Davenport 19
Pitch: FutureTech, one of Fighting Chance's programs, is a unique S.T.E.M. (science, technology, engineering, and math) education and training program aimed at children and young people on the autism spectrum. We currently offer 'Hangout' sessions to participants as well as small group workshops in programming, robotics, web development and electronics and we want to use this award to offer more.
At FutureTech we recognise that there are two major barriers to learning for young people on the spectrum. The environment in which learning takes place and the delivery of learning. Our Hangout is designed to offer a safe space for children and young people with Autism Spectrum Disorder (ASD) to foster relationships with peers through mutual interest in gaming and technology.
Our learning workshops are designed by our expert technology mentors. These mentors have personal experience of autism, thus making them experts in teaching those on the spectrum.
We are championing this project because we believe that no person should be excluded from using their talents in the economy, simply because of their disability.
Mentor: Crystal Petzer, a business coach, multiple winner of the National Franchise Award and Enterprise of the Year awards. Crystal recently received the Franchise Council Australia Enterprise NSW and NSW Franchisee of the Year awards.
Award: $800
5. Vertical micro-green farms with Jovn Chung-Wright 17 and Aethan Chung-Wright 20
Pitch: We would like to undergo a project to start-up a vertical agricultural farm, more specifically; vertical micro-green farms due to its efficient and compact nature which would drastically reduce water consumption within the agricultural sector if incorporated into pre-existing farms. Microgreens are the most profitable crops that can be grown, producing higher yields per area squared compared to regular crops, especially when incorporated vertically, indoors. The incorporation of a controlled climate promotes year-round growth, while the vertical component drastically reduces the area required and consumed.
To be considered a microgreen, a plant needs to germinate and sprout but not properly develop its root or leaf structure. Microgreens are tiny versions of regular herbs and leafy greens you'd find at the grocery store only take around 1-4 weeks (depending on species) to fully develop, thus consuming scarce amounts of water. A study conducted by the University Of Maryland uncovered that microgreens are 40x more enriched with nutrients, such as, vitamins; C, E & K, Lutein and beta-carotene, over mature sized counterparts depicting them as a "superfood", demolishing the pre-existing belief that harvesting so early was a waste of a seed.
Owning a microgreen farm grants us the ability to supply our family, friends and selves with an abundance of healthy food, and potentially present a part or full time job.
As a long-term goal, we would like to automate our system then upgrade into an aquaponics farm; incorporating livestock (fish) into the reservoir, maximise the potential outcome of water and also provides nutrients to the plants.
Mentor: Geoff Cooper – Executive Search and HR Consultant , established Calibrate Recruitment in 1992 specialising in providing recruitment services to clients in engineering, construction, manufacturing, industrial & technology sectors. Then in 2014 Geoff completed a trade sale of Calibrate to Tokyo based en-japan inc (JASDAQ listed). Geoff has always been a hands-on recruiter having relied on a strong leadership team to achieve growth to $5m in fees with 20 staff across 2 offices and international affiliations.
Award: $1250
6. Sand Bar project: advising youth against drugs and alcohol by Ethan Stenner 15 and Hayley Creed 18
In the Sand Bar Project, we aim to educate and advise youth on the negative effects of using alcohol and drugs, especially at a very young age.
We meet once a month as a group and discuss ways that we can prevent young people from using alcohol and drugs, and suggest alternatives, such as drinking Kombucha, a much safer alternative to alcohol. We also try to attend community events such as dances and provide a 'safe place' for young people to talk to us about issues they may be having with alcohol and or drugs.
Alcohol and drugs are increasingly prevalent in our community, it is imperative that we work towards reducing this.
We believe that if we had more funds invested in our project, we could reach our goal of removing alcohol as an option for young people. This would be through a 3-part plan; prevention through education, in schools and universities, and support for youth who have issues with alcohol and or drugs.
We can educate youth to make the right choices when regarding alcohol or drugs through attention-grabbing posters/movies, developed by quality, professional editors. Rather than just a PowerPoint presentation, which does not capture the audience's attention effectively.
Mentor: Keith Henry, a seasoned business adviser who specialises in launching new products. He is currently launching his own product line, 'How You Work', to help people find out what they are naturally good at doing.
Award: $300