October 25 - 31, 2020: Issue 471
Slingsby and Darmanin reprise top honours at Australian Sailing Awards 2020
Tom Slingsby and Lisa Darmanin have taken out top honours at the 2020 Australian Sailing Awards, with the Olympic-medal winning athletes being crowned Male Sailor of the Year for the fourth time and Female Sailor of the Year for the third time respectively, as announced on Friday October 23rd.
London 2012 gold medallist Slingsby had a stand-out year, helming the victorious Australia SailGP Team and winning the 2019 Moth World Championships in Perth. "I'm extremely humbled by this," Slingsby said. "I'm fortunate that I got some great sailing in at the end of 2019. I love sailing. I do the moths purely because I love the sport of sailing."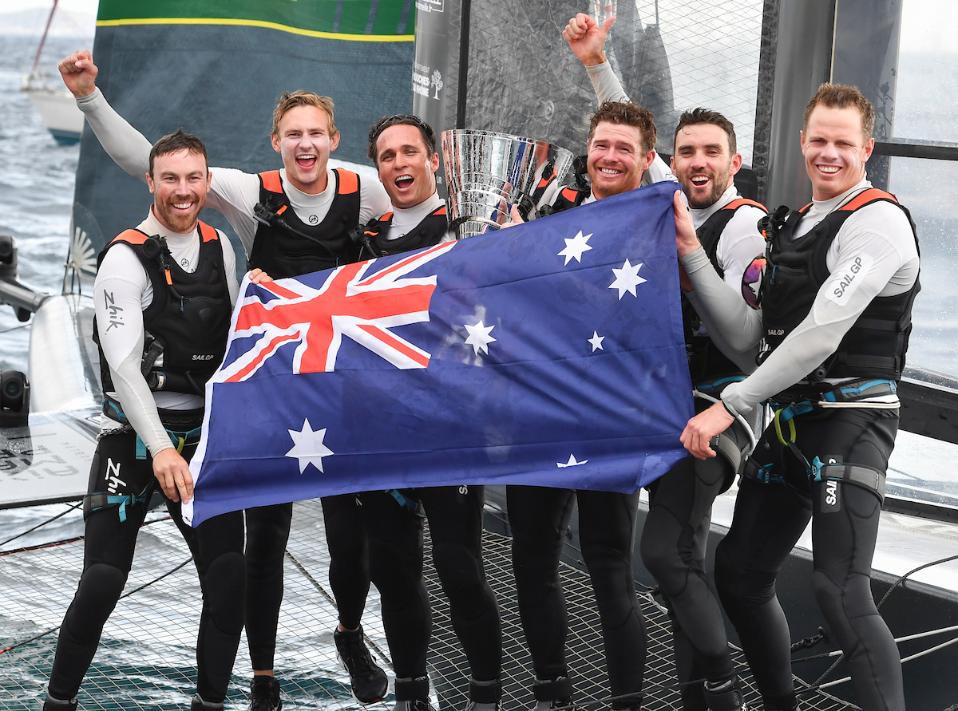 Slingsby (third from right) with the victorious Australia SailGP Team (Credit: SailGP)
Tokyo Olympic selection Darmanin is still focussed on the tough year of training ahead despite the challenges of the past year. "2020 is not the year I had planned, but I am sure that is the same for many out there," Darmanin said. "It has been a pretty good twelve months with back-to-back worlds and qualifying for the Tokyo Olympics which we are going to have to wait another year for. We are training hard and we hope to bring home gold for Australia next year."
Darmanin, along with cousin and skipper Jason Waterhouse, claimed back-to-back bronze medals at the two Nacra 17 World championships held during the awards nomination period.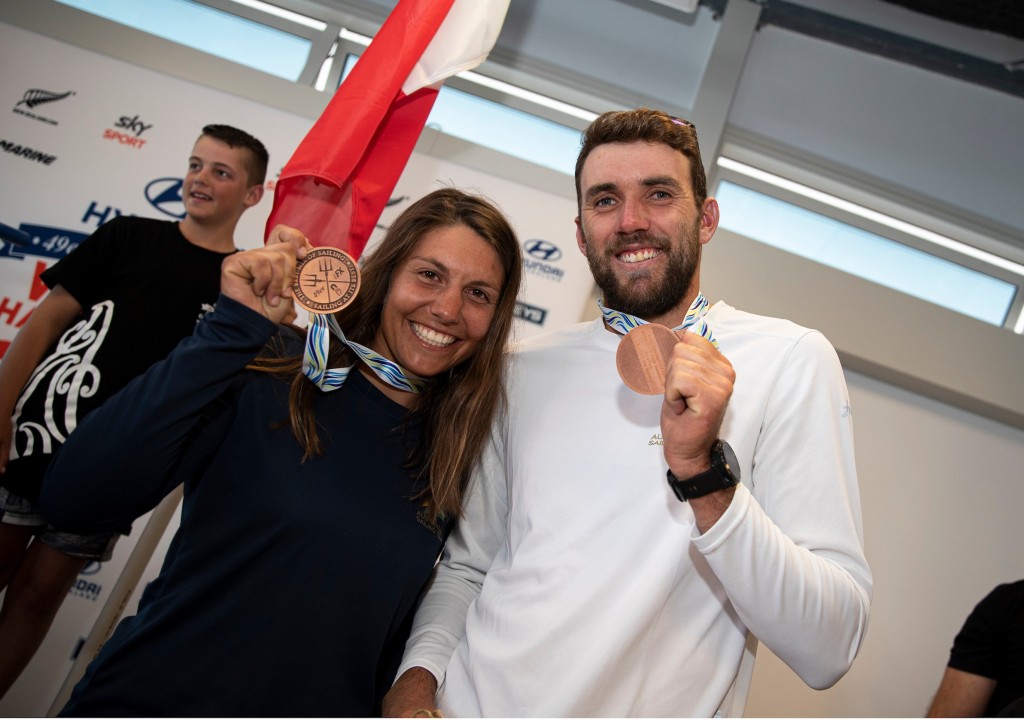 Darmanin and skipper Jason Waterhouse with 2019 World Championship bronze (Credit Sailing Energy/World Sailing)
This has been an unusual year for sailing, and the world, and due to CODIV-19 a physical award ceremony was unable to be held. To honour the past year's top achievers, winners have been announced online throughout this week with videos recognising each winner's accomplishments.
Victoria's huge 2020 Summer of Sailing delivered 27 national and world championship events and the efforts of those involved were acknowledged at this year's awards.
The Volunteer of the Year Award was won by James and Chris Mitchell from Sandringham Yacht Club for their efforts over the summer. The husband and wife were recognised for their efforts as the driving force behind five Laser regattas including three World Championships. "We are pretty thrilled about this," James said of receiving the award, "but we didn't do it alone."
Chris went on to explain, "The size of these events required the commitment from many, many people. They needed a strong knowledge of the sport and a good sense of humour, ownership and belonging for what we were doing. Thanks to every person who shared this vision alongside James and me.
"Chris and I are both from sailing families and we have been involved with the Laser Class for over forty years and that will continue until I learn how to sail on properly!" James said.
Another Sandringham Yacht Club member to take home a prize was Official of the Year Stephen Aulich. The International Race Officer was in a key position for more than ten national and international events while continuing to officiate weekend racing at his home club.
Royal Geelong Yacht Club took out multiple awards, claiming Club of the Year and the Sport Promotion Award after hosting seven national and world championships as well as their annual Festival of Sails event during the Summer of Sailing.
Paris 2024 Olympic hopeful Scott Whitehead took out Youth Sailor of the Year representing the new Olympic Kite Foiling class. "I've really enjoyed my journey into the sport and I'm really excited to keep pushing towards my potential for the 2024 Olympic Games and beyond," Whitehead said.
The SheSails Award, in its second year, was won by Clare Alexander as the organiser of The Women's Regatta hosted by Double Bay Sailing Club and other initiatives. "Changes are happening today," Alexander said. "More and more women are putting sailing on their bucket list."
There were some return winners in other categories too with Wynyard Yacht Club stalwart Chris Symonds taking Para Sailor of the Year for the second year running. "I'm very honoured to receive this award," Symonds said. "Winning is not so much as an individual as I have a huge team behind me, and I want to thank them." Matt Allen AM from the Cruising Yacht Club of Australia won his second consecutive Offshore Sailor of the Year Award and the Australian Sailing Team's Single-Handed Lead Coach Michael Blackburn took out Coach of the Year for the fourth time in the last five years.
Full list of Award Winners:
Male Sailor of the Year
Tom Slingsby OAM - Gosford Sailing Club
Female Sailor of the Year
Lisa Darmanin - Manly 16' Skiff Sailing Club
Para Sailor of the Year
Chris Symonds - Wynyard Yacht Club
Youth Sailor of the Year
Scott Whitehead - Townsville Yacht Club
Offshore Sailor of the Year
Matt Allen AM - Cruising Yacht Club of Australia
Sport Promotion Award
Royal Geelong Yacht Club
Sports Professional Award
Jack Buchan - Newcastle Cruising Yacht Club
Sustainability Award
Ocean Crusaders – Ian Thomson & Annika Thomson
SheSails Award
Clare Alexander - Double Bay Sailing Club
Volunteer Award
James & Chris Mitchell - Sandringham Yacht Club
Club of the Year
Royal Geelong Yacht Club
Official of the Year
Stephen Aulich - Sandringham Yacht Club
Coach of the Year
Michael Blackburn - Australian Sailing Team
Instructor of the Year
Diane Kelsey- Townsville Sailing Club
SOLAS Trust Bravery Award
Christian Charalambous
President's Award
David Tillett AM
Lifetime Achievement Award
Gordon Ingate