October 29 - November 4, 2023: Issue 603
Share the Spark's Fourth Annual Spark Tank Youth Business Pitch Event Ignites Entrepreneurial Passion and Innovation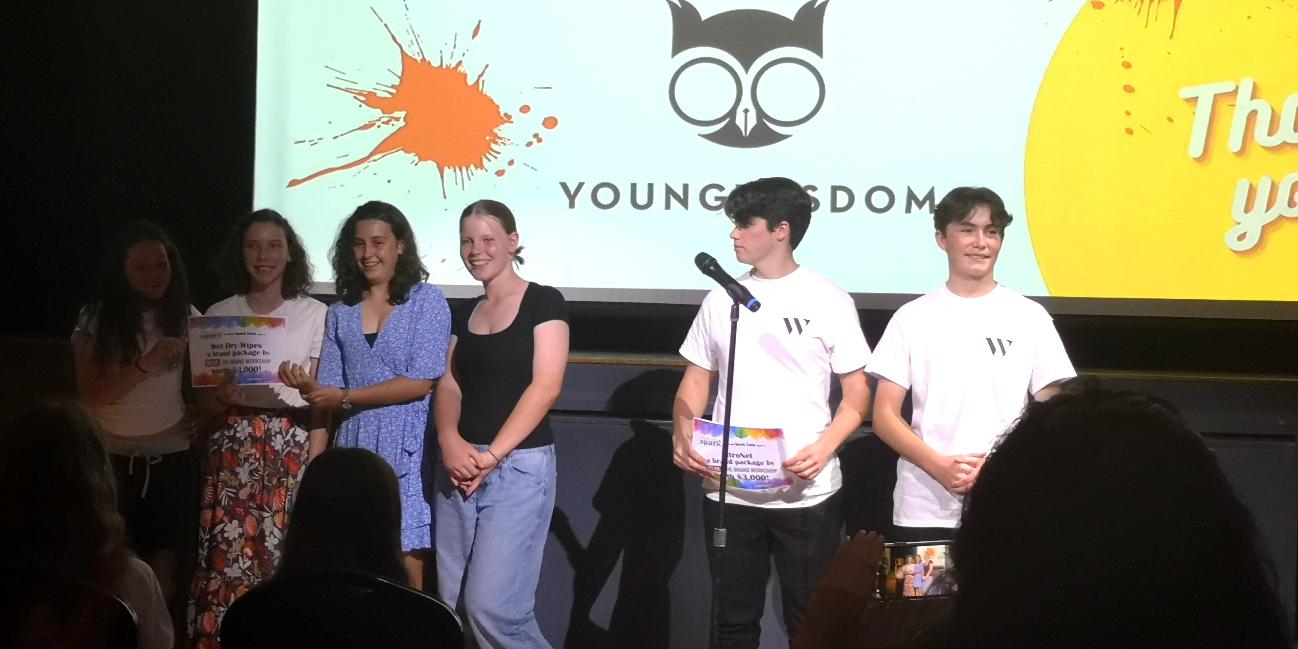 The big winners Wet Dry Wipes and NitroNet. Photo supplied
Share the Spark, a non-profit organisation that empowers young people to make life affirming choices, celebrated another successful year of its Spark Tank youth business pitch event at Pittwater RSL on Saturday October 21. The business pitch event is similar to the TV show Shark Tank® "Just with smaller prizes and much kinder judges", said Kimberly Clouthier, Share the Spark's Founding Director. To participate in the event, each team must include at least one person they know who is going through a hard time. The fourth annual competition drew a full house of supporters, mentors, and young visionaries, showcasing the incredible talent and innovative ideas of the next generation of business leaders.
This year, five exceptional finalist teams, selected from a pool of 37 promising young entrepreneurs, took centre stage to compete for a share of $15,200 in cash and prizes. Additionally, each winning team will receive six months of invaluable business coaching to further develop their innovative concepts and entrepreneurial skills.
The event, opened by MP Dr. Sophie Scamps and held at Pittwater RSL Auditorium, was filled with excitement and anticipation as the finalists presented their business ideas to a panel of successful local entrepreneurs and an enthusiastic capacity crowd. The high-stakes competition featured a diverse range of projects, including sustainability-focused cleaning products, a tech-driven solution that could one day power the world, and social enterprises aimed at making a positive impact on the community.
Young Wisdom partnered with Share the Spark to prep the finalist teams, providing $3,200 in coaching. Their commitment to fostering young entrepreneurship and self-worth shone through in the impressive talent and determination of the finalists. The event not only provided an invaluable platform for these young visionaries to showcase their concepts but also facilitated networking and learning opportunities, connecting them with mentors and potential investors.
The winners of the Share the Spark's Fourth Annual Spark Tank Youth Business Pitch Event are as follows:
1. Watergate Labs – Two brothers, Benjamin (16) and Oliver (18) invented a device that can create electricity from the humidity in the air and displayed their working prototype at the event. They even offered home beta testing to the audience.
Prize: $2,000 cash, a $3,000 branding package, and six months of business coaching
"Our prototype has been tested thoroughly and can already create 190 volts," wrote Benjamin the 16 year old inventor. His in-depth, 42 page scientific report has been submitted to the STANSW Young Scientist Competition.

2. Wet Dry Wipes – Four 12 year old friends, Georgia, Ivy, Giselle and Alice, cleaned up on the night by showing their Wet/Dry wipe prototype to the judges. Reusable with fresh scents and fun emojis!
Prize: $1,250 cash, a $3,000 branding package, and six months of business coaching
3. Disability Support Pillow – Sahara (15) presented for two as her partner Austin (15) was in hospital. She shared their idea for a customisable pillow that offers people who face physical challenges more comfort.
Prize: $1,250 cash and six months of business coaching
4. Soap On The Go – Four 10 year old girls, Willow, Libby, Sadie and Livia, joined up to help us keep clean anywhere with their idea for portable, dissolvable, no-water-needed soap in a convenient tiny dispenser.
Prize: $750 cash and six months of business coaching
5. We Love Dogs Rescue – Cade (12), Oisin (12), and Alexander (12) were inspired by Scarlet, their rescue dog, to develop a central website that matches dogs in pounds to their new potential owners.
Prize: $750 cash and six months of business coaching
Kimberly expressed her enthusiasm for the event's success, saying, "The Spark Tank event is a testament to the incredible potential and creativity of our local youth. Share the Spark is proud to provide the platform, resources, and support that can help them to turn their ideas into reality."
As part of their commitment to empowering youth, Share the Spark and their new mentors will continue to work closely with the winners over the next six months to help them transform their concepts into reality. The organisation looks forward to following the continued growth and success of these young innovators.
For more information about Share the Spark and to follow the progress of their Spark Tank winners, please visit sharethespark.org.au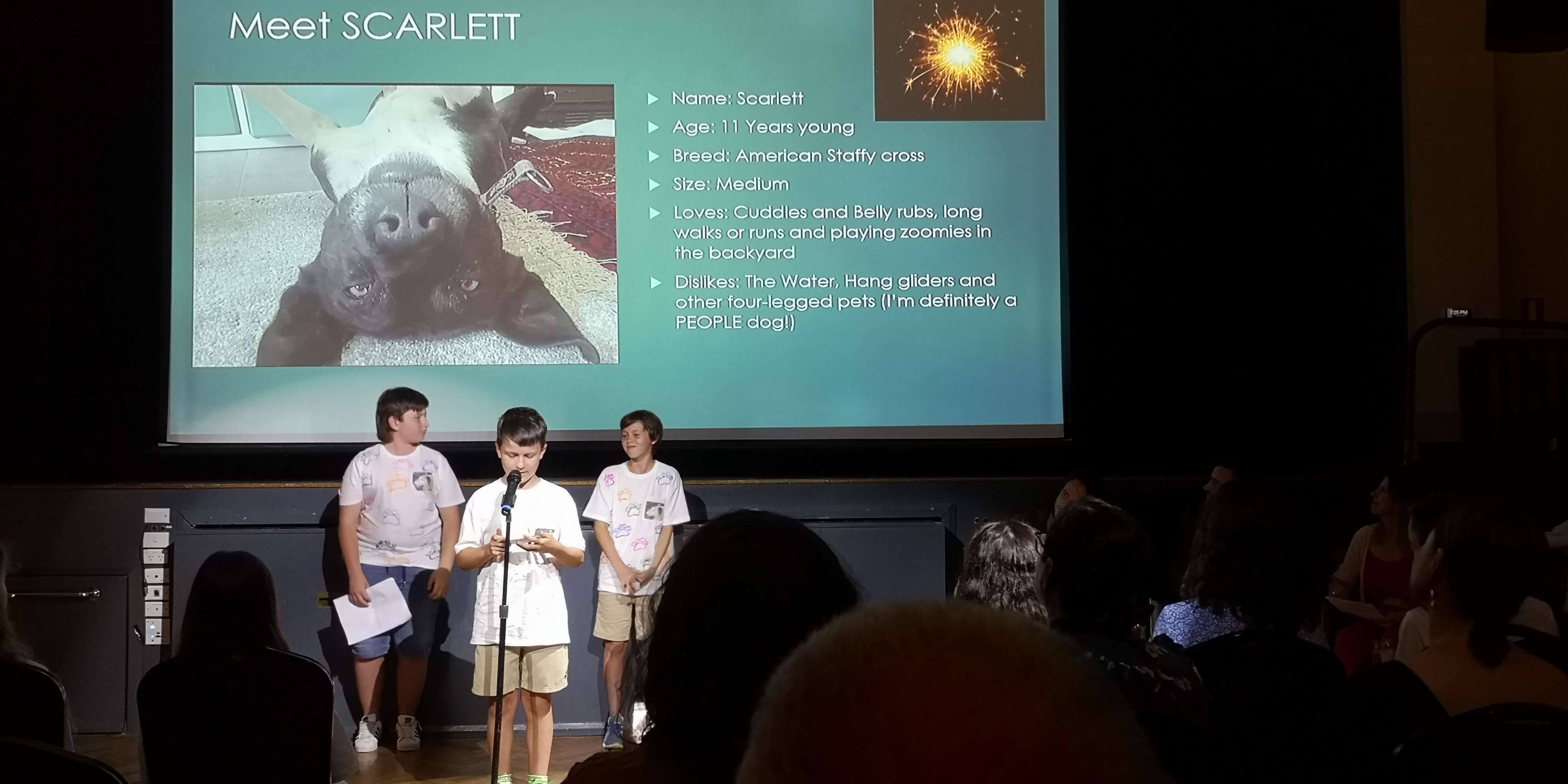 We Love Dogs Rescue presents with their dog Scarlet in background

About Share the Spark Inc.:
Share the Spark is a non-profit organization dedicated to empowering young people and providing opportunities for them to kindle their spark for life. Through events like the annual Spark Tank Youth Business Pitch Event they provide local young people with resources, mentorship, and opportunities to turn their innovative ideas into successful businesses encouraging them to work together to make a positive impact on their communities and the world.
Share the Spark provides free ongoing micro-mentoring programs that match young people up with professionals, usually in their work environment. Any youth between the ages of 8 – 23, who feel they would benefit by spending time with someone who is passionate about what they do, can sign up anytime on the Spark website to participate. http://sharethespark.org.au/
Spark's programs allow young people to experiment and choose who they would like to spend time with, and for how long. This flexible approach encourages interactions with many different professionals over time so they gain contacts and real-life experience in the careers they explore. They also increase their personal confidence, resilience and spark for life.
Share the Spark is also always welcoming new mentors so young people can have a large variety of professions to explore. Mentors must be passionate about what they do and excited to share that spark with a young person. All mentors pass a working with children check and attend two training workshops, one on youth communication and the other on suicide prevention, plus there are ongoing workshops on specific areas, all free of charge. "Simply by going through our mentor training you are doing a lot to help prevent suicide", Kimberly said, "you will know what to look for, how to talk about suicide and what to do, not just for young people but for anyone in your life."