March 26 - April 1 2023: Issue 577
e-bikes, e-scooters - the rise in lithium battery fires: how to keep your family safe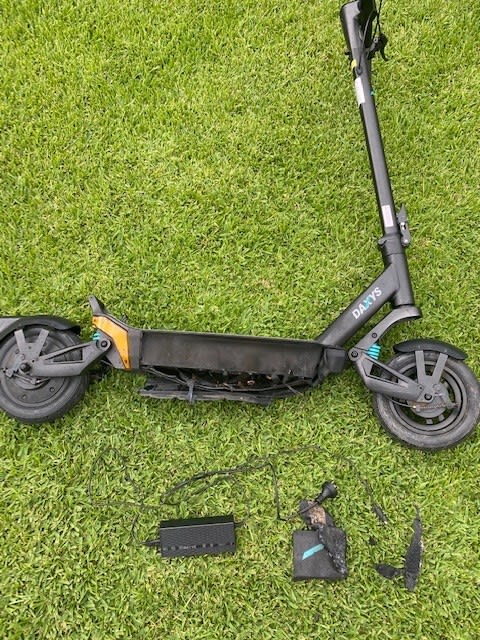 North Narrabeen e-bike fire, February 2023. Photos: FRNSW
Data collated from state fire departments indicate that more than 450 fires across Australia have been linked to lithium-ion batteries in the past 18 months.The Australian Competition and Consumer Commission (ACCC) recently put out an issues paper calling for input on how to improve battery safety. Their report will be released later this year.

In February 2023 a North Narrabeen father and son left their e-scooter to charge as they went to bed, waking a short time later to find the device had ignited in their living room.
The quick-thinking pair moved the e-scooter to their front yard, and doused the floor, before calling in FRNSW who extinguished the blaze.
Investigations revealed the owners of the e-scooter had purchased it from an online auction house at a discounted price because the device had previously sustained water damage.
FRNSW's Fire Investigation and Research Unit immediately engaged Fair Trading NSW, which identified another 40 people had purchased water-damaged e-scooters from the same company.
The auction house cooperated with both government agencies, contacting the owners of the damaged e-scooters, alerting them to the safety risks, and offering full refunds, despite their limited returns policy.
FRNSW Assistant Commissioner Trent Curtin said cooperation between fire investigators and Fair Trading NSW has produced a positive community safety outcome.
"These damaged e-scooters were effectively ticking time-bombs, ready to explode into flames inside family homes across New South Wales," said Asst. Commissioner Curtin.
"Our investigation and follow-up work has helped prevent possible further incidents.
"This case should serve as a reminder about the dangers posed by lithium-ion battery devices, especially when they're damaged by water or other means."
On March 20, 2023 another e-bike exploded in flames, which spread through the garage and ground floor of a home at Eastgardens, in Sydney's east.
Fourteen Fire and Rescue NSW (FRNSW) trucks attended the fire which broke out around 8pm last night in Mathewson Street.
All residents made it safely out of the home, including a woman who jumped from a second-storey balcony.
No-one was injured.
Fire investigators believe a faulty lithium-ion battery on the bike exploded, causing the fire, which has badly damaged the home and destroyed a vehicle in the garage.
Hazardous Materials (HAZMAT) firefighters have removed several other lithium-ion batteries from the scene, concerned they've been compromised by fire and are at risk of igniting and/or exploding.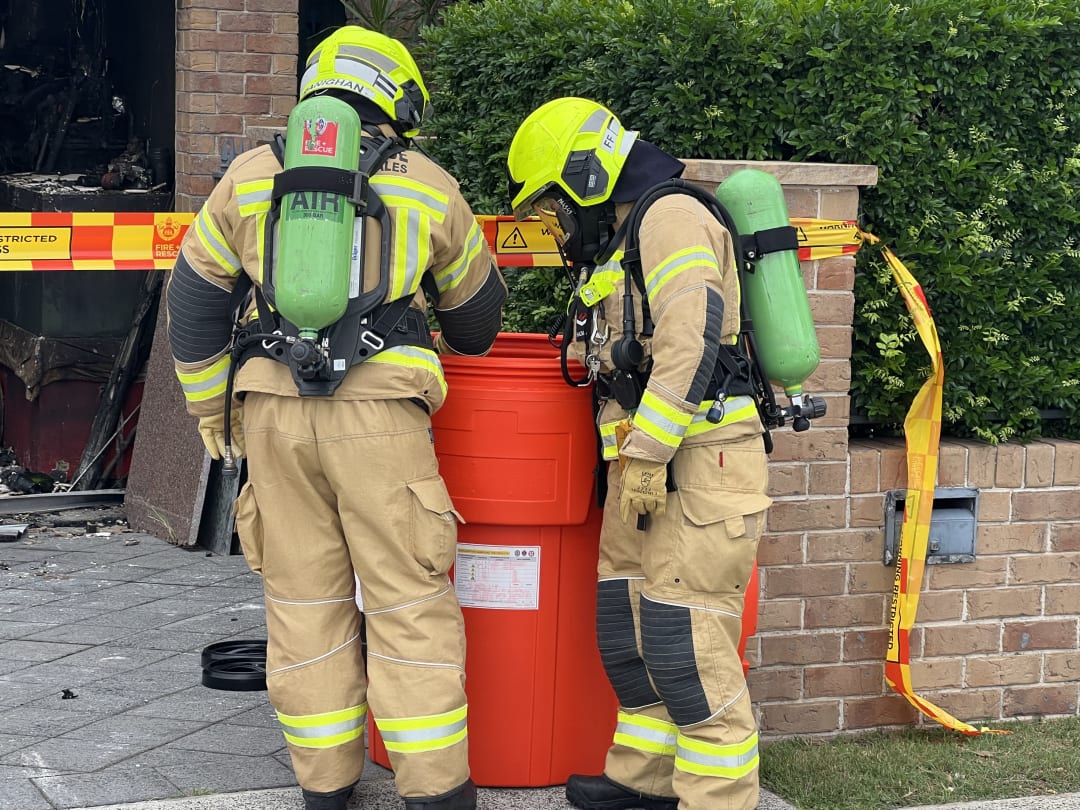 Eastgardens e-bike fire, March 2023. Photos: FRNSW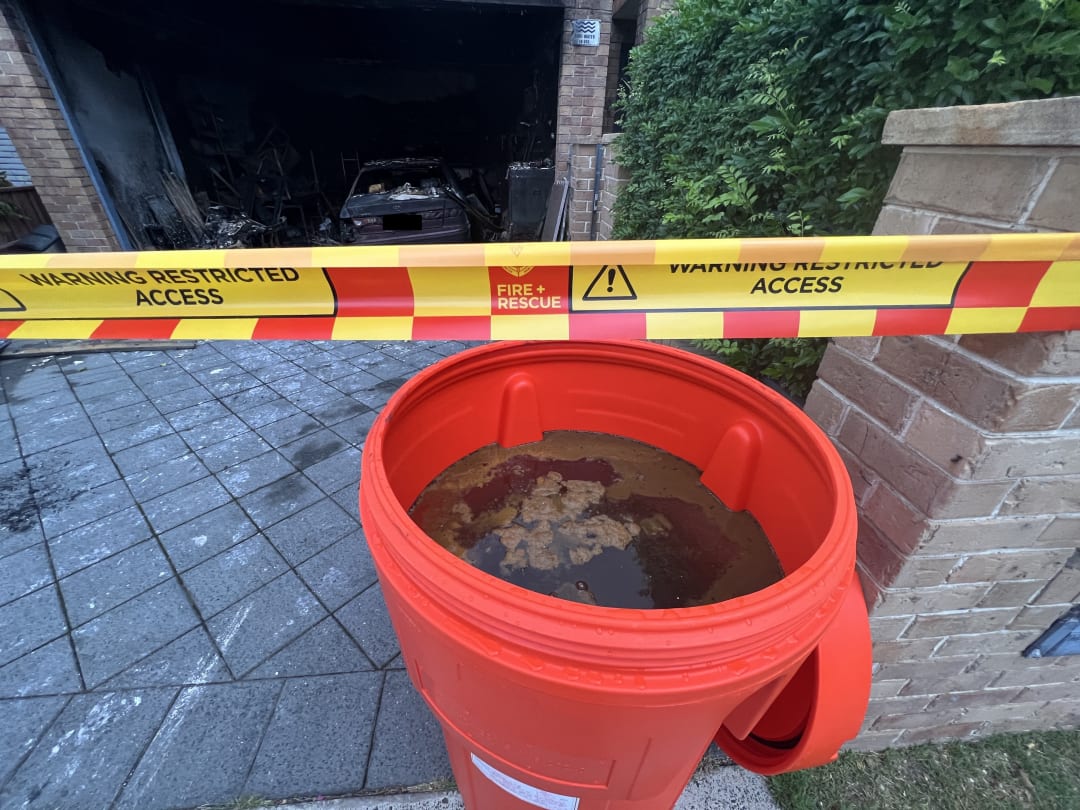 The e-bike battery has been secured and immersed in water by firefighters to prevent re-ignition. A fire crew remained at the scene overnight to prevent the battery's re-ignition.
FRNSW warns that faulty or over-charged Lithium-ion batteries pose a serious safety risk. They can off-gas and explode, causing intense fires that are extremely difficult to extinguish and are at risk of re-igniting.
FRNSW advises the public to always stick to reputable and compatible lithium-ion battery brands. Avoid over-charging and charging devices whilst you're asleep or away from home.
Working smoke alarms and home escape plans save lives during fires.
FRNSW reminds people to only purchase e-bikes and e-scooters from reputable brands and proven retailers, always buy equipment that meets Australian Standards, and always use and charge in accordance with the manufacturer's specification.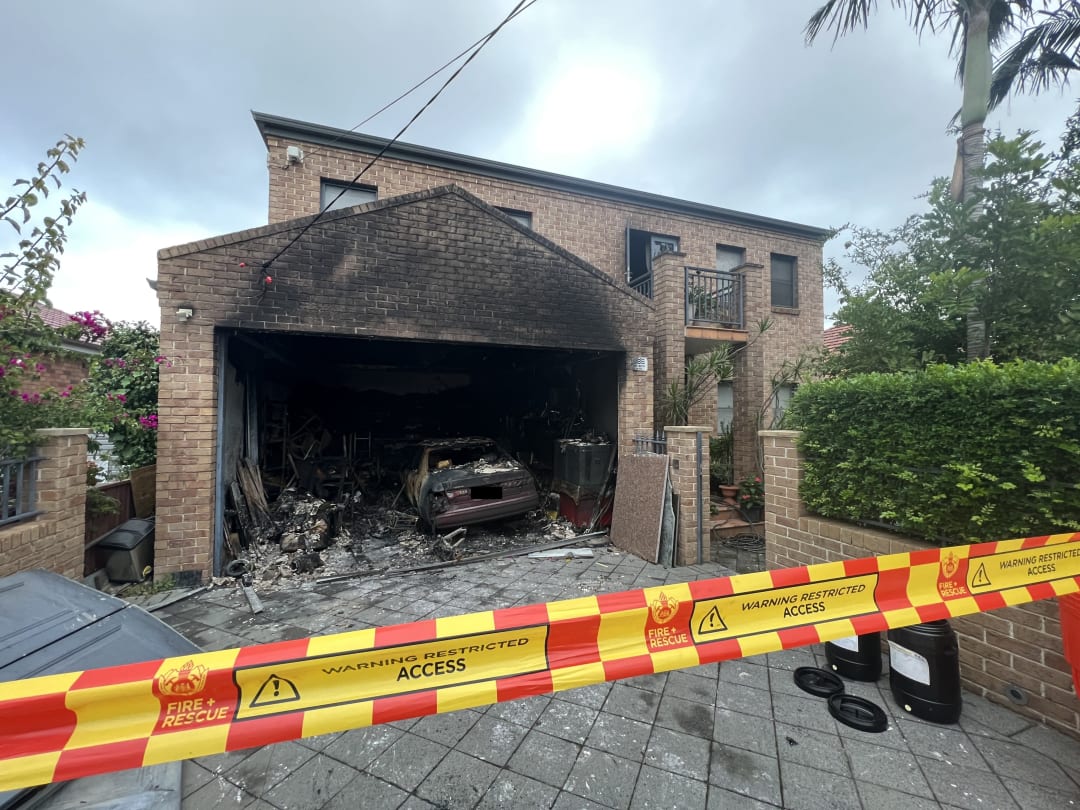 Eastgardens e-bike fire, March 2023. Photos: FRNSW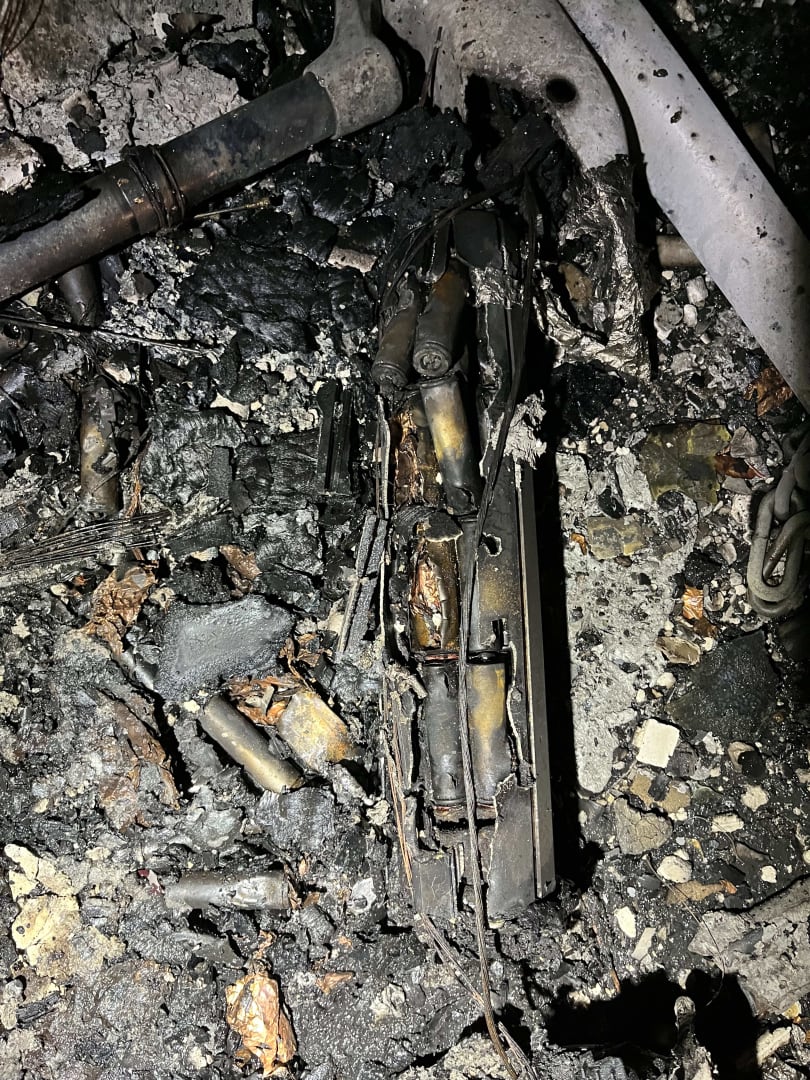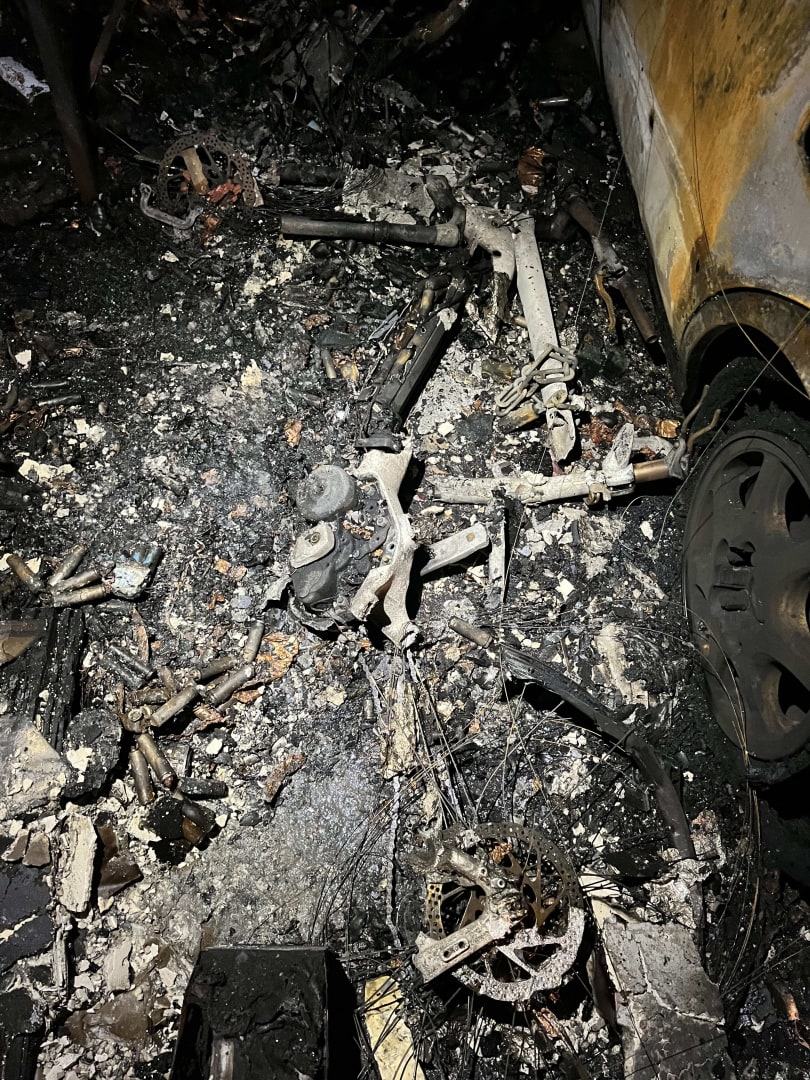 Electric bicycles (e-bikes), electric scooters (e-scooters), electric mobility (e-mobility) scooters, and self-balancing scooters (hoverboards), known as "micromobility" devices or "light electric vehicles (LEV)", are growing in popularity.
LEVs commonly contain lithium-ion batteries and come with associated risks and hazards (including fire and explosion, radiation, heat, chemical and electrical).
Fire and Rescue NSW is currently conducting research on how best to mitigate incidents involving these technologies and how best to respond to incidents when they occur. While they work on the research, there are some measures that we urge users to be aware of to minimise their exposure to hazards.
Fire and Rescue NSW advise:
Only purchase and use devices and equipment from reputable manufacturers and suppliers.
Only use chargers that are supplied with the device, or certified third-party charging equipment that is compatible with the battery specifications. Using chargers with incorrect power delivery (voltage and current) can cause damage to the battery including overheating that can lead to fires.
Check that chargers bear the Regulatory Compliance Mark, to show that they meet the relevant Australian Standards under the Electrical Equipment Safety System (EESS) [external link].Image of the Regulatory Compliance Mark graphic. A tick within a triangle.
Avoid leaving LEV batteries or devices unattended while being charged or charging overnight. Once the indicator shows that a device or battery has been fully charged, disconnect it from the charger.
Don't charge or store LEV batteries or devices on combustible or insulating surfaces such as beds, sofas, or carpet, and keep them away from highly flammable materials such as blankets, clothing, and paper.
Where possible, LEVs should be stored and charged outside in a garage, shed or carport away from living spaces. Keep them away from any exit doors, escape routes, and other combustible materials.
Only have device repairs and battery replacements or upgrades performed by a qualified professional.
FRNSW recommends that a smoke alarm or a heat alarm is installed in garages where a LEV is stored and/or charged. We recommend having a licenced electrician install and interconnect mains-powered smoke alarms where possible. Check with the manufacturer or distributor to ensure smoke alarm models are compatible for interconnection.
Never store or leave LEV batteries or devices in areas where they can be exposed to heat or moisture. Do not leave devices in direct sunlight or in parked vehicles where they can quickly heat up.
Don't use LEV batteries or devices that show signs of swelling or bulging, leaking, overheating, or signs of mechanical damage (cracked, dented, punctured, or crushed).
In December 2022 the ACCC commenced seeking input on ways to reduce the significant fire and safety risks associated with lithium-ion batteries, which can overheat or explode, particularly when used, charged or stored incorrectly.
An issues paper was penned to help the ACCC to better understand the risks posed by lithium-ion batteries and inform recommendations to reduce the chances of fires, injuries and property damage.
Submissions were sought from a range of stakeholders including consumers, consumer safety advocates, industry associations, regulators, fire authorities and industry suppliers.
"Lithium-ion batteries are extremely volatile and we are very concerned about the growing number of fires and injuries linked to them. We are particularly worried as these rechargeable batteries have rapidly become regular household items as they are contained in mobile phones, laptops, power tools, e-bikes and e-scooters," ACCC Deputy Chair Delia Rickard said.
"During the past five years we have received over 200 product safety reports about products with lithium-ion batteries including more than 20 product recalls in Australia, most of which related to consumer products such as laptops and loudspeakers."
So far, the ACCC has identified some key safety issues which are causing incidents with lithium-ion batteries including:
Manufacturing defects
Aftermarket chargers that are incompatible with the device or non-compliant
Overcharging – where devices are left on charge and the battery does not protect against overcharging
Overheating – when a device is stored in a hot or poorly ventilated environment
Puncture – when the barrier breaks between the liquid electrolyte and the electrodes, causing the device to short-circuit
"Unfortunately, fires linked to lithium-ion batteries tend to escalate quickly and are very difficult to extinguish, which means there is a high risk of property damage or injuries. That's why it is critical to find out as much as we can about lithium-ion batteries now, so that we can recommend ways to tackle these issues and reduce the risks," Ms Rickard said.
The ACCC was also seeking input on alternative risk mitigation strategies, including whether regulatory options or regulatory framework changes are needed to address any risks.
Submissions to the lithium-ion issues paper were due by 3 February 2023. A report detailing the findings and best options for managing the risks associated with lithium-ion batteries will be published in 2023.
The ACCC advises Consumers can minimise the risks from lithium-ion batteries if they:
Only purchase and use products from reputable suppliers, and only use chargers supplied with the device.
Don't leave batteries or devices unattended whilst charging and once fully charged, disconnect them from the charger.
Don't charge batteries on or near flammable materials or surfaces.
Never store or leave batteries and devices in areas where they can be exposed to heat or moisture. This includes direct sunlight or parked vehicles.
Don't use batteries or devices that show signs of damage.
Never touch a swollen or ruptured device or battery with bare hands as the heat and/or/chemicals can cause severe burns.
Ensure smoke/heat alarms are installed wherever you charge lithium-ion battery containing devices.
Don't place lithium-ion batteries in standard household disposal bins because they can cause fires in waste disposal trucks and facilities. Devices containing lithium-ion batteries should instead be recycled. Community recycling centres have collection bins, which are often found in supermarkets, shopping centres, libraries, and other community buildings.
What should I do if my device or battery is smoking or on fire?
Batteries that show any signs of damage should be disposed of carefully as they carry the risk of becoming involved in a fire. Never throw them in your regular waste or recycling collection bins. Fires are known to occur in garbage trucks and waste facilities due to improper disposal of batteries.
Damaged batteries and battery-powered devices include:
Batteries and/or devices that have been involved in or exposed to fire
Overheated batteries that may have been emitting vapours or smoke
Batteries that show signs of swelling or bulging, leaking, cracks, dents, punctures, or crushing
Batteries that have had water or liquid ingress or have been submerged in water.
Note that some batteries may contain toxic chemicals, heavy metals and other environmental pollutants that can contaminate water supplies and ecosystems when they are incorrectly disposed of.
DOs
Be aware of the risks related to damaged batteries, including electric shock, secondary fire risks, and exposure to toxic, corrosive, and flammable vapours and substances
Wear personal protective clothing and equipment when handling damaged batteries or devices
Fire- or smoke-damaged batteries should be kept outside in a well-ventilated area. Store at least 3 metres from any structures and/or combustible materials. Small batteries or devices can be placed in a container of water to cool and prevent further ignitions.
Note: It is the responsibility of the site owner or occupier to dispose of fire-affected batteries or battery-powered devices safely once FRNSW has attended an incident and handed over the site.
Small batteries that have had water or liquid ingress or have been submerged in water should be removed from any device or appliance. Dry and wipe down terminals to prevent corrosion and short circuiting.
Place leaking or damaged (but not overheated or off-gassing) batteries in a clear plastic bag or container and take them to a Community Recycling Centre or a Household Chemical CleanOut event for disposal.
DON'Ts
Never use or charge a damaged battery
Never dispose of damaged batteries in regular household waste or recycling bins
Never take damaged batteries to battery recycling collection points or sites
Damaged residential battery energy storage systems (BESS)

A residential BESS that has been damaged by impact, fire, or water ingress must not be put back into operation, even if it appears to be operational.
Always assume that the equipment is energised.
If it is safe to do so:
Follow any shutdown procedures displayed. This may be on or near the switchboard or adjacent to the BESS.
If the shutdown procedure cannot be found, identify the main power switch for the BESS and switch to OFF.
Contact the manufacturer and/or an authorised technician to inspect, disconnect and remove the equipment if it has been compromised.
Damaged BESS should be moved to an outside, well-ventilated area. Store at least 3 metres from any structures and/or combustible materials. Seek the manufacturer's advice on disposal.
Damaged electric vehicles (EVs)
An electric vehicle that has been involved in a collision, a fire, or has been submerged, must be treated with caution as the high voltage battery pack may be compromised. Damaged EV batteries may ignite hours, days, or even weeks after the initial incident.
Contact the sales point, service point or vehicle manufacturer for advice.
Do not charge or use the vehicle unless it has been inspected and cleared by a qualified technician.
Damaged EVs should be kept in an open area at least 15 metres from other vehicles, buildings, and/or other exposures.
In the event of a fire, contact 000 immediately. For more information on what to do in case of fire or explosion contact your state or territory fire department.
Photos: FRNSW
Seven things you need to know about lithium-ion battery safety
March 20, 2023
UNSW expert Dr Matthew Priestley explains why greater respect and education is needed regarding the use of lithium-ion batteries at home and in the workplace.
Lithium-ion batteries are the most widespread portable energy storage solution – but there are growing concerns regarding their safety.
Data collated from state fire departments indicate that more than 450 fires across Australia have been linked to lithium-ion batteries in the past 18 months – and the Australian Competition and Consumer Commission (ACCC) recently put out an issues paper calling for input on how to improve battery safety.
Lithium-ion batteries are used in a wide range of hardware, from electric vehicles and electric scooters to mobile phones and laptops. Residential solar battery systems also utilise the technology, all the way up to grid-scale energy storage systems.
Unfortunately, as even Fire and Rescue NSW acknowledge, not enough is yet known about the probability of lithium-ion battery failure, their mechanisms of failure and potential consequences of failure.
We spoke to UNSW expert, Dr Matthew Priestley from the Energy Systems Research Group in the School of Electrical Engineering and Telecommunications, to discover what the safety concerns are regarding lithium-ion batteries.
"What we are worried about at the moment is the fact there is very little regulation regarding lithium-ion batteries and the safety aspect associated with that," Dr Priestley says.
"We want and need this energy storage technology to be safe because they are vital in the uptake of renewable energy and it's important that the public and industry do not perceive it to be dangerous.
"But at the moment, most people do not have an adequate understanding about the risks associated with these batteries, or enough respect for them. That goes for the consumer in their home, but perhaps even more importantly for professionals using lithium-ion batteries on a bigger scale in their workplace.
"I don't think there is enough education regarding proper use, and storage, and recycling or disposal of lithium-ion batteries and that is the key moving forward."
Dr Priestley is the lead academic on a project which will develop a short course aiming to educate tradespeople, the public, and other key stakeholders of the risks associated with high energy battery systems.
And here he helps explain the key issues, and potential solutions, regarding lithium-ion battery safety.
What devices are being powered by lithium-ion batteries?
Lithium-ion batteries are extremely common in virtually all Australian homes. Mobile phones, laptops and smart wearables are all powered with lithium-ion batteries, as are newer e-mobility products such as e-bikes and e-scooters.
Power tools can also run on lithium-ion batteries, and they are commonplace in various trade industries, as well as camping and gardening equipment.
Electric vehicles, such as Teslas, use lithium-ion batteries – as does that same company's Powerwall system which stores energy collected from roof-top solar panels or the grid.
On a much bigger scale, the largest lithium-ion battery in Australia was activated in 2021 at the Moorabool Terminal Station just outside Geelong. Known as the Victorian Big Battery, the 300-megawatt battery can store enough energy to power more than a million homes for 30 minutes.
What are the problems with lithium-ion batteries?
All types of batteries can be hazardous and can pose a safety risk. The difference with lithium-ion batteries available on the market today is that they typically contain a liquid electrolyte solution with lithium salts dissolved into a solvent, like ethylene carbonate, to create lithium ions.
It is the presence of these lithium ions that yield superior battery performance, allowing the battery to store a large amount of energy in a relatively small area, which is why these batteries are so useful and common.
However, the liquid electrolyte containing these lithium ions is highly volatile and flammable, which creates a serious risk of fire or explosion, particularly when exposed to high temperature.
In addition to this, the way a lithium-ion battery produces power also generates heat as a by-product.
In an uncontrolled failure of the battery, all that energy and heat increases the hazard risks in terms of fuelling a potential fire. The heat from lithium-ion battery failures can reach up to 400 degrees Celsius in just a matter of seconds, with peak fire temperatures being higher than this.
Unfortunately, lithium-ion battery fires are also not easily contained and are self-sustaining which is why they are considered more volatile than other battery types.
What causes lithium-ion batteries to fail?
Overheating is one of the main causes of lithium-ion battery failures, although physical damage to the battery can also lead to problems.
Excessive heat — for example from using a faulty charger and overcharging the battery, or due to a short circuit — can damage the battery cell internally and cause it to fail.
The major issue with lithium-ion batteries overheating is a phenomenon known as thermal runaway.
In this process, the excessive heat promotes the chemical reaction that makes the battery work, thus creating even more heat and ever more chemical reactions in a disastrous spiral.
Physical damage to lithium-ion battery cells can allow the electrolyte inside to leak, which is another potential hazard risk.
Why are lithium-ion battery failures so dangerous?
The thermal runaway phenomenon means lithium-ion battery fires are extremely hard to put out.
Water-based fire extinguishers will cool down the battery to help prevent the spread of the fire but will not extinguish the fire on the battery until its energy is dissipated.
Special lithium-ion gel extinguishers do exist but are not yet widely available for all lithium-ion battery applications. And even when a lithium-ion battery fire appears to have been extinguished, it can reignite hours – or sometimes even days – later.
Lithium-ion batteries can also release highly toxic gases when they fail, and excessive heat can also cause them to explode.
How can people mitigate the problems with lithium-ion batteries?
Correct usage and storage of lithium-ion batteries is extremely important.
Batteries should not be exposed to high external temperatures, for example from being left in direct sunlight for long periods of time.
Overcharging is another fundamental issue as this can create excessive heat inside the battery cell.
Therefore, it is important to always use a reputable brand-name charger, rather than a cheap generic version that may be available online.
Good quality chargers, designed specifically for the battery you are using, control the amount of charge going into the cell and will cut off when it is fully charged to ensure the system does not over-heat.
Be very wary if a lithium-ion battery sustains any physical damage, such as being dropped or pierced by an object, as this can lead to leakage and potential problems.
In industrial settings, safe battery storage can be crucial so that in the event of unwanted failure, the resulting fire can be more easily contained and controlled and does not spread – which can quickly cause catastrophic consequences.
It is not advisable to purchase lithium-ion batteries second-hand, or online from unknown and potentially unregulated vendors.
Why don't we just use other forms of batteries?
Other rechargeable battery types do exist and are widely used – such as nickel-cadmium and even lead-acid which date back to the 19th century.
However, lithium-ion batteries are more useful and therefore much more popular as they combine fast charging, long charge holding and high-power density, for more battery life in a smaller package.
It is likely that future research will produce a different type of battery with the same properties and fewer hazards than existing lithium-ion technology – such as solid-state electrolyte batteries which are currently very expensive to produce.
What needs to be done to make lithium-ion batteries safer?
Lithium-ion battery packs do feature a battery management system (BMS) which is designed to protect the battery cells and prevent failures from occurring.
The BMS tracks data including temperature, cell voltage, cell current, and cell charge to help ensure that each part of the battery is working correctly and safely. Cooling provisions can also be linked to a BMS to reduce the battery pack temperature if it is getting too hot.
However, it is vital that any battery management system is monitored to make sure it is working correctly, as failure of the BMS can indirectly lead to failure of the lithium-ion batteries themselves. Also, many smaller lithium-ion applications do not possess a BMS as it is not cost-effective to do so.
Additional education and training, especially for tradespeople, can also help to increase knowledge and understanding regarding the dangers of lithium-ion batteries and help to minimise risks and eliminate danger as much as possible.
Additional research and development will also address some fundamental questions regarding lithium-ion battery safety, although this can be costly and time-consuming.
By Neil Martin, UNSW