June 25 - July 1, 2017: Issue 318
'Service to Humanity' Award for Southern Cross Wildlife Care's Dr. Howard Ralph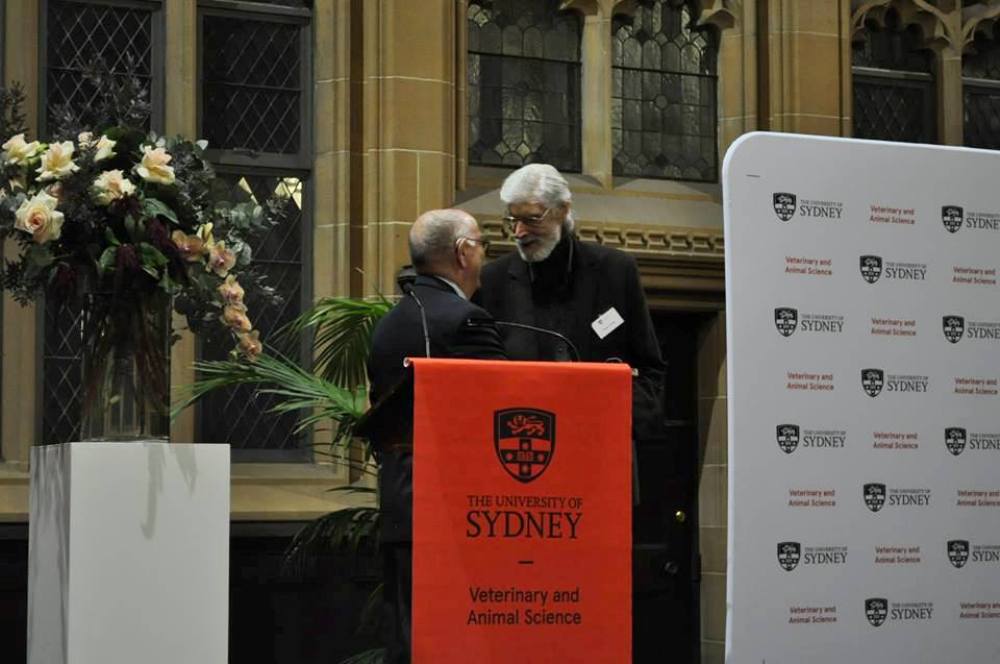 Howard receiving the Sydney University School of Veterinary Science 2017 Service to Humanity Alumni Award.
'Service to Humanity' Alumni Award for Southern Cross Wildlife Care's Dr. Howard Ralph
We are pleased to share with you the news that Southern Cross Wildlife Care's Dr Howard Ralph received the Sydney University School of Veterinary Science's 2017 'Service to Humanity' Alumni Award on May 23rd, 2017.
"
Service to Humanity
" in the Sydney University's Veterinary Science Alumni Achievement Awards, may include activities such as, volunteering, philanthropy and service to community.
We're sure everyone who knows Dr. Ralph would agree that it is very well deserved. This gentleman has devoted decades to saving our wildlife, or 'critters' as he calls them, in a voluntary capacity. He often works incredibly long hours to try and meet the increased demand more roads, speeding drivers or displaced animals through habitat destruction is wreaking on the other residents of Australia – our native animals. During and after bushfires the amount of work he and the team who support him do must not only take a huge toll on their own health but cause immense distress in trying to meet the financial burden of saving all he can.
His patient list is expanding and as SCWC receive no government funding or assistance, and with the costs for medical equipment, drugs, power, maintenance, oxygen, food, cages etc. rising, we'd like to remind those who would like to support this Mona Vale hero that a contribution to SCWC will give them a tax deduction.
Southern Cross Wildlife Care relies on donations to save our animals. No one in SCWC is paid a wage.
The SCWC Care Centre is in the Southern Tablelands but Howard also treats sick and injured wildlife in Sydney. Howard has to travel every fortnight to the Southern Tablelands to attend to the growing number of animals that are injured or too sick to travel.
Such a service requires great commitment and devotion which highlights just how rare an individual Howard is. He remains committed to assisting each and every creature that comes through the door.
As Dr. Ralph repeatedly dodges others lauding and applauding him; he prefers to devote his time to saving native animals, we're sneaking this one out while (we think) he may be out of Pittwater for a few days.
A perusal of this overview of his work, clearly a shortened version of a lifelong commitment to serving our animals and others, hopefully will inspire those who cannot help through becoming volunteers to assist by becoming financial supporters.
Let's give our native animals, and Dr. Ralph a break – let's save the furred, finned, feathered and scaled by putting something towards ensuring our grandchildren get to see the animals we've grown up with – in their natural state. Visit:
southerncrosswildlifecare.org.au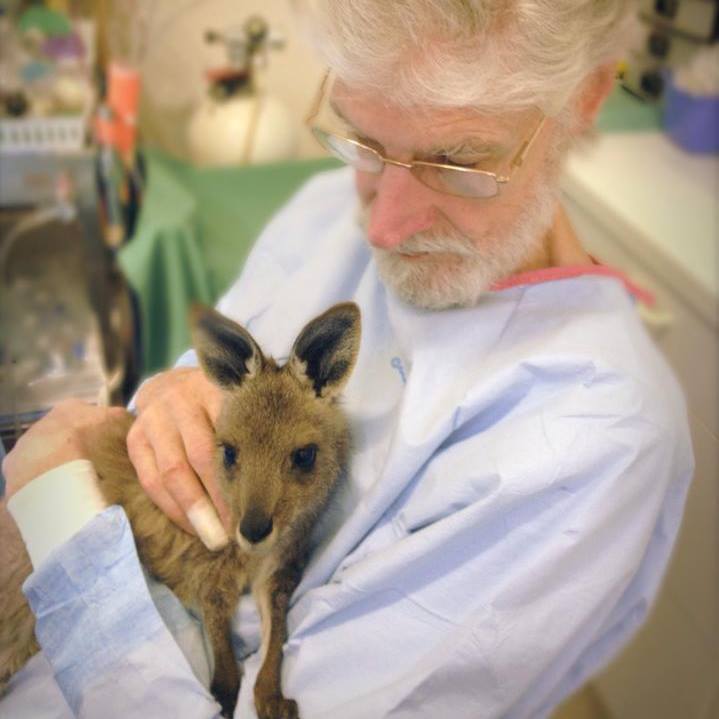 Dr Howard Ralph
BVSc (Hons), MBBS (Hons), MVS (Wildlife Medicine), JCCA Accred (Anaesthesia),
A/Dip Fine Arts, Dip TESL, Cert Ed NSW, Clinical Forensic M O
A skilled and dedicated wildlife veterinarian, Dr Howard Ralph works in a voluntary capacity seven days and seven nights each week to save the broken and bloodied animals of Australia. Howard has achieved legendary status among wildlife rescuers and carers for his commitment to treating any animal he's called to help, from kangaroos to king brown snakes.
From the Southern Cross Wildlife Care Sanctuary that he founded as a non-commercial venture, Howard helps thousands of his patients each year. He'd clocked up more than 400,000 kilometres by 2014, driving to help wildlife survivors of floods, cyclones and fires around the country. He's also travelled as far afield as Africa and Asia.
He undertakes extremely delicate operations – removing cataracts from a possum's eye, pinning the hips of a rare frog or fixing the wing of a tiny bird. In a profession dedicated to domestic pets, Howard's boundless devotion is giving many of Australia's native creatures a second chance at life.
1962– 63
Attended the AUSTRALIAN SCHOOL OF PACIFIC ADMINISTRATION
1963 – 66
Worked as an EDUCATION OFFICER in PAPUA NEW GUINEA.
Included teaching, tropical health, agricultural projects, local government and community welfare. Highland area patrols for census and health management
1967 – 71
UNIVERSITY of SYDNEY Graduated BVSc with honours and University medal
1972 – 74
PRIVATE VETERINARY PRACTICE and WILDLIFE RESCUES
1975 – 79
UNIVERSITY of NSW Graduated MBBS with honours
1980 – 2007
MEDICAL, VETERINARY PRACTICE and WILDLIFE RESCUES in AUSTRALIA, SOUTH AFRICA, BORNEO and INDONESIA
(consultancy to Government of Jakarta to build/refurbish a wildlife hospital, upgrade anaesthetic services and advise on animal welfare).
BORNEO Relief anaesthetist and teaching anaesthesia
1983 – 92
PART TIME DIRECTOR EMERGENCY DEPARTMENT at MONA VALE HOSPITAL
1992 – 93
UNIV.of SYDNEY/TARONGA ZOO
Scholarship to study wildlife medicine and research oxygen transport during wildlife anaesthesia. Graduated MVS (wildlife Medicine)
1988 – 89
A/DIP FINE ARTS (Distinction and college medal)
1992 – 94
LECTURES at TAFE, University of Sydney, Macquarie University, Post Graduate Foundation in Veterinary Science and to numerous wildlife rescue and care groups.
2002 – 07
REGISTRAR in ANAESTHETICS Calvary Hospital BATEMANS BAY/MORUYA HOSPITALS
VMO in ANAESTHETICS and EMERGENCY WILDLIFE CLINIC NSW SOUTH COAST/RESCUES/LECTURES
IFAW AWARD for animal welfare and wildlife care
Established SOUTHERN CROSS WILDLIFE CARE
TEACHING, LECTURES, SEMINARS in pain management, burns management, anaesthetics, wound management, first aid orphan care first response protocols fluid management, fractures, wildlife health & disease, rescue and rehabilitation medications
2007 – 10
SEMINARS/CONFERENCES
TEACHING TAFE and University Veterinary students
RESCUES/TREATMENT of wildlife: attend fires in Victoria
TRAINING COURSES Australia wide
Develop SOUTHERN CROSS WILDLIFE CARE AND REFERRAL CENTRE
2008
IFAW Emergency Response Training lecturer
2010
TAFE Teaching Animal Care Course
PITTWATER COUNCIL VOLUNTEERS AWARD
Attend flood and cyclone disasters in QLD
Attend bushfires in Coonabarabran
NSW Government volunteer award
Contribute to various publications on conservation, animal welfare wildlife
Study clinical forensic medicine > appointed CFMO
MENTORING Veterinary nurses, Veterinary surgeons, Veterinary nurse students, Medical students
EMERGENCY work in Kathmandu, Nepal
2011- 17
WILDLIFE RESCUE AND TREATMENT NSW
WILDLIFE TRAINING courses: NSW, WA, VIC
NSW SENIOR VOLUNTEER AWARD 2013
EMERGENCY work Kathmandu, Nepal
AUSTRALIAN of the YEAR Finalist – Local Hero category- 2014
Publications
Face Of Extraordinary: Volunteers
and
Animal Abuse
Consultant to Fraser Island Group Development of Wildlife Care Centre
Emergency wildlife translocation
TAFE Teaching Animal Care Course
PATRON Kangaroo Orphanage
Continued development of SOUTHERN CROSS WILDLIFE CARE
Bushfires southern NSW – 2014, 2015, 2016, 2017
Online CONSULTANCY to Veterinarians, Veterinary Nurses, Wildlife carers and rescuers
Medical practice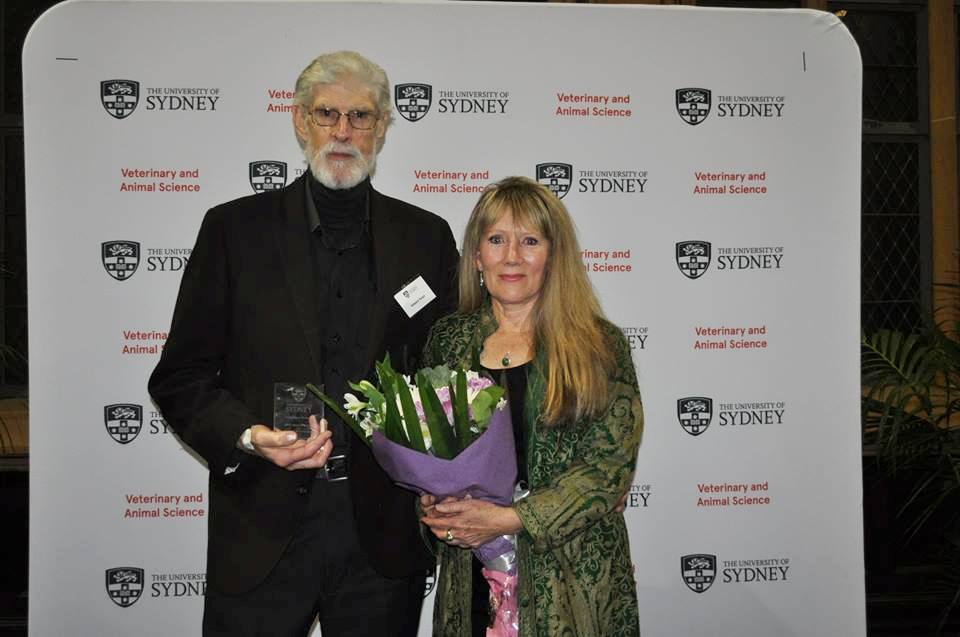 Howard and Glenda Ralph at the awards ceremony.