May 2 - 8, 2021: Issue 492
Large Seniors Living Proposal in Low density Zone won't pass without protest in Pittwater
A bright sunny Thursday morning and despite it being a work day more than 100 people came to make a silent vigil and protest opposite the site of a proposed seniors development in North Avalon road on Thursday morning, March 29th.
The reason for the demonstration was that a Land and Environment Commissioner was visiting the site and the residents wanted to demonstrate to the Court the community opposition to this development.
The protest is indicative of what may become a weekly event as Council confirmed intensification of medium density housing Avalon, Newport, Narrabeen, Warriewood and Mona Vale, along with a still to be presented big development of housing at Ingleside, remain in its Local Housing Strategy. At this week's council meeting councillors voted to submit to the state government, as required.
Those who had spread the word stated prior to the vigil, ''We understand that the 1km radius Housing Strategy proposal to rezone for seniors and boarding houses could be raised at this hearing and be a factor in determining this application.''
Council have, in fact, amended and reduced that ratio by some metres but it still meant, to many, that Pittwater would be picking up the tab having saved so much of its suburban space for living in instead of crowding little boxes in cheek by jowl density.
"We're back to the old days of Warringah extracting from Pittwater for the benefit of Warringah.'' one protestor remarked.
Residents have flatly rejected this proposal from the outset. The plans would see the construction of a to the perimeter of the boundary Seniors Housing development comprising self contained dwellings with 2-3 bedrooms and 22 car parks.
''A few car spots too short if every room is filled, adding more congestion to the street when the overflow parks there instead.''
Council also rejected the original DA and so the developer took an amended but still similar proposal to the Land and Environment court.
The site is zoned R2 Low Density Residential under the Pittwater Local Environmental Plan 2014 (PLEP 2014). Development for the purposes of seniors housing is prohibited with this zoning.
Residents objections when the DA was first made available for feedback were that the current Development Control Plan for this area is "Future development will maintain a building height below the tree canopy and minimise bulk and scale."
''The proposed two storey dwellings fails to minimise bulk and scale as required and is incompatible with the desired character of the area, while its roof pitch will rise above every other structure around it.''
The DA proposed to remove a total of 49 trees, the bulk of the plants present on the site, as well as mature banksias and bottlebrushes on the public road reserve outside in order to install a required under Senior Developments easy access path.
Even before the case was heard residents reported tree clearing was already taking place on the block.
On Thursday the signs commenced opposite the first tree on the public road reserve that would be felled to make a footpath alike that directly opposite (although that is cracked in places and needing repairs – NB: Transport Cement Fund imposing unwanted concrete paths through all our once green parks despite 'feedback' this material is not wanted).
One silent protestor stated that the proposed tree felling of these providers of shade on public land is also a further indication this is for profit, not community, in 3 regards; 1)The loss of community, not private, trees, 2) more cement and thus more heat, and 3) ignoring where it would be better spent, which is also a, perhaps inadvertent, additional kick to the head of community or clearly enunciated attitude put into practice.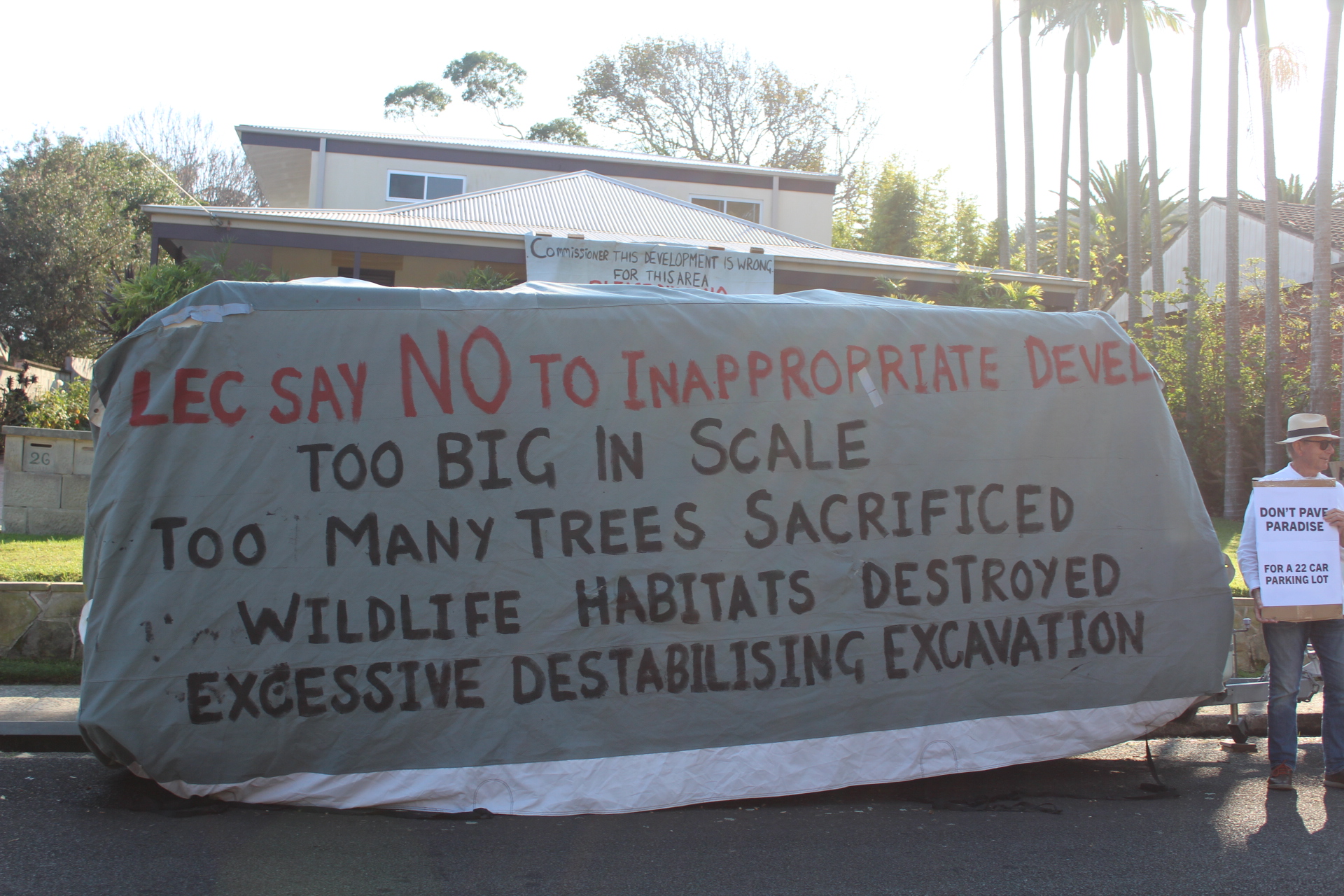 signs opposite the first tree planned to be felled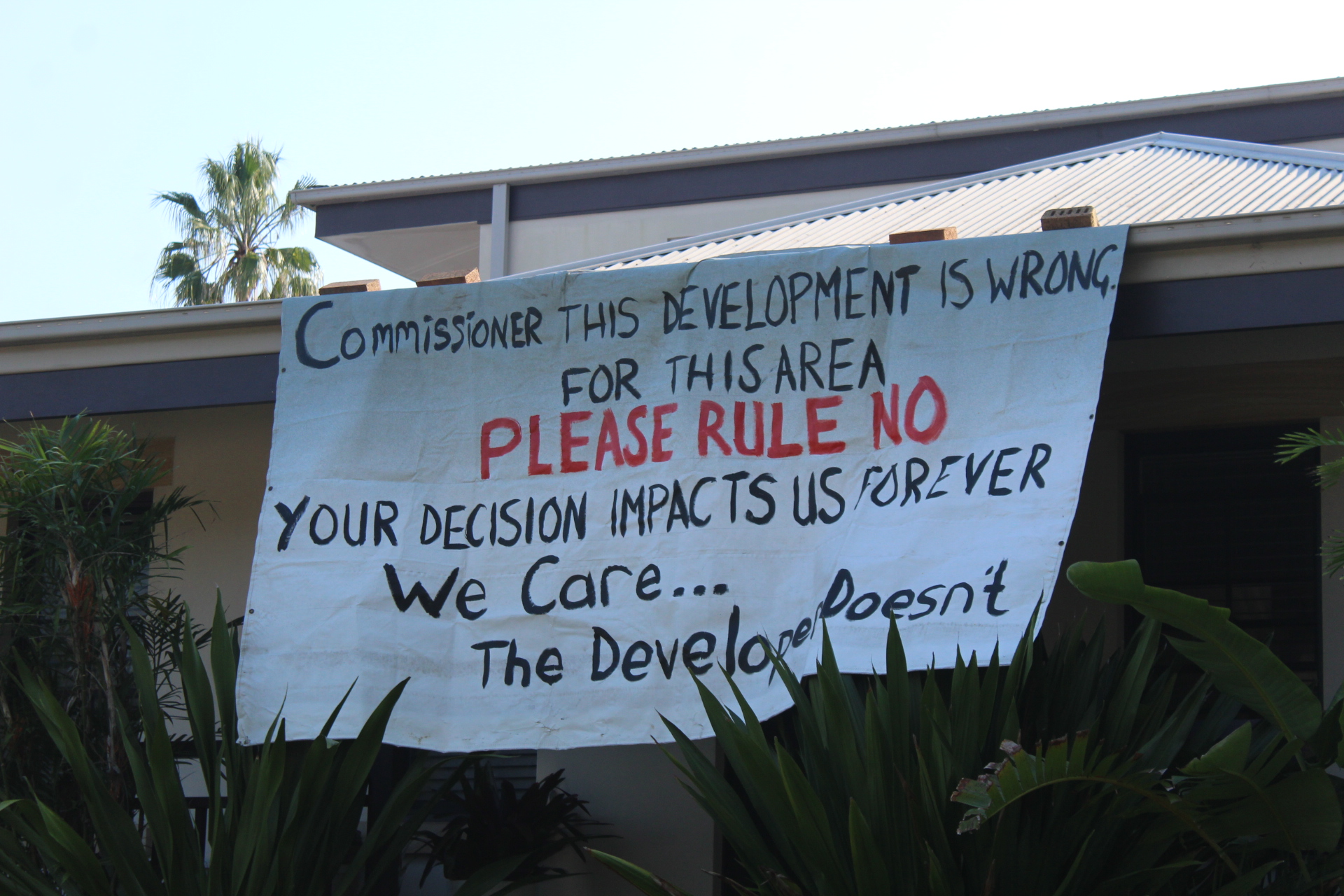 Deb Denman, one of the residents that has alerted the community to the proposal, said after the vigil ''I'm so pleased to see so many people on a weekday, when we've all got work to do and are all busy, bothered to turn up and stand there silently and voice their opposition with signs and their presence – it was amazing. All I can say is, go Avalon!'
''This has been a massive team effort over the last year. There has been a small group of involved locals who have taken the initiative. There has been a petition organised by Cathy Chard that generated over 100 signatures as well as those who live in the surrounding area spreading the word to those in adjacent streets and suburbs.
I put a leaflet together and we did a massive leaflet drop out in the community which really made people aware of what was going on. I've also gone out on social media and I think that's how a lot of people are finding out about these issues nowadays.''
When asked why she and others in the community are so against this proposal Deb stated ''It boils down to the character and culture. People choose to live here because of all the things that have been taken away elsewhere by developers for their financial interests. They don't have any interest in the family friendly streets and the backyards and trees and the birds, they couldn't give two hoots about the black cockatoo that appears because we've got mature vegetation and food trees.
We've chosen to live the other side of the bends, and the other side of Avalon in this case, which is putting extra time on where we need to go to work because we treasure this.
It feels like our local government doesn't have any control anymore. The state government is layering legislation on top which takes away all of the things we've been consulted on and stated 'this is what we want to keep'. And that makes me angry.
If this goes ahead it sets an awful precedence.
What's more, it's not even permissible where it is, it's outside of the 400 metres zone to transport and the nearest bus stop – so there should have been a line drawn in the sand there and then.''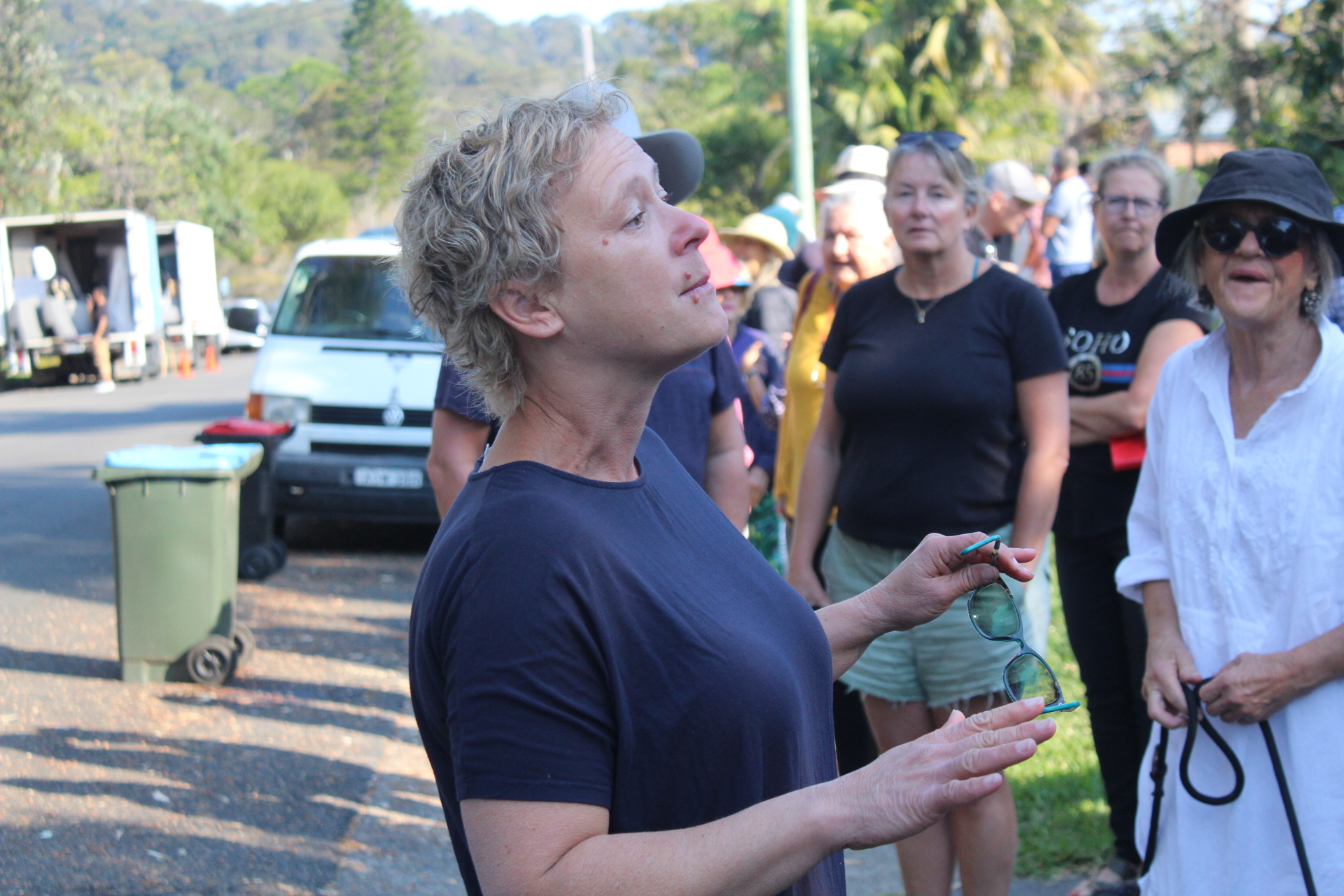 Deb Denman on Thursday
Peter Mayman, President of the residents group, Avalon Preservation Association, said ''Avalon Preservation Association was pleased to see some 120 people at the North Avalon Road site when it was inspected by Commissioner Horton for the Land and Environment Court. The Commissioner acknowledged all those present and explained the process to be followed [which did not include any public comment at that time].
Northern Beaches Council has provided to the Court all the very large number of objections.
APA is concerned there has also been a proliferation of Seniors Living developments, and further sites being sought, for which the occupants are not effectively regulated, and are commonly too expensive for local seniors who wish to downsize [some now $3million each]. Instead, if approved, these would be largely occupied by wealthy residents from outside this area, even as weekenders.
It is encouraging that Northern Beaches Council is aware of these problems and, as long as there is a genuine shortage, will endeavour to provide for appropriate housing for local seniors in the upcoming Local Housing Strategy.''
Others stated '' No one over 55 lives in these dwellings and no one polices that.''
The proposal and the communities response is particularly relevant as the Seniors Development on Crystal Bay in Newport, zoned Environmentally sensitive, and which was the first adjustment of Pittwater zoning by the then newly installed by the state government Sydney North Planning Panel and approved through the 'Gateway' process, has come back to council for feedback again. Submissions close Sunday 30th of May 2021.
The documents available for this proposal state it is 800 metres from the main Newport shopping centre, and that makes it permissible/compliant. However, anyone who can and does walk from Crystal Bay to the Barrenjoey road, using as a measure from Lucky and Peps on the main road at the end of Bardo to that Nooal street address, knows it is currently 1059 metres, and once again, lack of footpath or footpath that is broken concrete, paves the way.
Another place the Transport Cement Fund imposing unwanted concrete paths through all our once green parks despite 'feedback' this material is not wanted would be more welcome.