March 19 - 25, 2017: Issue 305
Sealink Magnetic Island Race Week 2017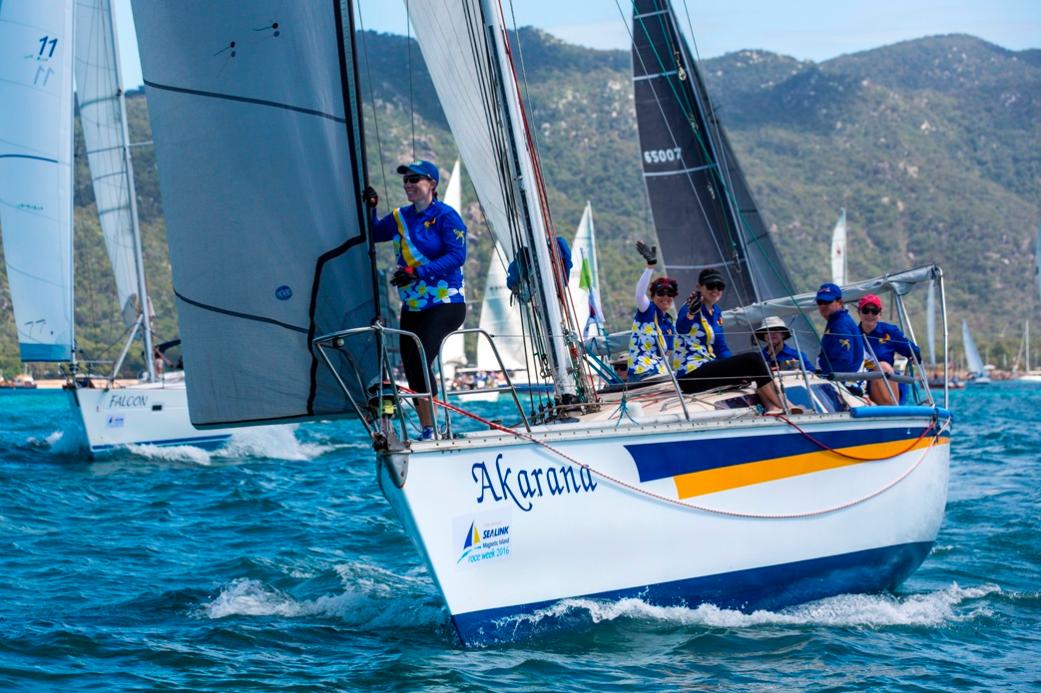 Akarana at 2016 Sealink Magnetic Island Race Week - Andrea Francolini, SMIRW photo.
Sealink Magnetic Island Race Week - 40th and 80th birthdays for first entrants
March 14, 2017
Online entry to Townsville Yacht Club's 2017 Sealink Magnetic Island Race Week is open, with the first entry coming from Akarana as she celebrates her 40th birthday while her owner, Ian Hamilton, is to celebrate his 80th during the September event.
Celebrations for Akarana, known to all regulars at Magnetic Island, have already begun, according to the owner's daughter, Vicki, who is now skippering the yacht.
"In 2013 there was a changing of the guard," says Vicki, who has not looked back since taking over from her father, who at 79 still enjoys being involved.
"Dad turns 80 on the 2nd of September, so he'll be aboard to celebrate during Maggie Island Race Week. He's really looking forward to it. He loves to sail," says Ian's daughter, who only has to cross the water between Townsville and Magnetic Island to compete.
So a double celebration is imminent at the 11th running of Sealink Magnetic Island, to be held from 31 August to 6 September. And the dress-up themes the crew has become renowned for will be on again, although the Hamiltons remain tight-lipped but promise they will not disappoint.
"You'll just have to wait and see," says Vicki, whose crew enters into the spirit of the event wholeheartedly. Previous themes have included Barbie in 2009, cowboys in 2010, 1970s rock stars in 2011, sexy pirates in 2013, Mexican fiesta in 2015 and last year it was burlesque (dad Ian took centre stage in a tux).
Akarana, a Farr 1104, was designed to the IOR rule as a rule beater by the eminent Bruce Farr. "The hull was state of the art in those days, being fibre, built of foam sandwich with a steel frame, but has since been reconstructed in laminated hardwood," Vicki says.
She was trucked from Compass yachts Sydney in October 1976, fitted out in Townsville by Ian Hamilton and launched in 1977 in time for the annual Easter Ocean race from Townsville to Dunk Island, which she won.
Rated as a one tonner, she went on as to win the Mooloolaba 79 SCOR series and followed up with success in the inaugural Gladstone to Cairns race and subsequent Cairns to Moresby race.
Since then, Akarana has been a regular in TYC races with moderate results. Vicki sailed her to third overall in Cruising Division 2 at Magnetic Island Race Week last year, nine years after her father Ian became a divisional winner at the inaugural event.
Over the years Akarana has sustained her share of damages. The shortlist includes five booms, three masts, three motors and two rudders, but the Hamiltons enthusiasm never wanes.
Vicki and her crew wouldn't miss Sealink Magnetic Island Race Week for quids.
"It's a relaxed and fun event and dressing up adds to that feel. We love it. We use the event to also enjoy a holiday. It's so easy to get to, but like another world. It's a great way to have an island holiday with your mates. It's my 'play up time' of the year.
"My kids used to call it 'Mum's naughty weekend away," she adds, laughing. "It's a week of fun with my crew mates, mostly women – I didn't plan it that way - it just evolved. They're very experienced now, capable, so I enjoy pushing them. They gain more confidence that way."
Sealink Magnetic Island Race Week enjoys the distinction of closing the northern circuit of major sailing events each year. It attracts entries from Australia wide. It is a wonderful way to wind down before heading home or back to work. With divisions for IRC and Performance Racing, Spinnaker and Non-Spinnaker Cruising, along with multihulls, this event is growing in stature by reputation.
Director of Townsville Yacht Club, competitor and Event Chairman, Mike Steel, reminds prospective competitors: "Peppers Blue on Blue Resort is offering a 15% discount off the Bed and Breakfast fully serviced price, but the offer is subject to room availability and ends 30 June, 2017, unless sold sooner.
"Bookings must be made direct with the resort by calling 07 47 582 400 and quote 'Magnetic Island Race Week Early Bird Special'. I urge competitors to book as quickly as possible to avoid disappointment," Steel said.
Don't miss this fabulous event. For all information, including social events and information, visit the official website:
www.magneticislandraceweek.com.au
Find us on Facebook:
https://www.facebook.com/SMIRW
Follow us on Twitter:
https://twitter.com/miraceweek
By Di Pearson, SMIRW media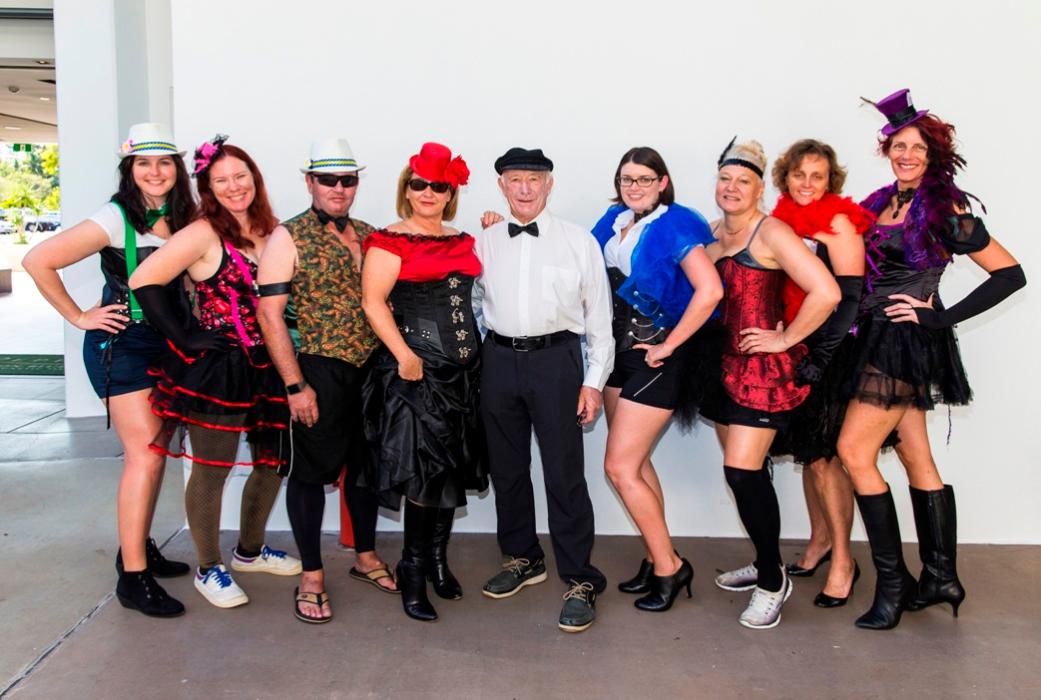 Akarana crew in burlesque (Vicki fourth left, Ian centre) - Andrea Francolini, SMIRW photo.